Escape to Blue Ridge and you'll soon discover nature's beauty all around you. One of the top must-see sights, when you come to town, is North Georgia's stunning waterfalls! Some of the falls are easy to get to and others require a longer trek, but no matter which falls you choose to explore you'll be blown away by their breathtaking beauty!
There are so many great waterfalls within Blue Ridge and the surrounding areas it'll be hard to visit them all in one trip, so we recommend seeing a different waterfall each time you visit! Here's a list of our top 8 absolute favorite North Georgia waterfalls:
Cover photo Courtesy of Hike The Ridge. Which by the way, we highly recommend Eric for guided hiking tours of our area including waterfall hikes!
Long Creek Falls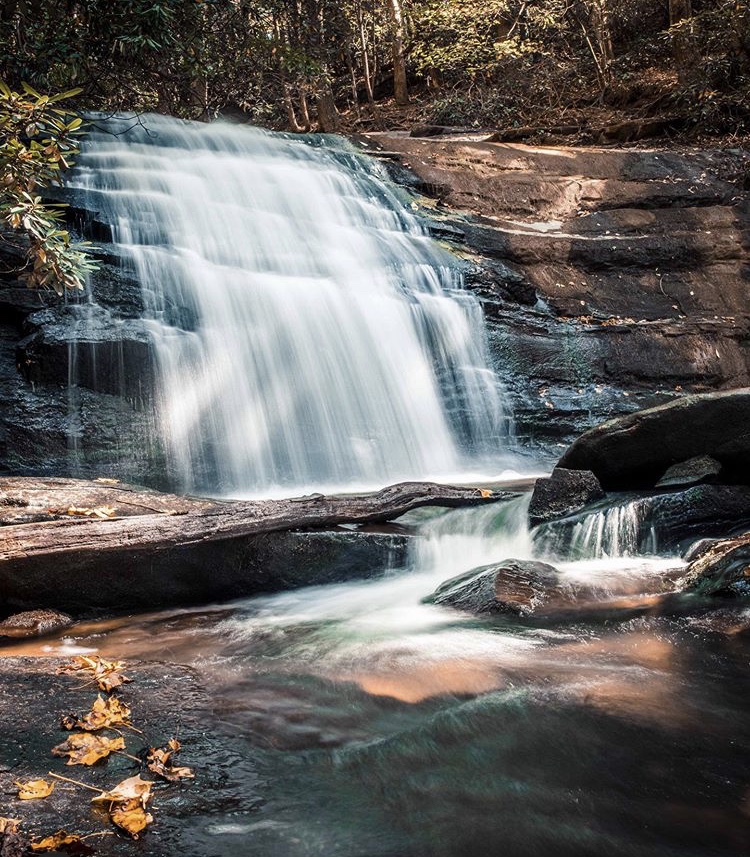 We'll start off with one of Blue Ridge's most famous falls, Long Creek Falls. Not only is it close to the heart of downtown Blue Ridge but it's also easy to access. You can find the falls at the intersection of the Appalachian Trail and Benton McKaye Trail (two of Blue Ridge's biggest & most popular trails). The hike to Long Creek Falls is only 2 miles there and back. You'll follow alongside Noontootla Creek where you'll see smaller falls as you go. Once you arrive at Long Creek Falls you'll be in awe of the beautiful 50-foot double-tiered waterfall before you. Sit on one of the boulders on the edge of the falls and take in the sights!
Fall Branch Falls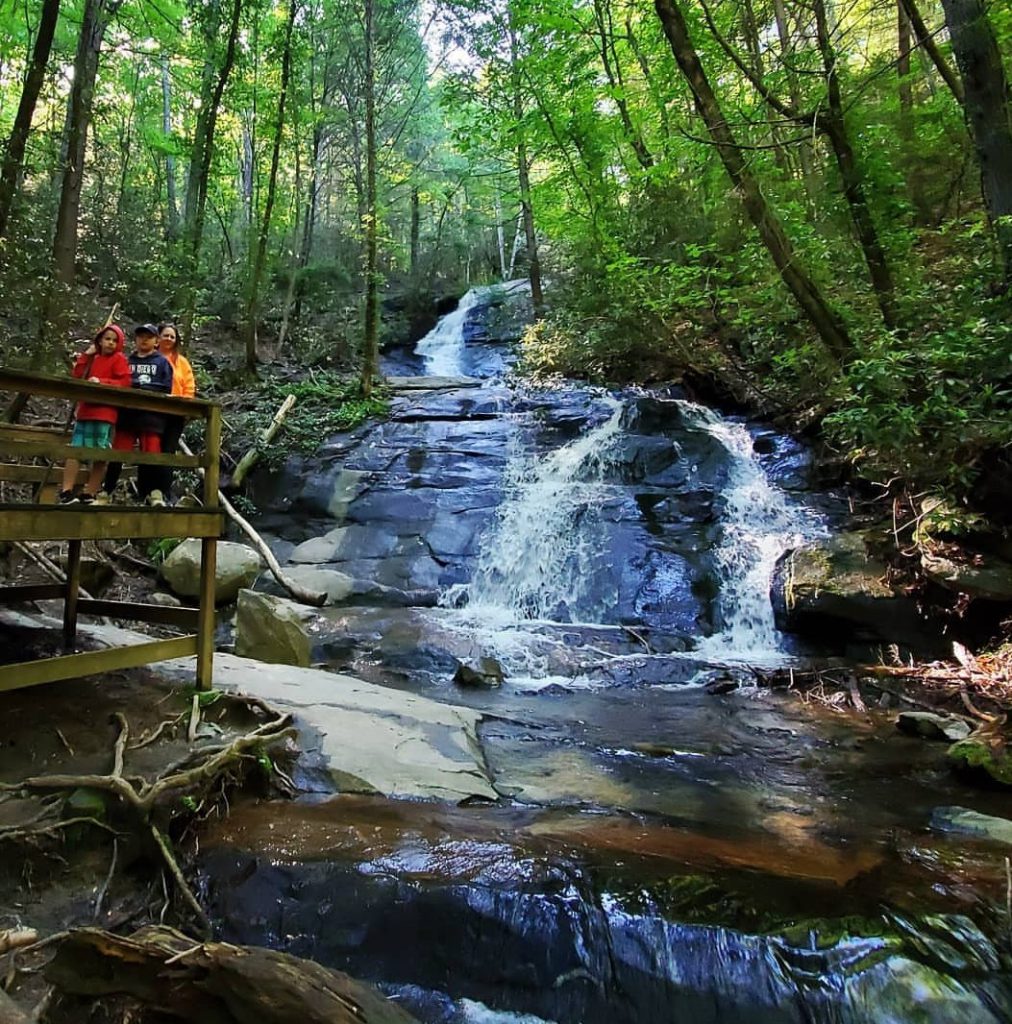 Another waterfall close by is Fall Branch Falls, which is only 20 minutes from Blue Ridge. The hike to the falls is a bit more challenging because of the slippery rocks but it's only a quick half-mile loop. You'll see water cascade down 30 feet into the deep pool at the bottom. Take some photos from the observation deck or have a picnic at the base of the falls. There is lots to take in when you arrive, plus the trek to Fall Branch Falls is a great one to bring your four-legged friends along for!
Turtletown Falls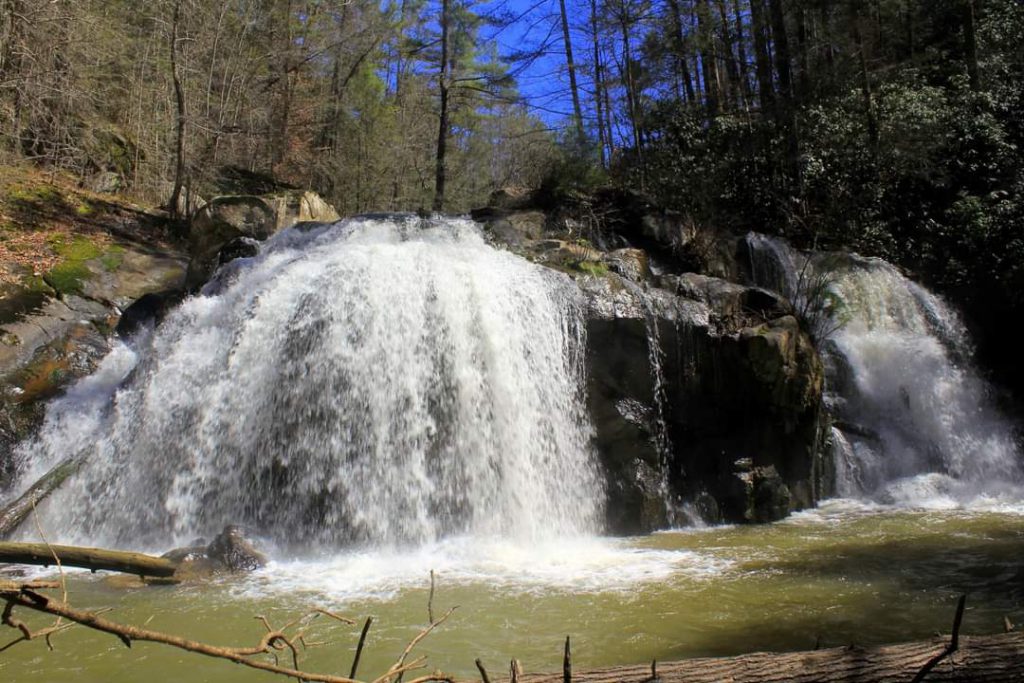 Venture across state lines to Turtletown Falls in Tennessee. Along the 3.8 mile loop you'll pass by Turtletown Creek, the Hiawassee River, and the upper and lower parts of Turtletown Falls. Turtletown Falls splits into two and lands in a pool at the bottom. Relax and listen to the peaceful rushing of the water over the rocks as you admire the view. These beautiful falls are just under 20 miles from Blue Ridge.
Jacks River Falls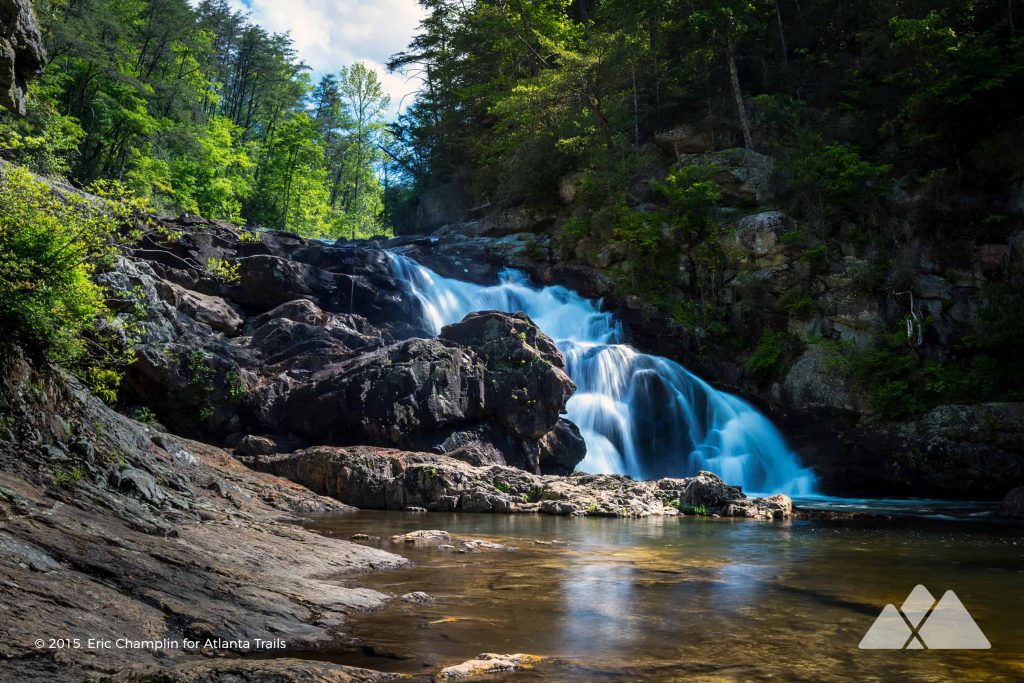 Jacks River Falls in Epworth, GA is one of the most visited sights in the Cohutta Wilderness Area and for good reason! While the journey to the falls is a challenge, the views at the end will make it all worth it. The Jacks River trail stretches for over 16 miles through lush wilderness and past rushing rivers. Jacks River Falls is a beautiful but roaring and rocky waterfall, mimicking that of the rough terrain you'll pass along the way. Hiking experience is highly recommended to get to these falls.
Amicalola Falls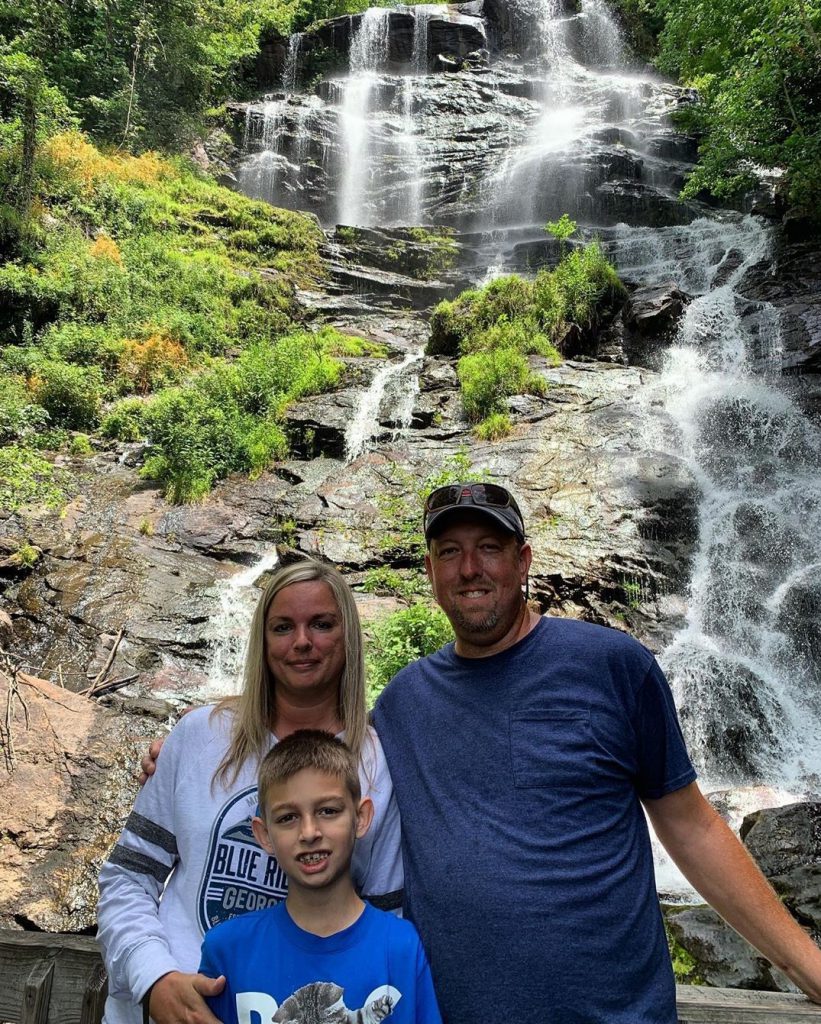 Amicalola Falls is the tallest waterfall in Georgia, standing at 729 feet! Located in Dawsonville, GA, just over 30 minutes outside of Blue Ridge, these falls are one of the more popular ones to visit because of their extreme height. There are 3 ways to reach the falls each varying in difficulty, the first is a simple drive to the top of the falls, the next is the steep but short hike to the top on the 2.1 mile loop, or you could take the 7.5-mile hike along the Appalachian Trail. Luckily, no matter your hiking experience level you'll be able to catch a glimpse of these stunning and massive falls!
Raven Cliff Falls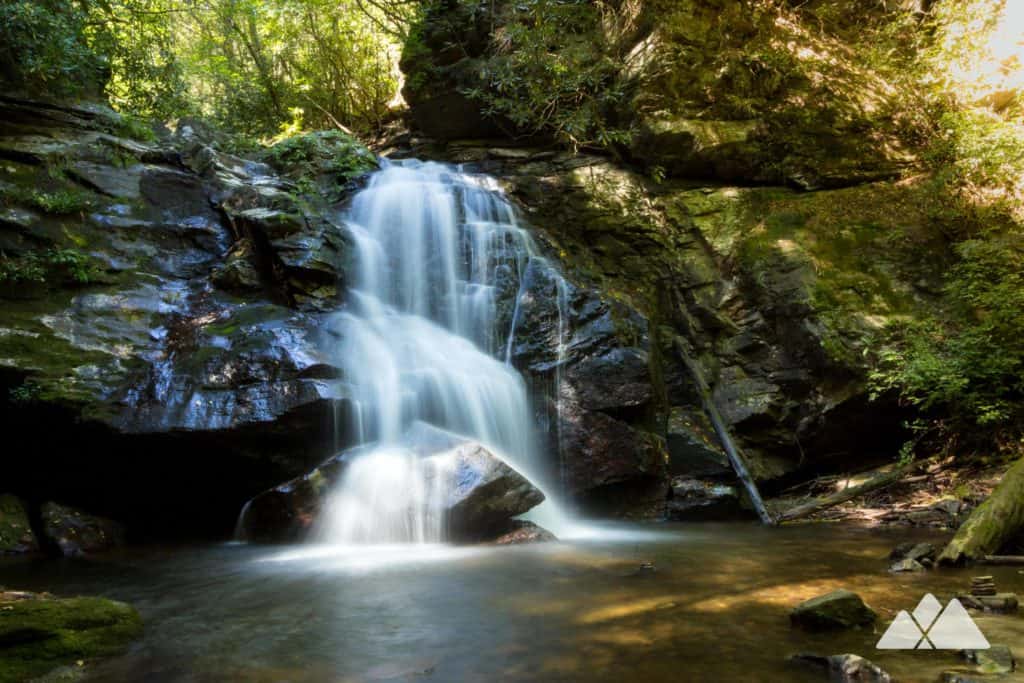 Raven Cliff Falls trail will take you past trout-filled streams, beautiful greenery, and end with a stunning, cascading waterfall. Raven Cliff Falls is located in Helen, GA, and is situated on a 5.8 mile out and back trail. Along the way, you'll pass by many cliffside waterfalls until you arrive at the moss-covered cliffside where the waters of Raven Cliff Falls tumble down. Raven Cliff Falls trail is one of the most beautiful and popular hiking trails in all of Georgia and only about an hour from Blue Ridge!
Sea Creek Falls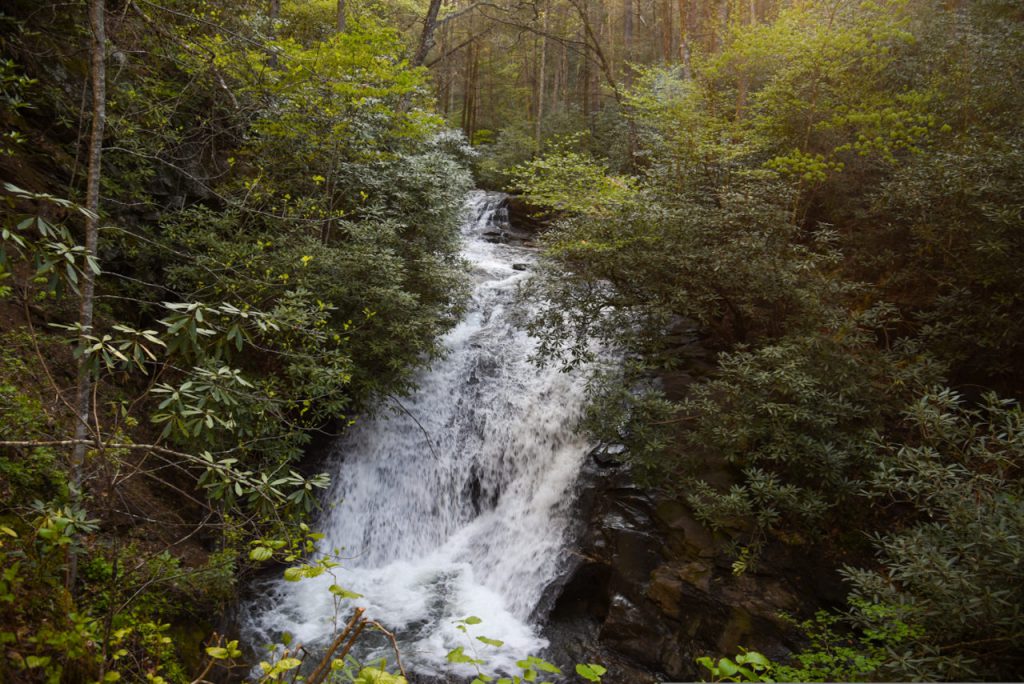 About an hour outside of Blue Ridge in Suches, GA is the double waterfall Sea Creek Falls. The falls can be accessed after just an easy 0.1-mile walk. When you arrive you'll notice that Sea Creek Falls splits into two sections and drops down 30 feet into a shallow pool at the base of the falls. We recommend visiting in late winter/early spring when the water levels are high or after a heavy summer rain because that's when the falls are the most extraordinary to behold.
Helton Creek Falls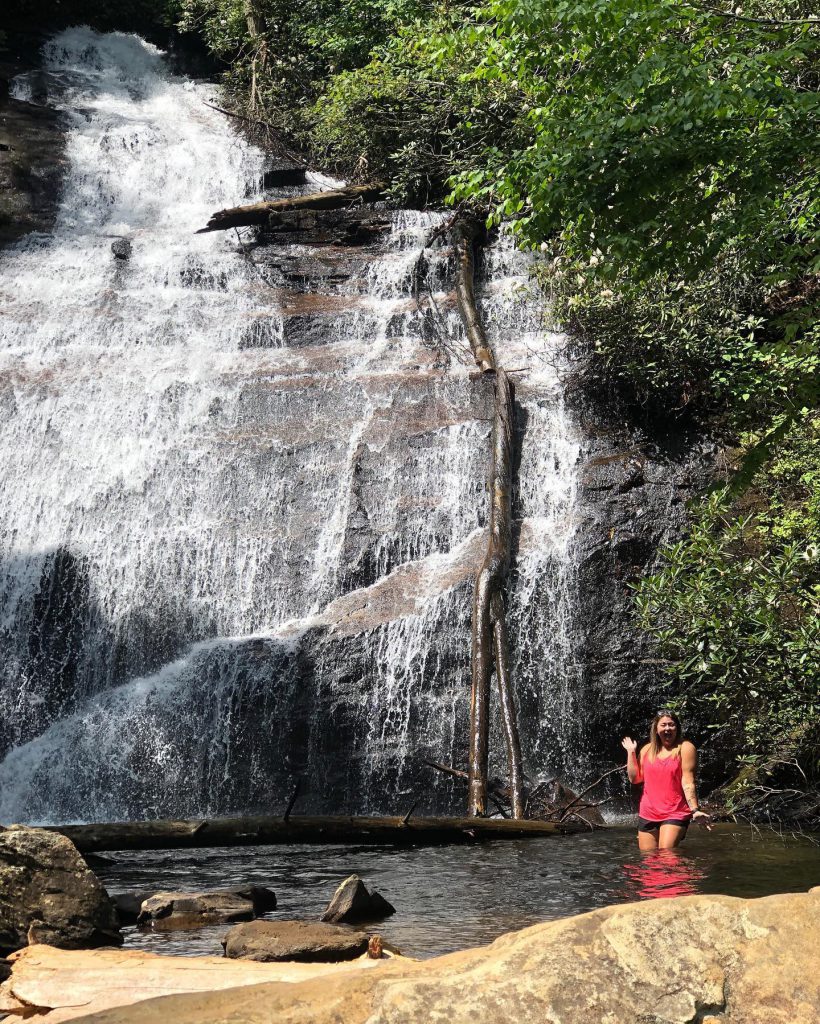 Not far from Blue Ridge in Union County, GA is Helton Creek Falls. Helton Creek Falls is made up of a pair of two large falls, the smaller Lower Helton Creek Falls which you'll arrive at first, and the larger Upper Helton Creek Falls where the water rushes down a 50-foot cliffside. You can easily access this pair of falls by taking a brief .3 mile hike. Admire the beauty of the falls from the observation deck and remember to snap a few photos!