Guest Blog by Forever Freckled.
If you haven't already experienced the Blue Ridge Mountains in Georgia, you should! Our families have been visiting this area for the last 6 years. Each time we return, it becomes even more special. There is something so incredibly quaint and peaceful about the small town of Blue Ridge.
Growing up in South Florida, we do not get to experience the amazing change in seasons. If you know us sisters, we are always talking about "sweater weather" and how badly we want to see the leaves change colors.
Well, we've teamed up again with Escape To Blue Ridge who always help us experience incredible family trips in the Blue Ridge Mountains! As we gear up for our next trip, we are excited to share information about Escape to Blue Ridge, the company we rent the cabins from, as well as some of the best activities and spots to hit up on your journey. If you love a vacation with a small town feel and views to die for, this trip is one for you.
We also want to lend you some pointers for traveling with a ton of kids! You may deal with plenty of tantrums, tears, accidents, and fights along with the fun. But if you're well prepared, you'll make it out in one piece.
Escape to Blue Ridge
For the past 6 years, we have reserved our mountain family cabin with Escape to Blue Ridge. The most amazing part about this company is that they have hundreds of homes you can reserve, making it easy to choose the cabin that best suits the needs and preferences of your family.
The trip we took a couple of years ago was AMAZING! We want to share those adventures with you again, so let's get started!
The Cabin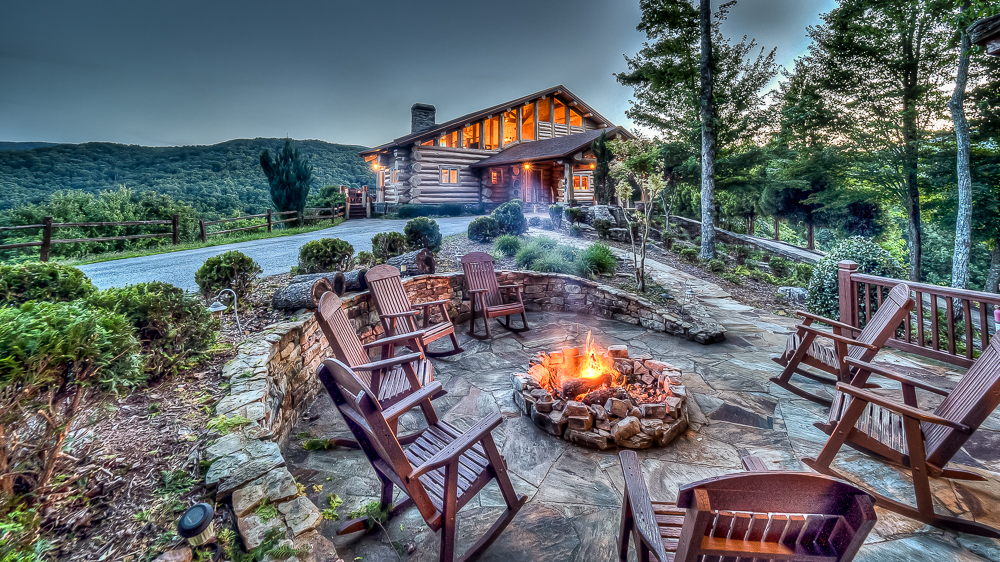 We love a cabin with mountain views and a great outdoor space that's big enough for our three families. We could not believe our eyes when we arrived on this trip. The kids were in heaven, and the views were spectacular!
There are no words to describe this place.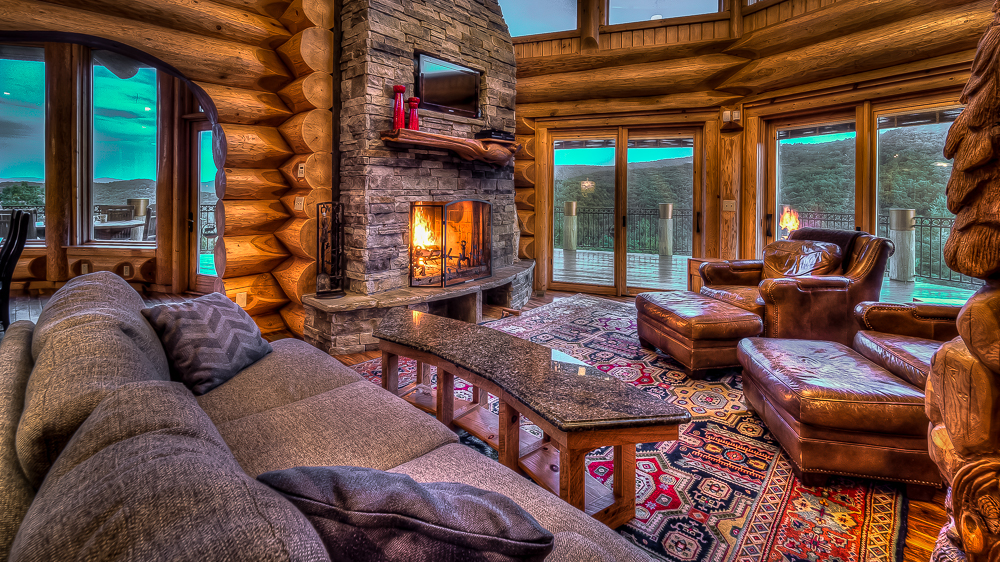 The name of our cabin was Falling Waters Lodge, named after the two small waterfalls running down the front yard. Let me tell you, the house was spotless, at least in the moment we all arrived. The details and decor that went into creating this home were unlike anything we've ever seen. The cabin had a large open kitchen with top-of-line appliances and large windows to look out over the Blue Ridge Mountains while you cook. *NOTE: While this cabin is no longer enrolled in our rental program, we have several other cabins that are just as fabulous like Waterfall Lodge and many more!
There was also a hot tub on the downstairs patio to enjoy the few cold mountain nights. The bottom floor had a media room for movie nights with the kids and a play room with ping pong, billiards, and air hockey. There was a large open fire pit in the front next to the waterfalls where we made s'mores every night.
And even with all that, the most incredible part of this home was being able to wake up at 7am (before the kids) to enjoy a cup of coffee while watching the sunrise and seeing the most amazing fog spread across the mountain tops.
That view was worth the entire trip for us!
Things to Do in the Blue Ridge Mountains
On this particular trip, we spent 6 event filled days in Blue Ridge, Georgia. Here are some of our favorite activities from the trip and our top must do activities when visiting the Blue Ridge Mountains!
Atlanta Aquarium
This aquarium is amazing, and the kids will love it. Take some extra time after flying into Atlanta before heading to Blue Ridge, or before you head home, check out this great aquarium.
Mercier Orchards
For us, this stop is one of the most memorable stops in Blue Ridge. There is something so special about visiting an orchard. We took a hay ride with the kiddos up to the orchard fields where they let you roam around picking and eating apples. The kids had a blast, and Mason even lost a tooth biting into an apple!
After picking apples, we walked around their enormous shop trying homemade foods and buying tons of their famous maple syrup and homemade fried apple pies. The fried apple pies disappeared before we even made it back to the car!
Burt's Farm
What is fall without a pumpkin patch? This day was so much fun! Besides a few major temper tantrums, we managed to have a really great time. The ride around this property on the tractor was so much fun, and the kids had a blast. We got to see how the pumpkins grow and some of the biggest pumpkins we have ever seen! And of course, they had fun Halloween decorations to give us some good decorating ideas for home!
Hiking
The parents decided that one afternoon the guys would get some alone time, and the ladies would get to do the same the next day. Our husbands went fly fishing in the Toccoa River (please see the hilarious, yet handsome, photo below), and we went hiking.
We made videos on toddler bathroom accidents and literally almost peed our pants laughing so hard!
Everyone was in full hiking gear, but we were probably the least prepared on our trail! We hiked at Springer Mountain, which is the very beginning of the Appalachian trail that leads north all the way up to Maine. There are so many great hikes and waterfalls around the Blue Ridge Mountains, even ones that are less challenging and more kid friendly.
Lily Pad Village
This spot has the cutest little fishing pond and gem mining spot that you ever did see! The kids loved spending the morning here. They sorted through their rock buckets full of soil, mining for gems and keeping some of the cool rocks and gems they found. We spent some time fishing by the pond using live bait. They also have a mini-golf course built into the side of the mountain!
Blue Ridge Scenic Railway
This trip was very cool for the kids and great for the parents, especially if you go during the fall when the leaves are changing. The scenery on the ride is beautiful. The hour-long train ride on Blue Ridge's old train cars takes you to a quaint town in Tennessee where you can shop the general stores and enjoy some southern food.
Our kids enjoyed riding the train and sitting in the open cart! Also, close to the train station in Blue Ridge is an amazing public park for the kids. We spent a lot of time there, until one of the kids had an accident in his pants, and we had to leave!
Three Sisters Fudge & Das Kauffee Haus
All day, every day! We ate so much fudge and drank so much coffee, and I am not upset about it! These are just two of the many perfect little shops you can stop at for fudge and coffee in downtown Blue Ridge.
We are obsessed with walking around main street going in and out of all their great shops.
BBQ and S'mores
Do not miss out on BBQ and s'mores – you don't even have to leave your cabin! Yes, going out to dinner is fun but not always with 6 kids in tow. So we cooked at the cabin most of the time, and it made things a lot easier. We ate dinner outside and built a fire for the kids to make s'mores.
Some of our best memories from this trip were made staying home at the cabin!
Once the kids were in bed by 8:30pm, the parents enjoyed alone time and even some of our own s'mores, too!
Black Sheep Restaurant
Hands down, Black Sheep is the restaurant you want to visit in Blue Ridge. We were lucky enough to have one parent's night out during the trip and decided to head to the main street of Blue Ridge and try this raved about dinner spot. This place is an historical home converted into one of the coolest restaurants we have ever seen. In the past when we visited Blue Ridge, we heard about this place but we didn't feel like it would be family friendly.
But on this trip, new owners had completely revamped the restaurant in the best way possible. The ambiance and atmosphere are comfortable and casual, but it still has that fine dining feel we were craving.
We were lucky to be seated outside on the patio where the guys could watch their football during the meal. They even have an old-school movie night on the front lawn, which is such a great touch for bringing families and children to the restaurant!
Our meal was amazing, and the food was top notch. Seriously, everything was delicious, but we must say the crab cakes and the lamb bolognese were our favorites. For dessert, we had the most amazing pumpkin cheesecake ever…a slice of heaven.
Tips on Traveling with Kids
Oh man…before you do anything else, read this article Katie wrote on traveling with kids.
Now, for the tips. Our first tip is simple – just don't take the kids with you!
Just kidding!
We were all nervous before we left, but I have to say, the kids were great. We had a few tantrums and one nasty cold that spread around fast, but we did well. The one thing that helped us immensely was preparation!
For the airport, make sure you stock snacks, iPads, movies, games, and whatever you can stuff in your bag. Entertainment and distraction are key! We had some really fun travel games that the kids LOVED playing.
The looks we got boarding a plane with 6 kids were laughable. But never say you're sorry as a mom. We realized we were apologizing for having kids on the plane…that's ridiculous, right? This is life. Kids fly, and we will do our very best to keep them happy, but sometimes, kids will be kids. Luckily, ours all behaved pretty well, and we didn't get too many dirty looks.
A great tip to keep your kid busy and interested is to let them oversee their own suitcase. Each kid had their own personalized suitcase that they were responsible for. It was so cute how much they loved having matching luggage with their cousins, and they were proud to show off their bags!
We also brought nap mats which the kids used for movie nights in the media room. Sleeping bags would be fun, too!
Final Thoughts on Traveling to the Blue Ridge Mountains
All we can say is that Blue Ridge is a magical escape that takes you to a different world. It's a great place for families or for couples.
Blue Ridge has it all!
We are so happy we discovered this amazing vacation spot, so we can create more memories over the years. All the cabins from Escape to Blue Ridge are incredible. We have stayed in a few cabins now, but if you need a 4+ bedroom home, and it is available, we highly recommend you book the cabin Falling Waters Lodge. It has that special, warm feeling of home you long for on family vacations. We most certainly will go back!
Thanks Escape to Blue Ridge for having us and letting us experience this amazing trip with our families!
Love,
*This trip was sponsored but all opinions are our own! We mean it!