Did you know that you can find food from all over the world in Blue Ridge? That's right, we may be a small little mountain town but our local restaurants bring in just the right amount of variety and a true flavorful experience from countries from around the world! 
Asian Cuisine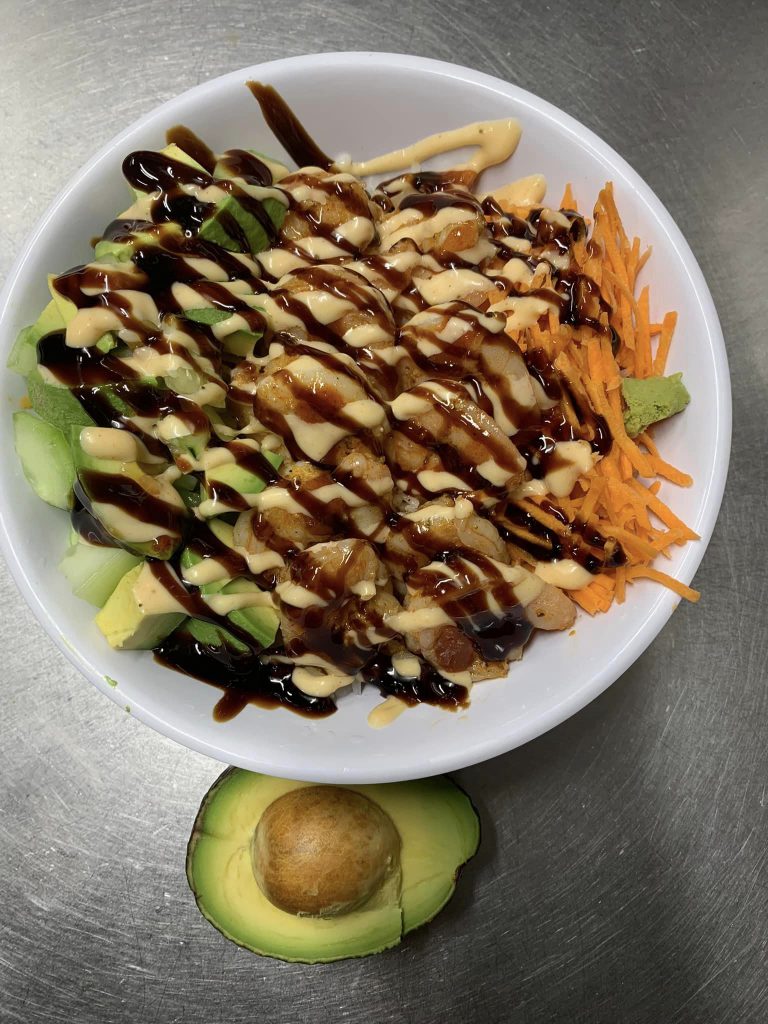 For amazing southeast Asian cuisine take a quick trip across the border and pay a visit to Rod's Rockin' Rolls in Ducktown, TN. All their food is prepared fresh daily and the unique menu is constantly changing, so you'll always find something new and exciting to try! Grab a sushi bowl, the Chef's Seafood Basket, or one of their weekly Menu Specials. You'll love having the taste and flavor of Asia right here in the mountains!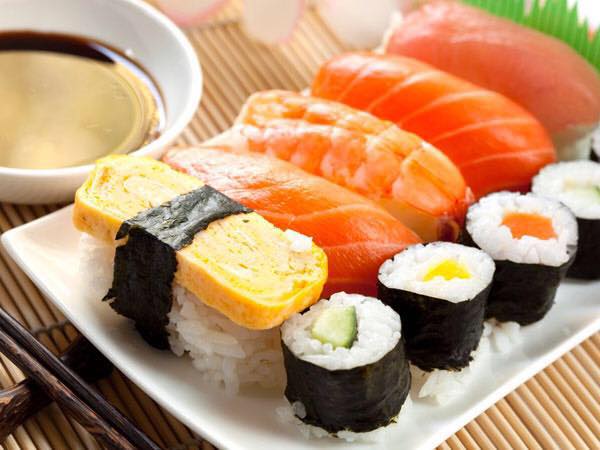 Who doesn't love sushi!? Well,  Kizuna Japanese Restaurant in Blue Ridge has all the sushi you can eat and serves up all kinds of Japanese favorites that you know and love, like Ramen bowls, Udon, Donburi, and Japanese style curry. And you can even try some skillfully crafted, traditional sashimi. Yum!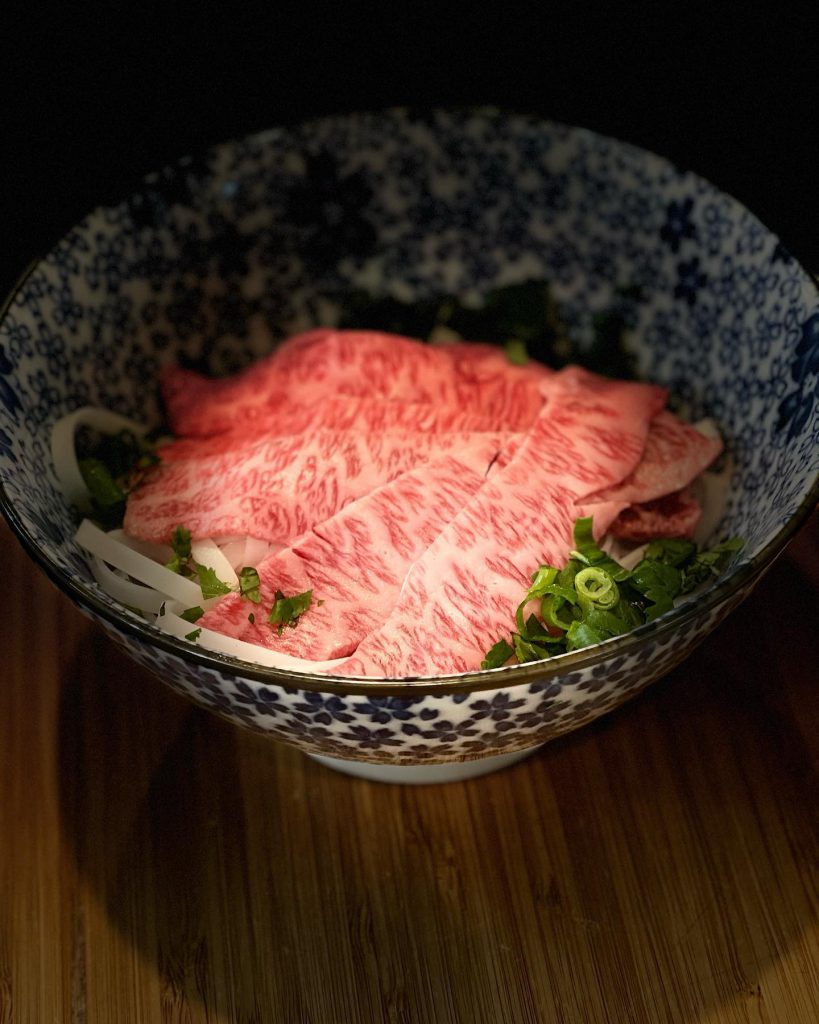 South of North was a crowd favorite, Asian Fusion restaurant in Blue Ridge. We were so sad when they closed their doors but luckily they're coming back! Get your taste buds ready for all the potstickers and summer rolls you can eat when South of North opens back up again soon!
Polish Provisions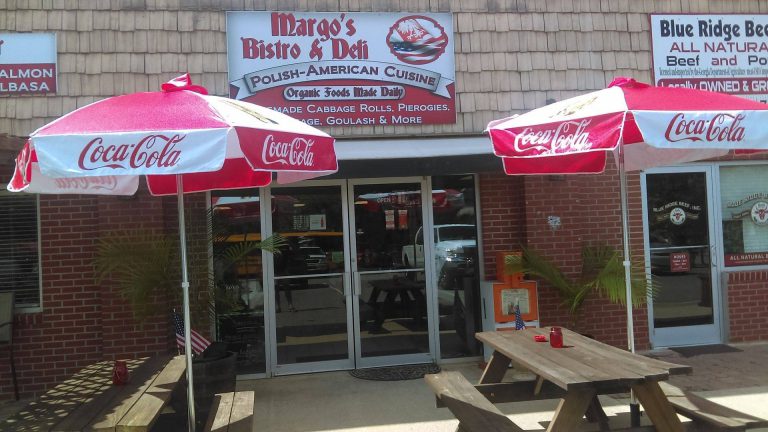 You don't often find Polish restaurants in small mountain towns but we are lucky to have one right in our own backyard! Margo's Gourmet Polish Kitchen serves up all of your Polish favorites by hand, daily to assure the best quality taste. Feast on pierogis, homemade cabbage rolls, sausages, goulash, and so many other classic Polish dishes at Margo's. You can even eat your meal from the "kawiarnia na dworze" (outdoor patio) where you can enjoy a beautiful day and a great meal with your dog beside you. When you eat at Margo's you're sure to have a wonderful dining experience and you may even get to meet Margo herself!
Mexican Grub

Enjoy a taste of Mexico on the state line in McCaysville, GA at El Rio Mexican Restaurant. All their dishes come from old family recipes like traditional enchiladas and nachos, and new, unique dishes like Pollo Loco and Steak Ranchero. Everything is made with top quality, healthy ingredients with three flavors in mind: sweet, sour, and spicy. Eating here will be like a "fiesta in your mouth" every time!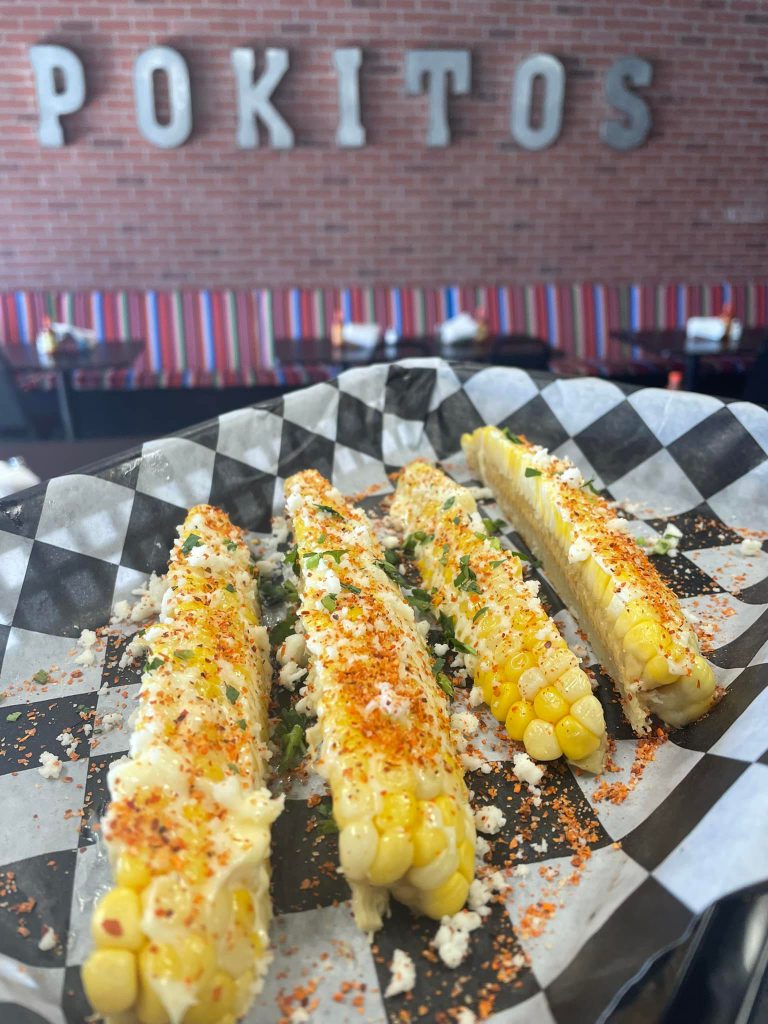 At Pokitos you can have both Mexican and El Salvadorian traditional dishes! We love their Alambron and their amazing Pupusas, but everything on the menu is delicious! Before you go you HAVE to get an order of the street corn and check out their salsa bar which has a bunch of yummy salsas to try.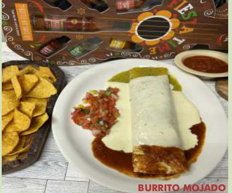 Mesquite Grill in Blue Ridge is known as the "house of the fajita" but you'll find all kinds of classic Mexican dishes here like enchiladas, carnitas, tacos, and more! They aim to serve authentic Mexican dishes made with the finest & freshest of ingredients. And don't forget to pair your meal with a refreshing and delicious margarita! Don't have enough time for a sit down dinner? Mesquite Grill even has a drive thru so you can grab all your favorites and then hit the road!
Italian Feast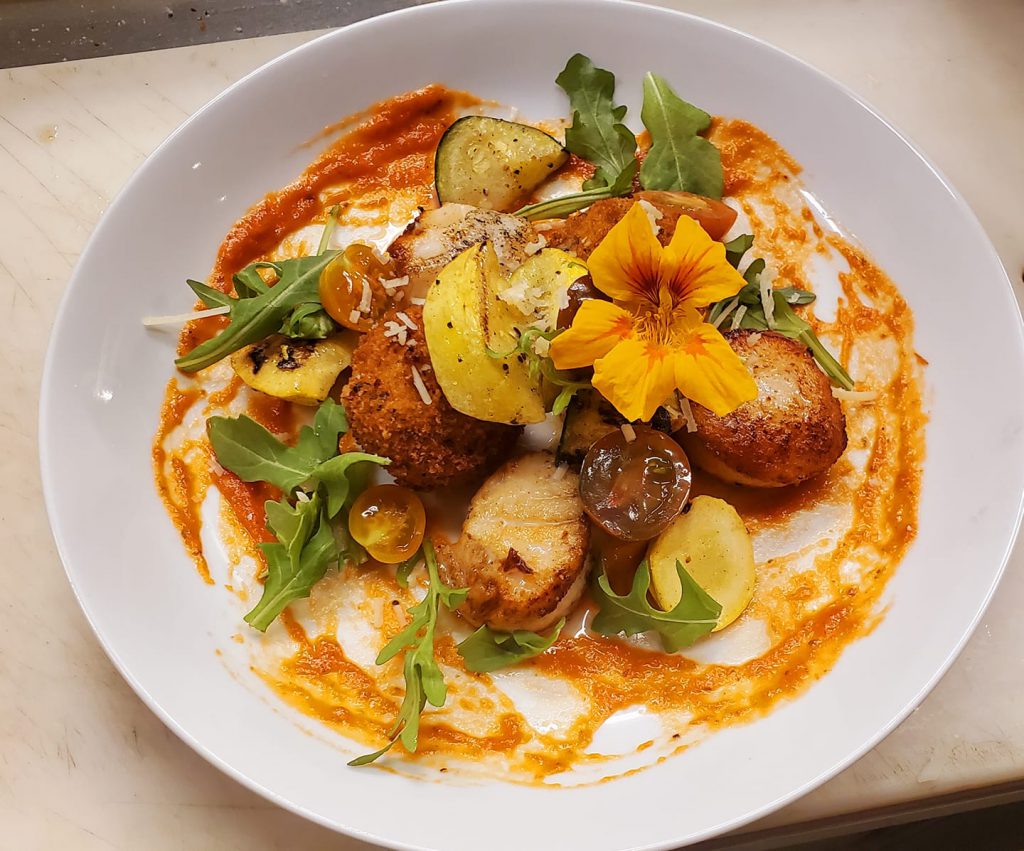 Fine dining and incredible Italian dishes await at Cucina Rustica. Take your friends and family out for a nice dinner on the town and prepare to be wowed by Chef Danny Mellman's dishes. Choose from a wide variety of pastas from the Wild Mushroom Ravioli to the Lasagna Bolognese or the Chicken Parmigiana. If pasta isn't what you're looking for they also offer meatballs, fire roasted shrimp, and a variety of salads. And for a more casual dining experience check out La Pizzeria at Cucina Rustica for all the pizza you can eat! Enjoy Country Style Italian Dishes in an Old-World Atmosphere at Cucina Rustica!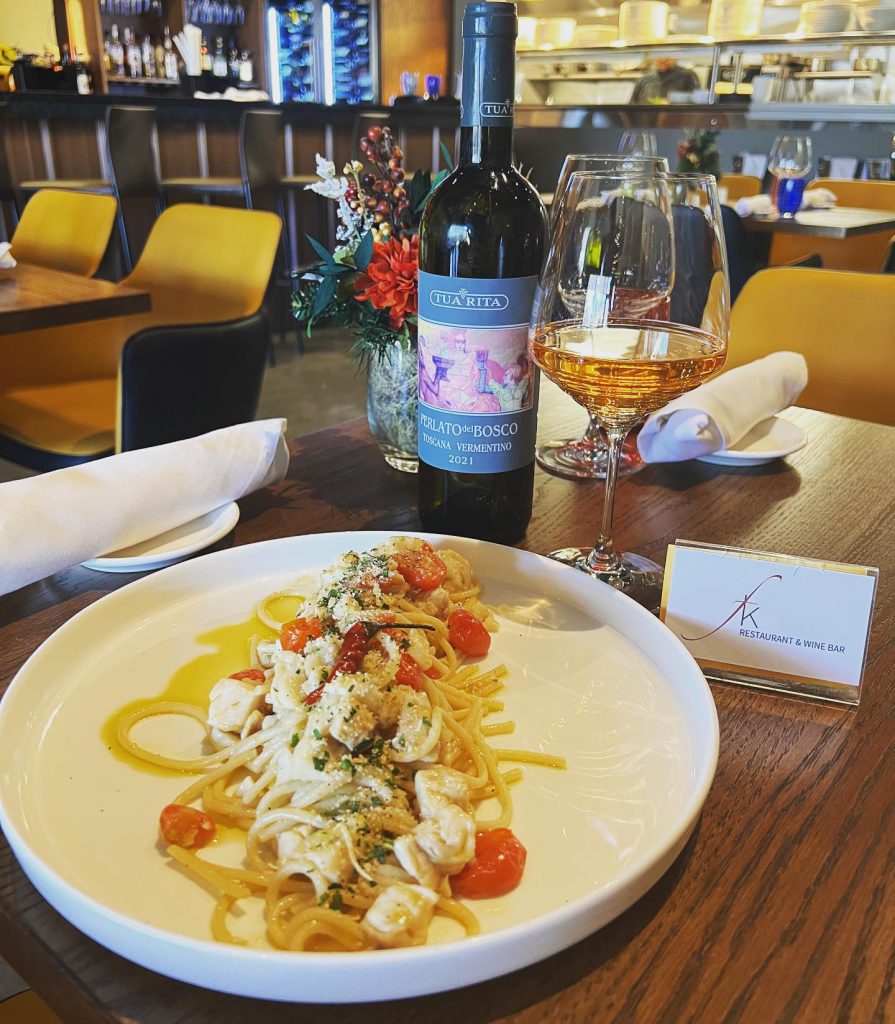 One of Blue Ridge's newest and most delicious restaurants is Ferraro's Kitchen! Talented chef and owner, Igor Ferraro aims to bring the "Italian Way" to Blue Ridge-where he creates delicious food with exceptional quality. Their menu has a huge variety of dishes that will transport you to the coasts of Italy with every bite! Try Spaghetti Cacio & Pepe which is your traditional spaghetti meal with pecorino romano cheese and roasted peppercorn. Or try the Risotto di Mare which is a delicious risotto seafood medley with parsley. Everything on their menu is incredibly delicious and their exceptional service is unparalleled!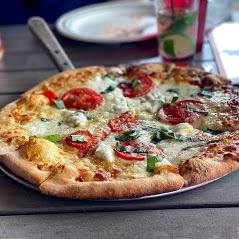 For a taste of both the Mediterranean Islands and Italy visit Masseria Kitchen + Bar.  Here you can enjoy local, Appalachian ingredients with a Mediterranean twist! Take their Chicken Parm for example; the chicken is fried just like how we love it in the south but covered with marinara and mozzarella, and served on top of couscous instead of pasta. It's a fun and delicious twist on a classic dish! And that's the kind of unique and amazing food you can expect from Masseria. Plus how can you go wrong with a large pizza for the table!? And with dozens of pizza  topping combinations to choose from, you can create a pizza that is truly unique to you! Chef Danny Mellman once again goes above and beyond with Masseria, you'll just have to stop by and see for yourself!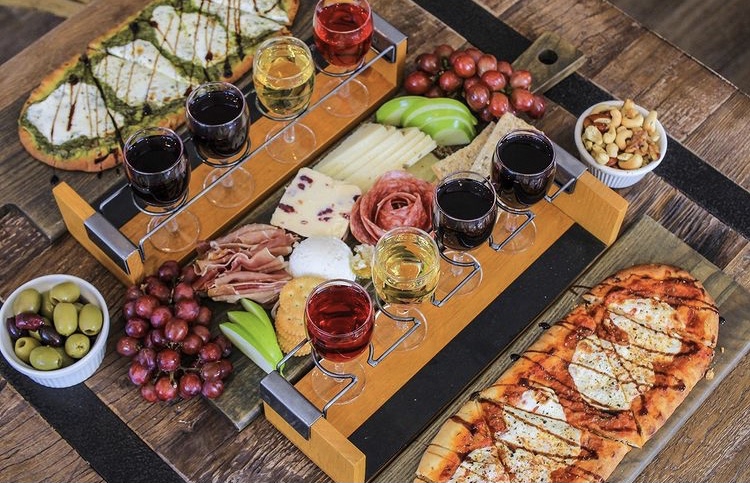 Did somebody say pasta!? Pasta, pasta, and more pasta is what you'll find at The Pasta Market! And while we love all things pasta you can also find the famous Ralph Sauce here, as well as unique artisan goods, seasonings, kitchen & home items and so much more! You can pick up everything you need here to cook your very own authentic Italian meal at home. But The Pasta Market isn't just about shopping for the best ingredients; they also offer food, wine, and amazing desserts! In the back of the shop they have an intimate dining area where you can enjoy a wine tasting, tapa-style platters, charcuterie boards, pastas and more. Don't forget to try one of their yummy Italian desserts like a chocolate chip cannoli or a slice of tiramisu. You can even get breakfast at The Pasta Market! So drop by any day of the week for a fun shopping and dining experience! 
German Fare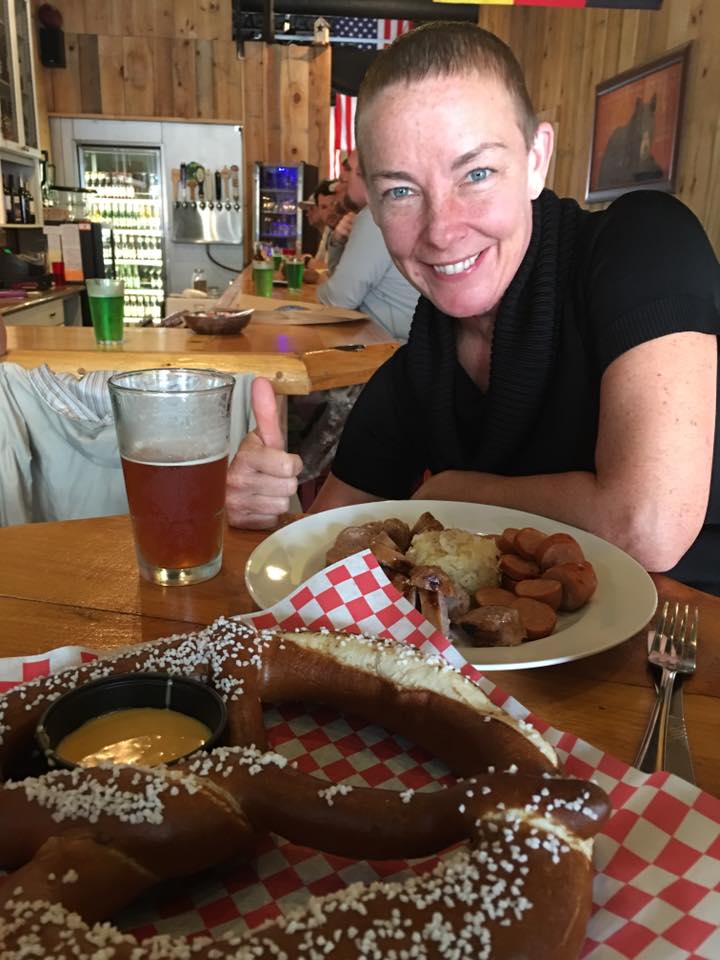 Spend the day with a pretzel, sausage, or beer in your hand at all times! Sound like the perfect way to spend an afternoon? Then stop by Black Bear Bier Garten and party like it's Oktoberfest! Not only can you enjoy a Giant German Pretzel with house made beer cheese here but you can also try over 9 varieties of wild game sausages including boar, venison, buffalo, pheasant, and elk. Plus there are multiple German beers to choose from along with other local craft beers as well! The husbands will especially love it here so feel free to head off for some shopping downtown and leave your husband at Black Bear Bier Garten's "husband daycare". Be sure to snag a photo of him by the sign on the door that acknowledges their free husband daycare! And when you come back from your afternoon of shopping, you AND the husband can enjoy the best of America and Germany all in place!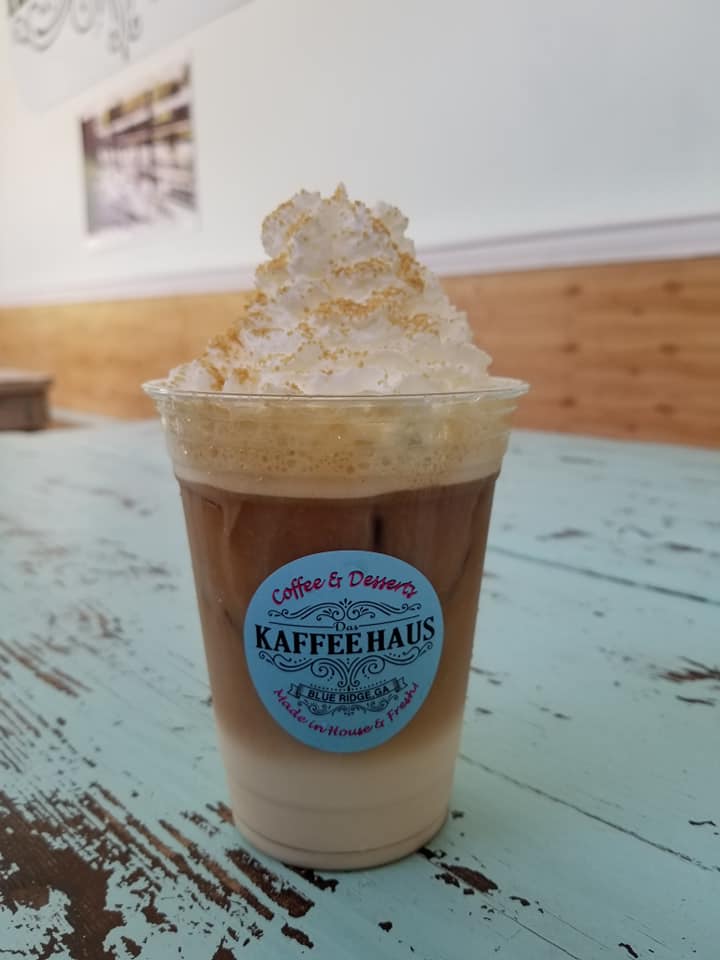 Coffee and sweet treats that taste like they came from Germany itself? Sign us up! At Das Kaffee Haus you can order traditional European coffee drinks like espressos, cappuccinos, and more from their special European blends. Pair your specialty coffee with a dessert, truffle, or bagel and then head out to the patio to enjoy your drink & dessert while you watch the train pass by and take in the views of downtown. 
Cuban Creations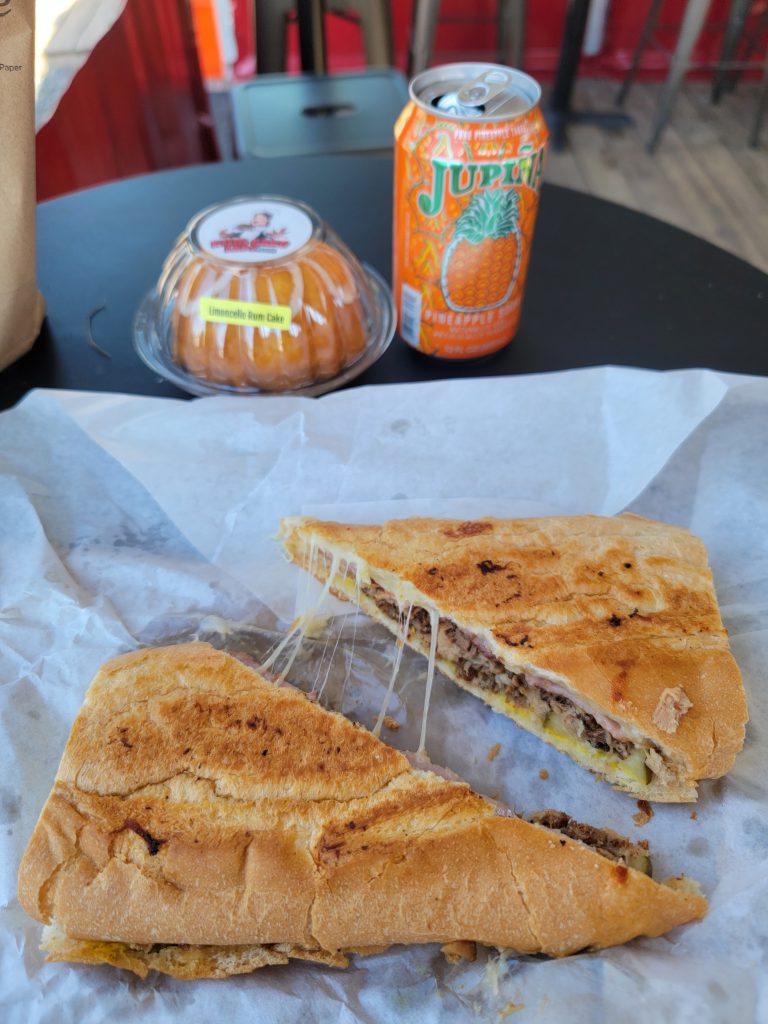 The Rum Cake Lady is a beloved restaurant in both McCaysville and Blue Ridge and once you try some of their AMAZING food it won't be hard to see why! They are a family-owned, fast-casual café offering authentic Cuban comfort food and award-winning Rum Cakes of every flavor. You'll quickly fall in love with the incredible food; like the delicious sandwiches pressed on fresh-baked Cuban bread, the Empanadas, and the Cuban Bowls. And after you eat you HAVE to get a Rum Cake! They have all kinds of flavors like golden, limoncello, salted caramel, chocolate, and Cuba libre. There are even special seasonal rum cake flavors that come around for different holidays and seasons; you'll want to try them all! 
Irish Pub Fare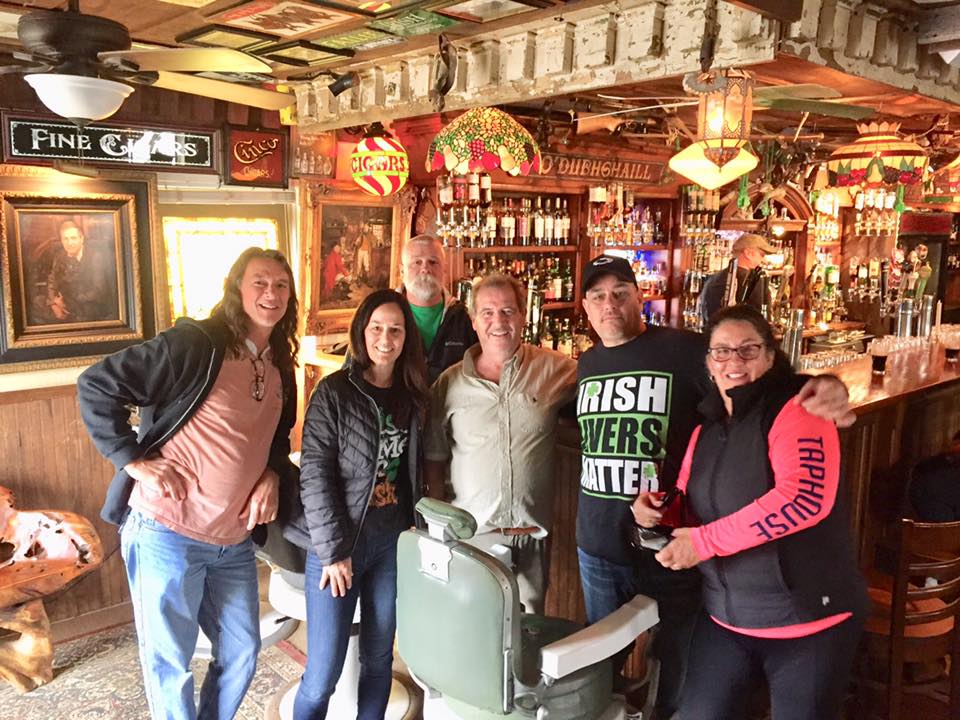 St. Patricks Day may have already passed but there's never a bad time for Irish food & drink at The Boro Inn Irish Pub. This hidden gem in Downtown Blue Ridge has 177 different handcrafted libations including whiskeys and brews, some of whose recipes span 1,300 years. Feel the luck of the Irish in you as you sip on the very best Irish whiskies and dine on traditional Irish foods. The Boro Inn Irish Pub is part pub, part museum; where you can learn all about the music, the poems and the tales of Ireland of old. For a unique experience like no other, right here in Downtown Blue Ridge, visit The Boro Inn Irish Pub! 
French Delicacies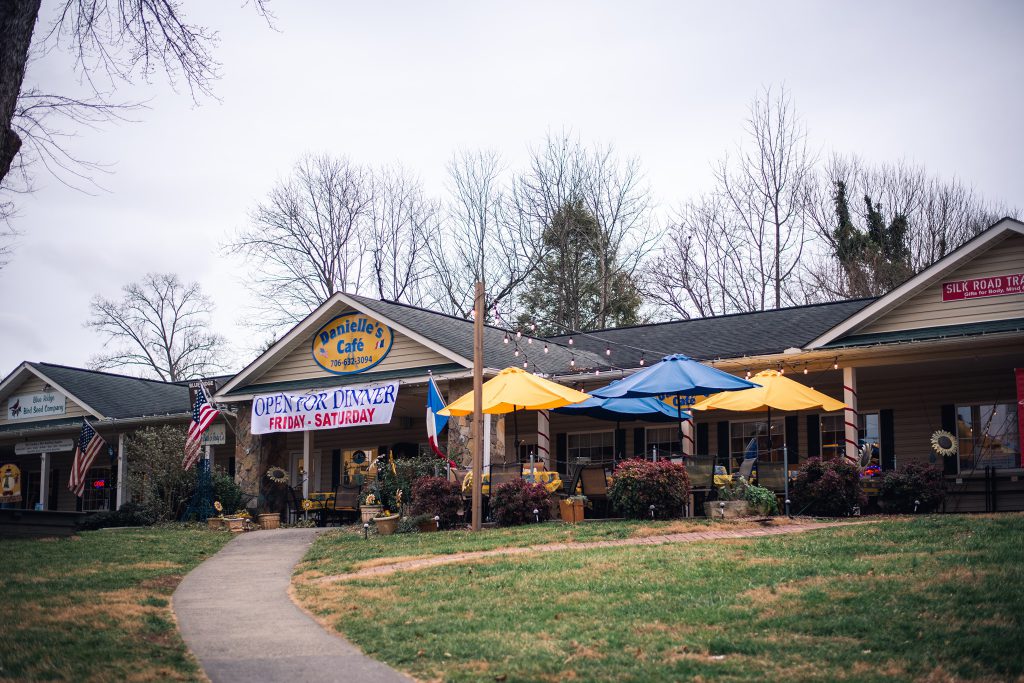 Say Bonjour as you walk through the doors of Danielle's Cafe, a new café in town that offers all sorts of French delicacies. Enjoy tasty dishes with a French flair like quiches and croque-monsieur sandwiches. Everything here is delicious but you can't forget the crepes! They have savory crepes like the "Blue Ridge Crepe" or the "Country Crepe" and sweet crepes with nutella, strawberry, and many other toppings. There's nothing better than a warm crepe! 
Hawaiian Bowls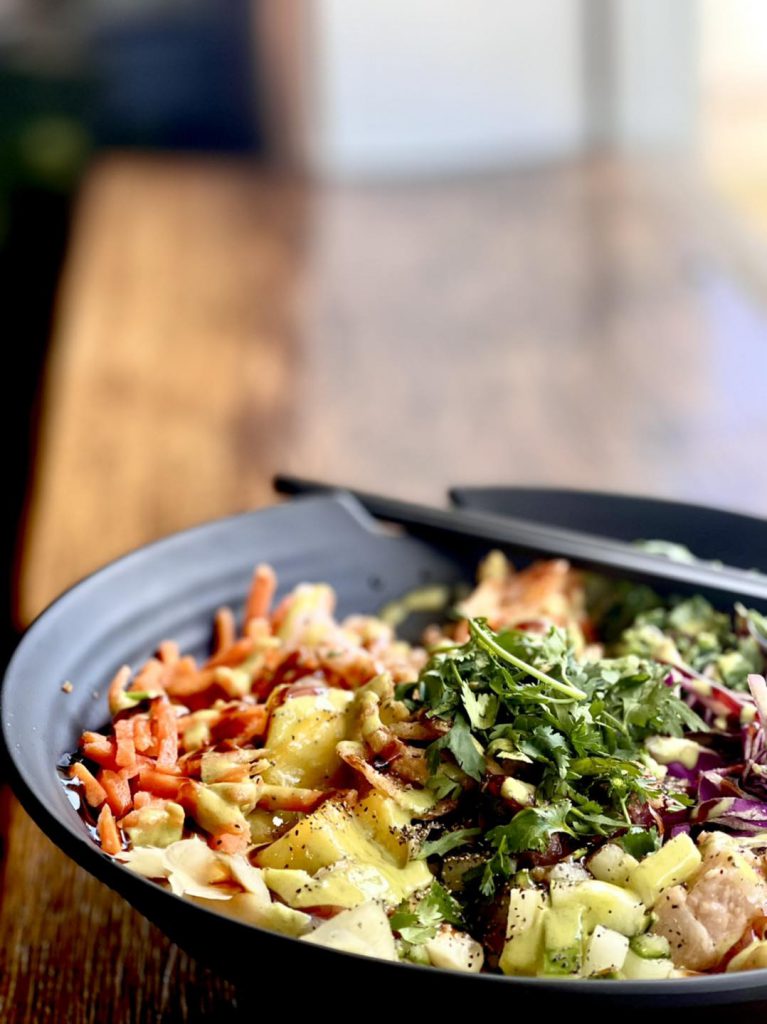 Hawaii may be a U.S. state but Hawaiian cuisine is  not something many of us get to try often! That's what makes Poke Jon's so special! You can get Hawaiian flavors and quality products right here in the Blue Ridge Mountains! As its name suggests Poke Jon's is all about Poke bowls which are a Hawaiian staple meal filled with raw fish, rice, veggies, and delicious sauces. You can choose one of their signature poke bowls from the menu or create your own with all your favorite toppings! You can even pair your bowl with a traditional Sake beverage for that extra Hawaiian flavor!
American Eats
And of course we've got plenty of your classic southern, mountain cooking in town as well! 
BBQ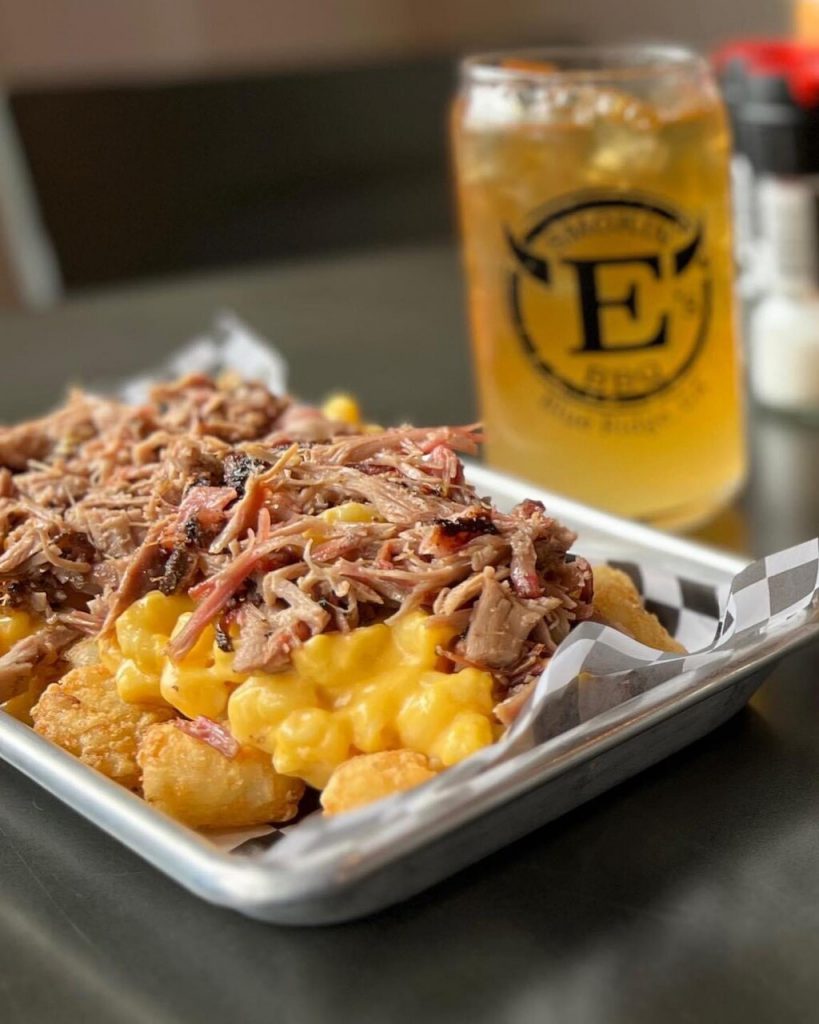 Enjoy some good old fashioned bbq from Carrolls Barbeque! They offer pulled pork, pulled chicken ,smoked wings, and fun sides like "Tater Hill" (a large, classic baked potato, covered in their white sauce, piled high with pulled pork, mac & cheese, baked beans, and coleslaw and then drizzled with mild & sweet sauce.) But their smoked turkey is legendary and a must try when you visit! And Smokin' E's BBQ is new to town, with award winning bbq all homemade and smoked to perfection! Come on down with your friends & family and split a Family Combo or Bray's BBQ Sampler while you enjoy live music on the weekends!  
Burgers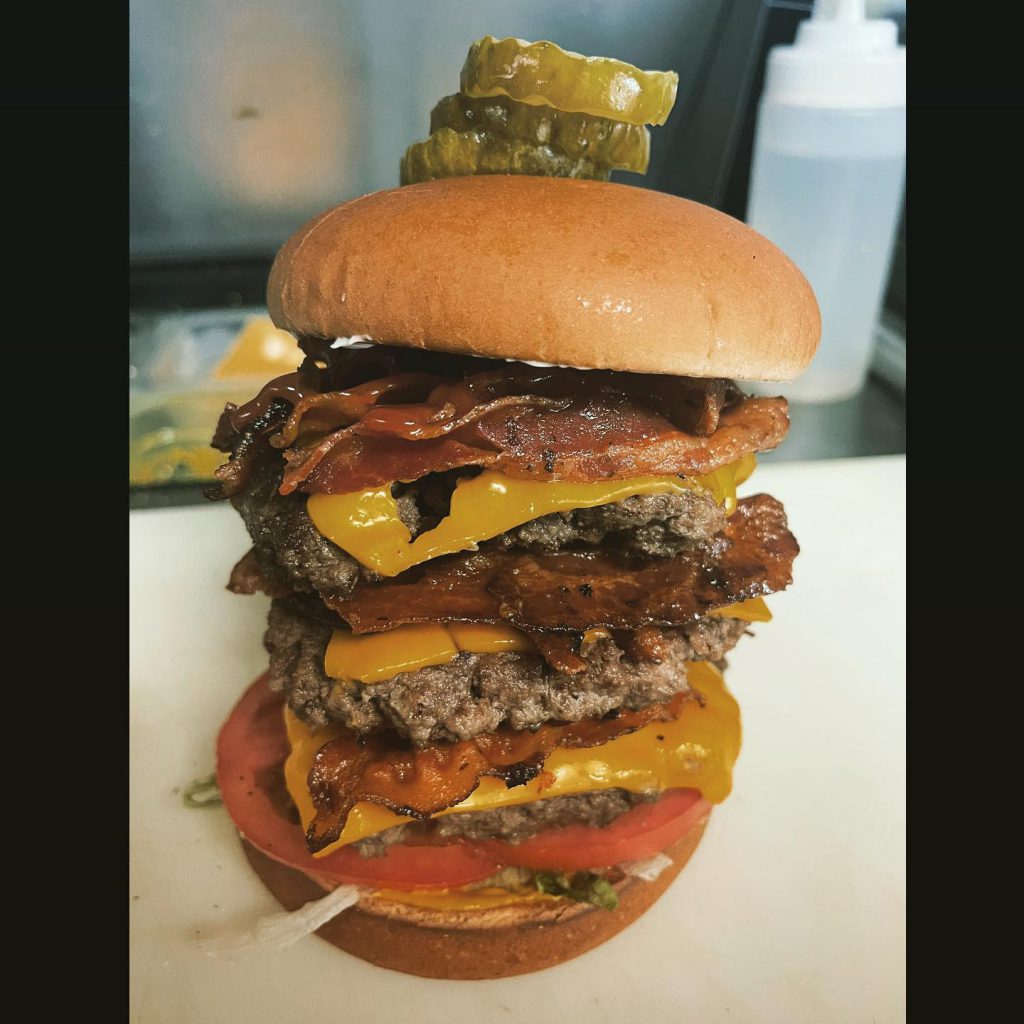 Americans sure do love their burgers! There's nothing quite as satisfying as digging into a burger with a side of fries and your favorite beer or soda. So get your burger on at the burger place of all burgers- Sue's Burgers! Sue's is known for serving up the best burgers in town for over 45 years! Pair your huge burger with a great side like french fries, tots, onion rings or one of their many other options! Fightingtown Tavern is also a great spot for burgers, American eats, and all things rock n' roll! Their food is made from fresh, locally sourced ingredients. They offer unique farm-to-table comfort foods like burgers, sandwiches, wings and more for you to enjoy while you watch the big game or play a round of darts. They even have a massive burger called the Megadeath Burger made with 1/2 lb burger patties, 2 fried eggs, 2 slices of cheddar, 2 slices of pepperjack, 4 slices of house cured bacon, grilled jalapenos, grilled onions, beer cheese, & sriracha all separated by a krispy kreme™ glazed donut! It doesn't get more American than that! 
Southern Eats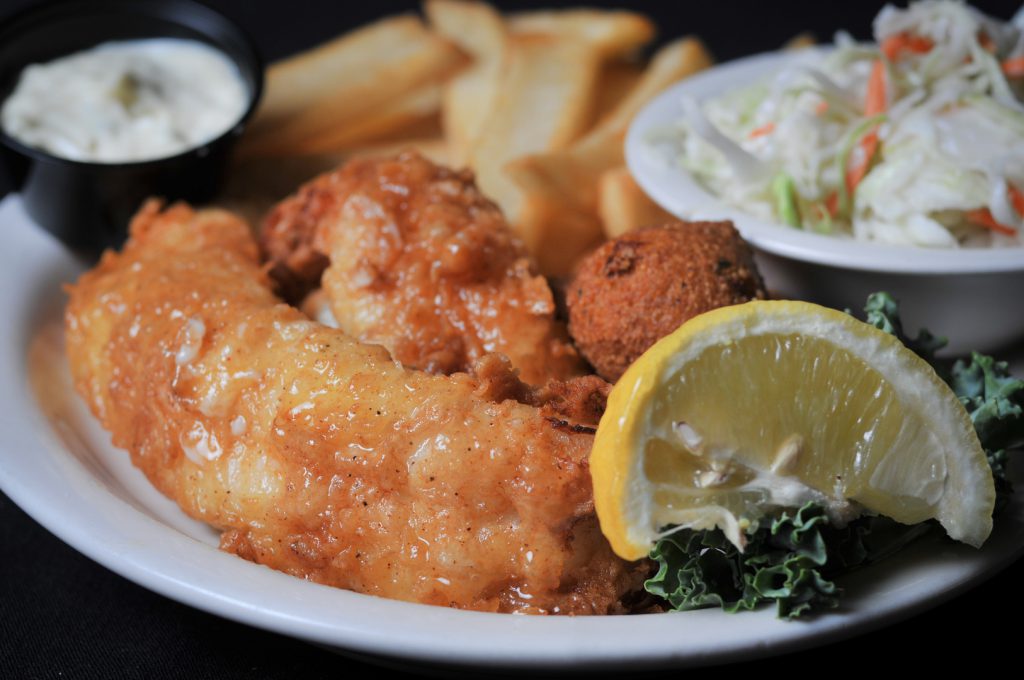 Get your southern fix at Southern Charm! They are all about southern cooking and that good old southern hospitality! Get your fill with biscuits, chicken pot pies, country fried steaks, and lots and lots of gravy! Yum! For more southern dining in Blue Ridge check out our southern eats blog: https://www.escapetoblueridge.com/blog/southern-eats/