There is so much fun to be had in Blue Ridge all year long! Because there is always something happening in town it can be hard to narrow down when it's the best time to Escape to Blue Ridge. We're here to help! We've comprised a list of 12 seasonal activities and events for you and your family to partake in, one for each month of the year!
January: Discover Bigfoot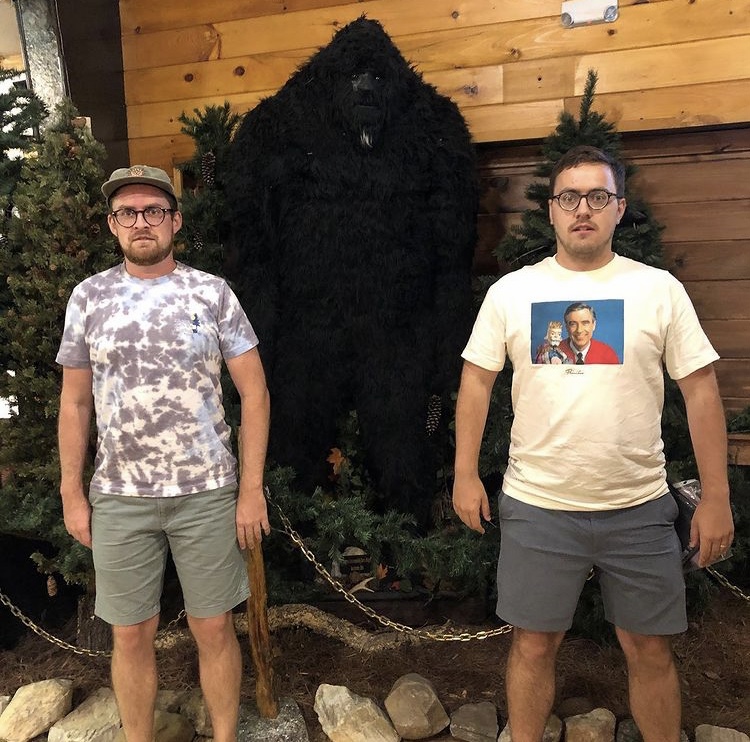 Head inside & stay warm during the cold month of January by paying a visit to Bigfoot himself at the Expedition: Bigfoot Museum! There you will learn all about the mysterious creature that is said to wander the forests of North Georgia. Expedition:Bigfoot holds the country's largest display of genuine Bigfoot artifacts like photos and sketches, sighting maps, life-sized exhibits, and the World's only Bigfoot Research and Tech Vehicle. There's so much to see at this family-fun, quirky gem of a museum!
February: Fire & Ice Chili Cookoff & Craft Beer Festival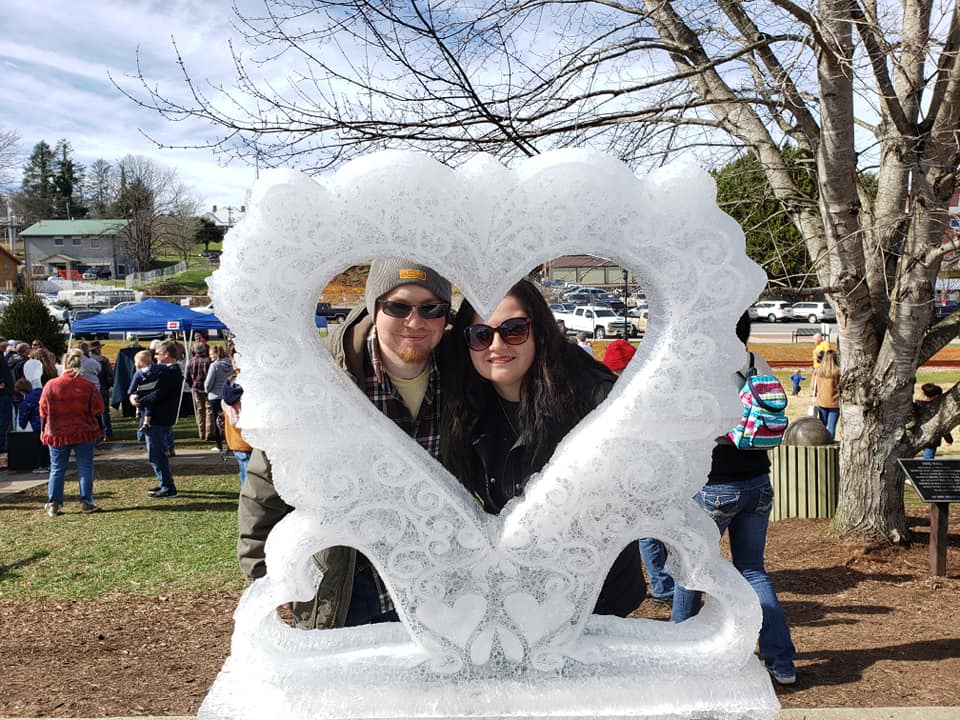 Embrace the cold at Blue Ridge's 11th Annual Fire & Ice Chili Cookoff & Craft Beer Festival! This year's event takes place February 19th from 12pm-4pm and will have all kinds of winter fun! There will be ice sculptures and live music, as well as chili and craft beer to keep you warm & toasty from the cold mountain air. Help determine the winner of "The Peoples Choice Award" chili by purchasing taster tickets for $10. Sample the competition and pick your favorite to win! And be sure to take some time to admire the beautiful display of award-winning ice sculptures from the National Ice Carving Champion Rock On Ice. You'll even get a chance to see how the process works by watching ice sculpting demonstrations. You won't want to miss out on this great winter event, so bundle up and join us for the fun!
March: Shop & Eat Local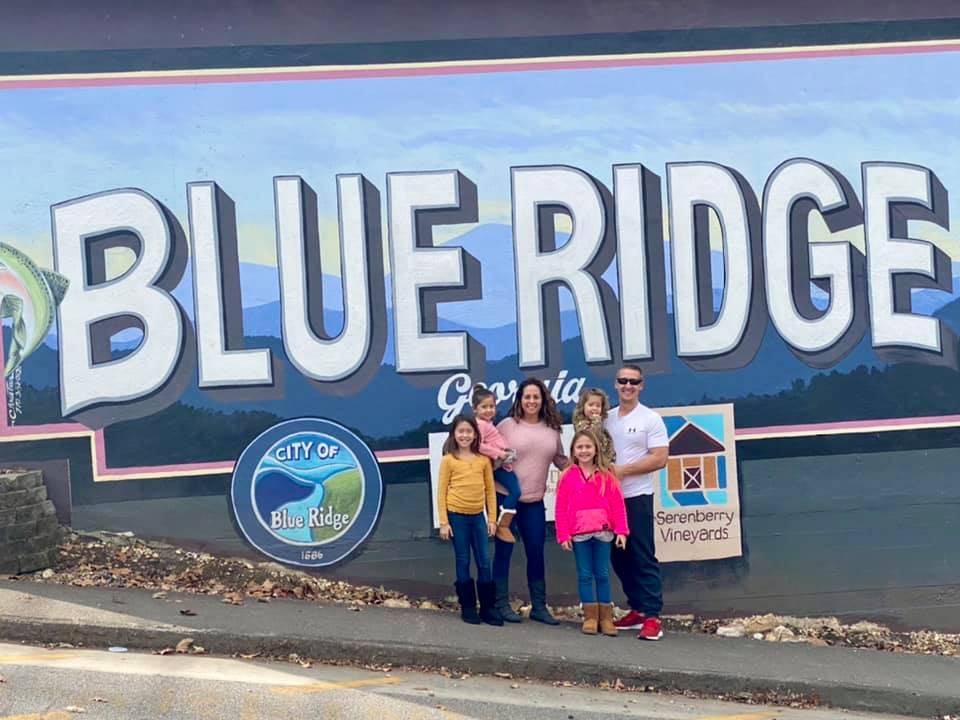 March is a great time to hit the downtown area because it's not too busy! You'll easily be able to visit all of your favorite shops & get in for dinner at some of the best spots in town like Chester's, The Black Sheep, or Harvest on Main. Discover unique finds at the shops downtown and stock up on souvenirs from your Blue Ridge adventure. Check out Pezrok for cool rock formations and handcrafted furniture to bring back or pay a visit to Blue Ridge Olive Oil Company to bring some Blue Ridge flavor home with you! After a busy day of shopping and dining be sure to end your day with dessert from Mona Lisa's Dessert House, The Sweet Shoppe, or with a Rum Cake from The Rum Cake Lady.
April: Take a Scenic Drive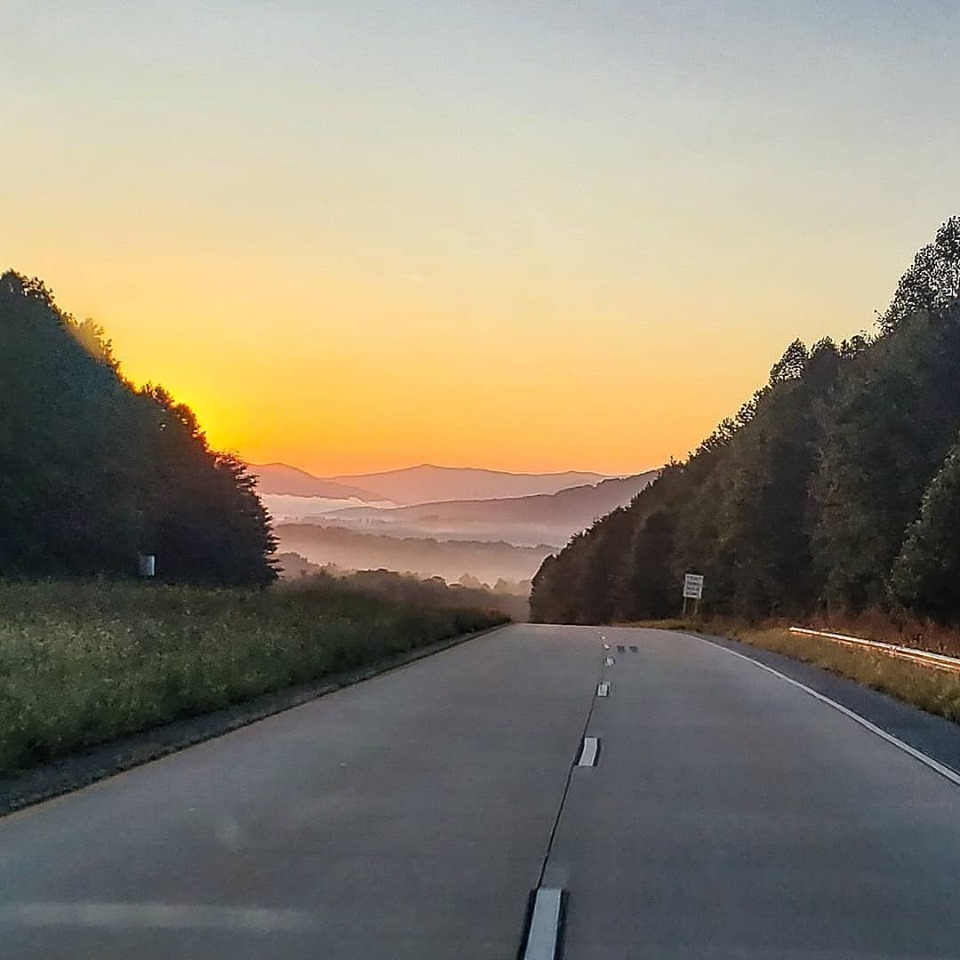 As the weather warms up and spring finally arrives in the mountains there's no better time to take a scenic drive! Bring the whole family and drive through winding mountain roads where you'll admire the beauty all around you. Flowers will begin to pop up, the Blue Ridge Mountains will be in their full blue color, and the drive will be alive with nature. There's no better way to celebrate the end of winter than by taking in the beautiful views. Follow our scenic drive blog for the perfect routes: https://www.escapetoblueridge.com/blog/5-scenic-north-georgia-overlooks/
May: Spring Arts in the Park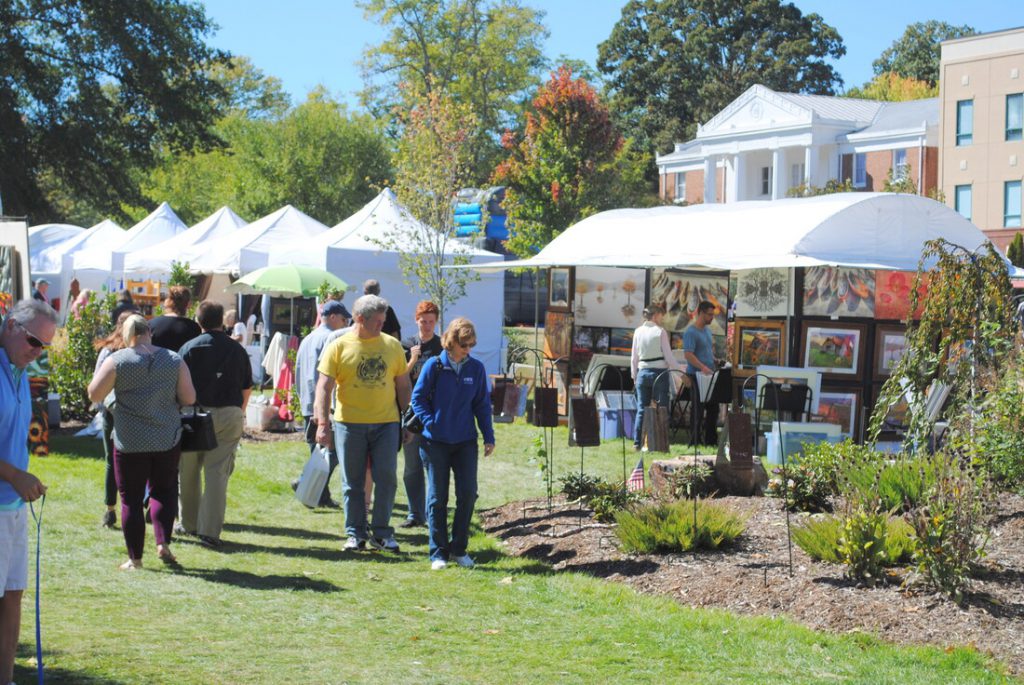 Come celebrate the beautiful weather and local artists at the annual Spring Arts in the Park event! This year the popular event, hosted by the Blue Ridge Mountains Arts Association, takes place May 28th & 29th, for the holiday weekend. Typically the family-friendly event draws almost 20,000 people to the Downtown City Park of Blue Ridge! And with over 170+ vendor booths for various artists, exhibitors, and food vendors there's so much fun for everyone! And this 46th year of the Spring Arts in the Park will be no different! Admission is $5 and children 12 & under are free!
June: Explore the Trails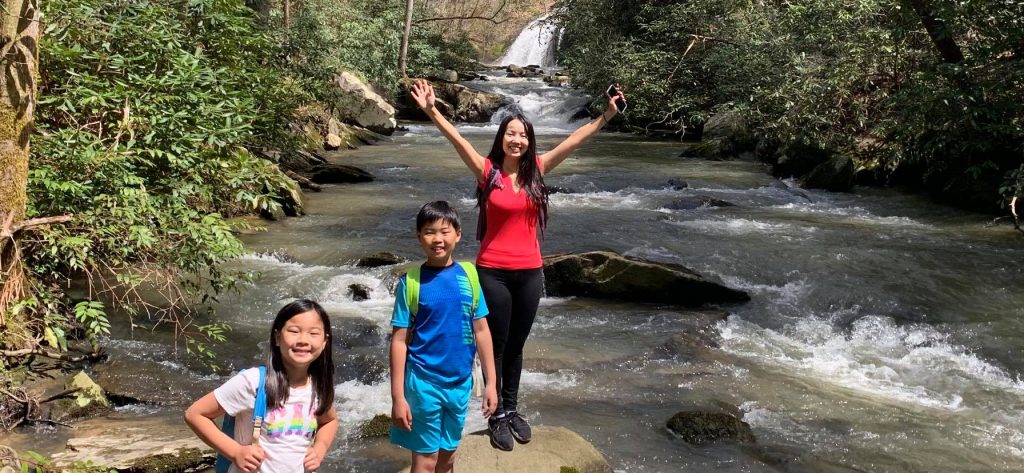 With summer arriving there's no better time to hit the trails! Explore miles and miles worth of hiking trails that will take you through some of the most naturally beautiful places in the state! Discover stunning waterfalls standing at a few hundred feet tall, be brave and walk across the swinging bridge, push yourself and climb to mountain peaks, and go for peaceful hikes along rivers and lakes. There's so much waiting for you on the trails in Blue Ridge! Learn about a few of our favorite hikes here: https://www.escapetoblueridge.com/blog/8-blue-ridge-hiking-trails/
July: Hit the Lake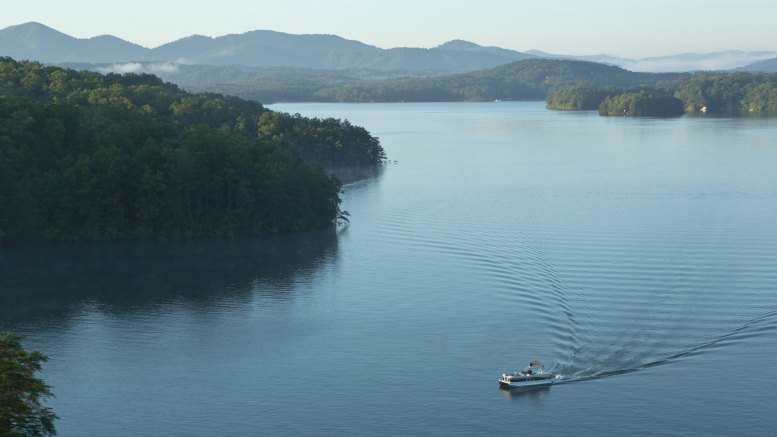 Beat the summer heat and take to the waters of Lake Blue Ridge! Whether you're cruising on a boat, splashing in the water, or sunbathing on the sands of Morganton Point; Lake Blue Ridge is the place to be for the summer! Lake Blue Ridge Marina is a great starting point to prep for your lake day adventures. They have boat rentals and all the supplies you need to get out on the water. And after a long day on the lake be sure to drop by the marina again at The Boat Dock Bar & Grill for great food, drinks, live music, and a beautiful view of Lake Blue Ridge. It's a perfect way to unwind after a busy summer day. The fun on Lake Blue Ridge goes on all summer long but one of our favorite times to be out on the water is the 4th of July! See fireworks light up the night sky and reflect off the lake for the annual "Fire in the Sky" fireworks display. The fireworks are shot off over the Lake Blue Ridge dam and can be viewed by boat or along the shore. It's become many visitors and locals alike favorite annual tradition!
August: Go for a White Water Rafting Adventure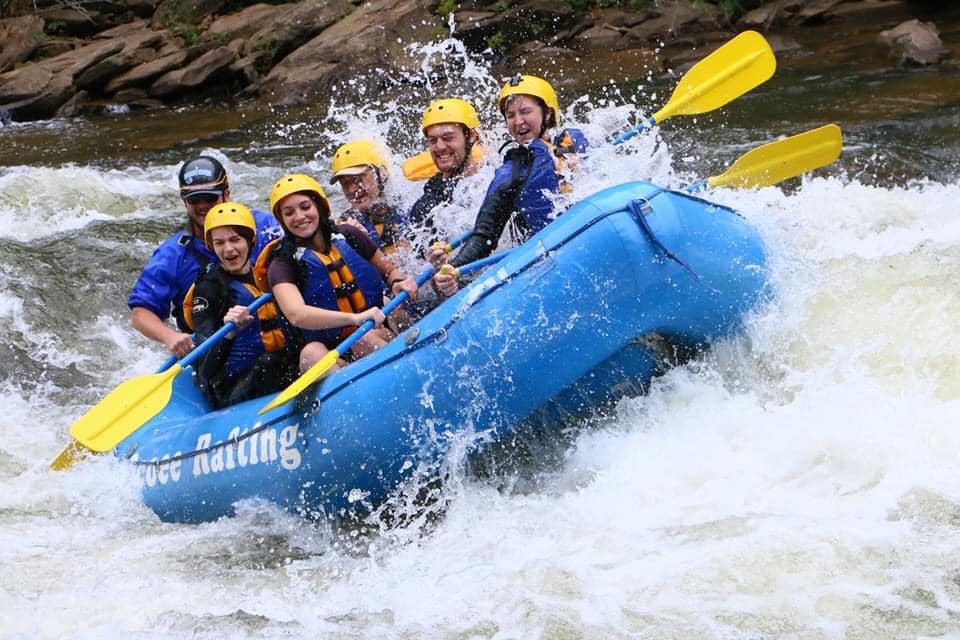 The end of summer is the height of white water rafting season! Gear up for an adventure of a lifetime as you paddle your way through the rapids of the Ocoee River. The Ocoee River is located just over the border in Tennessee and is THE place to go for whitewater rafting. The upper part of the river was even used during the 1996 Olympics for their whitewater events! Check out Ocoee Rafting, the oldest outfitter on the Ocoee, Rolling Thunder River Company, or the Wildwater to start your adventure. Talented and trained staff will help guide you safely through the rapids. If you're brave enough to give it a go, it will be an experience that you won't soon forget!
September: Blue Ridge Blues & BBQ Festival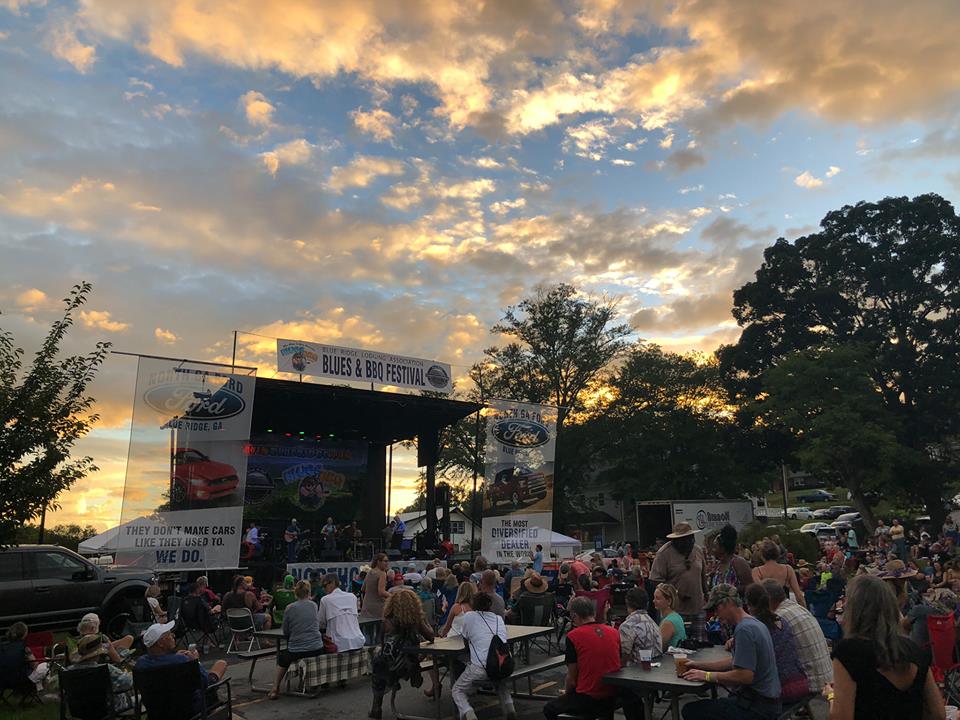 Every year Downtown Blue Ridge prepares for the Blue Ridge Blues & BBQ Festival! As the weather starts to get cooler and the leaves begin to change it's the perfect time to come together to enjoy some great music and delicious food! The day is always filled with a great lineup of talented artists and great local food vendors. The event typically takes place mid September so stay tuned for the date!
October: Pick Apples at Mercier's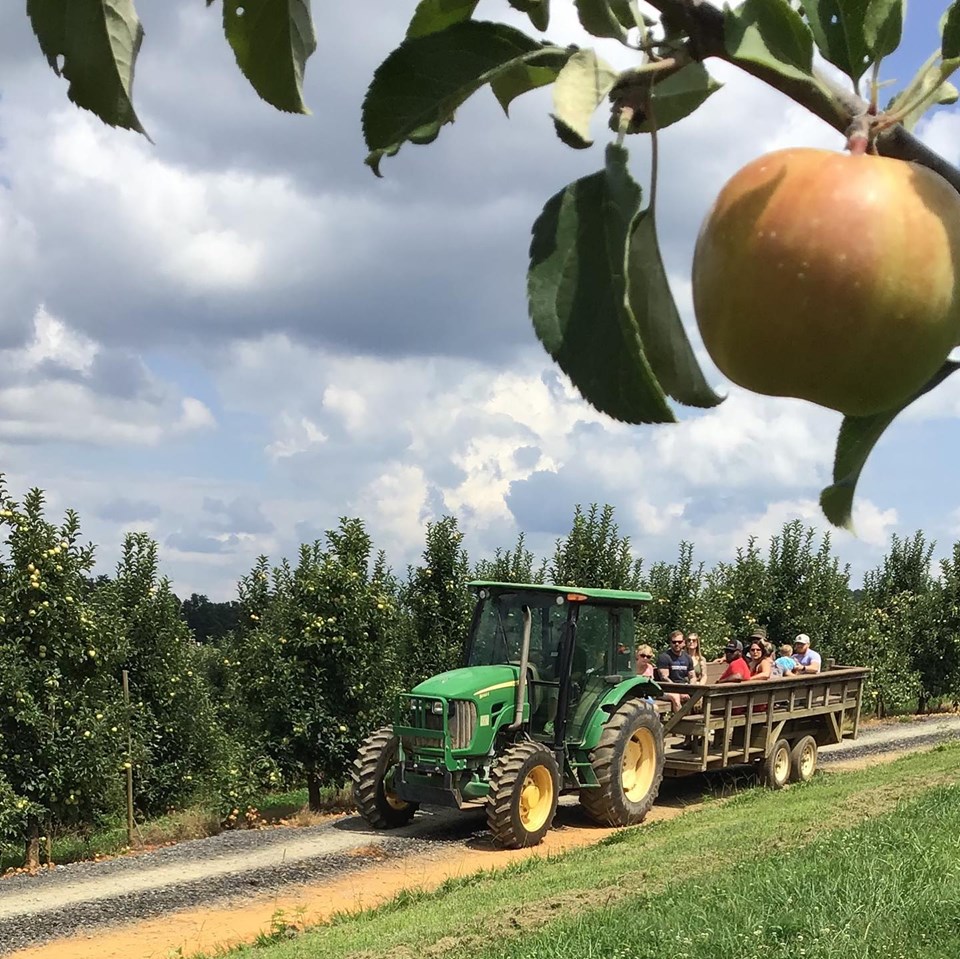 There's nothing quite like fall in Blue Ridge! The weather is perfect and the mountains are aglow with the beautiful fall leaves that cover the trees. And what says fall more than apple picking? Mercier Orchards has quickly become a favorite spot in town for not only the apples but other great aspects as well, like their winery & hard cidery, the marketplace, farm tours, and of course their amazing fried pies of every flavor imaginable! At Mercier's come for their U-Pick events where you can pick your apples straight from the tree. Pick the best ones and then bring them home with you for a delicious and healthy snack or bake them into a scrumptious pie! Join in the fall fun at Mercier's all season long!
November: Light Up Blue Ridge & McCaysville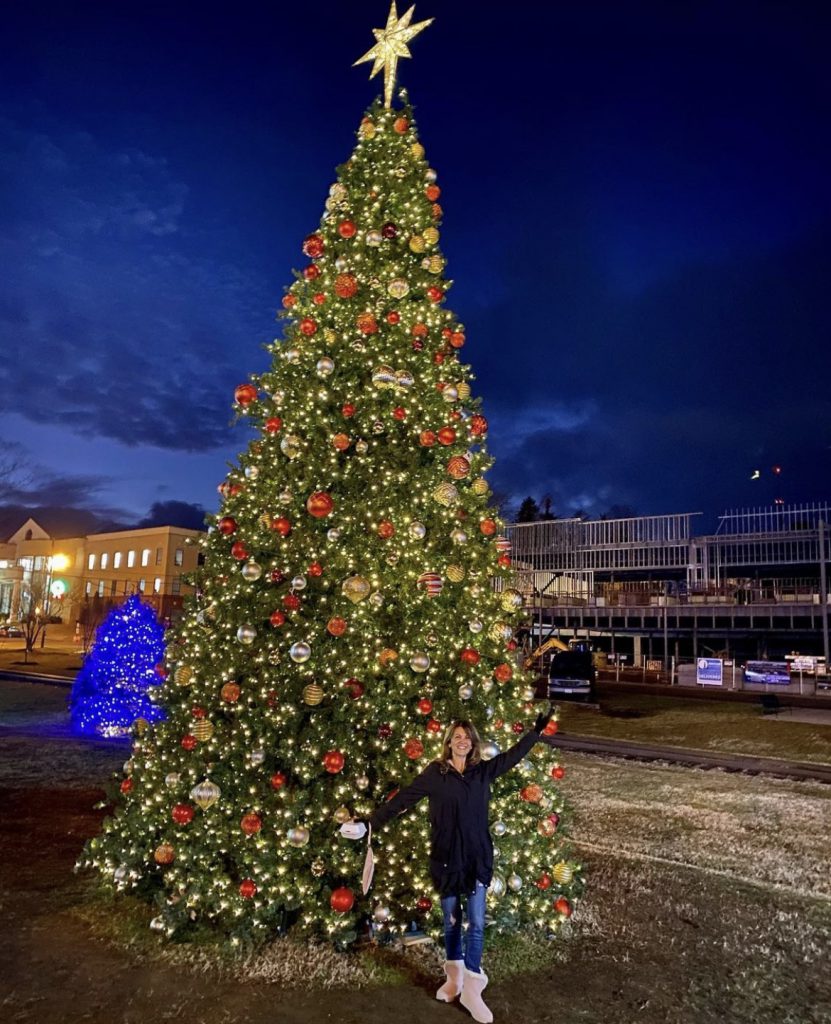 Ring in the holiday season with these two great Christmas events! On Friday after Thanksgiving Downtown Blue Ridge holds a special Blue Friday event with store discounts, food vendors, strolling entertainment, the opening of The Gingerbread Village, and lots of Christmas cheer! Then the following day Santa comes to town! There will be more vendors, a Christmas Parade, photos with Santa, and beautiful lights around town. And more holiday fun awaits you in McCaysville! They have shopping, dining, pictures with Santa, Christmas lights all along the river, and their famous tree lighting. There's no better way to get in the holiday spirit than attending one (or both) of these great festive events!
December: Ride the Holiday Express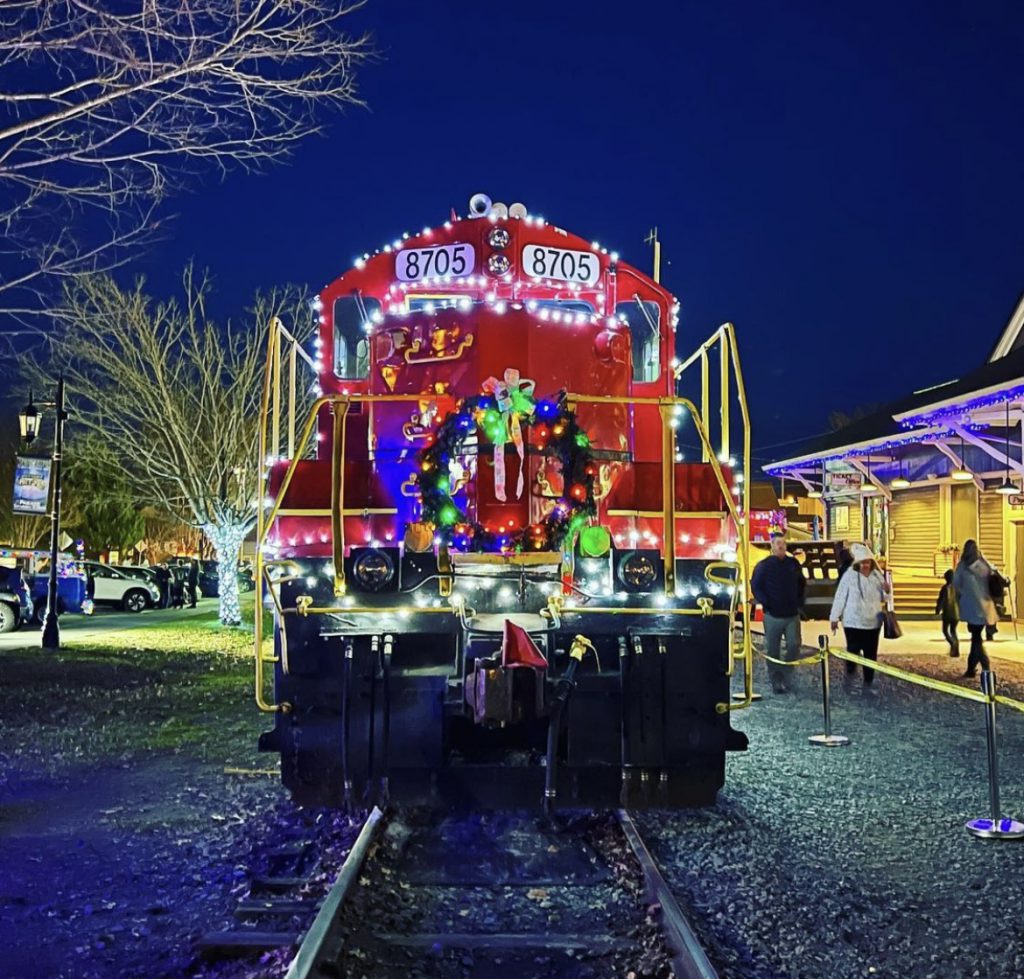 The Blue Ridge Scenic Railway is a treat all year long but especially during the holiday season when it transforms into the Holiday Express! On this special, hour-long train ride you'll sing along to holiday music, listen to the story of The Night Before Christmas, drink hot chocolate, munch on delicious goodies, and get the chance to meet Santa. Kids will also get a candy cane, jingle bell, and activity packet. This is a great family-friendly activity perfect for the holidays, but be sure to get your tickets in advance because they sell out quickly!
No matter the season there's fun for everyone in Blue Ridge! We hope you'll choose us for your next mountain adventure & Escape to Blue Ridge!