Downtown Blue Ridge is the place to go for a bite to eat or a night out with friends! If you're looking for a great spot to share a drink or two over delicious food, then we've got you covered! Check out these 20 spots downtown for an amazing cocktail, glass of wine, or local brew:
*Cover photo courtesy of the Black Sheep
Cocktails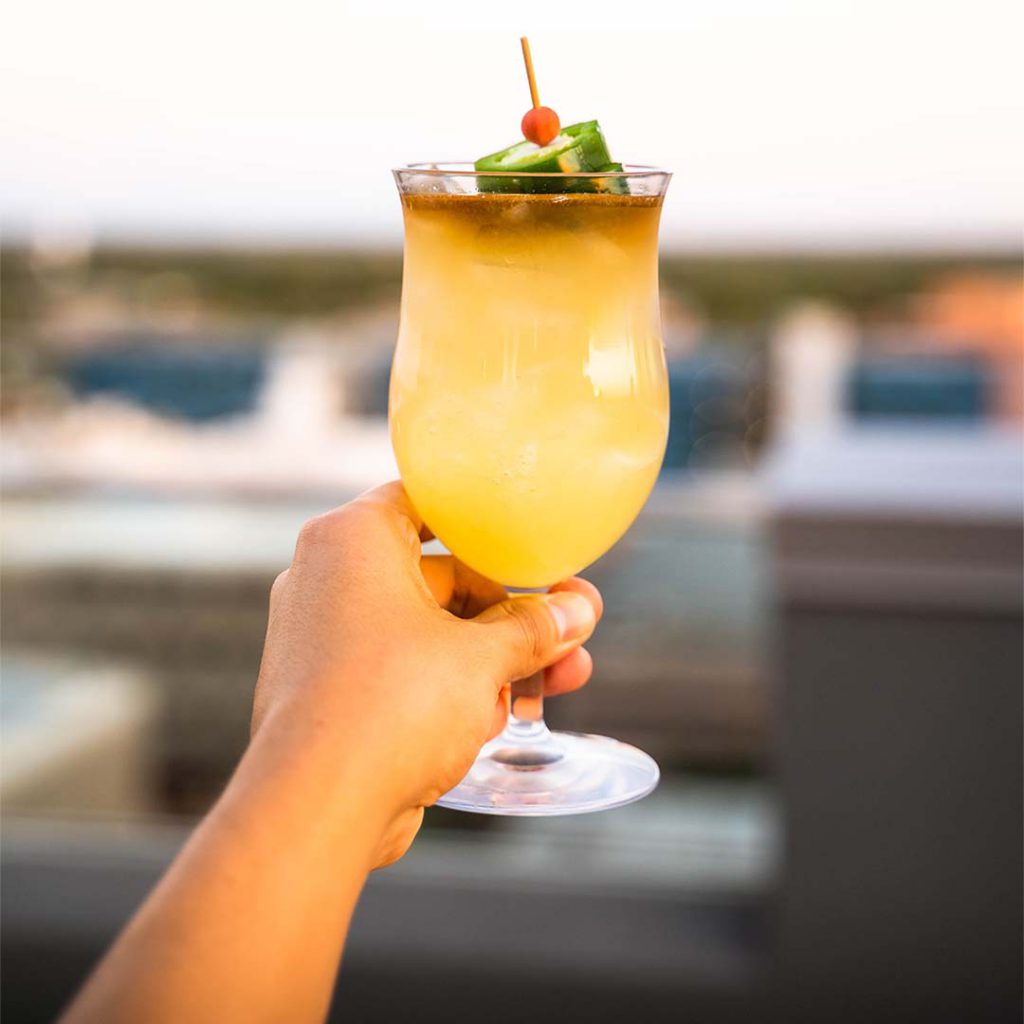 What better place to enjoy a cocktail than at Hook & Eye, where you'll have a great view of downtown Blue Ridge! Located on the top of Hampton Inn, you can enjoy a refreshing cocktail paired with tasty appetizers or a wagyu burger. We love the Mountain Mama or Dragon's Lair cocktail for a fruity drink and Sasquatch Summer Smash for a refreshing drink to cool you off on a hot summer's day. And you can't go wrong with an Ocoee Fashion, Hook & Eye's version of the classic old fashioned made with bourbon distilled locally in Blairsville, GA. Hook & Eye is the only rooftop bar in town and truly is a one-of-a-kind experience!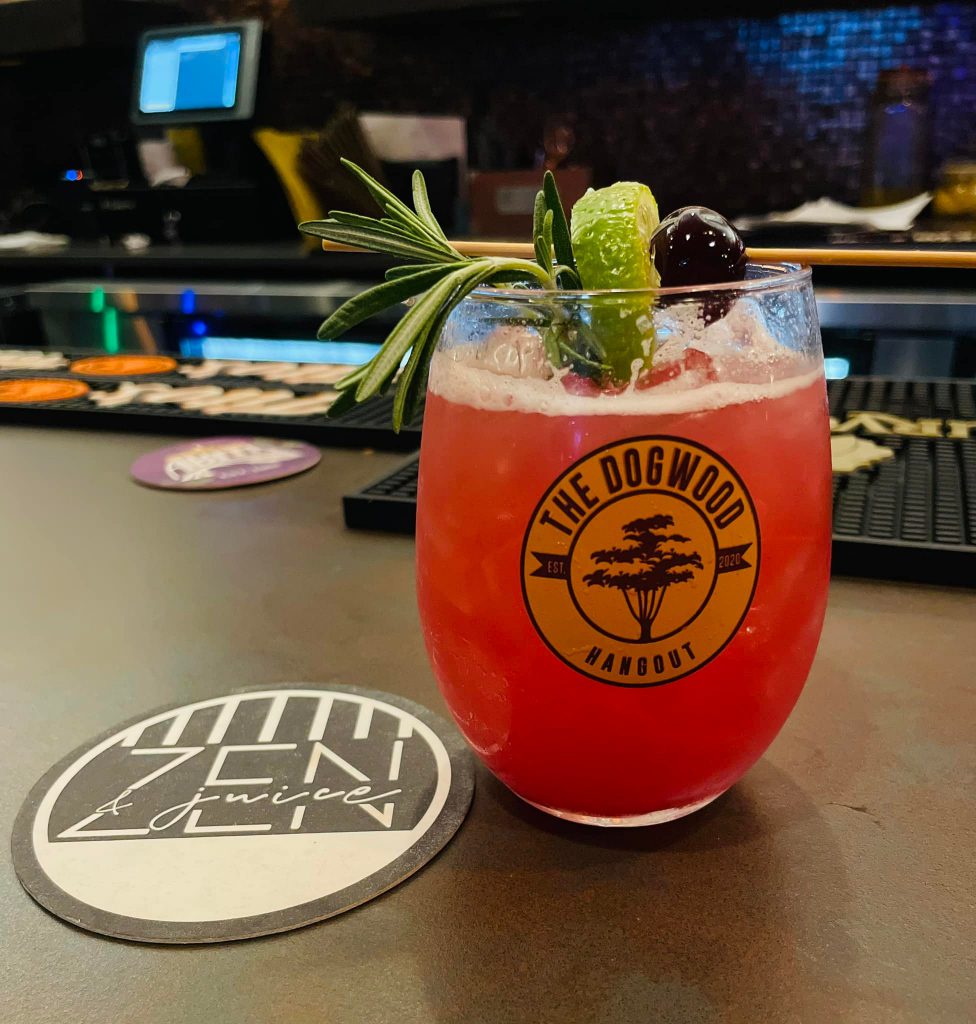 The Dogwood is a wonderful spot in the heart of Blue Ridge to spend an evening with friends and family. The outdoor patio is THE place to be on a Saturday night with live music, great drinks, delicious food, and an awesome atmosphere! With 150 outdoor seats, a beautiful mural, and 100+ year old trees you'll have plenty of beautiful places to relax. For yummy eats and appetizers they have a limited menu of 10 items that will be just the delicious comfort food you're looking for. And the drink options are as unique and personalized as it comes! Venture over to their Beer Garage where you can create your own six pack from over 70 options. The Dogwood also has a full bar with incredible craft cocktails and a specially selected wine list. Come on out to The Dogwood for a great night!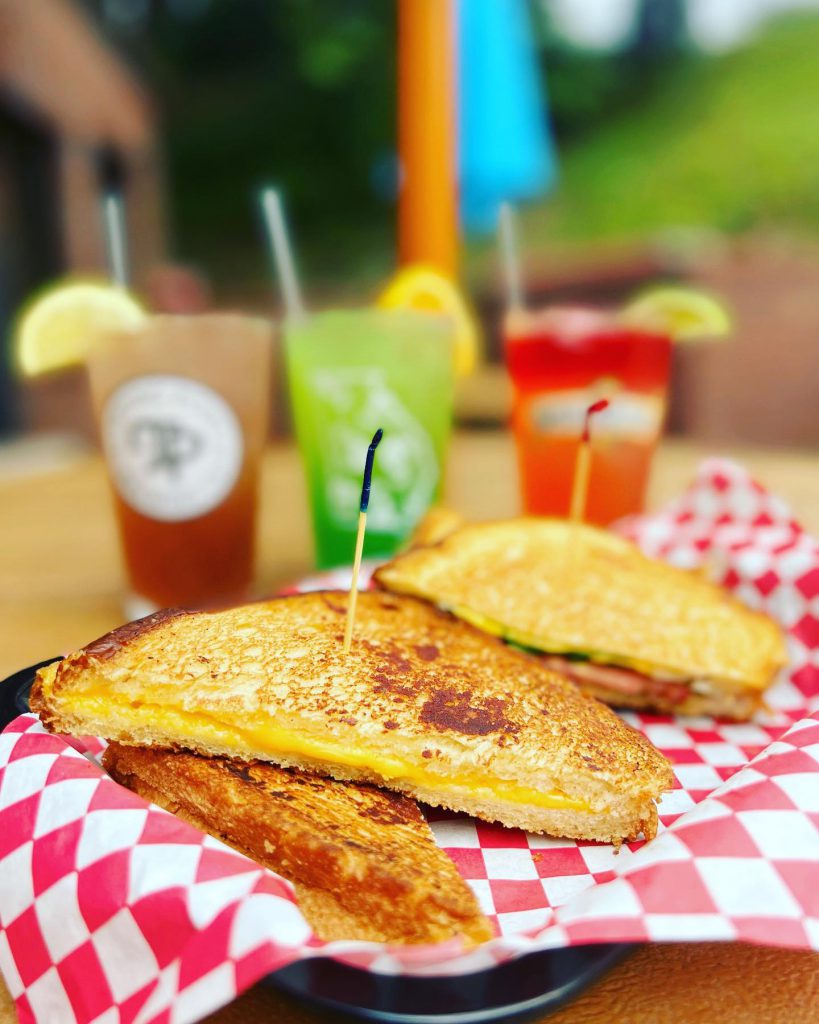 Music lovers, Misty Mountain Hops is the place for you! This music centric restaurant and bar will provide you with a great atmosphere for a night on the town! Their belief is that "through music and food that they can provide an establishment for people of all backgrounds, generations, and beliefs to come together and enjoy an enthusiastic experience of the community." Live music is every Friday and Saturday evening from 6pm-9pm. While you rock out to some great music from local artists enjoy some of Misty Mountain Hops weekly specialty cocktails like their Hawaiian Rum Punch and Watermelon Margarita. They also have a great selection of beer and wine as well. Enjoy delicious bar fare and incredible desserts each week from The Little Bakery. The music will bring you in and the drinks and eats will keep you groovin'!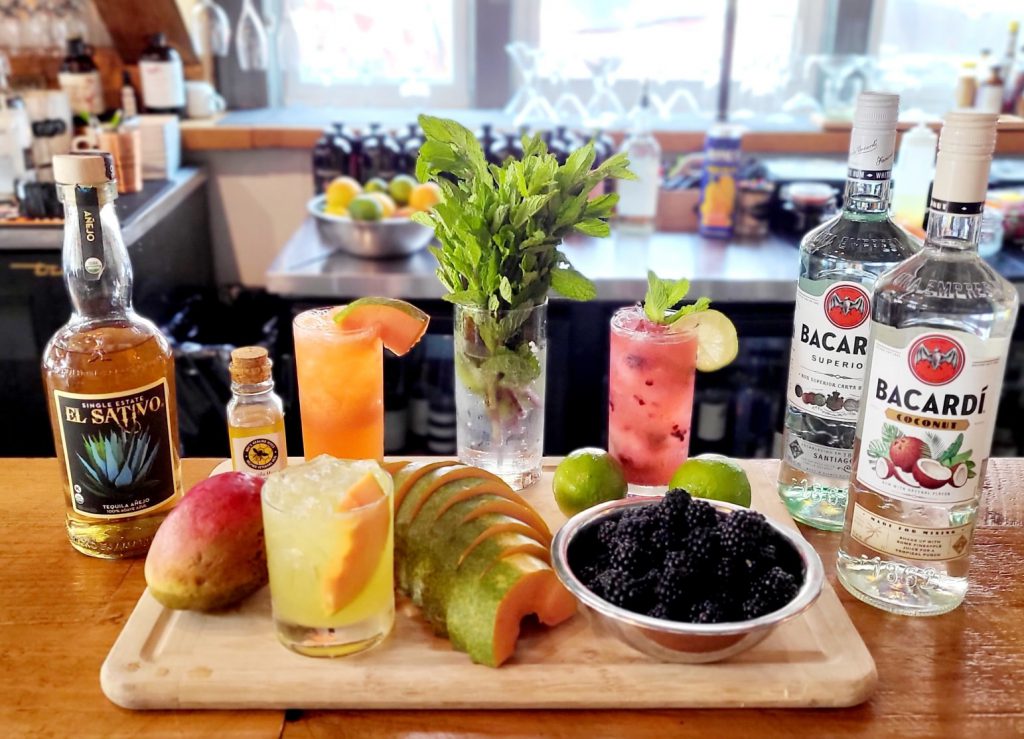 The General Ledger is one of the newest spots in town and is ready to serve the community! This contemporary American restaurant has everything you need; from Shrimp and Grits to the Classic Reuben, and so much more you'll have plenty of options here. Not to mention their incredible drink selections! The Spice of Life Bloody Mary for brunch, a craft brew for lunch, and a Mango Habanrro Margarita for dinner. Come on out and enjoy a delicious drink!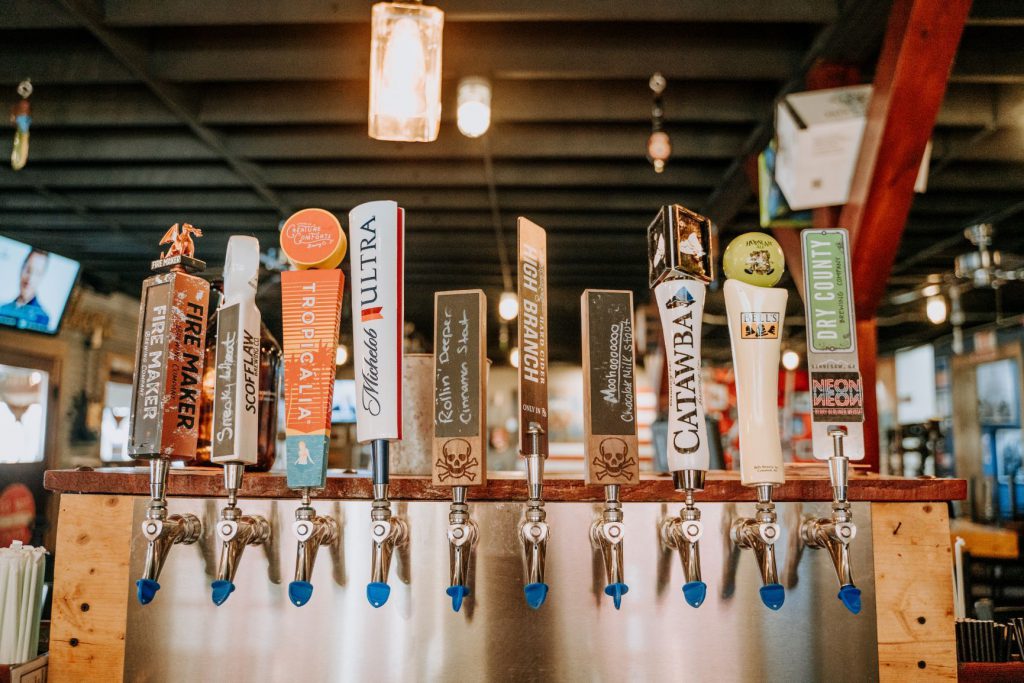 Fightingtown Tavern offers a new twist on your favorite comfort foods and has all the drinks you need to have a great night! They're extensive drink selection has it all; local Georgia beers, a selection of whiskey/bourbon/tequila, amazing cocktails, and a full bar. You'll love pairing your local brew with "The Black and Blue Ridge", your Georgia made meal. Not only are the food and drinks amazing but Fightingtown Tavern has an incredible atmosphere for your night out with friends; 70's rock is played at all times, lots of TVs to watch the big game on, darts, shuffleboard, and a pet-friendly patio. What better way to spend a Friday night?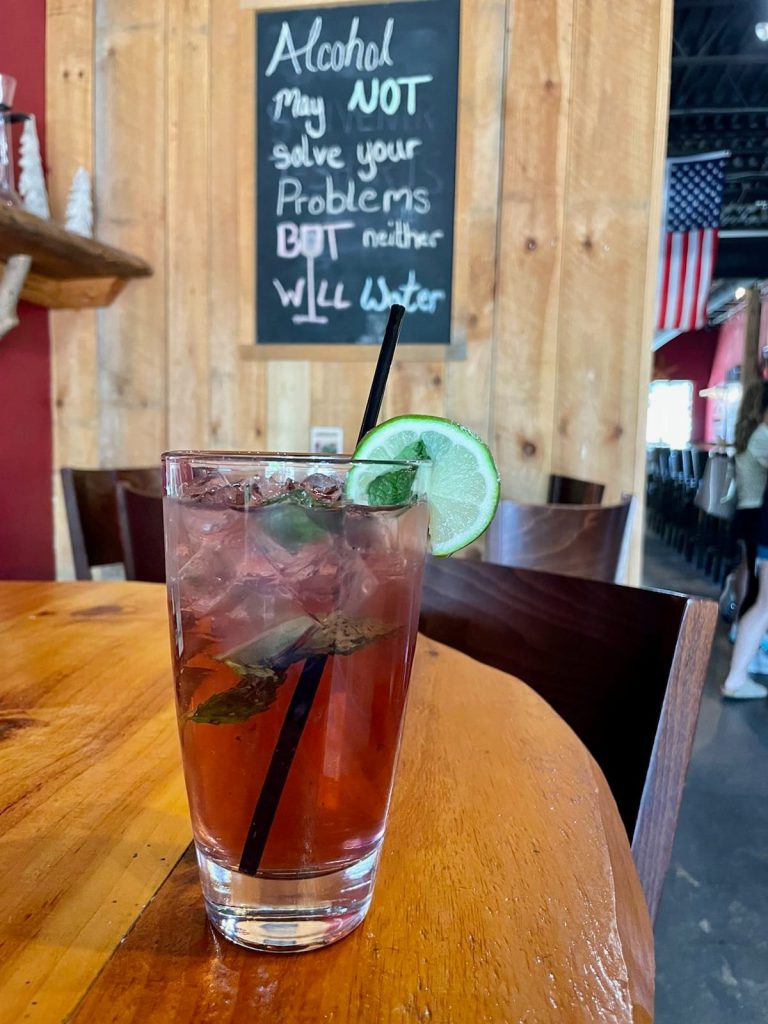 Drop your husbands off at "husband daycare" at Black Bear Bier Garten in Blue Ridge! Feel transported to Germany for the day with 9 varieties of wild game sausages, giant pretzels, and over 19 craft brews to choose from! They even offer wine, cocktails, and special German brews. This place has it all, including live music on the weekends! Drop by for a little bit of American fare, a little bit of German fare, and a whole lot of fun!
If you're looking the perfect whiskey drink paired with a delicious seafood feast, then Whiskey & Water is the place for you! Everything here is fresh and high quality brought from the best of Americas Coasts to the North Georgia Mountains. And a place with whiskey in the name has to have some of the best drinks in town, right? Whiskey & Water offers a wide selection of bourbons and whiskeys from around the world as well as original cocktails and a great wine selection. The kitchen closes at 9pm on Fridays & Saturdays but the whiskey bar stays open till 11pm! This is a great spot for high quality drinks and a fun, late night!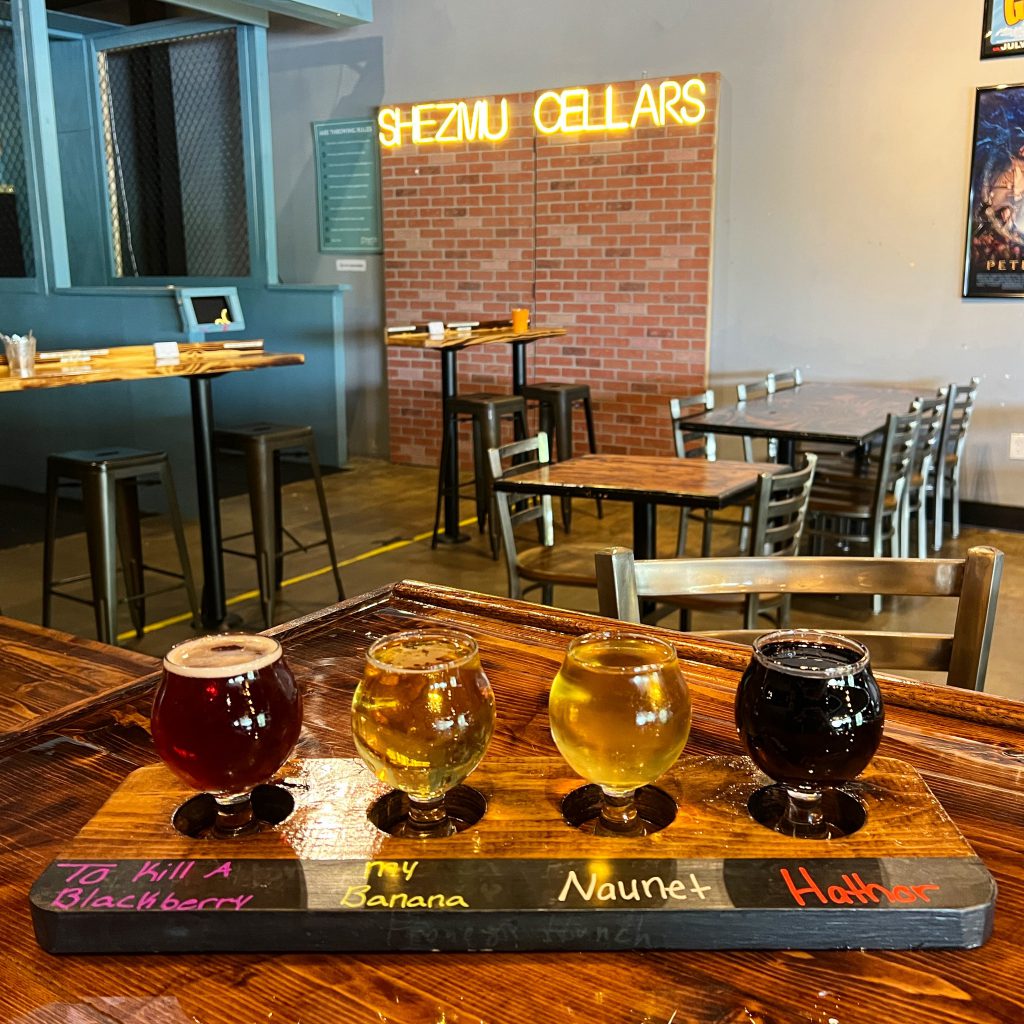 Have you ever tried a sweet glass of mead? Shezmu Cellars Blue Ridge location offers delicious mead options and craft brews. We love their fruity blackberry and banana meads and you can never go wrong with a Georgia Peach Beer while you're in the peach state! Shezmu Cellars also shares a building with Axe Throwing Therapy so you can pretend to be a Viking for the day while you drink mead and throw some axes!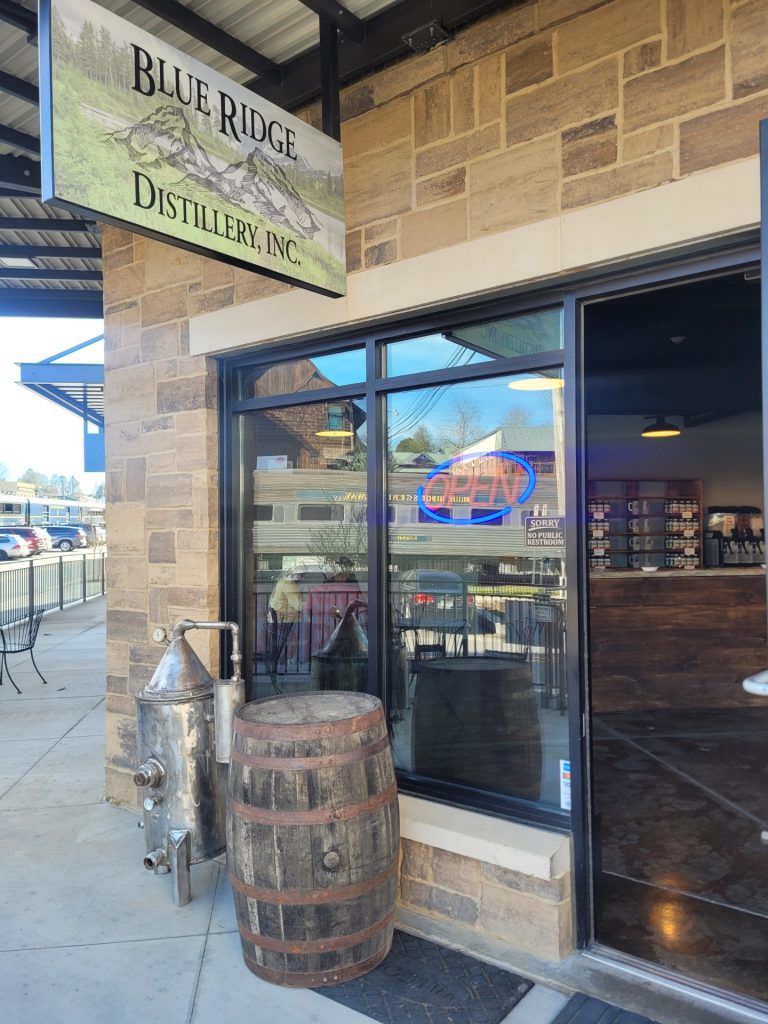 The newest hot spot in town is the Blue Ridge Distillery! They are proudly serving Peach Brandy, Apple Brandy, Pineapple Rum, and much more in downtown Blue Ridge. Stop in and get a taste of the North Georgia Mountains.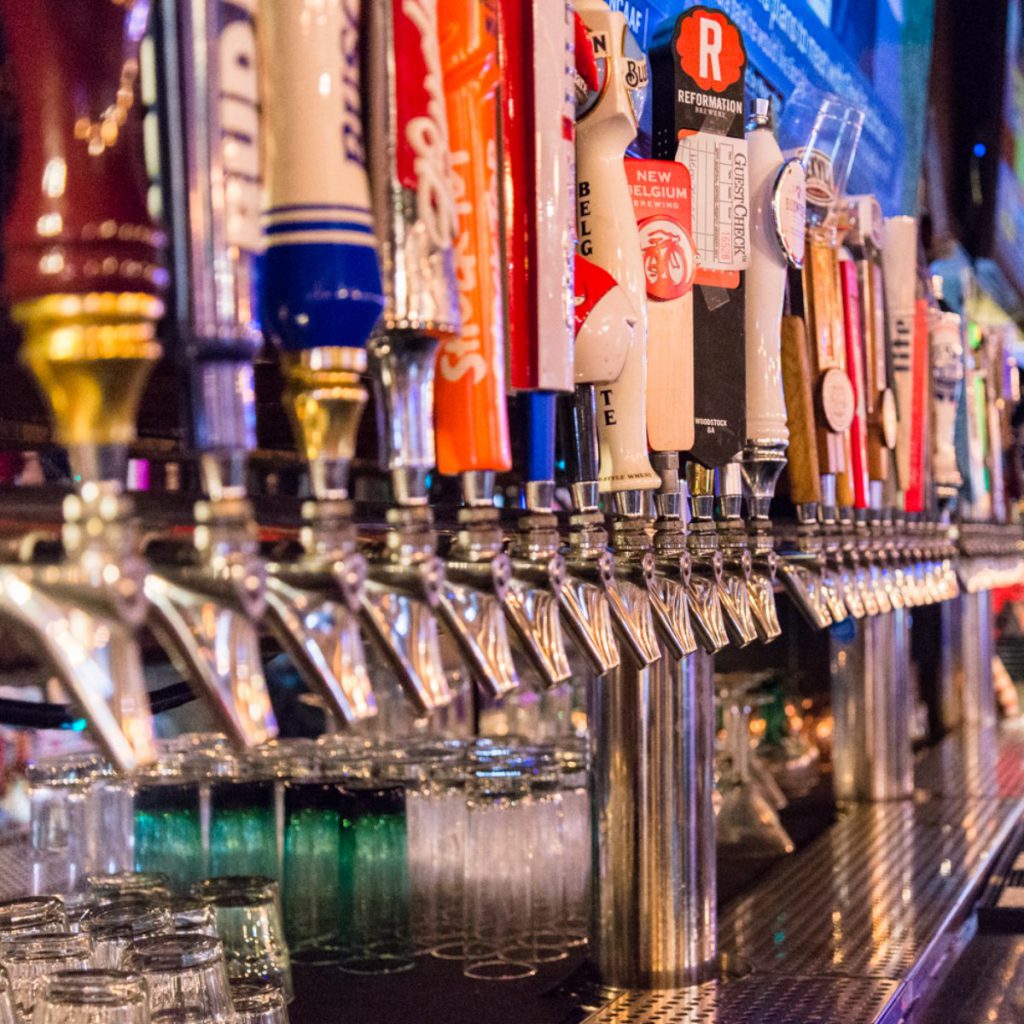 The Blue Coyote is an awesome sports bar perfect to spend your Saturday night watching the big game! They have all the traditional bar favorites you know and love; beers, burgers, wings, and more. You can pair your wings with an ice-cold beer or delicious mixed drink and enjoy the game; Go Dogs! And there's always something going on at The Blue Coyote; from live music to trivia nights, and sports on every TV you'll never be bored here!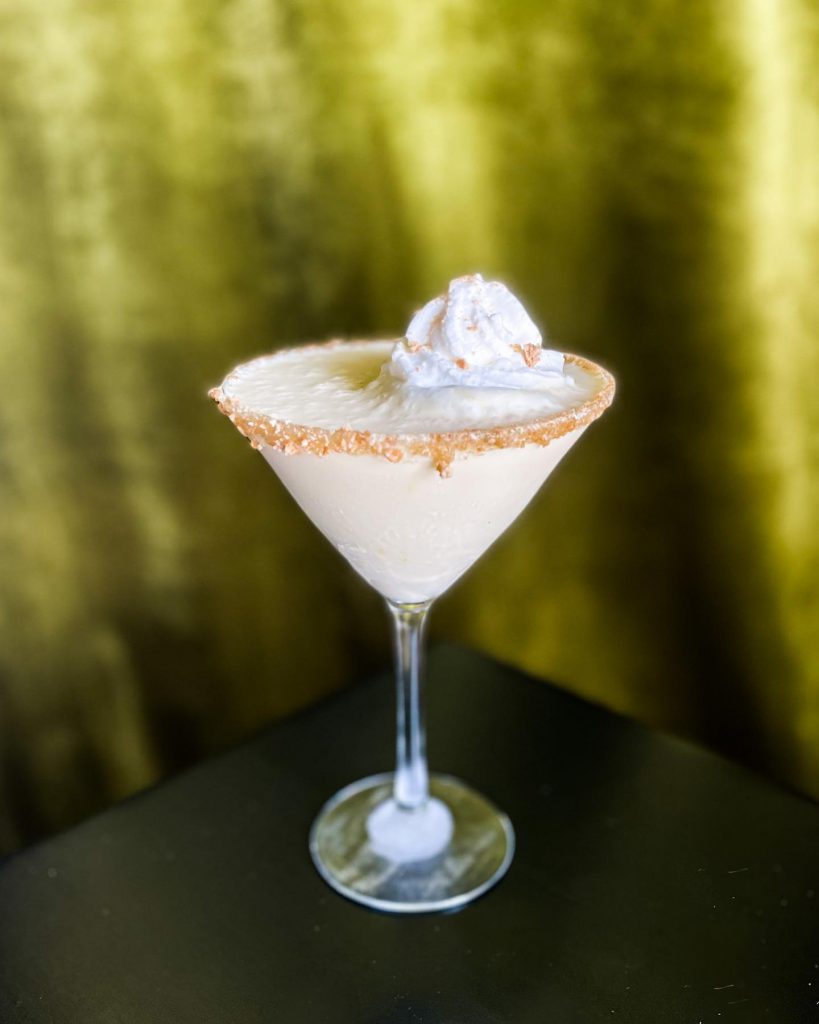 Do you have a sweet tooth? Mona Lisa's Dessert House is where you can find the very best of dessert cocktails! They have drinks for every season; a Caramel Apple Martini in the fall, a Lemon Meringue Martini in the spring, a Blueberry Lemon-drop martini in the summer, and a Mint Chocolate Hot Chocolate for the winter! We love their fun drinks that change every season as well as their incredible desserts! Cakes, pies, cheesecakes, trifles, and so much more! It's always a "sweet" day at Mona Lisa's Dessert House!
Wine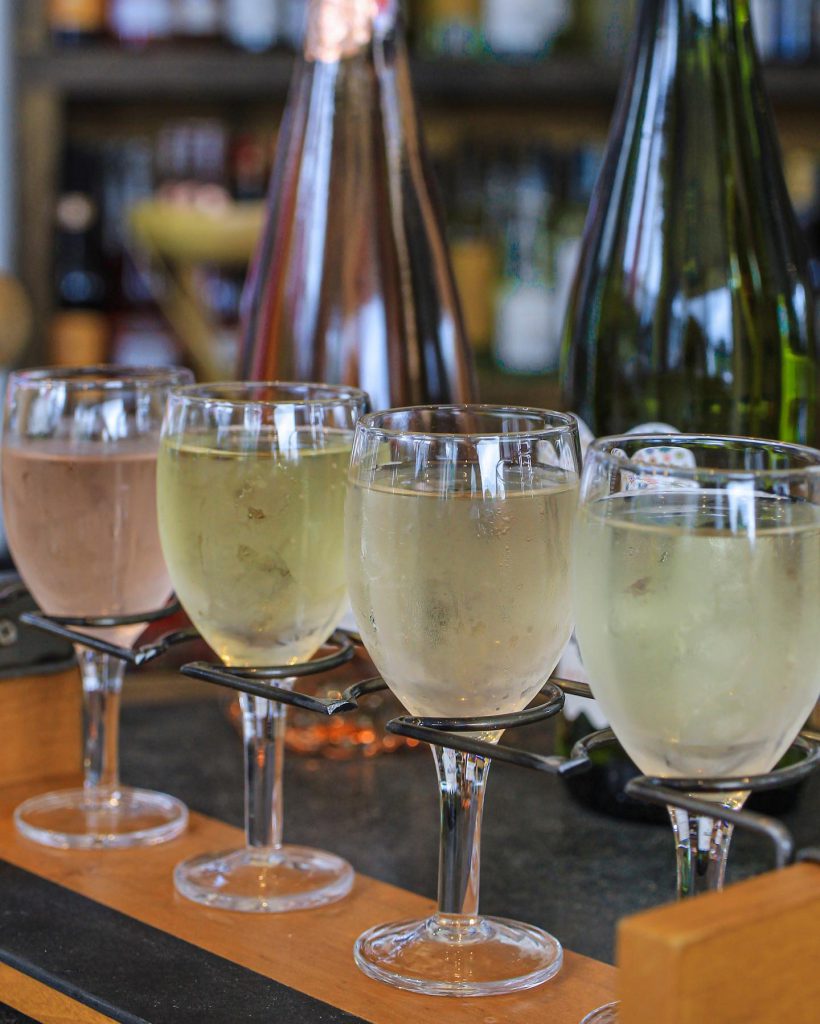 Not only can you stock up on all kinds of goodies at The Pasta Market like pastas, sauces, cooking supplies, and so much more! BUT they now have their own café with a selection of great wines to pair with your delicious snacks! Enjoy a gourmet charcuterie board or flatbread and pair it with a tasting flight, a glass of wine, or a bottle. Flavors from all over the world await you at The Pasta Market!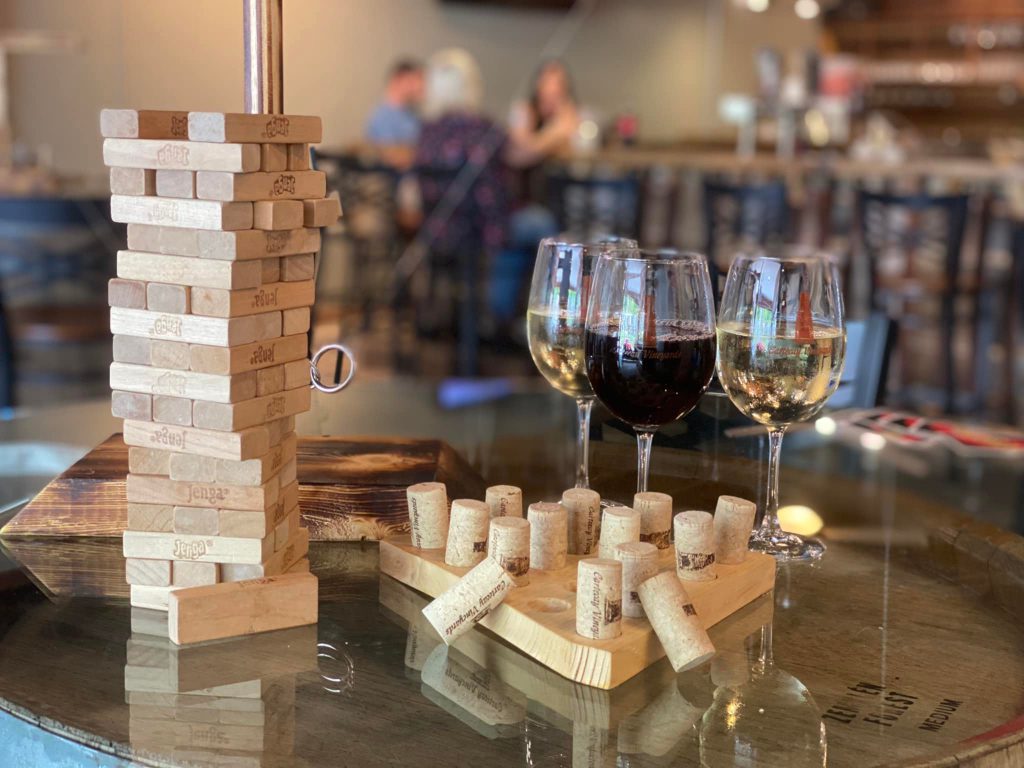 We love visiting Cartecay Vineyards in Ellijay, and Downtown Blue Ridge is home to their sister store – Cartecay Wine & Craft. At this charming wine bar you can enjoy a tasting of Cartecay Vineyard wines, other local Georgia wines, and a few local craft brews. You can also enjoy live music and open mic nights here and shop for unique wine gifts. Get all the taste of Georgia in one place at Cartecay Wine & Craft.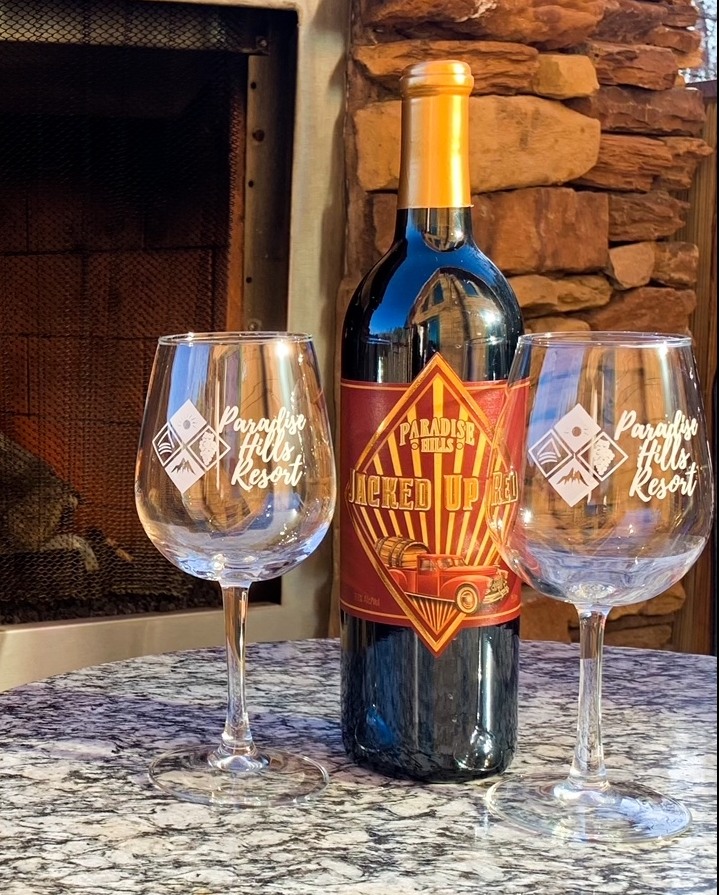 At Georgia Wine Depot you can enjoy a sample of Paradise Hills award winning wines. Once you taste these delicious wines, you'll see why they've won so many awards; we love the silver & gold medal winning Cabernet Sauvignon they call Eclipse as well as their gold medal dry red Jacked Up Red. All of Paradise Hills wines are made locally from the first American Viticulture Area in the state of Georgia, and all have a European flair to them. They have everything from dry wines and sweet wines to sparkling wines and so much more! Enjoy the very best wines that Paradise Hills offers right from Downtown Blue Ridge at the Georgia Wine Depot.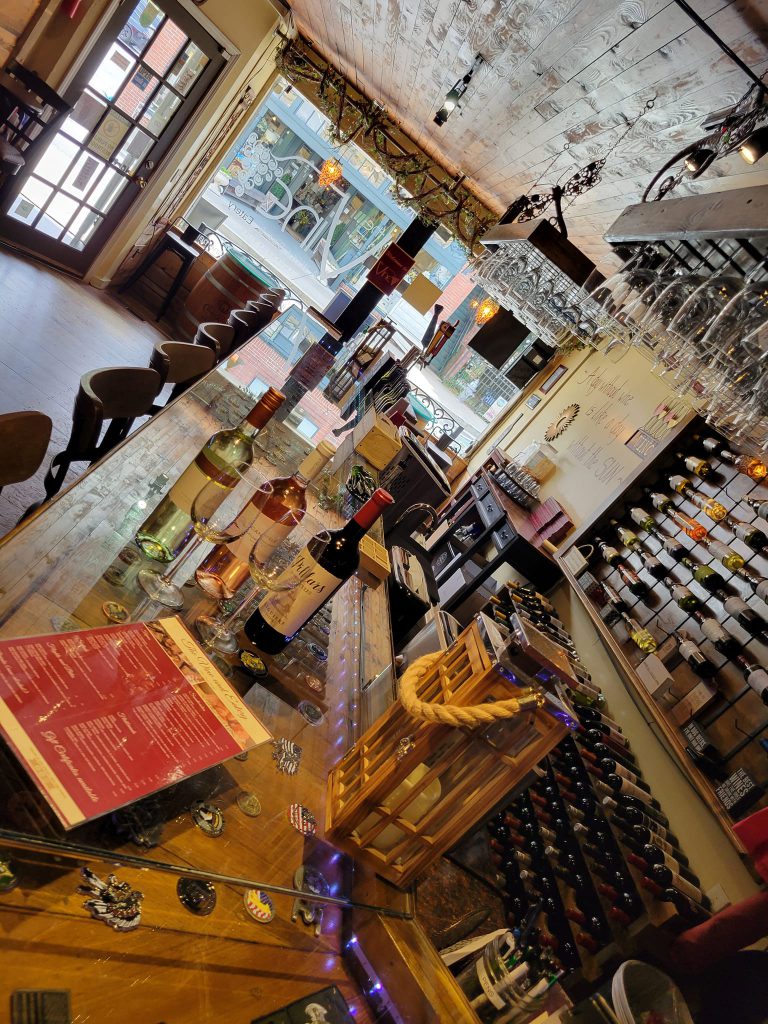 Another great wine bar downtown is The Vine Wine Bar and Eatery. At Blue Ridge's Original Wine Bar, you can enjoy wines from all over the world through tastings, flights, or by the glass while you have a bite to eat. Pair your wine with a charcuterie board, flatbread, or sandwich. You can even enjoy a cheese and wine flight; (wine and cheese, how can you go wrong!?) The Vine Wine Bar and Eatery hosts live music and special wine events throughout the year. Drop by, have some wine, and see what's going on!
Beer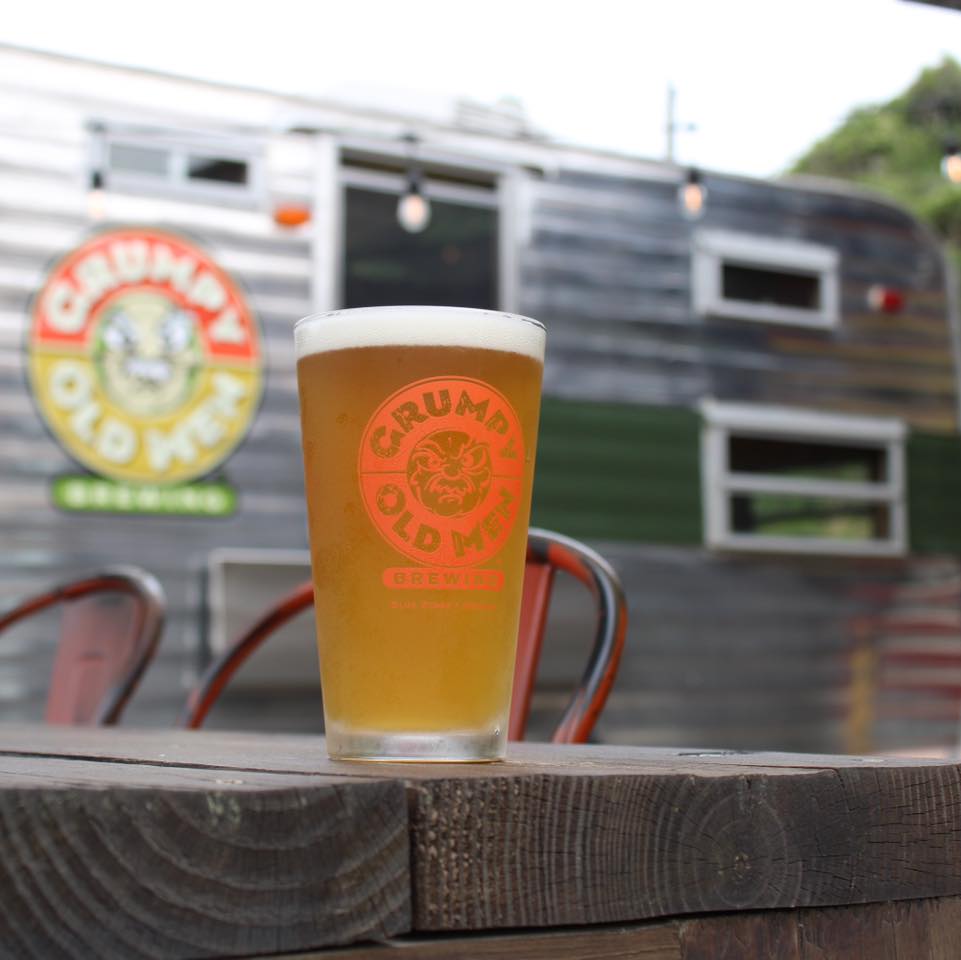 Blue Ridge is home to some of the best breweries in North Georgia! One of our favorites and most beloved by guests from near and far is Grumpy Old Men Brewing. We love their delicious craft brews like their Aska Pale Ale and A Boy Named Pseudo Lager. Here you can enjoy live music and food trucks on the weekends, fun games like giant Jenga outside, and a great outdoor area where you can bring along your favorite pup!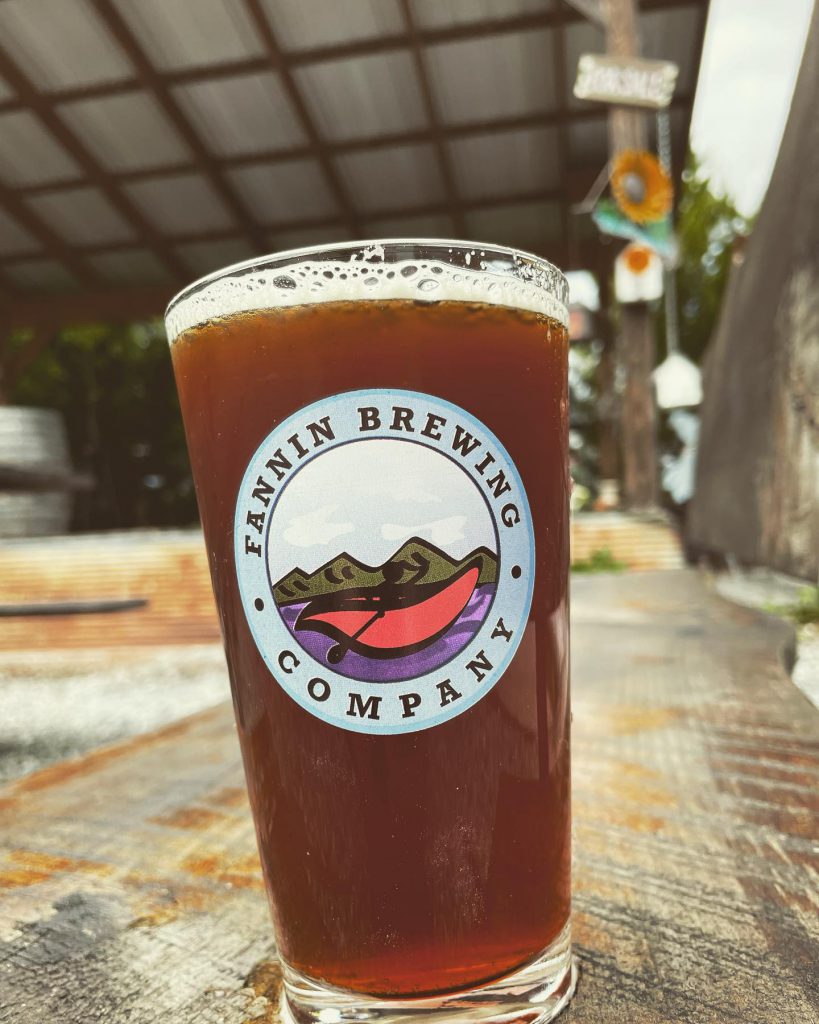 The owner of Fannin Brewing Company started with a dream to create a winery in Blue Ridge and then fell more in love with beer thanks to many a trip to Germany; and thus, Fannin Brewing Company was made! Today Fannin Brewing offers 10 delicious and refreshing brews on tap. And everything is created locally here, from the ingredients in the brews, to the beer names, and most importantly their continued support of the local community and its businesses. Drop by for a refreshing brew inside or in the shaded Bier Garten, pups are welcome!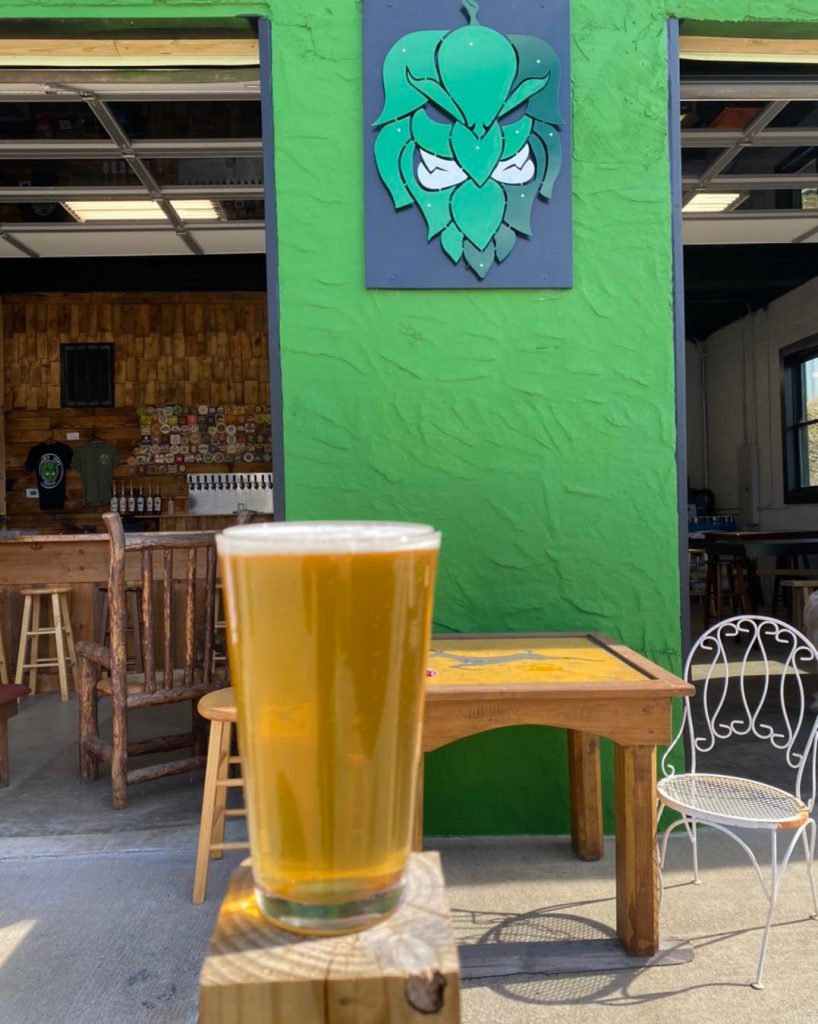 No need to be angry when you're at Angry Hops Brewing! This brewery was started by 2 guys who share a love for craft beer. They specialize in classic, traditional brews but they also have IPAs, stouts, and more! Spot their green building downtown with a giant "angry hop" on the side. They are always rotating their brews and adding new ones on tap; so, there's always something new and exciting to enjoy at Angry Hops Brewing!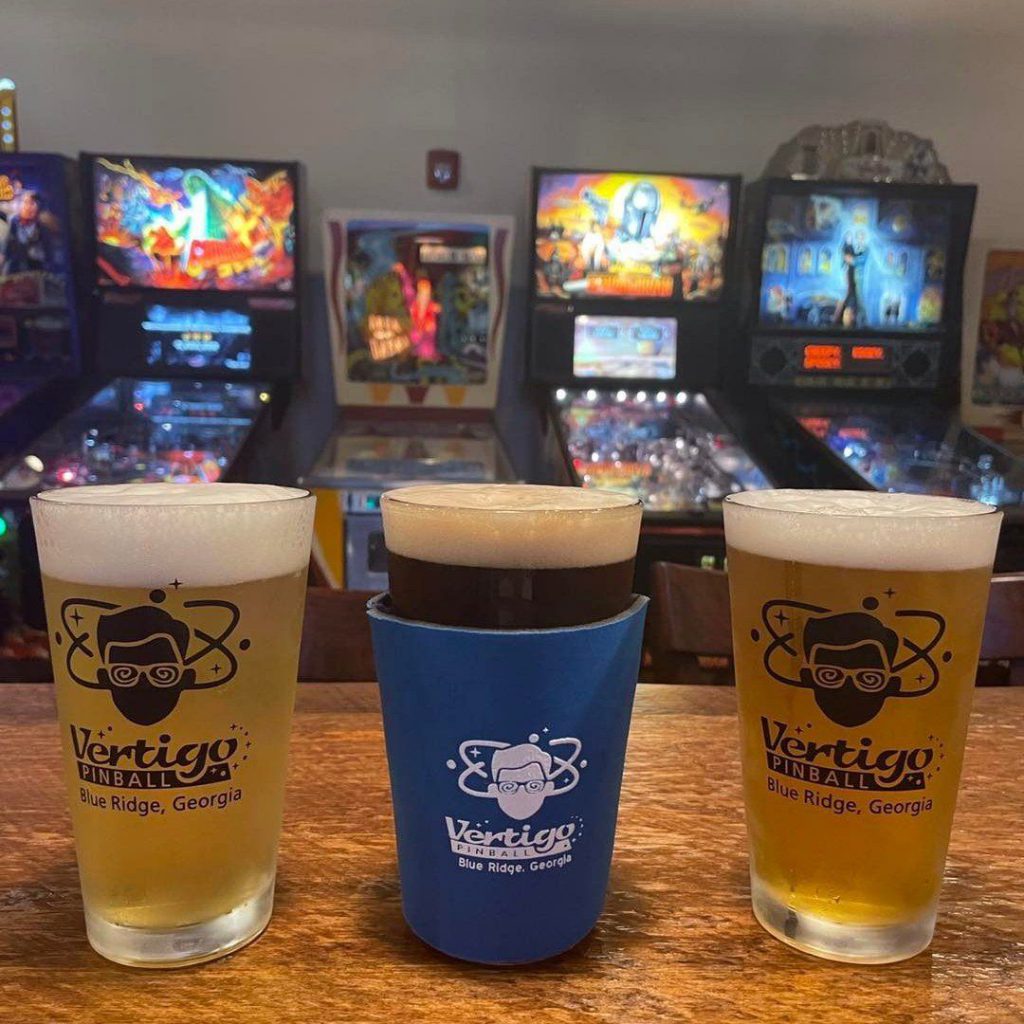 Beer, games, and grown-up grilled cheeses? Sign us up! That's what you'll find at Blue Ridge's coolest hang out spot Vertigo Pinball! Play some awesome themed pinball games like the olden days and enjoy a beer or two all while you watch your favorite sports games on the TV. No coins, tokens, or bills are needed here; just buy a wristband and play till your heart's content! They also offer a selection of hard ciders and wine as well. Check out Vertigo Pinball for your next night out!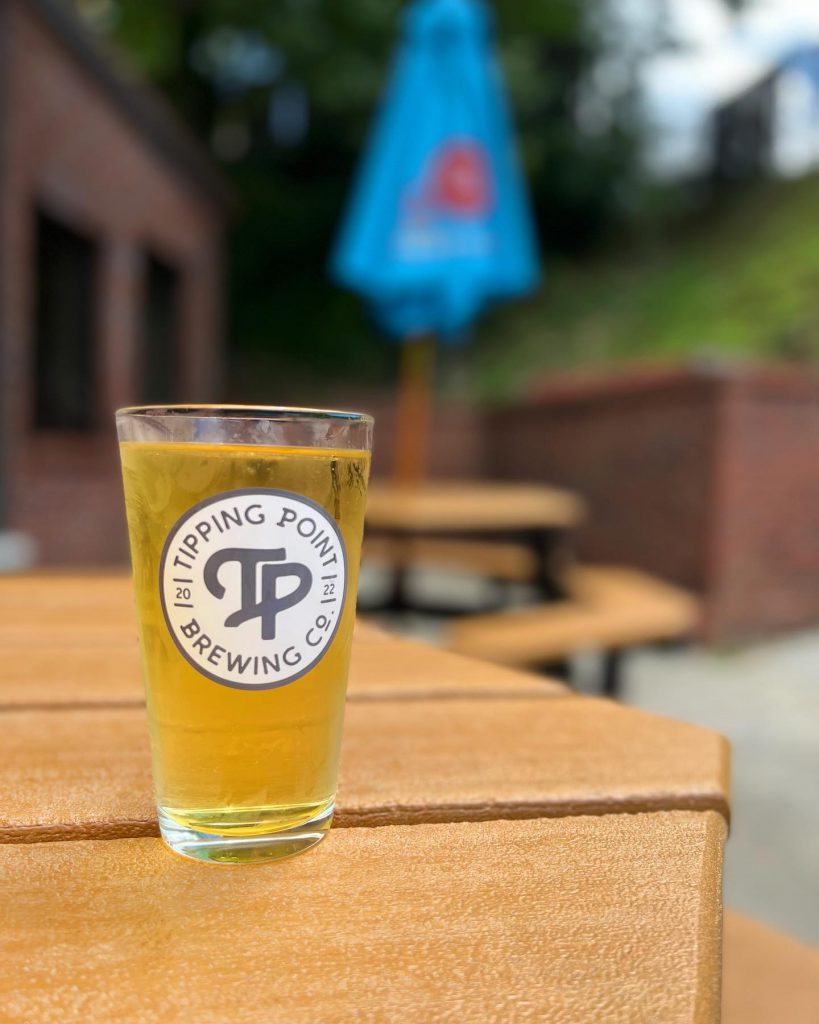 Coming soon to Blue Ridge is Downtown's newest brewery Tipping Point Brewing Company which will be located on the 2nd floor of Trackside Station across from Blue Ridge City Park. These great new brewery will have an awesome selection of craft brews available to the community and visitors alike starting in Fall 2022. Who else is excited for this new hang out spot downtown!?
Restaurants for a Drink with Dinner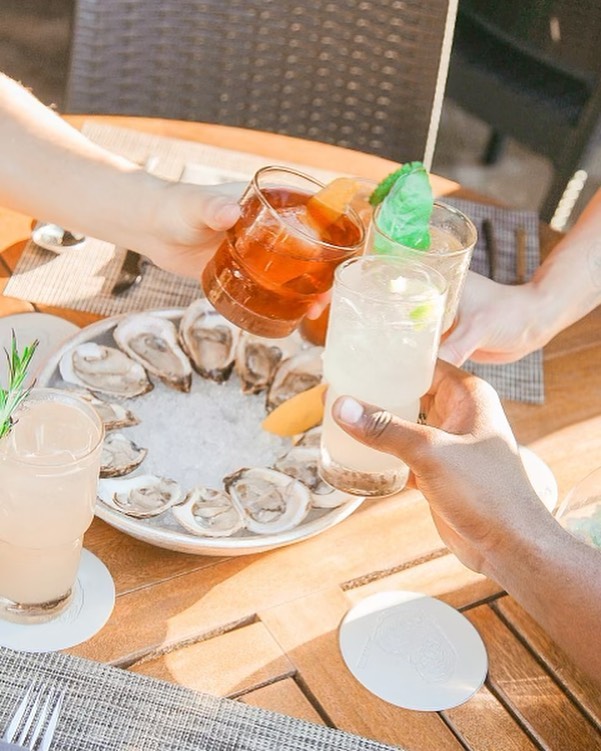 If you want to enjoy a delicious dinner paired with a refreshing cocktail or craft brew, we've got you covered! The Black Sheep, offers a variety of beer, wine, and cocktail options that will pair perfectly with your "Pan Seared Airline Chicken" or the "Black Sheep Meatloaf". And on weekends for brunch they offer an incredible Bloody Mary! At Harvest on Main, you can enjoy a delicious meal made with fresh, local ingredients and wash it all down with a local craft brew, a glass of wine from their extensive wine list, or a cocktail. At Blue Ridge's newest restaurant ROE. you can feast on oysters and fresh seafood all night long and have an unrivaled casual fine dining seafood experience! With dozens of wines to choose from and a great lineup of hand-crafted cocktails you can't go wrong at ROE. And of course, we can't forget Chester Brunnenmeyer's Bar and Grill who have their very own Escape to Blue Ridge cocktail made from Cathead Honeysuckle Vodka, macerated blueberries, and lemonade. Yum! They also offer other awesome signature cocktails, a great lineup of wine, and local craft brews. Enjoy some of Chester's famous wings and wash it all down with the "Escape to Blue Ridge" cocktail!