MARK YOUR CALENDAR, IT'S AN ANNUAL THING!
Some communities are fortunate to have county fairs in their backyards or a state fair within an hour's drive or two – so when it comes to deep-fried anything outrageous (Krispy Kreme Burgers, deep-fried butter, python kabobs, etc), or a carnival ride or two, it's available – at least once or twice a year.
Then there are communities known far and wide as festival towns. You don't even have to ask if there's anything going on, or fun things to do during the week and on the weekends – because there always is, and you're not limited to crazy cuisine on a stick, octo-dogs, chocolate-covered bacon (yummo, by the way) or funnel cakes. Sometimes healthy food and fitness is the central theme, and you might actually lose weight rather than gain a pound or two.
Blue Ridge is one of those special towns where there's always something going on – it's a festival town, but also a destination for events – big ones and small ones – some tied to traditional holidays and some that have been created with care by locals who are passionate about books, music, the outdoors, or the arts.
A listing of festivals and events in Blue Ridge usually begins at the beginning – in January – but the beginning of the summer season starts with Memorial Day, when the pools are filled, the boat motor is tuned up and wineries and restaurants typically return to extended hours. So, let's start with that.

Spring Arts in the Park – Memorial Day Weekend – May 25 & 26
Location: Downtown Blue Ridge City Park
Host: Blue Ridge Mountains Arts Association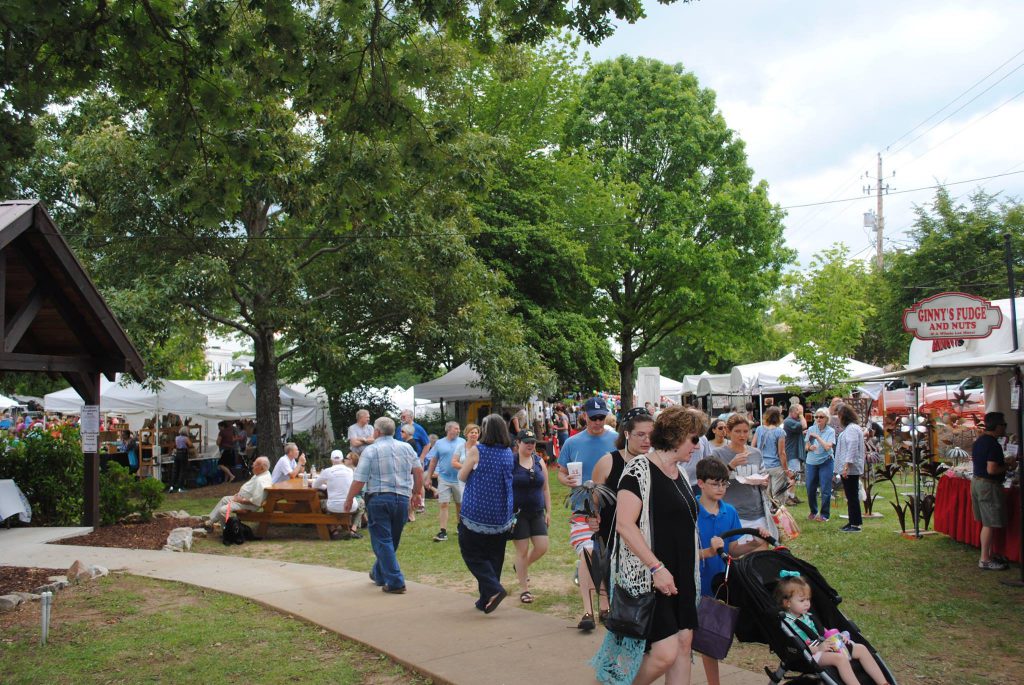 Arts in the Park is not just a spring kickoff to the festival season in Blue Ridge, another Arts in the Park brings things to a close in October. In both instances, artists and artisans, including musicians, fill the expansive Blue Ridge Downtown City Park with activities, performances and even some dancing. More than 200 juried art, craft and food booths are featured. This event is recognized as one of the Top 20 Events by the Southeastern Tourism Society. The Festival is held rain or shine. Pets are welcome as long as they are leashed and well-behaved. Weekend Admission: Adults $5 and children 12 and under are free!
Ride the Rails Festival – June 22 & 23
Location: Mineral Bluff Depot
Host: Tri-County Railroaders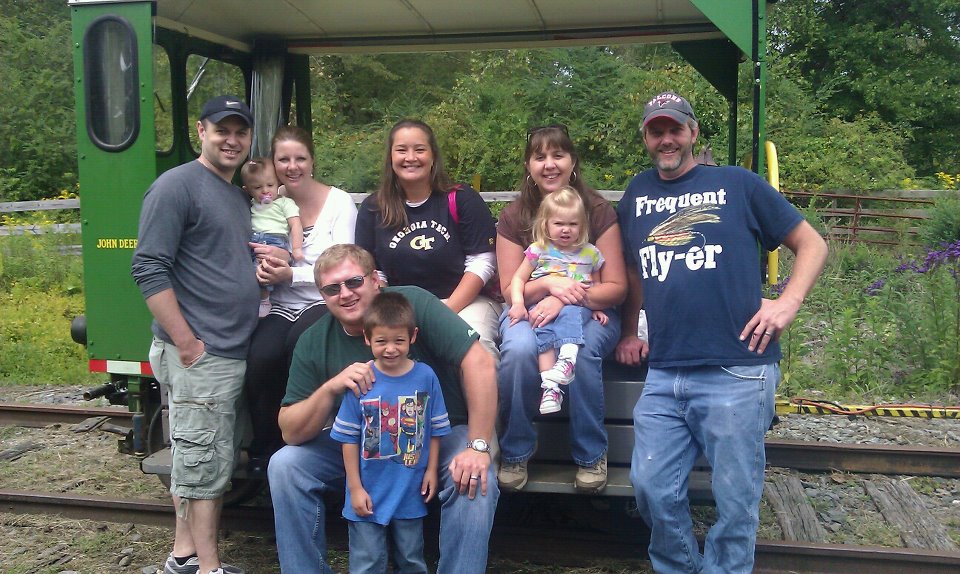 You've seen 'em, although you may not have known what you were seeing, railroad motor cars. They were used to monitor track conditions along stretches of railways. During a two-day Ride the Rails festival weekend, you'll have a chance to actually ride in one in a five-mile round trip from the Mineral Bluff Depot, through the historic Iron Bridge and over the beautiful Toccoa River and back. The trip begins (and ends) at the Mineral Bluff Depot, where there's also a scale model railroad, built and maintained by the Tri-County Railroaders. Food and beverage will also be available. For railroad enthusiasts, and the intellectually curious, this is an event not to be missed!

Blue Ridge Mountains Wine & Jazz Festival – June 22
Location: Merciers Orchards
Host: Blue Ridge Mountains Wine and Jazz Festival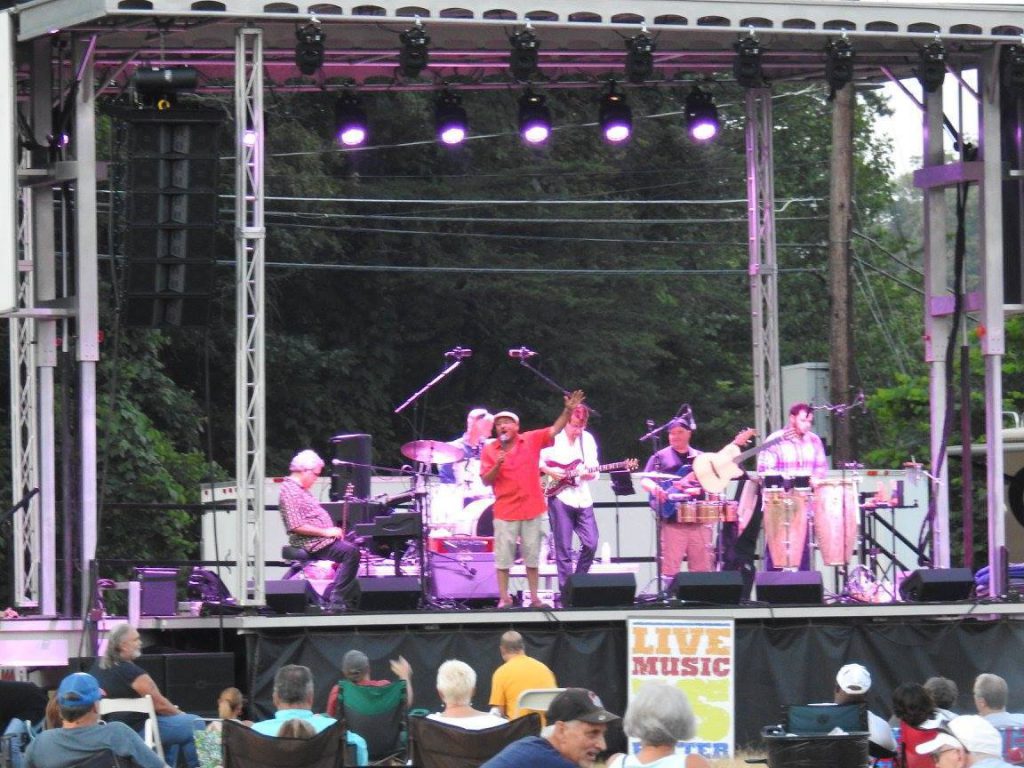 Blue Ridge is becoming (if it isn't already) a cultural tourism destination. That means wine, of course, and music. The wine will come from around the world, including those made locally in North Georgia and North Carolina and all you have to bring is a blanket or a few lawn chairs. Set wine, hard cider and some groove music against the gorgeous mountain backdrop of Merciers Orchards, and you have a classy and cultural event.
Independence Day – 4th of July Parade & Fireworks – Saturday Closest to July 4th
Locations: Downtown Blue Ridge, Lake Blue Ridge and McCaysville
More Information: Fannin County Chamber of Commerce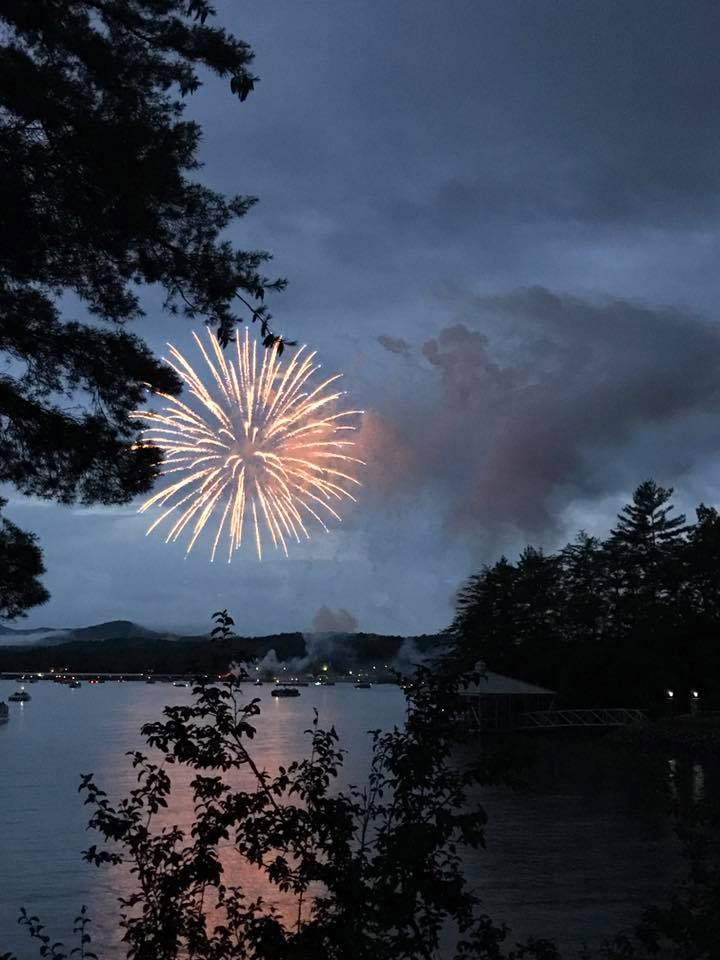 It's the ideal 4th of July weekend package: Independence day in a small patriotic town that also likes it's fun and a beautiful lake to provide the perfect backdrop for fireworks. Blue Ridge's Independence Day parade is a "blast" You will have a ball seeing floats that show creativity and a good sense of humor. The Fabulous Fireworks will be shot off near the Lake Blue Ridge Dam and can be viewed from there as well as Morganton Point Recreation Area, Tammen Park and Lake Blue Ridge Marina. The marina will have live music and barbecue throughout the day. And if it's an old-fashioned 4th that appeals to you, the small town Independence Day celebration in McCaysville is just the thing, featuring an impressive fireworks display from Tater Hill in downtown McCaysville-Copperhill. Here's a thought – ride the Blue Ridge Scenic Railway to the fireworks for a totally unique Independence Day experience on July 5.

Blue Ridge Kiwanis Rodeo – August 17 & 18

Location: Kiwanis Fairgrounds in Blue Ridge
Host: Blue Ridge Kiwanis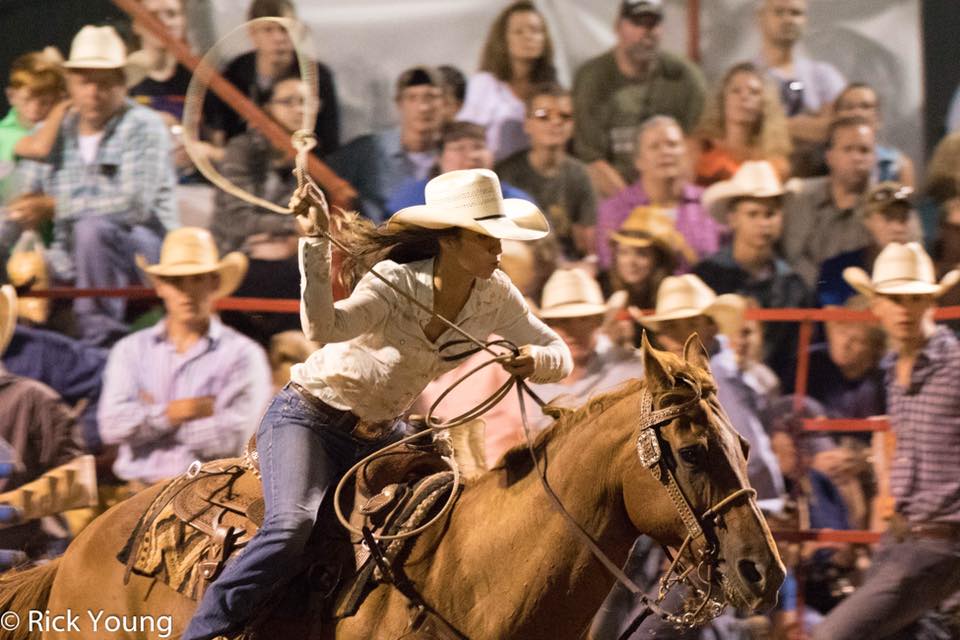 The Wild Wild West has nothin' on Blue Ridge. Every August, for the last 22 years, you would swear (but please don't) that you have landed in Laramie, Wyoming or Tucson, Arizona, because Georgia's red clay is being pulverized to dust by broncs and bulls. This is a classic western style rodeo, complete with bull riding, saddle bronc riding, calf roping, bareback, steer wrestling, team roping, barrel racing and special events. There's great food and fun for all ages!
Plein Aire Festival – September 5-8
Location: Horse Creek Stable Rescue Sanctuary
Host: Blue Ridge Mountains Arts Association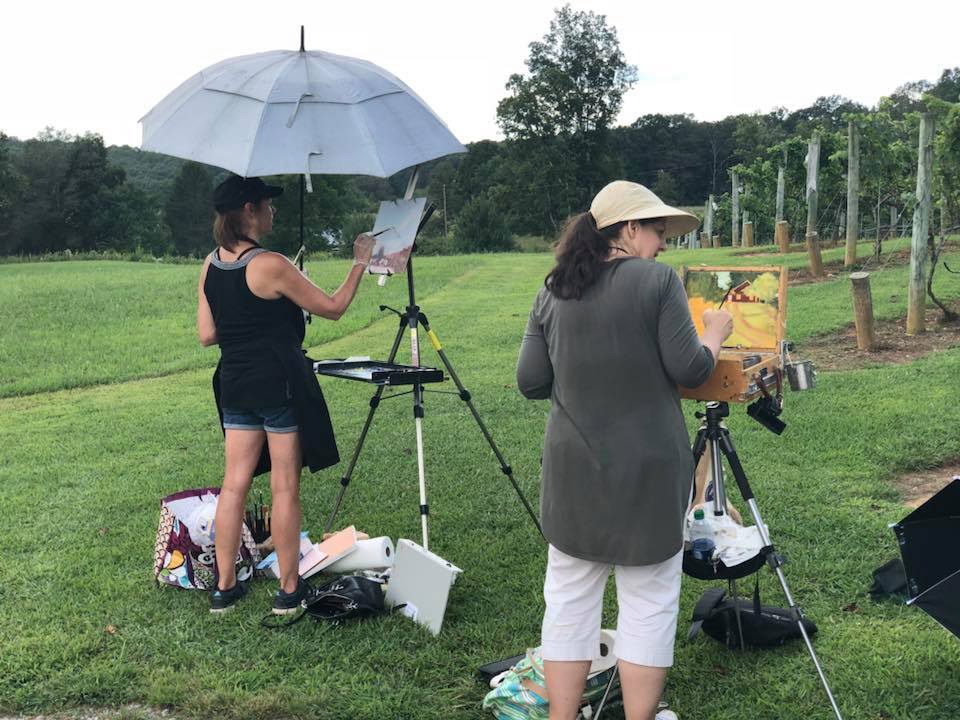 It sometimes takes a while to recognize and realize what's happening in a town or out in the country, when you see artists standing stock still in front of easels and canvases, recreating a visual or a vista. When you approach the artist you can see what they see – beautiful mountains, or unique downtown scenes you may not have noticed (but they have – they're artists, after all). If you peer over their shoulder you'll see that these images are being captured in watercolors or charcoals or any number of arts mediums. It's all part of an arts event that brings artists from across the region to Blue Ridge to capture the scenic beauty of this mountain community. Artists from across the southeast are encouraged to get outside and recreate nature's beauty!
Blue Ridge Blues & BBQ Festival – September 14 & 15

Location: Downtown Blue Ridge
Host: The Blue Ridge Lodging Association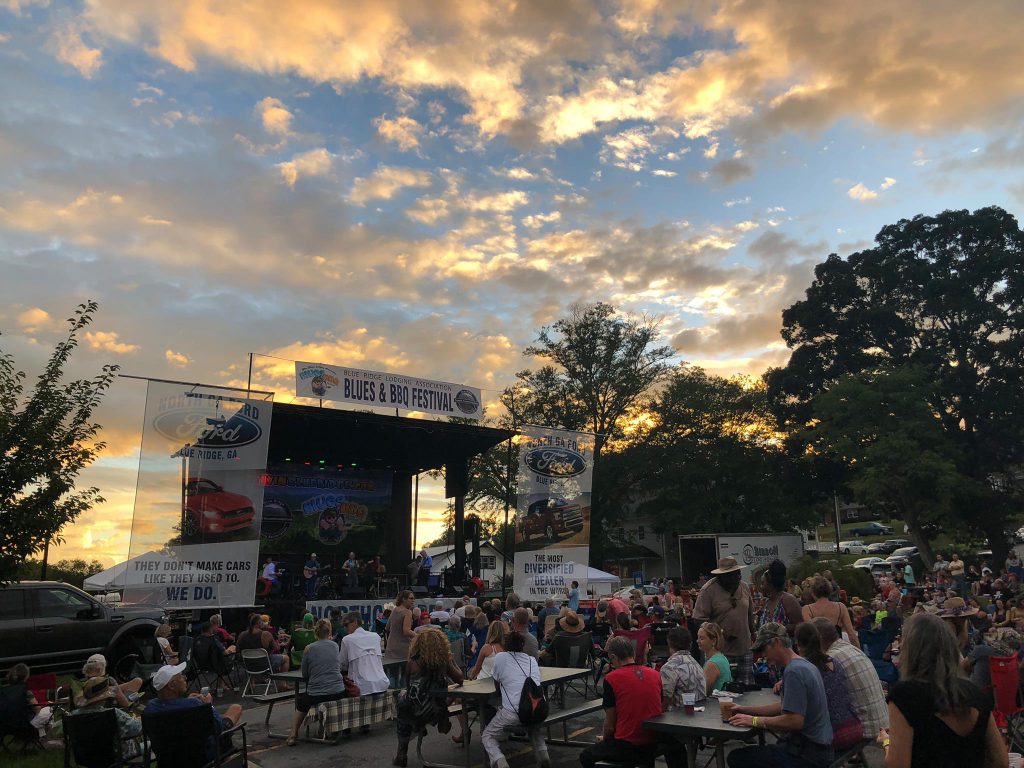 One rule of thumb in the events realm is anything that starts with a crawl is going to be a good thing! So, the Blue Ridge Blues & BBQ Festival starts with a Blues Crawl on Friday night, followed by great blues and barbecue on Saturday. So, what is a Blues Crawl? Well, it's kind of a meander through eight different restaurants, enjoying live music, food and drink, kicking off the Blues Weekend in the mountains. Then on Saturday it's on to the blues and barbecue portion of the festivities with barbecue smells from local and regional cookers filling the air downtown and blues musicians performing from stages set around Blue Ridge City Park.
Fall Foliage Train Rides – October to November
Location: Downtown Blue Ridge Historic Train Depot
Host: Blue Ridge Scenic Railway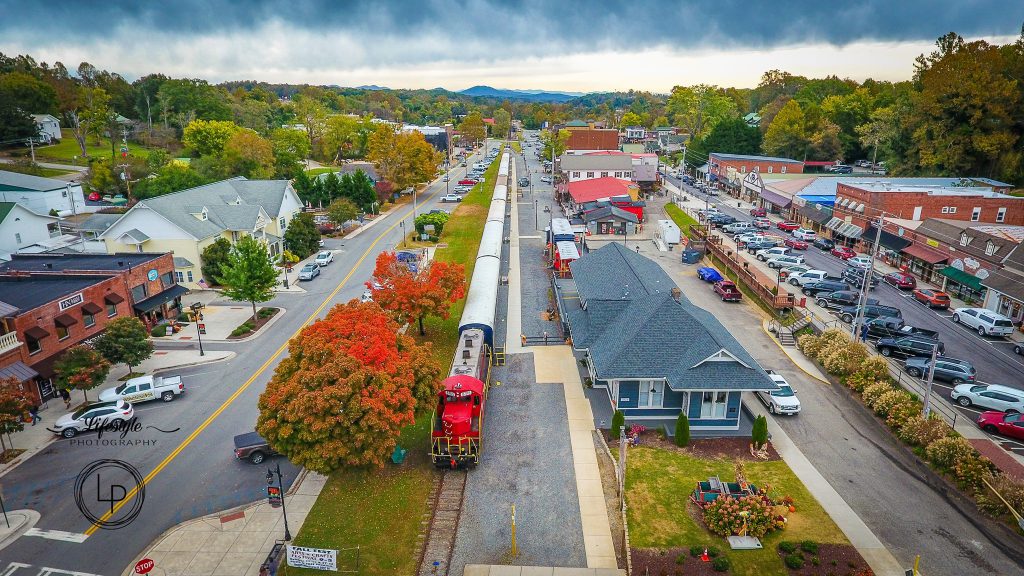 And winter, and spring and summer… The Blue Ridge Scenic Railway is an icon in downtown Blue Ridge, and all along the line to McCaysville and back. You can enjoy the brilliant colors of fall on a special train ride during October and early November or you can ride during the winter, spring or summer seasons as well! Learn about this region's history along the way and you will have a deeper understanding about the beauty of this incredible part of the country!

Paws in the Park – 2nd Weekend of October
Location: Downtown Blue Ridge
Host: Humane Society of Blue Ridge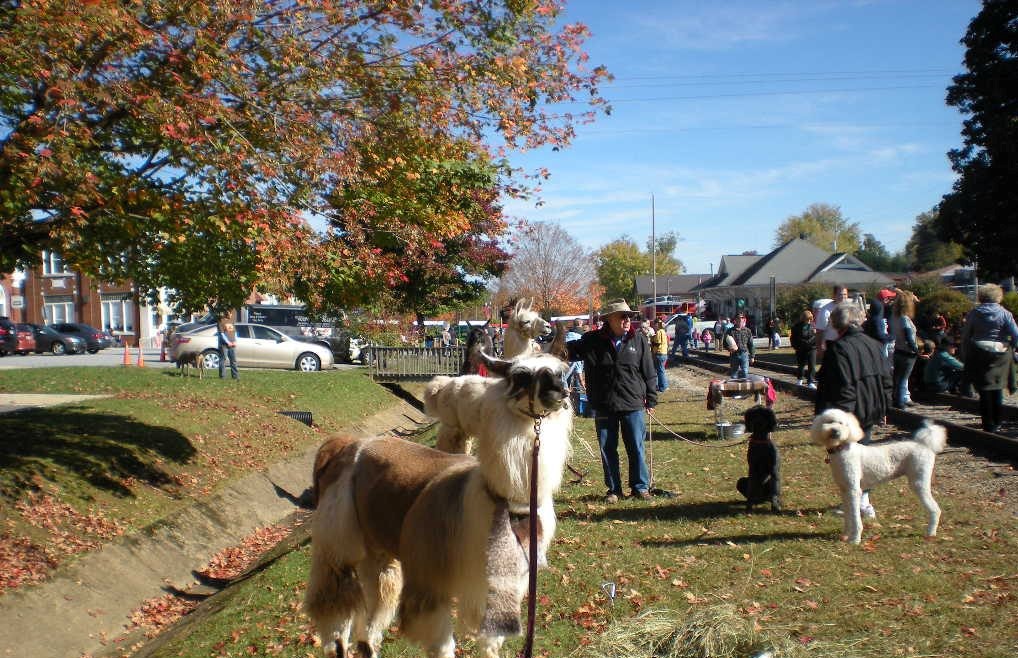 This is the perfect annual event for pet lovers! You can have a great time with your pets and get a few critical things done that need to be done before the end of fall, like a rabies vaccine at the rabies clinic and/or micro-chipping. Other pet friendly events include a pet parade, 5K race, pet education and demonstrations, a costume contest, prizes, photos and more for a fun day with your favorite pet!
Blue Ridge Fall Fest Arts & Crafts Show – 3rd and 4th Weekend in October
Location: Blue Ridge Farmers Market
Host: Fannin County Fire Explorers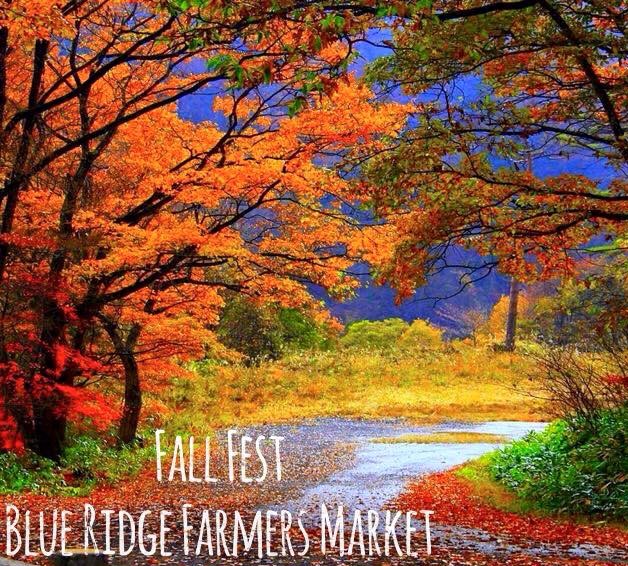 Fall Fest features local arts, crafts, food and fun on two separate October weekends! This event has historically been called the Homemakers Fall Festival, but the event has stretched to include artisans as well as heritage crafts and food vendors. Come out to the Blue Ridge Farmers Market and experience the best in mountain creations.
Halloween Safe Zones – October 31
Location: Downtown Blue Ridge and McCaysville
Host: Blue Ridge Business Association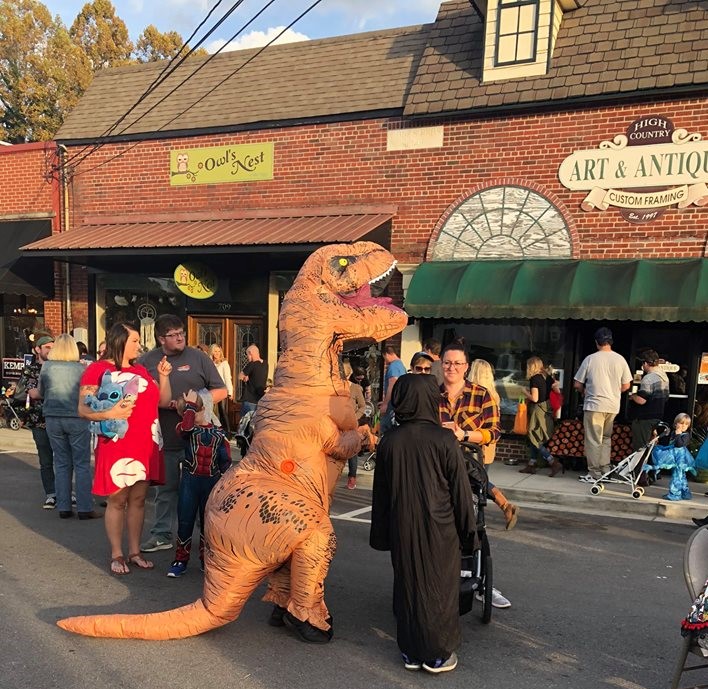 There's nothing better than seeing the excitement that surrounds a group of kids all dressed up for Halloween and ready to head out to an early evening of trick-or-treating. The only thing better is knowing that where they're going is safe. Kids of all ages get to trick or treat from shop to shop in downtown Blue Ridge and McCaysville. Pumpkin carving, costume contests, food, and entertainment are also part of the evening festivities!
Holiday Art Show & Sale, Light Up Blue Ridge & Hometown Christmas – Each November-December
Location: Downtown Blue Ridge, McCaysville, & Copperhill
More Information: Fannin County Chamber of Commerce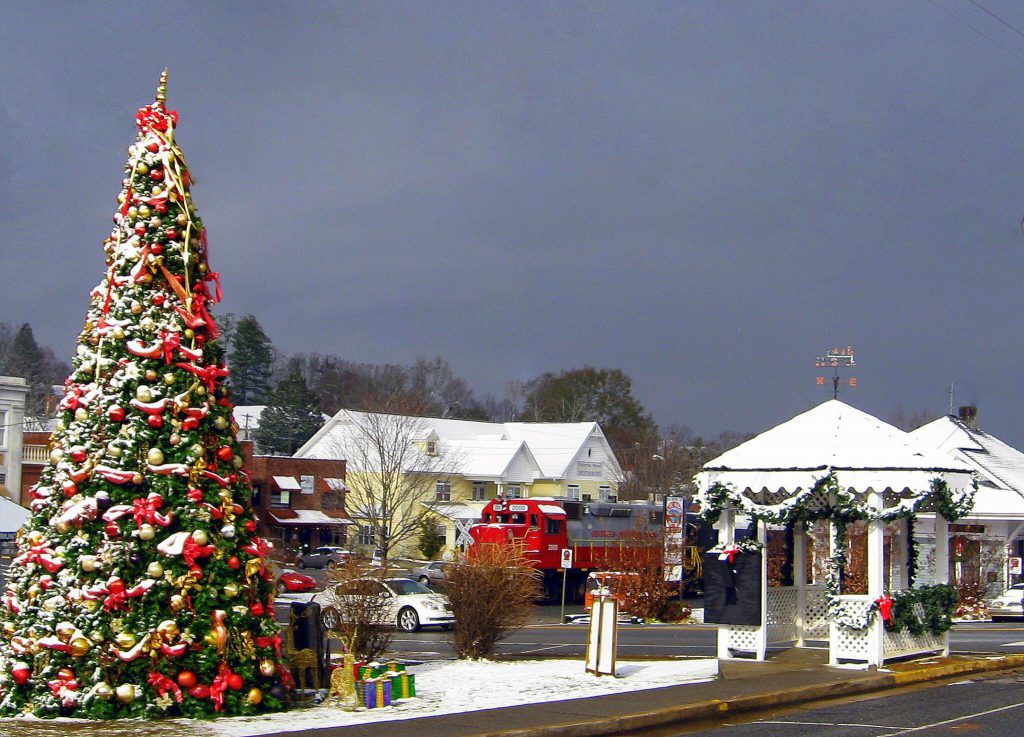 Blue Ridge Mountains Arts Association sponsors a regional arts and crafts event where you can shop for regional art and crafts at the Blue Ridge Mountains Arts Association from Thanksgiving through Christmas. Downtown Blue Ridge and Downtown McCaysville hold their Christmas festival on the day after Thanksgiving with music, refreshments, caroling and all-day activities. Official lighting of the Christmas tree in downtown Blue Ridge takes place at dusk and then Santa arrives! Santa's arrival, food, refreshments and entertainment and the lighting of the bridge all are on the agenda that same night in McCaysville.
AND SO BEGINS 2020 …

Fire and Ice Chili Cookoff – President's Day Weekend
Location: Downtown Blue Ridge
Host: Blue Ridge Business Association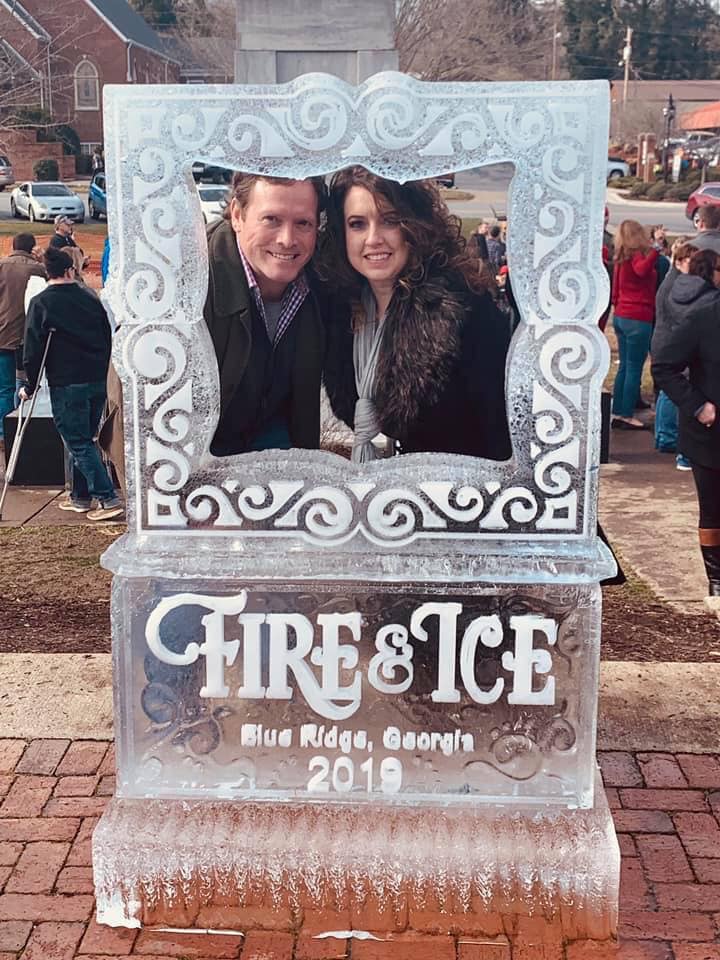 Is it really cold enough in Blue Ridge, Georgia in February to hold an ice carving competition? Yup. It is – so bundle up. But you also have to be prepared for the heat – the heat of homemade chili that comes in all kinds of flavors and a range of hotness. The contrast of cool and hot also perfectly describes the weekend festivities that kick off the festival season. The event is cool – attracting thousands to City Park in downtown Blue Ridge and the ice sculptures are hot with a wide range of ideas and images that emerge from a block of ice. The event in 2020 will be the eighth annual, and it continues to grow every year!

Annual Blue Ridge Writers Conference – Early April
Location: Downtown Blue Ridge
Host: Blue Ridge Mountains Arts Association Art Center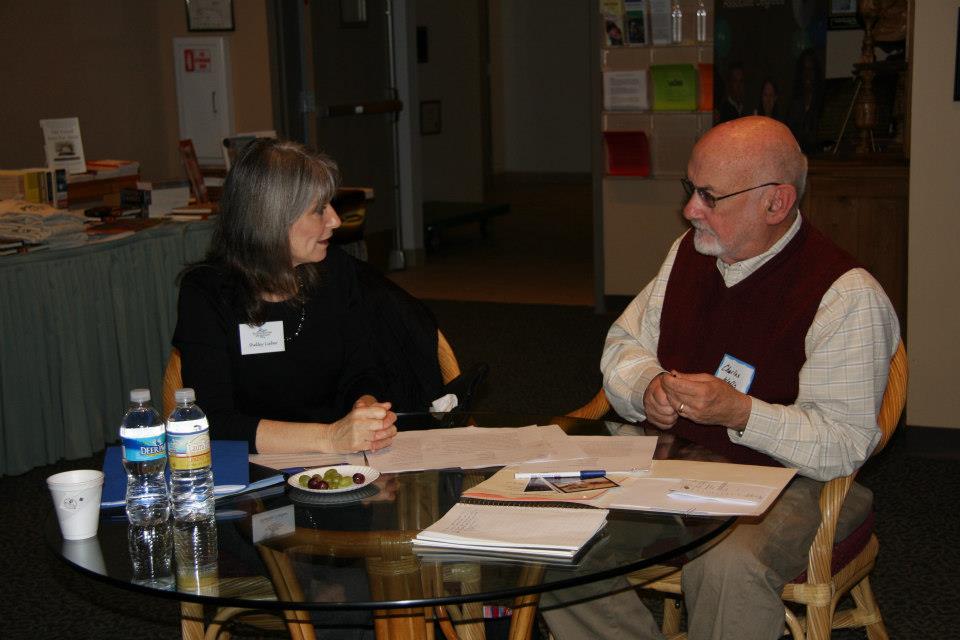 Writers write – that's what they do. But writing is a solitary pursuit and sometimes writers just have to get together to compare notes and chat about what they do and how they do it. The annual Writers Conference is a literary tradition and unique cultural asset enjoyed by our many writers and aspiring writers each Spring as they gather in Blue Ridge to learn more about their special craft.
Blue Ridge Trout Fest & Outdoor Adventures – Last Weekend in April
Location: Downtown Blue Ridge
Host: Blue Ridge Mountain Trout Unlimited #696 and the Fannin County Chamber of Commerce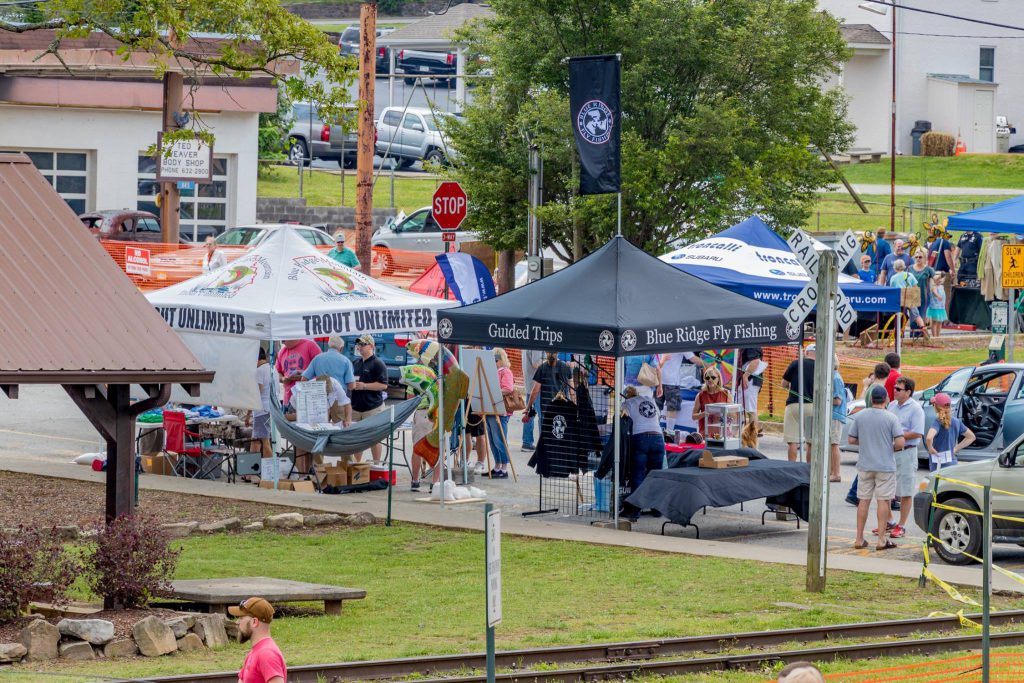 There are a lot of trout in Georgia. They are stocked, and caught, and eaten in large numbers. There are also several trout festivals designed to help anglers learn about and appreciate one of America's favorite fish – the trout. But there is only one Official Trout Festival in the state of Georgia – and this is it. The festival includes great exhibits by outdoor organizations and businesses, education on trout fishing, entertainment, food trucks and more in downtown Blue Ridge's City Park.
Where To Stay?
And as always, when you are looking to Escape to Blue Ridge, we have your best mountain accommodations. From cozy two bed cabins to massive six bedroom lodges. Not only can you enjoy festivals, but there is always live music in town, great shops to explore and fabulous restaurants to enjoy. When you've had enough "people" time, escape to nature and explore all the natural beauty that surrounds us. You'll be happy you did.