Welcome to the Blue Ridge mountains of North Georgia! Your mountain adventure is about to begin and we can't wait to share with you some of our most favorite places and secret local tips to help you get the very most out of your mountain experience. Adventure is good for your soul, so let's get going!
Hike Flat Creek on the Aska Trail System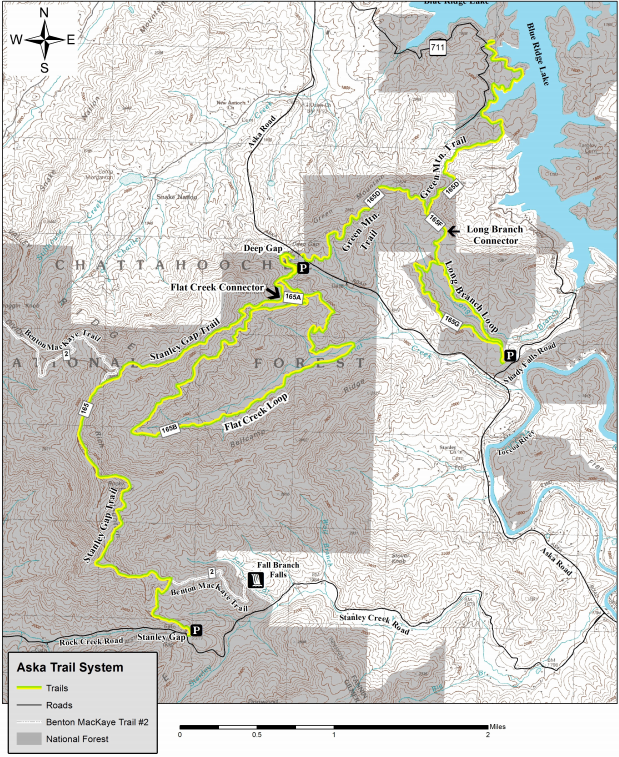 Because of its mountainous terrain, hiking is one of the main reasons that travelers add Aska to their must-visit list. The Aska Trails Area consists of a 17-mile trail system where hikers and mountain bikers of all skill levels can explore. This trail system highlights the landscapes of North Georgia by revealing mountain peaks, shorelines of Lake Blue Ridge, and a series of hardwood trees among thickets of Mountain Laurel and Rhododendrons.
A few of our favorite hiking and mountain biking trails include:
Local tip – Pets are welcome to eat with you at the nearby Toccoa Riverside Restaurant and Fido can even enjoy some canine cuisine from the Pooch Porch Goodies menu!
Take in a movie at Swan Drive-In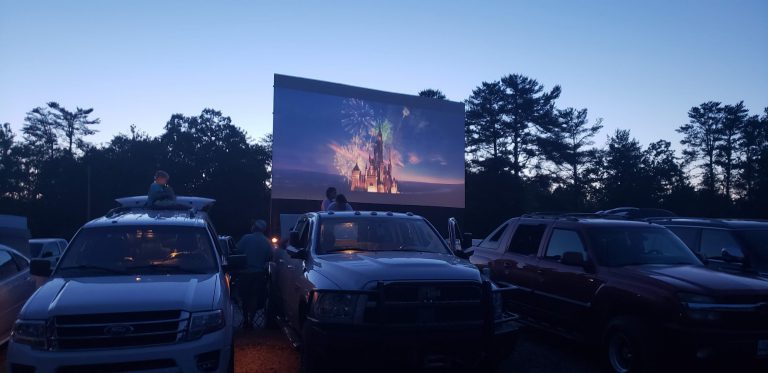 Did you know that Blue Ridge has its own Drive In movie theater? Well that's right we do, Swan Drive In Theater! They've been showing movies here since 1955! Turn back the clock and live life like you're in the 1950's by watching movies the old-fashioned way. Just tune your car to the radio and munch down on some delicious classic movie theater snacks; all from the comfort of your own vehicle! It's a perfect way to spend summer nights! Check their website for movie showings: http://www.swan-drive-in.com/now-showing.php
Local tip – Bring a portable radio/boombox. You don't want to be the one who's battery dies from running the radio!
Grab a dozen Wing at Chester Brunnenmeyer's Bar & Grill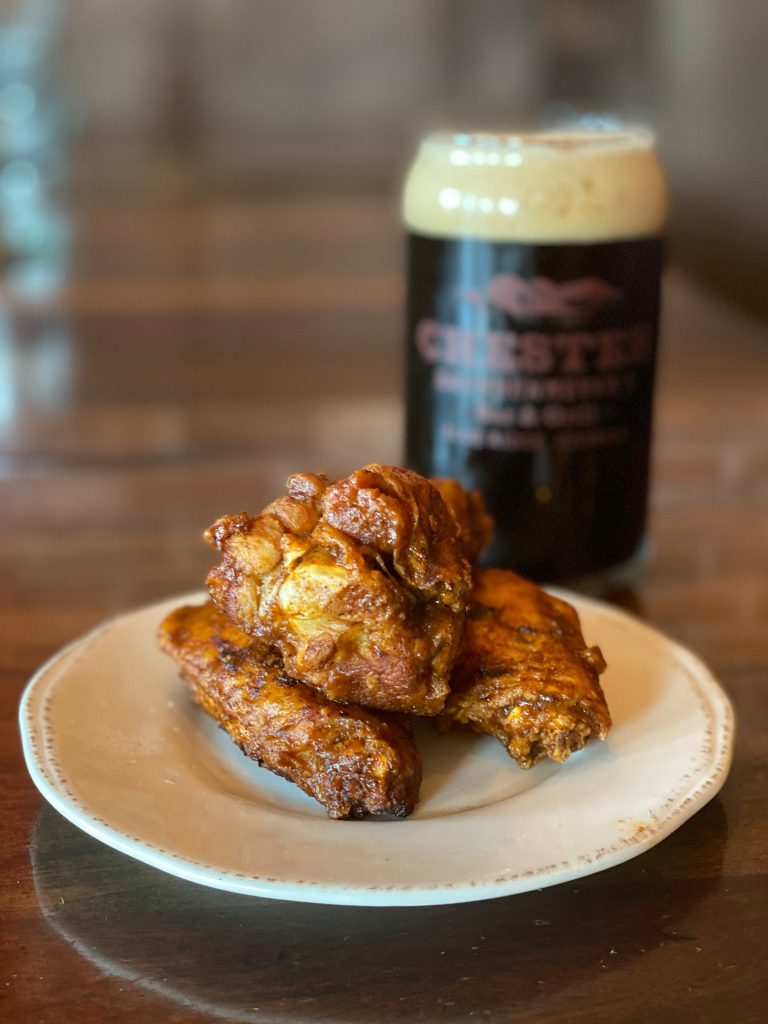 Chester's is one of our favorite places to eat Downtown. They serve both regional and seasonal high-quality dishes, like their Blackened Ribeye Steak or Pimento Cheese Chicken Sandwich. And be sure to ask about their current specials and new cocktails, because they're always adding new dishes and drinks for a limited time. Having a night out with a few friends? Try Chester's famous wings! You'll also love their regional craft beers and impressive wine list. Before you go, stop by next door to Chester's Provisions where you can stock up on unique food & drink items perfect for souvenirs or gifts!
Local Tip: Order the Escape to Blue Ridge-themed drink which includes- Cathead Honeysuckle Vodka, Macerated blueberries, and lemonade; yum!
Best Photo Ops at Fall Branch Falls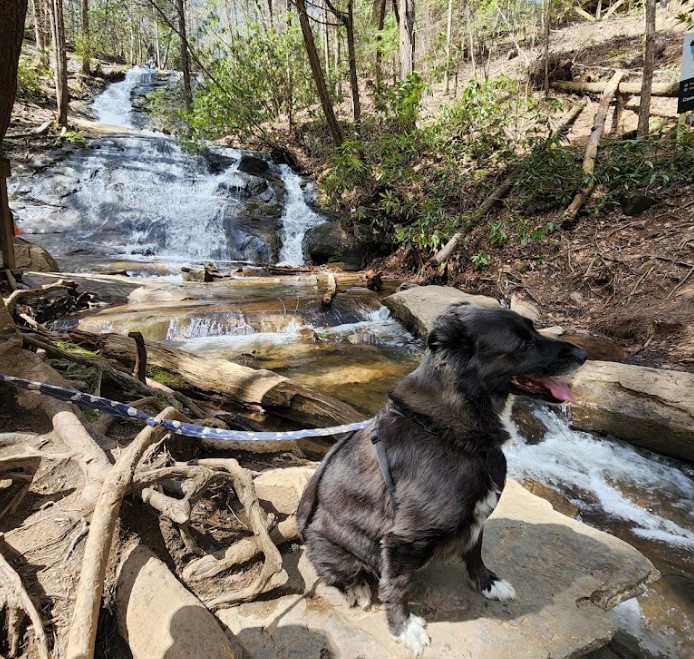 Only 20 minutes from Blue Ridge, Fall Branch Falls is a location where you can spend a half-hour or a half-day! The adventure begins with only a 0.5-mile shaded path that leads visitors to a series of cascading waterfalls reaching 30 feet. The area below the falls is great for a picnic or water break. The mist from the side of the cliff and the water at the base of the falls make for a perfect place to cool down from a hot summer's day. But watch your step because the rocks can sure be slippery! The observation deck at the falls can be used to snap a picture or to admire nature's beauty.
Local Tip: A great hike to bring your four-legged friends along for!
Sip Like a Local at Grumpy Old Men Brewing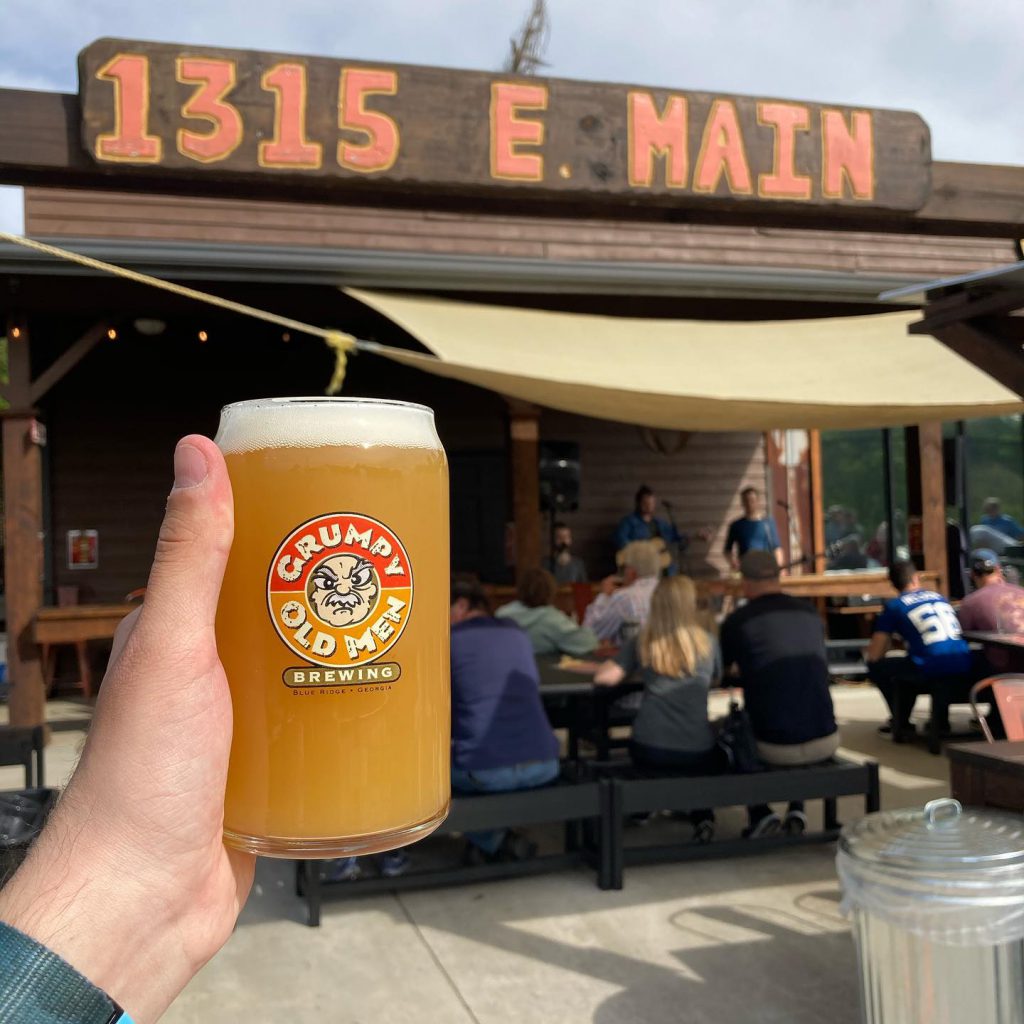 Grumpy Old Men Brewing is a great hangout for any age. This is a no frill joint. They don't mess around: "If they don't like it, they don't drink it, and if they don't drink it, they don't sell it." Doesn't get much simpler than that!
Family friendly, kids will love the GIANT JENGA outside and the games inside, plus there's craft soda on tap. Open seven days a week. Big screen TV's throughout. Thursday night is Karoake night and it is well attended and lots of fun. Always 18 different craft beers on tap. On Friday, Saturdays and Sunday's there is often live music and a food truck or two. So, if you are looking for a dog friendly business that tolerates people and specializes in delicious beer, this is a must stop
Local Tip: We suggest the Aska Pale Ale
Old School Candy at Huck's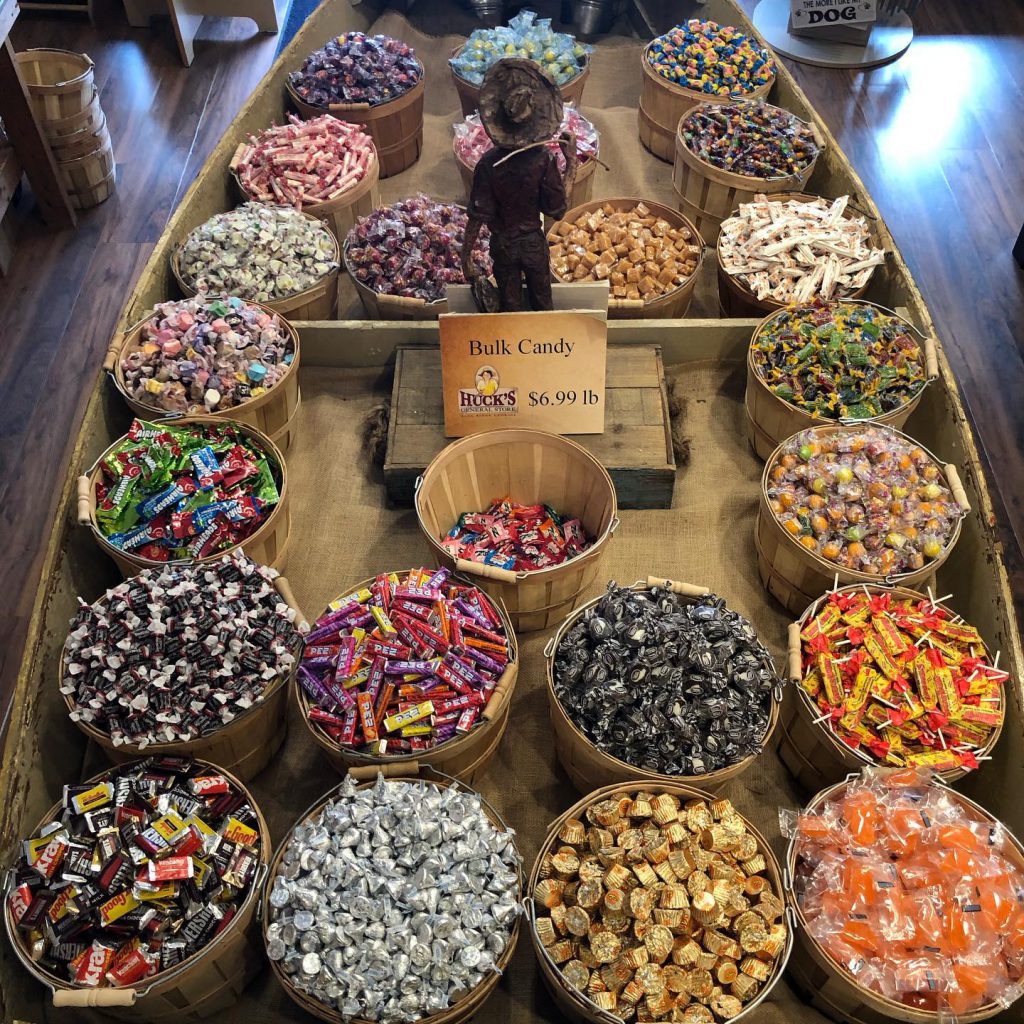 The whole family will love all that Huck's General Store has to offer! Here, you'll feel like you're stepping back into a time of small mountain town shops complete with old school candies, artisan goods, canned & pickled fruits and vegetables, soaps, and more. The kids will love picking out their favorite candies and games; while the adults stock up on snacks, funny signs, and nostalgic gifts. This is also a great place to pick up a Blue Ridge hat or t-shirt! Once you're finished shopping grab your goodies, an ice cold drink, and relax on the back porch rockers while you watch the train pass by.
Local Tip: Pick up a jar of pickled okra and enjoy! Trust us, they're delicious!
A Sunny Spot for Shady People – Lake Blue Ridge Marina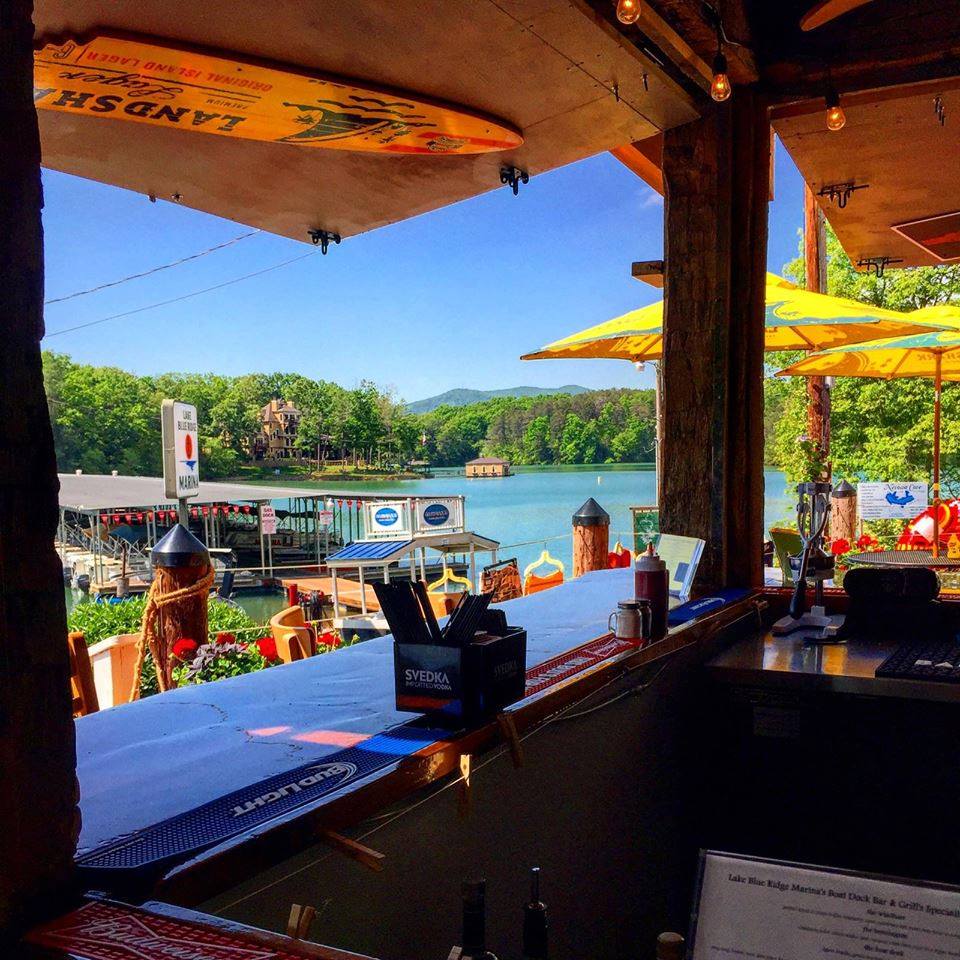 Eat delicious food, sip on great cocktails, listen to live music, and take in the views of the beautiful Lake Blue Ridge! That's what's in store for you at Boat Dock Bar & Grill, a part of the Lake Blue Ridge Marina. There's no better way to unwind after a long day on the water than by visiting the grill for a relaxing evening.
When the weather is warm Boat Dock Bar & Grill is always ready to have some fun and serve up some great dishes! With classic bar options to choose from like Smoked Wings, Shrimp Tacos, and Grouper Baskets; you really can't go wrong. Bring a group of friends along to share appetizers and entrees with because you won't be able to choose just one. Have some more fun and get a specialty cocktail like 'Blue Ridge Boat Wreck' or 'Michael's Mango Tango'. Sip on your fruity beverage, laugh with your friends, and enjoy weekly performances from local artists. It's always a blast at The Boat Dock Bar & Grill!
Local Tip: Try the Smoked Chicken Sandwhich
Pan for Gold at Aska Gem Mining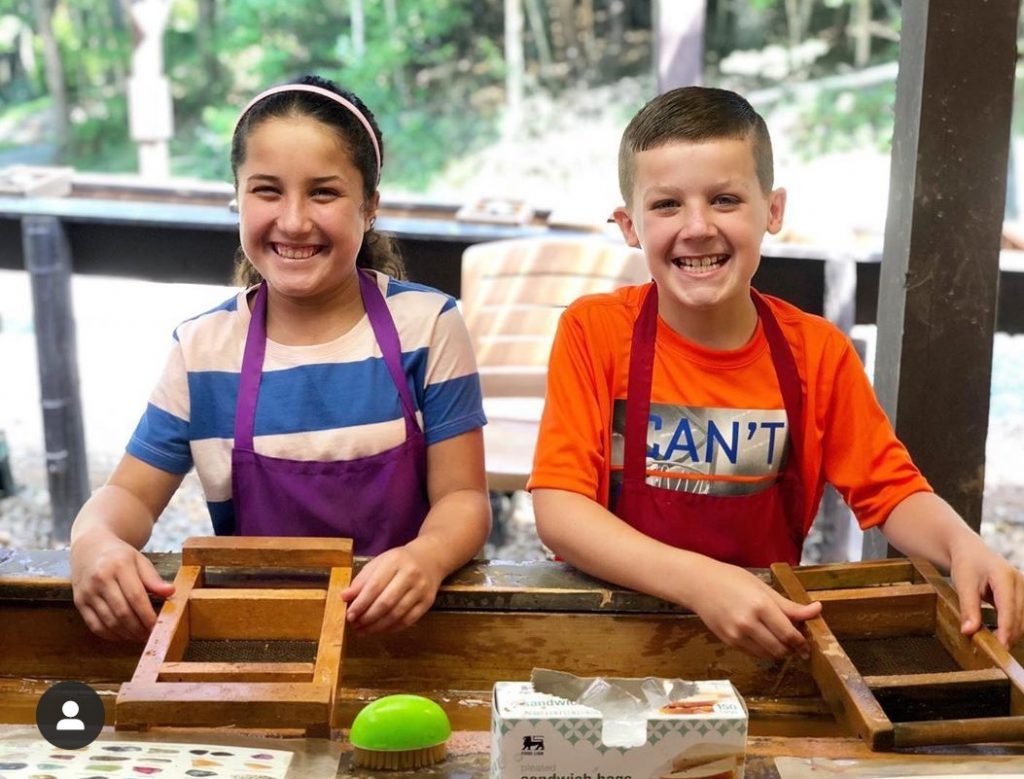 Kids love to interact and use their hands, so Aska Gem Mining is just the place for them. The gem mining experience is fun, interactive, and educational. Dig through the trays to find beautiful gemstones and the staff will even provide you with educational information on what you've found. Your kids will come home with a full stash of rocks and gemstones!
Local Tip: Stop by our office or download a copy of our Kids Activity Book for more unplugged fun!
Indulge in a cupcake at the Sweet Shoppe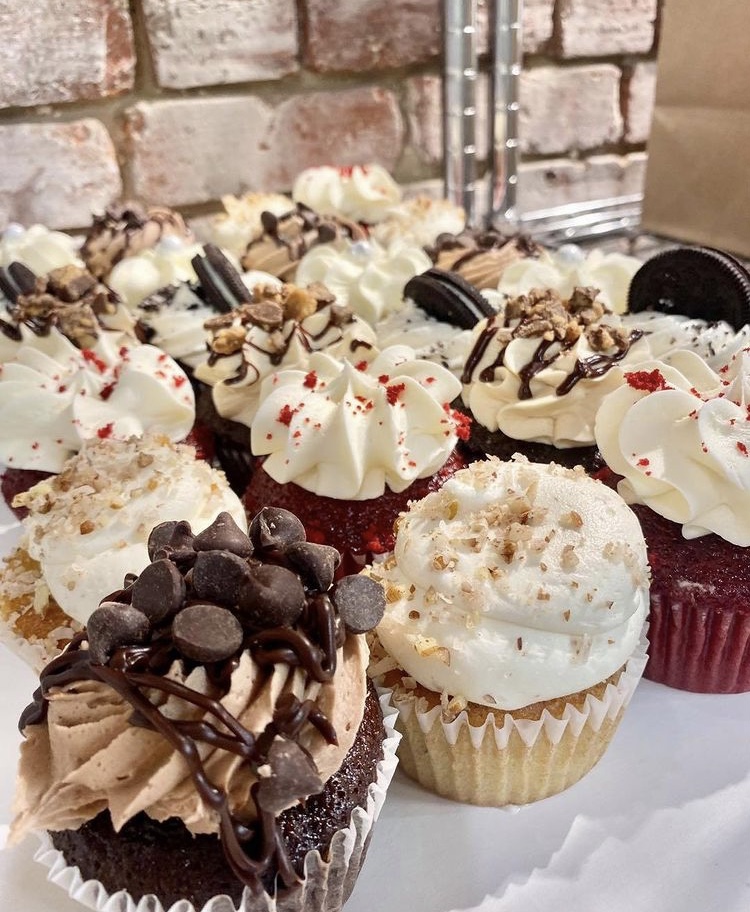 For the best cupcakes you've ever eaten The Sweet Shoppe of the South is the place for you! Their cupcakes are so out of this world delicious that they actually won on the show Cupcake Wars in 2012 for their PB&J, S'mores, Lemon-Raspberry, and Carrot Cake flavored cupcakes. The show helped bring so much business to the shop that today there are even more delicious flavors to enjoy like Moosetrax, Hot Fudge Sundae, Chocolate Cream Pie, and so much more. And it's not just cupcakes they offer either; you can order full cakes, chocolate covered strawberries, and pies. The Sweet Shoppe should be a must see (and eat) on your list, for sure!
Local Tip: Pick up a dozen Macarons to take back to the cabin with you for a late night snack!
Jump on the Swinging Bridge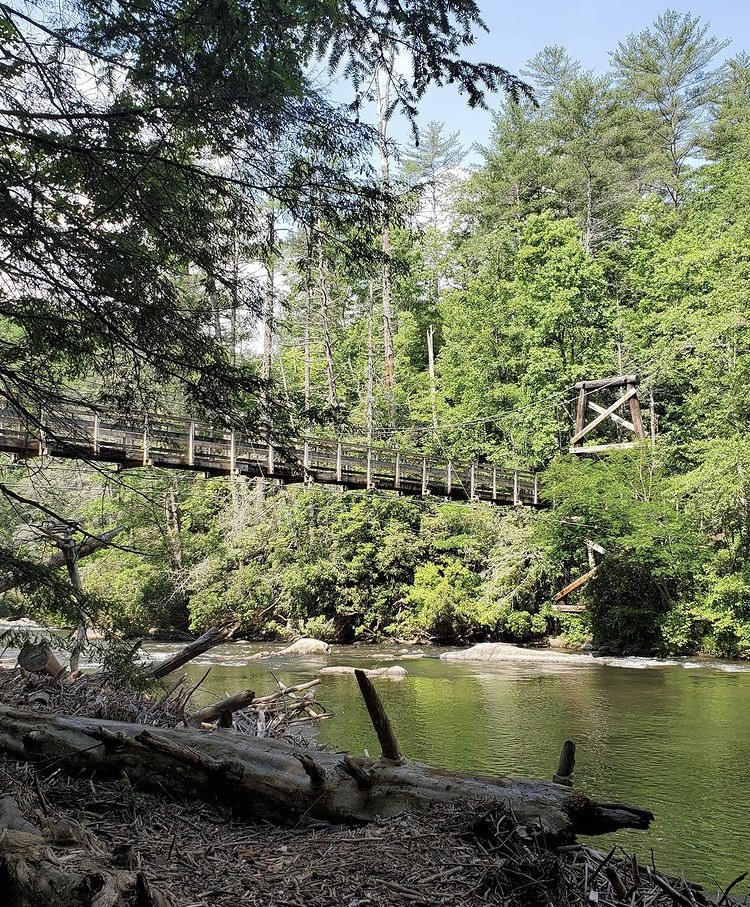 The Swinging Bridge over the Tococca River has become a kind of landmark for Blue Ridge. Located on the Benton MacKaye Trail and the Duncan Ridge National Recreation Trail in Fannin County, this bridge is an experience you won't want to miss. Spanning 270 feet long, this makes it the longest swinging bridge east of the Mississippi. When you walk the bridge look down below and keep an eye out for kayakers floating down the peaceful river.
Local Tip: If you do decide to jump in the middle, make sure you are faster than your travel buddies or you might get thrown off!