With so many amazing wineries and vineyards to explore in and around the Blue Ridge area, it's hard to choose just one. They all provide a relaxing environment, beautiful mountain views, live music and of course great wine! North Georgia is the next upcoming wine region, so while you are on your Escape to Blue Ridge plan to visit one or all of our eight favorite North Georgia wineries!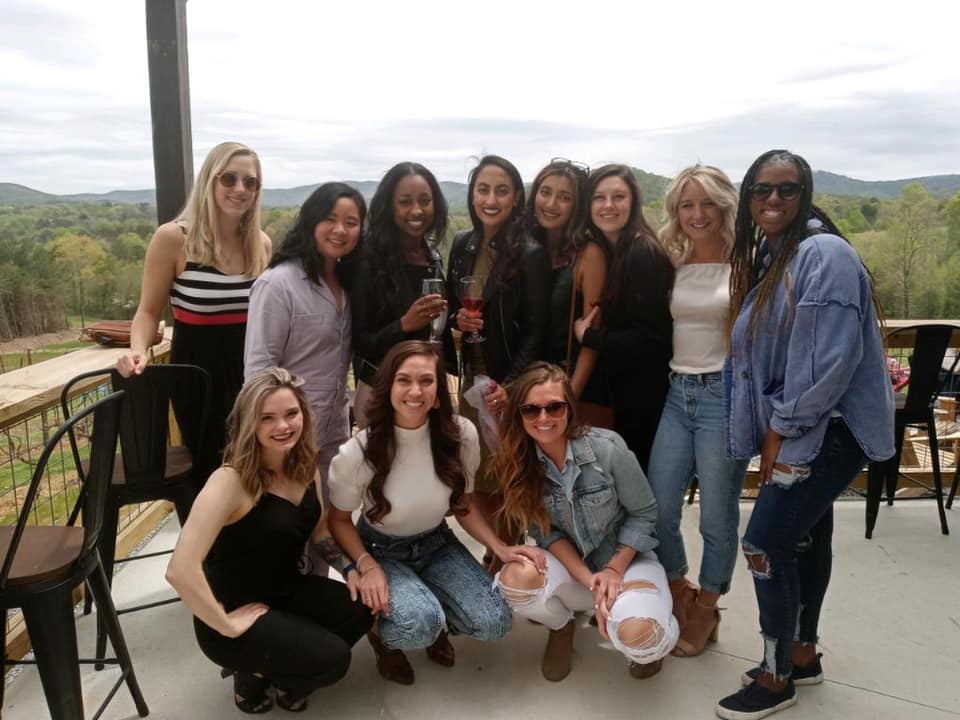 Bear Claw Vineyards is the perfect place to relax with a group of gal pals or family. With its gorgeous mountain views and calming atmosphere, you won't want to leave! The wine is also superb because the grapes are grown in such an ideal location. What makes the location so ideal you ask? Being high above sea level greatly helps the grapes, as well as the cool mountain breezes and rich soil. The land was made for growing grapes that would turn into high-quality wine. With so many delicious flavors of wine to choose from it's hard to pick just one. Luckily, they have a variety of tasting options. Whatever wine you choose, make sure to pair it with their wine truffles; milk chocolate ganache and vanilla cake truffles made with Bear Claw wine!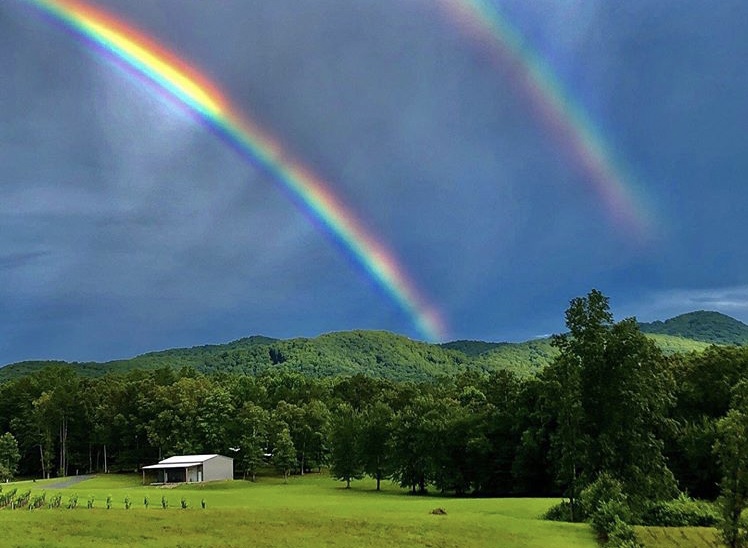 On the outskirts of Morganton is another winery you must put on your list, Serenberry Vineyards. Their beautiful tasting area was a barn from the 1920's that they transformed into what you see today. Relax on the back deck of the Tasting Barn and find yourself surrounded by the beauty of the Chattahoochee National Forest. And not only are their wines delicious but they're special too! Each wine is named after something meaningful to the owners within the county or nearby area. For example, you might want to try the Apple-lachian named after the nearby Appalachian Trail and made with local apples. Stop on by, relax in the wooded area, and sip on some delicious wine.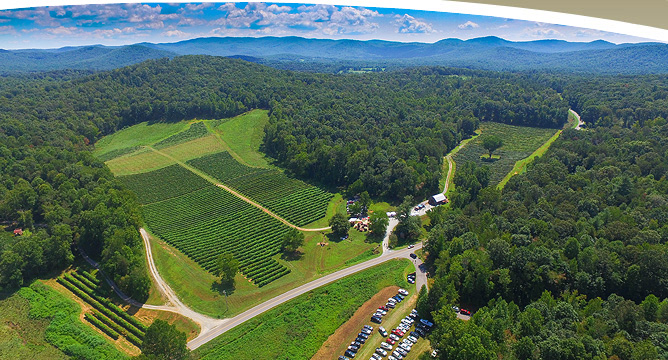 Just outside of Ellijay lies the beautiful, Cartecay Vineyards. Known for its stunning mountain views and delicious wines, you'll be sure to want to escape the stress of everyday life and relax here. Cartecay Vineyards was established back in 2007 when they purchased an old farm dating all the way back to 1890. They turned the farm into the vineyard you see today, which is perfect for growing grapes because of its elevation, sun exposure, climate, and soil. All of these aspects come together to make a bottle of near-perfect wine. And not only is Cartecay's wine delicious but they have a large variety of wine as well, most of which you can taste fruit-forward flavors in. Visit on the weekend and enjoy live music on their patio. Soak in the mountain views surrounding you, have a glass of wine, and enjoy listening to local Georgia artists. Cartecay Vineyards is one you won't want to miss!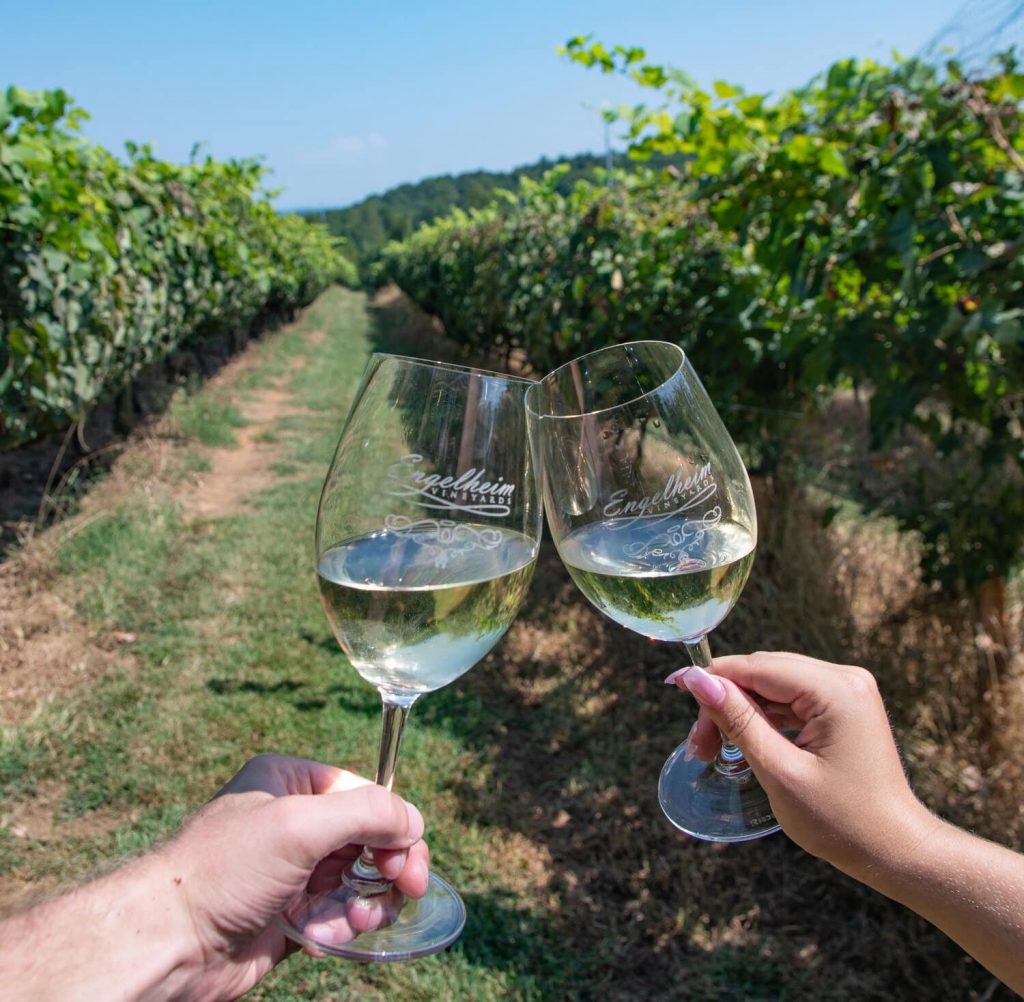 Also located in Ellijay, Engelheim Vineyards focuses on growing outstanding grapes to create award-winning wines. And with 20+ award-winning wines, you can't go wrong! Try their Cabernet Sauvignon, a smooth wine with flavors of black cherry, currant, and spice; or their Engel Weiss, a full bodied wine with fruit, floral, and nutty undertones. No matter what you choose, we promise you'll love it! The Engel family who established the vineyard in 2011, tie in their German heritage along with their Appalachian home in the North Georgia Mountains to help create their unique and special wines. If you're looking for the right dish to pair with the wine look no further; Engelheim has wine pairing classes for their customers and even offers wine-paired dinners. That way your wine and meal can complement one another in the most delicious way possible. Here you can also enjoy art events, music events, and wine festivals throughout the year. And enjoy live music every Saturday and Sunday afternoon. You can even bring your dog along to enjoy a relaxing day at the winery. Voted "2018 Georgia Winery of the Year" by Georgia Trustees Wine Challenge, you'll be sure to enjoy your time here!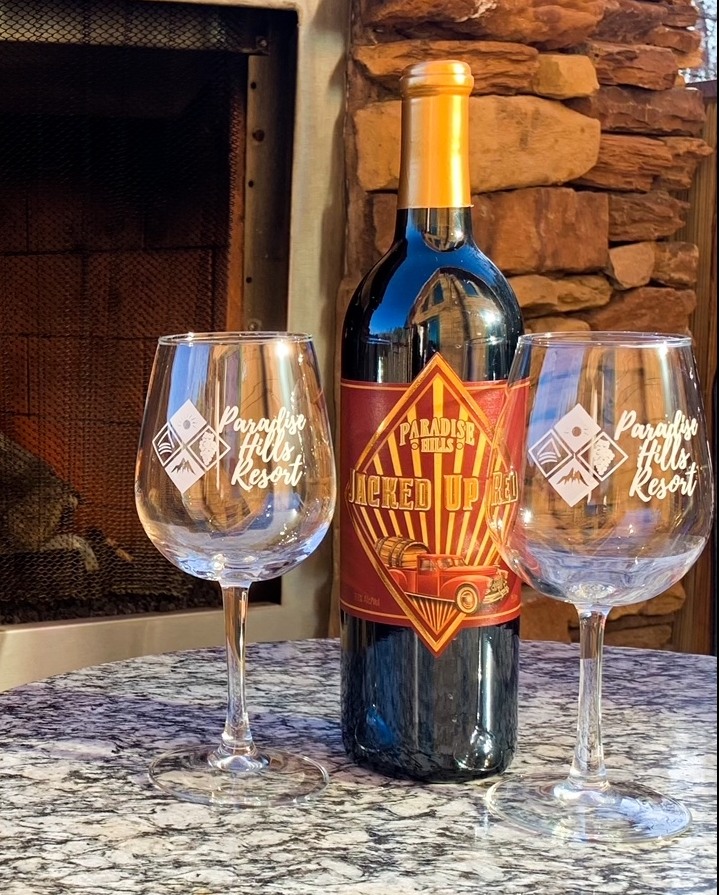 Immerse yourself in all things Blue Ridge Mountains. Sample wines from the first American Viticulture Area in the state of Georgia. Featuring award winning, Paradise Hills wines.  The Georgia Wine Depot is a great way to unwind after a long day of shopping downtown or hiking on the trails. Sample your favorites and take a bottle or two back to the cabin with you.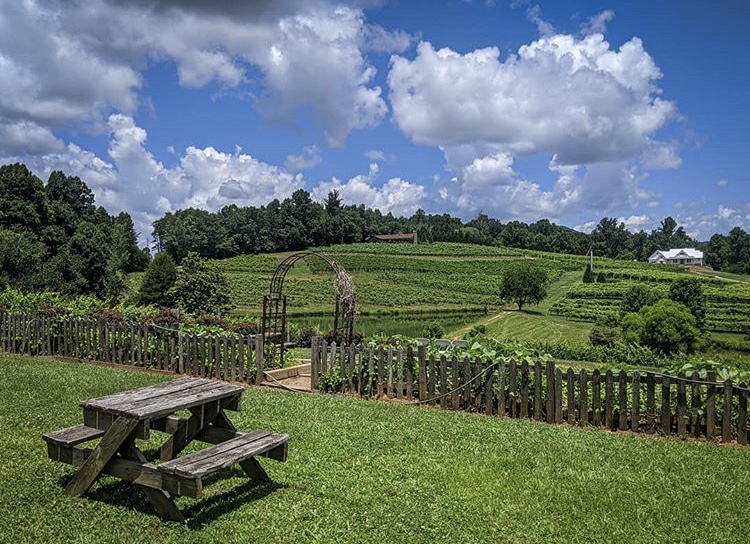 Located in Young Harris, close to Brasstown Bald, is Crane Creek Vineyards. The owner and winemaker, Eric Seifarth, began to love wine while he was stationed in Italy as a young army officer. His goal at Crane Creek is that their wines be enjoyed with food, family, and friends to make for an enjoyable experience. With a huge variety of wines to try from reds, to whites, to roses, to sweet wines you're sure to find something that makes your taste buds dance. And what better way to enjoy wine than with food!? Every Friday night from May-October you can enjoy homemade seasonal appetizers, as well as live music on the vineyard deck. Like the Italians, Crane Creek calls this Aperitivo, which means "to open", such as a drink being opened or an open/stimulating appetite. And Friday night Aperitivo's aren't all they have to offer! Crane Creek always has some sort of event going on whether it's a tour of the vineyard, Wine Highway Month, and so much more! You can be sure there will always be something going on. So stop on by one Friday night to experience Aperitivo and feel like you're being transported to Italy!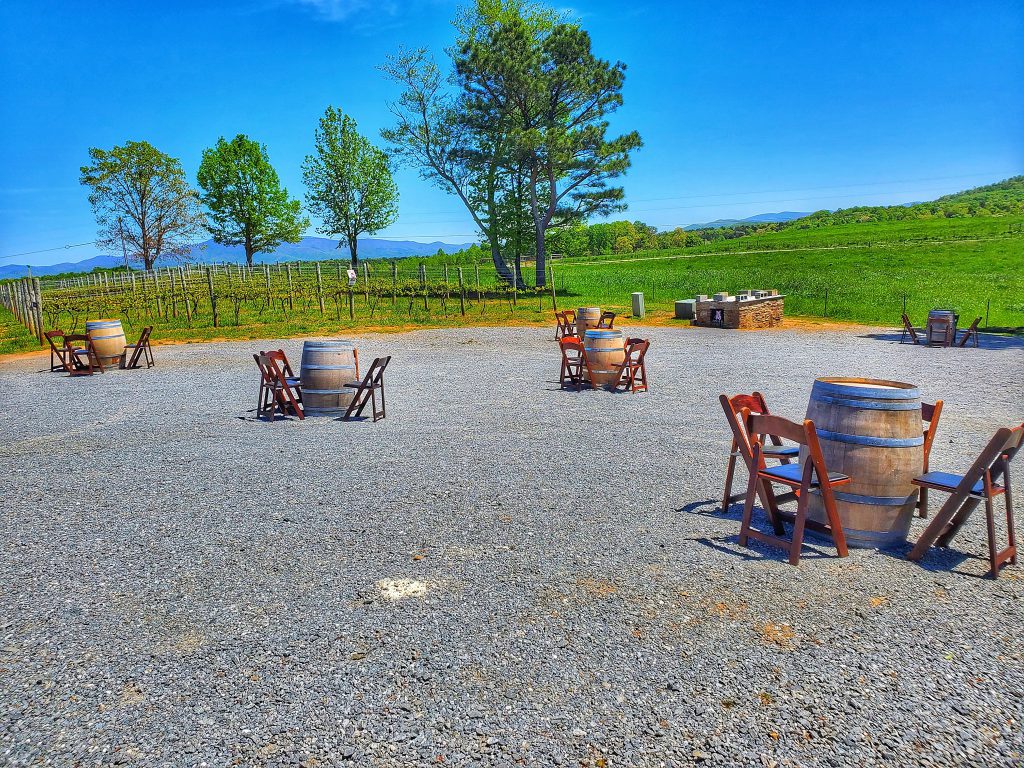 Located in Talking Rock, at the foothills of the Appalachian Mountains, is the beautiful Chateau Meichtry Family Vineyard and Winery. If it sounds French that's because in a way it is! In 1921, Stephen Meichtry traveled to America from Switzerland. While he was living in New York his love for wine grew and it's rumored that he even brought his own rootstock from Switzerland. He then grew the vines so that he could make his own wine. It is believed that stock from Meichtry's vines is now planted at the vineyard, hence the name Chateau Meichtry Family Vineyard and Winery. Whether from Meichtry's vine or not, one thing is for sure, the rolling hills provide the perfect environment for growing high-quality grapes. From light whites to dark reds, there's a wine for every palette. Chateau Meichtry Family Vineyard and Winery is a member of the GA Wine Producers, North Georgia Wine Producers, and Ellijay Wine Country; so you can rest assured that their wines are delicious! On weekends enjoy live music while you sip on wine and enjoy the views of the Appalachian Mountains. And with special events happening almost every weekend you're sure to have a blast soaking it all up with friends and family!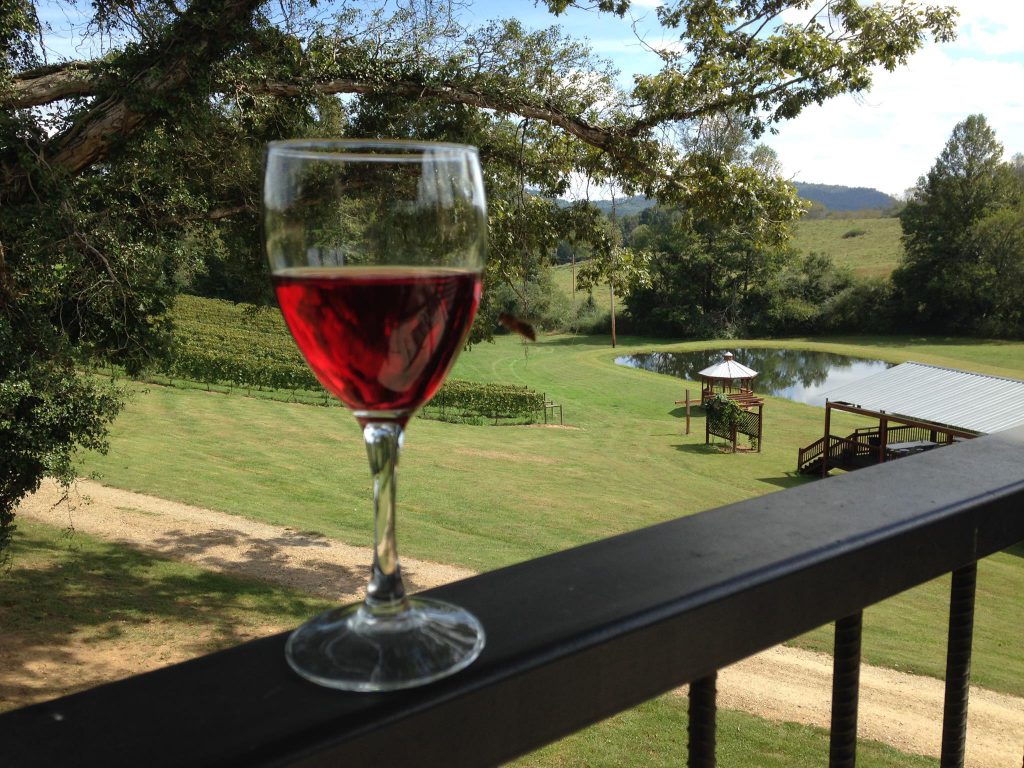 Located in the small town of Blairsville, you'll love Odom Springs Vineyards. For over a century the Odom Family have owned land in the Young Cane valley, and the vineyard takes up 16 acres of that land. The family has been farming the rolling hills of the Appalachian mountains for years so the owners of the vineyard pay tribute to them by doing the same. The uniquely fertile soil of the Appalachian Mountains helps to create unique wines. They plant the same kind of grapes, French-American hybrids, in different soil conditions to get the different flavors of wines. For a dry-red try the Silver 2016 Award Winner, 'Earl's Reserve', which is a smooth, classic wine honoring Earl Odom, who is the father of the current owners' Steve and Shari Odom. Or for something sweeter try 'Sweet Sam', which blends different types of the French-American grape, grapefruit, and pear for a perfectly sweet wine. It was also a 2016 Silver Award Winner and named after sweet Samantha Blair-Odom. And there's even more delicious reds and whites to try as well! Enjoy a glass of their award-winning wine from the deck, while you take in the mountain views at this family-owned vineyard.