Here at Escape to Blue Ridge, we consider the current recommendation of "Social Distancing" a serious responsibility. Click HERE to learn more about what we're doing to mitigate the spread of the coronavirus within our vacation homes.
We also believe our vacation homes provide a great resource for adapting to this new temporary way of life while still enjoying quality family time with your loved ones. In fact, providing incredible getaways in underpopulated areas is our specialty! Many of our cabins back up to National Forest service land making you feel like you are in your very own secluded heaven! Besides, last we heard, getting outdoors and spending time with family was not cancelled. So, let's make the most of our situation and embrace the opportunities we do have.
Today, with many schools being closed and offices shutting down, there is not a better time to "seize the day" and take advantage of the opportunity to enjoy life a little. Here in Blue Ridge, we have an abundance of natural resources to experience, comfortable cabins to unwind in, and breathtaking views to enjoy your own secluded peace.
Take a Hike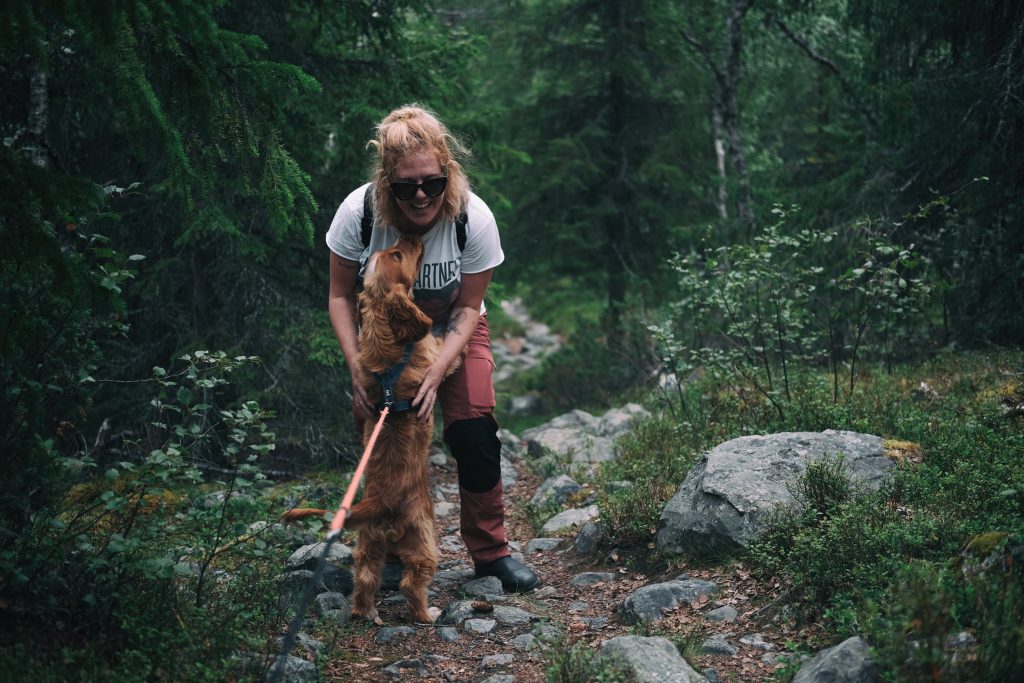 There are few better places to hike than on the hundreds and hundreds of miles of trails that crisscross the Blue Ridge Mountains in North Georgia. Not only is this an area that speaks to the hiker in familiar terms – Appalachian Trail, Benton MacKaye Trail, Amicalola Falls – but it's the wide variety of experiences, from the casual to the challenging, that make these hikes some of the most popular in America. Is Fido traveling with you? These hikes are perfect for your 4-legged adventure partner!
Ride a Horse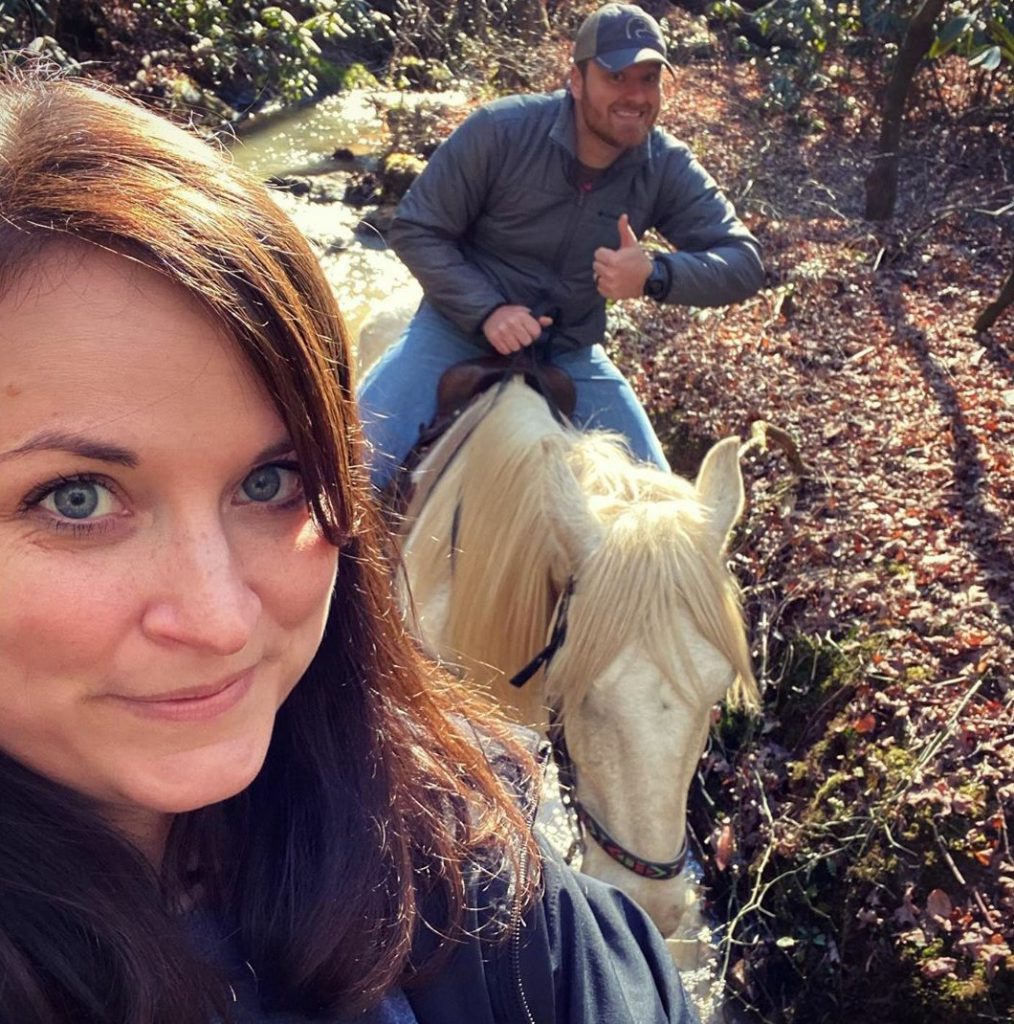 There is nothing more enjoyable than unplugging form the digital world, saddling up on horseback, and heading out into the countryside. In Blue Ridge, forty percent of the county's land is located within the Chattahoochee National Forest which means there are countless miles of trails to explore and enjoy. Fresh mountain air, beautiful scenery, abundant wildlife, and getting in touch with nature is what it's all about. Whether you are a beginner or an experienced equestrian, one of the area's local outfitters would love to show you our countryside and provide you with a rewarding, memorable, and exhilarating trip.
Chase Waterfalls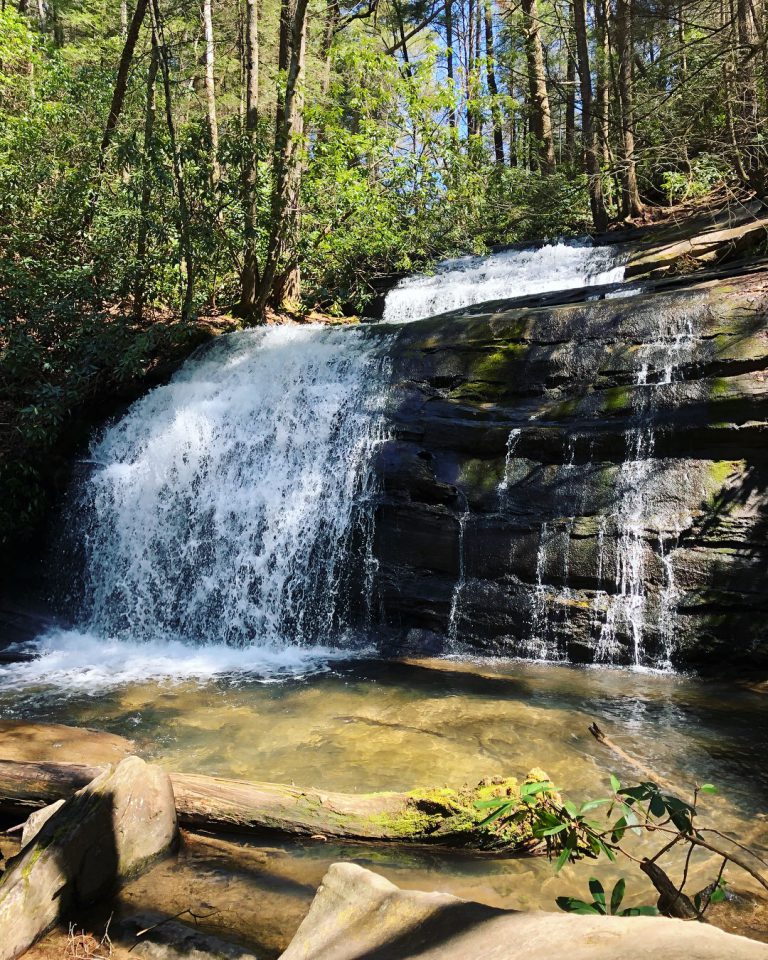 It's hard to imagine anything more tranquil, peaceful, powerful and appealing than a waterfall. And if one is good, many are better. Fortunately, in Blue Ridge and Fannin County, there is an abundance of rushing water, and impressive elevations – and, thanks to gravity, it all inevitably leads to waterfalls in various forms or fashion – all about 30 minutes' drive from town.
If you're looking for a scenic trail with beautiful falls at the end, and to check off a couple high profile hiking trails while you're at it, Long Creek Falls in the Chattahoochee National Forest in Blue Ridge, Georgia should make it to the top of your list. Don't forget to bring your best friend. Dogs will enjoy the trail as much as their humans!
Scenic Drives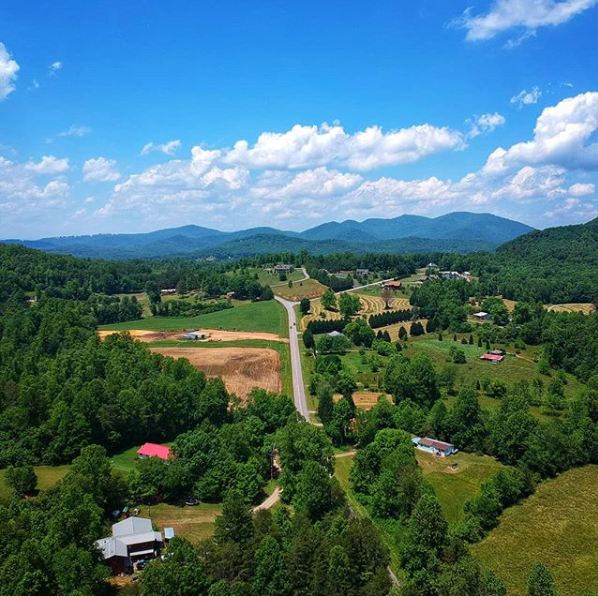 Expand your horizons, pack up the family, and hit the road for a beautiful scenic drive! Here are our three favorites:
The Russell-Brasstown Scenic Byway is a nationally designated Scenic Byway that is 40.64 miles in length and makes a loop through the heart of the Chattahoochee National Forest.
Brasstown Bald rises 4,784 feet above sea level and is Georgia's tallest mountain. Visitors to this place on high find an observation deck which allows a spectacular 360-degree view of the Blue Ridge Mountains, exhibits, a film, hiking trails, and gift shop.
The Southern Highroads Trail can be traveled in its entirety or in sections. This very scenic route travels through four national forests (Chattahoochee, Nantahala, Cherokee, and Sumter) and four states (North Carolina, South Carolina, Tennessee and Georgia)
Isolate in Style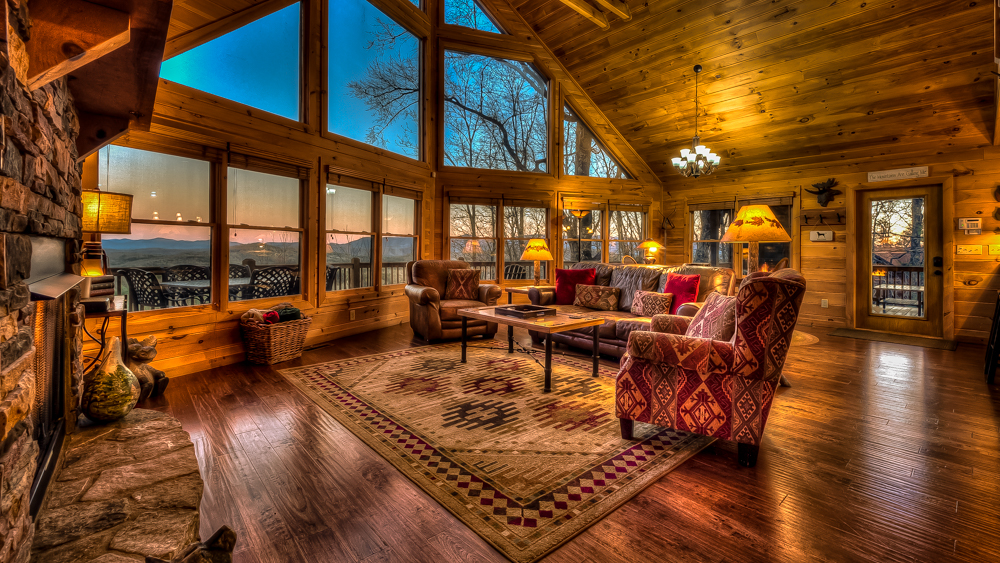 Escape to Blue Ridge cabins are equipped with every amenity you might look for in a home away from home. Complete with extraordinarily comfortable bedrooms, gourmet kitchens, and entertaining game rooms. With every rental home we provide hotel-style linens with spa-quality bath towels for each guest and exquisite bath soaps and shampoos from William Roam. Our kitchens are well-equipped with appliances including a stove, oven, refrigerator, coffeemaker and all the preparation and serving implements you'll need to cook and serve your family. The majority of cabins feature games rooms to keep you entertained, but once you breathe in that fresh mountain air and gaze at the vastness of the mountains, your soul will already be satisfied.
Play Games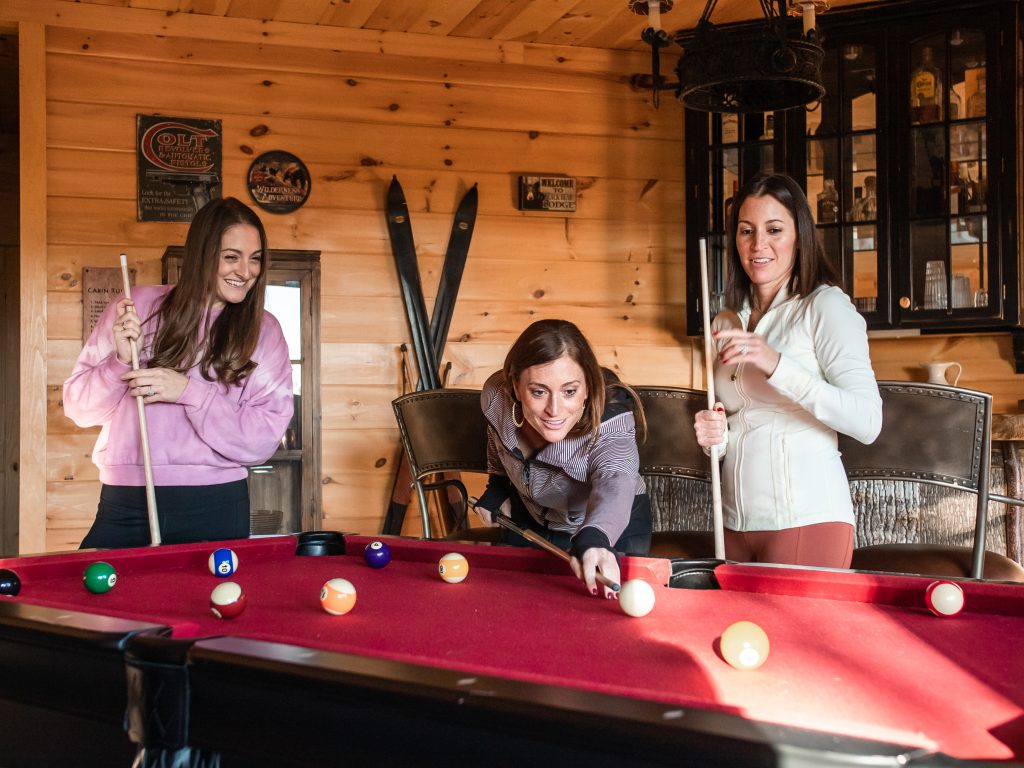 There is no shortage of entertainment when you Escape to Blue Ridge. Compete in classic board games, shuffle a deck of cards, or play charades. Some cabins feature foosball, ping pong tables or a pool table. And don't worry. You'll be able to keep up with current events, if you really want to, because high-speed internet is included with every one of our homes.
Relax in the Hot Tub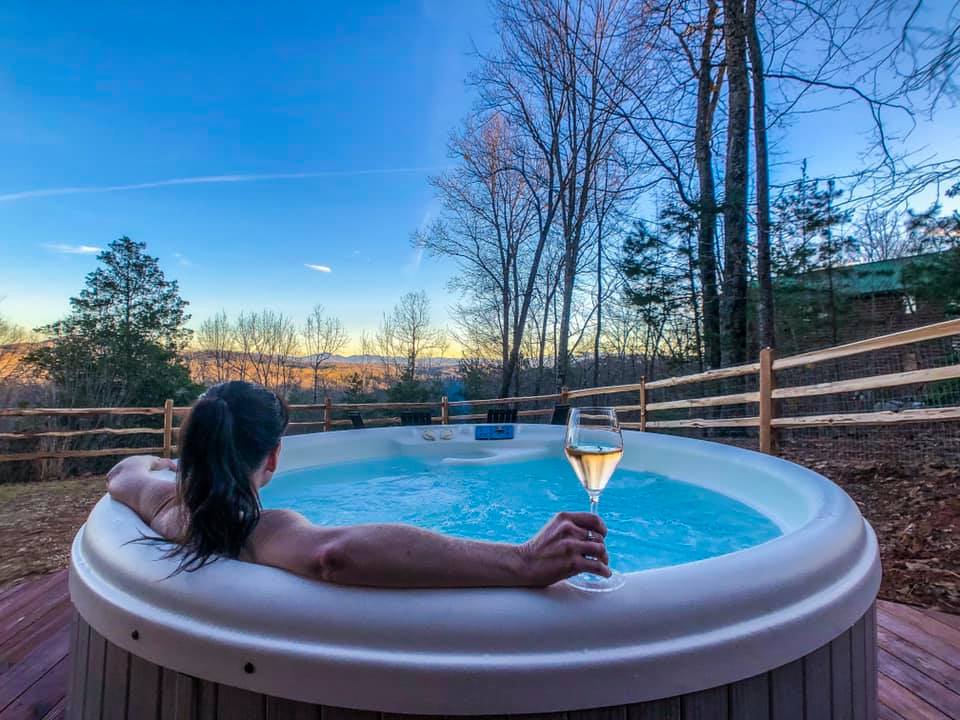 Feel your stress melt away as you step into the bubbling, steaming 102° hot tub. When you soak in the warm water your nervous system slows down causing relaxation throughout your body. As the jets beat on your tense, tight muscles your body begins to release endorphins that provide you with a sensation to improve your overall mood. A little glass a vino. An incredible view. This social seclusion isn't too bad after all!
Ring Around the Fire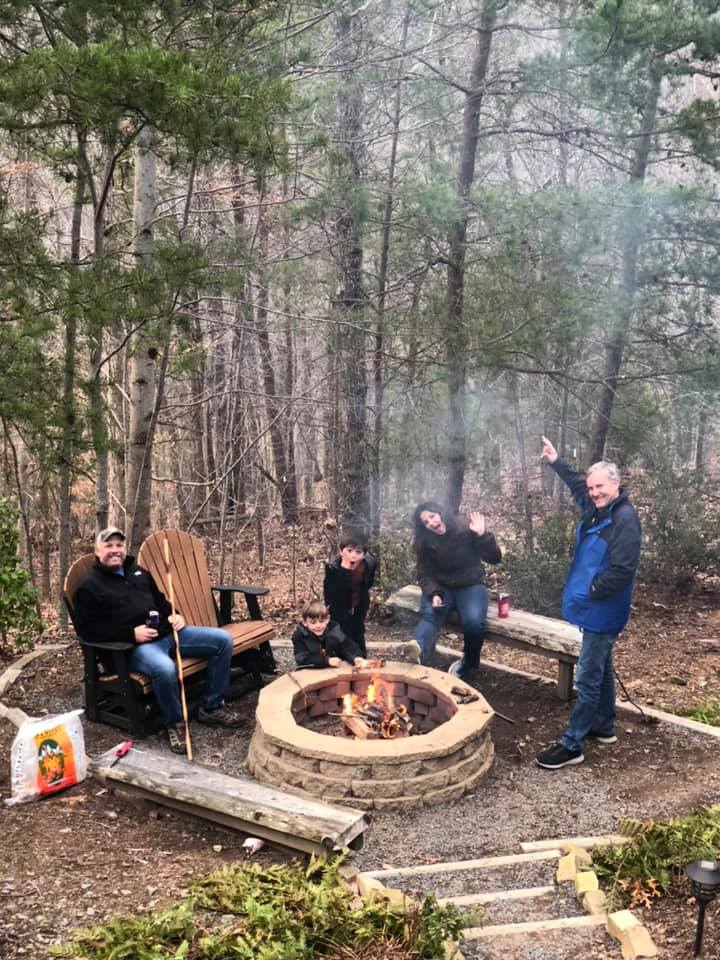 As the sun begins to set, go on a family stick hunt to get kindling for the fire. Once the fire is lit, break out the marshmallows and show your kids how to roast them. Do you like your marshmallows burnt too? Better yet, add graham crackers and chocolate for some campfire s'mores! The firepit is a good time to tell stories about when you were young or when your kids were young. This writer must have told her child the story of her birth no less than a million times! Break out the guitar, sing some songs, make wishes on stars, and enjoy every moment you have together. Regardless how you spend your time in Blue Ridge, be content in knowing that you are creating memories you and your family will hold on to and cherish forever. After all, that's what life is all about.