When you come to the mountains, you come to escape the hustle and bustle of everyday life and get out in nature. So it's important that you're close to all the trails and outdoor adventures that Blue Ridge has to offer; www.escapetoblueridge.com/blog/seven-blue-ridge-hikes.
But what if these trails were right outside your cabin doors? Step outside and start on the trails, no driving necessary! Immerse yourself in the great outdoors and get moving with access to miles worth of trails, right in your backyard. These 6 cabins are the perfect retreat for all the outdoor lovers and hikers out there!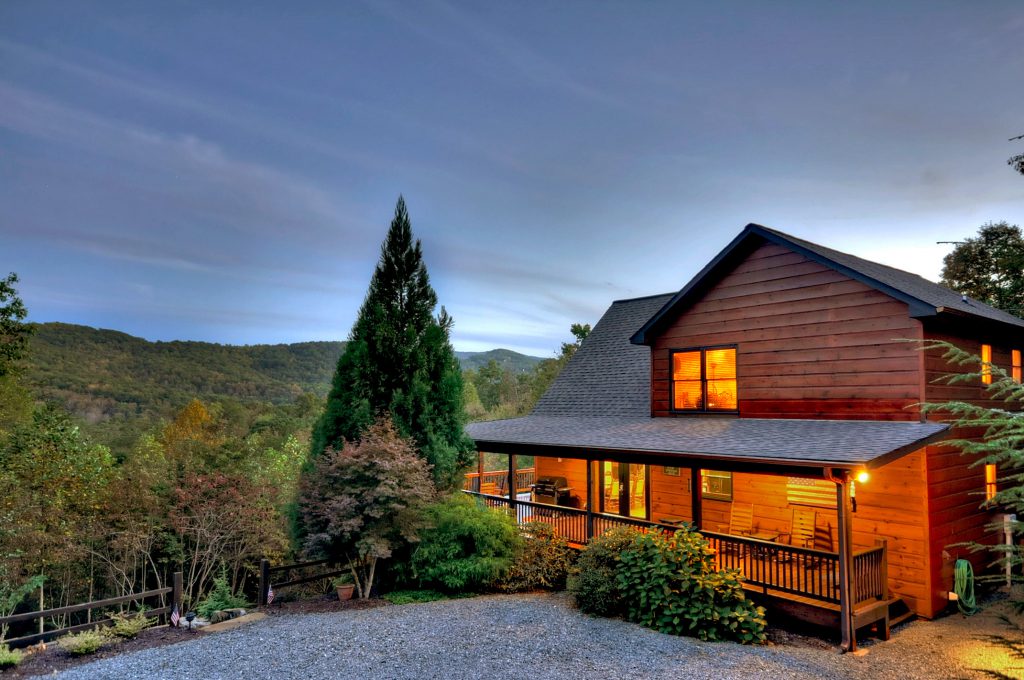 This beautiful cabin is right in the heart of the Aska Adventure Area and less than 5 minutes from Toccoa River, Lake Blue Ridge, and town. Just off of the vast, wraparound porch, you'll find yourself just steps from The Benton MacKaye Trail. Along the trail, you might run into Fall Branch Falls, Long Creek Falls, Toccoa River Swinging Bridge, and even Springer Mountain. You're also close to many great tubing and canoeing opportunities.
After a long day on the trails, lay back and soak in the hot tub or play a game of pool in the game room. Even inside you won't feel far from the outdoors, with themed rooms like "Trout Camp", a bear room, and an all-around rustic, natural look throughout. Aska Adventure Lodge sleeps up to 10 people, so grab a group of your favorite hikers and get ready to adventure!
Perched high on the mountain overlooking the Aska Adventure Area, this classic mountain cabin is close by to a variety of great outdoor activities! Tube down the Toccoa River, catch fish in Lake Blue Ridge, or walk down the driveway to Long Mountain Trail which connects to both the Benton MacKaye Trail and the Aska Adventure Trail, where all kinds of beautiful hikes await you!
Even enjoy a long, scenic ride on the winding Aska Road to Highway 60 and take in all the mountain views. TreeTops also has a hot tub and game room; perfect for unwinding after a busy day. You can even bring your furry friend along to join in all the fun!
Perched on a mountaintop more than 3,000 feet above the trees with dramatic, sweeping long-range mountain vistas in the distance, An Owl's Perch is like a magnificent picture postcard come to life. Located northeast of Lake Blue Ridge on a large lot in Morganton that borders unspoiled U.S. Forest Service land, it's a calm oasis far removed from stressful city life, but just a short drive away from the shops and dining of downtown Blue Ridge.
The western-facing view from the cabin offers you magical sunrises, revealing the mountains as the fog lifts across the lake, and spectacular sunsets that will take your breath away. The cabin can easily accommodate big families and groups, sleeping 10 guests in four bedrooms. And An Owl's Perch is pet friendly as well, so be sure to bring your pup along with you to adventure on the trails! Hike, relax, and escape at this wonderful cabin!
A Cub's Retreat is the best place to spend your vacation with family and friends and provides you a serene, relaxed, and rejuvenated environment! As you pull up to the cabin, you'll immediately notice the true log cabin construction and the incredible mountain views visible from every angle. Step inside and immediately feel at ease as you walk into the great room and gaze through a wall of windows and doors that overlook unobstructed mountain views. So bright and welcoming, you'll feel lighter the second you walk in.
This stunning retreat is located right near the Benton Mackaye Trail, which is excellent for hiking and taking in all of the beautiful local nature and scenery. The cabin is close to various trails, creeks, and streams in the Cashes Valley area, too. You're also not too far from Blue Ridge and Ellijay, with just a 10-minute drive to either location and all of the fun. Pack your bags and get ready for a retreat you will never forget. A Cub's Retreat is perfect for your escape to Blue Ridge!
As its name implies Take a Hike is perfect for all the hikers out there! Located in the Cohutta Wilderness and on Mt. Pisgah, you'll experience stunning mountain views from any of the cabin's 3 decks and be fully immersed in nature. Right from your cabin, step on the trails and enjoy an easy hike to a waterfall, cave, and even Colonel Magnum's memorial. Or take a quick drive to get to any of the major trails in the Cohutta Wilderness like Daily Gap, Jacks River, Benton MacKaye, and Hemptop.
Also enjoy fantastic mountain biking trails around the mountain base. And within just 20 minutes from the cabin, you'll find fishing, boating, and rafting adventures at the Ocoee River, Lake Blue Ridge, and Fighting Town Creek. You'll have a full day of fun and adventure in store with so many great outdoor opportunities so close by.
When your day of hiking, biking, fishing, and boating is done enjoy dinner with a view at the picnic table and rocking chairs on the back deck. You'll get cozy by the outdoor fireplace and watch the sunset. Then after dinner is done and the sun has set, step on down to the yard for s'mores by the fire or a dip in the hot tub. This cabin was truly made for outdoor lovers and adventurers!
Last but not least on our list is the beautiful and secluded cabin, The Overlook. It gets it's name because it overlooks the Aska Adventure Area, Lake Blue Ridge, and has panoramic mountain views. And lucky for you outdoor lovers, it's in short walking distance to the Benton McKaye trail, which takes you to past numerous falls, rivers, and mountain hikes. Its prime location and easy access to the trails makes this cabin the ideal escape for hikers.
Even while at the cabin you can take full advantage of the great outdoors by sitting out on the deck in a rocking chair and taking in the views. Or soak in the hot tub to warm up and relax after a long day on the trails. You'll absolutely love having your own private and secluded oasis, far away from the rest of the world!