Ha! I knew I was going to win!
What? Best two out of three determines the winner?
Alright then! Bring it!
This is my game right here. May the best man (or woman) win!
Oh yes, there is nothing more fun than a little trash talking before you take on your spouse, kid, or best friend in a friendly game of pool, foosball, air hockey, darts, video games or even old-fashioned board games. Bored teenagers are usually super thrilled to have new ways to beat their siblings and on rainy days you will be so thankful you considered the cabin's gaming options when you booked your Escape to Blue Ridge. We in fact have 175 cabins with game rooms, but let's take a look at the 9 most Incredible Game Rooms:
A Heaven on Earth is indeed in a heavenly spot atop a scenic ridge with two private, wooded acres to roam. This real log home offers a unique floor plan with two master suites featuring custom crafted log beds on the main level and adjoining bathrooms. Each also features direct access to the large deck overlooking the North Georgia Mountains. Game rooms have become ever so important in selecting the perfect cabin for your vacation. This one is no exception with dynamic offerings such as a beautiful pecan wood billiards table, foosball, and steps away from a warm and cozy lounging area in front of the stone fireplace. This is an ideal cabin offering the fulfillment of anyone's aspirations for a great mountain getaway. Bring your better half, several friends or your whole family and everyone is sure to find "A Heaven on Earth!"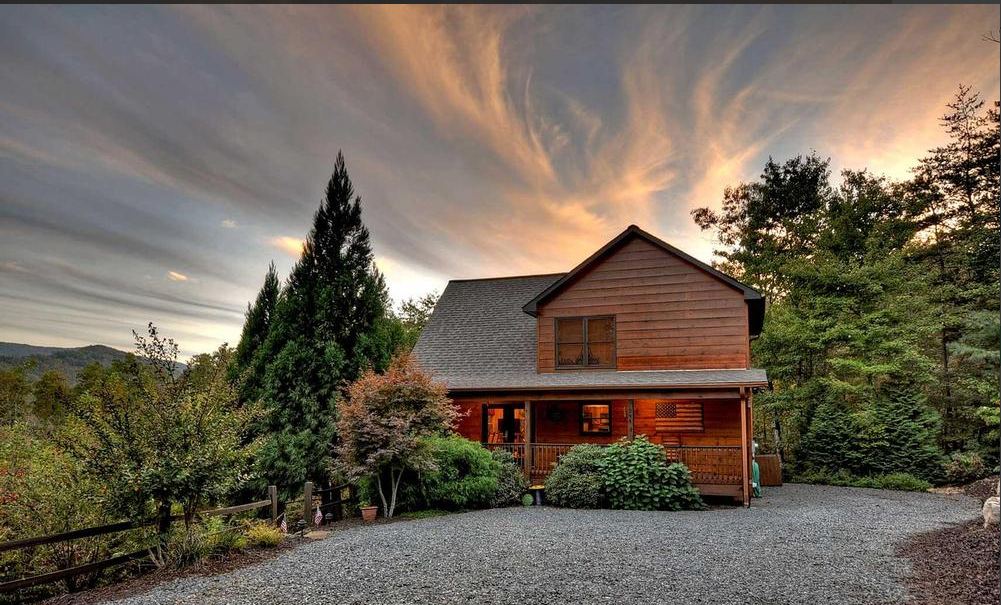 Aska is the Cherokee Native American word for "winter retreat," however, this cabin is perfect in every season. The home's professionally decorated and richly appointed great room features expansive glass windows that are strategically positioned to overlook the breathtaking and panoramic Aska Adventure area mountains. The Game Room features regulation size billiards, an air hockey table, a dart board and an Xbox gaming system. Aska Adventure Lodge is the perfect place and setting to clear the mind and steal away on vacation with your friends or family. Here, overlooking the mountains and upward to the sky-blue heavens, take in the crisp, clean air that rejuvenates the spirit!
Are you looking for an upscale, secluded, and cozy place? Then, Bert's Hideaway is the ideal spot for you. While the cabin is close to town and all of the fun and excitement, it's a secluded property and the perfect place for some privacy. Located in a gated community, it's the only house on the street! This brand-new cabin is in the new design themes seen in new, luxurious mountain homes. Excellent amenities abound everywhere, including a large game room complete with a 7-foot pool table, pop-a-shot basketball game, steel tip dart board, 65" Smart TV, and more! One of the best features of the house? The hot tub is on an elevated deck that is not covered, so you can enjoy the night sky and feel closer to nature. You're surrounded by authentic beauty at Bert's Hideaway! When it is time for bed, the bedrooms are exceptionally appointed and cozy. Each of the bedrooms has king beds and blackout window shades so you can truly get a good night's rest. Plus, if you need extra sleeping space, a queen over queen bunk and futon are available in the game room!
Celtic Weaver Lodge is one of the most delightful North Georgia Mountain cabin rentals imaginable. Elegantly rustic with tongue and groove wood throughout, Celtic Weaver Lodge was professionally decorated and it shows. Bursting with character, this charming cabin will intrigue you at every turn with eye-catching furnishings and accents abundant in this split log home. The kids will naturally gravitate to the game room downstairs, drawn there to play billiards, ping pong, Xbox, board games, even NASCAR mini air hockey. The DVD player and iCraig will also keep them entertained for hours — they can play movies or music to their hearts' content while lounging by the stone gas fireplace. This warm and cheerful cabin is positively peace on Earth for all in its midst. Location, relaxation and a sense of magic — Celtic Weaver Lodge weaves all the best things vacations are made of into one perfect place!
Located on a mountain with wraparound decks to showcase the view from every angle, Hilltop Hideaway is the epitome of rustic elegance, with plenty of country charm and a relaxed, welcoming ambience. The downstairs game room is a gamer's paradise, with air hockey, billiards, foosball, a classic arcade machine with 60+ games including Donkey Kong, a wood-slab bar, plenty of comfy seating, and a 65" flat screen TV. There's also a fireplace, hot tub, and a ping-pong table on the adjacent patio. The two screened-in porches each have a wood-burning fireplace. There's a hot tub on the lower level porch, outfitted with Bluetooth speakers, and the upper patio has a large swing, six rockers, and a gas grill with a picnic table on the upper level near the kitchen. If you have dogs, you don't have to leave them behind. You're welcome to bring up to two with you (as long as you pick up after them) while you and your loved ones create vacation memories at this very special mountain paradise.
Staying at Legend is like having an entire five-star resort all to yourself. This luxury log cabin is truly in a class of its own. It's built from handcrafted Douglas-fir logs and each spacious room presents incredible attention to detail with cathedral ceilings, arched doorways, sumptuous furnishings, stylish fixtures, and every amenity you desire to relax in complete luxury. Any time of year, Legend's spacious, covered decks with their sweeping views make entertaining easy as a mountain breeze. Nature will entertain you and your guests for hours, with views of the rushing creek, horses playing in the nearby pastures, and the verdant tree farm nearby. Inclement weather can't dampen your spirits here. Spend an afternoon in the game room downstairs playing pinball, billiards, foosball, ping pong or board games— there's a little something for everyone. Legend even has its own cinema screening room downstairs, complete with stadium seating — it doesn't get any closer to an authentic movie theater experience than this! Make some popcorn, grab drinks at the nearby kitchen and bar, then everyone can sink into sumptuous loungers and enjoy a great movie up on the big screen. A stay at this peaceful and elegant retreat is just the start of what your special time here will mean for family and friends. Stories will be recounted for years to come, and the memories will be legendary!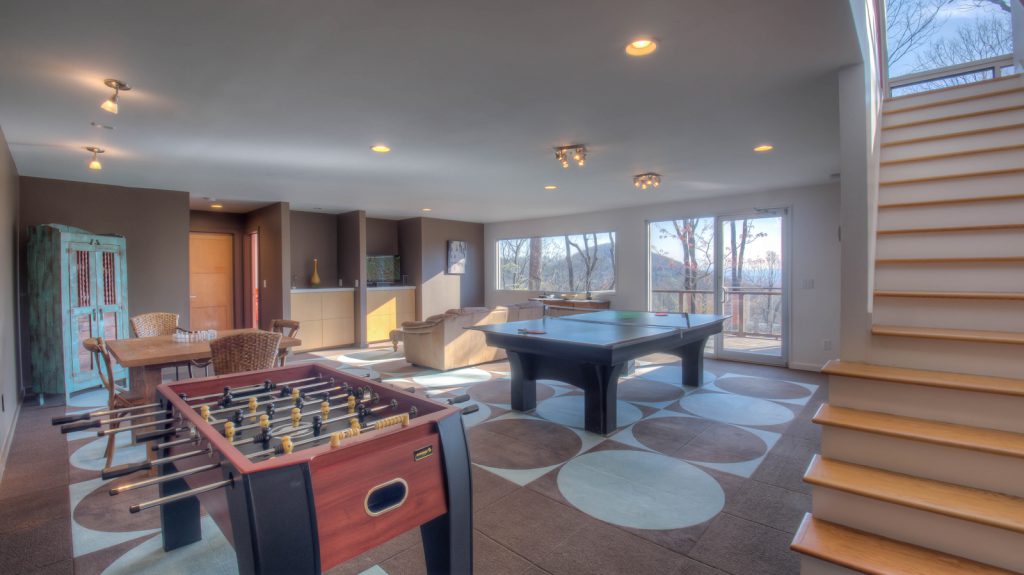 Rejuvenate one's mind, body and soul at Savasana… this edgy and unique mountain home is anything but a cabin. With a Western Rockies flair and surrounded by glass, you will find it inspiring yet comfortable and cozy too. This modern mountain home sits in the Aska Adventure Area with paved roads all the way. As soon as you arrive, you'll feel as if you are one with nature in the hippest joint in town. Completely take in the outdoors as Savasana offers spectacular mountain vistas and distant morning sunrises over Lake Blue Ridge. This sleekly designed home was built with glass walls and glass deck rails to provide unobstructed views from every room.
The three minimalist bedrooms offer exactly what you need in furnishings and all of the high-end comforts of a luxury vacation. Each room provides an uncluttered environment but offers reading light, vibrantly colored bedding and overstuffed blankets. The large picture windows let you awake feeling part of the natural setting outdoors. The master bedroom is located on the main floor and features a queen bed, soaking tub overlooking the view and a walk-in tiled shower. Step downstairs to find two other bedrooms, one offering two queen beds and the other, a queen-size bed. The downstairs floor plan is considered 'split' as each of the two bedrooms flank the game room on either side. The spectacular and fun game room has a card table, another seating area surrounding the large TV, and offers billiards and ping pong.
Named for the old song of the same name, Our Blue Heaven is ideally located on a magnificent wooded property just five miles from downtown Blue Ridge. Inside, it's built for comfort, with inviting, spacious rooms, all of them cozy and handsomely appointed with high-end furnishings in rustic mountain style. It's also built for outdoor living, with over 1100 square feet of covered, screened-in deck space on three levels. Inside, you can gather in the living room, with its soaring vaulted ceiling, impressive stone gas fireplace, and 55" TV, or head to the game room to play pool or watch the game on the 65" screen. The cabin's three inviting bedrooms, one per level, each have their own full bath and deck or balcony access. And if your dog is well trained, feel free to bring him along. Whether you're taking a family vacation or planning a getaway with your best friends, you'll have unforgettable memories of your stay at Our Blue Heaven!
The North Georgia mountain cabin rental Vista Ridge looks impressive from the front, but the real wow moment happens when you open the door, step inside and walk toward the back of the house. There, you'll find an enormous covered porch overlooking the Toccoa River Valley and a spectacular view that stretches all the way to Tennessee and North Carolina. It's guaranteed to take your breath away!
With that amazing backdrop, you'll want to stay outside as long as possible, which is why there's a wood-burning fireplace, plenty of seating and 40′ flat screen TV on the main deck and a six-person hot tub, and porch swing below. The basement game room is designed for fun, with billiards, board games, a 60′ flat screen TV with DVD and an extra HDMI cable for electronic gaming systems (feel free to bring yours with you).