Hot summer days are just around the corner and adventure awaits! Blue Ridge is THE place for outdoor adventures big and small. Will you hike to the tallest mountain or splash in the rapids while whitewater river rafting? North Georgia is your oyster for outdoor activities and sports. Spend your long summer days in the great outdoors! Get an adrenaline rush and feel one with nature as you embark on the adventure of a lifetime. Check out these 9 outdoor activities to get your summer started!
Fun on Lake Blue Ridge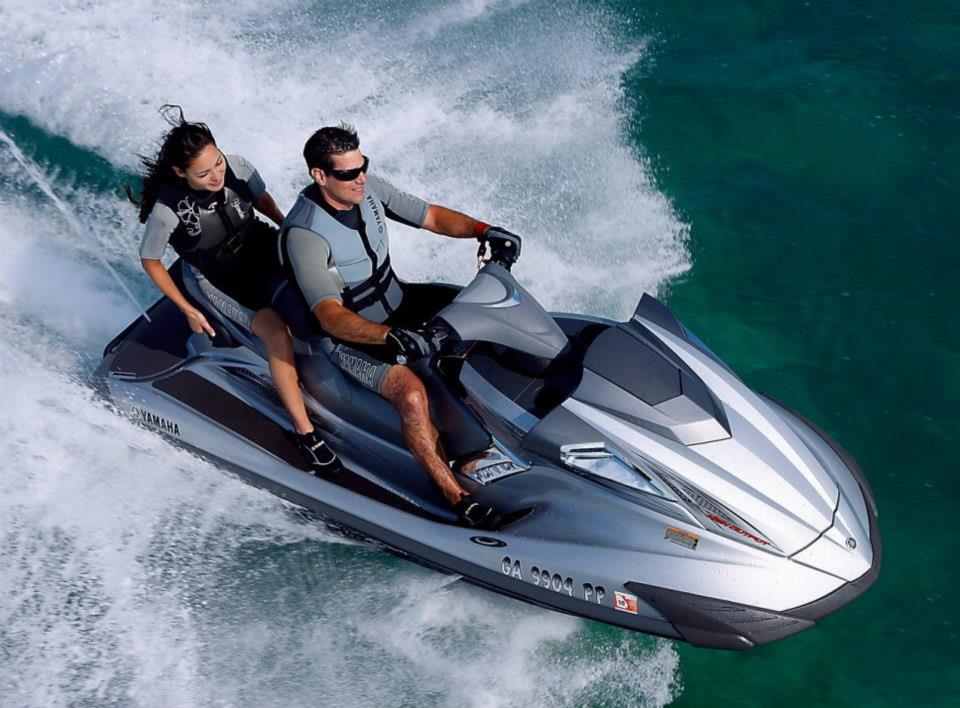 Summers were made to spent on the lake and Lake Blue Ridge has everything you need to make it an awesome one! First stop at the Lake Blue Ridge Marina for all kinds of boat rentals. Pontoon boats, kayaks, canoes, and paddle boards are all available to rent at the Marina. Bring up to 8 guests on the pontoon boat and jet around the lake all day long. Cool off by jumping off the boat and splashing in the water or rent a 2 person tube to ride along behind the boat and hit the wake. Put your balance to the test by spending a day paddleboarding or choose to paddle while seated in a kayak or canoe. Need a break from your long day on the lake? Also at the Marina is the Boat Dock Bar & Grill, a great place to stop for lunch and drinks, then head back to the water. Also be sure to check out Blue Ridge Boat Rentals. They offer every kind of boat imaginable along with jetskis, waterskis, and towables & accessories like tubes and pool noodles. No matter what boat or craft you choose to spend your day on you'll have a blast on Lake Blue Ridge!
Looking for the perfect spot for a dip? Morganton Point Recreation Area offers easy access to the water. Here you can splash and swim in the water or relax on the beach. They even have kayak and paddleboard rentals as well. Bring a cooler and eat lunch at the picnic tables or order a snack from The Point. Lake Blue Ridge is calling you!
Hike Mountains & Waterfalls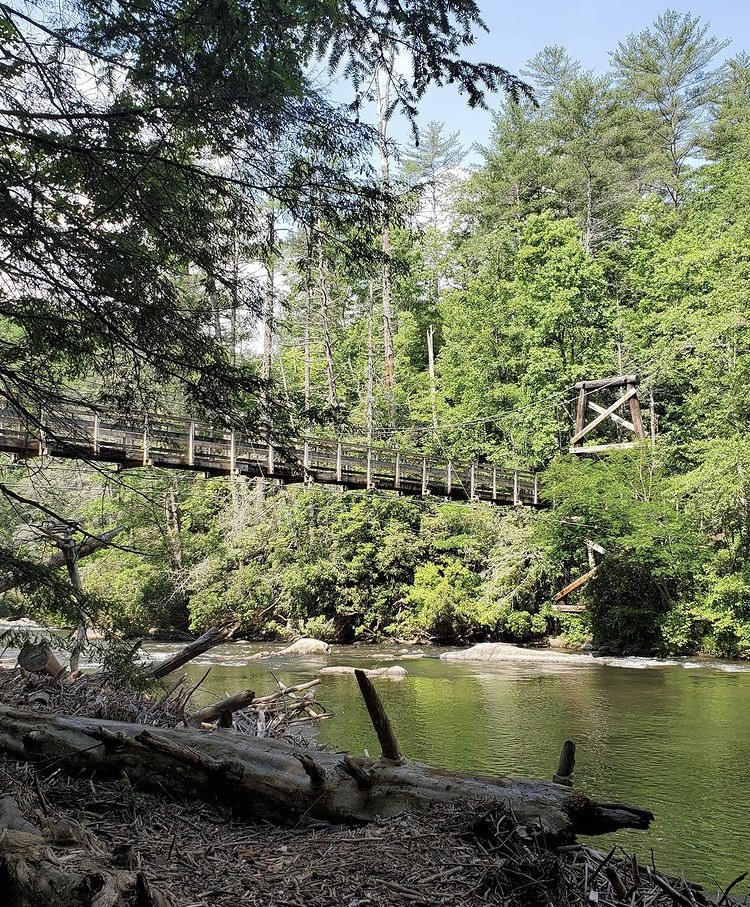 Blue Ridge and North Georgia have some of the best hiking trails in the state! You can hike to the tallest mountain peaks, hike alongside a rushing waterfall, or cross a 270 foot swinging bridge over the Toccoa. Adventure is out there on the trails waiting for you! Benton McKaye Trail is one of our all time favorite trails in the area because it connects to so many awesome spots. Just in the North Georgia area alone, you'll hike past waterfalls like Fall Branch Falls and Long Creek Falls, cross the Toccoa River on the swinging bridge, and climb to the top of Springer Mountain. The Benton McKaye Trail goes on for 300 miles so there's even more to explore the further you go!
Another waterfall filled hike we love is the hike to Amicalola Falls, the tallest waterfall in Georgia. Choose either the 2.1 mile uphill loop to the falls or the 10 mile trek to the top, if you're up for the challenge. When you arrive you'll be in awe of the huge falls that lie before you.
For a mountain hike check out the trails to the top of Brasstown Bald near Blairsville. This 1.1 mile trail is short but steep. It's an uphill climb to the top but it'll be so worth it when you arrive. Brasstown Bald is the tallest peak in Georgia and from the top you can see 4 states at once!
Horseback Riding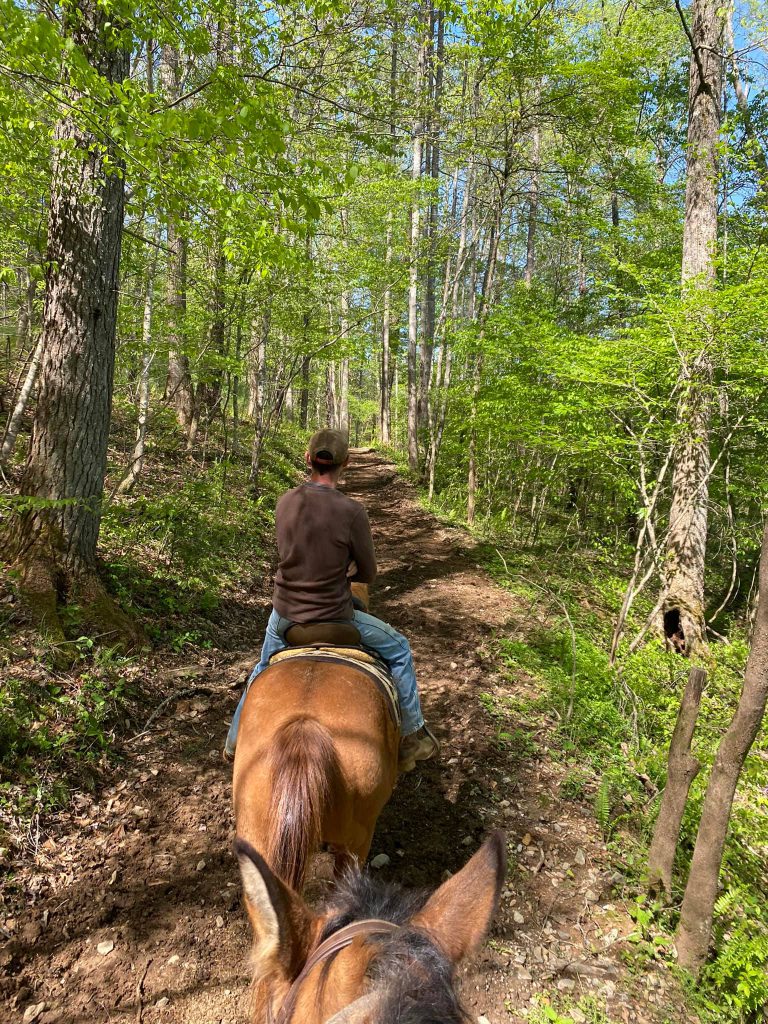 No matter your experience level anyone is welcome to go on a trail ride through the forests of North Georgia. If you love horses and being out in nature this is an adventure for you! One of our favorite companies is Appalachian Trail Rides. You'll ride past mountains, creeks, lakes and more as you ride through their 250 acres of farmland. Looking to take a special ride? They offer unique experiences like a proposal ride, dinner ride, buckaroee ride and more.
For newer riders check out Cowgirl Up Stables. Ride through the beautiful Blue Ridge countryside as the horses guide you along the trails. And check out Cohutta Stables, Blanche Manor, and Blue Ridge Mountain Trail Rides at Hells Hollow for even more fun. Giddy up and gallop your way to one of these great stables soon!
Trout Fishing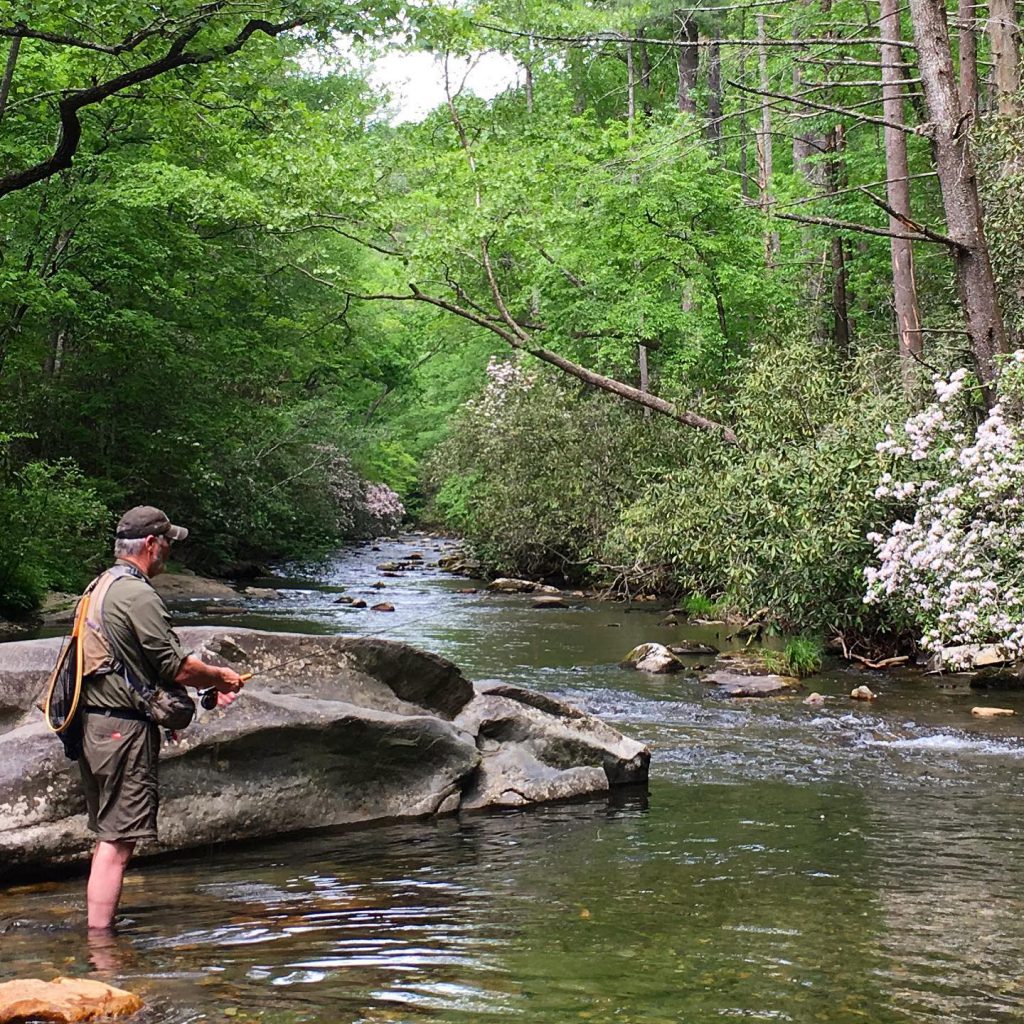 Blue Ridge is known as the Trout Capital of Georgia! So grab your fishing pole and head to the water to catch yourself a trophy trout. The Toccoa River is abundant with trout and you may even be able to catch them right from your riverside cabin. Be sure to check out the Chattahoochee National Fish Hatchery and Noontootla Creek Farms for more great spots to fish.
Need some assistance on your fishing excursion? Cohutta Fishing Company can help you right from the shop or on the water. Stock up on your fishing gear from their shop on Mainstreet and then join them on one of their guided fishing trips or classes. Cohutta Fishing Company's knowledgeable and friendly staff will help make your fly fishing experience a breeze.
Also check out Blue Ridge Fly Fishing School! They offer classes and guided tours for beginners all the way up to the most experienced fishermen. And pick up the most beautiful and efficient bamboo fly fishing rods in town, handcrafted by William Bill Oyster from Oyster Fine Bamboo Fly Rods. Blue Ridge is the ultimate place for fishermen or fisherwomen!
Ropes Course & Ziplining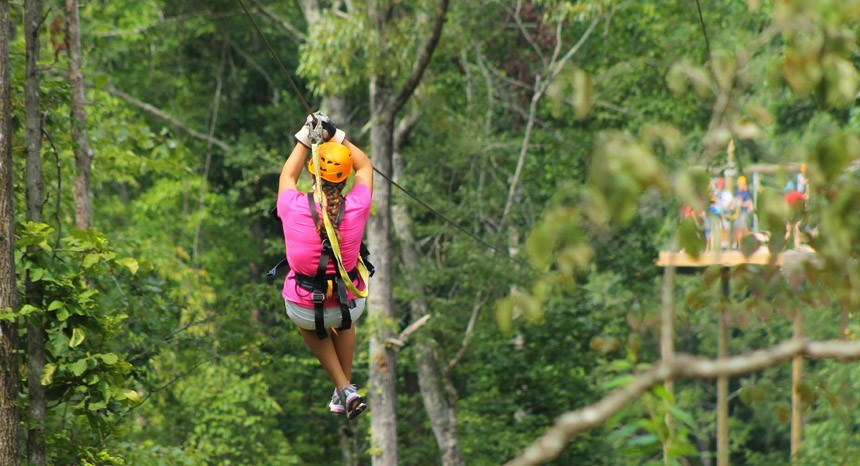 Get your heart pumping by flying through the air at Zipline Canopy Tours of Blue Ridge. You'll spend the day zipping through the treetops, screaming a loud "woohoo" as you zoom all the way down. Admire the scenery as you go and you may even catch a glimpse of the mountain peaks in the distance or Fightingtown Creek below. Zipline Canopy Tours offers 1-2 hour zipline experiences for ages 10 and up. With 13 ziplines to choose from and over 1,000 feet of cable you'll never run out of zipping fun here!
Pair ziplining with a challenging ropes course at Blue Ridge Adventure Park. They have 3 levels of obstacles ranging from 15 feet all the way up to 50 feet. Feeling like a challenge? Conquer all 35 obstacles like a champ! Then when you're finished zip on down to the bottom on the zipline. Ages 10 and up are welcome and guests will have an hour & a half to complete the course at their own pace.
Tubing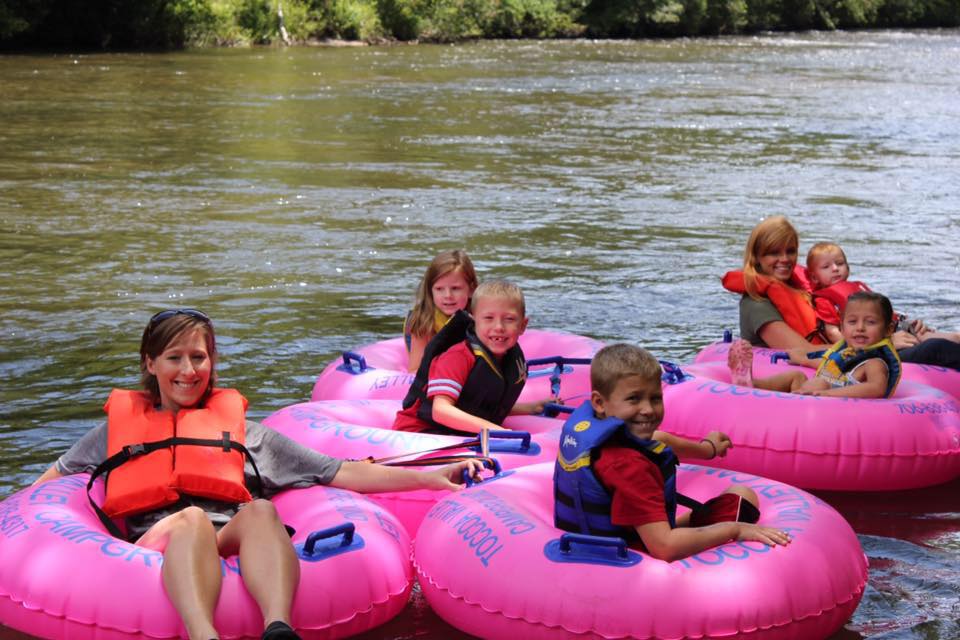 There's nothing quite so peaceful as floating down the river, with your head back, soaking in sun. Take to the water and enjoy a day of tubing down the Toccoa River. Toccoa River Tubing Company will take you and your group out for a relaxing day of floating on calm waters. You'll tube for about a mile and a half which usually takes 1.5 hours depending on the flow of the water that day. Toccoa Valley Campground offers tubing, rafting and kayaking, but if you're looking for a relaxing day on the water, tubing is your best choice. They've been providing the Blue Ridge area with family fun for over 50 years! You and your group will have a blast as you venture on a private 6 mile stretch of the Toccoa. Drop on by and float, no reservations needed! Blue Ridge Tubing is also a great company to check out for a tubing adventure. Let your worries float away as you float down the river on your day of tubing!
Kayak/Canoe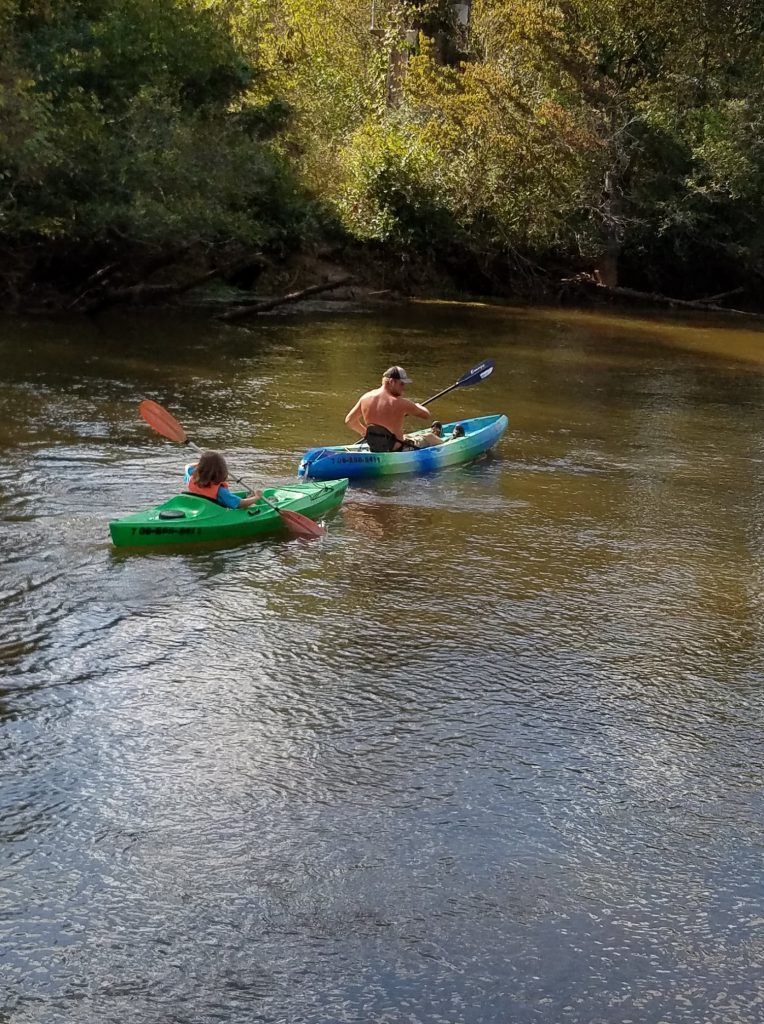 If you want to be out on the river but are looking for more of a challenge why not try out kayaking or canoeing? Take your boats to the water and get ready to paddle down the Toccoa. Blue Ridge Mountain Kayaking offers both kayak and canoe excursions of the Toccoa River. You'll journey 6 miles down river and pass by beautiful pastures, mountains, and lovely flora along the way. Before you hit the water though be sure to stop at their snack shack, for cold drinks and snacks to power you up for your day of paddling.
Toccoa Valley Campground also offers a kayaking experience with both single and double kayaks available to take down the river, on their 2 hour journey. Build those muscles up and get ready for a fun day on the water!
Mountain Biking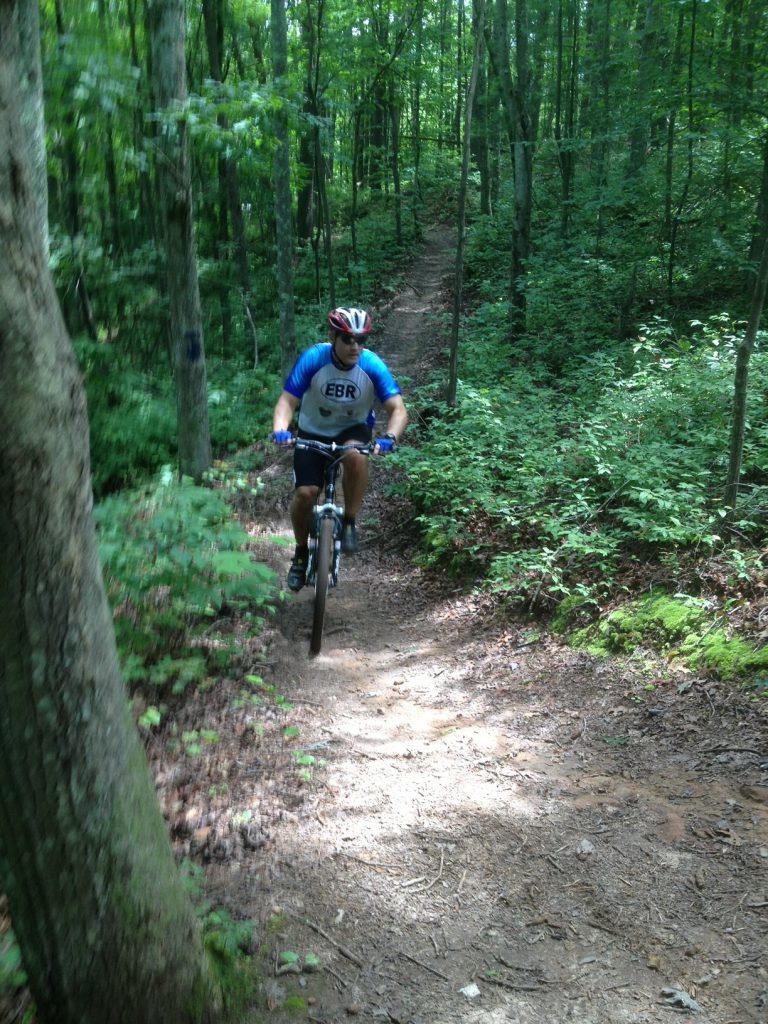 The hiking trails in North Georgia are amazing and so are the mountain biking trails! Whip through the winding trails as fast as you can or at a leisurely pace. No matter your experience level there's trails for everyone interested in a mountain biking adventure. The Long Branch Loop is one of the easier trails and has limited obstacles that may obstruct your path. You can even take a break and admire the falls if you'd like!
For a longer ride, at an intermediate level, check out Jackrabbit Mountain. Here you'll circle Lake Chatuge on this 15 mile journey. You'll come across a few simple inclines and declines which makes it a great next step from Long Branch Loop.
For a more difficult ride we'd recommend Stanley Gap. This trail is 10 miles out and back; along the way you'll find many steady inclines as well as steep declines, perfect for flying down fast. And for those up for a real challenge Hickory Nut Trail is the most difficult of the mountain biking trails. This course is a 19 mile loop that includes 2.500 feet of steep uphill climbing, multiple obstacles, and speedy descents. It's recommended for experienced mountain bikers only. Hop on your bike, pedal uphill, and check out some of these awesome biking trails.
Whitewater River Rafting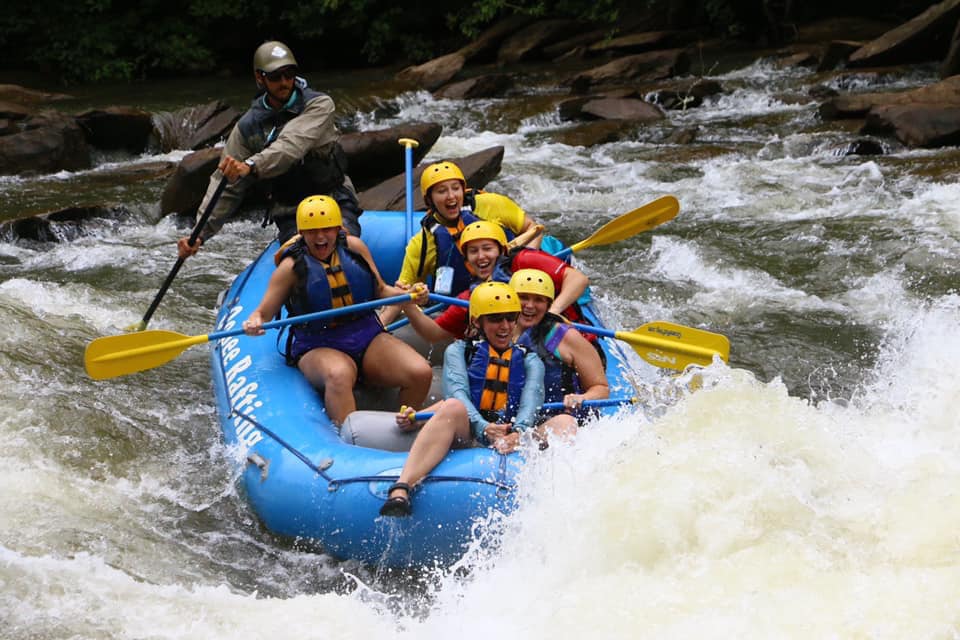 North Georgia and Tennessee (just a few minutes away from Blue Ridge) are known for their whitewater rafting courses. Did you know that the 1996 Atlanta Olympics even had their whitewater events in the upper part of the Ocoee River in Tennessee? How cool is that!? But unless you're a pro you need a guide to help you navigate the rapids. Lucky for you there are many wonderful and experienced teams out there ready to help you have a fun and safe adventure! Rolling Thunder River Company have been in the whitewater rafting business for over 40 years and will take you on either a half day or full day adventure through the Ocoee River, the Toccoa River, or the Nantahala River in North Carolina. 3 states to choose from and 3 rivers of fun! Each river is a different difficulty level so check their website to find the best fit for your group.
We also love Ocoee Rafting who are the oldest rafting company in the Ocoee, guiding people since 1976. Splash through Class III and IV level rapids with experienced guides who will help make it an experience you'll never forget!