Farmers in the state of Georgia produce more than 26 million pounds of apples annually with nearly all the orchards concentrated in the North Georgia Mountains. Distinguishing oneself from the other apple orchards might be a large task for some. But Adele Mercier was never easily daunted by the business challenges of competition presented to her and her husband Bill and their 27-acre family orchard they started together in 1943. She had big plans for this little orchard in Blue Ridge, Georgia. Little did she know that it would take her to the dawn of the next century to execute her plan.
In 1999, Adele presented her vision for the Mercier Orchards to the regional tourism association. She shared with them her dream that Mercier's was going to become an international tourist attraction, right along with her friends from the Blue Ridge Scenic Railway who had just started running scenic excursions to McCaysville and back. That afternoon, the tourism professionals chuckled at the naiveté of this eighty-year-old with such outlandish pipe dreams. Over the past two decades since, many of those in attendance that day have eaten their fair share of humble pie (or maybe apple fried pies?).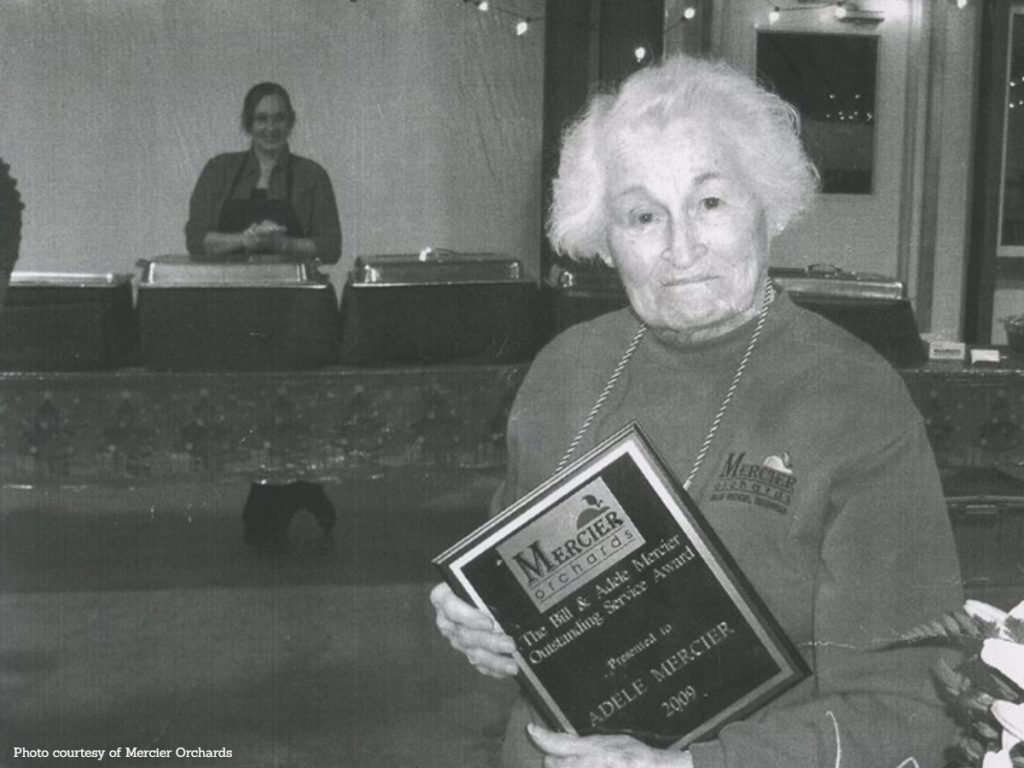 Mercier Orchards has grown ten times its original size, with 300 acres of apples, peaches, blueberries, strawberries, and blackberries. The farm market that once boasted just bins of apples from July till December is now open seven days a week from 7 am till 6 pm, 361 days a year. The Market Store has enlarged to several thousand square feet with outstanding food products, fresh, frozen and canned, with the majority locally sourced. If you are planning on preparing meals during your cabin stay with us, you must visit Merciers. Don't bother with a shopping list. Every item will take you on a new culinary journey.
The Market has also grown to include a bakery boasting several varieties of fried pies, as well as apple cider donuts, and a large variety of bread, cookies and many other delectable baked goods. The bakery also supplies the recently enlarged Market Café (open 7am-6pm daily) with award-winning biscuits, bread and rolls served at breakfast each day till 11 am. Breakfast buffet on Saturdays and Sundays is a great place to gather with family and friends, with buffet hours extended to noon. After a morning in the orchards, picking your own fruit, lunch at the Market is the best place to hydrate, chill and nourish.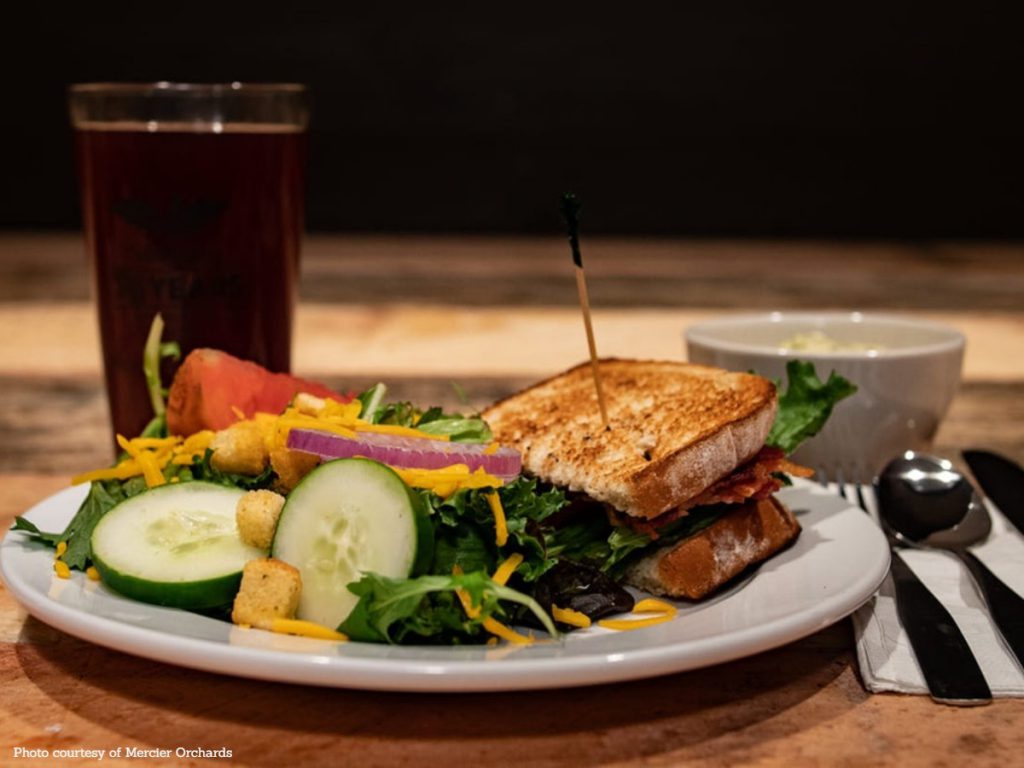 Yes, part of Adele's dream was to bring multi-generational families in to enjoy the seasonal harvests of the orchards. Adults of all ages will enjoy the memories of their childhood days while picking apples, and the children will enjoy every moment, from the wagon ride out to the u-pick them area to delighting as they fill their buckets with berries, peaches or over 30 varieties of apples. U-Pick is subject to availability and the weather. For current picking dates, click here.
Maybe choosing your fruit at the Market is more to your liking than picking your own in the field. That doesn't mean you can't still enjoy the Orchard experience. From 10 am till 4 pm on Saturdays and Sundays, indulge yourself with a $5 tractor ride and tour of the 300-acre orchard. The Mercier family loves to share all there is to see and know about their orchard with their guests.
The fruits of the orchard are best enjoyed fresh, but for some, pressed and fermented fruit has as much allure. Mercier's knows this first hand and would like to invite you to their Tasting Room at the Market. A variety of delicious hard ciders and wines, made with all "Georgia Grown" fruits can be sampled and purchased. "We are currently the only apple orchard in Georgia that can say they grow, press, ferment, and bottle their own product." avowals their website.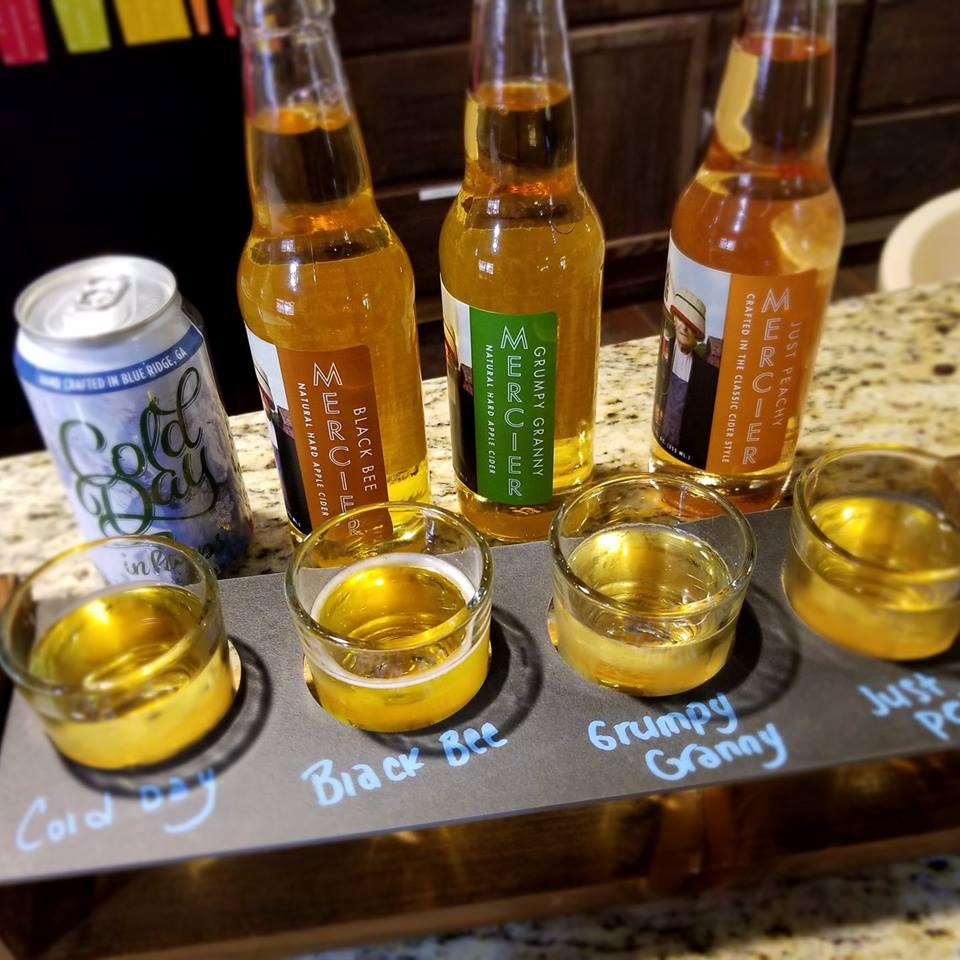 As for Adele's vision? Late last November, this writer visited the orchard with a friend to purchase a couple of bags of apples. It was late on a Sunday afternoon, three weeks past the high volume tourist season and we expected to be able to run in and out with our fruit purchase. We found the enormous parking lot to be nearly full. Walking into the Market, we discovered every cash register manned and customers were five plus deep waiting in those lines. My friend and I counted six different languages being spoken around us while we patiently waited our turn to pay for our purchases.
Adele Mercier passed away in 2013, leaving her internationally known Market in the very capable hands of second, third and fourth generations of the Mercier Family. They strive to bring to every visitor an experience that they will soon not forget. To learn more about Mercier Orchards and to see their event calendar, visit them at www.mercier-orchards.com.