Last week this blog featured a tremendous round up of cabins with great firepits. One of our favorite things about the weather changing is sitting around the fire pit with a chill in the air, but you are completely warm, not just by the heat of the fire but by the company you are so enjoying. Adding to the ambiance of the evening includes singing songs, swapping tall tales, and of course fire pit cooking!
It's so fun if someone in your group has a guitar or harmonica, they could play for everyone to sing and clap along, but you don't even need music to sing your favorite campfire songs! Telling ghost stories always proves to be a good time too. Although the ghost stories typically end up in squeals of laughter because you know that one person that is SUPER scared and they end up falling out of the chair, jumping & panicking, or making funny noises as they try to tame their heebee geebies. Oh yes, good times! Most importantly, you can't forget about marshmallows!
Who doesn't love to roast marshmallows? This might be the best and most memorable part about having an outside fire. First, you go on a stick hunt to find that perfect length and sturdiness then roast your marshmallow to the perfect amount of burnt that you prefer. Or, take it to the next level and break out the chocolate and Graham crackers for a melt in your mouth, perfectly crafted s'mores! But s'mores aren't the only thing you can cook over the fire. Try one (or all) of these "fire pit fixing" ideas next time you Escape to Blue Ridge!
The Healthy-ish Approach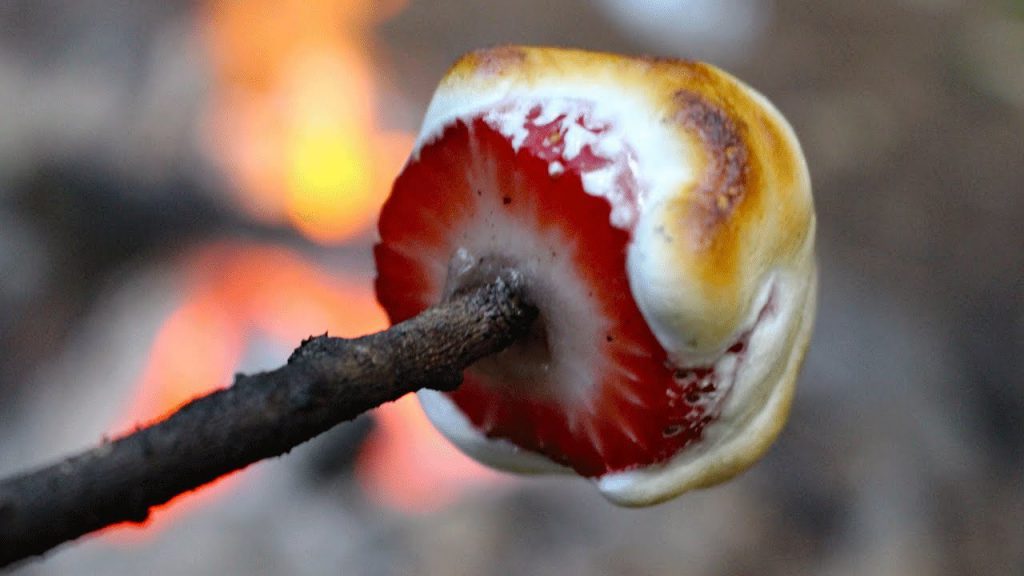 Have you ever considered roasting fruit over an open fire? No? Well, you should because it is F-A-B-U-L-O-U-S! Choose from pineapple, bananas, watermelon, apples or peaches. The fruit sugars almost caramelize making for a divinely delicious guilt free treat. Of course, having a little caramel or chocolate on hand to dip your roasted fruit into never hurt anyone, and definitely adds more "pow" to your taste buds! Make ahead fruit kabobs or just place them on your stick like you would a marshmallow! Side note: strawberries dipped in marshmallow fluff and then roasted will make your mouth do a happy dance!
Go Fancy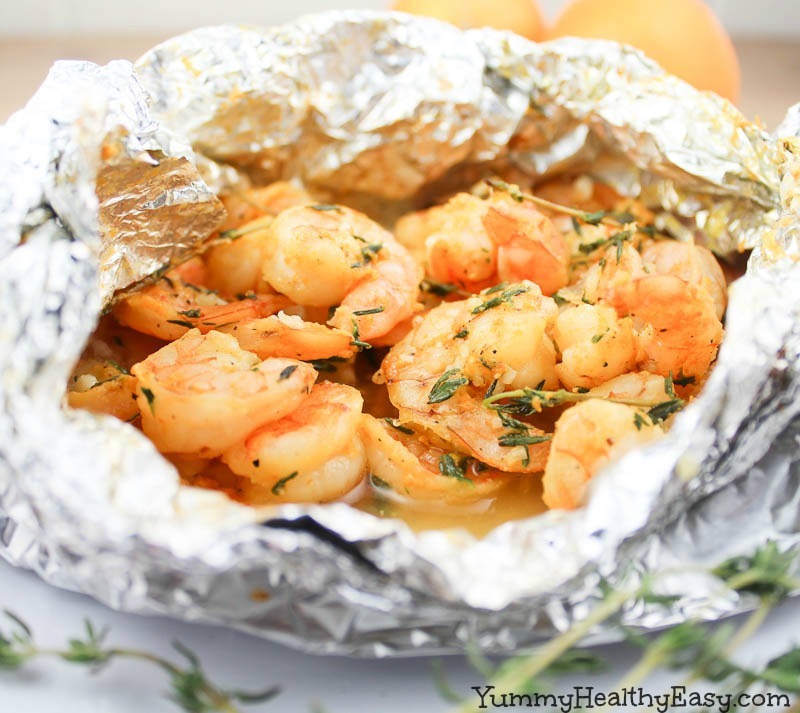 Who says fire pit cooking has to be basic and boring? Impress your guests with fireside Shrimp Scampi! This meal is super easy to prepare, but even more divine to eat! All you need is foil, butter, peeled & deveined shrimp, a little lemon, and your favorite seasonings. We typically improvise with a little bit of this and a little bit of that, but for you by-the-bookers, here's a simple go to recipe with exact measurements.
Classic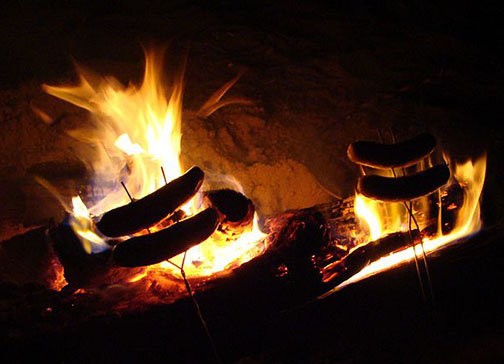 It may not be fancy, but there is something extra delicious about a roasted hot dog! It really doesn't get any easier than this. Pick your favorite dog, we are partial to the Hebrew National all beef hot dogs, pierce it with your stick and roast away. You can even toast your hot dog bun on a stick for a well-rounded hot dog experience!
Kid Friendly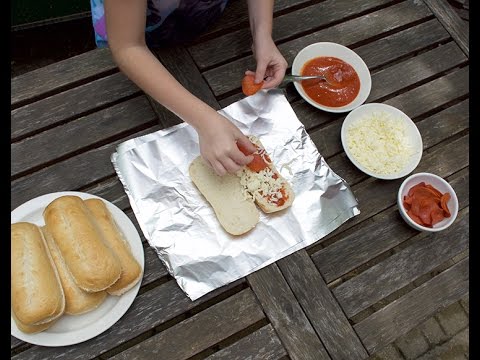 Fast, easy and delicious…that's my kind of cooking!  You can prepare these French bread pizzas ahead of time or create a little make-your-own station on the picnic table. Slice your French bread, cover with marina sauce, add your favorite toppings (pepperoni, mushrooms, Canadian bacon, olives) and finish with mozzarella cheese. Wrap your creation in heavy duty aluminum foil and throw them on the fire!
Dare To Be Different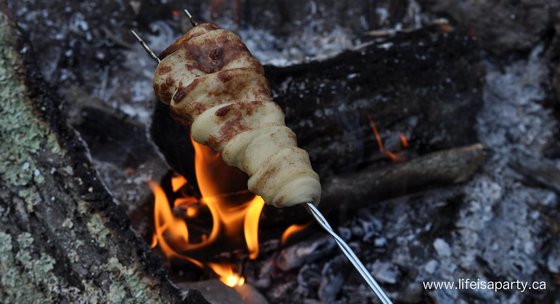 Super easy, but super delicious is campfire cinnamon rolls! Simply buy your favorite brand of refrigerated cinnamon rolls, we personally love Pillsbury Grands. All you have to do is unroll a cinnamon bun and divide the long pieces of dough into sections. Wrap a portion around your stick, careful not overlap for even cooking, and roast away!  
Next Level S'mores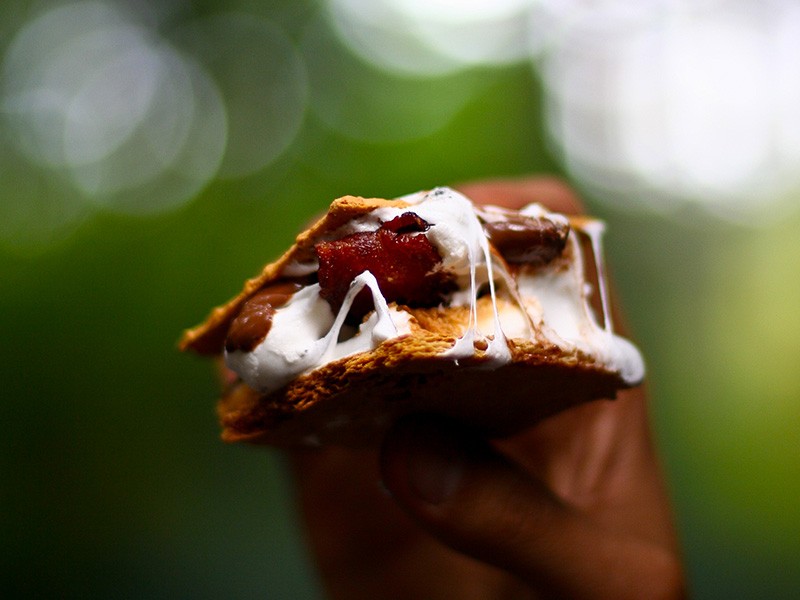 Bacon. Yes, you read that right. A little graham cracker, a little marshmallow, a little chocolate, and a couple of pieces of bacon (which you could also roast over the fire) will have your tongue jump out and lick the eyebrows right off your head!
We also encourage you to mix up your chocolate options. Truth be told, it's hard to beat a piece of Hershey's Milk Chocolate, but have you ever thought of using a Reese's Peanut Butter cup? What about a Kit Kat Bar? We suggest you try a York Peppermint Patty next time, you won't regret it. In fact, you may never go back to the traditional s'mores again!
Adults Only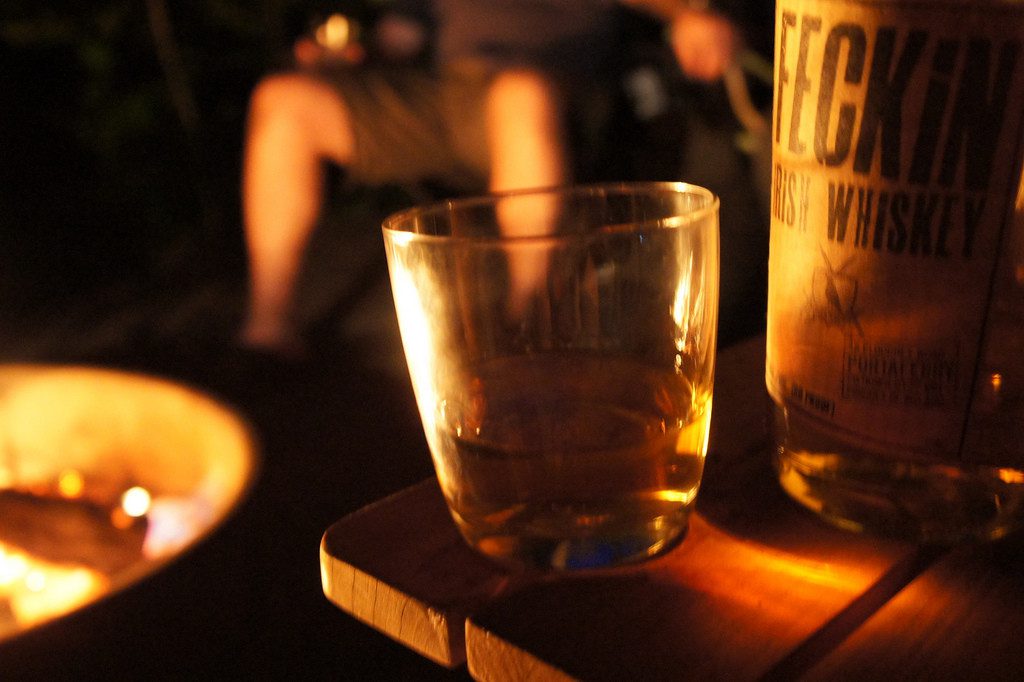 If you're looking for a way to warm up from the inside out, a Hot Toddy is definitely in order and extra enjoyable sitting outside by the fire. Boil water over your fire and add a tea bag to your cup. Let your tea steep for about two minutes, then add a shot (or two) of whiskey, a little honey, a slice of lemon, and some cloves for extra spice. Bam! Now we are ready to make some fireside memories!