When visiting a new town, you always want to be "in the know" of the very best places to eat. After all, breaking bread with family & friends, savoring tasty new flavors, and experiencing the delicacies of the area is what vacation is all about! We hope from your cabin stay to your full bellies that your Escape to Blue Ridge experience is everything you could wish for and more. And we hope you never run out of delicious places to eat, so here are some of our favorite local restaurants.
New!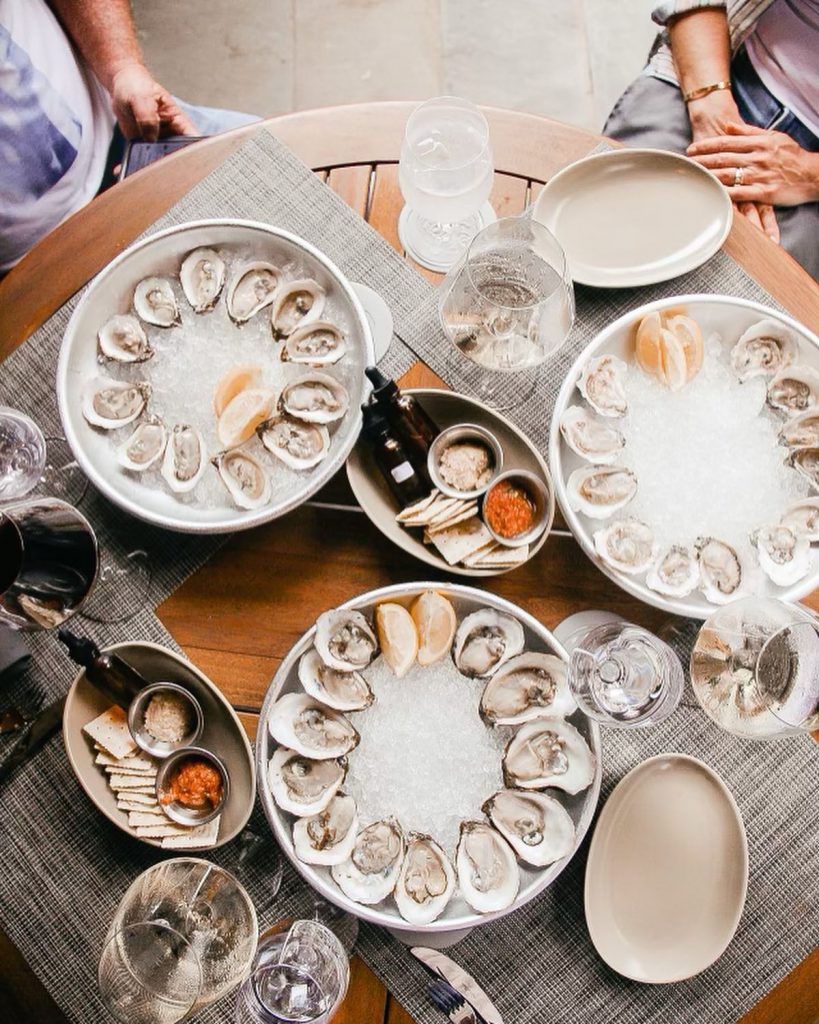 We might be in the mountains, but we have some amazing seafood up here! Make reservations and treat yourself to an incredible meal at Blue Ridge's newest restaurant – ROE! This modern American oyster bar brings fresh seafood from the tide right to your table! Not a seafood fan? No worries! Your mouth will be watering when you see the Tomahawk Ribeye. You are truly going to be delighted at the new elevated dining experience!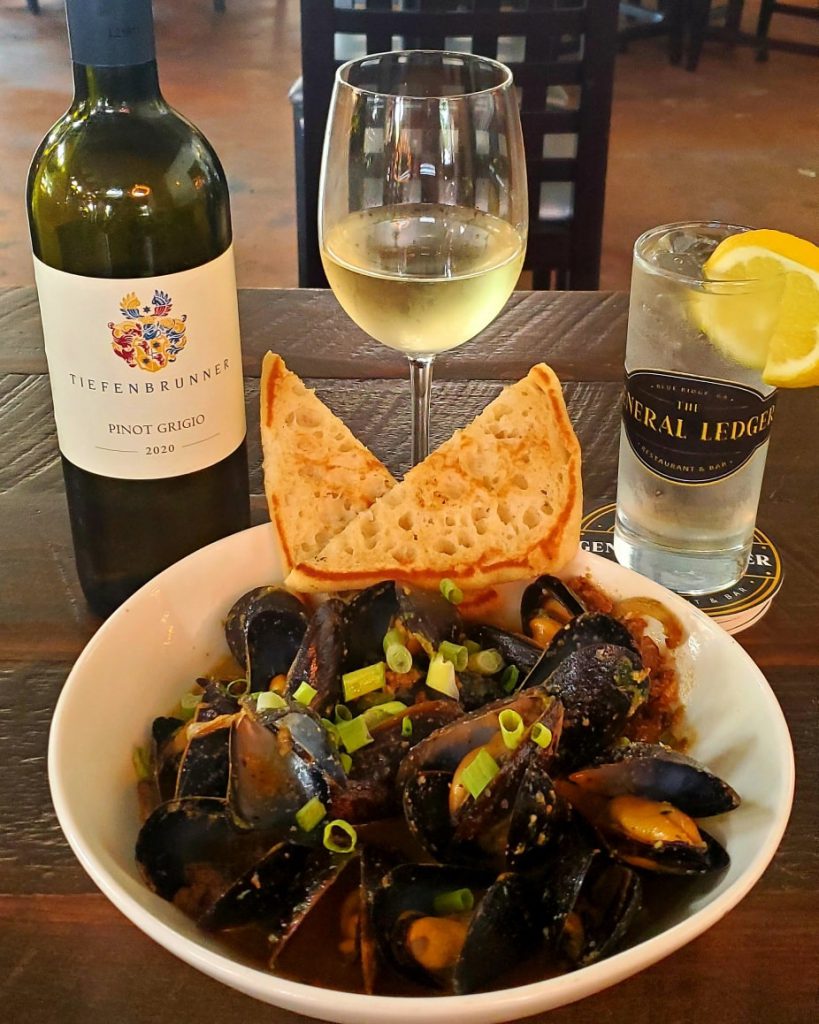 The General Ledger is the newest restaurant in downtown Blue Ridge and you will definitely want to check out their menu for lunch or dinner. This contemporary American restaurant features upscale casual cuisine from both the land and sea. Chef Ryan is always creating specials to tickle your tastebuds and at the bar, Karen mixes up the coolest drinks in town! Whatever you choose, make sure to save room for Miss Holly's Lemon Lavender Cake!
Date Night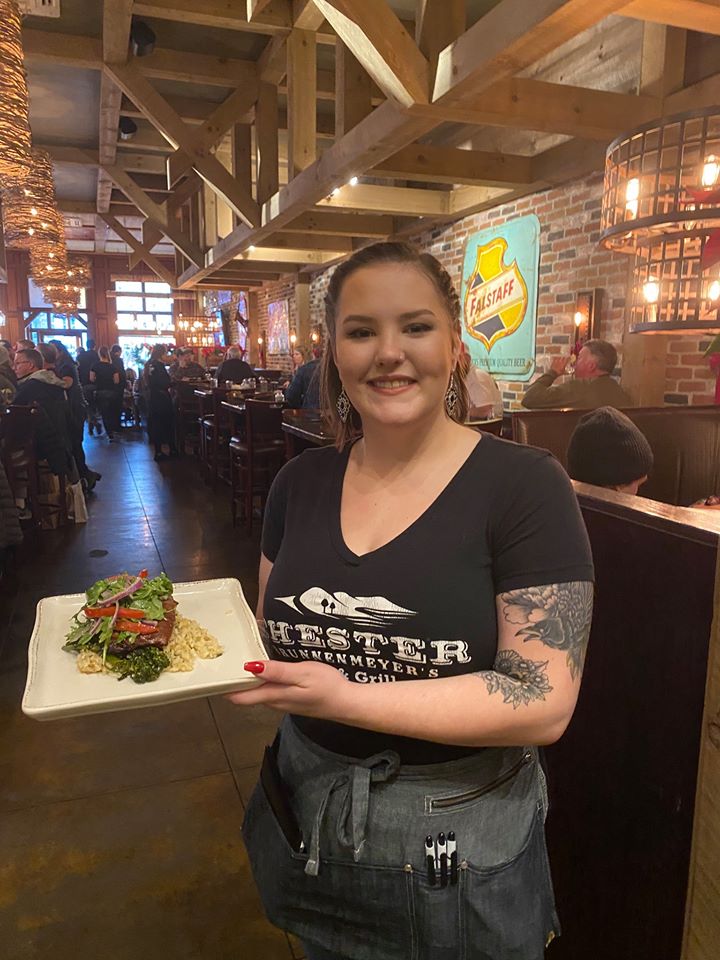 Chester's is one of our favorite places to eat Downtown. Not only is all their food fresh and delicious but they also have a special Escape to Blue Ridge-themed drink which includes- Cathead Honeysuckle Vodka, Macerated blueberries, and lemonade; yum!
They serve both regional and seasonal high-quality dishes, like their Blackened Ribeye Steak or Pimento Cheese Chicken Sandwich. And be sure to ask about their current specials and new cocktails, because they're always adding new dishes and drinks for a limited time. Having a night out with a few friends? Try Chester's famous wings! You'll also love their regional craft beers and impressive wine list. Before you go, stop by next door to Chester's Provisions where you can stock up on unique food & drink items perfect for souvenirs or gifts!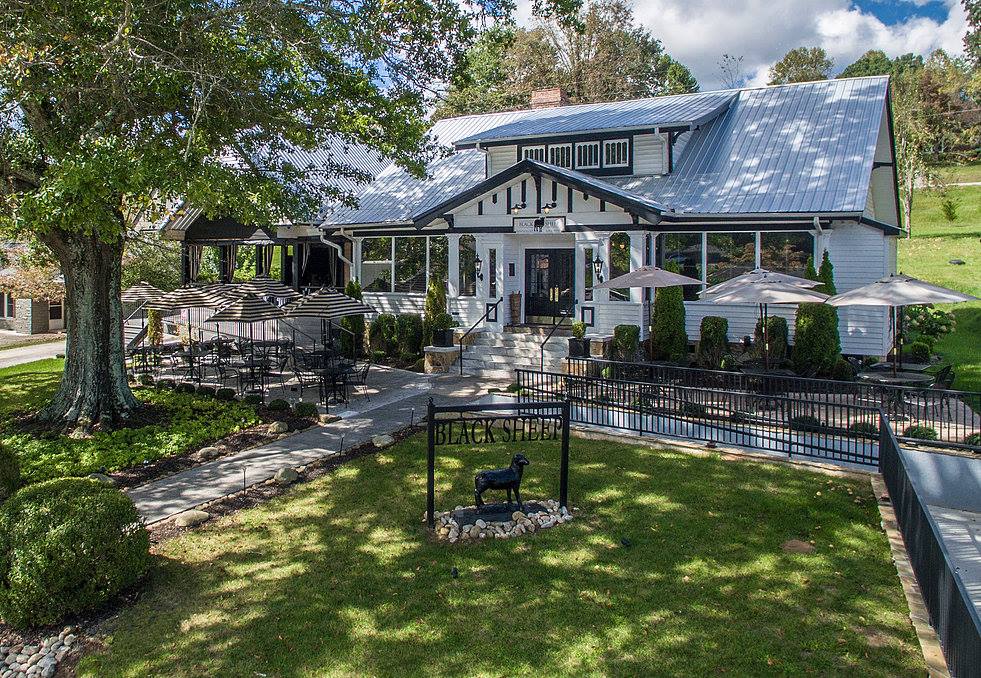 The Black Sheep has always been a fan favorite by locals and guests alike. It's one of the best fine dining options in Blue Ridge, perfect for a dinner date or a night out with friends. Located in an old historic house dating back to 1814, The Black Sheep screams class and style with its peaceful ambiance, sleek décor, and jazz music that plays in the background while you dine.
When you sit down to eat you'll find all the dishes are made with the freshest local and seasonal ingredients and that their efficient service is second to none! The Black Sheep strives to be Comfortably Unfamiliar, Distinctively Unique, and most importantly ALL Things Originally Black Sheep! But with so many great dishes to choose from where do you start? A few of our favorite dishes include the Pan Seared Half Chicken, Shrimp Americane, and the Black Sheep Meatloaf. You won't be disappointed in any dish you choose! If you want to sit outside in the fresh air, nestled under a 200-year-old oak tree then take advantage of their incredible patio, which is the largest patio in Blue Ridge! You can even bring your furry friend along with you to enjoy the great outdoors. Our favorite time on the patio is for Sunday brunch where there's live music, a great atmosphere, and incredible food. We'd recommend the AMAZING Chicken & Red Velvet Waffle!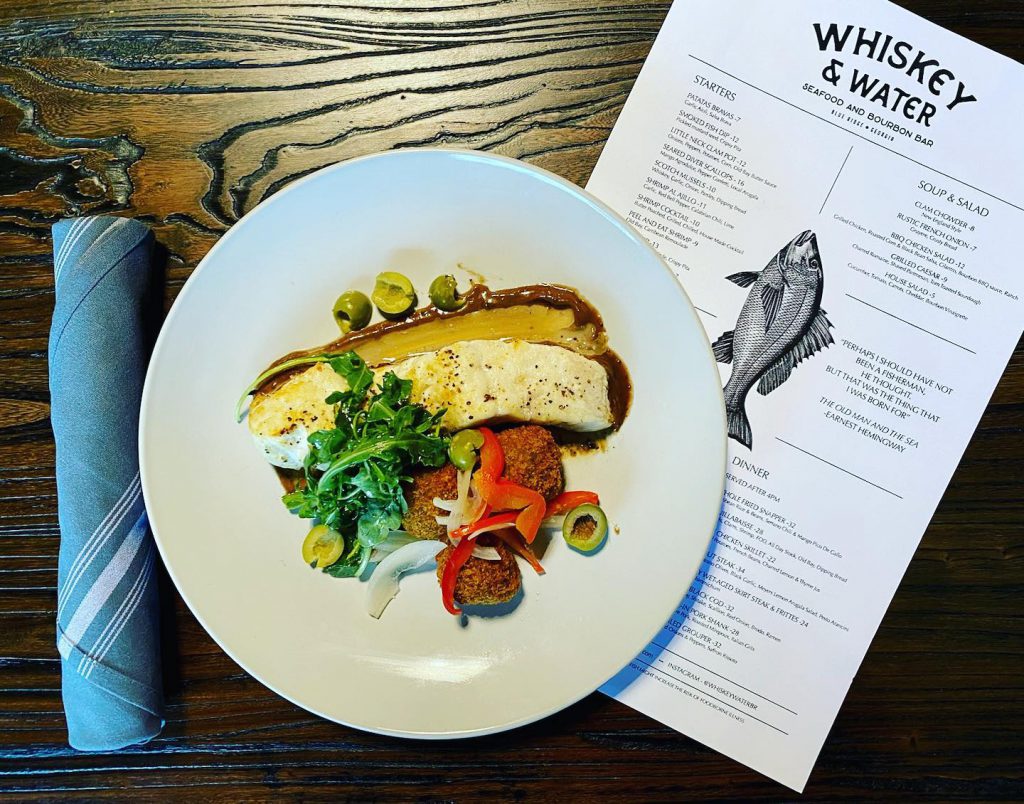 Whiskey & Water is a newly opened restaurant right in the heart of Blue Ridge. They focus on seafood and drinks, the perfect combo. The setting is a renovated, historic post office in Blue Ridge where they serve up the best from America's coasts. You'll dine on the freshest of high-quality seafood like Whole Fried Snapper and Broiled Grouper. Pair your meal with a whiskey or bourbon from their wide selection of drinks around the world. If bourbon isn't what you're looking for they also offer original cocktails and a great wine selection. If you're looking for a wonderful meal and drinks Whiskey & Water is the place for you.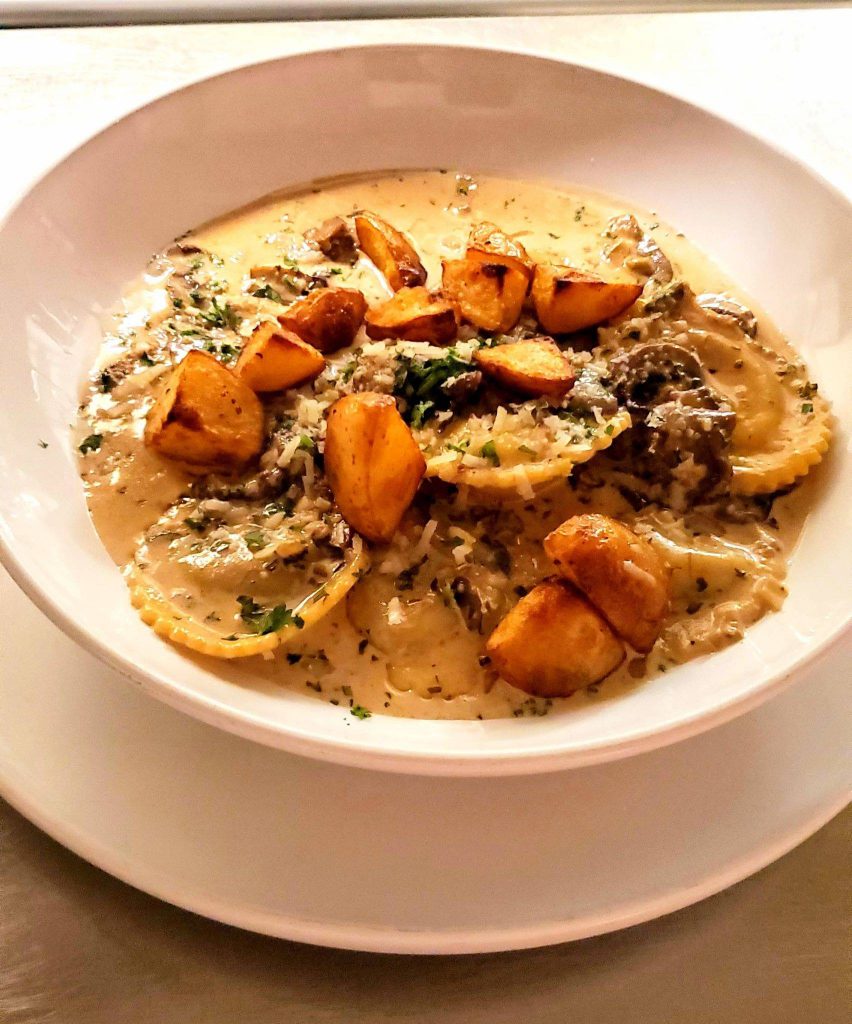 Harvest on Main in Downtown Blue Ridge is another great spot for dinner. They offer southern-inspired, global cuisine made from the best quality ingredients around. Many of their ingredients are sourced from local businesses like Mercier Orchards and Brasstown Beef, in order to serve up uniquely local flavors.
Dine on some southern favorites with a twist like Wild Caught Gulf Shrimp & Logan Turnpike Mill Grits or Chicken Pot Pie. Add a deliciously cheesy side to go with your meal like their Baked Mac & Cheese or Cheesy Flatbread. Sip on a glass of wine from their extensive wine list or a local craft beer while you eat and top the evening off with a delicious dessert! You won't be disappointed at Harvest on Main!
Waterside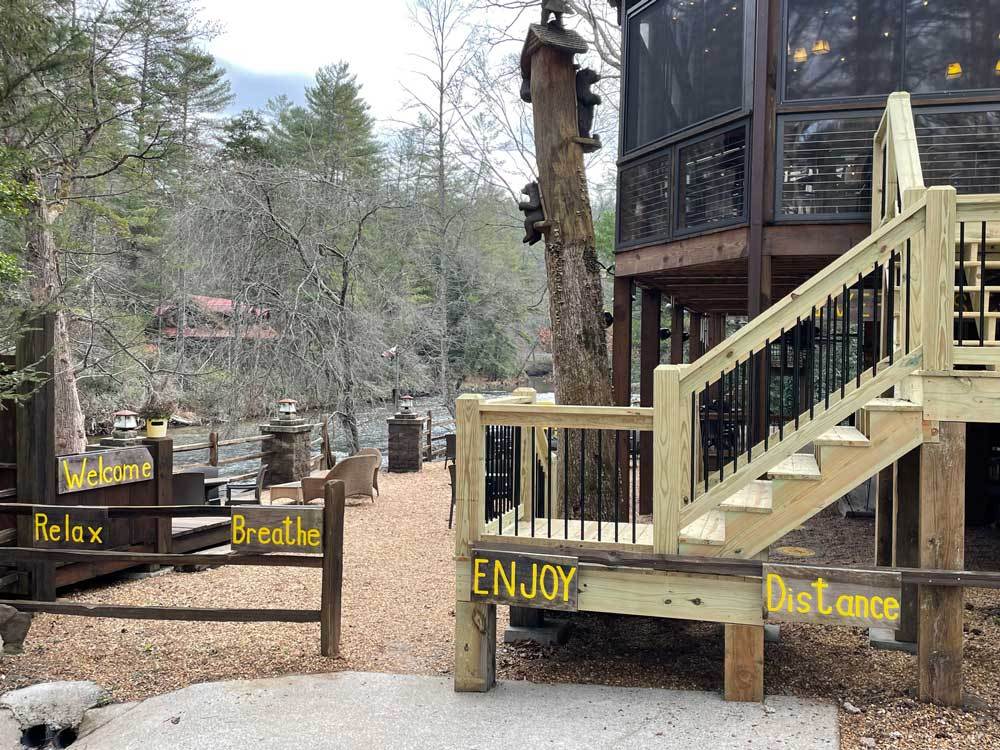 Want to eat by the rushing waters of the Toccoa River? At Toccoa Riverside Restaurant you can do just that! This is fine dining on the banks of the Toccoa River with dishes that are uniquely Blue Ridge. Award-winning Steaks and Seafood is what you'll find at Toccoa Riverside Restaurant!
Your dining experience will truly be a Blue Ridge experience with views of the Toccoa River and a wide variety of menu items to choose from. Don't worry, you'll have no shortage of trout options while dining in the trout capital of Georgia! Spend the day fishing or boating on the river and then drop by for dinner. After your meal, eat some delicious dessert and then check out the gift shop for fun and unique goods. You can even bring along your dog to eat outside with you on the deck and bar area!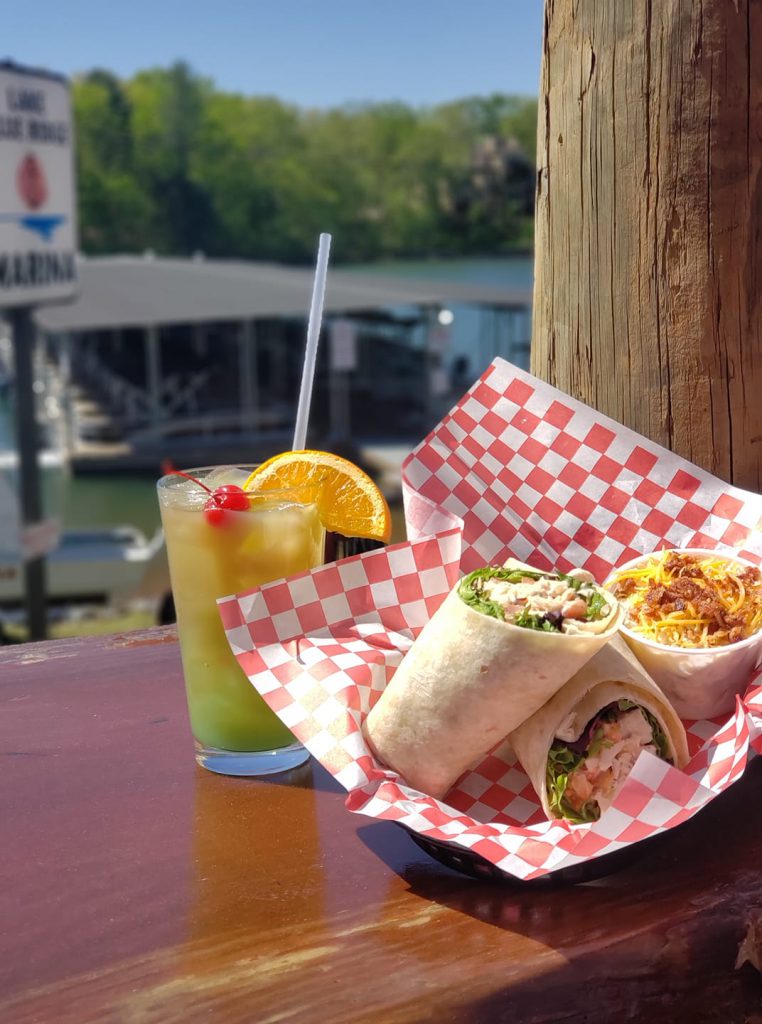 Eat delicious food, sip on great cocktails, listen to live music, and take in the views of the beautiful Lake Blue Ridge! That's what's in store for you at Boat Dock Bar & Grill, a part of the Lake Blue Ridge Marina. There's no better way to unwind after a long day on the water than by visiting the grill for a relaxing evening.
When the weather is warm Boat Dock Bar & Grill is always ready to have some fun and serve up some great dishes! With classic bar options to choose from like Smoked Wings, Shrimp Tacos, and Grouper Baskets; you really can't go wrong. Bring a group of friends along to share appetizers and entrees with because you won't be able to choose just one. Have some more fun and get a specialty cocktail like 'Blue Ridge Boat Wreck' or 'Michael's Mango Tango'. Sip on your fruity beverage, laugh with your friends, and enjoy weekly performances from local artists. It's always a blast at The Boat Dock Bar & Grill!
Comfort Foods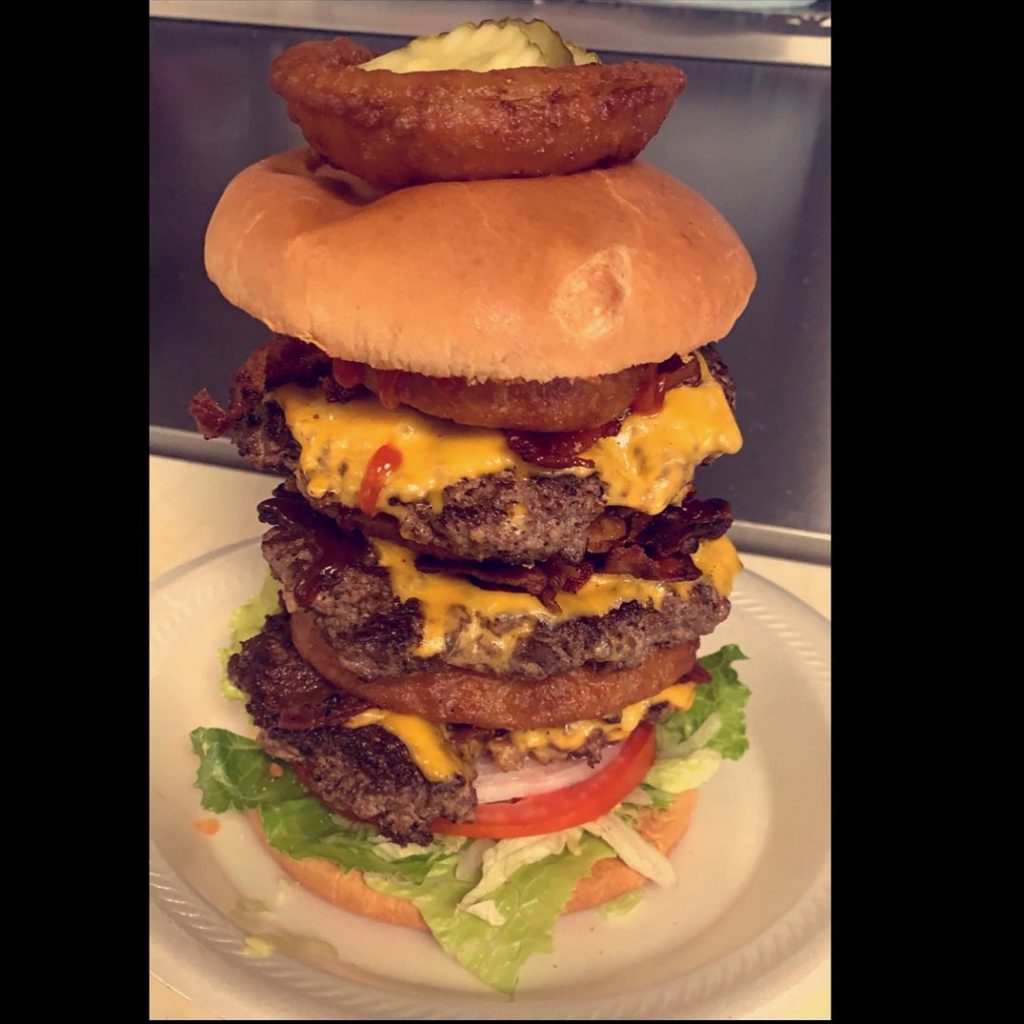 They don't call Sue's the best burgers in town for nothing! Once you dig into one of Sue's incredible burgers you won't go back to any old regular hamburger joint again! Sue's has been in business for over 45 years and her customers keep on coming back, so you know it's good!
The whole family will love these huge and delicious burgers with incredible sides like french fries, tater tots, and onion rings; just to name a few. And not only does Sue's offer burgers but they also have BLTs, Hot Dogs, Chicken Strips, Sandwiches, and so much more! Before you spend your afternoon exploring Blue Ridge be sure to power up with a burger from Sue's, you'll be glad you did!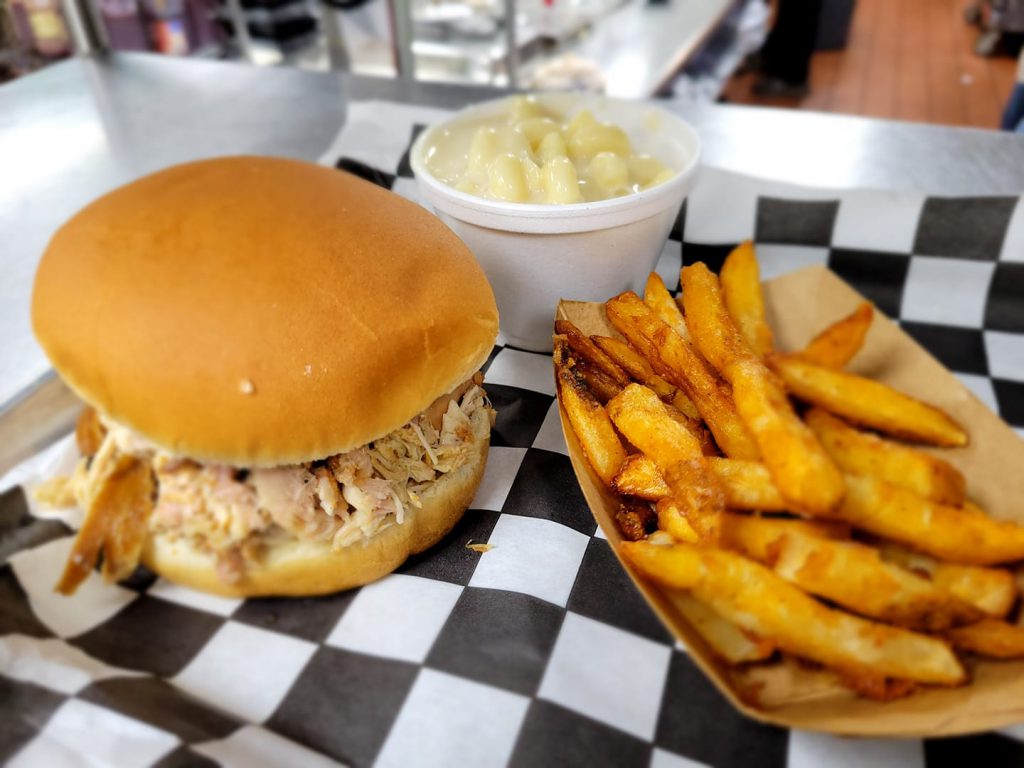 There's nothing quite like good old-fashioned barbeque and that's what you'll find at Carroll's Barbeque! The Carroll family has been living in Blue Ridge for over 50 years and Tom Carroll built himself a reputation for cooking up good food, especially barbeque. Now they have their own barbeque place off Highway 515 in beautiful Blue Ridge!
The Carroll's serve up classic barbeque like pulled pork, pulled chicken, turkey, and brisket. Pair your sandwich with some amazing sides like bbq baked beans, mac and cheese, french fries, a baked potato, corn nuggets, and so much more. Want to try something other than barbeque? They've got plenty of options like ribs, burritos, salads, and soups. Drop by Carroll's Barbeque for some delicious southern barbeque made the Blue Ridge way!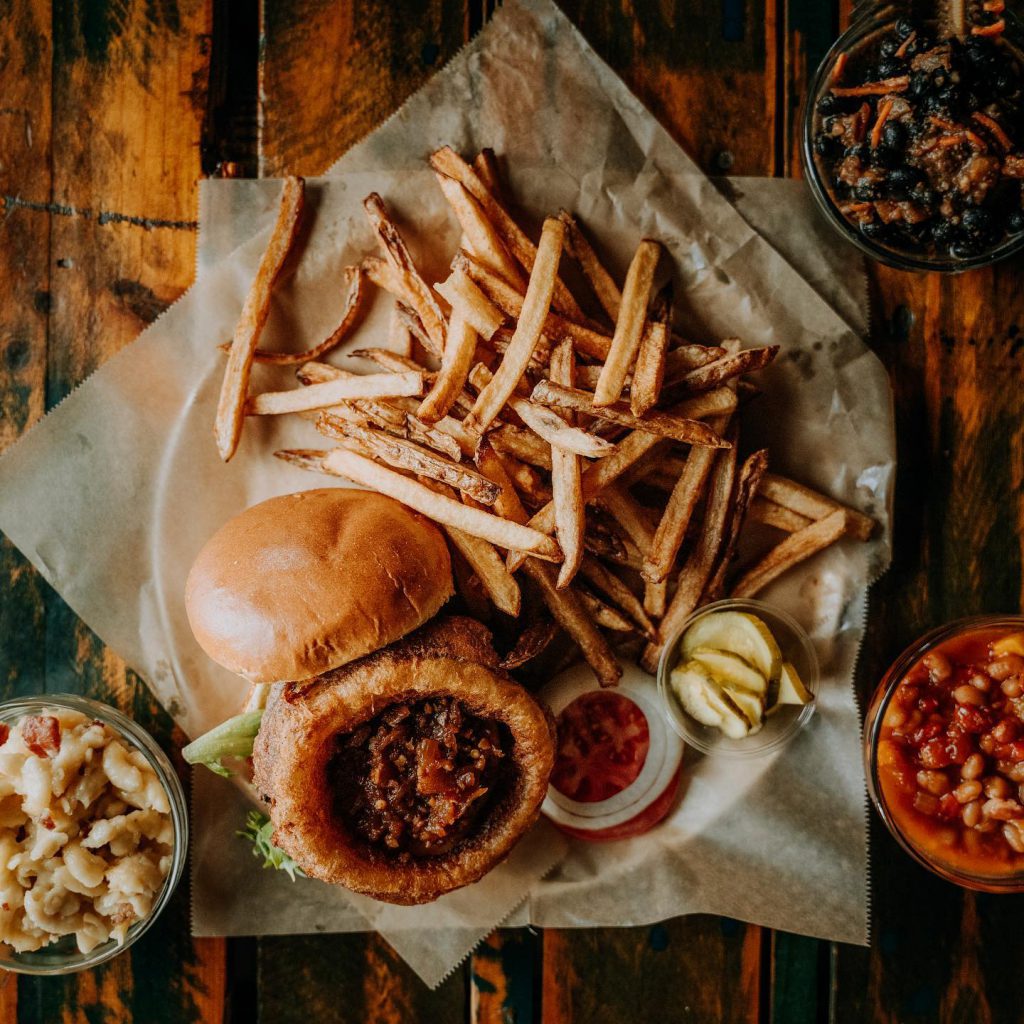 Fightingtown Tavern isn't just your average bar. They offer unique farm-to-table comfort foods like the Jack's Daniel's Burger. If you're feeling adventurous try one of their epic hot plates and sandwiches like the Banh Jovi Dip or The H.O.B.B. Nob.
Fightingtown Tavern's food is fresh, locally sourced, and with no fake ingredients. They pride themselves on their food by saying it's like, "bar food that went to Harvard". And you'll love the ambiance; 70's rock is played at all times, lots of TVs to watch the big game on, darts, shuffleboard, and a pet-friendly patio. And you can't have a tavern without drinks right? Well they've got it all; local Georgia beers, a selection of whiskey/bourbon/tequila, amazing cocktails, and a full bar. Get ready for a "rocking" night out at Fightingtown Taven!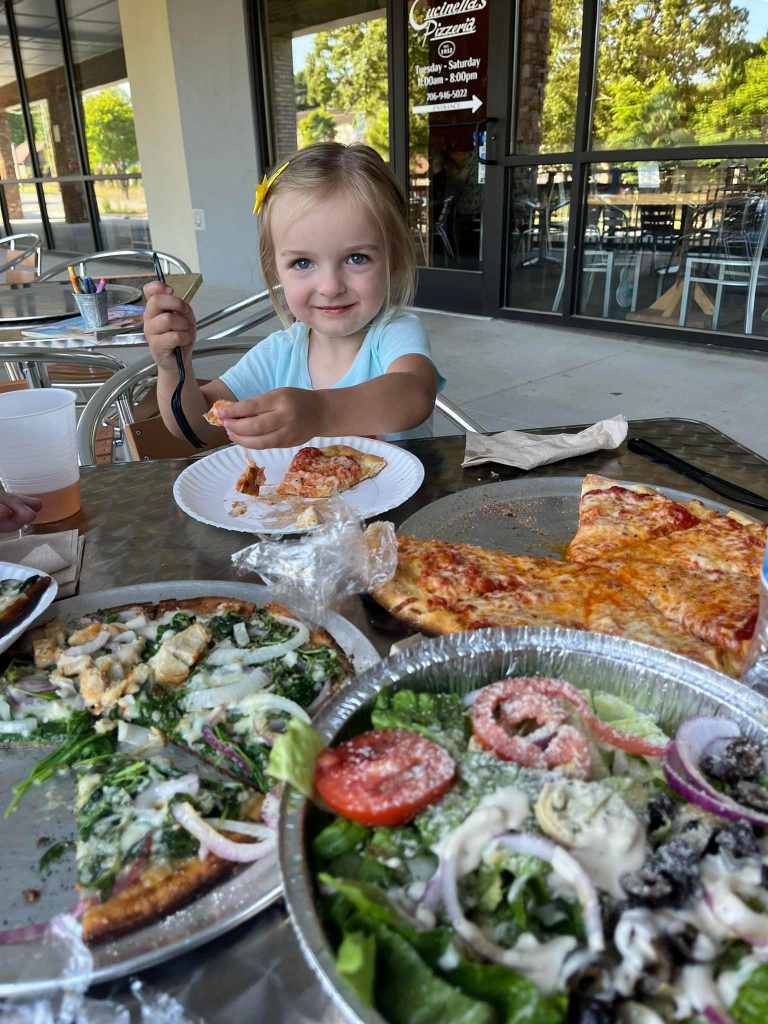 Cucinella's Pizzeria is the place for pizza lovers! Fresh dough, fresh ingredients, and mouthwatering brick oven pizza is in store for you right in downtown Blue Ridge! You can buy by the slice or the whole pie, either way you are going to LOVE your pizza! Gluten Free and Vegan options are available too!
You can find more than just pizza at Cucinella's. Try their homemade lasagna with a fresh salad. Whatever you do, don't miss out on their garlic knots! They are so delicious and will help keep any vampires at bay. Just kidding about the vampire part, but not kidding about the incredible food you'll find at this pizzeria!
Unique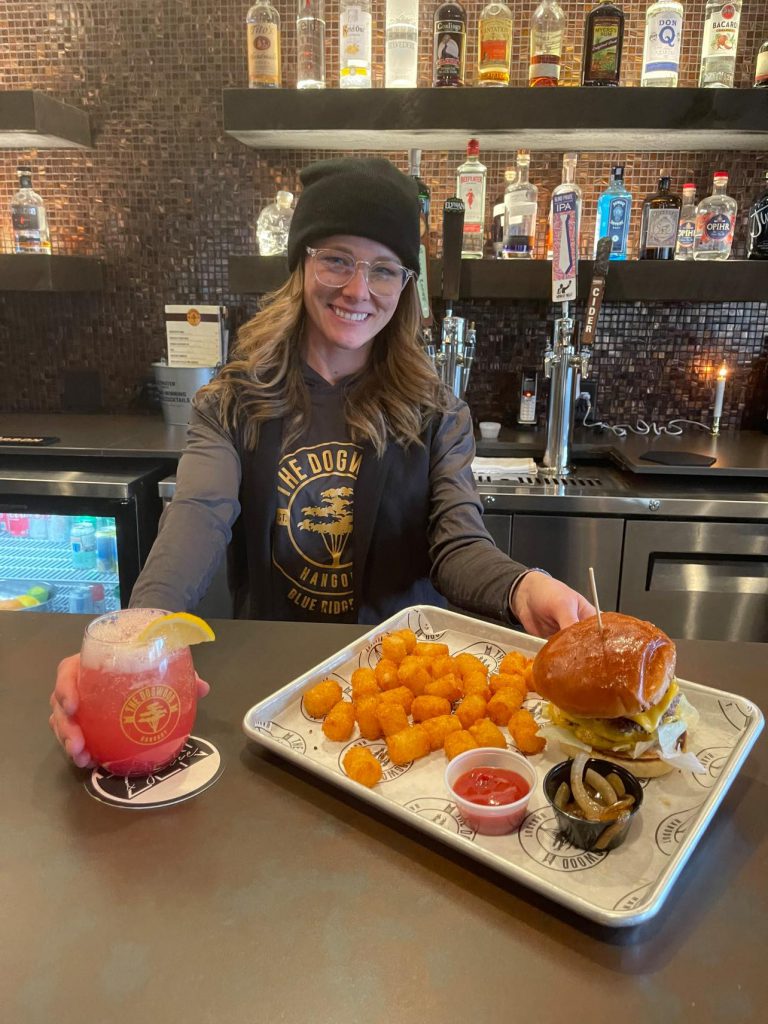 Love the Black Sheep but looking for a more laid-back place to dine for the evening? Then check out their new sister restaurant The Dogwood! They offer a unique dining and drinks experience, with a select menu of only 10 items. But don't be fooled, these 10 items are all so delicious you'll have a hard time picking which one you want! They have comfort food favorites with a twist like Pork Belly Potato Skins, Ribs, a Smash Burger, and more! You'll sit out on the patio with its 150+ seats, huge hand-painted mural, 100-year-old trees, and live music from local artists; all with a drink in your hand!
The Dogwood also has a unique drinking experience where they invite guests to customize their own drinks. Head over to the beer garage with over 70 options and make yourself your own personalized six-pack! And they have a full bar, craft cocktails, and an extensive wine list. The Dogwood was made for a fun and a unique night out with friends! Check their website for their full live music schedule: https://www.dogwoodblueridge.com/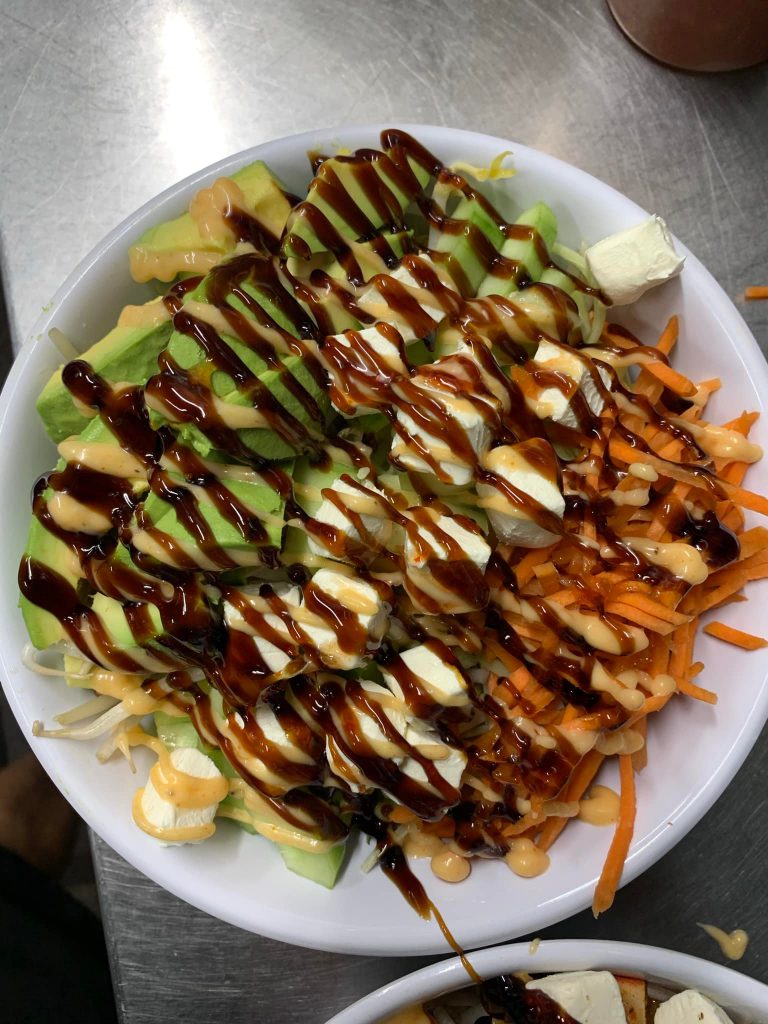 Take a quick trip across the border and pay Rod's Rockin Rolls a visit in Ducktown, TN. This awesome Southeast Asian Restaurant has just what you want! All the food is prepared fresh daily and the unique menu is constantly changing.
Enjoy Chef's Seafood Basket or one of their weekly Menu Specials. You can't go wrong with one of their incredible Sushi Bowls; but there's so much to try, like their Thai Spring Rolls, Breaded White Fish, and even Italian and American options. Rod's Rockin Rolls is a hidden gem and one of the few local restaurants that serve Asian cuisine, so it should definitely be on your list!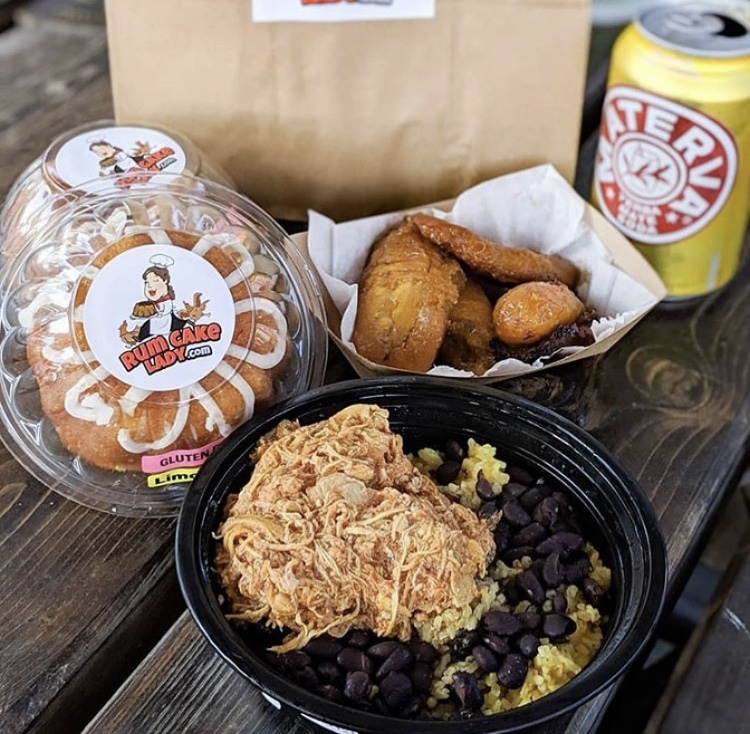 Rum Cake Lady located in both McCaysville and Blue Ridge is a fan favorite and it's not hard to see why! They are a family-owned, fast-casual café offering authentic Cuban comfort food and award-winning Rum Cakes of every flavor. The Rum Cake Lady, Liz Correa was born in Camagüey, Cuba, and made her way to Blue Ridge after living in Puerto Rico and Miami. She originally sold her family recipe rum cakes at local farmers' markets but soon saw a need for authentic Cuban food in the area. And that's how The Rum Cake Lady Cuban Cafe came to be!
You'll quickly fall in love with the incredible food; like the delicious sandwiches pressed on fresh-baked Cuban bread, the Empanadas, and the Cuban Bowls. And after you eat you HAVE to get a Rum Cake; you just can't go to The Rum Cake Lady without getting one! They have all kinds of flavors like golden, limoncello, salted caramel chocolate, and Cuba libre. There are even special seasonal rum cake flavors that come around for different holidays and seasons; you'll want to try them all! Rum Cake Lady has become a staple of town and you can't visit Blue Ridge without dropping by!