Blue Ridge, Georgia is THE place for pet lovers! This small, welcoming town was meant for outdoor lovers and their pets! Go on a hike all day with your furry friend and then at night enjoy dinner on the patio at many of our pet-friendly restaurants. Even many of our wineries and breweries love having dogs join!
We know you want to include your Fido with you wherever you go, that's why a large number of our cabins are dog-friendly; that way your furry friends won't miss out on the fun! With stunning mountain views, easy access to the trails, and close to the shopping and dining of downtown Blue Ridge; these 6 cabins will become your home away from home for you and your pets!
Blue Chase Lodge
There are many Blue Ridge mountain cabin rentals, some with a view of the water, others with a mountain view. But if you stay at Blue Chase Lodge, you don't have to choose. This handsome home overlooking Lake Blue Ridge offers you both water and mountain vistas, and they're spectacular. Inside the lodge, wood construction, cheerfully painted walls, and rustic décor combine to create a comfortable, cozy mountain ambiance. The open floor plan and two large screened decks provide ample space to gather and relax, and the three bedrooms, each with rustic log furniture, sumptuous bedding, private bath, fabulous view, and 32" TV, provide a hotel-like experience.
Blue Chase Lodge is named for the owners' dogs, Sebastian Blue and Chase, and you're welcome to bring your canine best friends with you to explore the grounds and lie on the sunny deck like they do. Bring your hiking boots and fishing gear along, too, so you can take advantage of everything the area has to offer. With the beauty of the lake and mountains surrounding you, a stay at Blue Chase Lodge offers a unique opportunity to get away from it all and experience a carefree, blissful vacation with the ones you love.
Perched high on the hillside overlooking Blue Ridge's natural beauty you won't be "duckin' out" on the views! This cabin provides you with unobstructed, long-range mountain views that can be viewed from all around the cabin. You, your friends and family, and your dog, of course, will love taking in the views on the wraparound deck.
With 3 bedrooms and a pull-out couch, this cabin is great for large families or big groups. The spacious kitchen is filled with plenty of cabinet and counter space that will give you plenty of room to cook for your guests and store all that delicious food you'll be making. And if back to the great outdoors is where you want to be, then you can grill outside and eat at the outdoor table or bar; that way the fun never has to stop. And then fire up some s'mores at the firepit before bed.
Duckin' Out is just minutes from the Aska Adventure Area so you'll want to take advantage of all the hiking, fishing, and boating you can do! And of course, bring your dog along with you when you go! Everyone is in for a great time filled with outdoor fun when you stay at Duckin' Out!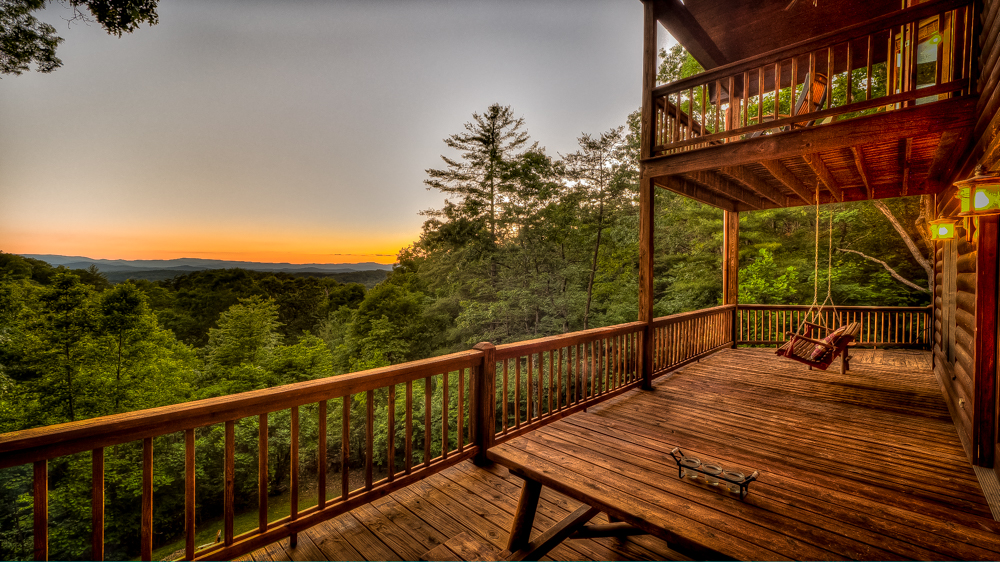 Located on the side of a mountain, Eagles Pride should be on your list of getaways. With 3 different porches to take in the view, your dog will love getting a chance to be outside but still stay close to you. Hang out on the porch all day where you'll take in the views, grill out, relax in the hot tub, and cook s'mores by at the firepit all with your furry friend close by.
Inside, take advantage of the state-of-the-art kitchen, the fully stocked game room, the comfortable leather couches, and 3 bedrooms each with a loft. Also, enjoy being a short drive away from downtown Blue Ridge and the hiking trails of the Aska Adventure Area. The possibilities are endless for you and your pup, so enjoy all Eagles Pride has to offer!
Fawn Ridge is a stunning mountain retreat perfect for families of 4 or a double date getaway. And you can bring your dog along to join in the fun! You'll feel completely relaxed and rejuvenated in this cozy home with a log cabin/lodge-style feel. You'll watch a movie on the smart TV, curled up with your pup, in the living room while staying warm by the stone gas fireplace; and you can do it all with a view. All around the cabin is floor-to-ceiling windows to show-off the beautiful mountain views. Your dog will love sitting in front of the windows, watching nature in action.
For your entertainment enjoy a game room with a gas fireplace, smart TV, pool table, and board games of all kinds, or step out on the deck to enjoy a nice soak in the hot tub while watching the sunset behind the mountains. Grill out on the deck or cook in the beautiful and spacious kitchen. Then after dinner head off the deck and play a round of horseshoes with the group; see if your dog will try and chase the horseshoes when you throw them! And when your long day of exploring is done, head to bed on a king-sized mattress in either of the two bedrooms. You and your furry friend will love Fawn Ridge's wonderful amenities and easy access to the best places in Blue Ridge.
As its name implies, Grand View will give you and your pup some of the best views you've ever seen, right from the comfort of your porch! This cabin will provide you with stunning long range mountain views and even overlooks the beautiful Mercier Orchards. The deck is full of many different seating options because we know where you and your furry friend will want to spend most of your time! Even enjoy a dip in the open-air hot tub to continue taking in the views while getting your ultimate relaxation time in.
Inside, you'll be enchanted by the custom furniture and charming décor. The large wood-burning fireplace welcomes all humans and pets to cuddle close, while dinner is cooked in the beautiful, high-end kitchen. After dinner, journey to the loft where you'll find all kinds of fun board games that will get the whole family involved. With 4 bedrooms, you can have up to 8 guests (and some dogs) with you to experience all the fun of Blue Ridge! Bring your friends and your pets, and come take in the view!
You won't feel lonesome at all in the beautiful Lonesome Dove cabin, which sleeps up to 10 people and can hold your furry friends as well! It's the perfect escape for large groups or big families! With a stunning garden and waterfall, you'll be living like royalty while the dog enjoys taking out some of that crazy dog energy on the expansive lawn.
Inside you'll be blown away by the western theme and unique interior design style. The open floor plan is great for entertaining. Mom can cook in the spacious kitchen with stainless steel appliances, while the kids set up the dining table for dinner, and friends relax in the living room, curled up next to the stone fireplace watching a movie on the flat screen tv. Your dog will love having everyone so close.
In the evening, relax with the whole group on the screened-in porch to watch the sun go down and watch the big game on the porch's flat screen TV. And for dessert, s'mores at the firepit! After a long day, you'll be happy to fall asleep in any of the 4 bedrooms which each have a king-size bed!
Lonesome Dove, is just a mile from the shops and restaurants of downtown and minutes from all kinds of outdoor adventures like hiking, horseback riding, rafting, and more. Not only will everyone in your group have a fantastic time at Lonesome Dove but your dog will too! They'll completely love exploring the 5.5-acre property and having their favorite people so close!
Our dogs are such an important part of our lives and our families so understandably you'd love to bring them with you everywhere you go! After all, dogs are man's best friend. At Escape to Blue Ridge, we're happy to have you and your favorite furry friends stay with us! Together you can enjoy the great outdoors of the North Georgia Mountains!