Wintertime is the perfect time to take a break from the hustle and bustle of daily life. You survived the holidays (it was a close call, but you did it!). You've socialized till you're blue in the face. You attended every shindig, holiday party, and get-together. Now is the time to recharge your own spirit. Much like bears retreat to their den to hibernate until spring. You too need to retreat to a comfortable cabin and recharge your energy. Send the kids to grandma's, scoop up your best love, and escape to Blue Ridge for some good quality down time, lots of cuddling, and a renewed temperament.
If privacy, peace and quiet, and a spectacular view top your winter vacay wish list, you'll find that and so much more at the 3-bedroom, 3-bath North Georgia mountain cabin rental, Bear Hug. It's the kind of place that envelops you like a huge hug from a loved one, surrounding you in an atmosphere of fun, love and laughter. This spacious tri-level lodge is warm, welcoming and inviting, just ten miles from downtown Blue Ridge but worlds away from civilization. So private you can see only one neighboring home, Bear Hug overlooks the land-protected Chattahoochee National Forest to the west, ensuring you a breathtaking sunset view every evening.
Imagine a place where the sky is brilliant blue, the spectacular mountain views extend into infinity and glorious greenery surrounds you—and you'll find it at the Georgia mountain cabin rental called Breathe Inn. Its name serves as a reminder to stop, take a deep breath, slow down for a bit and enjoy being with the people you love, and that's exactly what you'll want to do when you arrive at this 3-bedroom, 3.5-bath tri-level showplace cabin in the Aska Adventure Area. Breathe Inn gives you awe-inspiring, ever-changing views of the mountains, from the family room or outside on the screened-in porch or deck. The most important feature of Breathe Inn is the way you'll feel when you stay there: relaxed, refreshed and reconnected to nature and each other.
Is your ideal North Georgia cabin rental surrounded by nature in a beautiful, secluded wooded setting, or so close to a stream that you can fish for trout right from the deck? You get both at Creekside R&R, a cozy mountain getaway situated across from a nature conservancy on the banks of Fightingtown Creek, just a short drive from Lake Blue Ridge, Toccoa River adventure activities and the shopping and restaurants of downtown Blue Ridge.
Are you looking for a cozy getaway for you and a loved one? Or do you wish for some solitude? Dreaming of a vacation where you'll be relaxed by the sound of the leaves in the nearby trees rustling nearby with the mountain breeze? Venture into this one-bedroom oasis, and you'll be amazed at this lovely cabin's equally charming indoor decoration, which combines modern touches with rustic in a fantastic way. Step on to the deck and enjoy the surrounding nature. At La Pequena Pecos you can enjoy a quiet cup of coffee, a good book, or you can simply doze off during slow afternoons. You can venture out and play with your dog – yes, you can bring your fur baby along!
Have you been eagerly searching for a peaceful and relaxing place that feels like home to stay near the Aska Adventure Area? Look no further: Red Roof Zen (formerly Cozy Aska Cabin) is the ideal spot for you! With a beyond stunning mountain view, it's a great place to rest and unwind after days of Blue Ridge fun and exploration. As you walk inside, you'll notice the wood interior. This is a classic yet modern cabin with cute touches such as lantern lighting fixtures and sisal rugs. Partake of all the amenities at this cute and cozy cabin. Enjoy a screened-in porch and a hot tub outside. It's a perfect place to spend some time soaking in the sights and strengthening your bonds with family and friends. And, it's time for some fun with Fido, too. The cabin is pet-friendly!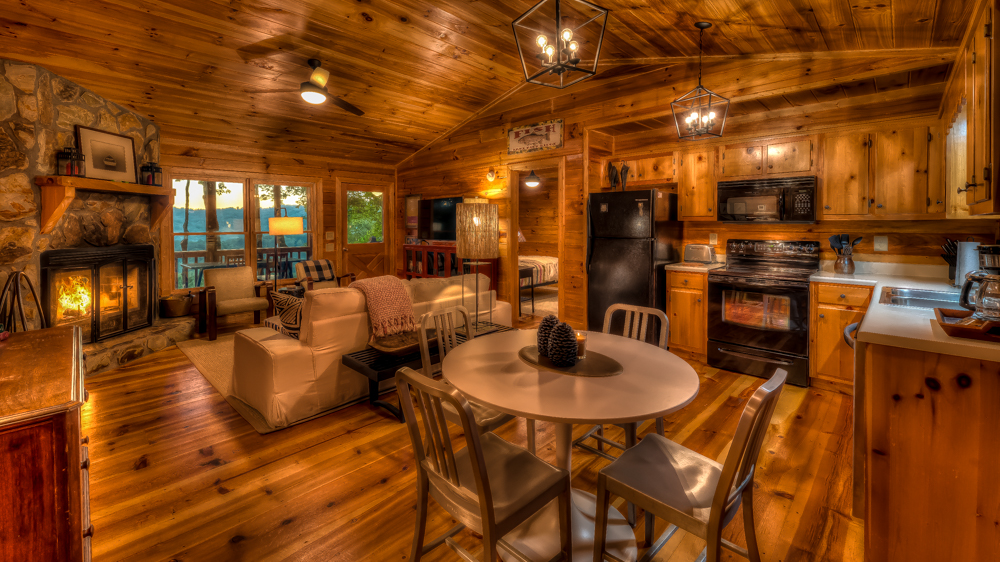 If you are seeking solitude and relaxation, you've come to the right place. Nestled In's secluded setting in the Sunrock Mountain area offers total privacy – you'll have spectacular views all to yourself, with birds chirping as your only background music. You will truly feel "Nestled In" here among the trees and surrounded only by nature. This is a wonderful 3-bedroom, 3-bath cabin for anybody looking to escape the hustle and bustle of the city – you will feel like you have the whole mountain to yourself here in this delightful, tucked away cabin. Prepare to enjoy a few days "nestled in" this cozy retreat…you may never want to leave.
The North Georgia mountains offer some of the most breathtaking views in the country and nature's experience unlike anywhere else. Nestled on over three acres of unspoiled beauty, Sunset Lodge is located in one of Blue Ridge's most serene and ideal spots. Sitting on a ridgeline located on Sunrock Mountain, this home has been thoughtfully built to perfectly face the ever-changing, natural light shows that continuously play against the mountain ranges. This inviting, mountain retreat sleeps four and is a wonderful escape for two couples, a small family, or a romantic getaway.
At Suite Dreams, the North Georgia Mountains are in such close range, it's as if you can touch them. The cabin's 25-foot high wall of glass allows you to take in the mountain views, watch the clouds drift by, and stargaze at night all from inside the comforts of this lovely property. Just 15 minutes from the quaint town of Blue Ridge, GA, Suite Dreams is located off of entirely paved roads and is convenient to the scenic drive of Highway 60. This 3-bedroom, 3.5-bath cabin offers a familiar, homey-feel but captures spectacular views and the restorative powers of a true mountain getaway. Step outside on the covered deck and enjoy ample outdoor living amenities with rockers, dining space, hot tub, and wood burning fireplace overlooking the spectacular view. Suite Dreams promises incredible sunsets over the mountains, abundant wild life, and has many covered porches to enjoy as you reconnect this winter.
When it's time for a peaceful retreat to Blue Ridge, Sun's Cabin is perfect for you! With mountain views for miles, you'll never want to leave! Breathe in that cool mountain air, revel in the heartwarming surroundings, and get that dose of relaxation you've been needing. Feel the stress ebb away as soon as you drive up to the spacious driveway. You'll quickly be enveloped by warm feelings when you step over the threshold and feel the imaginary embrace of comfort and relaxation. A true home away from home, Sun's Cabin is a place where you can leave your worries outside the door, let down your hair, pull up near the fireplace with a glass wine in hand, and simply watch the fire as it cackles to life!
With beautiful mountain views and a secluded setting, Tranquility is the North Georgia cabin rental you are searching for to escape the demands of your hectic life! This peaceful, pet-friendly cabin is tucked away in the mountains, but is only 8 miles from the shops and dining of downtown Blue Ridge and the hiking, fishing and mountain biking of the Aska Adventure Area. Tranquility offers a restful retreat whether you are returning from a day of outdoor adventures or would rather spend the day hibernating in the cabin. Relax and reconnect with nature and with your loved ones at Tranquility, the perfect cozy cabin for the quiet mountain getaway you crave!