In the past year many of us have been forced to move from in-person work to virtual. They call it working from home but no one said where that "home" had to be! After all your hard work this year you deserve to be spoiled! Escape from the confines of your house and travel to Blue Ridge where you can leave the stress of daily life behind, but not get behind on your work.
With this break you've been given, you'll find yourself being more productive than you have in months. You'll be able to focus and recharge. Enjoy your home away from home with all the comforts you're used to and more! Get active and outdoors, and find yourself feeling one with nature again. And when the work is finished unwind with all kinds of fun that only Blue Ridge can offer. You deserve this getaway, so treat yourself!
Peace, Quiet, Focus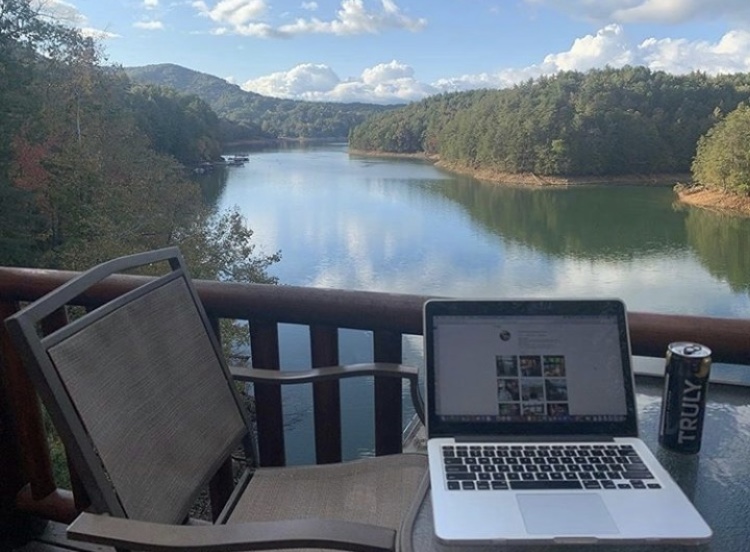 When you escape the hustle and bustle of your daily routine you'll feel renewed and refreshed in no time. Getaway and find your own home away from home with Escape to Blue Ridge cabins! Our cabins have all the amenities you'll need to relax and feel right at home. After all, we want you to feel comfortable and at peace.
You'll find yourself with plenty of room to get your work done since our cabins are so spacious and you will be even more productive when you know you can relax on the back deck with your laptop, a glass of wine, and beautiful mountain views that will take your breath away! Or sink into our comfortable couches by the fire and type away. No matter what spot you choose to work, you'll have your own space where you can fully focus and enjoy some peace and quiet.
And when the work is finished and you're looking for a relaxing night in, you can take advantage of all the wonderful amenities we offer. Watch the sunset on the back deck, cook in the large kitchen with everything you need, play a round of pool in the game room, sit outside by the fire and watch the stars; the possibilities are endless.
Outdoor Escape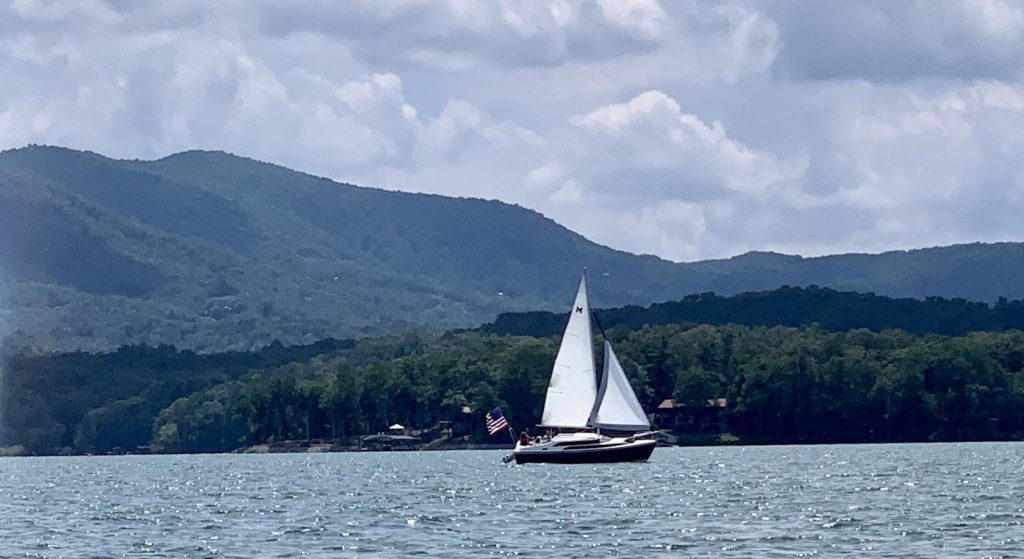 After almost a year cooped up inside at a desk, you are probably itching to get outdoors, and boy does Blue Ridge have the outdoor fun you're looking for! From countless hiking trails through forests and mountains, past streams and rivers, to waterfalls, you'll have so many different hiking options. If hiking isn't your preference, then try your hand at fishing on the Toccoa River or go on a horseback ride with Appalachian Trail Rides. For adventure seekers check out Blue Ridge Adventure Park for ropes courses and challenges. Or hop on a boat and ride around Lake Blue Ridge. And if you don't feel like being active but just want to be outside in the fresh air then choose from numerous wineries and restaurants that have live outdoor music. No matter what you do, being out in nature will have you feeling refreshed and alive in no time! And being one with nature is good for the soul.
Unwind after the workday and work week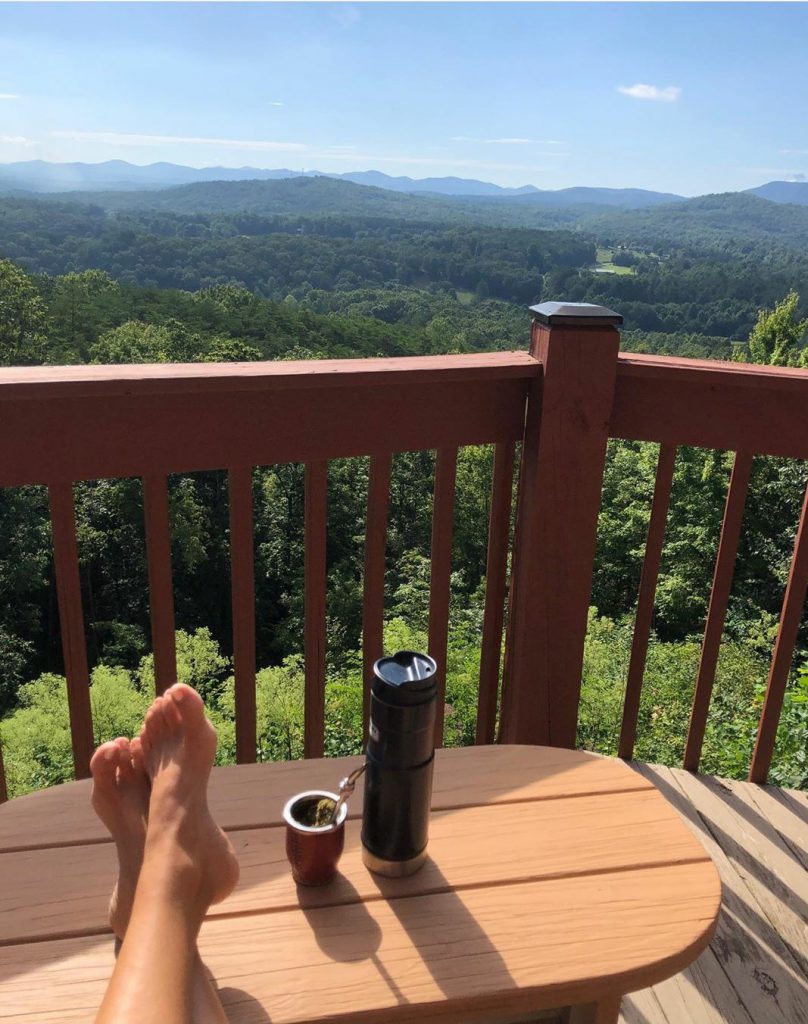 After a long day "in the office" you'll need a chance to let loose and relax. Take some time away from the work, have some fun, and most importantly treat yourself!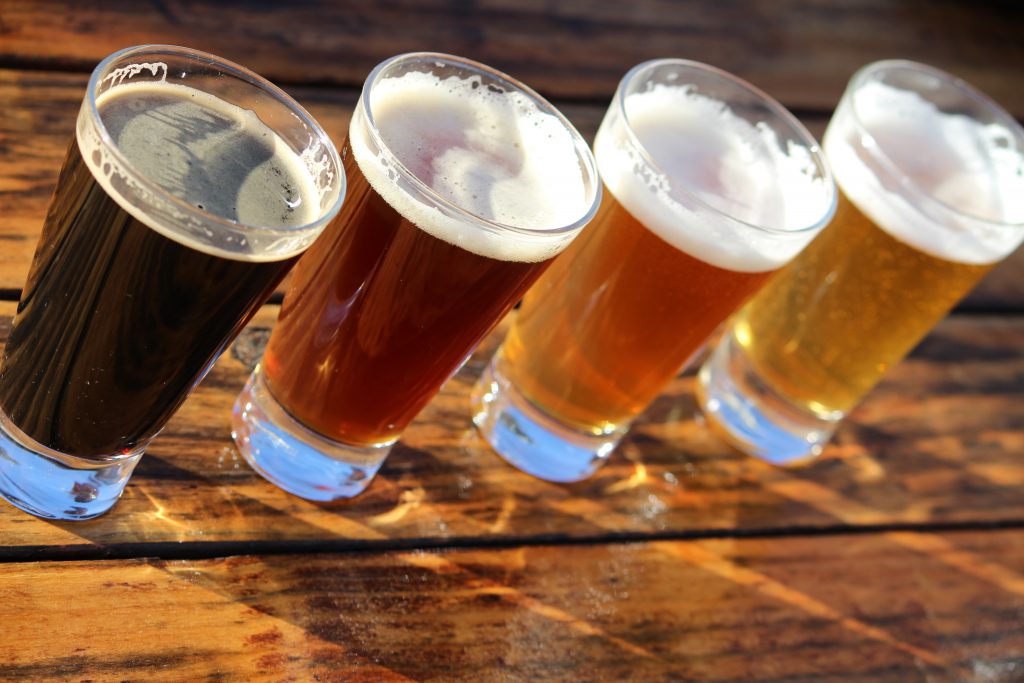 Nothing beats a cold beer or a glass of wine after a long day of work and we have the best places for you to check out. For wine sip your way around Bear Claw Vineyards or Serenberry Vineyards here in Blue Ridge, or try Cartecay Vineyards in Ellijay or Crane Creek Vineyards in Young Harris. There are so many wonderful vineyards to explore just a short drive away; all of which have delicious wine, snacks, and stunning views!
And for delicious craft brews check out Fannin Brewing Company, Grumpy Old Men Brewing, Copperhill Brewing, or Buck Bald Brewing; all perfect for the avid beer drinker. Even Mercier Orchards specializes in delicious hard cider. With so many options to choose from you might just have to try them all!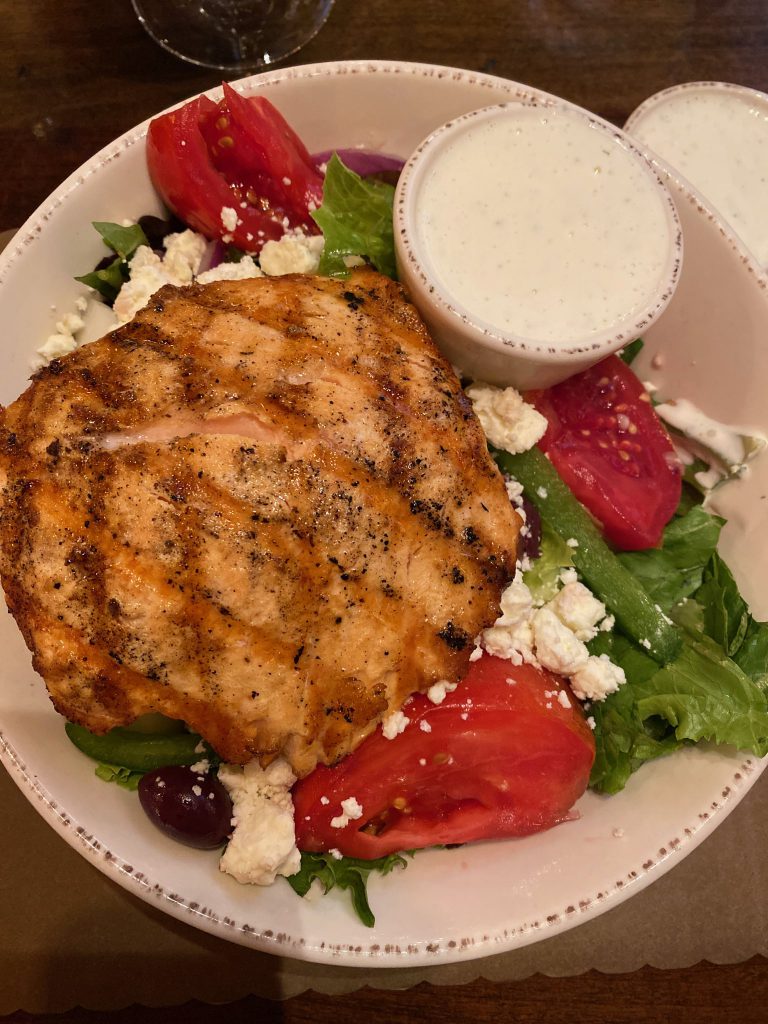 Blue Ridge is home to some incredible restaurants, and most of our favorites are conveniently located right in the heart of Downtown Blue Ridge. For an intimate night over wine and tapas check out Bin 322. For fine dining and delicious food made from fresh, local ingredients visit the famous Black Sheep restaurant. There's also Harvest on Main that serves classic dishes with a southern flair. For a friendly atmosphere and heart warming comfort food Chester Brunnemeyer's Bar & Grill is your place. and don't forget to order a signature "Escape to Blue Ridge" drink!
For a great slice of pizza go to Mystic Mountain Pizza or the best burger ever check out Sue's Burgers. And for a sweet treat after dinner stop by The Sweet Shoppe or Mona Lisa's Dessert House. There are so many amazing restaurants all around Blue Ridge just waiting for you to try and with so much variety you'll find something everyone can enjoy!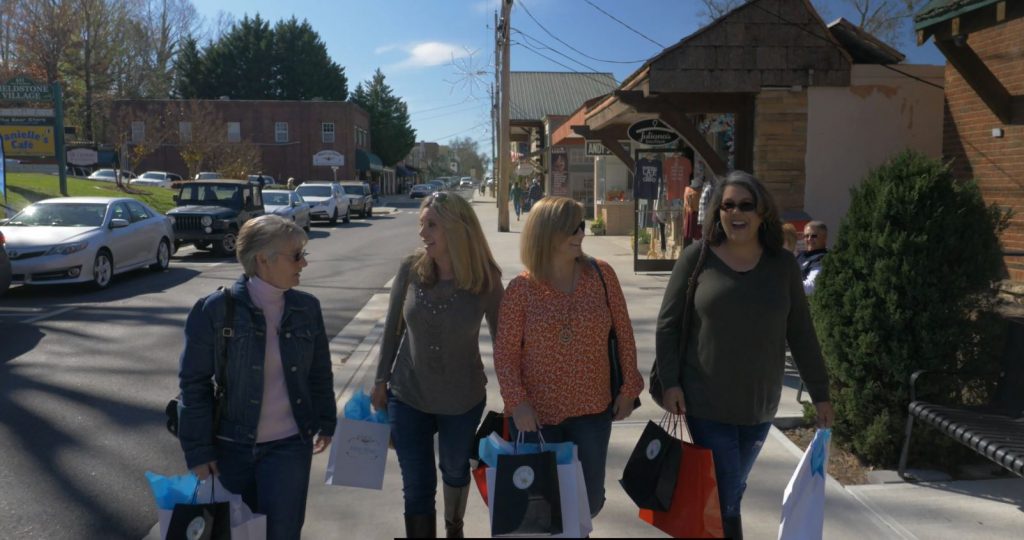 Downtown Blue Ridge is also home to many trendy and unique shops. You'll find all the best souvenirs to bring home with you! For all things antique check out the Blue Ridge Mountain Mall. For clothes check out Blue Ridge Cotton Company or Blue Ridge Adventure Wear. For a little bit of everything stop by Mitzi's on Main. Explore these stores and so much more on the streets of Downtown Blue Ridge. You won't be able to resist coming home with a bag (or four) of goodies!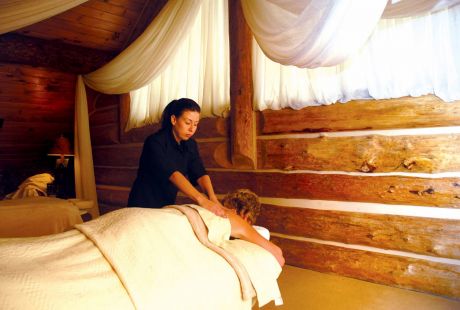 You deserve to be pampered and spoiled, so why not head for a spa day!? At Serenity in the Mountains you'll get the works; facials, massages, mani/pedis, and skin care and body treatments. Before you leave be sure you check out their famous Salt Cave for the ultimate relaxation experience!
Hot Tub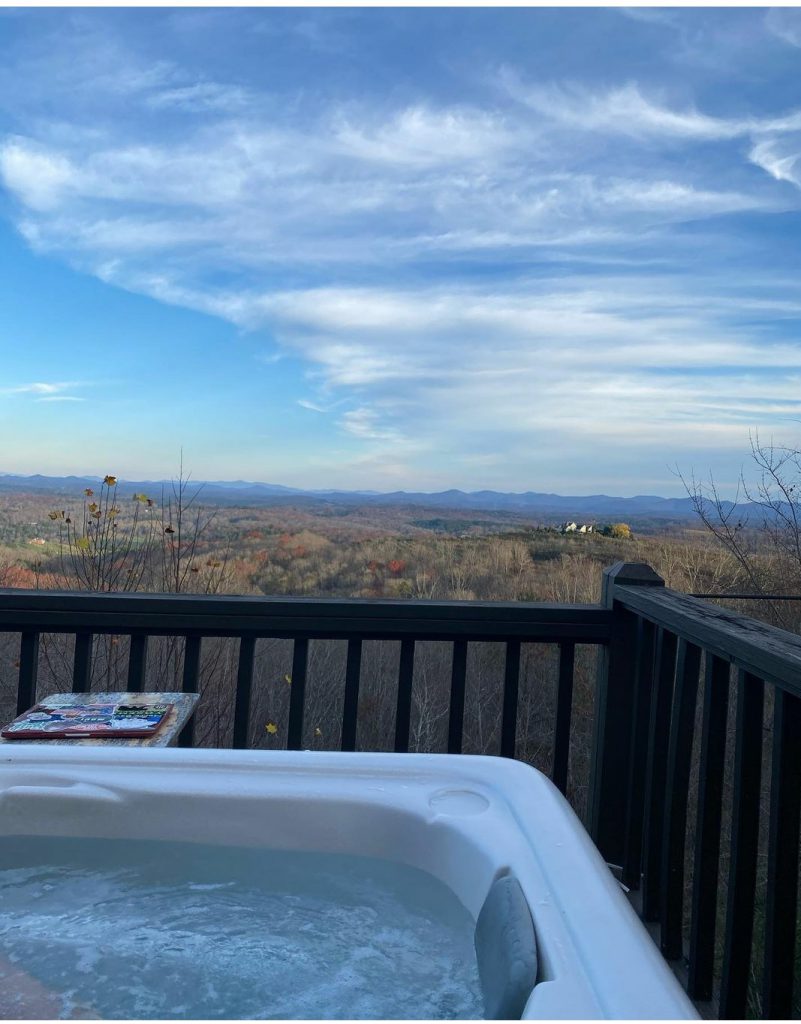 Make sure you take full advantage of your cabin's hot tub! There's no better way to unwind than in a warm tub with a glass of wine in hand. Soak it all in and completely relax.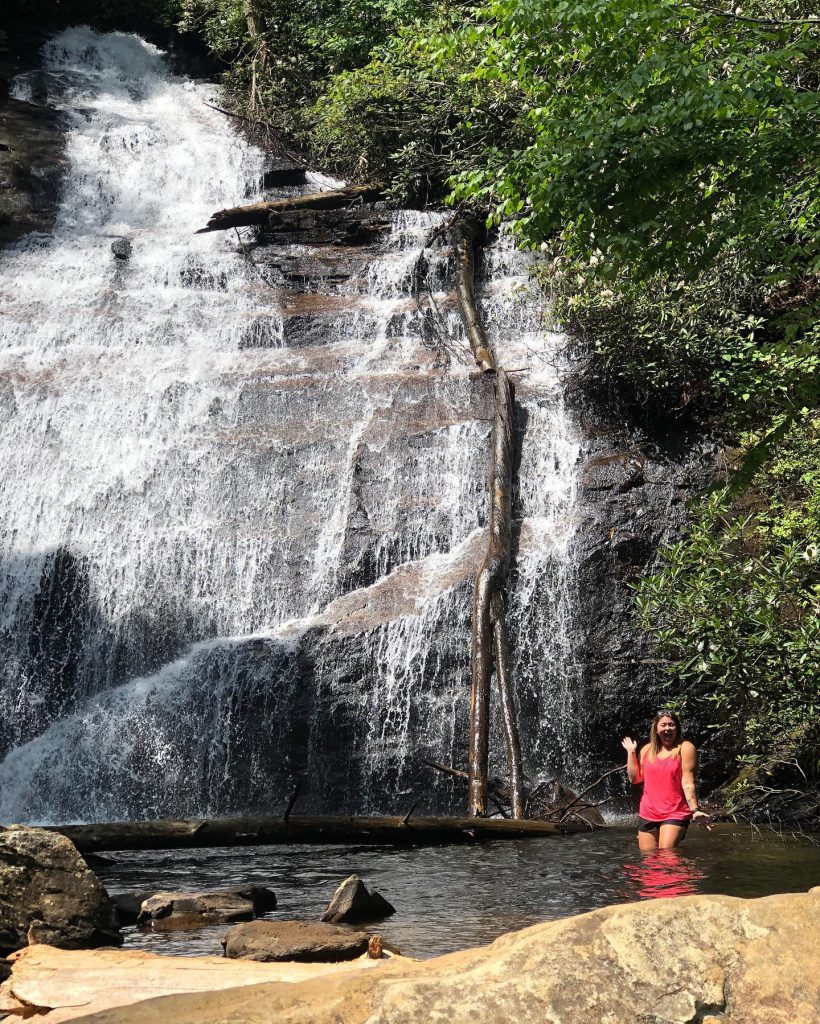 Blue Ridge's hiking trails are a big part of our charm! You'll be happy to get up out of your seat and outside exercising. You can hike to the Toccoa Swinging Bridge, the longest swinging bridge east of the Mississippi! It's truly a great experience all of our visitors love to see. Or you can hike to one of our beautiful waterfalls; Helton Creek Falls, Amicalola Falls, Fall Branch Falls, or Long Creek Falls. They are all unique and simply beautiful to behold. Or hike to some of Georgia's highest peaks like Fort Mountain State Park or Brasstown Bald. From the observatory tower at Brasstown Bald you can even see 4 states at once!
Bars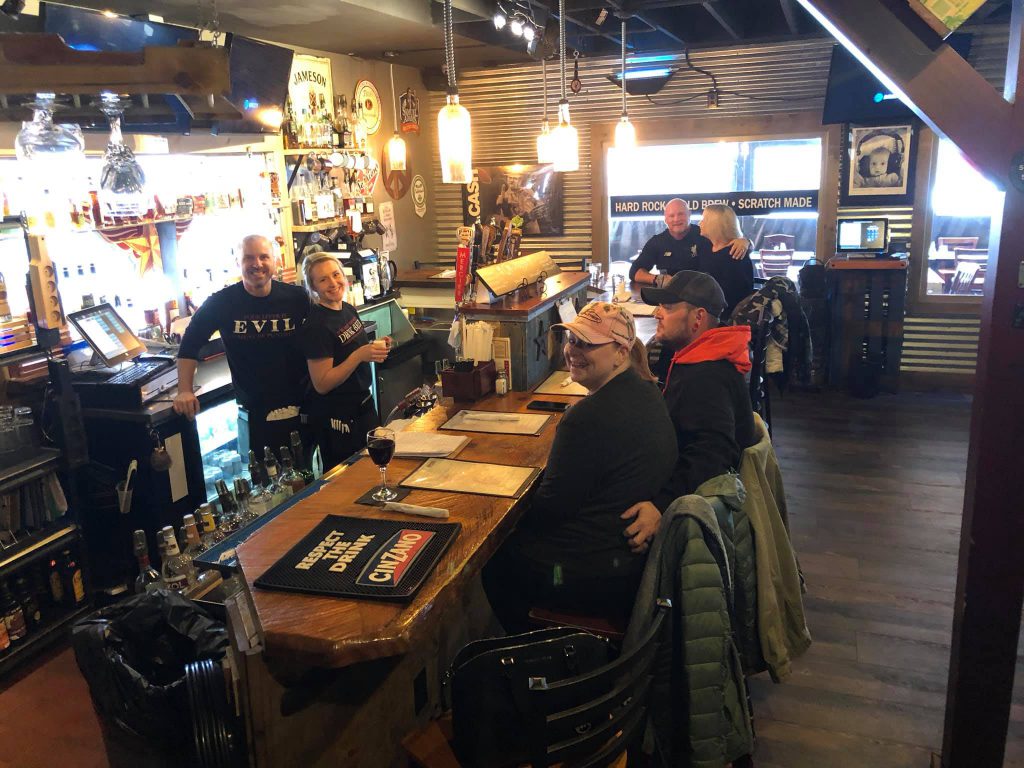 After a long day of working you deserve a chance to let loose with great drinks and great music. At The Blue Coyote Bar & Grill you can belt out your favorite song for karaoke and then enjoy an ice cold beer and delicious comfort food. And Misty Mountain Hops always has great music and drinks, and incredible desserts to end the night with. You'll love the burgers and bar selection from Fightingtown Tavern as well. Whichever place you choose, you can usually find live music and ice cold drinks!
Swan Drive In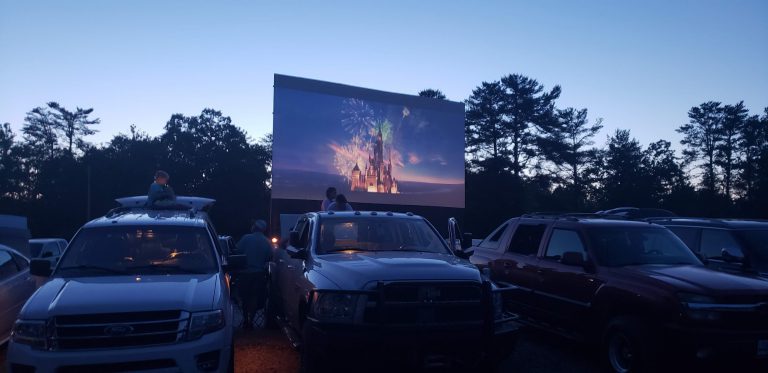 Jump back in time and go see a movie at the drive in! The Swan Drive In has been showing movies since 1955! Stop by and enjoy featured blockbuster movies and old school snacks right from the comfort of your own car.