Whether your kids are doing virtual learning this year or are physically going to class there's still lots of fun to be had when your family stays with us! We've comprised a list of 6 science experiments for kids to try, while parents can both relax and spend some quality family time together. These are fun, easy to do experiments with materials you can find in and around your cabin.
While you stay with us make sure to try at least a couple of these experiments with your kids. It'll get them outside and exploring in nature as well as teach them basic science concepts. Not only that, but they're fun too! These experiments are sure to be fun memories from your trip that will last a lifetime.
Why Do Leaves Change Color?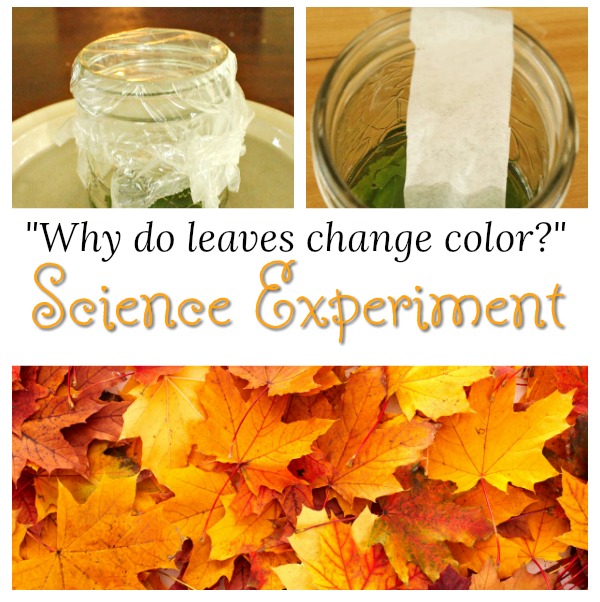 This first experiment is brought to us by Sarah on howweelearn.com and is perfect for the fall season! It will teach your kiddos all about why leaves change their colors in the fall.
Here's what you need:
3 leaves (from the same tree)
Rubbing Alcohol
Jar
Plastic baggie (or plastic wrap)
Paper Coffee Filter
Small bowl or pan
Steps:
Have your child break the leaves into tiny pieces and put in the jar.
Pour rubbing alcohol over the leaves until they are just covered
Mash and stir the leaves into the rubbing alcohol until the alcohol turns slightly green. Really give it a good mashing – this is key.
Cover the jar with the baggie or plastic wrap and place the jar in a small bowl and pour hot water into the bowl.
Leave (ha!) the jar in the water for 30 minutes, swishing the jar occasionally to stir the leaves a bit. The alcohol should be a very dark green (leave longer if needed). If you can resist, wait even 45 minutes or an hour.
Cut a strip in the coffee filter so the strip can just reach the rubbing alcohol.
The liquid will travel up the coffee filter and the colors will separate as the alcohol evaporates off the coffee filter. Let this happen for about an hour for the full effect.
S'more Oven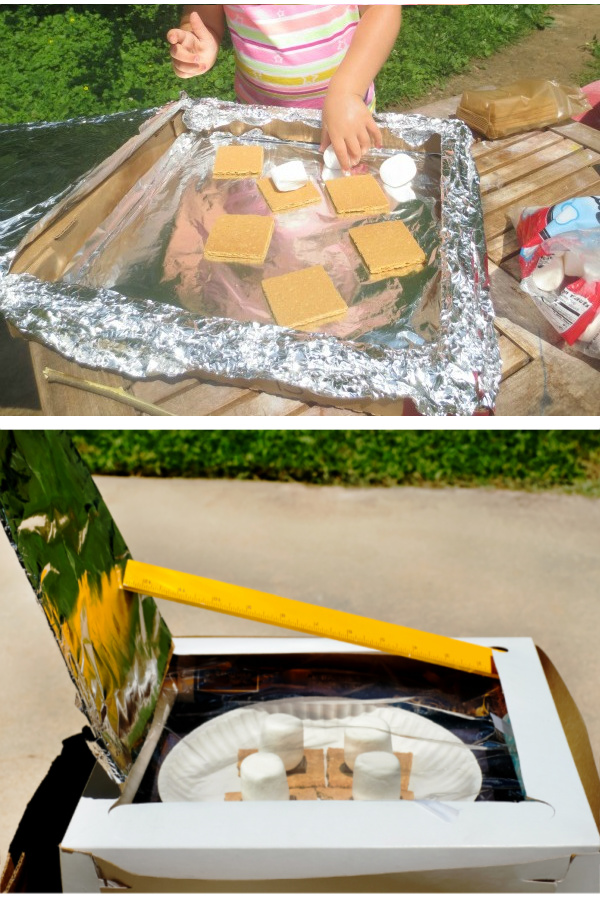 Who doesn't love s'mores!? This experiment was found on growingajeweledrose.com and is perfect for your kids to try out on those cool fall days. This will teach them all about solar energy and leave them with a sweet treat as well!
Materials:
An empty box
Aluminum foil
Plastic wrap
A box cutter/knife
Chocolate
Graham crackers
Marshmallows
Steps:
Use a box cutter or knife to carefully cut the lid of a pizza box on 3 sides, leaving it attached on the back end.
Line the inside of the box with foil. Then, tightly cover the opening that you cut with clear plastic wrap.
Line the bottom of the box with black paper or foil.
Once the solar oven is assembled it is time to cook up some s'mores!
Have kids build s'mores, and then place them into the solar oven. Once the s'mores are in the box, close the portion of the lid covered in plastic wrap, and then prop the foil-covered flap open.
It is now time to observe and wait……after about 20 minutes they will be ready to eat!
Dye Flowers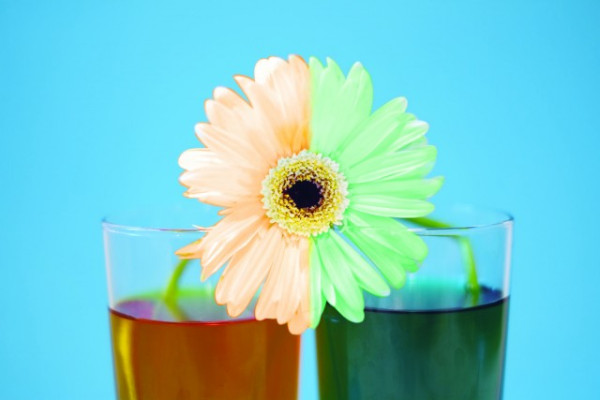 This experiment is great because your kids can go out in nature and collect the flowers they need. Once they've gone out and collected the materials needed, your kids will learn all about how plants suck in nutrients and water. We found this experiment on www.redtri.com by Erin Lem. It's a fun way to teach plant science and allow your kiddos a chance to get outside too!
Materials:
Three white flowers. Some suggestions are daisies, roses, carnations, or even celery!
Four glasses of water
Food dye: blue, yellow, green, red
Sharp knife
Steps:
Mix the food coloring into each of your glasses, until you have four glasses of different colored water. The stronger you make the colors, the better.
Add two flowers to two colors of your choice and set aside. You should have two colors and one flower remaining at this point.
Take your last flower and slit the stem. Now take the two remaining colored glasses and part the stem, placing each half of the stem into different colored glasses. In other words, your flower should now be drinking from two glasses at the same time.
Place the water glasses away from the sunlight and watch what happens. You'll start to notice some fascinating results within an hour or so, as the colored water creeps up the stem and begins to color the leaves. But wait a few days and keep observing the petals for fuller color displays.
Flower Pigment Experiment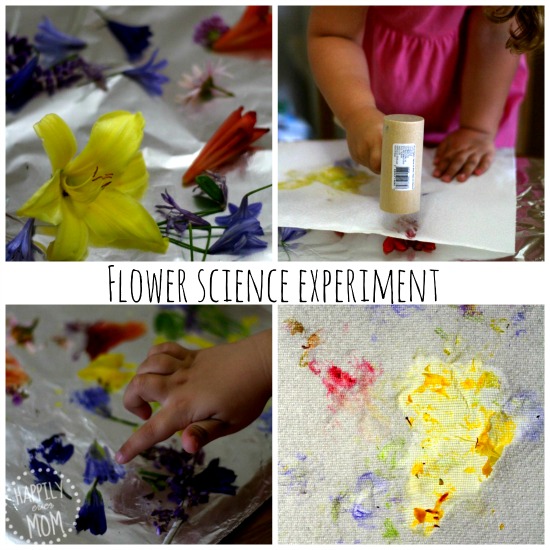 Here's another great flower experiment, this time from Kate on happilyevermom.com. This experiment is super fun because it not only teaches your kids about flower pigment but gives them a chance to get messy! And what kid doesn't love to get messy every now and then?
Materials:
Paper Towels
Flowers
Hammer
Aluminum Foil
Steps:
Put down some aluminum foil and then layer your flowers on top. Next, cover the flowers with a paper towel. Then, start hammering!
Watch the pigment from the flowers seep through onto the paper towel.
Learning during Flower Science Experiment
Explain pigment (the substance that can be extracted from each flower which is used to make paints, dye, etc.)
Correspond colors on the paper towel with the flowers underneath – which match?
Hammer at different variations to see what happens to the colors – what happens if you hit lightly versus hitting harder?
Vocabulary words: pigment, absorb, extract, darker/lighter, parts of the flower (petal, leaves, stem)
Bonus: The smashed flowers can create a gorgeous piece of art too!
Apple Science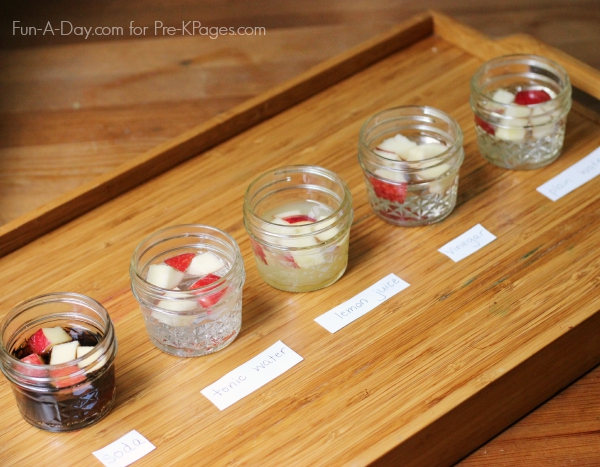 This is another great experiment for the fall season brought to us Vanessa Levin on www.pre-kpages.com. If you're planning on picking apples while staying with us, pick up a couple of extras so your kids can try this fun experiment out! It's a perfect experiment for the little ones, showing them how different liquids can affect the apples and teaches them many early learning concepts.
Materials:
Small containers
Apples (Mercier Orchards is a great place to pick them up!)
Lemon juice
Vinegar
Water
Tonic water
Soda
Apple Science Experiment Recording Sheet (optional)
Steps:
Set out five containers with a few apple pieces in each one. Label the five containers with the name of the liquids you are going to be using.
Pour the appropriate liquids into each cup. Also be sure to set up a "control" cup of apple pieces without any liquid.
Now wait and see what chemical reactions will occur.
After a few hours, check on the progress and discuss your observations. Record observations on a Recording Sheet if you choose.
Pinecone Experiment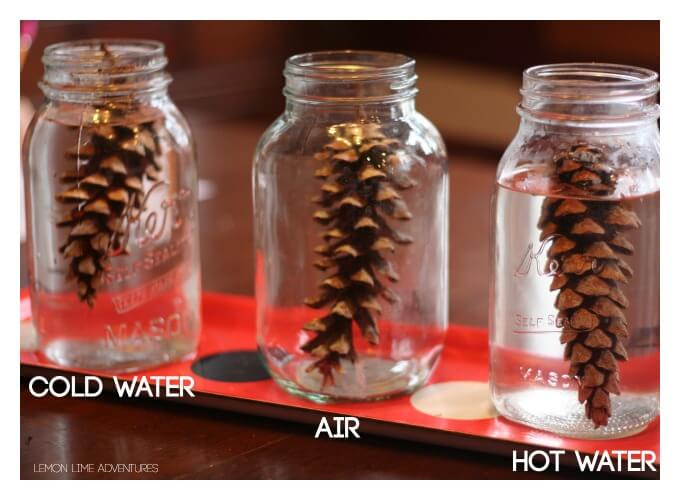 Our last experiment is another great one for fall and involves collecting pinecones. We found this one from Dayna on www.lemonlimeadventures.com. This experiment is a fun way for kids to learn more about nature. It will teach them why pinecones open and close depending on air temperature and moisture.
Materials:
3 Jars
3 Pinecones (all the same size)
Warm Water
Cold Water
Ruler
Timer
Steps:
The set-up for this experiment is really quite simple. Start by measuring, sketching and observing your pinecones. Then place 1 pinecone in each jar.
Label each jar and fill two jars with water to the top. One jar should be filled with warm water and one with cold water. The third jar is your control and should be left open with only air to use as a comparison and to document the change you see over time.
What changes do you see? How fast are the changes occurring? Any other observations you notice?