Who doesn't love a good photo-op? On a family trip? Take a photo. On an exciting adventure? Take a photo. An outing with your friends? Take a photo. In this modern age of social media and iPhones, photo-ops and selfies have become a part of everyday life.
Being a small town, tucked away in the Blue Ridge Mountains sure has its benefits. We have so many fun and unique places that you can't find anywhere else, which make for amazing photo ops! So, we've comprised a list of the 10 best selfie/photo-op spots here in Blue Ridge!
Next time you escape to Blue Ridge be sure to stop by some of these famous sites and take some great photos. Be sure to share anything you take with us, we love to see how much fun you're having and which places are your favorite!
Cover Photo Courtesy of @k4fish
The Wall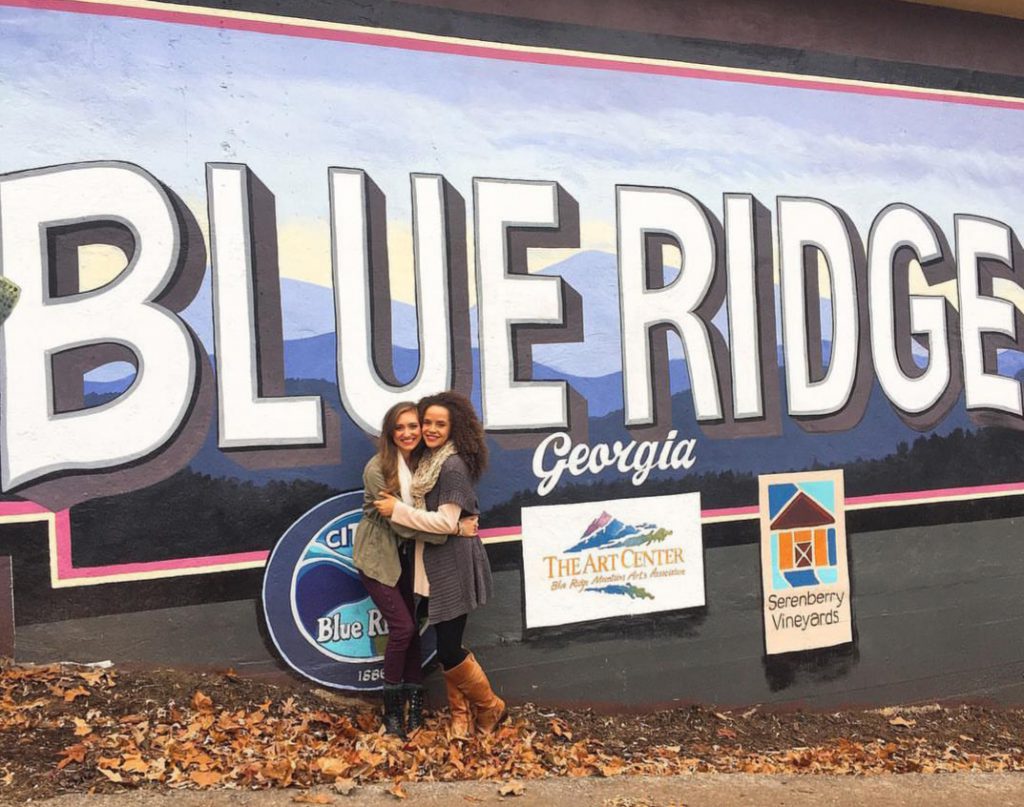 When visiting the area it's a MUST to take pictures in front of the Blue Ridge wall in Downtown Blue Ridge. Located on the corner of Mountain and East First Street, this is the perfect backdrop for all your fun photo-ops! This backdrop is a fantastic representation of Blue Ridge and a great way to start off your trip. After you take the picture be sure to explore all Downtown Blue Ridge has to offer from its fantastic shops, great art scene, and its delicious restaurants!
The Bears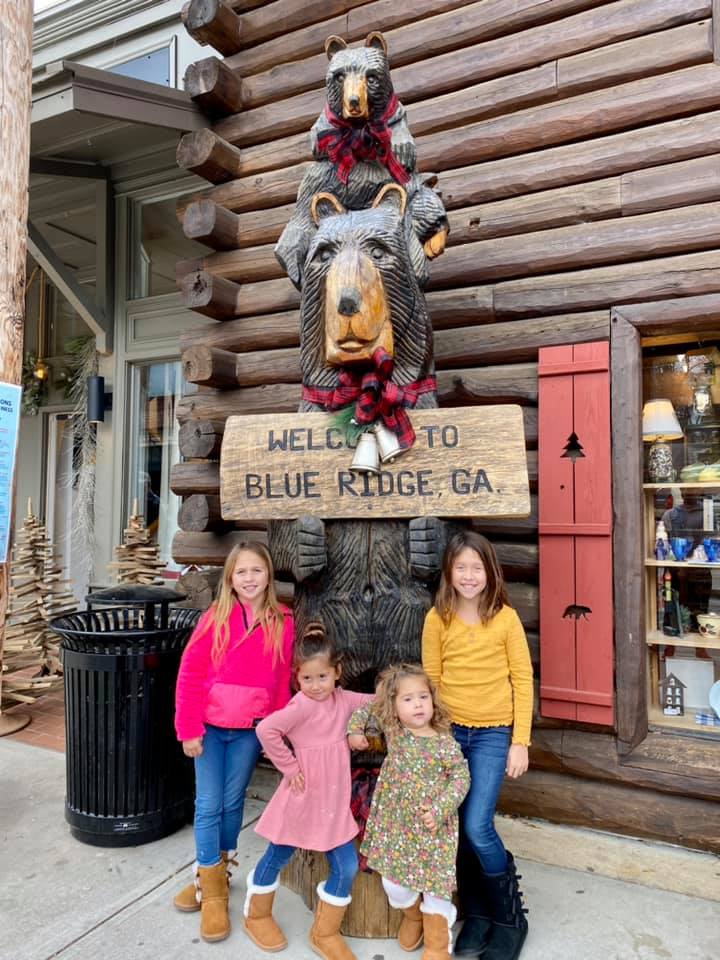 How cute are these friendly bears? Located at the entrance of the Blue Ridge Mountain Mall, this welcoming bear is a perfect addition to your photo. And after you grab the picture check out the Mountain Mall for all things antiques and collectibles!
The Bridge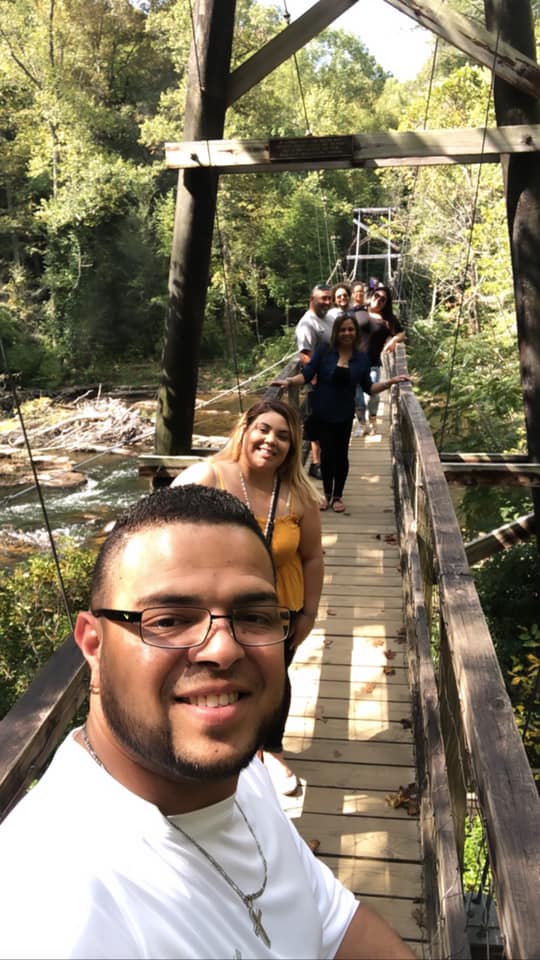 Not only is this iconic bridge a perfect place to explore while hiking or kayaking but it's also a great location for a photo-op! It's become a staple of the most liked photo spots in Blue Ridge and it's not hard to see why. The bridge over the Toccoa River is the longest swinging bridge east of the Mississippi River, spanning 270 feet long! It's surrounded by the beautiful Chattahoochee National Forest so there are trees all around, and at this time of year, the trees are sure to be at peak color. And with the beautiful river flowing freely down below, it really is a fantastic spot. Located on the Benton MacKaye Trail and the Duncan Ridge National Recreation Trail in Fannin County, make sure to put this experience on your list of must-sees!
The Falls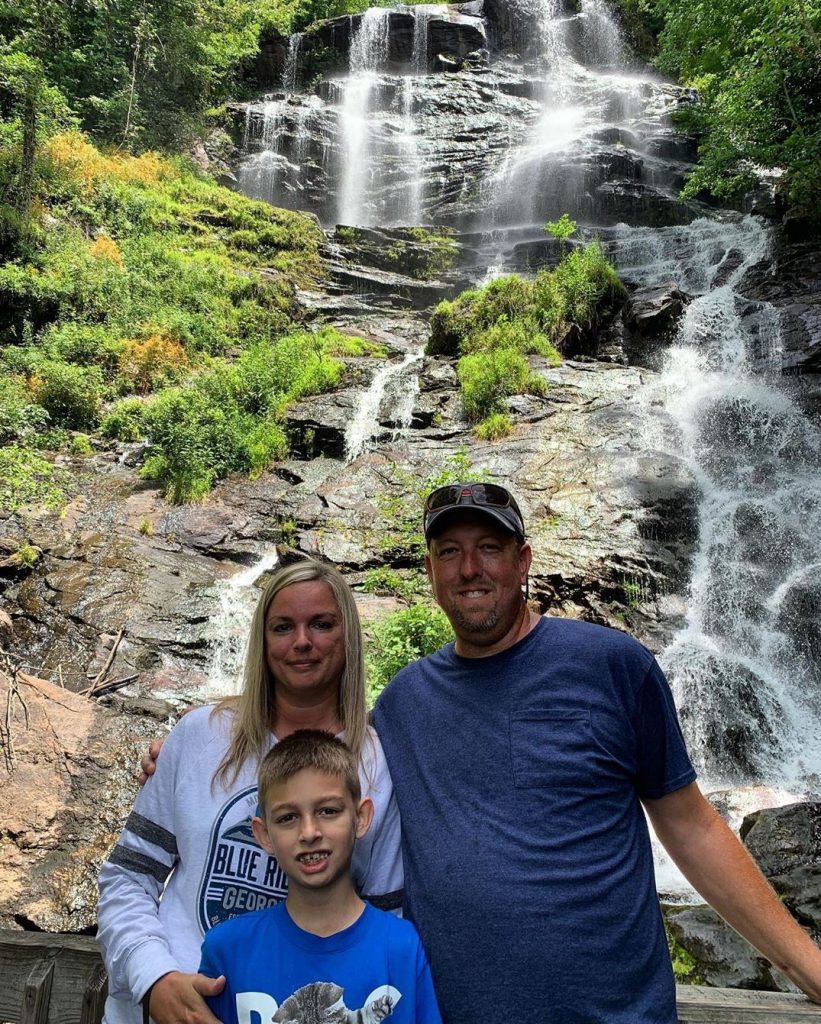 In Blue Ridge we are lucky enough to have 4 stunning waterfalls nearby; Amicalola Falls, Helton Creek Falls, Fall Branch Falls, and Long Branch Falls. Any of these breathtaking and beautiful waterfalls are fantastic spots to take a great photo.
Amicalola Falls is the highest cascading waterfall east of the Mississippi River at 729 feet! Located in Amicalola Falls State Park, it may be a hike to get there but I promise the views are worth the trip to see this huge waterfall up close!
Helton Creek Falls is a series of two beautiful waterfalls in the Chattahoochee National Forest of close-by Blairsville. Luckily, getting to this waterfall is a fairly easy and short hike. This gorgeous double waterfall that flows into the creek below is a sight you won't want to miss.
Fall Branch Falls, on the Benton MacKaye Trail, is another stunning double waterfall. With a 30+ foot drop, the water drops into a deep pool at the base of the waterfall; perfect for swimming in warm weather. It's another short hike to this waterfall but is also fairly steep, the views are worth the uphill battle though!
And last but not least we have Long Branch Falls on the Appalachian/Benton MacKaye Trail. This beautiful waterfall rushes over the surrounding boulders and cliffs and drops about 50 feet. This is another fairly easy hike, only 30 minutes uphill.
The Bald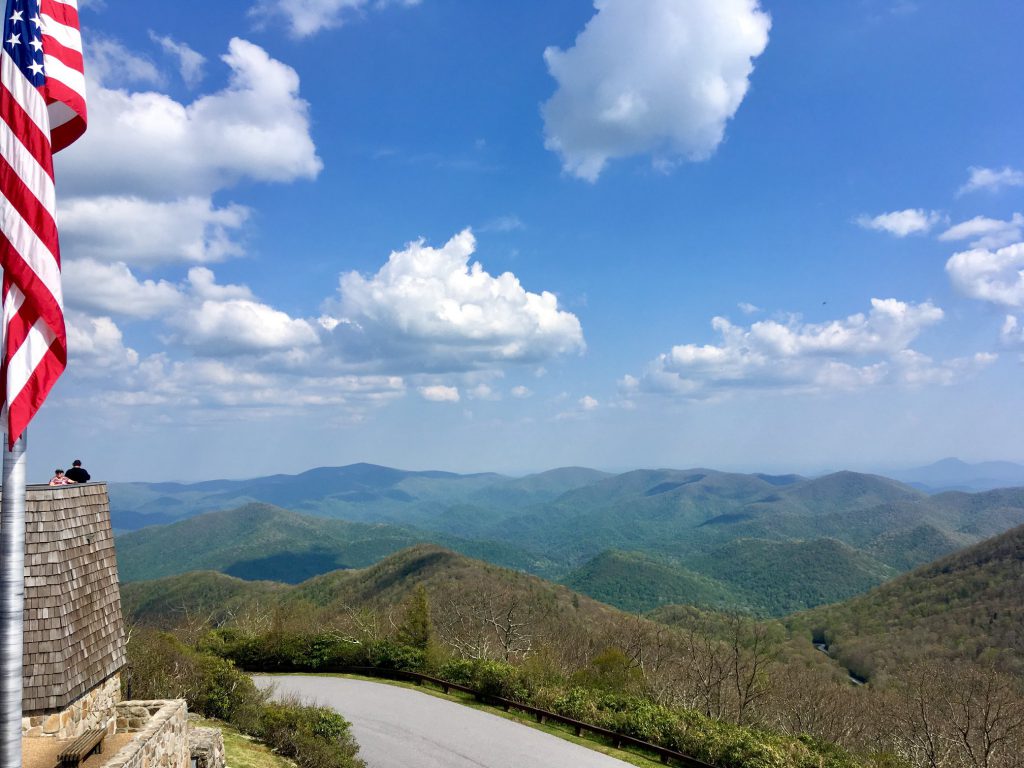 The views from on top of Brasstown Bald are completely out of this world beautiful! It's the highest mountain peak in all of Georgia, and from the observation tower, you can see 4 different states at once! It truly is a sight to behold. Since the elevation is so high, you can even see the clouds over the mountains, which always takes my breath away!
Coke & a Smile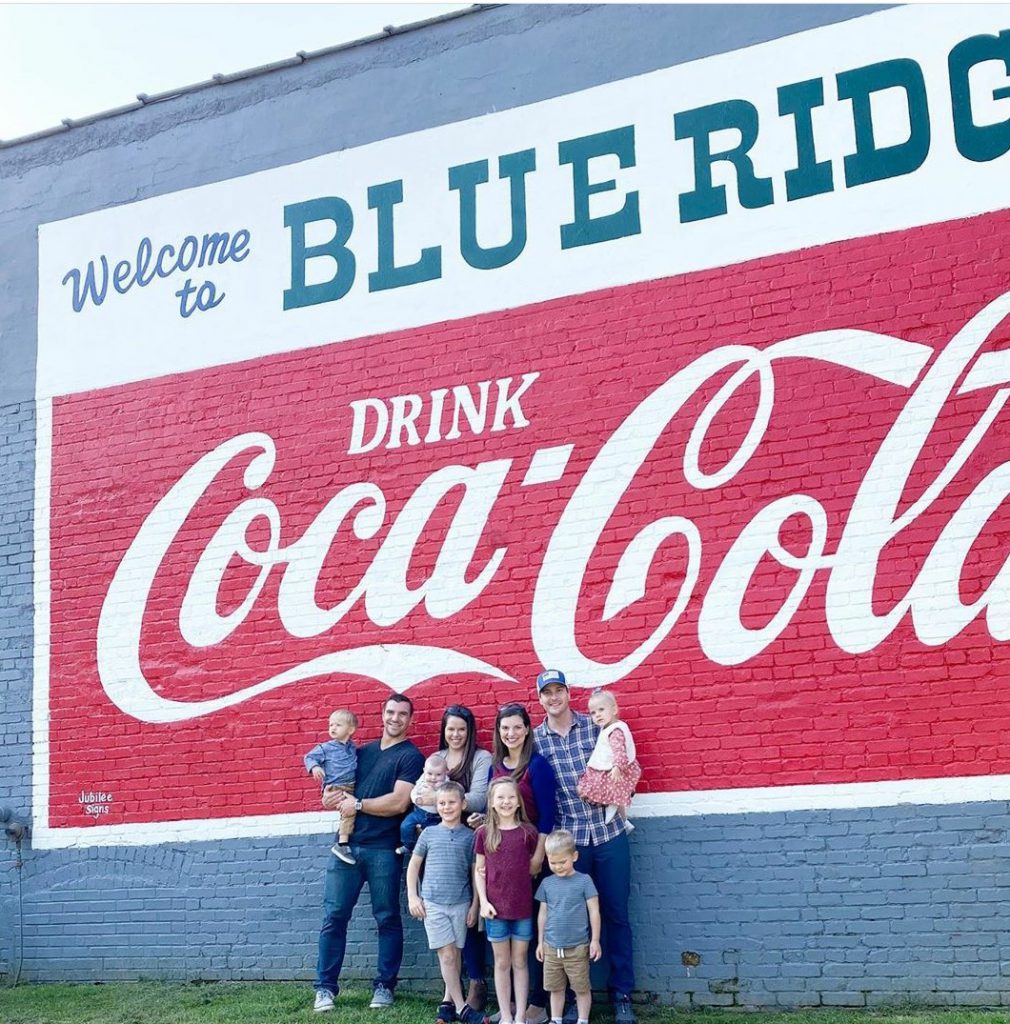 Another great backdrop for your pictures is the Coca-Cola wall, which is also located in Downtown Blue Ridge. Located at the end of East Main Street on the side of the Fly Fishing shop, it's the perfect backdrop for both Coke and Blue Ridge lovers alike. Get a couple of friends, grab the shot, and share a coke with Blue Ridge!
The Orchard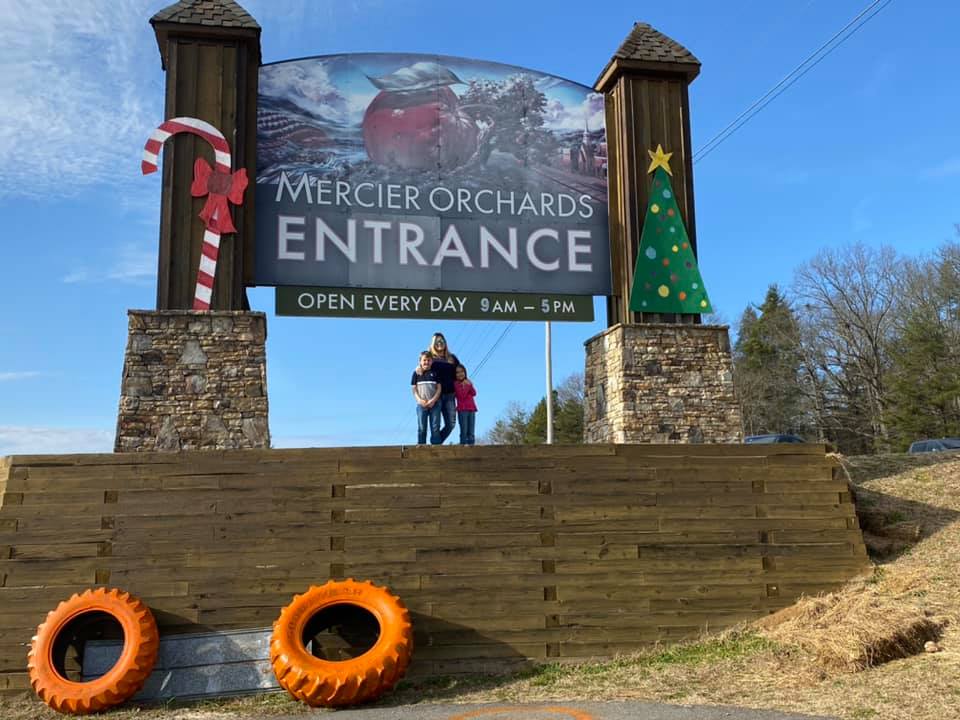 Mercier Orchard is the largest apple orchard in the southeast and one of the most popular places to visit while in Blue Ridge. With so much fun to be had from picking fruit, to shopping, and gobbling up their delish bakery treats, it's a great place to take the family! Throughout the orchard, there are so many places to take awesome pictures, but by far the most popular spot is the entrance. Nothing screams Blue Ridge like standing in front of the sign of one its most popular attractions!
For Husbands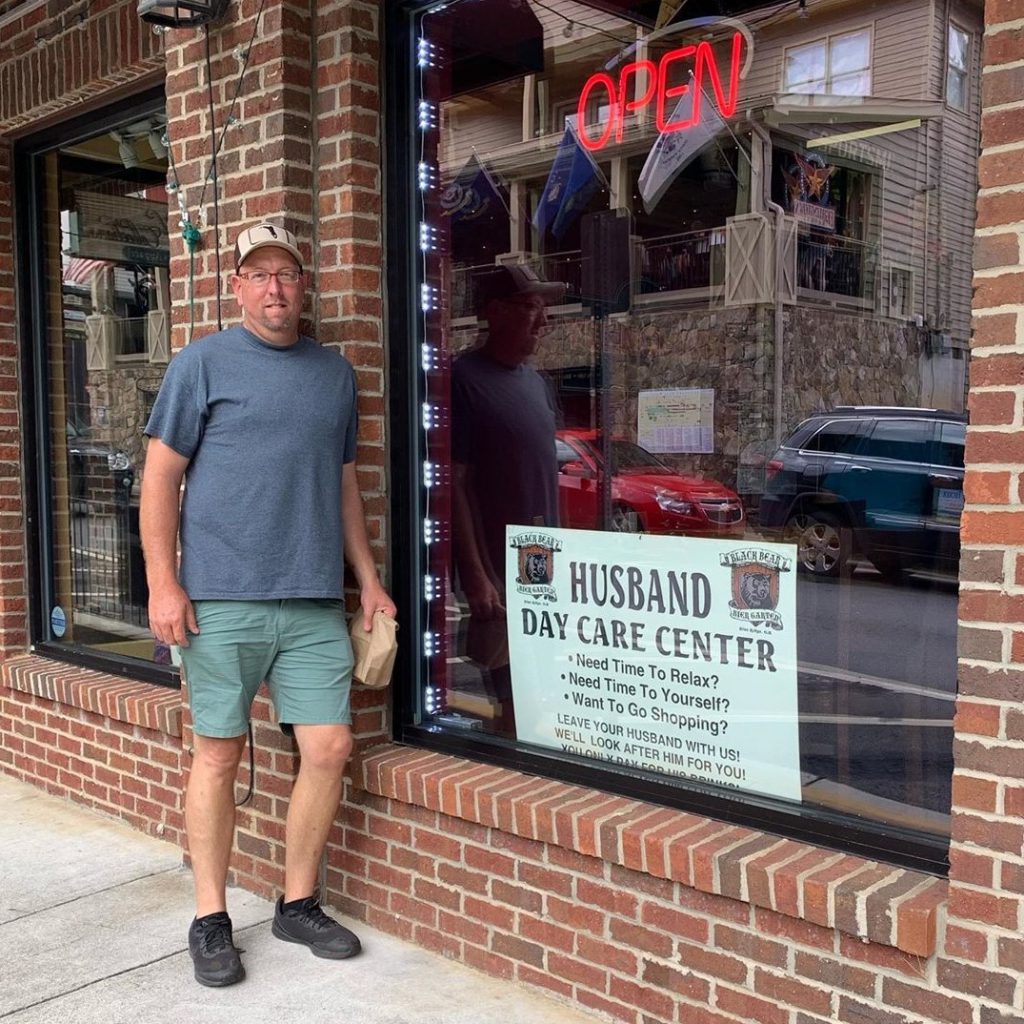 How funny is this!? Having the husband take a photo in front of this sign would be a hilarious and fun memory. The "Husband Daycare Center" is actually the Black Bear Bier Garten, which is a German bar and pub. Take a fantastic photo in front of the sign and then head inside for some great German fare!
The Tree & The Train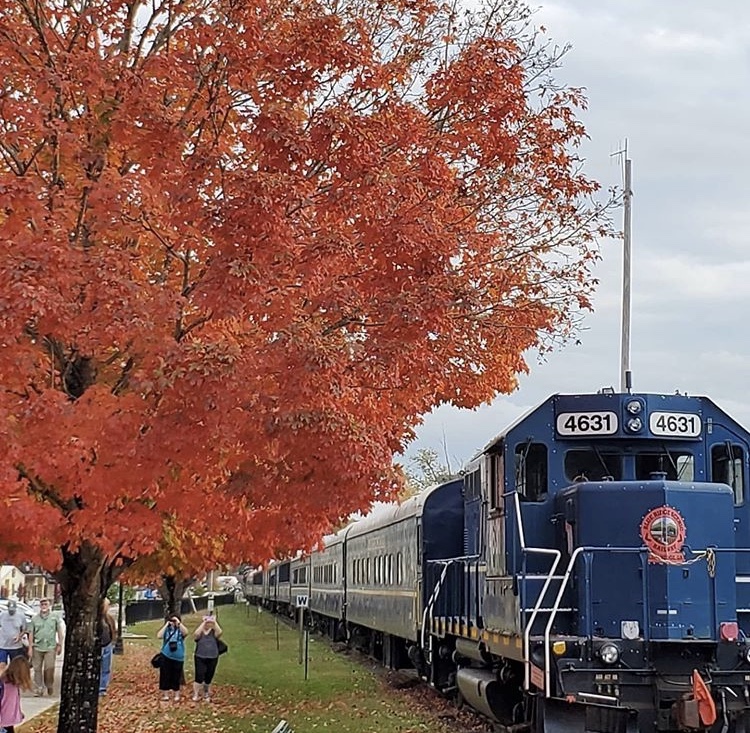 We couldn't possibly leave the famous "tree" off the list! Located at the Blue Ridge Scenic Railway, this tree shows off its stunning colors every fall. It's become one of the most photographed things in Blue Ridge during the fall season because you just can't beat those stunning colors! After you take a photo (or 10) in front of Blue Ridge's famous tree, be sure to snap some of the train before you hitch a ride on the scenic railway for even more beautiful sights!
GA/TN Line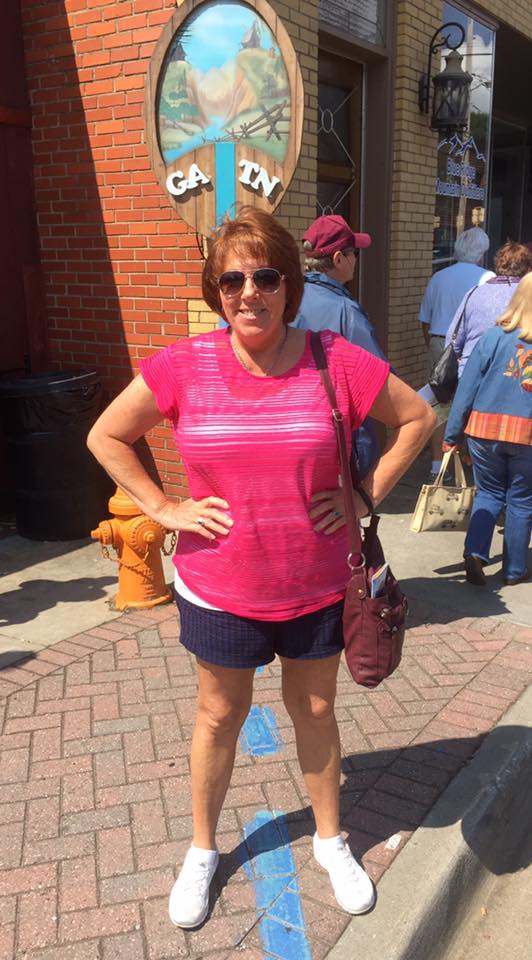 How many times can you say you've been in two places at once? Or even two states at once? Probably not very often! But you CAN be in two places at once and snag a great picture if you visit the twin cities of McCaysville, GA and Copperhill, TN. Here is the sign between the two states that is sure to provide you with all kinds of fun photos!
Escape To Blue Ridge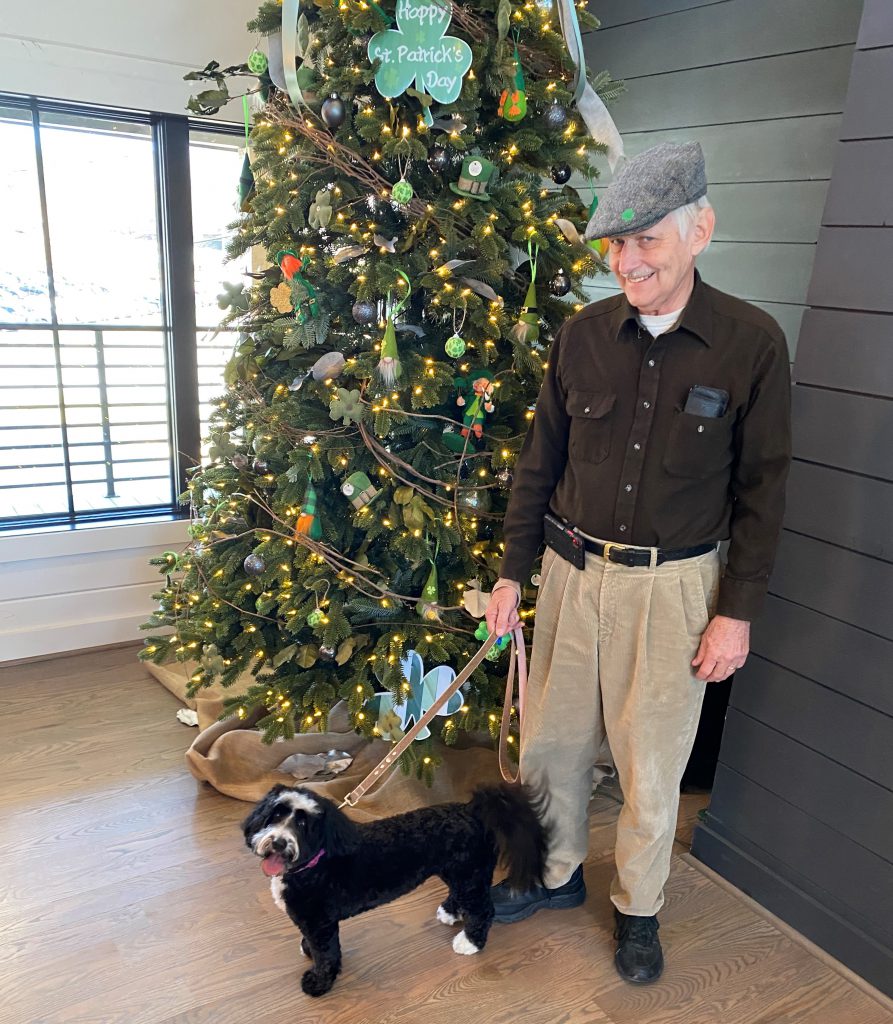 Our property management offices located at 1844 Old Hwy 76 is a perfect place to stop in, pick up a Kid's Activity Book and get your photo taken with our holiday trees! Who says trees are just for Christmas anyway? We love celebrating all the holidays with our seasonal tree!