Why do people escape to the mountains? For peace, quiet, and some time away from the hustle and bustle of daily life; of course. But if you're an outdoor lover you probably also escape to the mountains to explore some wonderful hiking trails. In Blue Ridge, we have no shortage of great hiking options. Choose from mountain trails, riverside trails, lakeside trails, wooded trails, and even trails that lead to beautiful waterfalls. Wherever your heart leads you to explore, we've got it!
We've comprised a list of our top 8 favorite hiking trails to guide you on your next adventure. Whether you're an experienced hiker or a total newbie just wanting to get outdoors, there are trails for everyone. So grab your friends, family, and dogs along too for an adventure of a lifetime and fall in love with some of the best trails in the Blue Ridge Mountains!
Benton McKaye Trail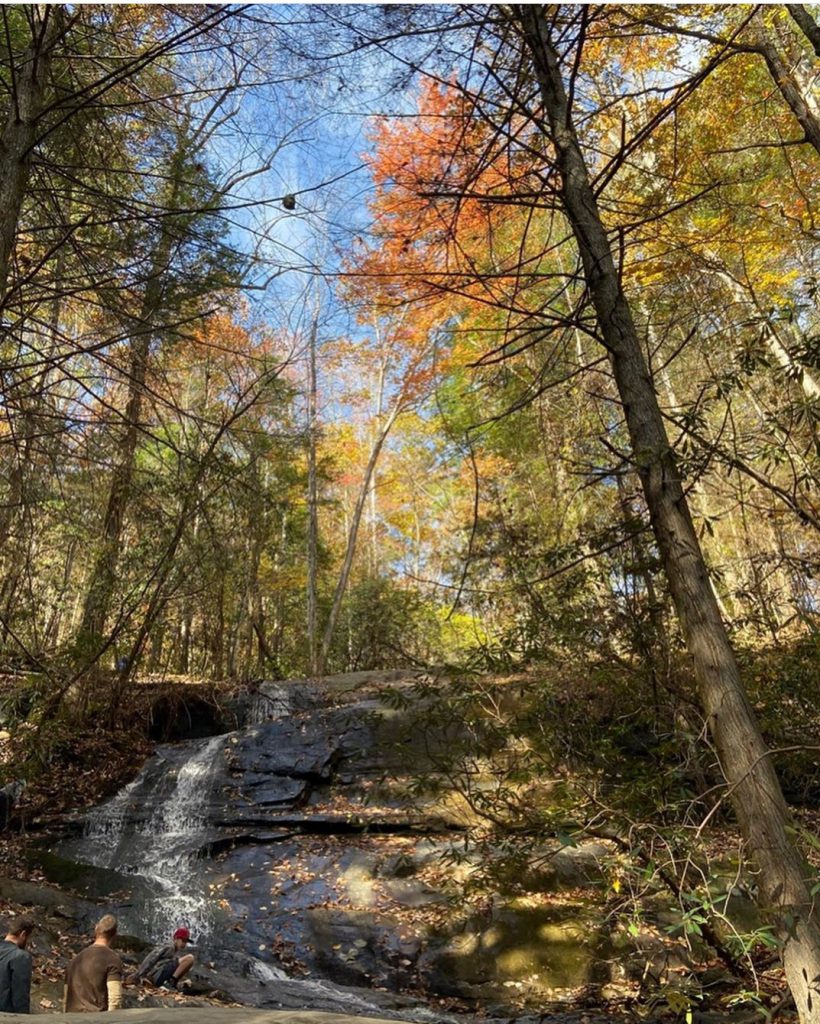 Located in the heart of the Aska Adventure Area, we love the Benton McKaye Trail because it's close to so many great activities like Lily Pad Village, Toccoa Valley Campground, and more. Plus it connects to so many other trails that will take you all around Blue Ridge! Benton McKaye crosses the Appalachian Trail about 15 miles south of Blue Ridge. Along the trail you may come across the famous Toccoa Swinging Bridge, Fall Branch Falls, Long Creek Falls, and Springer Mountain; all great spots to stop for a photo-op!
The Benton MacKaye Trail is a great option for day hikers and explorers looking to do some sightseeing. Or if you're up for an adventure, you can warm up for a thru-hike by doing the entire 300 miles ending in the Great Smokey Mountains National Park. There's always something new to find on the Benton McKaye Trail!
Lake Blue Ridge Loop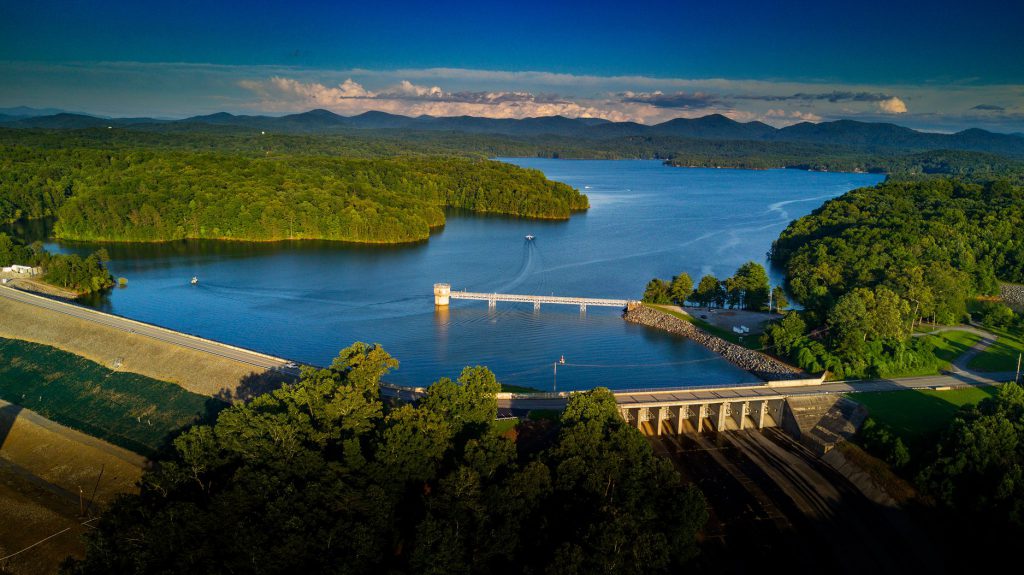 Take in the beauty of Lake Blue Ridge for yourself and hike the trails around the lake. The Lake Blue Ridge Loop is a quick 0.8 miles and is well maintained, making it a great hike for all ages. Admire the trees reflecting off the water as you wander along the trail. Once you finish, head on over to the Morganton Point Recreation Area for a quick dip or a much-needed lunch in the picnic area.
Aska Adventure Area trails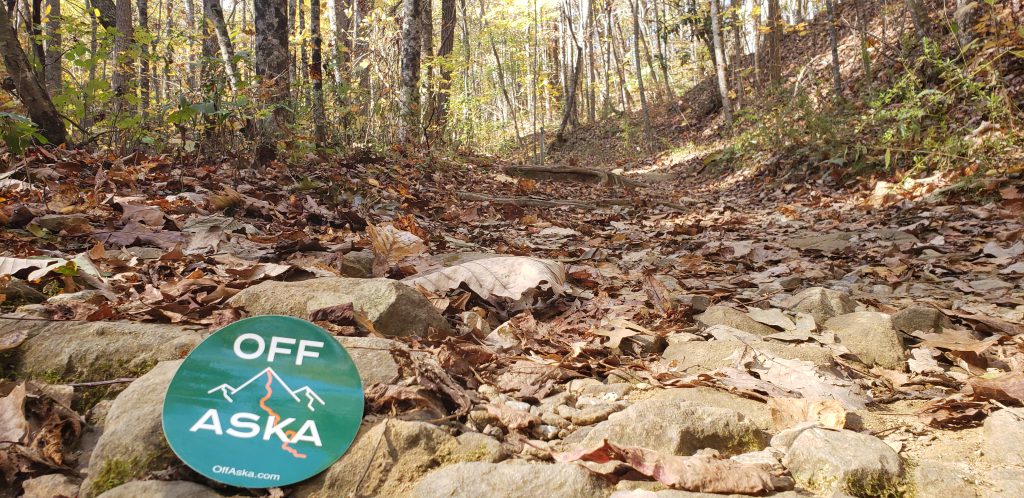 The Aska Adventure Area hiking trails are made up of 5 smaller trails: Stanley Gap Trail, Green Mountain Trail, Flat Creek Loop, Stanley Gap/Flat Creek Connector, and Long Branch Loop; which all together form 17.0 miles of beautiful trails to explore.
Open year-round, these winding trails will take you through the Chattahoochee National Forest and across mountain streams & creeks. You might even run into a waterfall or two! These trails also eventually connect to the Benton McKaye Trail and Lake Blue Ridge Loop. Most all of the trails in Fannin County are connected and ready to take you throughout the most beautiful parts of Blue Ridge.
Jack's River Trail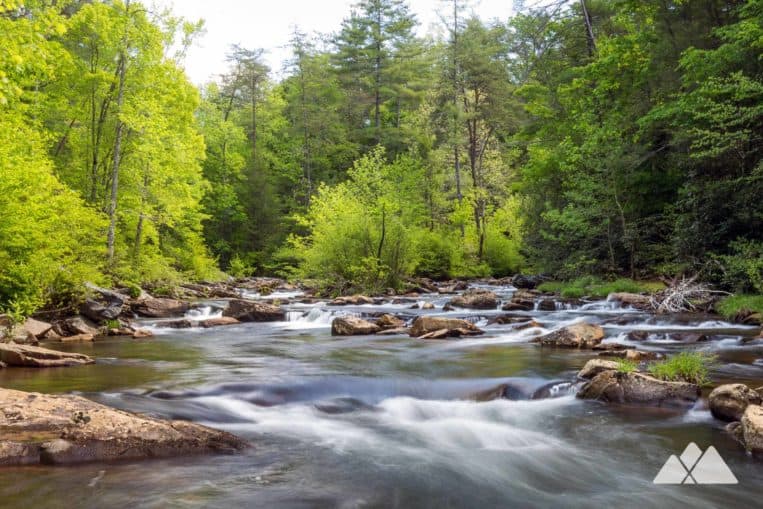 Jacks River Trail is a 14.8-mile trail located within the Cohutta Wilderness Area. Be aware that this trail is slightly more advanced and parts of it cross moving water; so make sure you're up for the challenge! The hike will be a rocky, water-filled adventure that crosses Jacks River and its tributaries over 40 times, but the views will be so worth it.
One of the highlights of the hike is the beautiful, 80-foot Jacks River Falls. The falls are easily one of the South's most beautiful waterfalls and one of Georgia's top hiking destinations. You'll also find wildflowers, mossy river banks, and rocky paths just waiting to be explored! If you're looking for a rewarding and fun adventure this hike is for you!
Emery Creek Falls Trail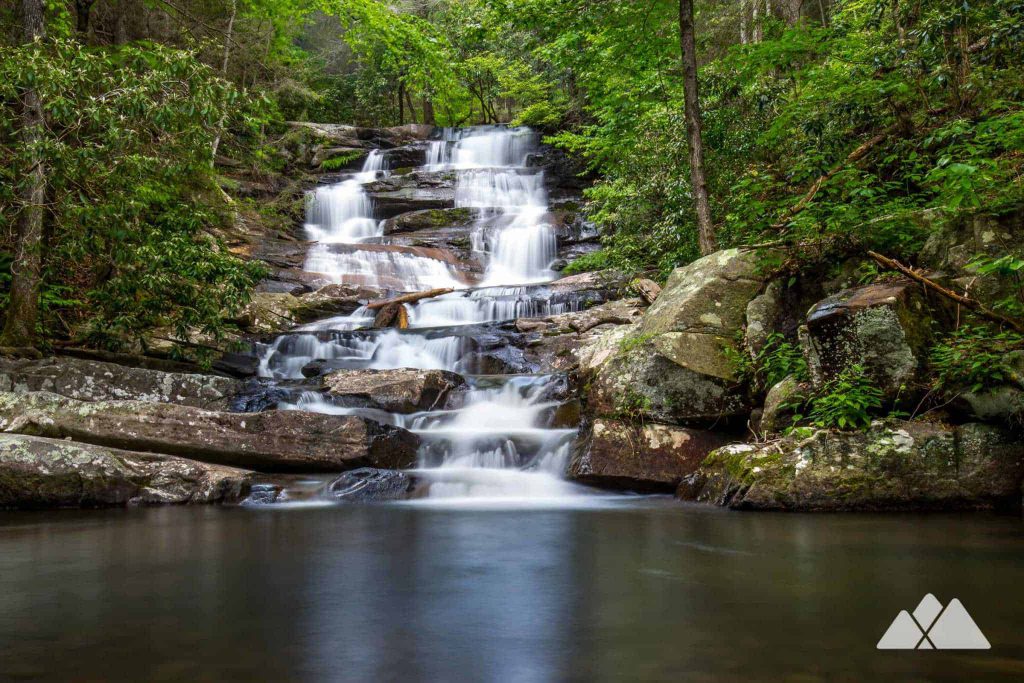 Looking for more water adventures? Hike on Emery Creek Falls Trail for a fun challenge! This intermediate trail takes hikers through 20 creeks and past several waterfalls throughout the 6.2-mile round trip hike. You'll wander and explore the lush, forested trail and feel like you're hundreds of miles away from the rest of the world. Along the way, you'll run into a pair of stunning, beautiful, remote waterfalls. Relax, listen to the sounds of the rushing waterfall, and feel at peace in your own beautiful oasis.
The Hemp Top Trail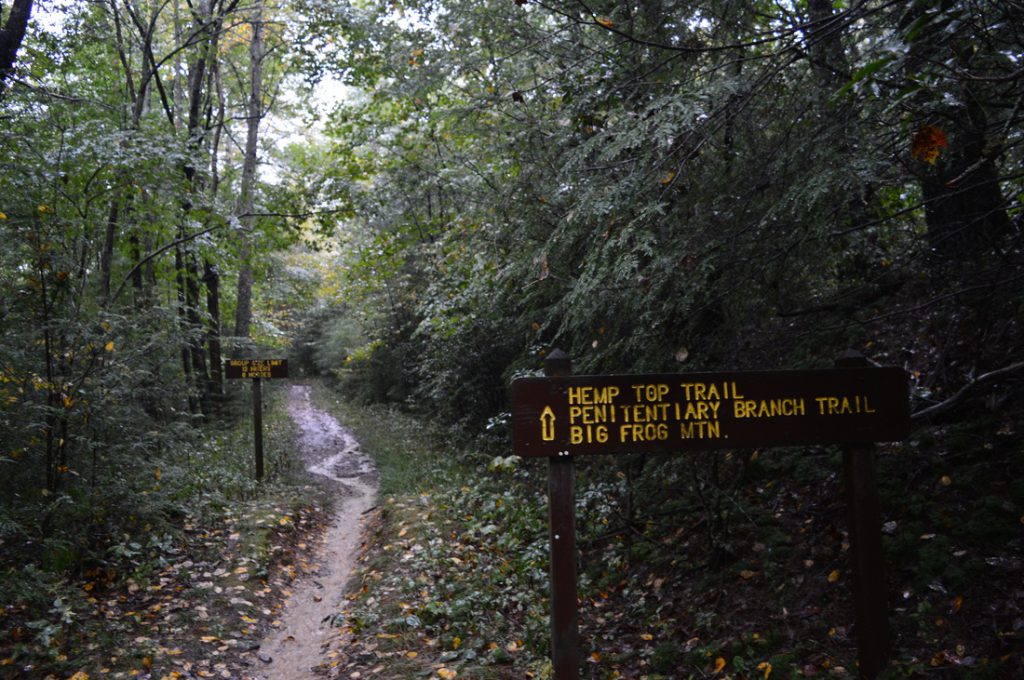 Climb some of the highest peaks in Georgia as you make your way along The Hemp Top Trail. Only 10 minutes outside of Blue Ridge, this 6.2-mile strenuous hike is well worth it for the views at the top. You'll be able to see the Tennessee Valley and surrounding mountains from one of the highest points in the Cohutta Wilderness. This quiet hike will submerge you right into the beauty of the North Georgia wilderness but is recommended for more experienced hikers.
Ocoee Whitewater Center Trails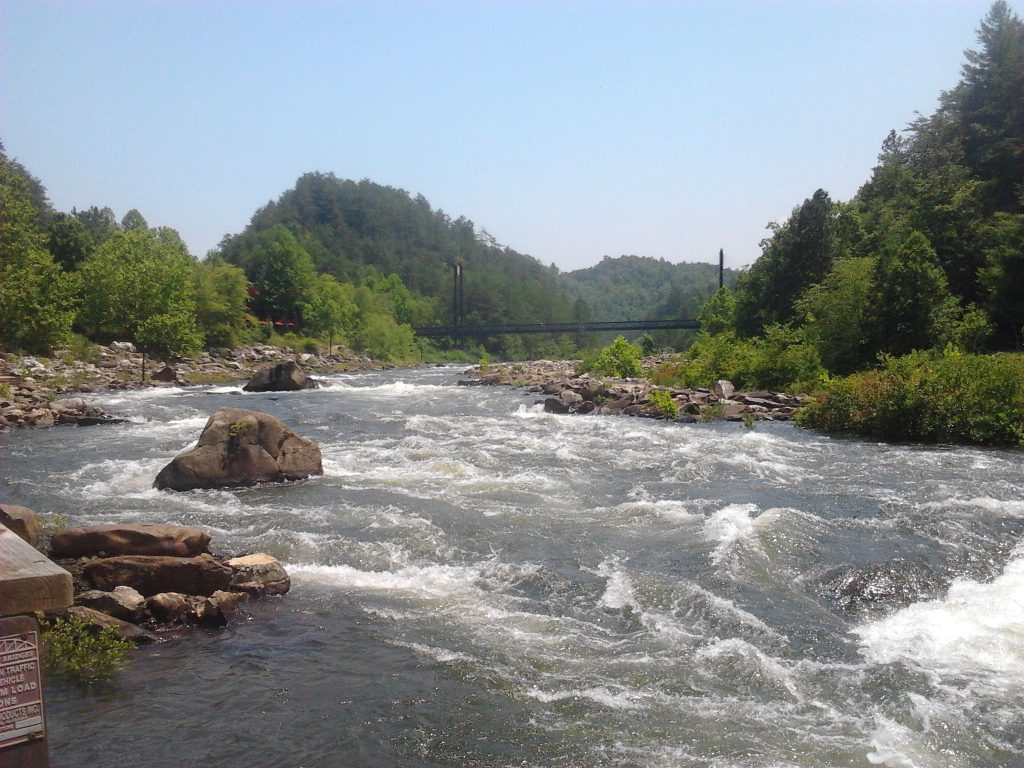 While the Ocoee Whitewater Center, just across the border in Tennessee, is known for its whitewater rafting, but they also have over 30 miles of trails to explore! The Ocoee Whitewater Center is the site of the 1996 Summer Olympic white water events and has much to see like the Olympic bridges, gardens, historic and forested trails, and a 330-foot suspension bridge. Athletes and Olympic fans will especially love the trails but any outdoor lover can enjoy them! And when you finish your long or short adventure, picnic by the river and imagine the dozens of rafts that floated down that very same river in the Olympic games over 25 years ago!
Amicalola Falls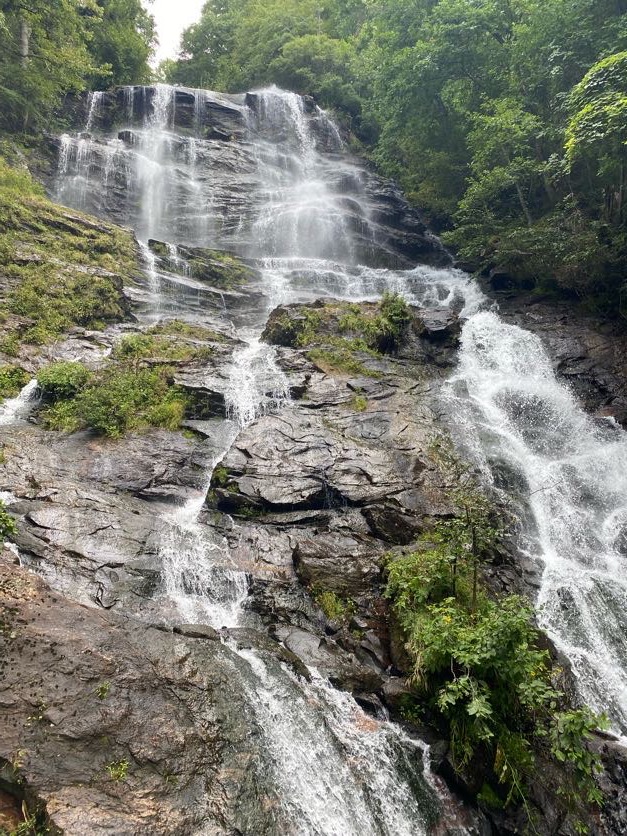 The hike to Amicalola Falls is a 2.1-mile loop but much of it is uphill. You'll cross rocky terrain, as you weave through the narrow trail. On your way up to the falls, you'll hear the sounds of rushing water in the distance and will catch a glimpse of the beautiful Blue Ridge Mountains. Once you reach the top of the falls you'll begin the steep walk down along bridges and stairs. You'll be blown away by the 730-foot waterfall that cascades down a towering cliff into a pool of water far below.
Soak in the incredible views of the tallest waterfall in Georgia, as you make your way down the stairs; you'll have plenty of chances for photos of course! Looking for a more challenging hike to the falls? Take the 10-mile hike, past the stone archway at the visitor center onto the Amicalola Falls East Ridge Trail and Appalachian Approach Trail Loop. You'll still make it to the falls you'll just have a longer, more challenging hike ahead of you. Whichever route you choose Amicalola Falls is a must-see!