I've spent the last 28 years cruising the shoreline of Lake Blue Ridge. I've seen and heard it all, I suppose. My friends call me Captain Katz, pretty much for my expertise on steering them into the areas safe for spawning, and away from the fish hunting sapiens. But to the naked human eye, I'm just a big old channel catfish, not good for much of anything except a great selfie if they are lucky enough to snag me. I'm happy to say that hasn't been my destiny to date.
Today, I've been asked to share with you warm-blooded, gill-less persons many of the amazing amenities of the 3,300 acres of pristine clean clear waters of Lake Blue Ridge. I've observed your enthusiasm for our lagoons for nearly three decades. Yes, if you can see your toes in the water, I can see up at you, as well as hear you. And you are quite the vocal species, aren't you? Especially when you manage to hook one of my fellow aquatic compadres.
Fishing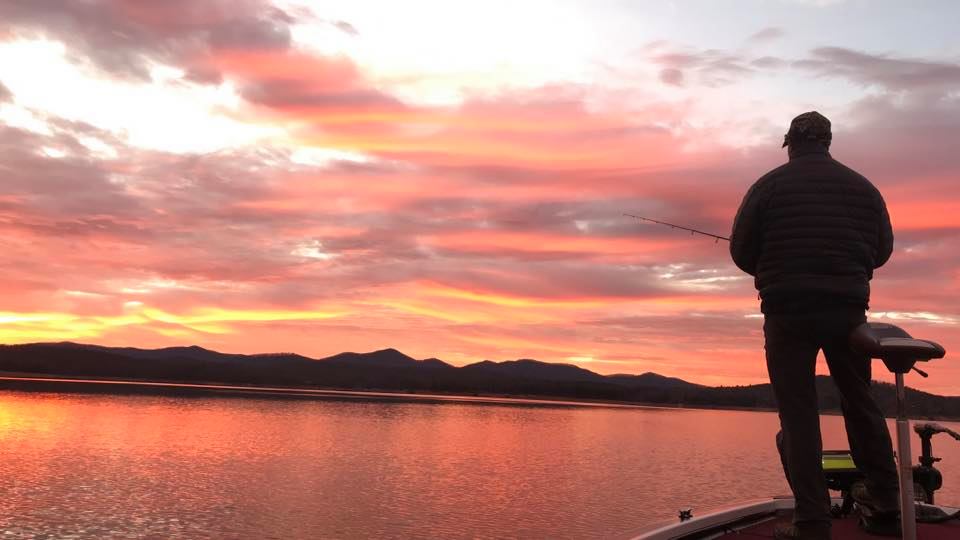 My grandfather spoke often about the rudiments of this human sport. It is essential for those of us who have no intention of being caught just how to avoid the situation. That means that I happen to know where I shall stay clear, but where you will enjoy hooking a few of those less savvy fish for your dinner.
When deciding on your bait as well as your choice of hook, you might want to consider which one of us you hope to snag. You'll mostly find small and largemouth bass, white bass, spotted bass, bluegill, walleye, rainbow trout, and yellow perch at the end of your pole if luck is on your side.
If dropping a line from shore the best places to fish are amid the rocky flats around the marina, Star Creek Cove, and the docks around the main body of the lake. There's also some serious consideration given to the base of the Blue Ridge Dam.
Family-Friendly Recreational Spots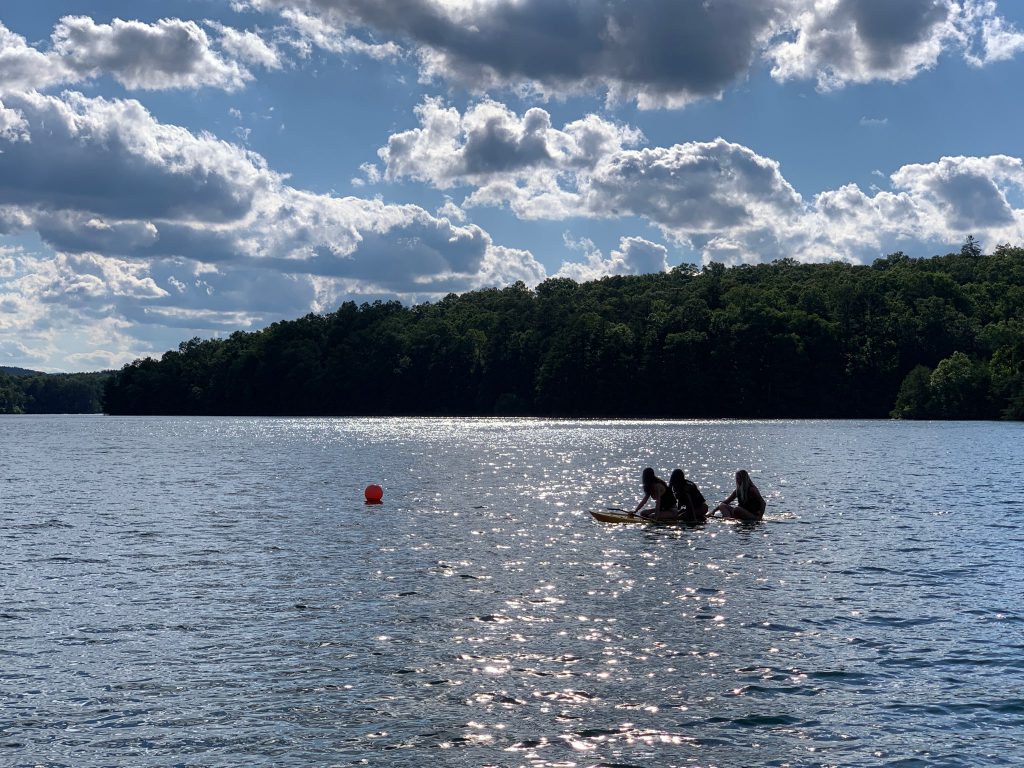 The U.S. Forest Service manages two recreational areas where one can exhibit their angling skills. But I suggest these to further emphasize that there is more to a great family lake experience than getting sunburned while dunking a worm in hopes of enticing the likes of me to nip at it.
Lake Blue Ridge Recreational Area is located on the west side of the lake. This is a passive recreation area with a beautiful view of the lake and mountains. The boat ramp is free. This park is also a good place for quiet walks and relaxing bike rides. There is a short, easy hike along the shoreline, and also a one-mile paved loop road that is popular for walking. Kayak and paddleboards are available for rent.
Morganton Point Recreational Area is the ideal place for swimming and beaching it with the family. Open April through October, the summer months will find the waters warm and crystal clear. I don't enjoy watching you all stumble around while attempting to have fun, so please consider water shoes for the pebble base in this area, especially for the young ones. Why you all have toes instead of webbed feet, I will never understand! There are also covered pavilions for picnicking and there are lavatories (a place with a porcelain water hole of which I cannot comprehend the need).
Ahoy, Matey!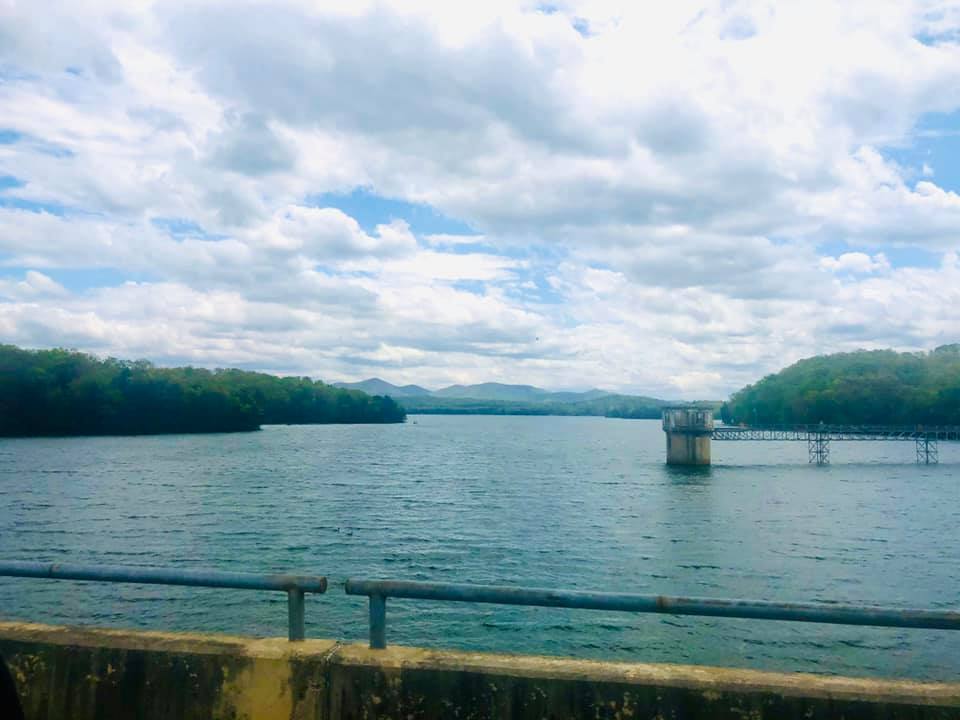 For those of you who want to tour the lake by vessel, there are numerous means to explore our more than 60 miles of shoreline, of which only twenty-five percent is developed.
There are wonderful coves to explore all along the banks of the Chattahoochee National Forest. Star Creek Cove is the largest, located just off the channel (around the corner from Star Creek Rd.). Its expanse is about a mile long and nearly 1,000 feet across at its widest point. This allows for all kinds of recreational pursuits from canoeing, kayaking, paddle boarding, jet skiing, and motor boating, with plenty of room for all.
If you've come to the lake with your owned equipment, there are five different boat ramps to choose from including Lake Blue Ridge Dam, Lakewood Landing Boat Ramp, The Lake Blue Ridge Day Use Recreational Area and Boat Ramp, Morganton Point Recreation Area, and the Blue Ridge Marina.
You don't have your own vessel? At the Blue Ridge Marina, you can rent pontoon boats, kayaks, and paddleboards, as well as stock up on all the boating essentials supplies. A day on the lake is bound to find you hungry. The Boat Dock Bar and Grill is a great place to grab a bite to eat. On many weekends you'll find the Marina hosting live music and events.
Lake Blue Ridge Outfitters is located inside the Morganton Point Recreational Area. Here you can rent kayaks, SUP boards (paddleboard-kayak hybrid), fishing kayaks, paddleboards, and party paddleboards.
Sunrise to Sunset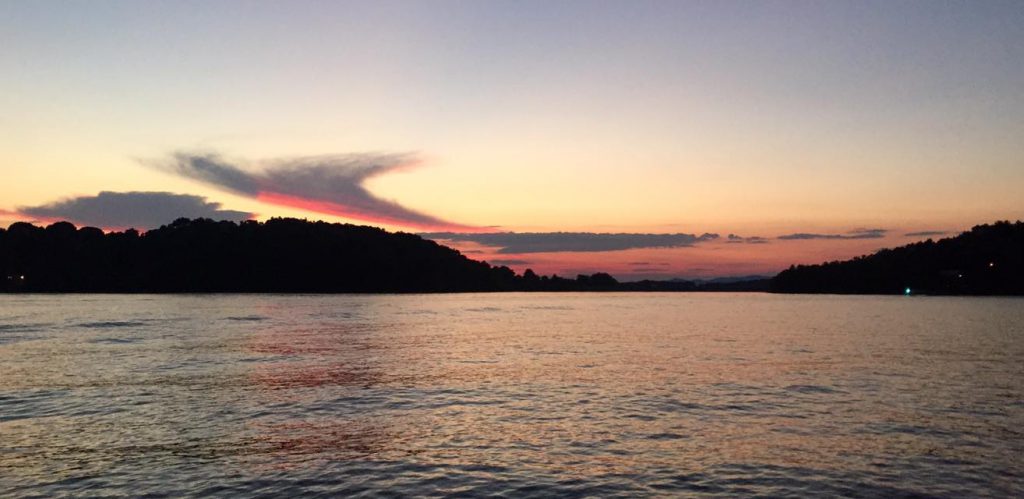 There are spectacular views of the mountains from every angle of the Lake, and we sea bearers, much like you, often marvel at their reflection above us. But there seem to be two different times of the day that you humans are most captivated by the views along the lake, and that would be at sunrise and sunset.
For breathtaking sunrises I highly recommend perching atop the Lake Blue Ridge Dam, looking north and south. There is also a new overlook on the lake in the park area next to the dam, for you shutterflys who want to capture the moment with your cameras.
Sunsets on Lake Blue Ridge are Mother Nature's means of showing off. One of the favorite spots to observe her color palette's slide show bouncing off the water is at the Morgantown Point Recreational Area.
Lakeside Cabins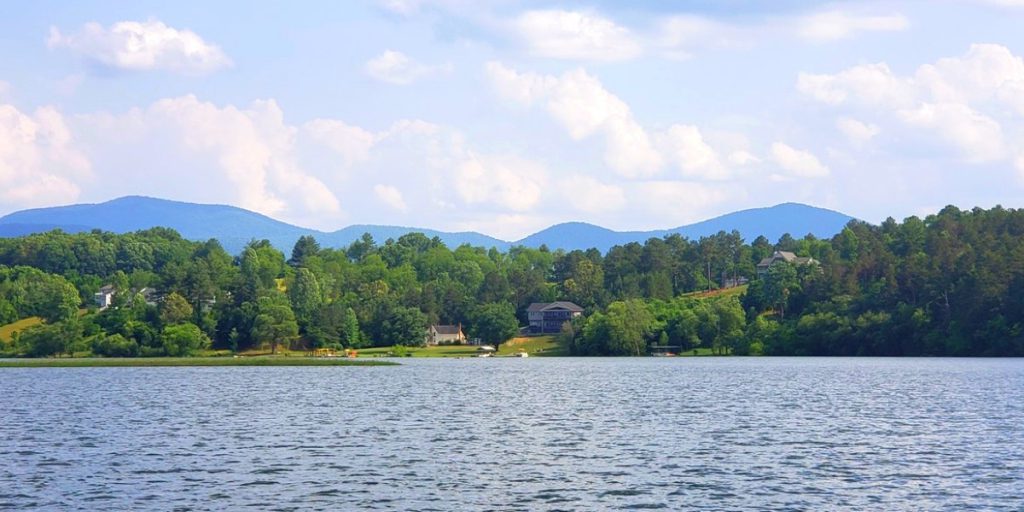 I have seen the happiest land dwellers are the ones that are lucky enough to book a cabin right on the lake. There's just something about stepping out of the house right onto the dock of the lake or ending the day soaking your cares away in a hot tub overlooking the shimmering waters of my home. Even if you aren't big into water activities you can appreciate the beauty of your surroundings as you settle into a rocking chair with a book, a beer or a glass of wine, and simply enjoy a spectacular sunset from the porch from one of these Lakeside Cabin Rentals.
A Big Splash
That about wraps up my lake tips. For those of you who walk on land, but envy those of us blessed to inhabit the tranquil waters of Lake Blue Ridge, I encourage you to come spend time with us. We don't mind sharing our liquid homestead, but we do ask that along with your memories and your photos that you take home from your day on the lake, also take your trash to dispose of in appropriate containers. We look forward to your next visit!
*Featured photo courtesy of Steve Procko