Spring is in full bloom and this is an ideal time to come visit the North Georgia Mountains! Escape to Blue Ridge and enjoy a vibrant downtown, great restaurants, unique shops, rushing waterfalls, a sparkling blue lake, and mountain views that will take your breath away!
UPCOMING EVENTS & ACTIVITIES
Veterans Fishing Rodeo
May 3
LOCATION: Chattahoochee Fish Hatchery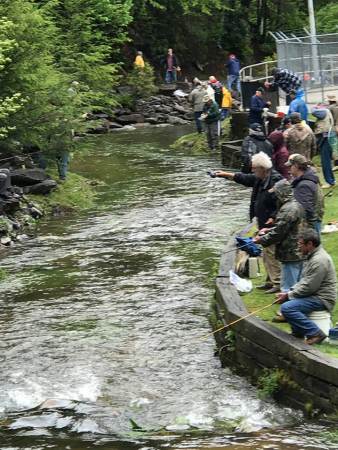 Bring your own fishing gear and bait – but you'll never have a better chance to catch fresh trout. The event comes complete with lunch and prizes. Georgia Sports Fishing Regulations apply.
Live Music at The Blue Coyote
May 3
LOCATION: Chattahoochee Fish Hatchery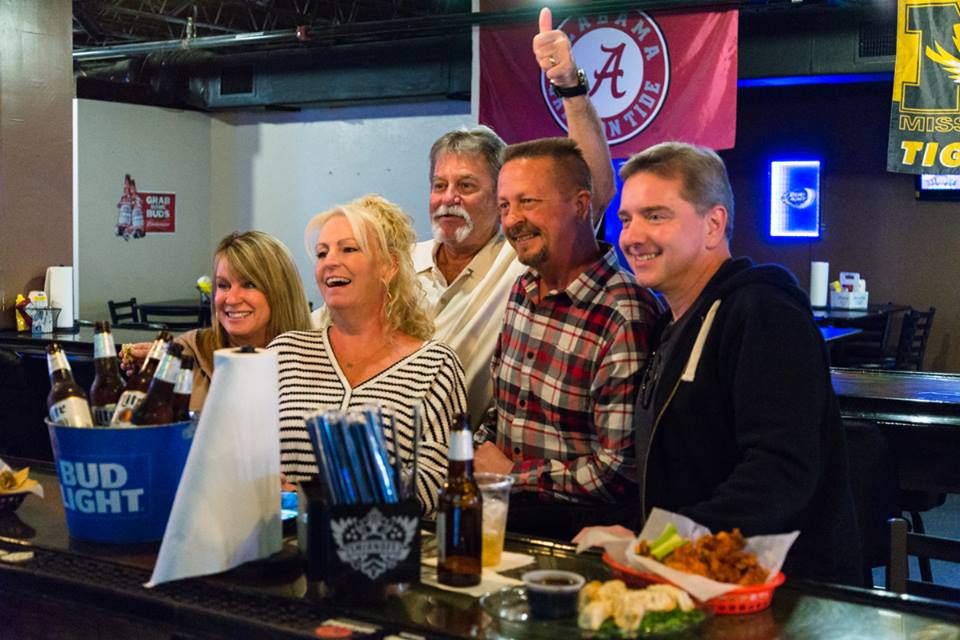 The Blue Coyote is known for their live music and entertainment. While you're there you can enjoy their tasty bar food and a whole bunch of beer! They even have a dog-friendly patio! Stop by, check it out, and enjoy the music!
May 3 – Slickfoot Band Live
May 4 – Southern Vantage Band
May 10 – Apollo Band
May 11 – Mind the Stepchildren
May 17 – Shadow Ape Band
May 18 – Topper/Voices of Rock
May 24 – Breaking Point Band
May 25 – Gregg Erwin
May 31 – Rocket Band
Live Music Is Better: Geoff Achison
May 3
LOCATION: Chattahoochee Fish Hatchery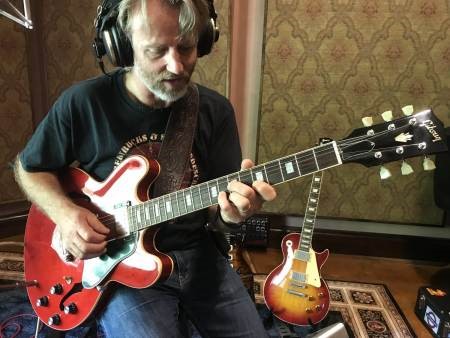 Australian and on tour, Achison is a guitar master as well as a song writer. His music has been compared to the Allman Brothers Band, Eric Clapton and JJ Cale. He has a solid foundation in blues while also embracing varied musical styles.
Outlaw's Workshop Retreat
May 3 – May 5
LOCATION: 3 Monkey's Home Accents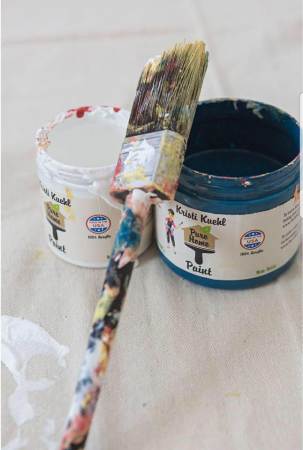 If you've ever wanted to learn the art of watercolor painting, now's the time. This three-day retreat covers techniques like layering, blending, accenting and various other aspects of watercolor painting. Crafters at all levels from beginners to advanced are welcome.
Boat Dock Bar & Grill
May 3 – May 24
LOCATION: Lake Blue Ridge Marina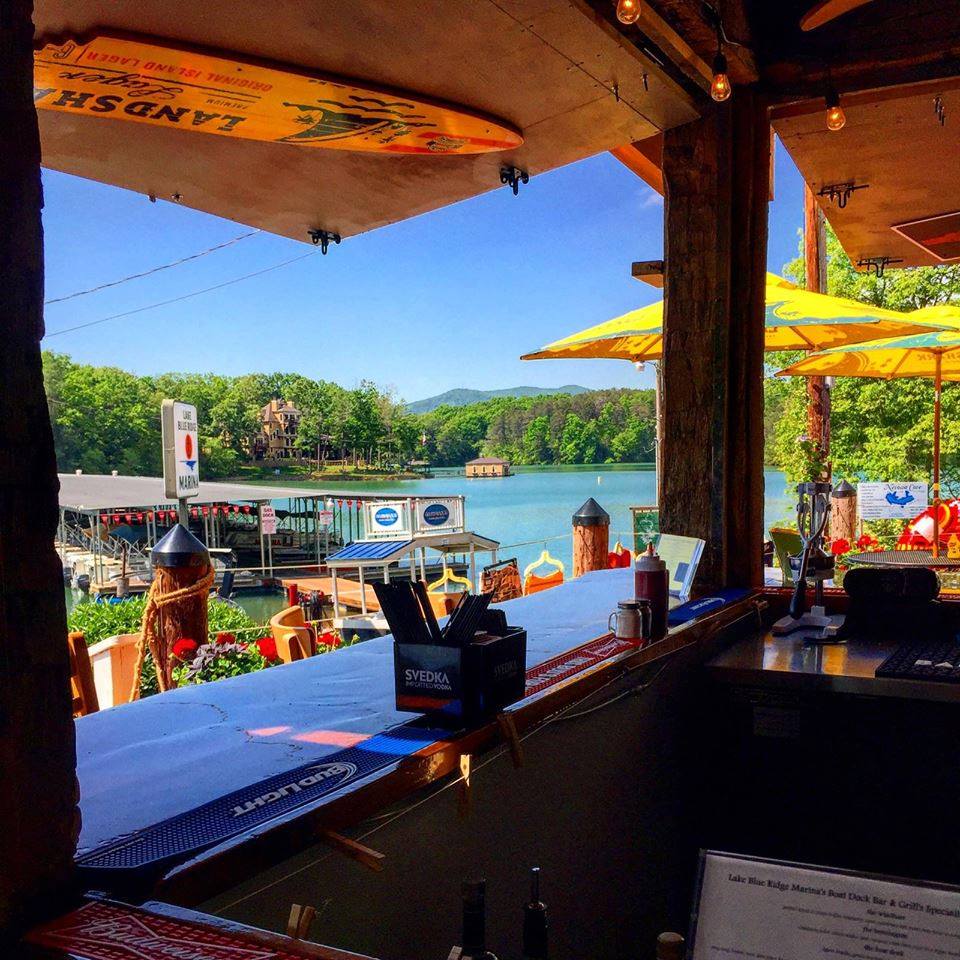 You can't get a better venue or greater acoustics than right on the lake. With delicious food and jamming tunes, you'll love the atmosphere and entertainment at the Boat Dock Bar & Grill at the Lake Blue Ridge Marina.
May 3 – Shannon York and Rob Harper
May 4 – Lindsay Beth Harper
May 5 – Buck & Oz Return
May 10 – Danny Rhea Live
May 11 – Gopher Broke
May 18 – David Welch Unplugged
May 24 – Gopher Broke
All Star Monster Truck Monster BBQ Tailgate Party
May 3 – May 4
LOCATION: Blue Ridge Motorsports Park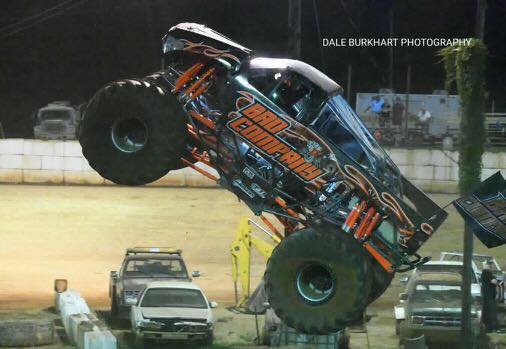 On Friday meet all the biggies – Bigfoot, Avenger, Brutus, Gunslinger and more. Plus you get to meet the guys who drive these monster trucks and eat a bit of barbecue while you're at it. On Saturday the trucks and their drivers are in full stomp mode. Choose either event or both.
Namaste and Cabernet
May 4
LOCATION: Bear Claw Vineyards & Winery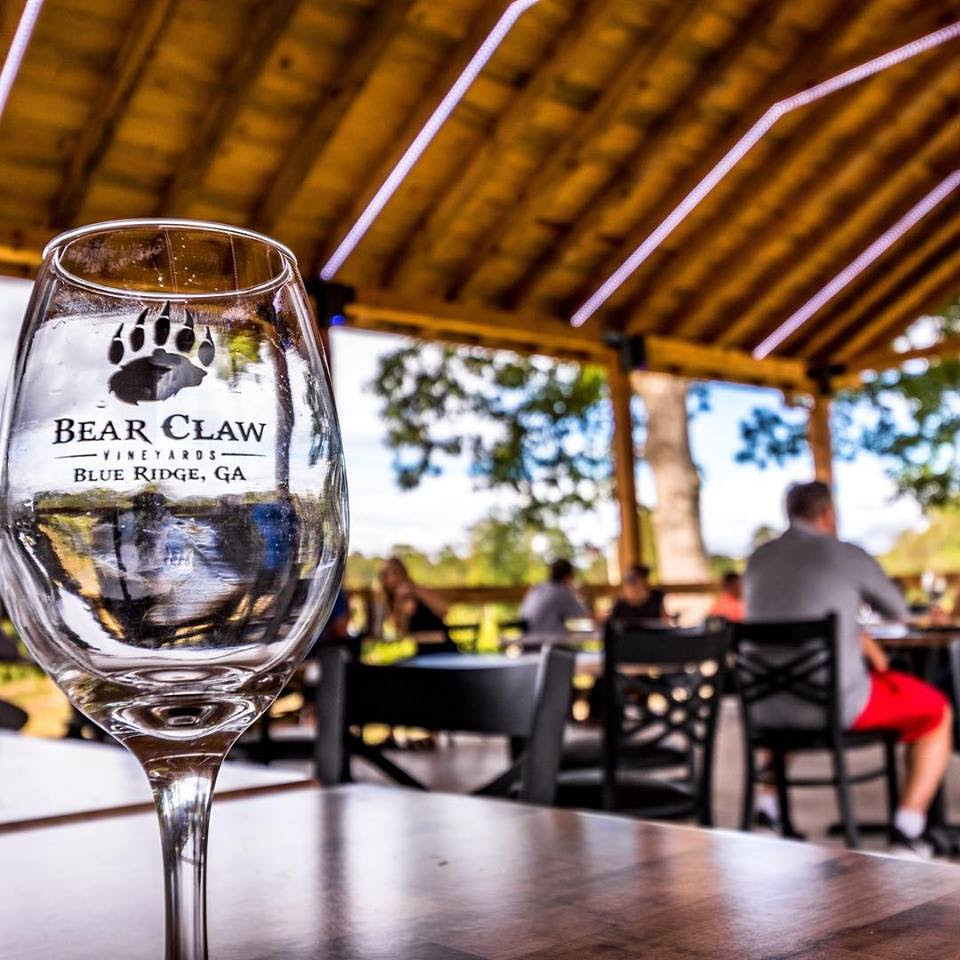 The perfect combination – an hour of yoga with Ashlee Lofton of Yoga Over Blue Ridge followed by a tasting of award-winning Bear Claw's Grizzly Tasting. You get relaxed both ways!
Georgia Apple Blossom Festival
May 4 – May 5
LOCATION: Downtown Ellijay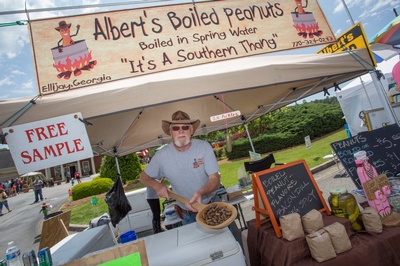 Ellijay is apple country so no wonder an apple festival is a huge springtime attraction! Artists, crafters, music, entertainment, and children's activities will all be there to kick off the spring season! Pet friendly and FREE admission!
7th Annual Awake the Grapes
May 4 – May 5
LOCATION: Downtown Ellijay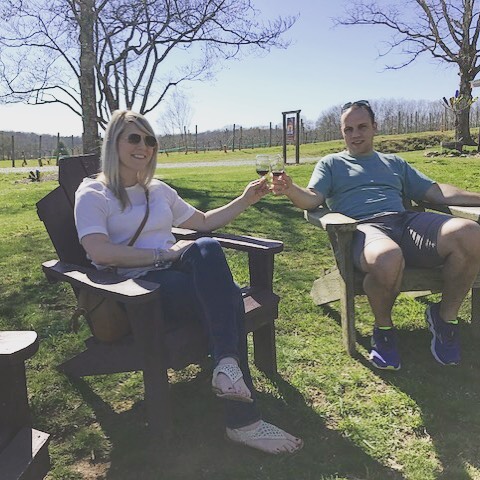 It's a tradition at wineries to help grapes wake up in the spring – it takes more than a nudge, and alarm clocks are worthless with grapes. So, cuttings from cold weather prunings fuel the bonfire and grapevines are perked up by folks drinking wine and listening to live music. It's a tradition. It's necessary. And it's fun!
Taste of Blue Ridge
May 4 – May 5
LOCATION: Downtown Ellijay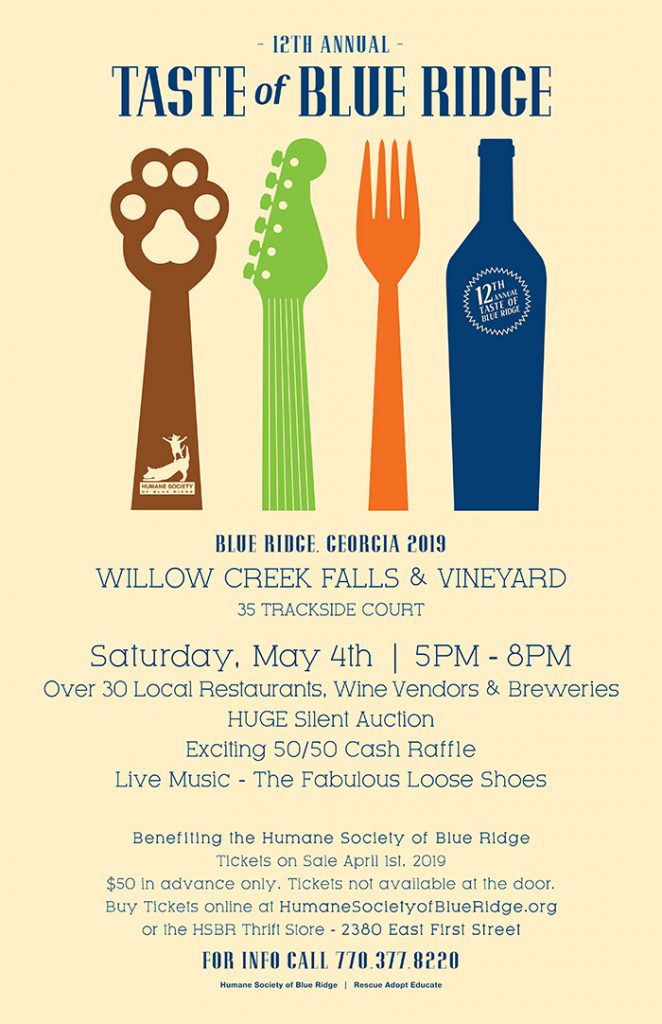 This will be the 12th annual Taste of Blue Ridge, benefiting the Humane Society of Blue Ridge. More than 30 restaurants from around the Blue Ridge area will participate – plenty to eat, plus live and silent auctions and live music!
Apple Trees Art Party
May 4
LOCATION: Mercier Orchards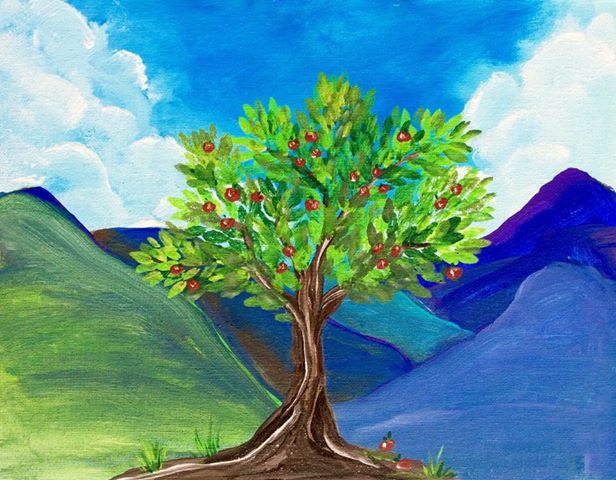 Being out your creative side at Mercier's and create a beautiful painting of an apple tree. The cost is $40/per person and includes a tractor ride up to the pavilion overlooking the orchard, a lunch consisting of a variety of sandwiches, fruits, and desserts, all the art supplies you will need, and a skilled artist to help you! All skill levels are welcome!
Cartecay Vineyards
May 4 – May 26
LOCATION: The Blue Ridge Brewery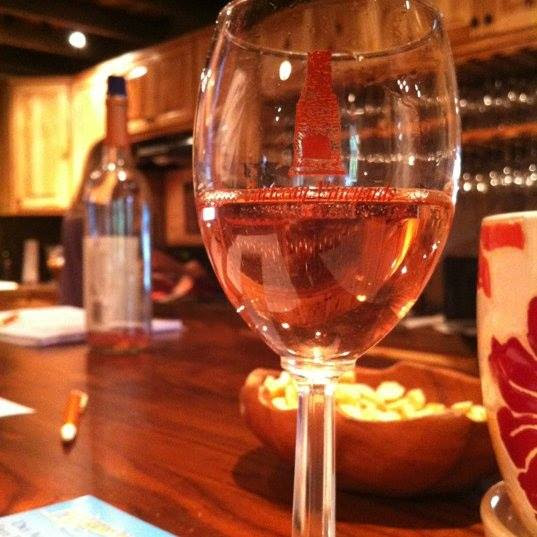 A picturesque venue, live music, and wine. What better way to spend an afternoon with your family or friends?
May 4 – David Hyde
May 5 – April Rooks
May 12 – Rick Byers
May 26 – Gopher Broke
American Idol Winner Kris Allen in Concert
May 4 – May 26
LOCATION: The Blue Ridge Brewery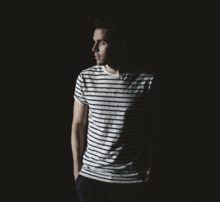 Back in Blue Ridge, American Idol winner Kris Allen is ready to rock the mountains in a special live intimate acoustic show in a private cabin! Tickets are seriously limited, so get them as soon as you can!
Rusty Trucks Folkart Style
May 4 – May 26
LOCATION: The Blue Ridge Brewery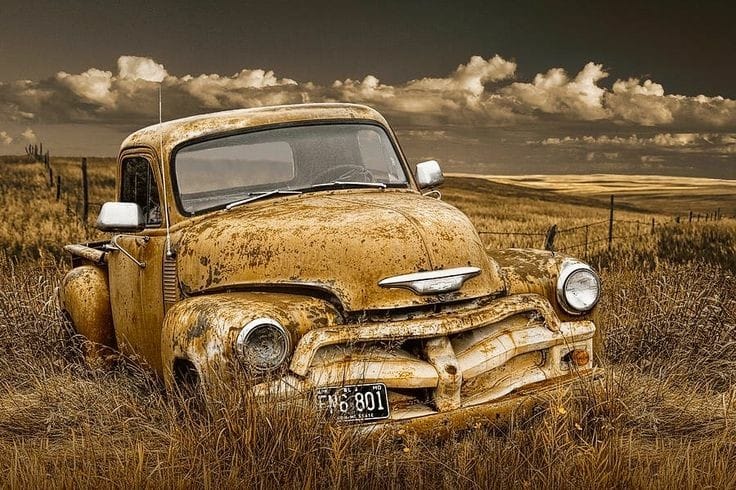 Rule of thumb – do anything (whether it's art, a demolition derby or a golf outing) whenever the first two words describing the event are "rusty trucks". In this case, it's an art event – so sign up soon and you'll be painting your very own rusty truck before you know it. The cost is $25 and all art supplies are included plus instruction by Becca.
Boeing Boeing
May 4 – May 26
LOCATION: The Blue Ridge Brewery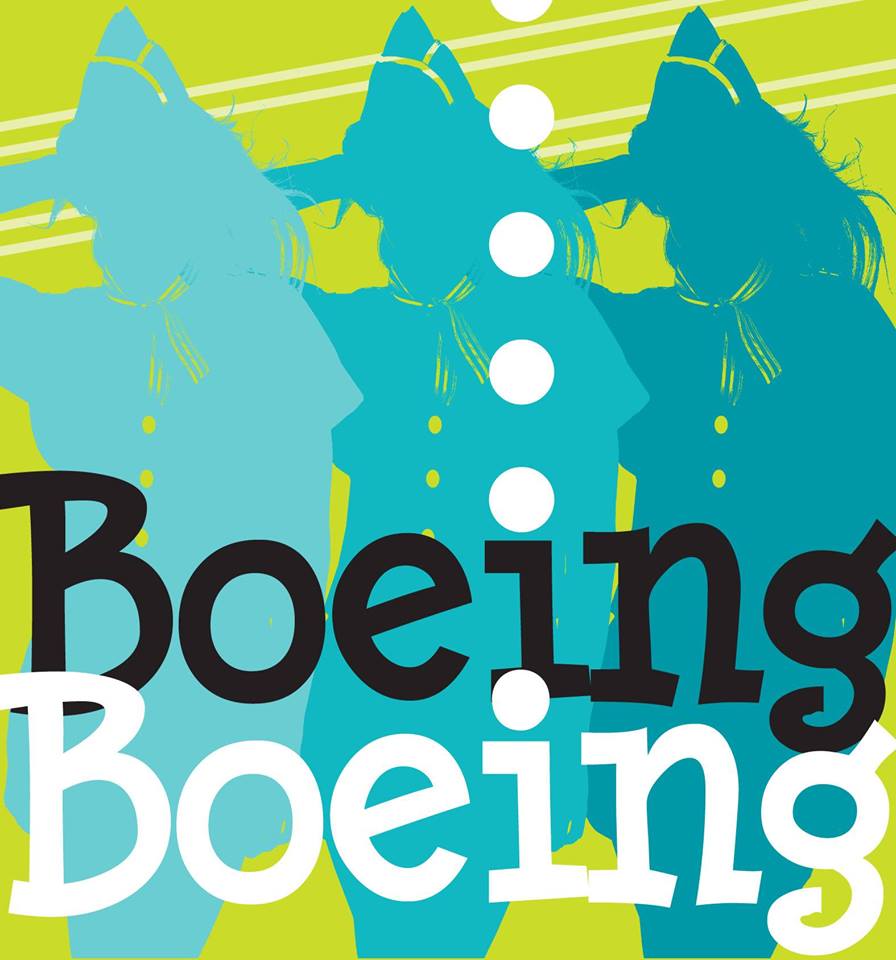 It's the swinging 60's and it was okay to call flight attendants "stewardesses". Dating practices also were a tad different in those days, like three fiances! Life gets a little bumpy when his lies catch up to him and his friend Robert comes to stay!
Blue Ridge Adventure Race 2019
May 4 – May 26
LOCATION: The Blue Ridge Brewery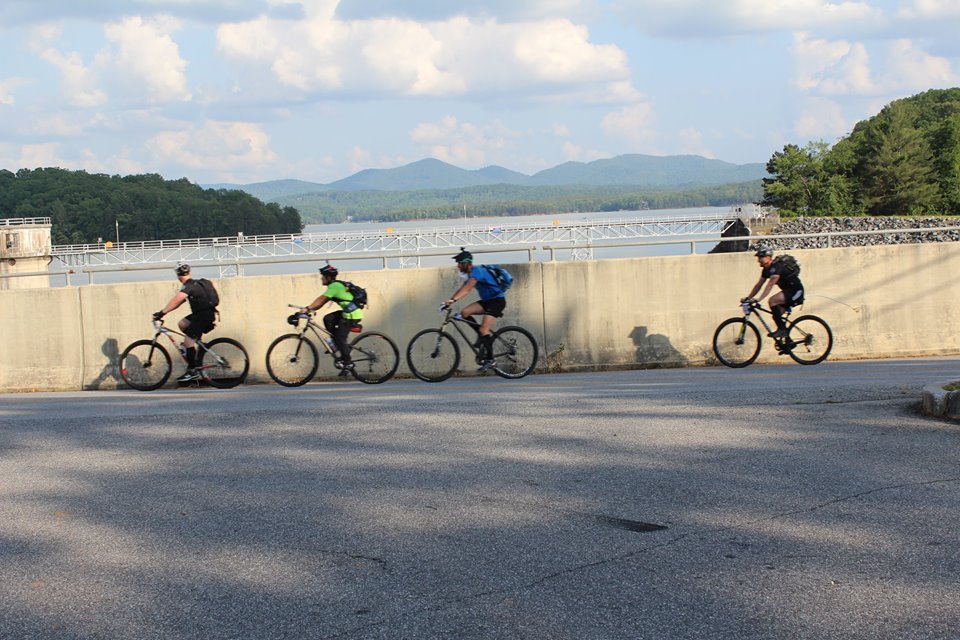 Not your usual 5k or 10k – that's for sure. This Adventure Race features a 24-hour race and an 8-hour race complete with secret locations and a variety of skill sets like trekking, biking, paddling, navigation and orienteering.
Georgia Mountain EggFest
May 17 – May 18
LOCATION: Georgia Mountain Fairgrounds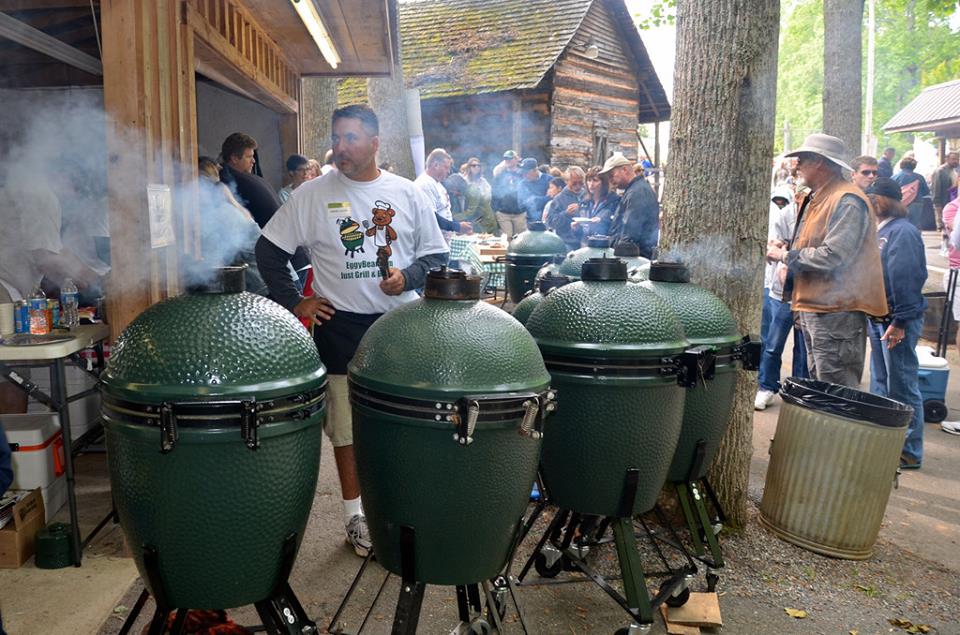 An Eggfest is a gathering of Big Green Egg fans and experienced cooks from all across the country and Canada. The cooks will be showcasing their skills and talents and will be preparing their specialty recipes all day long!
Outlaws & Renegades Tour
May 18
LOCATION: Georgia Mountain Fairgrounds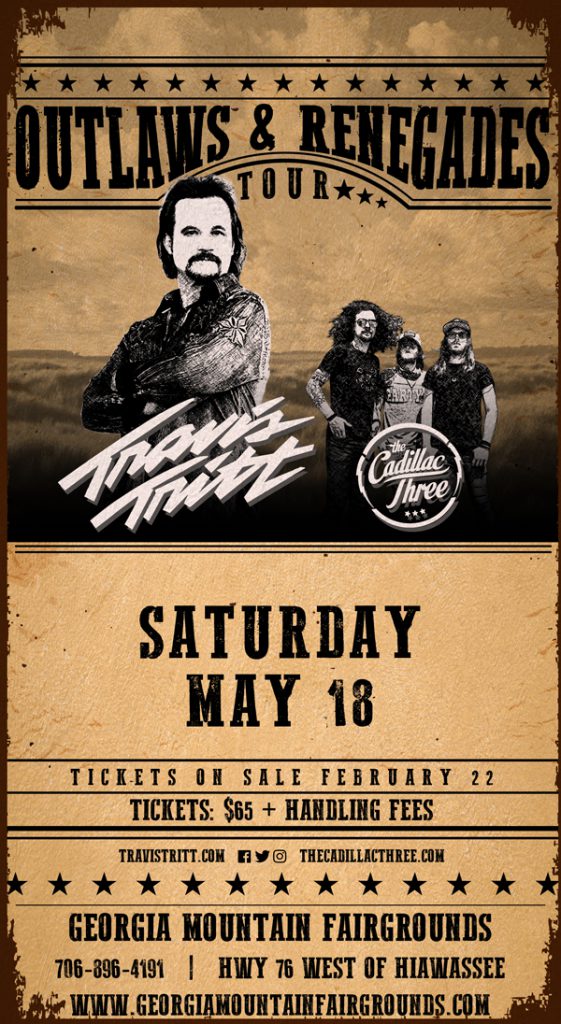 Travis Tritt and The Cadillac Three will be live in Hiawassee on May 18! Grab your best boots and sing along to some of your favorite Country songs like "It's a great day to be alive", "Here's a quarter", "T.R.O.U.B.L.E" and "I'm gonna be somebody"!
Spring Arts in the Park
May 18
LOCATION: Georgia Mountain Fairgrounds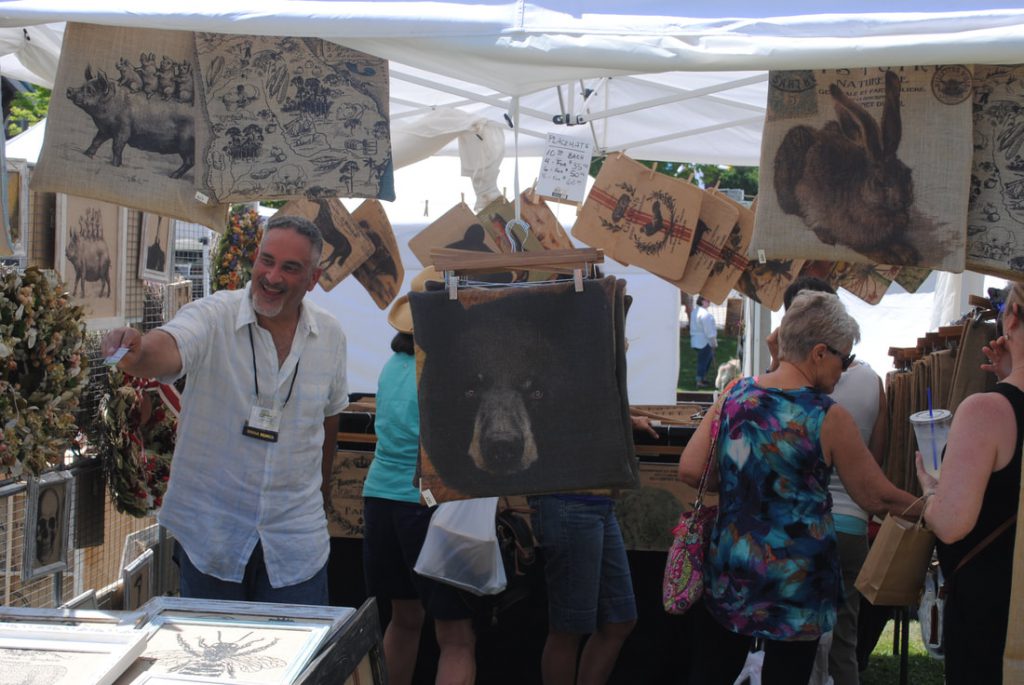 The 44th Annual Spring Arts in the Park is a Southern tradition in these parts. Enjoy more than 200 arts, crafts and food booths, featuring the best in mountain crafts and fine arts, demonstrations, music and dancing!
Great American Pie Fest
May 25
LOCATION: Paradise Hills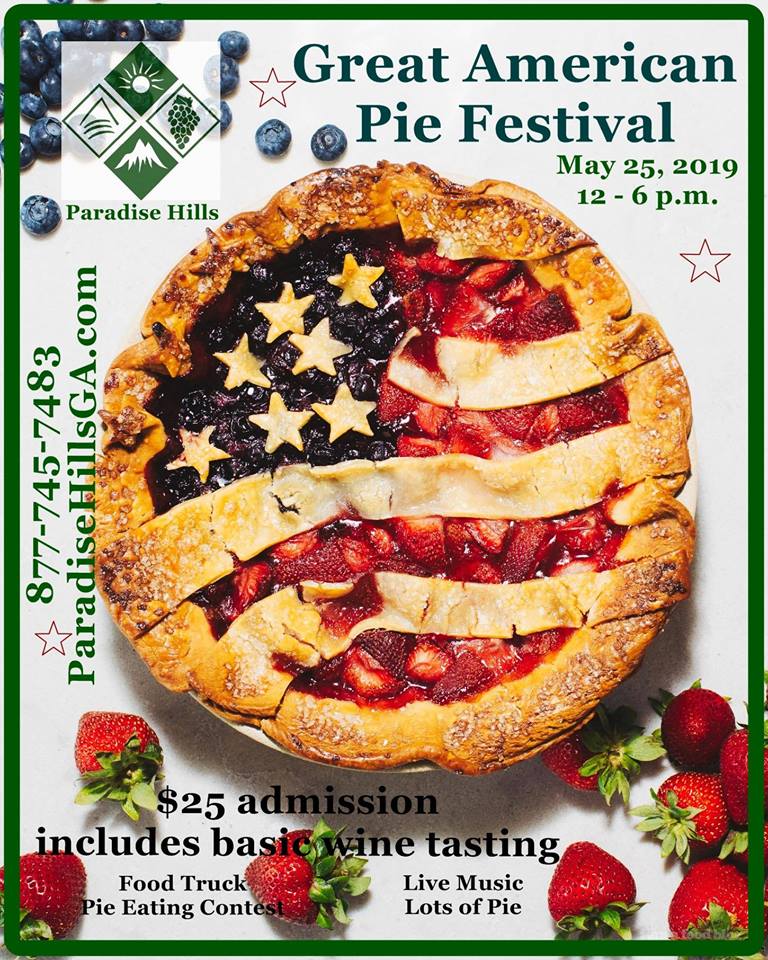 A full day celebration honoring those who served to protect America. Live music featuring Michael Hulett, beer, brats, lunch and a never-ending pie buffet (apple and cherry especially, of course).
Spring Arts,Crafts & Music Festival
May 25 – May 26
LOCATION: Downtown Blairsville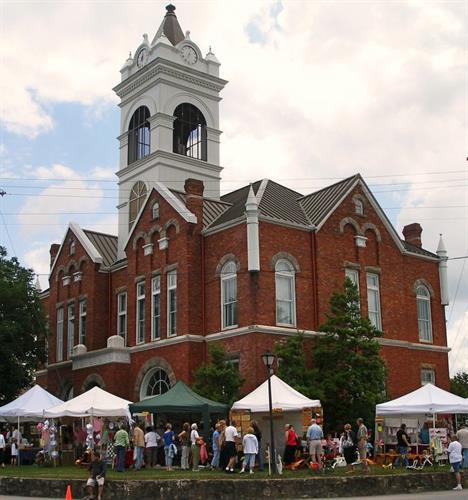 Blairsville's Downtown comes alive Memorial Day Weekend with talented artists, musicians, and food. The weekend begins with a concert at the Old Courthouse Friday evening, a Memorial Day parade at 10am on Saturday, an outdoor concert on the Square Saturday evening and of course the festival! FREE and family-friendly!
New Homes Added to Our Program
Just Bluffing
Do you dream of a private mountain getaway where you can leave the stresses of daily life behind and relax with family and friends in a magnificent setting? That dream can become a reality at Just Bluffing. This beautifully designed Blue Ridge cabin rental is a tri-level showplace situated on a bluff amid the trees, with a glorious view of the mountains from sunrise to sunset. Secluded and serene but just six miles from the shops and restaurants of downtown Blue Ridge and fun activities like apple picking at Mercier's Orchard, it's the perfect place for a well-deserved vacation.
Aska Adventure Lodge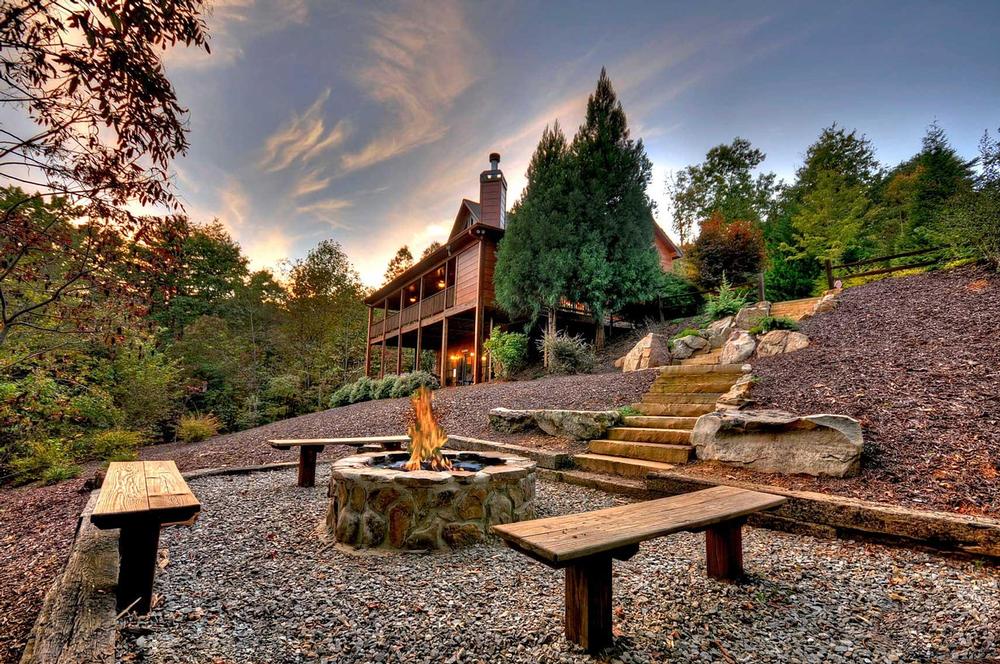 The Aska Adventure Lodge is located in the sought after Aska Adventure area and is conveniently located less than five minutes from the quaint town of Blue Ridge, Georgia, the Toccoa River and Lake Blue Ridge. It is close to everything you'd want, but tucked away with all the privacy you'd expect from a mountain vacation retreat. Aska is the Cherokee Native American word for "winter retreat," however, this cabin is perfect in every season. Hike right from the expansive wraparound porch, up the hill and connect with the Benton MacKaye Trail. Or, take advantage of the many popular area waterfalls and great tubing and canoeing activities.
In Case You Missed It
Dog Friendly Hikes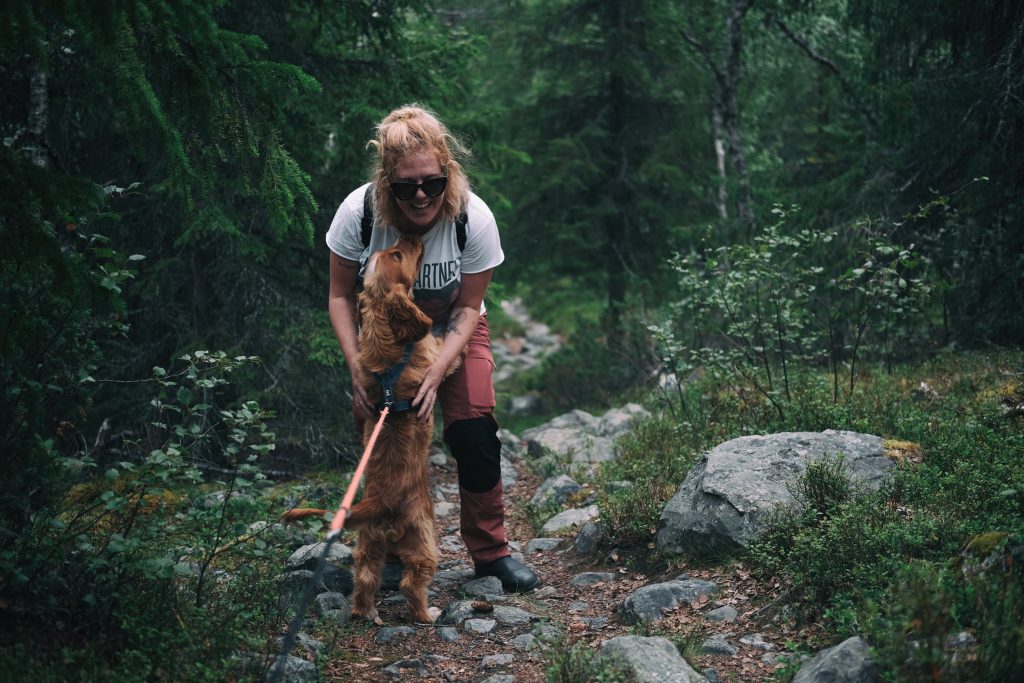 Hiking with your dog can be fun for both you and your furry friend. Not only does it provide a great source of exercise for you and your dog, but it's also one of the best ways to have amazing adventures while creating memories that will last a lifetime. It's a win-win for everyone! While we'd all love to be able to take our dogs with us on every trail we venture down, we can't always do that. Sometimes the trails are too steep or the terrain is too rough for our four-legged friends to maneuver, or sometimes they simply aren't allowed in that area because of other critters that may be dangerous for our dogs to encounter. To make things a little easier for you and your furry companion, here's a list of a few trails around the Blue Ridge area that are sure to bring tons of fun for both and your favorite adventure buddy! Keep Reading.
Thank you again for giving us the privilege of serving you. If we can ever be of assistance, please visit us online at www.escapetoblueridge.com email us at reservations@escapetoblueridge.com or give us a call at 1-866-618-2521. We look forward to seeing you soon!
Many happy returns,
From all of us at Escape to Blue Ridge