The Blue Ridge Mountains provide the terrain, views, and challenge that all mountain bikers search for. The back country trails and systems will have bikers pedaling through a series of rocks, roots, and jumps. Pick from the variety of trails near Blue Ridge and the adrenaline rush will quickly follow! Grab your bike and helmet and get ready to experience the easy to rigorous trails in North Georgia for an adventure that will keep you itching to return!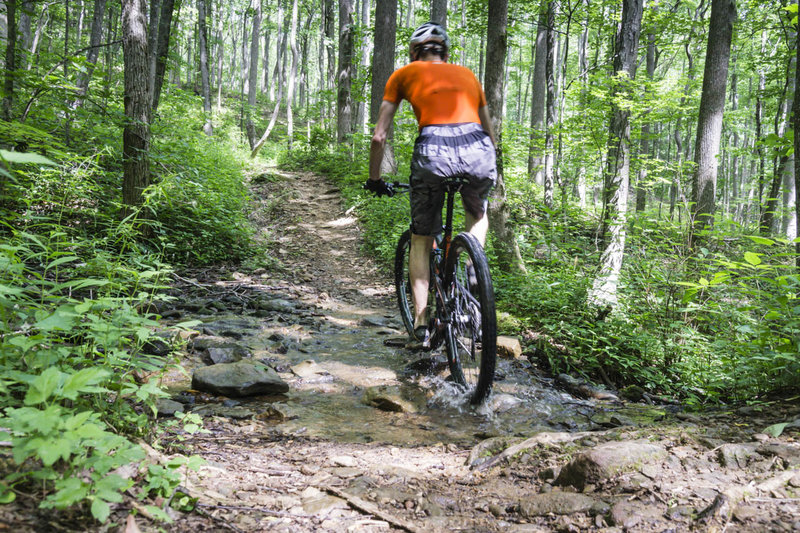 If you are looking for a nice easy intro trail, the wide singletrack of Longbranch Loop is a great starting point. A staple in the Aska Adventure Area Trail System, the shady trail keeps obstacles limited and the fun rolling! (Easy)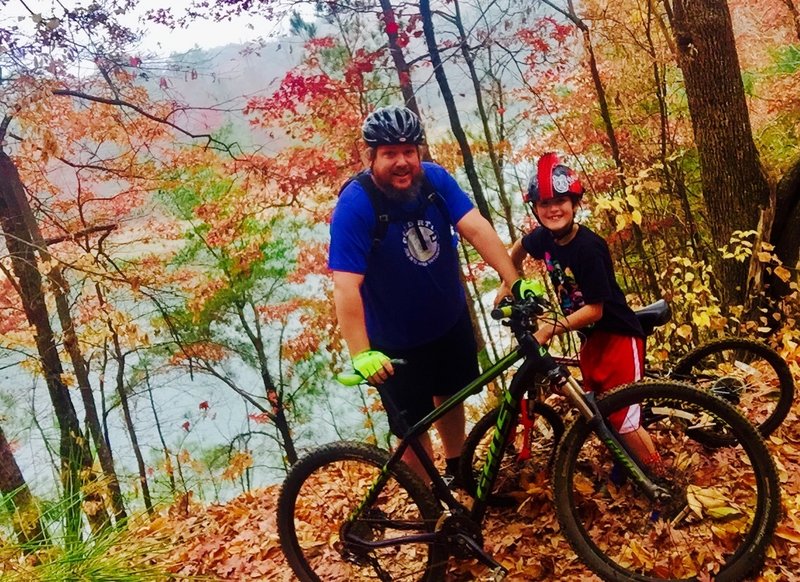 Beautiful and fun, the Amadahy Trail in Ellijay is perfect to take your kids out for a ride and develop their passion for mountain biking. Wrapping around the edge of Carters Lake, this loop is extremely picturesque, but still offers a few easy uphill and downhill sections. (Easy-Intermediate)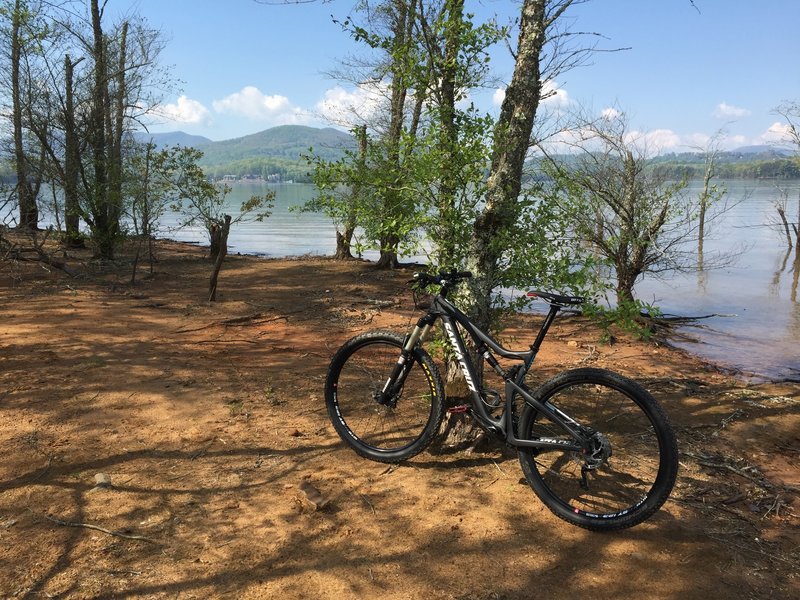 If you're a beginner to mountain biking and hoping to have an easy ride, this is a great spot to start. The 15-mile trail system at Jackrabbit Mountain offers stunning views of Lake Chatuge throughout. There are simple inclines and declines throughout this scenic trail system. It's located on the North Carolina/Georgia border, making it accessible for visitors near and far. (Easy – Intermediate)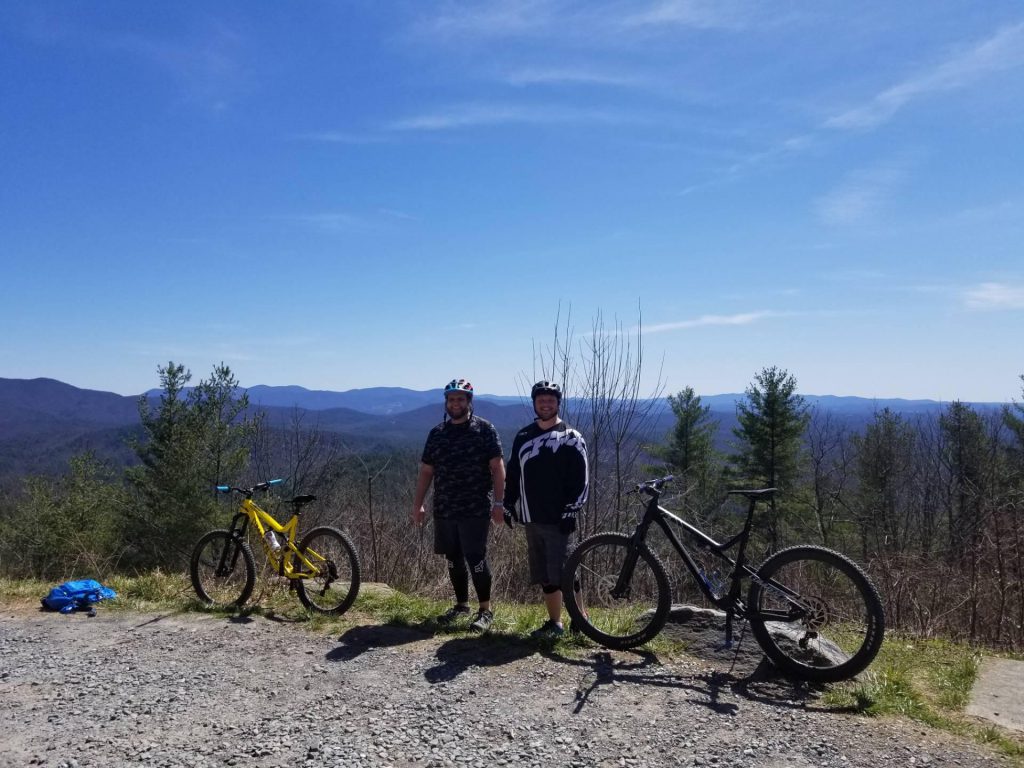 This 350-mile stretch of trails that venture from Georgia to Alabama makes it one of the most popular trail systems in the southeast for a series of reasons. With access points throughout its length, the entry near Dalton takes bikers along a mountainous journey with paved sections as well. The Mountaintown Creek Trail, part of the Pinhoti Trail System, is 11 miles out-and-back with rushing waterfalls and backcountry views that make it perfect for a day trip. (Intermediate)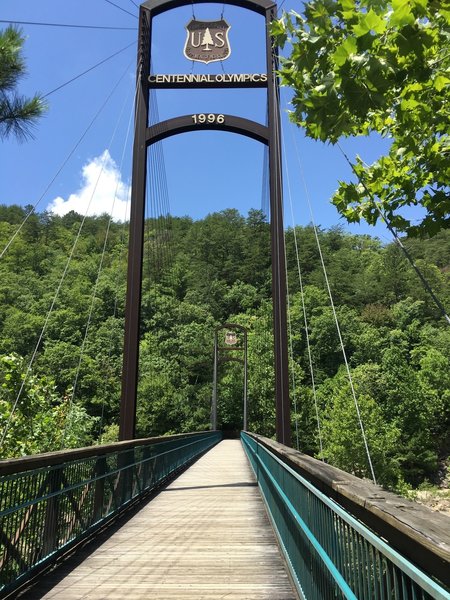 This system in the Tennessee River Valley has over 30 miles of rushing trails that bikers of all skill levels can enjoy. Only a half-hour from Blue Ridge, this well-maintained set of trails provides captivating overlooks of the Ocoee River and secluded vistas of the Tennessee wilderness. This year-round trail system is filled with advanced climbs, thrilling jumps, and short bridges to keep the adventure going. (Intermediate)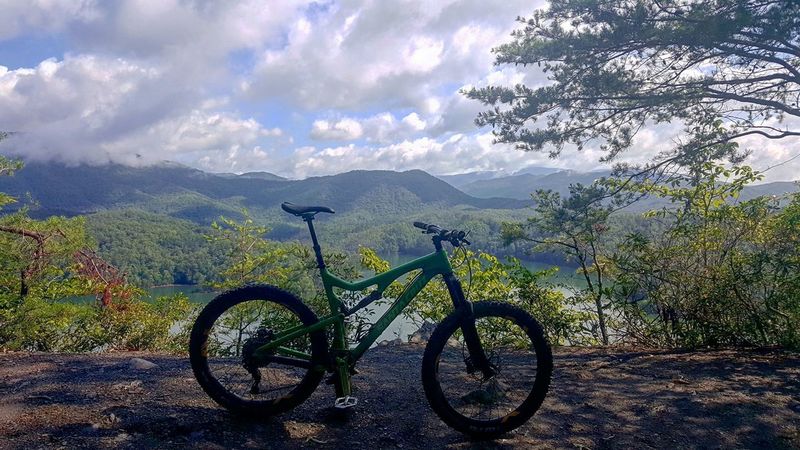 Located only 2 hours away from our cabins in Blairsville, this is a must-ride trail system that is unforgettable for all those who cross it. There are four intermediate to moderate loops within this 40-mile trail system and each provides a unique encounter with nature. Bikers can expect jaw-dropping views of Lake Fontana and the Smokey Mountains while on these Western North Carolina trails. Its reputation still stands as one of the best mountain bike trails in the Southeast! (Intermediate)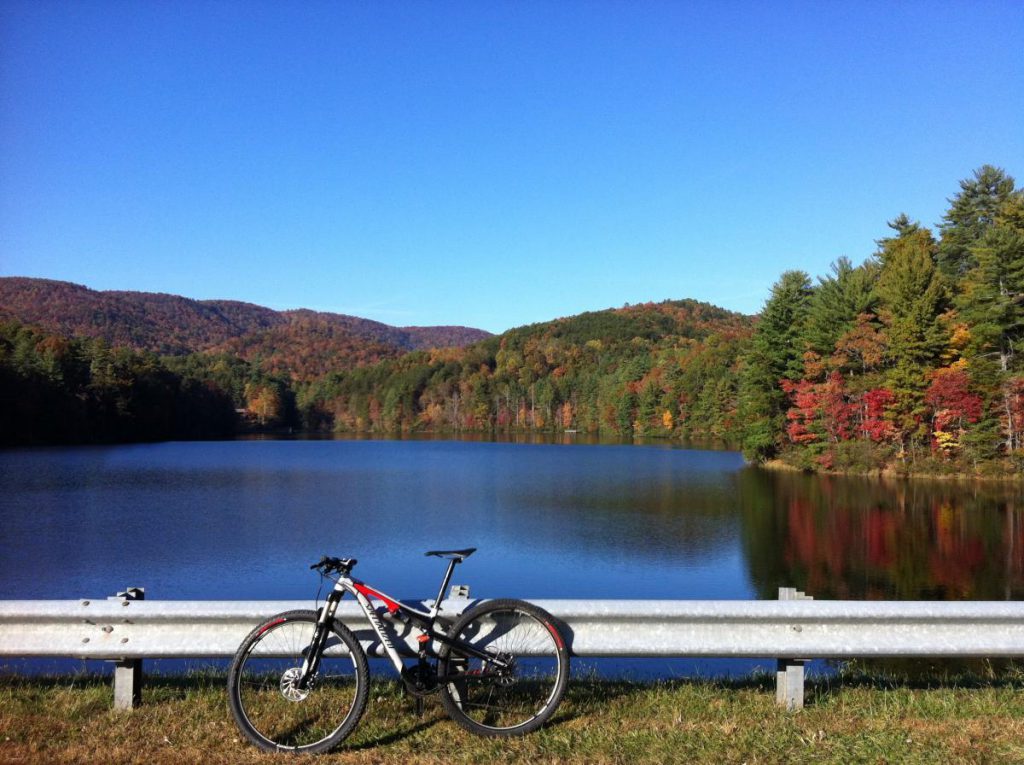 While on this 8-mile loop, riders can expect rewarding descents with an assortment of tough climbs, switchbacks, and berms. This trail is not too crowded and is suitable for mountain bikers of any kind. Located on the outskirts of Helen, Unicoi State Park offers lake views and challenging paths for an exhilarating day of adventure! (Intermediate-Difficult)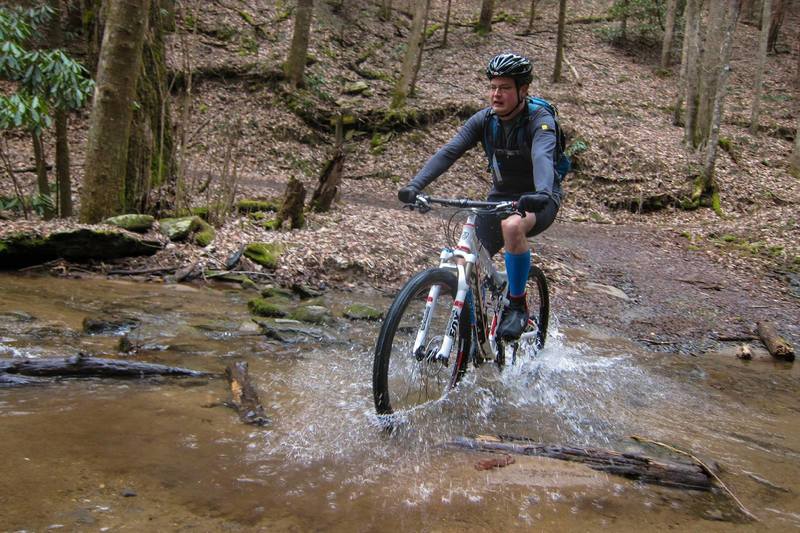 The view at this trail's peak is what makes the climb on this pathway all worth the travel. Bear Creek Trail, located in Ellijay, offers beautiful views of Fort Mountain and has several switchbacks to keep the adventure interesting. There are several creeks along the 10-mile loop that offer a change in scenery and help bikers cross through. (Intermediate-Difficult)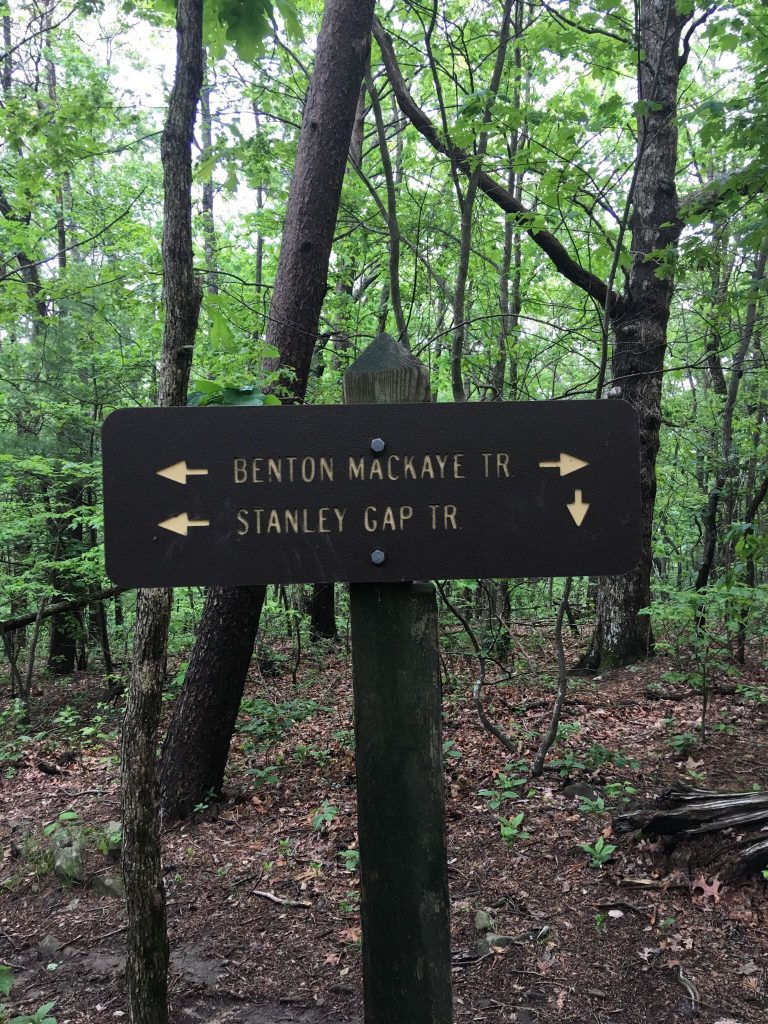 If you're looking to go downhill fast, the trails at Stanley Gap can provide that experience for you! This intermediate trail in Blue Ridge is 10 miles out and back, and lets bikers have plenty of opportunities to ride through the trees. With steady inclines and sections suitable for a rest stop, the Stanley Gap trail does not disappoint. (Difficult)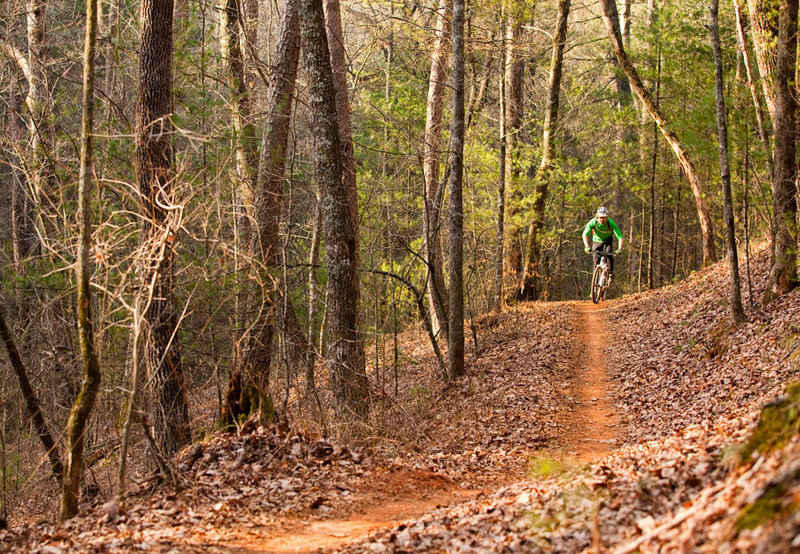 This connecting system only a few miles from Dahlonega offers fast descents, wildlife sightings, and plenty of ground to uncover! The Jake Mountain Trail System and the Bull Mountain Trail System merge to form over 30 miles of trails for hikers, bikers, and horseback riders. The picturesque sights make this trail system for intermediate and advanced bikers hard to forget. (Difficult)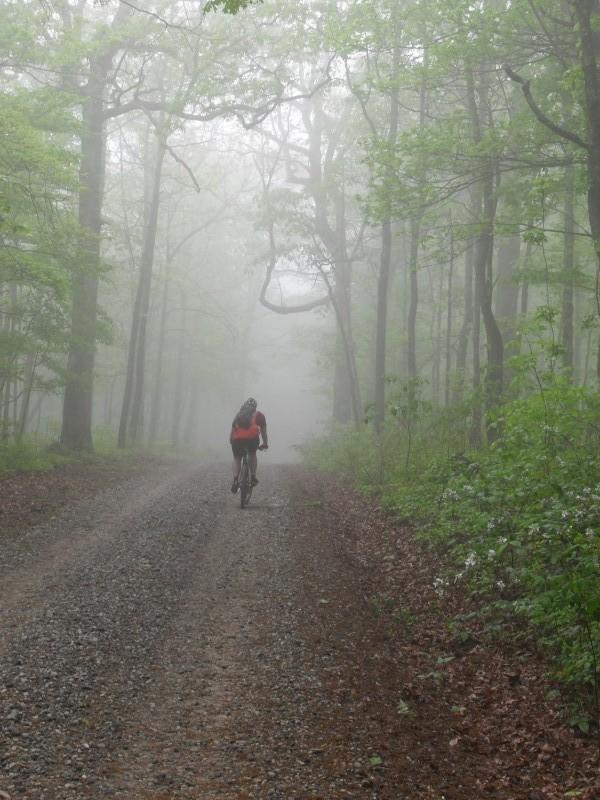 With 2,500 feet of climbing, this trail is for serious mountain bikers only. The 19-mile loop in Helen features multiple obstacles including falling rocks, a steep uphill trek, and speedy descents. This blood rushing trail will test, stretch, and grow your mountain biking limits! (Very Difficult)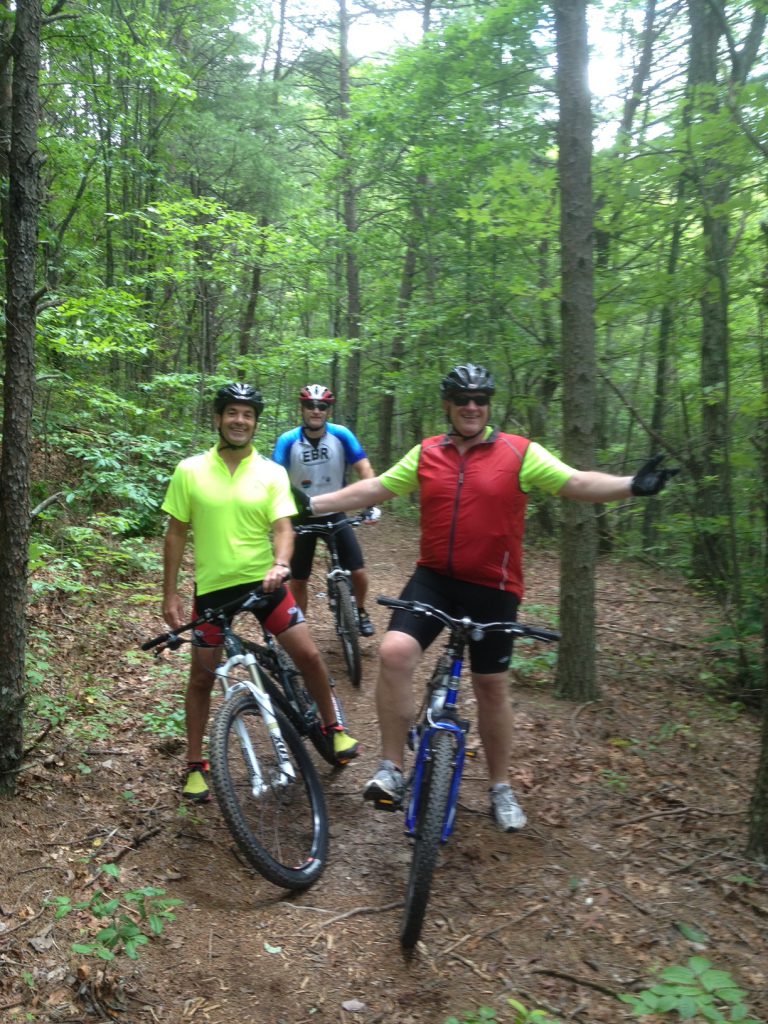 Whether you've been biking for years or hoping to begin a new hobby, these trails are only a short drive away from Blue Ridge. One of the few activities that combines exercise with breath-taking views, the southeast mountain ranges make mountain biking accessible for all ages. Take a risk and experience what mountain biking can do for you while conquering these trails. We'll see you out there!