Throughout the South, BBQ reigns as the premier cuisine. Though Texas waves their 10 Gallon hats boasting that they are the king of the Que, few know that Georgia is where smokin' meats all evolved. The word "barbecue" comes from the Caribbean word "barbacoa." Originally, barbacoa wasn't a way of cooking food, but the name of a wooden structure used by Taino Indians to smoke their food. In 1540 Spanish explorer Hernando DeSoto's expedition through Georgia came upon a deserted Taino camp and discovered meat left roasting on a barbacoa, the embers of the fire still warm.
Originally, usage of the verb barbecue meant "to preserve (meat) by drying or slowly roasting"; the meaning became closer to that of its modern usage as a specific cooking technique by the time Georgia was colonized. But barbecue isn't just a verb, it's also a noun. It's something you attend, and going to a barbecue is one of the gatherings we Southenerners just can't resist. So it's not surprising that when one vacations here in the north Georgia mountains, BBQ is the cuisine most sought out.
Rembrandt, Picasso, and Warhol are all celebrated master artists, putting paint to canvas, yet yielding a different effect. Barbeque in the South is more than just the slow burn of meat, it's a subculture with wide variations of techniques, seasonings, textures, and sauces. With well over a dozen BBQ joints in a twenty-mile radius of Blue Ridge, we've chosen to highlight three different experiences, much like the three artists we mentioned. They are masters at the Que, but they are different.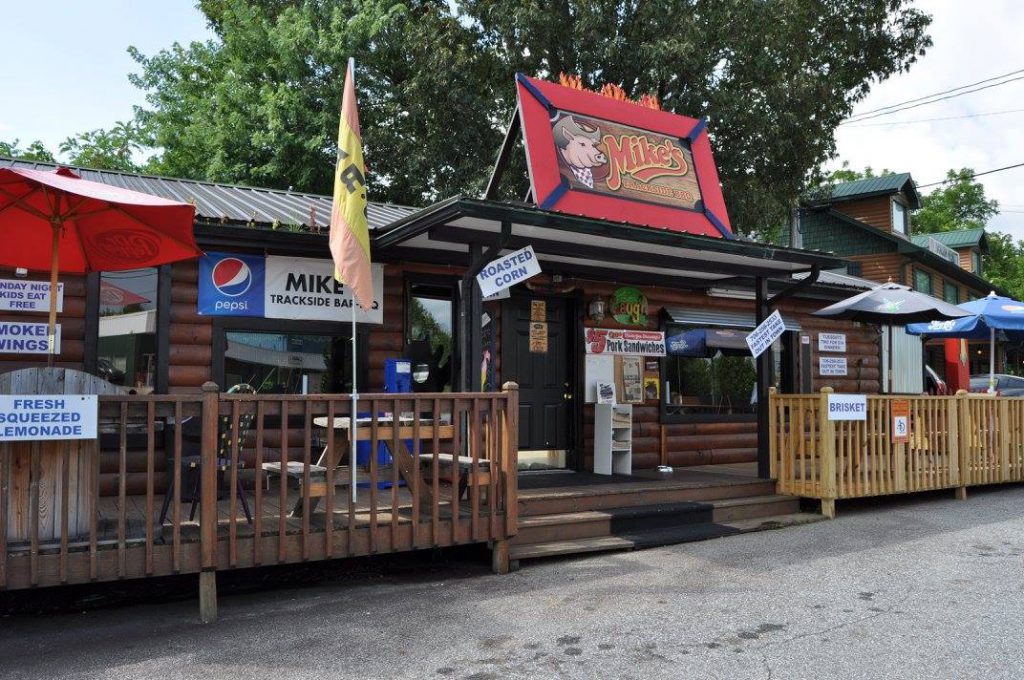 If you agree that what makes the best restaurant experience is great food, atmosphere, and service, then Mike's has you eating off his black checkered lined metal trays. With only 5 tables inside and 4 more on the porch, this tiny place packs a huge punch! Let's talk about the atmosphere first. It starts with that 1939 Chevy pick up truck parked outside. Walk around it and imagine hauling around the dirt mountain roads of eighty years ago in this prize jalopy. This is just the beginning of your museum tour. The porch and the whole indoors is covered ceiling to floor with tons of fun historical memorabilia.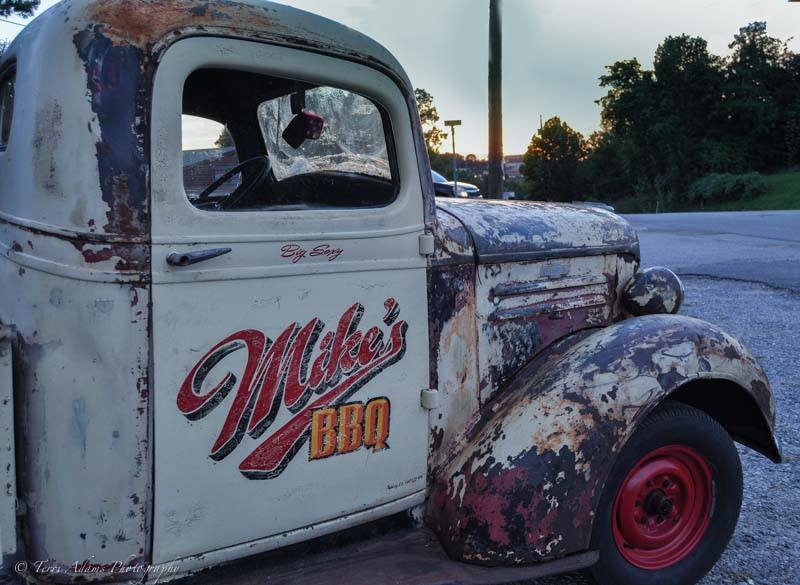 If you can manage to take your attention away from the décor and turn it to the menu, you might find it difficult to decide what to order before they close. With their meats selection, they more than have you covered. There's the traditional smoked brisket, pulled pork and baby back ribs. Add smoked chicken wings, smoked sirloin, pulled chicken breast, and their famous all-beef "Kiolbassa" and your decision becomes even tougher.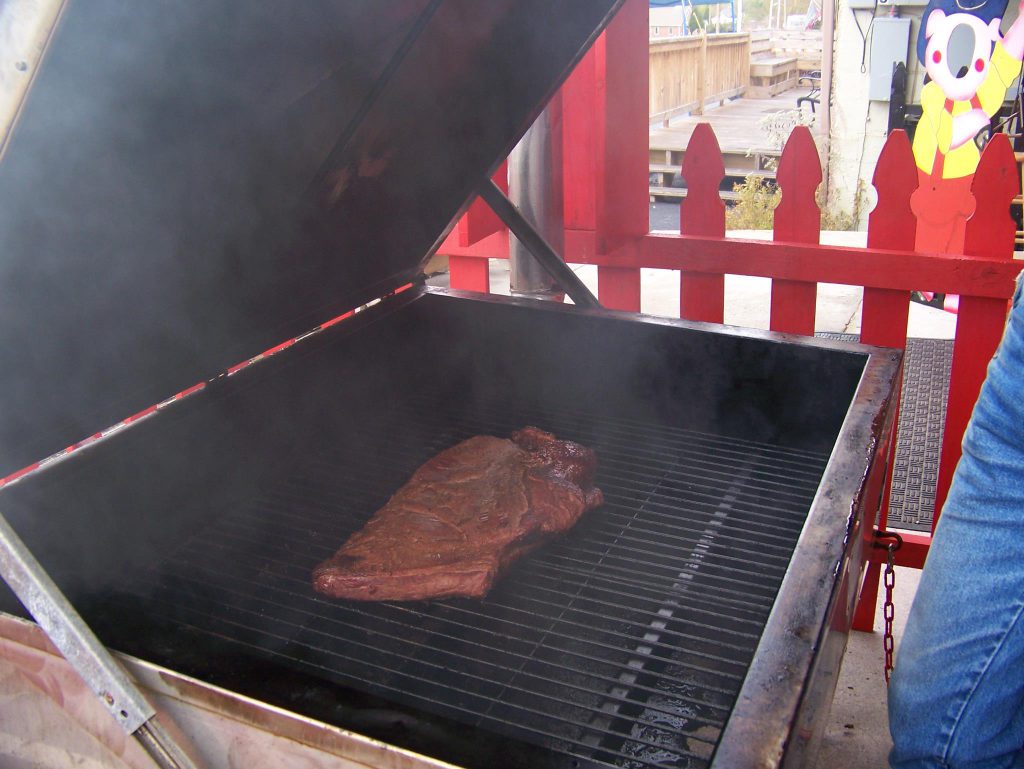 Though the protein is usually the main event at a good BBQ, the sides complement the fare, and Mike's has some very noteworthy offerings. We recommend the Mountain Dew stewed apples with walnuts, an old fashion fresh-squeezed lemonade, and the Texas toast. Yes, even their Texas Toast is called out as the best in Trip advisor reviews. All this is served up with a friendly, helpful staff, and if you decide to get it to-go (check out these picnic spots) you'll find it will be packed up with TLC and everything you need to dig right in once you get to your destination.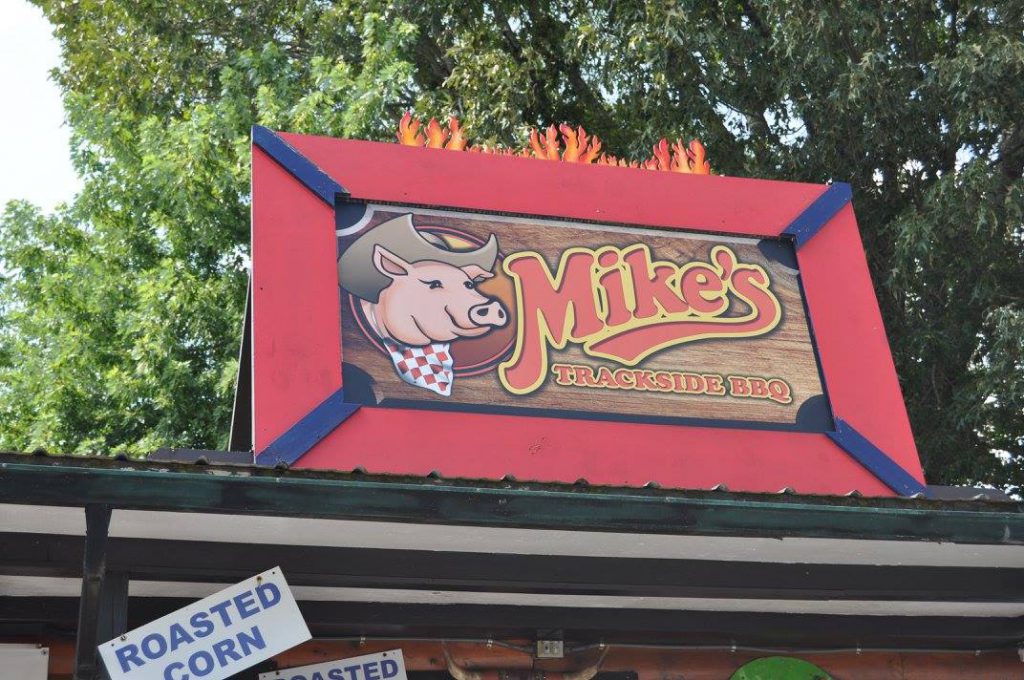 Mike's Trackside BBQ
Open Monday through Thursday 11-6 and Friday-Saturday 11-7. Closed Sundays.
3950 E First St, Blue Ridge, GA |(706) 258-2533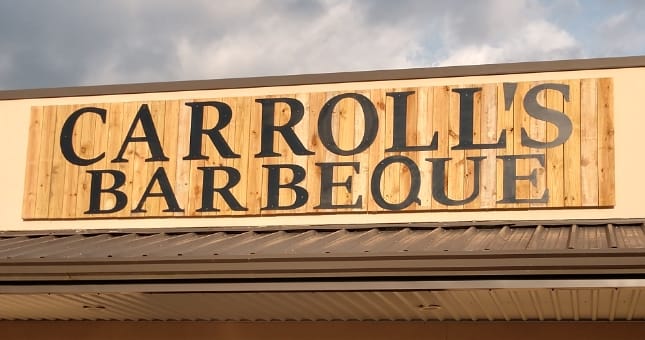 Up the hill and across from the Blue Ridge Post Office is a small, unassuming strip center. On the facia, in large block letters, it reads " Carroll's Barbeue". The size of the letters matches the Que experience diners get here. Walk inside and you'll get the old country jive. Not only are the optics there, but you'll get that smell of smoke rendering the fat that emanates from the real wood-fired pit, and the hunger pains spike the brain and you gotta have everything on the menu.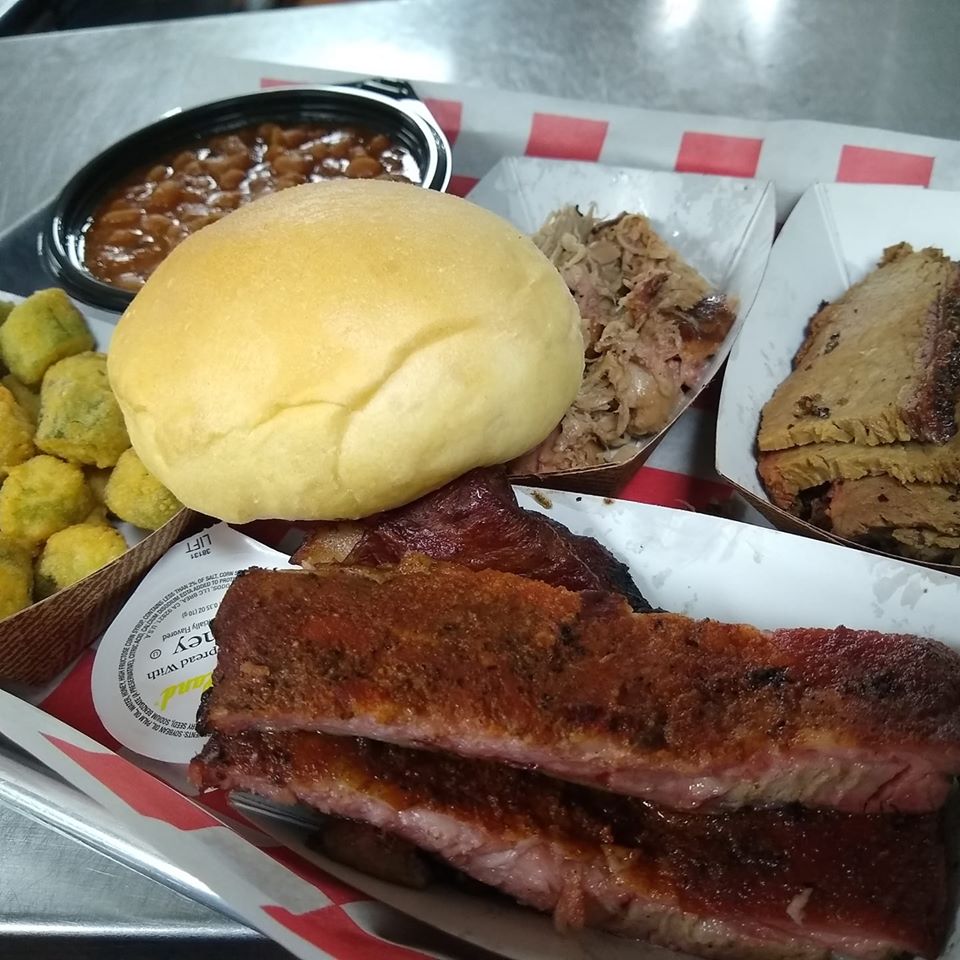 This is some of the most tender and tasty of briskets you'll find in these parts. The ribs are "fall off the bone" good! They have pulled pork, pulled chicken, and smoked wings. But the one meat that they are legendary for is their smoked turkey, available on a plate, stuffed in a large sandwich or covering up a fresh salad for those who eat just a little lighter. They also have a few unique items on the menu that, when dining with a group, are great sharing treats. The BBQ Burrito (baked beans & shredded cheese in a flour tortilla, topped with Brunswick stew) is stuffed with your choice of pulled pork or pulled chicken. Then there's "Tater Hill". Carroll's takes a large, classic baked potato, covers it in their white sauce, pile it mountain high with pulled pork, mac & cheese, baked beans, and coleslaw and then drizzles it with mild & sweet sauce.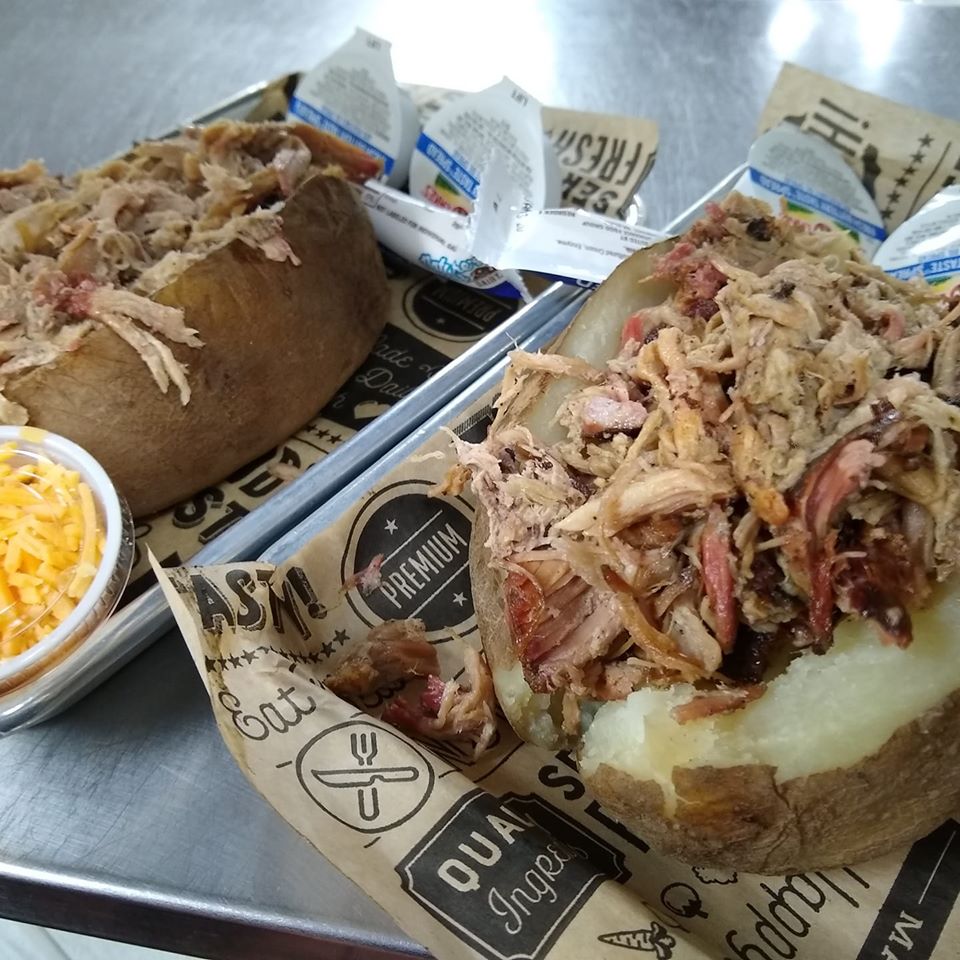 All servings are generous, as is the hospitality at Carroll's. Only open on Thursday, Friday, and Saturday for lunch and dinner, you want to plan a trip here with plenty of time to chow down your main plate, and then rest up a little before you indulge in a couple of their famous desserts, including homemade banana pudding served warm with a meringue topping or their show stopper, the Skillet Brownie Sundae.
Carroll's Barbeque
Open Thursday, Friday and Saturday 11am – 8pm
39 Lance St., Blue Ridge, | GA 706-946-1126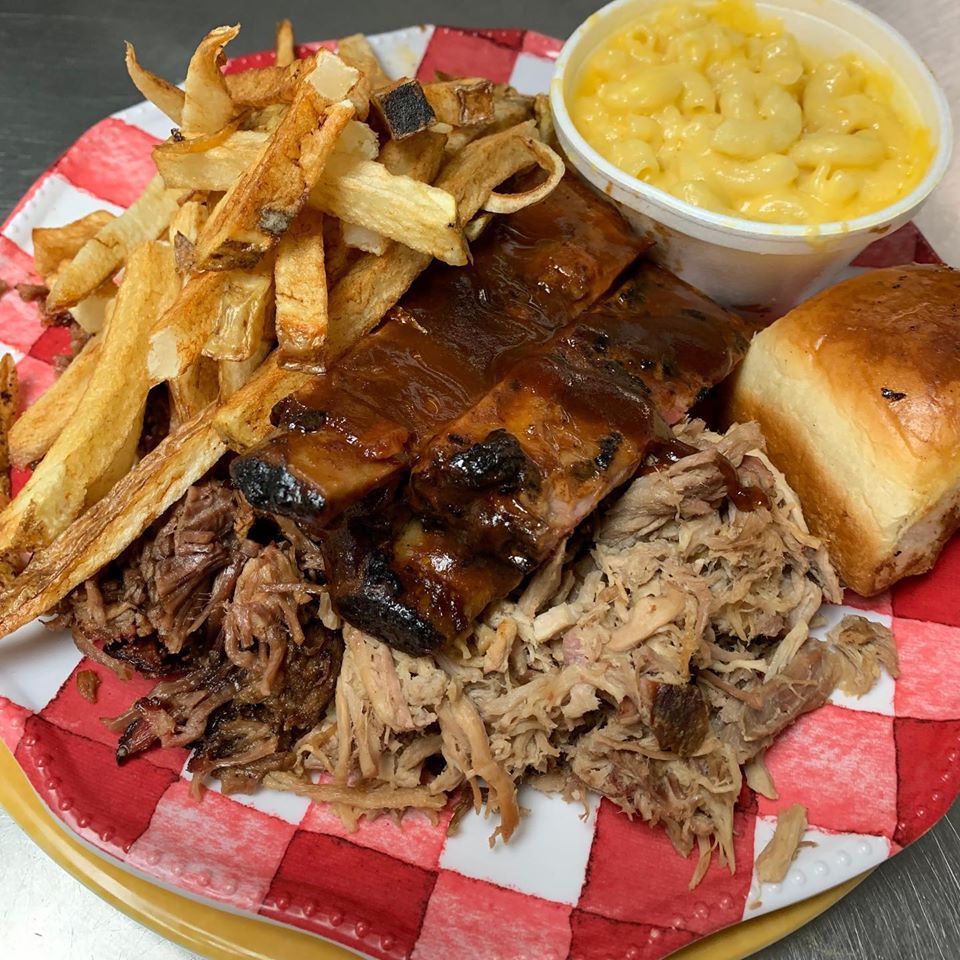 This smokehouse has been an institution in these mountains for over 50 years, and it is still cared for daily by the family of Granddaddy Holloway who first manned the smokers. Just down the road from Blue Ridge, in Cherry Log, GA, The Pink Pig stands out from the roadside. The Pink is not a subtle hue, but then every artist has its shade. And speaking of shade, The Pink Pig is one of our favorite places to outdoor dine, especially with kids. Lots of places to spread out as a family while eating succulent ribs with sauce all of your face and fingers.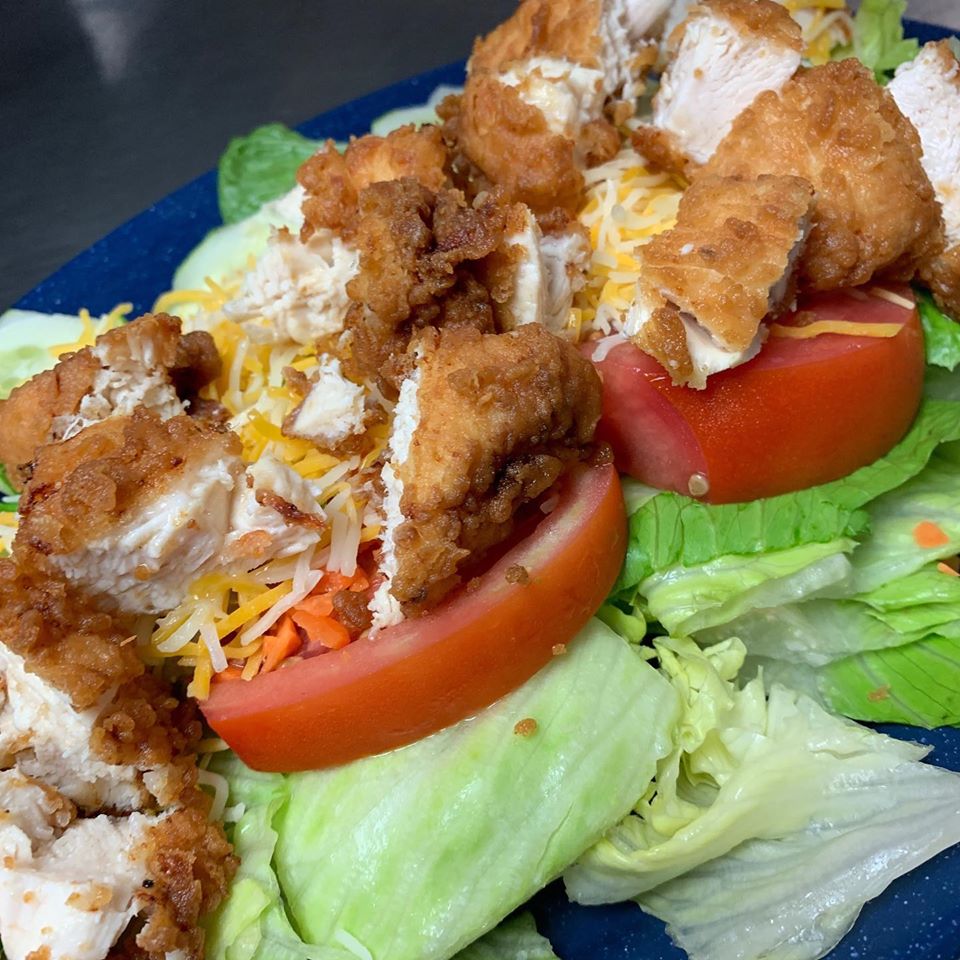 The Pink Pig's menu has some twists to it that you won't find at many other Que's. They receive five-star reviews every day for their garlic salad (it's the garlic brine the lettuce is soaked in- yet stays crunchy- they keep coming back to devour). You can get this salad veggie style or top it with grilled chicken, fried chicken, smoked pork, or brisket. Signature offerings like Bubba's Brisket Nachos and SJ's Brisket Tacos are the distinguishing brushstrokes that make this a Picasso of fine BBQ dining. The entrée menu includes a mouth-watering Ribeye cooked perfectly on the grill. Sandwiches and burgers can be topped with peppers, mushrooms, and onions. We like that you have a choice in the size of your sandwich, too. Those with a hearty appetite won't be disappointed.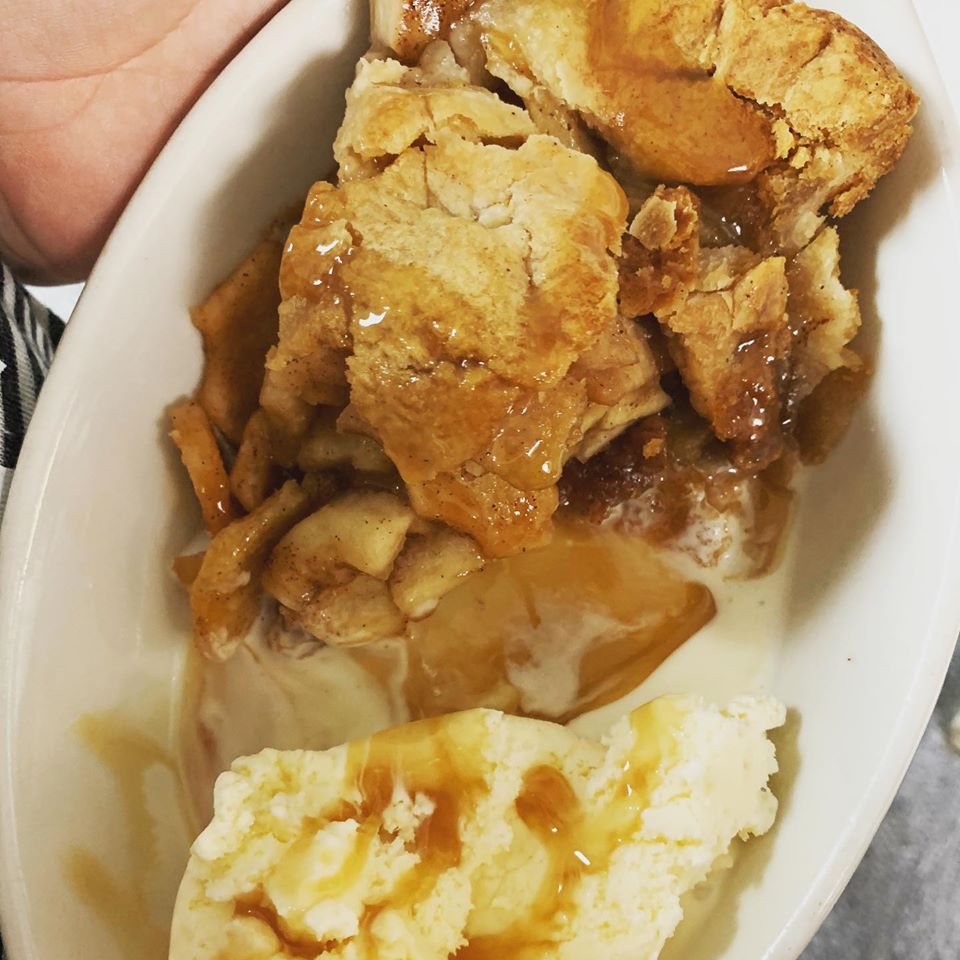 You might want to leave room for dessert because the Holloway family has a way with a cobbler that is served warm with a healthy scoop of vanilla ice cream all cuddled up next to that fresh seasonal fruit and topping. And note: they are open on Sundays and also stay open till 9 pm.
The Pink Pig
Open Thursday through Sunday 11am – 9pm
824 Cherry Log St. Cherry Log, GA | 706-276-3311