Get the full Downtown Blue Ridge experience! Shop, eat, drink, and explore downtown to its fullest! Follow our Downtown Blue Ridge guide for 9 fun activities & events to experience in town.
*Cover Photo of Blue Ridge Tourism
Shopping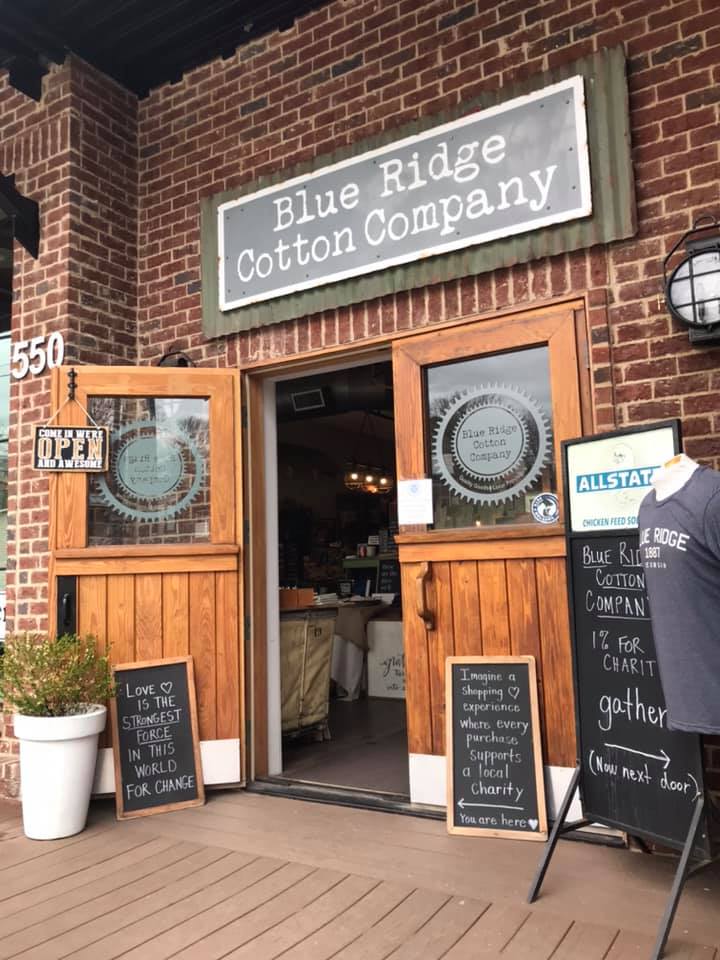 In Downtown Blue Ridge you can have a unique shopping experience like no other! You'll find a variety of unique and trendy shops for antiques, art, artisan goods, clothing, outdoor gear, and so much more. Downtown Blue Ridge is the perfect place to pick up a souvenir to remind you of your trip or bring back a special gift for your loved ones. While you shop you'll discover all kinds of neat items that you can only find here in Blue Ridge!
Deck your house out with fossil countertops and furniture made out of carved driftwood from Pezrok. Find stylish home goods and apparel at Blue Ridge Cotton Company or their sister store Gather. At Hucks General Store your kids will have a blast picking through the candy bins to look for their favorite one and they'll love the selection of toys & games as well. And for the adults, Hucks also has a wide selection of Blue Ridge tees, artisan goods, and more. To prep for all your outdoor excursions pay a visit to Blue Ridge Adventure Wear or the Cohutta Fishing Company. These two shops have everything you need to hit the trails for an exhilarating hike or head to the water for a day of trout fishing. Find delicious artisan goods & bold flavors at The Pasta Market and Blue Ridge Olive Oil Company. Bring back all the best ingredients with you for a little taste of Blue Ridge in your very own home. Downtown even has shops where you can pick out the perfect toy or treat for your loveable four-legged friend! For all things dog check out Love Dogs and Cats Too!
It's easy to spend all day exploring the shops of Downtown Blue Ridge. For more suggestions be sure to check out our shopping blog: https://www.escapetoblueridge.com/blog/shop-downtown-blue-ridge/
Dining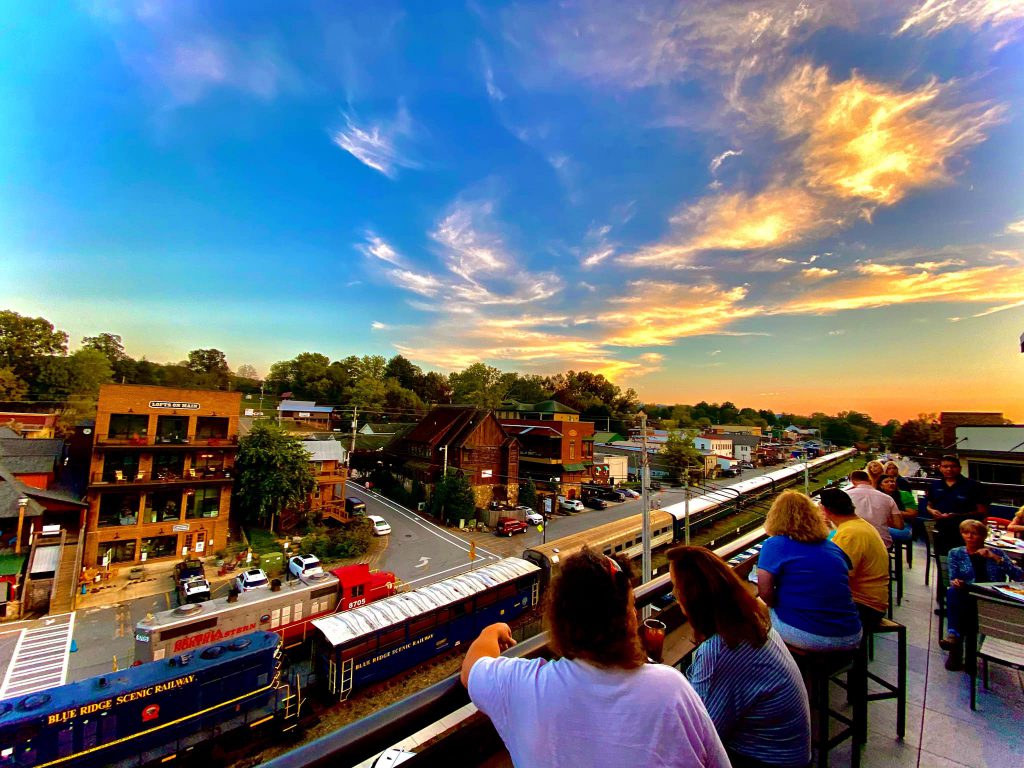 Spend your Blue Ridge vacation dining at some of the best restaurants in town! Many of our Downtown restaurants create their delicious meals from fresh, local ingredients so you can enjoy a little bit of that Blue Ridge flavor! But with so many great places to grab a bite to eat, it can be hard to decide the very best ones. Here's a few of our favorites:
For refreshing drinks served with your meal we'd recommend checking out either The Dogwood, Hook & Eye, or The General Ledger. These restaurants offer you a wide selection of beer, wine, and cocktails along with delicious comfort foods you won't be able to resist! For a fine dining experience check out The Black Sheep, ROE, or Whiskey and Water. The Black Sheep offers savory dishes like roasted lamb and hand cut ribeye along with their amazing Sunday brunches, while the latter two offer fresh oysters and seafood from the very best of the east coasts. And we can't forget to mention some of the most beloved restaurants in town: Chester's, Harvest on Main, and Fightingtown Tavern. Get your southern fix at Harvest on Main and eat the biggest burger you've ever seen at Fightingtown Tavern! And Chester's is one of our all time favorites with their incredible wings, pimento cheese chicken sandwiches, and their Escape to Blue Ridge cocktail. For more delicious restaurants to try, check out our restaurant roundup blog: https://www.escapetoblueridge.com/blog/favorite-blue-ridge-restaurants/
The Art Scene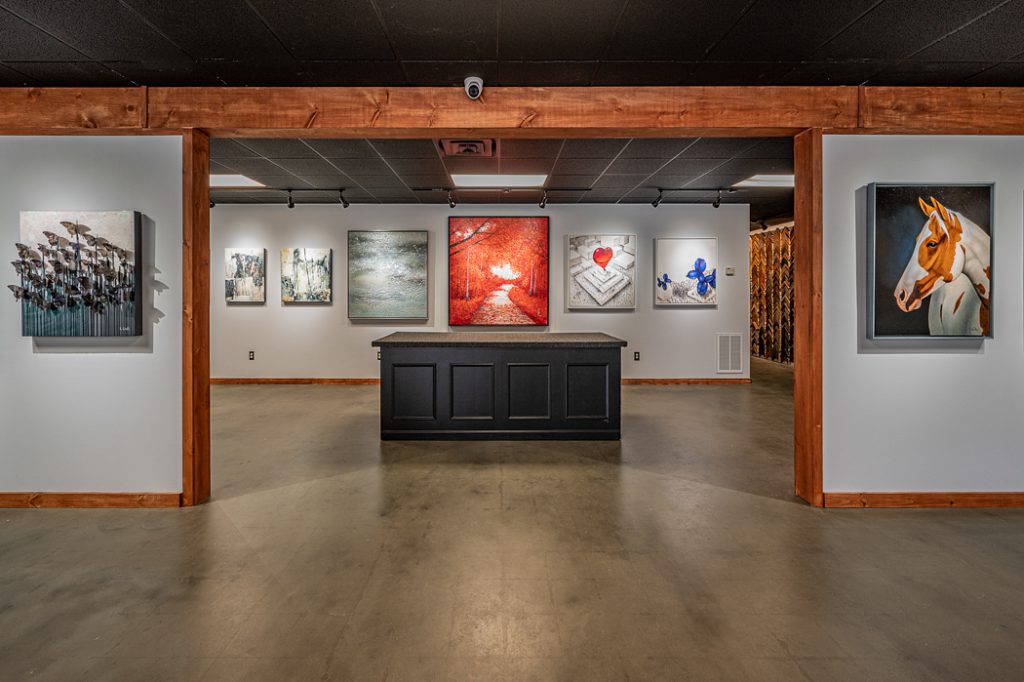 The art scene is alive in Downtown Blue Ridge! Blue Ridge is one of the Top 5 art towns in the state of Georgia and one of the Top 100 art towns in the country! How neat is that!? Art lovers will enjoy exploring the many lovely art galleries downtown. At High Country Art Gallery you'll find beautiful works of art like paintings, jewelry, pottery and much more, all handcrafted by local artists. 4 Elements Art has beautiful nature art pieces on display and they also offer custom framing. Fishbone Gallery has unique ceramic art from the talented Betty Wassmer and Multitudes Gallery features hand blown glass and other art from over 100 nationally known artists. And don't forget to check out Blue Ridge Mountains Arts Association: where there's always something new and exciting on display! Not only can you admire beautiful artwork here but you can also take a leather making class, pottery class, or a class on any other art medium you're interested in learning about. They host art classes & other great events all year round so be sure to check their website for more information: https://www.blueridgearts.net/
Blue Ridge is also home to a great performing arts center where you can enjoy live theater year round! Blue Ridge Community Theater puts on 7 mainstage productions a year along with children's theater and live music concert serieses. And on weekends you can always find local musicians and singers performing at Downtown Blue Ridge restaurants and bars! Some of our favorite spots downtown to hear live music are Misty Mountain Hops, Grumpy Old Men Brewing, and The Blue Coyote. Check our monthly calendar of events for the full live music lineup.
Ride the Train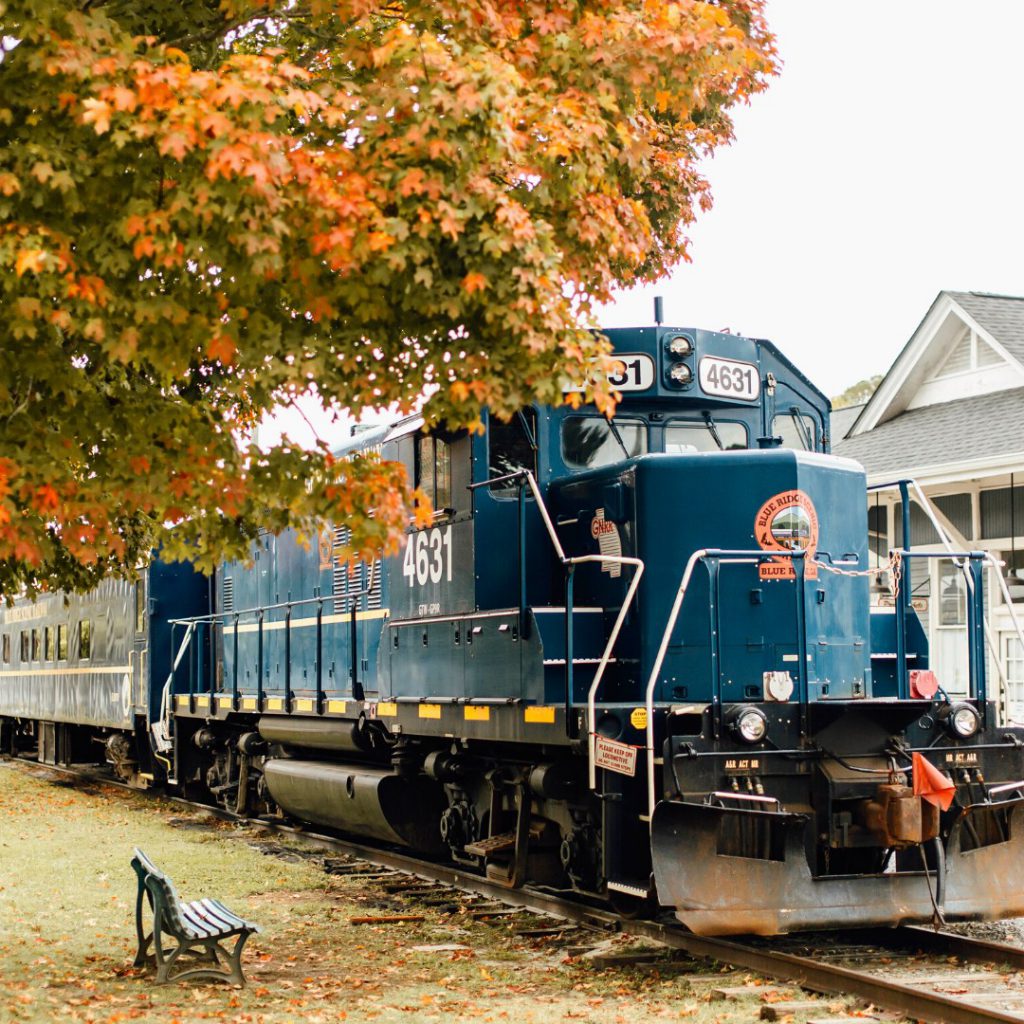 One of our visitors' most favorite Blue Ridge activities is taking a ride on the Blue Ridge Scenic Railway! The train has been a staple of our small town since the depot was built in 1905. Freight trains passed through the depot until the late 1980s; the depot also saw its fair share of passenger trains until 1951. Lucky for us, in the 1990s, investors came looking for a way to preserve the significant railway history in Blue Ridge and brought the iconic train you know and love today to life. Since then, the train has become the heart of this small town bringing over 70 thousand visitors to Blue Ridge and its sister towns of McCaysville, Georgia and Copperhill, Tennessee.
You can choose a 2 hour or 4 hour journey through the beautiful North Georgia countryside anytime between March and December. You can personalize your journey with your choice of vintage, climate-controlled or open-air rail cars for your 26-mile trip along the Toccoa River. Once the train has its 2 hour layover in the "twin cities" you'll get the chance to explore a new mountain town rich with history and fun on the river!
One of our favorite times to ride the train is in the autumn because you get the chance to experience all the bright fall beauty around you. Christmas is another popular time as well because the whole family can get in the Christmas spirit with holiday music & pictures with Santa! But no matter the season, the whole family will love their scenic train ride through the North Georgia countryside!
Have a Brew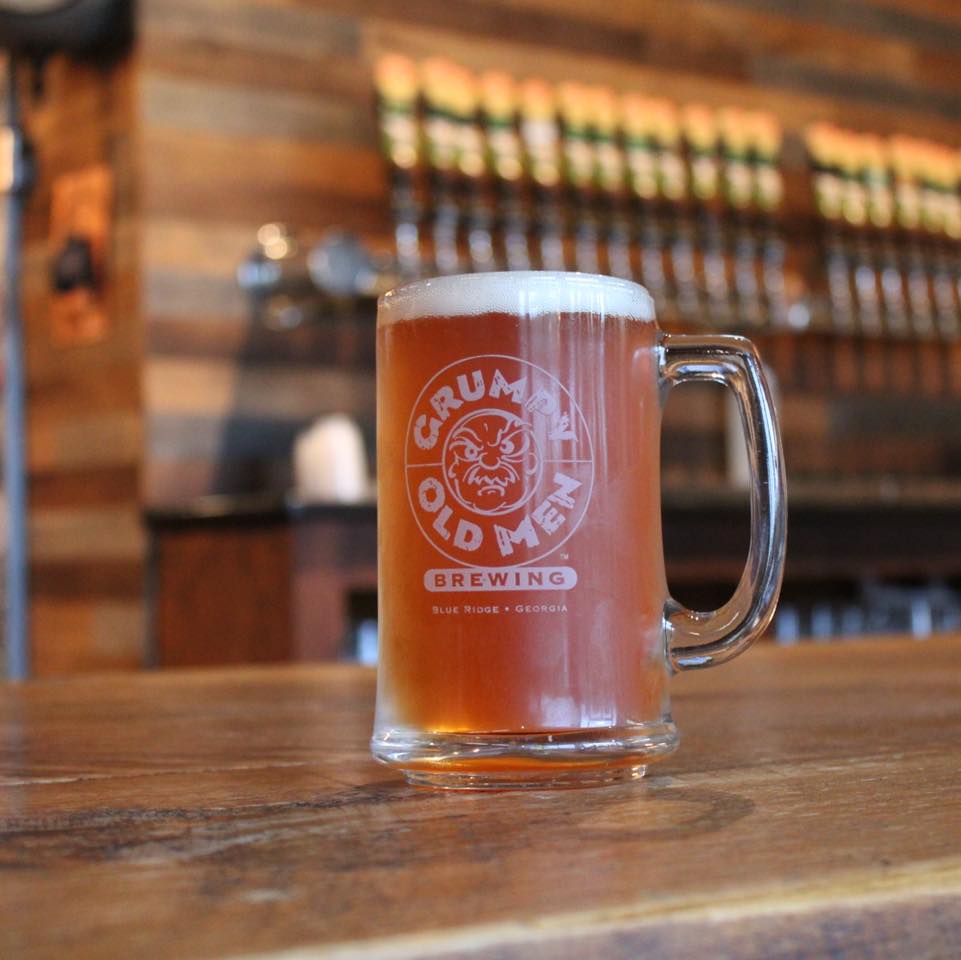 You can't go wrong with a pint of beer! And Blue Ridge has no shortage of beer options for you to choose from, with 5 breweries downtown alone! A tried and true favorite of our guests, is of course Grumpy Old Men Brewing! "Grumpy" or not, anyone is welcome here for good beer and a good time! With a wide variety of brews on tap you're sure to find something you'll love. And there's always something happening here- on weekends you can enjoy live music and food trucks; and you're always welcome to play giant Jenga outside or bring along your favorite pup for all the fun! Another favorite is Fannin Brewing Company– where everything is made locally. Each of their 10 beers on tap is made with local ingredients and they always give back to the community. And every Friday night you can have a few beers and test your own vocal chops at their open mic nights!
For a traditional brew downtown pay a visit to Angry Hops Brewing. While they specialize in traditional brews they also have IPAs, stouts, ales and more on tap. You'll be very "hoppy" that you stopped by for a drink at Angry Hops Brewing! For German fare visit Black Bear Bier Garten! Nothing tastes better than a cold beer paired with a giant pretzel, and that's exactly what you'll find at Black Bear Bier Garten. Not only can you find lots of great German craft brews here but you can also enjoy over 9 varieties of German game sausage. Yum! And if the wife needs to get a little retail therapy done but doesn't want to drag her husband along with her, then she can just drop him off at their "husband daycare center". Be sure to snap a quick pic of him in front of the sign when you do!
And you have to drop by and have a beer from one of Blue Ridge's newest breweries- Tipping Point Brewing Co. Enjoy a refreshing beer on tap and stay to watch your favorite teams play for Sunday night football! And even though Tipping Point Brewing Co. is new to town there's always something going on! Live music, beer pairing events, chili cookoffs, and more!
A Day in the Park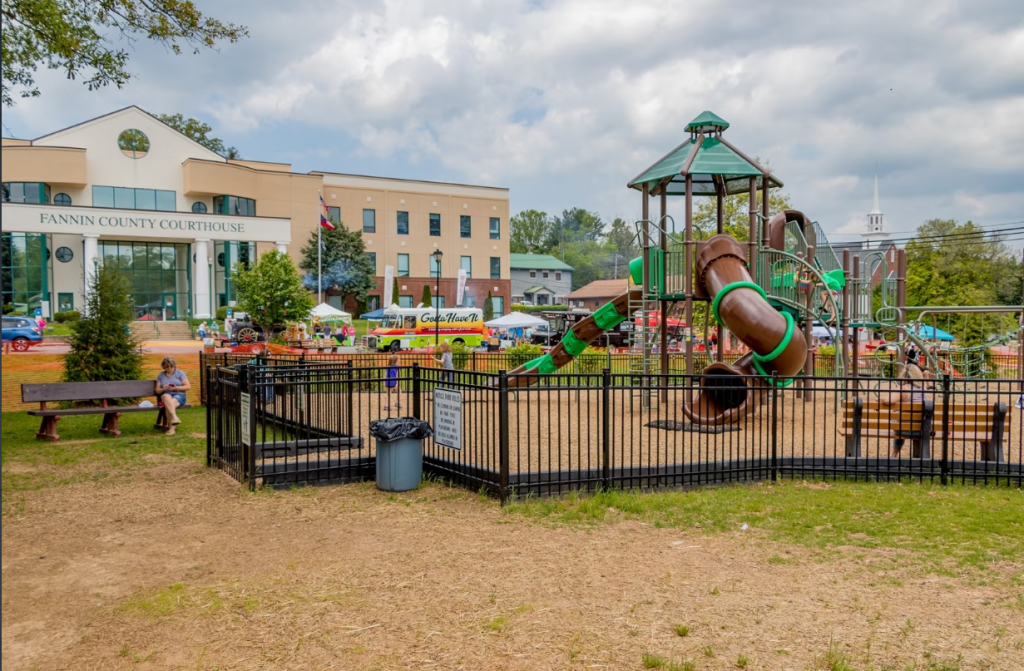 Enjoy a picnic lunch or some of Blue Ridge's wonderful annual events on the greens of Downtown Blue Ridge City Park. Pack your own picnic lunch or grab something to-go from one of the nearby restaurants and enjoy a sunny day in the park with the family. The kids can play on the playground while you set up your yummy feast at the picnic table. You can also cook up your favorites on the grill or play a game of frisbee with the family in this charming park.
Selfie Spots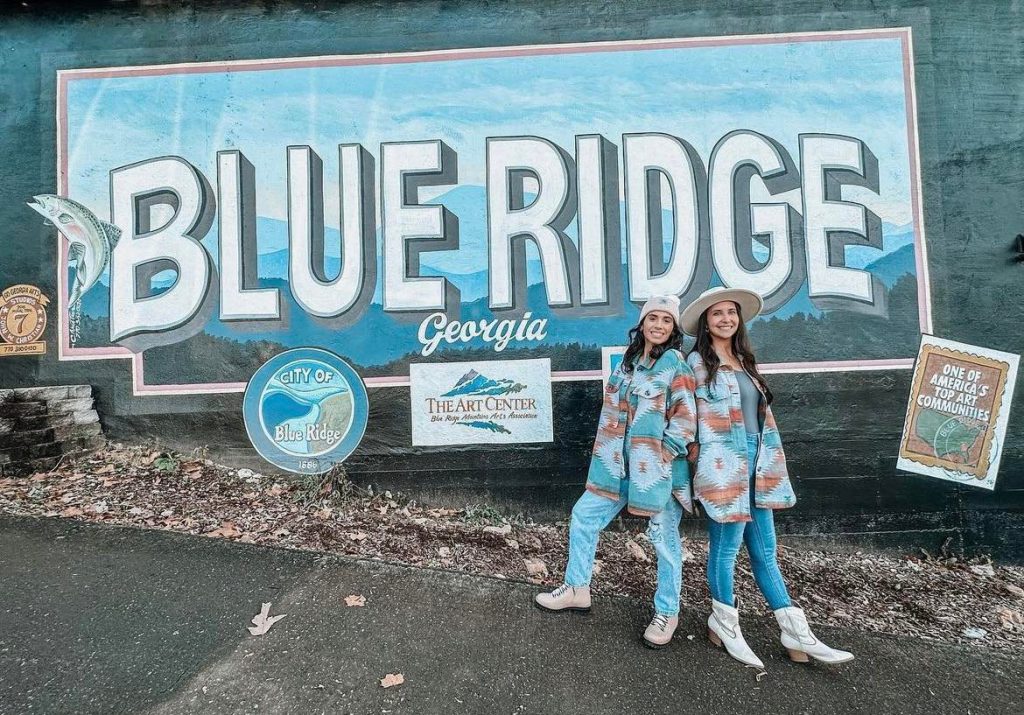 Are you looking for the perfect place to grab a few photos to commemorate your trip to Blue Ridge? How about half a dozen all only within a few blocks from each other? Downtown Blue Ridge is your hub for selfie spots and cool murals. Here's a few of our favorites:
The Blue Ridge Mural: Located on the corner of Mountain and East First Street You can't take a trip to Blue Ridge without getting your picture taken in front of THE Blue Ridge wall! You'll remember your trip to Blue Ridge fondly as you look back at family pictures taken in front of the mural.
The Bear Statue: Located at the entrance of the Blue Ridge Mountain Mall. Get some "beary" good family photos in front of these cute bears. Then after your photo shoot head inside the Blue Ridge Mountain Mall and hunt for some cool collectibles and antiques.
The Coke Mural: Located at the end of East Main Street on the side of the Fly Fishing shop. Who doesn't love a refreshing Coke? Take a photo with the famous Coke mural downtown and then share a coke over dinner at one of Blue Ridge's delicious nearby restaurants.
Statue of Liberty: Located in front of the Fannin County Courthouse. Did you know that you can find a mini replica of the Statue of Liberty right here in Blue Ridge? But instead of a torch our Lady Liberty holds a lamp globe to help light the city streets below.
Red Man Cigar Mural: Located on the side of the King Edwards Cigar Building. Blue Ridge holds a lot of history and the King Edwards Cigar building is one of the oldest buildings in town! The Red Man Cigar Mural on the side of the building is a reminder of how things once were in our little old mountain town.
Indoor Fun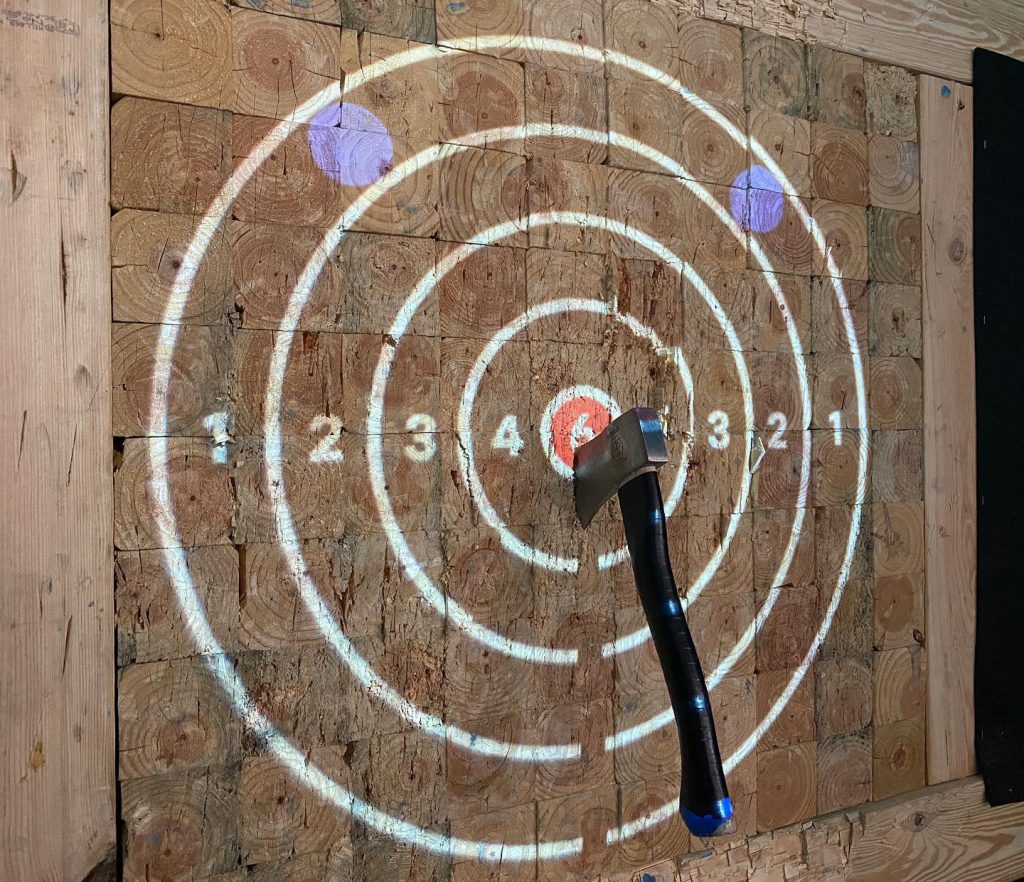 Looking for some family fun entertainment? Downtown Blue Ridge has so many great indoor activities that the whole family is sure to love!
Try your hand at pinball at Vertigo Pinball! Here, you don't need coins or tokens to play; all you need is a wristband and you can play for as long as you'd like. They have all kinds of fun, themed machines like Star Wars, Marvel, Adams Family, KISS, Rush, and more! Pinball not your thing? You're welcome to drop by to watch the big game on their TVs and snack on some adult grilled cheeses while you sip on a pint of refreshing beer. Vertigo Pinball is a great place where parents can feel reminiscent of the good old days and kids can enjoy playing some of your favorite games growing up.
Feel like a Viking for a day and throw some axes at Axe Throwing Therapy! Located right on Main Street Axe Throwing Therapy is a great place to spend the afternoon! Everything is done digitally and is projection based so you can easily play a wide variety of interactive games & keep score. They're also right next door to Shezmu Cellars so you can grab a glass of mead and have some fun. You'll throw axes, drink, and have a ton of fun! Why wouldn't you want to go!?
Everyone loves a good game of mini golf! Especially on vacation right? Challenge the fam to a round of mini golf at 2nd Story Entertainment. The whole family will have a blast trapezing through 8 individually themed rooms while you play. They also have giant board games like giant Connect Four and Checkers, as well as magnetic dart boards and a wall maze. And don't forget to check out the snacks and arcade games too! If it's a cold rainy day or you're just looking for a place to have some good old fashioned family fun then look no further than 2nd Story Entertainment!
Did you know Blue Ridge is home to Bigfoot? We even have our very own museum dedicated solely to the bigfooted man himself! This fun quirky museum Downtown is filled to the brim with Bigfoot artifacts, photos, sighting maps, and more! Expedition: Bigfoot! The Sasquatch Museum, is actually the largest Bigfoot display in the U.S; so there's tons to discover here!
Annual Events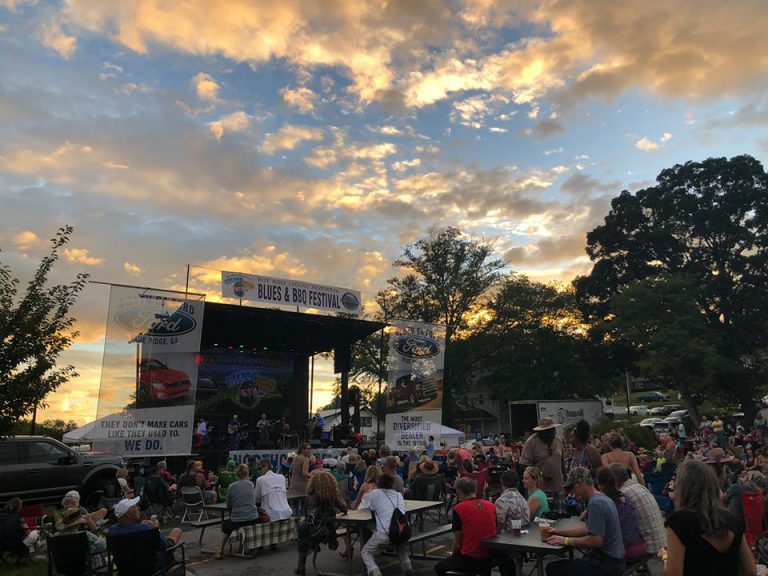 There's always something fun & exciting happening in Downtown Blue Ridge! Each year thousands of visitors come to Blue Ridge to experience some of our most beloved events & festivals. See our full lineup of annual events and make plans to experience them with us:
Fire & Ice Chili Cookoff & Craft Beer Festival: Every February winter fun comes to Blue Ridge! Everywhere you look there's beautiful ice sculptures built by award winning ice sculptures. There's also a chili contest where you can taste test all the delicious chili and vote on your favorites to win. And there's plenty of craft beer to keep you warm & toasty from the cold mountain air! This year's event takes place in Downtown City Park on February 18th, 2023.
St. Patrick's Day Parade: Celebrate like the Irish at Blue Ridge's annual St. Patty's Day Parade! Wear all green and watch as floats & bands march by in celebration! Then stay after for brews, food, and shopping.
The Blue Ridge Trout and Outdoor Adventures Festival: Find adventure at The Blue Ridge Trout and Outdoor Adventures Festival! At the event you can learn all about fishing, hiking, paddling, rock climbing, and much, much more. Plus there will be plenty of craft beer, food, and live music. This year's event takes place in Downtown City Park on April 29th, 2023.
Spring Arts in the Park: Every Memorial Day weekend for the past 46 years visitors have come from near and far, for the beloved Spring Arts in the Park event. Come on out on a lovely spring weekend where you can admire beautiful art in Downtown Blue Ridge from over 175 artists! This year's 47th Annual Spring Arts in the Park takes place in Downtown City Park May 27th & 28th, 2023.
The Old Timer's Parade: The Old Timer's Parade has been a Blue Ridge tradition since the 1950's. Come downtown in your best period attire, bring your antique cars and celebrate the 4th of July! This year's event takes place July 1st, 2023.
Blue Ridge Freedom 5K: Be a part of the 4th of July celebration run! Make your way through town in this festive 5K! This year's race will take place on July 4th, 2023.
Labor Day Barbecue: Enjoy fun in the park & great food all Labor Day weekend long! There will be classic cars, bluegrass & gospel music, and lots of barbecue! Don't miss year 42 of this awesome bbq filled weekend! This year's event takes place September 2nd-4th, 2023.
Blue Ridge Blues and BBQ Festival: As the weather starts to get cooler and the leaves begin to change it's the perfect time to come together to enjoy some great music and delicious food! The day is always filled with an awesome lineup of talented artists and local food vendors. This year's event takes place September 15th & 16th, 2023.
Fall Arts in the Park: Take in beautiful art, great live musical performances, and delicious food. Plus you'll get a chance to admire the stunning and colorful fall trees that surround Downtown Blue Ridge and Veterans Memorial Park. This year's 47th Spring Arts in the Park takes place in Downtown City Park October 14th & 15th, 2023.
Halloween Safe Zone: Halloween fun awaits the kiddos with trick treating in Downtown Blue Ridge! Not only will there be lots of candy but there will also be a costume contest and a pet costume contest for cats & dogs!
Veterans Day Parade and Memorial Service: Every Veterans Day we invite veterans and their families to join us for breakfast, the Veterans Day Parade, and a memorial service. The parade makes its way through Downtown Blue Ridge and ends in Veterans Memorial Park. This year's event takes place November 11th, 2023.
Blue Ridge Turkey Trot: Get your workout in Thanksgiving morning to prep you for all those carbs at holiday dinner! Walkers & runners welcome! This year's event takes place November 23rd, 2023.
Light Up Blue Ridge & Christmas Parade: On Friday after Thanksgiving Downtown Blue Ridge holds a special Blue Friday event with store discounts, food vendors, strolling entertainment, the opening of The Gingerbread Village, and lots of Christmas cheer! Then the following day Santa comes to town! There will be more vendors, a Christmas Parade, photos with Santa, and the lighting of the great tree! This year's event takes place November 24th & 25th, 2023.