There's so much fun to be had in the Copper Basin! In fact you'll have double the amount of fun here because you have not one, but two states to explore-McCaysville, GA and Copperhill, TN. You may have spent a few hours in the Copper Basin during your layover with the Blue Ridge Scenic Railway, but we recommend planning a day trip to the Copper Basin on your next visit because we assure you that there's plenty you didn't get the chance to experience. From great shops and restaurants, to breweries and live music venues, to the town's rich history; there's so much for you to enjoy! Be sure to check out these 8 activities on your visit to the Copper Basin:
*Cover Photo Courtesy of the Riverwalk Shops
Visit the State Line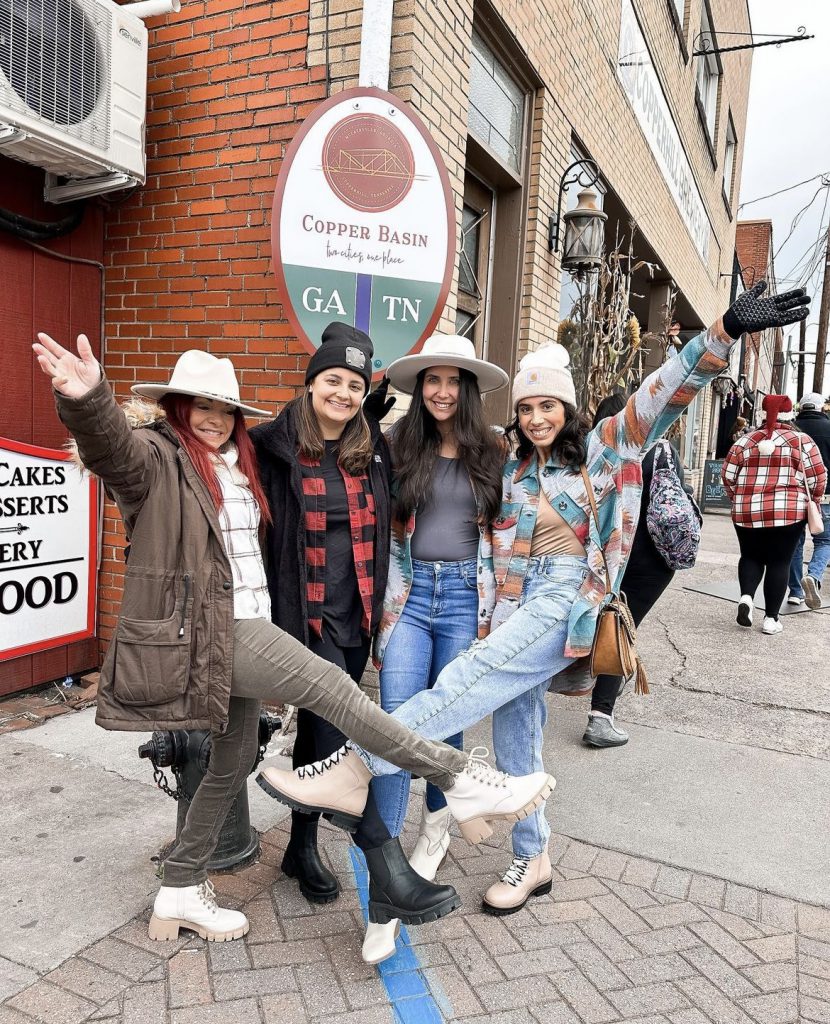 You can stand in two states at once by putting one foot in Tennessee and the other in Georgia, right on the blue state line here in the Copper Basin! This is the perfect opportunity for a few fun photos while you get both the full Georgia and Tennessee experience!
Walk the Famous Steel Bridge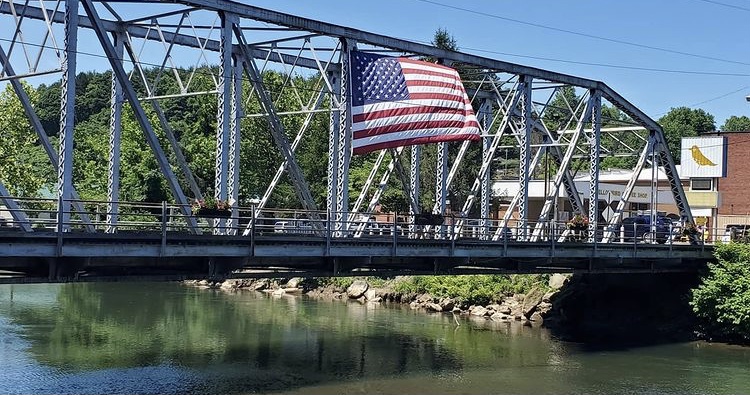 The Copper Basin is known for its famous steel bridge! As you walk across this bridge you'll move from Georgia to Tennessee in no time at all. And the river that rushes below this bridge is known as the Toccoa River when you're in Georgia and the Ocoee River when you're in Tennessee. It's the same river but with a different name depending on what state you're in! And that's exactly what this historic bridge, built in 1911 marks, the changing of the river as it crosses the state line. How cool is that!? This famous bridge is also a great spot for a photo op with friends & family. Or you can snag a picture of the bridge from the distance, where you'll be able to see the American flag that faces out for all to see.
Riverside Dining
Enjoy incredible riverside dining here in the Copper Basin! From pizza, to American eats, to Cuban food, and even Southeast Asian cuisine; the Copper Basin has a surprisingly large amount of variety for such a small community. Here's a few of our favorites: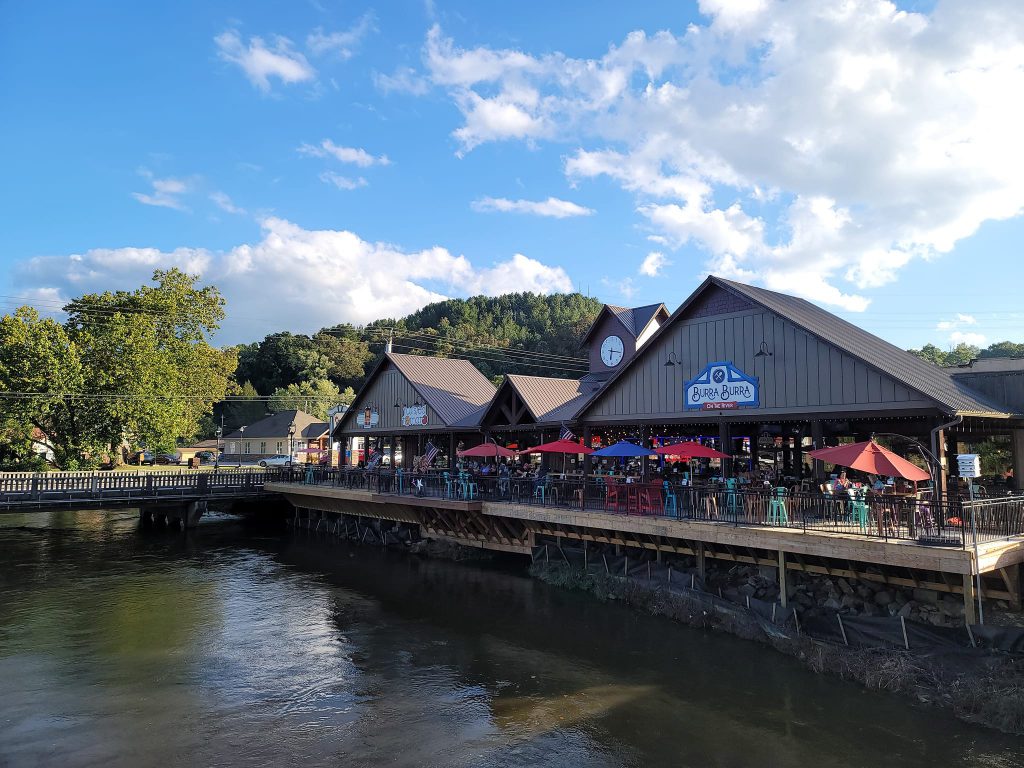 Enjoy waterside dining like never before at Burra Burra! Dine on classic American fare on their large deck that overlooks the famous Steel Bridge and the Toccoa River. Order a plate of ribs or a smash burger, or try "The 1929" which is their number one seller! "The 1929" is a slow roasted beef brisket sandwich platter topped with provolone cheese, grilled onions, red wine and thyme infused au jus dip, served with river winders and coleslaw. YUM! Pair your meal with a craft brew or a glass of wine which will hit the spot after a busy day of shopping at the Riverwalk Shops. Your fur babies are even welcome to join you for dinner on the deck! So stop on by Burra Burra for a delicious meal and a good time on the Toccoa!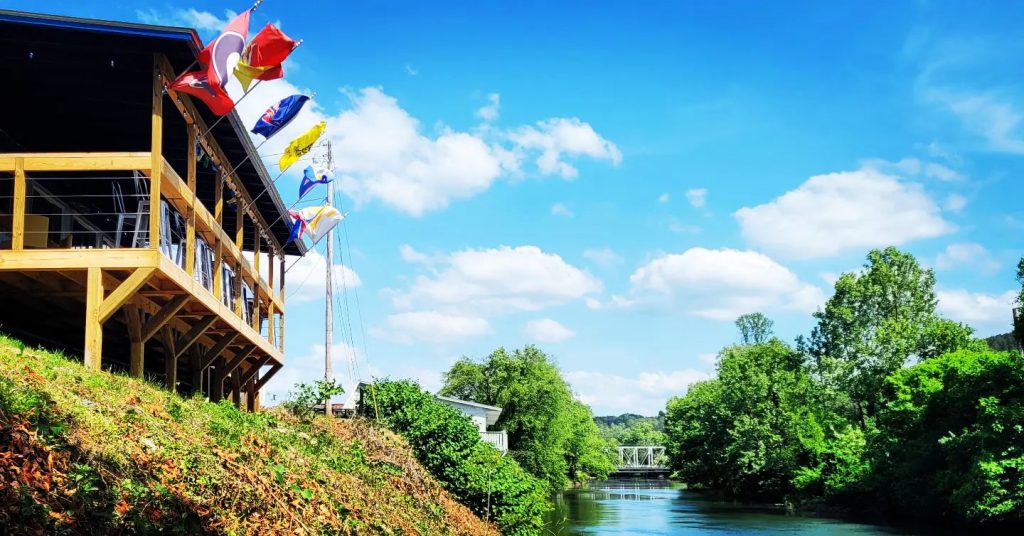 For more great dining & drink options check out The Waterfront Bar across the river in Copperhill, TN! The Waterfront Bar sits high above the Ocoee River and as you look down from their expansive deck you'll have amazing views of the Copper Basin below. And believe it or not this incredible riverside tavern is the first & only liquor bar in Copperhill, TN! And good thing too because the drinks are amazing!! Refreshing craft cocktails like the Rum Punch or the Captn's Cherry Treasure will have you thinking you're on the banks of a sunny Florida beach, when you're actually in the mountains of Tennessee! They also offer beer & wine options as well. And we can't forget the food which is a delicious blend of traditional Sicilian cooking with a unique Southern flair. The Waterfront Bar is a great place to grab a few drinks and unwind with friends & family!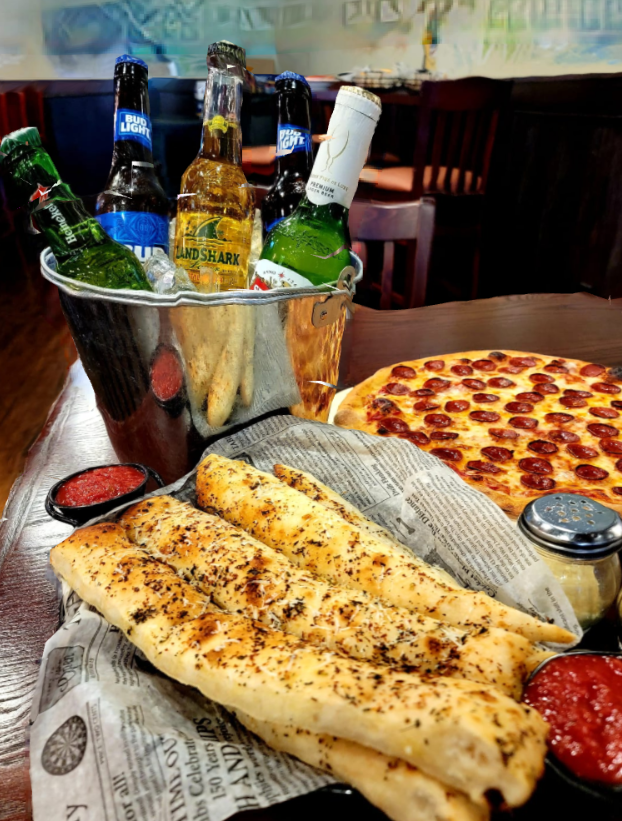 You can't go wrong with a cheesy & delicious slice of pizza! And that's just what you'll find at Twisted Tomato, located on the riverside deck right next to Burra Burra. Twisted Tomato's scrumptious, woodfired pizzas are homemade every day with the freshest of ingredients bringing authentic & quality food to the heart of the Copper Basin. Build your own pizzas & salads here with dozens of toppings to choose from or try a calzone instead! And check out the wood fired specialties menu for unique and fun pizza options; one of our favorites is the Bigfoot Supreme which is extra tasty after running in the Bigfoot Boogie 5K, which takes place in the Copper Basin every October. Grab a slice & grab a drink and enjoy a relaxing dinner riverside!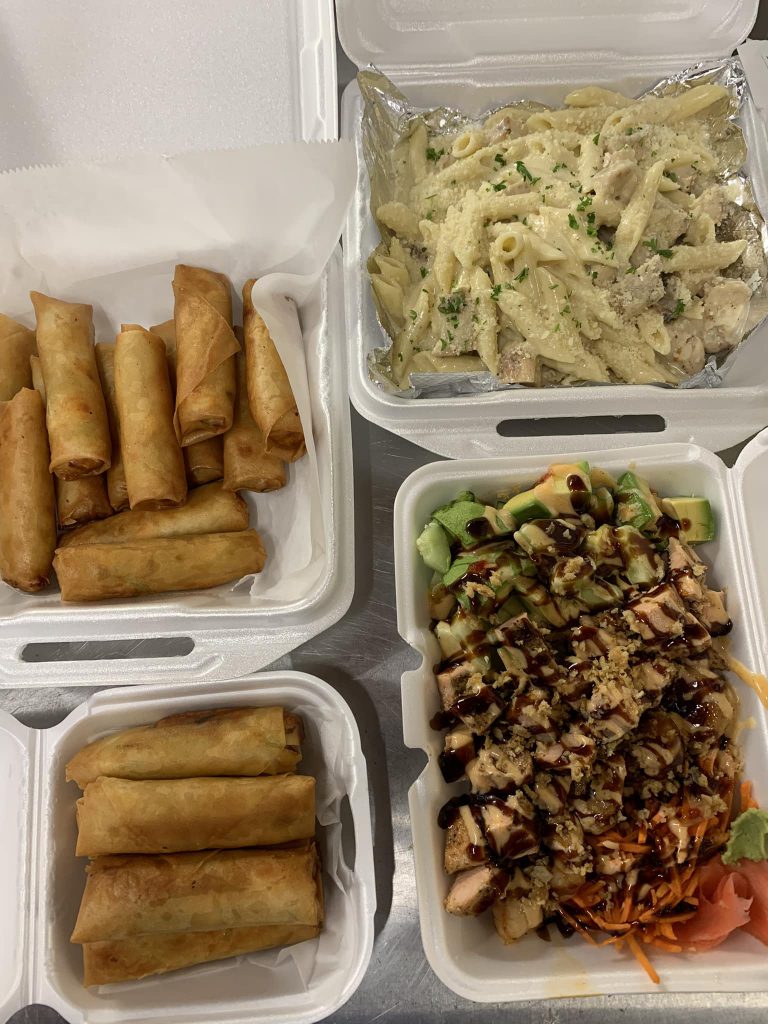 Enjoy some culture and a taste of Asia at Rods Rocking Rolls in Ducktown, TN! To try a bite of Rods Rocking Rolls Southeast Asian Cuisine you'll have to take a quick 5 minute drive from the Copper Basin, but it's totally worth it, we promise! Sushi, seafood, spring rolls, rice bowls, you name it; they've got it all! They also have an American & Italian menu so even those picky eaters will have something there to enjoy! All their food is prepared fresh daily and the unique menu is constantly changing, so you'll always find something new and exciting to try!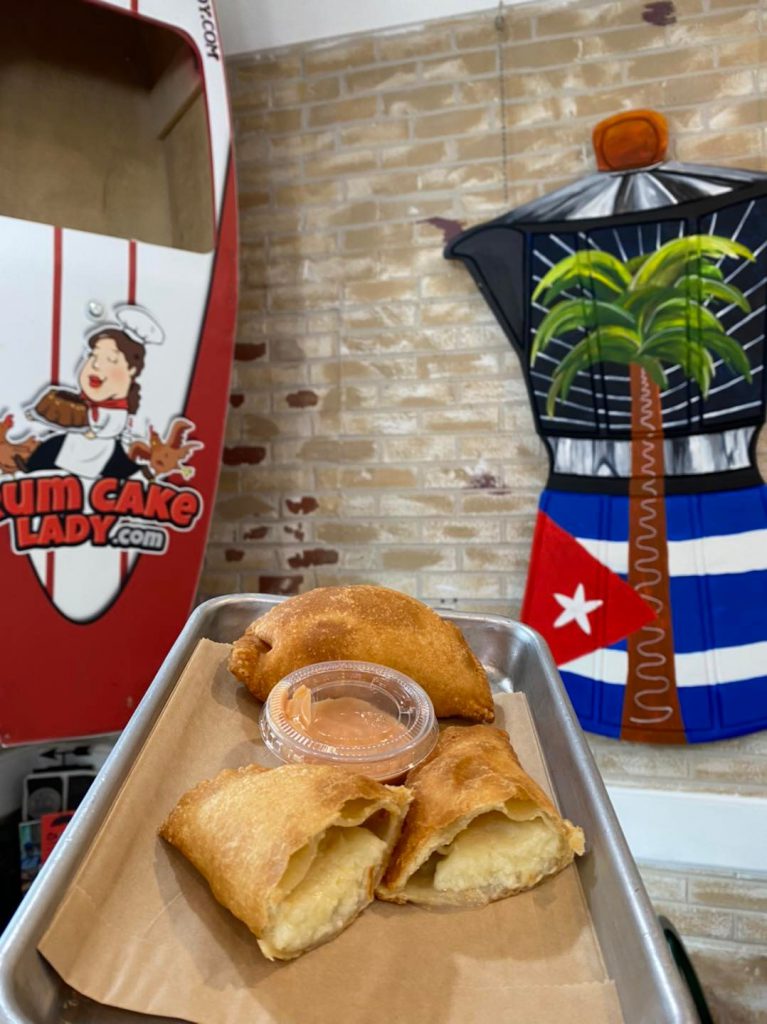 You may have dined at the Rum Cake Lady in Downtown Blue Ridge, but the real fun of having some of this delicious Cuban cuisine at the Copper Basin location is because the café sits right on the state line. How cool is that!? You can enjoy your amazing meal and rum cakes in two places at once and then snag a fun picture afterwards. And not only does the Copper Basin location offer all your favorite Cuban entrees but they also have a Cuban grocery where you can shop for all the Cuban delicacies you can think of and so much more!
Have a Drink
The Copper Basin has no shortage of great places to have a drink. Two of our favorite local breweries are located there: Buck Bald Brewing & Copperhill Brewery. As well as a cool new trendy bar, Bar 21.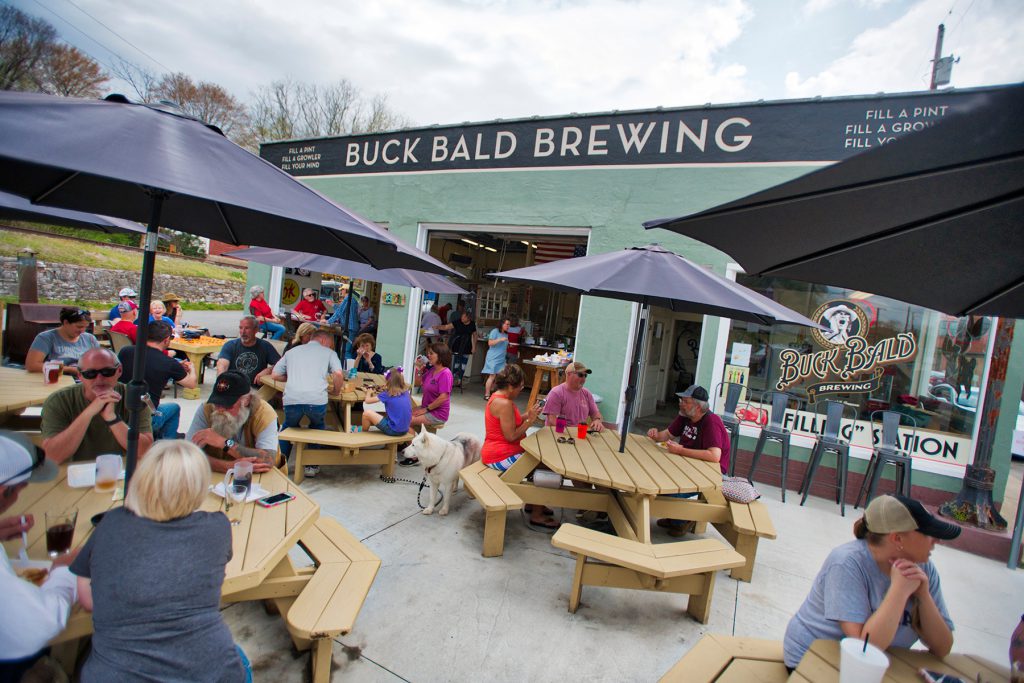 Just over the state line in Copperhill, TN sits Buck Bald Brewing! This wonderful brewery is actually a converted gas station turned into a brewery, where you'll find a wide variety of refreshing craft brews. Opened in 2018, this brewery has become the toast of the town, with over 14 beers on tap at the Copperhill location and 12 on tap at their newly opened Murphy, NC location. And they've got a little bit of something for everyone; from IPAs, to sours, to English and German style beers, you'll be sure to find the beer that fits you best! Whatever beer you choose, you can enjoy it from the tasting room or from the outdoor area. And if you're a craft beer fantatic be sure to join the Mug Club, where you can have your portrait immortalized on a mug, exclusively for your personal use as you explore Buck Bald Brewing's extensive and ever-changing beer selection.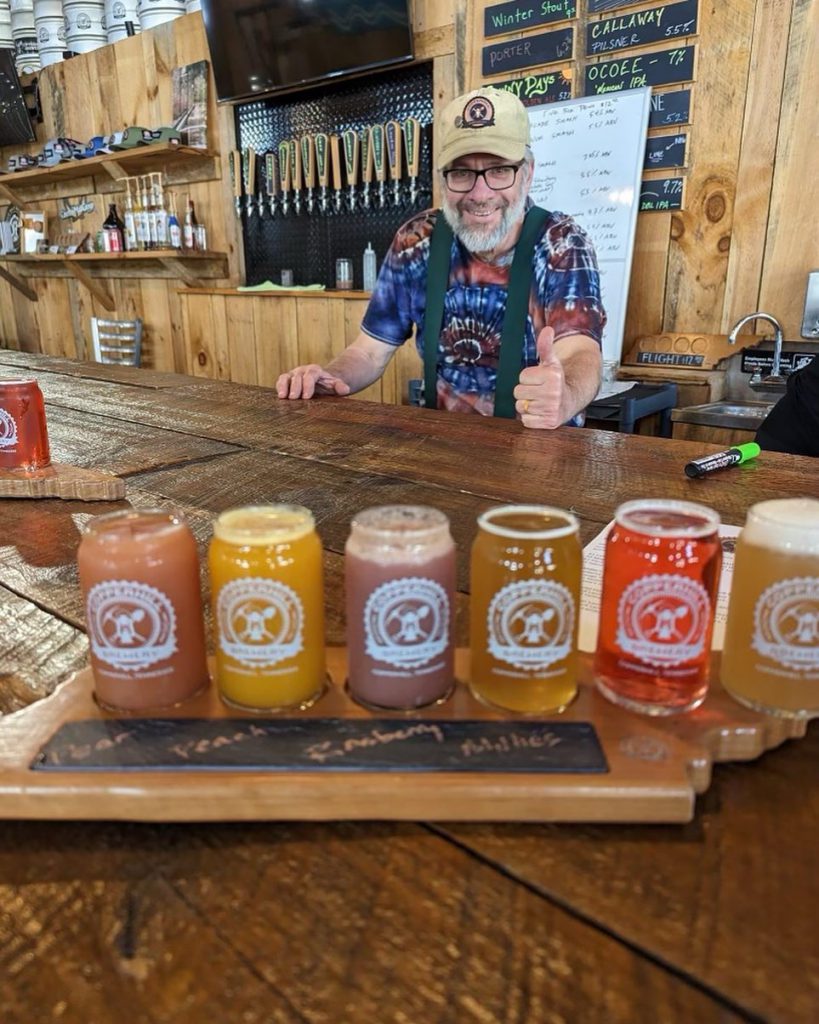 Also in Copperhill, TN you'll find Copperhill Brewery! This wonderful brewery sits right on the TN/GA state line next to the Rum Cake Lady, so you can drink your favorite craft brews with one leg in Tennessee and one in Georgia (it would make for a hilarious photo)! Not only will you find delicious craft brews here but you can enjoy them in the spacious tasting room where the atmosphere alone just screams relaxation. And there's always something happening at Copperhill Brewery, listen to live music on weekends, play some trivia on Thursday nights, or shoot darts at the dartboard. You won't find a more relaxed place to spend an afternoon than at Copperhill Brewery!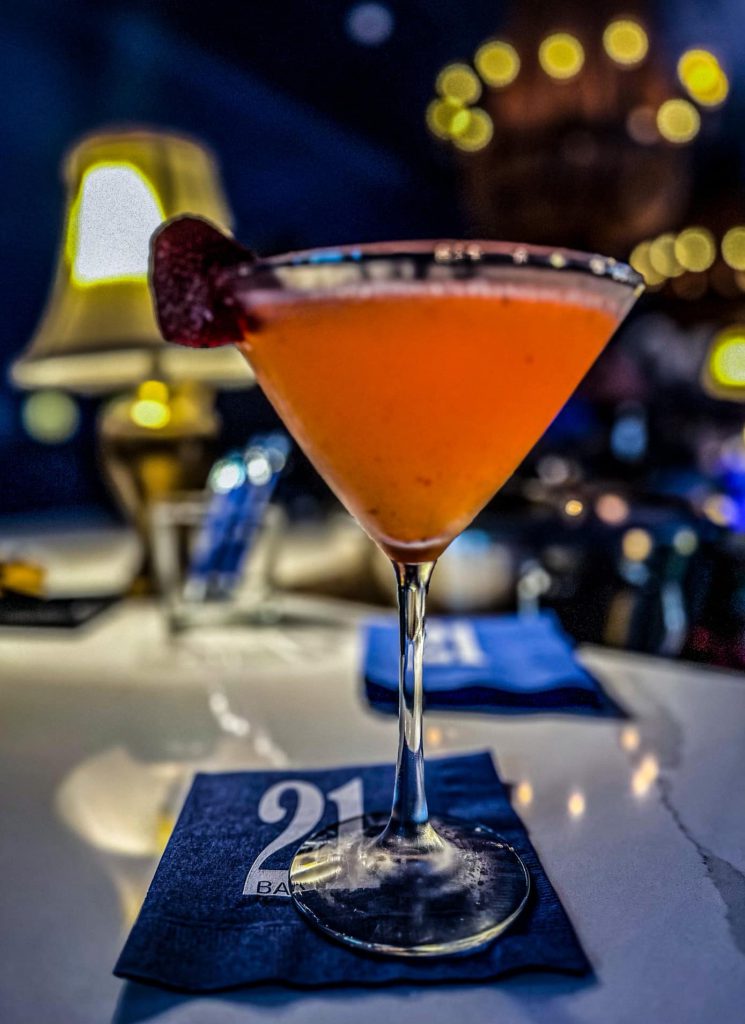 The coolest new bar has just arrived in Copperhill, TN; Bar 21! This trendy and sleek style bar offers fabulous bourbons, wines and craft cocktails. Some of their incredible concocations include the Spicy Paloma, the Basil-Berry Martini, a tea infused Hibiscus Mint cocktail, and so much more! And you can't go wrong with a whiskey flight or a glass of wine to get a taste of both the old world and the new world. Feel like you've been transported to a speakeasy in the 1920's at Copper Basin's coolest & newest bar, Bar 21!
Shopping Sprees
A short 2 hour layover in the Copper Basin won't give you enough time to experience all the cool shops and restaurants downtown! You'll find a few shops that have sister stores in Blue Ridge but most of them are unique & special to the Copper Basin. Here's a few you just HAVE to visit: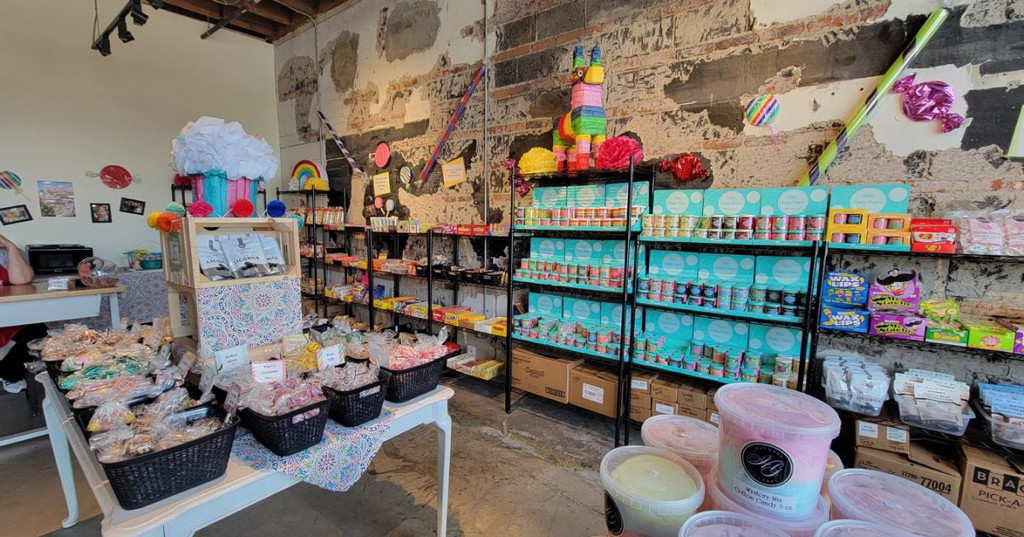 Cure your sweet tooth with some candies & sweets from Riverwalk Sweets! Here you'll find all kinds of fun, nostalgic candy as well as all your classic favorites. Cotton candy, pop rocks, gummies, chocolates, and so much more! Drop on by for a real "sweet treat"!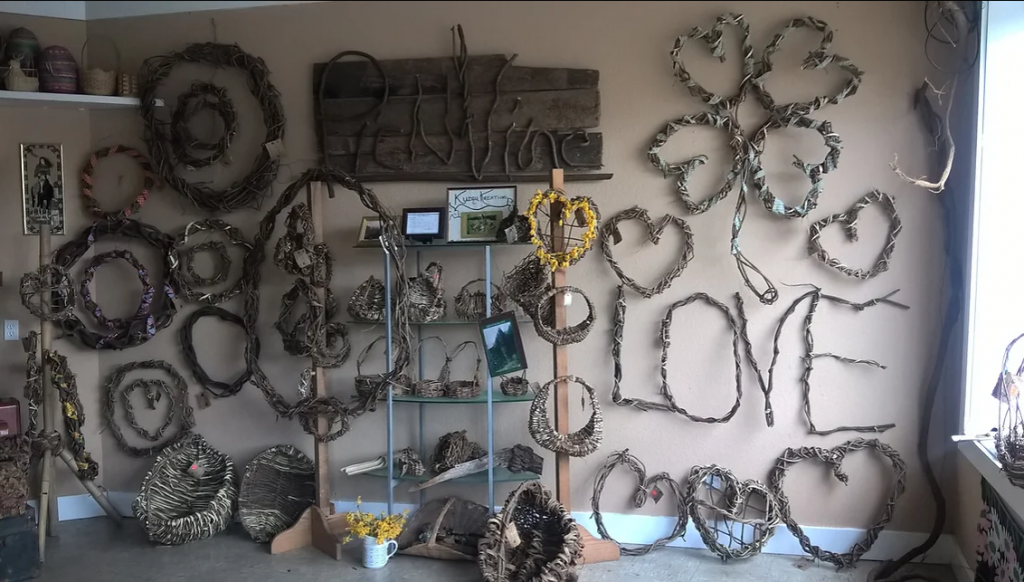 Shopping for homemade art on the state line!? Sign us up! Pic N Vine is filled with handwoven kudzu vine baskets and wreaths, all crafted with love and care. The shop will take you back to a simpler time when goodies were brought to neighbors homes in beautiful handwoven baskets. And now you can bring the good times back with a basket from Pic N Vine! You can even create your own basket by taking a basket weaving class right at the shop. And one of the coolest parts of this unique shop is that the TN/GA line passes straight through the store, so it sits in two states simultaneously! Enjoy a truly unique and fun shopping experience at Pic N Vine!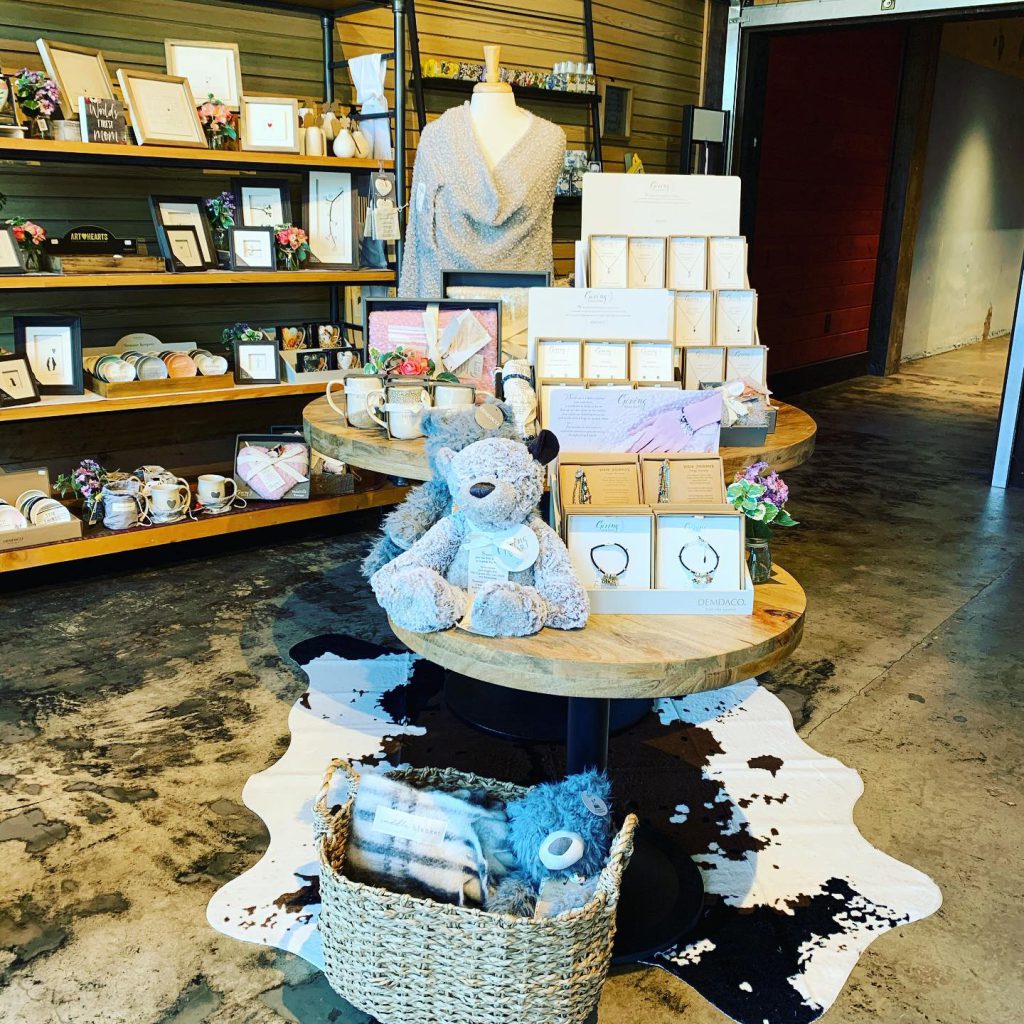 Pick up the perfect gift for your friends & family back home (or something for yourself) at River Laurel Gifts & Boutique! Shop through the store filled with home decor, jewelry, mugs, and baby apparel. Rest assured you'll leave with something totally adorable that will brighten your home up in no time!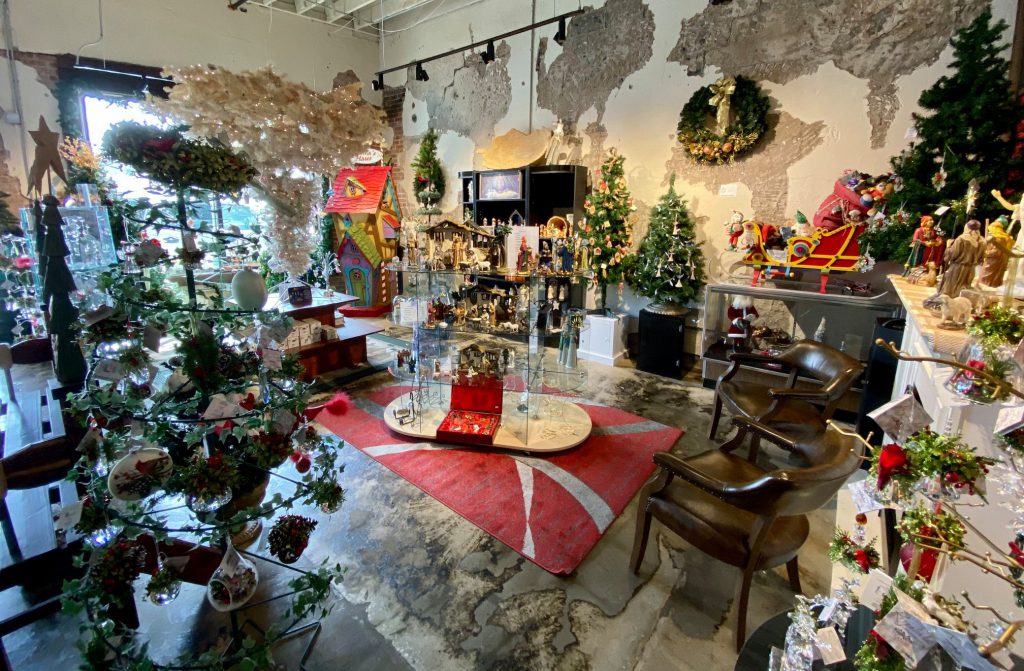 Christmas time is year round at the Christmas is Here shop in McCaysville, GA! It's never too early to shop for the holidays, so you can stock up on all your Christmas decor in July if you so desire! You'll find beautiful and unique handcrafted treasures and decor created by some amazingly talented American artists. Some of the art and home decor you'll find here includes wooden Santas, beautiful wise men statues, advent calendars, and fun gifts for your loved ones! Let the Christmas spirit fill your heart & soul when you shop at Christmas is Here!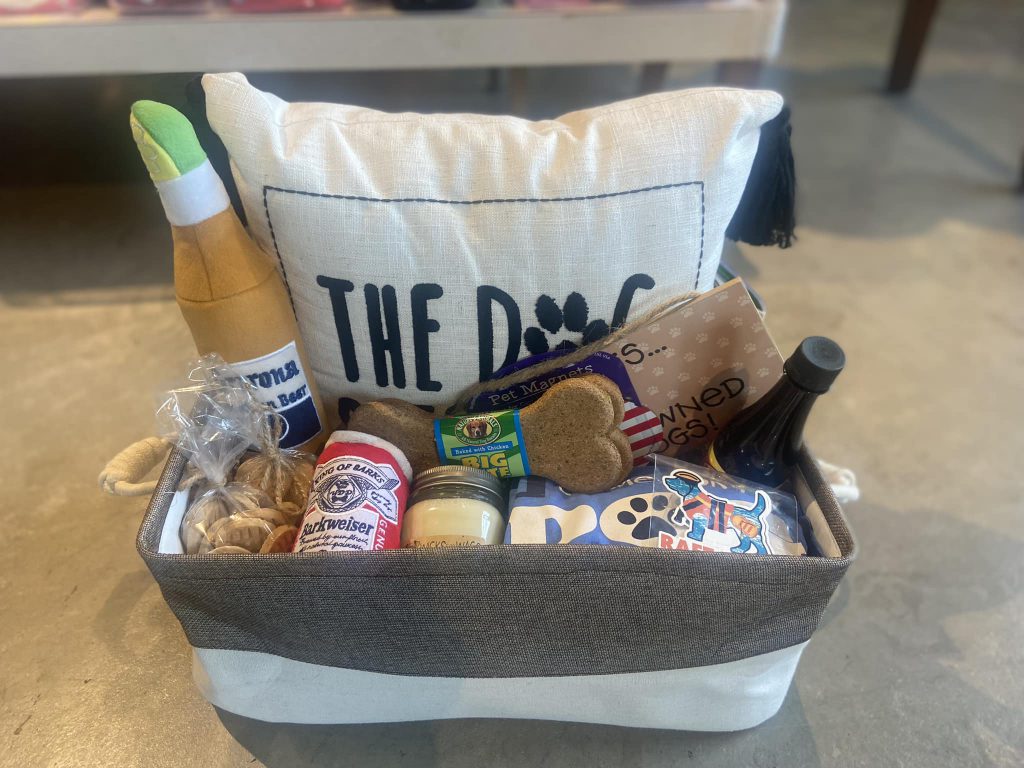 Dogs and dog lovers alike are welcome at Mainstreet Mutt! They have everything you need to spoil your four-legged best friend; like collars, toys, and treats. And for the dog owners you'll also find pet themed home decor and apparel. Your furry friend will love trotting up and down the aisles filled with goodies just for them! And be sure to get your pup's photo taken while in the shop for the chance to be featured on Mainstreet Mutt's Wall of Fame as well as on their social media pages.
The Copper Basin is home to many other great shops that have sister stores in Blue Ridge like The Owls Nest, Deaf Man Vinyl, Blue Ridge Adventure Wear and The Pasta Market. We recommend you check them all out in the Copper Basin as well because they may have something that the Blue Ridge shops did not. You never know what you'll find!
Live Music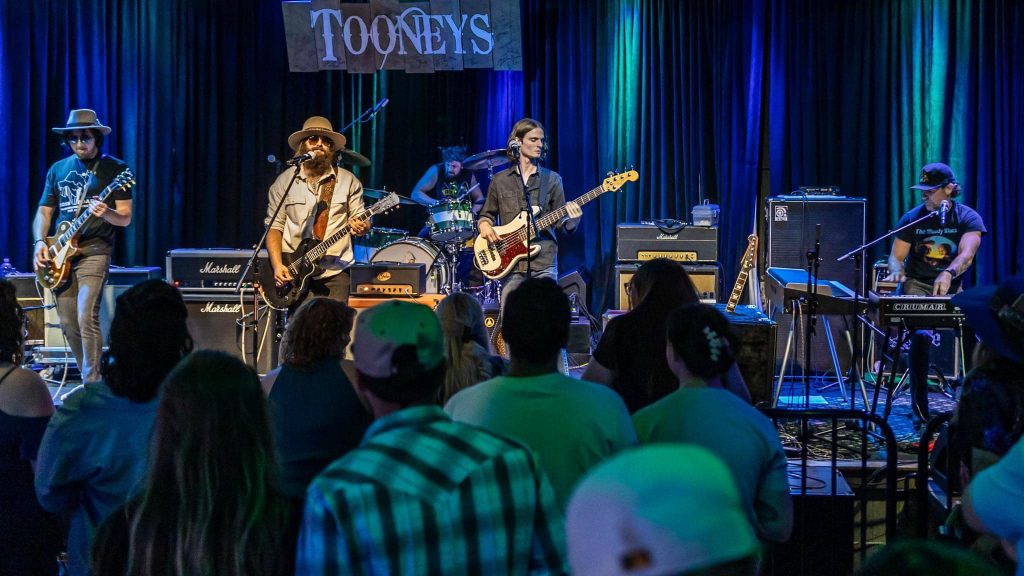 Tooneys is home to amazing live music, dancing, and fun! On Mondays you can take a line dancing class and shake your booty in some cute cowboy boots, on Thursdays you can have some fun singing karaoke, and on weekends you can expect lots of great live music! Plus the drinks are always flowing at Tooneys so there's never a bad time to visit!
And be sure to check out some of the other local bars & breweries on the weekends for more live music from great local artists!
Grab a Cup of Coffee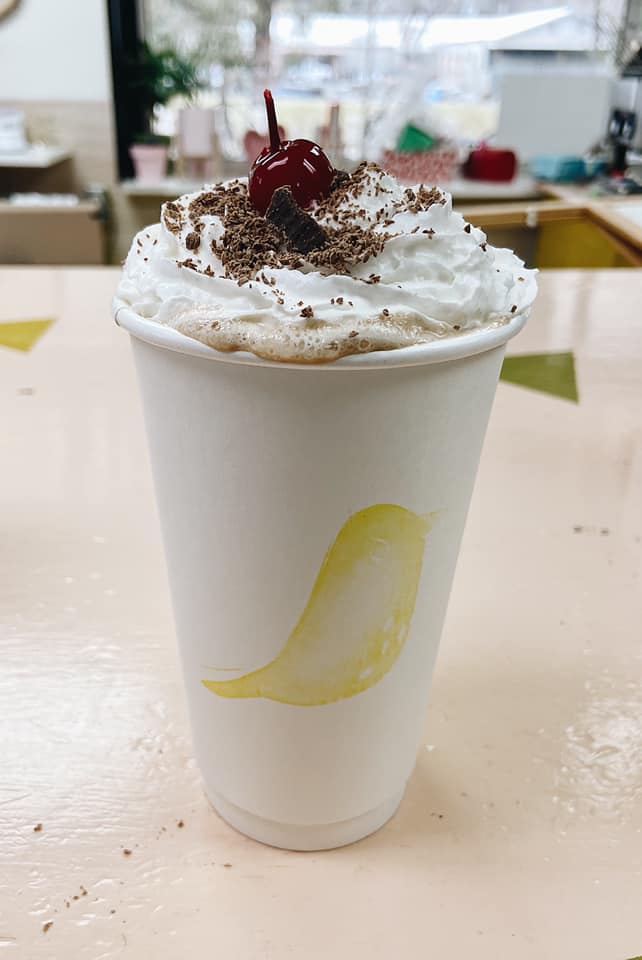 Coffee lovers should check out Yellowbird Coffee Shop in Copperhill, TN. Enjoy your cup of joe on the patio overlooking the river or if you're in a hurry grab your cup to-go at the drive thru. They offer all your favorite coffee beverages like cappuccinos, mochas, lattes, drip coffee and more and yummy treats to pair with your coffee like muffins & donuts. And this adorable little coffee shop sits right on the state line so it's a great spot to grab a few photos, after you've had your morning coffee, of course!
Learn Something New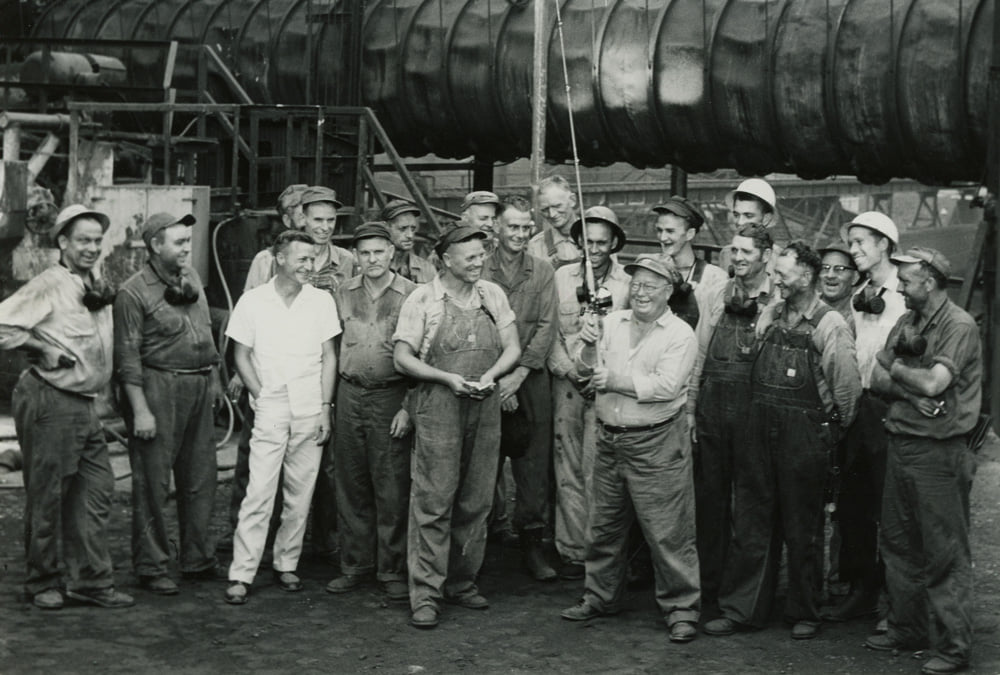 And not far from the twin cities you'll find the Ducktown Basin Museum! Here you can learn all about the rich 150 year history of the Copper Basin and the old Burra Burra Mine. The museum is located on the historic site of the mine which was the headquarters for the Tennessee Copper Company and Cities Service mining operations from 1899 through 1975. Today you can see 16 of the original structures on the site including all the old mine buildings. And inside you'll find a vast collection of artifacts, photographs, and displays depicting the industrial and cultural heritage of this former mining community.
Just a hop, skip, and a car or train ride away awaits all the joys that the Copper Basin can offer! If you have time on your next Escape to Blue Ridge be sure to take a day trip to visit this adorable riverside town that sits between two states!