Spring is on the way and we can't wait for warm days out on the trails, for live music at our local breweries & wineries, and sitting on the patio for dinner Downtown. And with spring comes more great events, like our annual St. Patrick's Day Parade, the Georgia Wine Highway, art shows, and lots of live music. See what's in store for you this March in Blue Ridge:
2023 Georgia Wine Highway
March 1st-March 31st
Location: Blue Ridge Area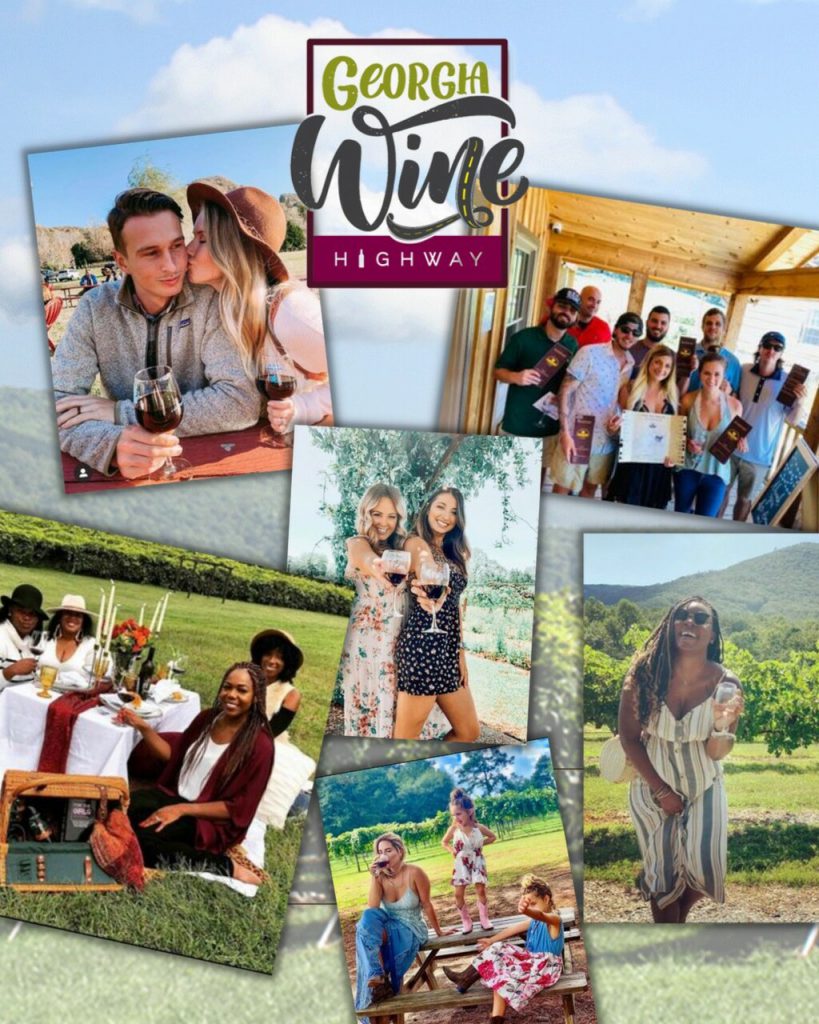 Join in the fun, because the whole month of March is wine highway month! Drink wine from vineyards and wineries all over the state of Georgia! Some of our local wineries that are participating this year are the Georgia Wine Depot, Cartecay Vineyards, Chateau Meichtry, Crane Creek Vineyards, Engelheim Vineyards, Mercier Orchards, and Odom Springs Vineyards. Purchase your wine highway passport which includes tastings at over 45 participating wineries. Check their website for more information: https://www.opengeorgiawine.com/
1st Quarter Artist in Residence: Peyton Daughtry
March 1st-March 31st
Location: Blue Ridge Mountain Arts Association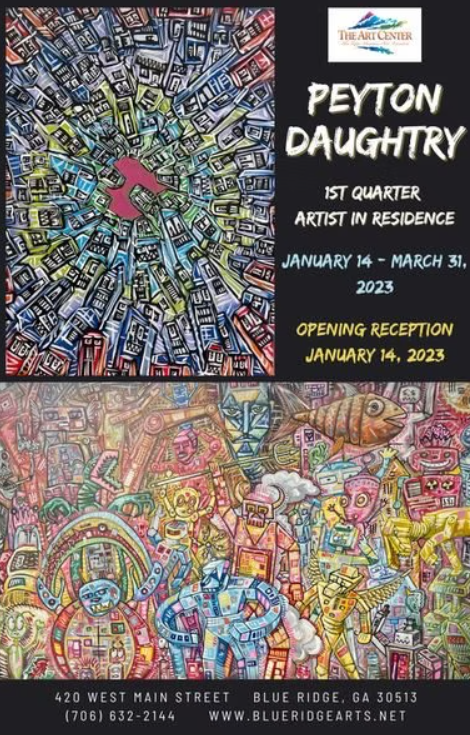 Come on out to the Art Center to admire Peyton Daughtry's vibrant & robotic artwork in a variety of media from now until March 31st.
Youth Art Month
March 2nd-March 30th
Location: The Art Center: Blue Ridge Mountain Arts Association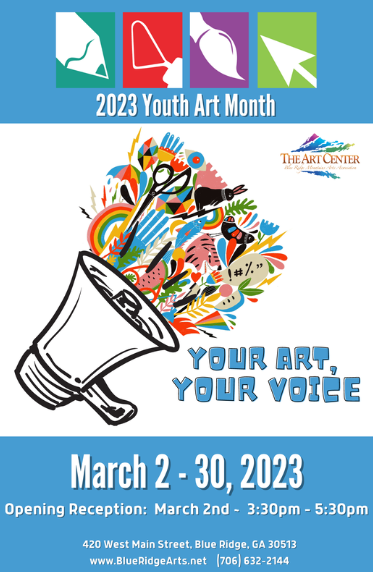 Come admire and celebrate the works of local young artists from Fannin County and Copper Basin schools. Opening reception is March 2nd 3:30pm-5:30pm and the exhibit is open all month-long Tuesdays thru Sundays.
Live Music at Grumpy Old Men Brewing
March 2nd-March 31st
Location: Grumpy Old Men Brewing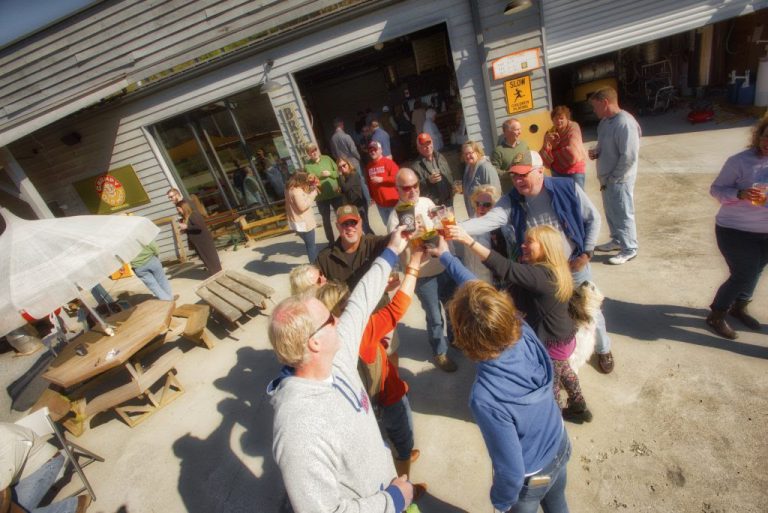 Stop by Grumpy Old Men Brewery Thursdays to sing along to your favorite songs for karaoke night! And drop by select Fridays & Saturdays from 3pm-6pm for great drinks, great music, and a great time. With indoor and outdoor seating available you can even bring your dog to join in the fun! Enjoy a delicious hotdog from Jeff's Hotdog's while you listen to some fantastic local artists! And on Monday nights come on out for SINGO and Thursday nights is Karaoke!
March 2nd: Karaoke Thursday
March 3rd: Travis Bowlin
March 4th: Andy Thacker
March 9th: Karaoke Thursday
March 10th: Blue Lava
March 11th: Rusted Melody
March 16th: Karaoke Thursday
March 18th: The Orange Walls
March 23rd: Karaoke Thursday
March 24th: Gregg Erwin
March 25th: David Cheatham
March 30th: Karaoke Thursday
March 31st: Surrender Hill
Live Music at Bear Claw Vineyards & Winery
March 3rd-March 26th
Location: Bear Claw Vineyards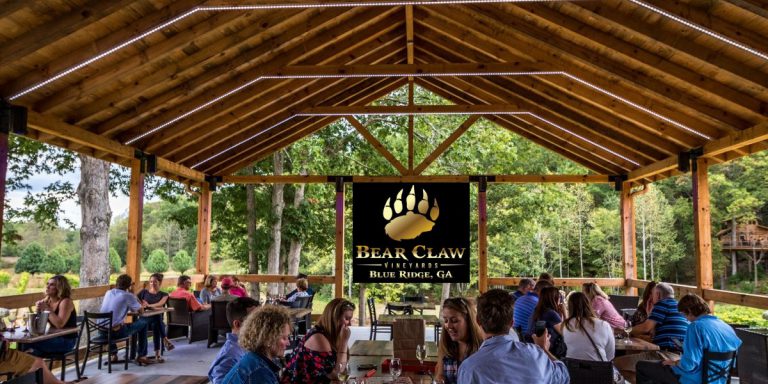 For award winning wine, live music, and food truck Bear Claw Vineyards is the place for you! Join them every Friday, Saturday, and Sunday for live music and food trucks. Kids and dogs are welcome too! The live music schedule for each weekend is shared on their website each Thursday so be sure to check back!
March 3rd: Rose Brown
March 4th: Travis Bowlin
March 5th: Hunter Flanagan
March 10th: Charles Barnwell
March 11th: Russ Still & Daniel Profeta
March 12th: Gregg Erwin
March 17th: The Shetlands
March 18th: Travis Bowlin
March 19th: Rose Brown
March 24th: Aspen Lee
March 25th: Rob Grater & Hunter Flanagan
March 26th: Daniel Profetah
Live Music at Chateau Meichtry
March 4th-March 26th
Location: Chateau Meichtry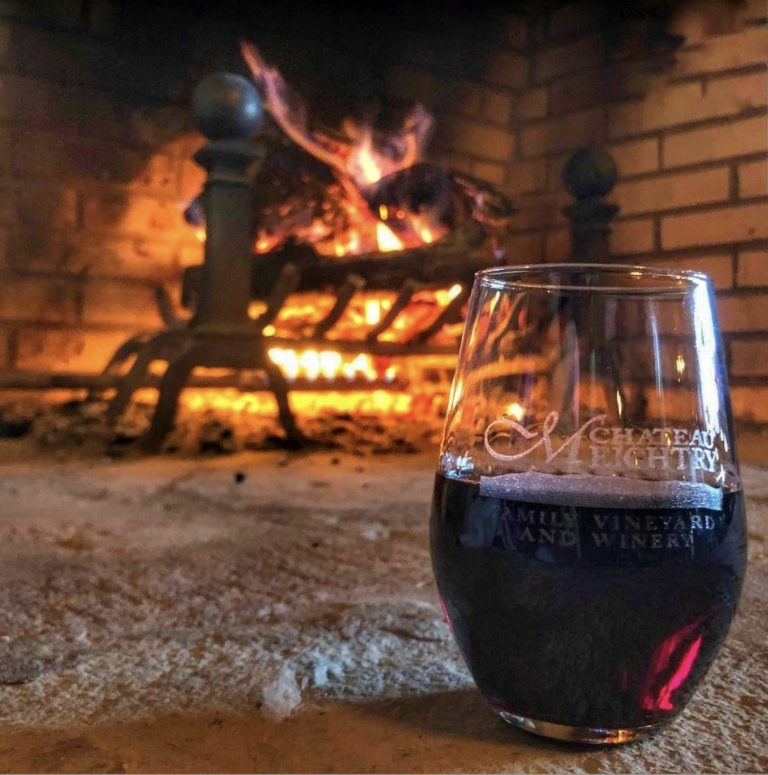 Come sip on wine by the foothills of the Appalachian Mountains at Chateau Meichtry. This beautiful winery located in Talking Rock, GA has both outdoor & indoor seating options, so you can enjoy the atmosphere of the winery no matter the weather. On Saturdays & Sundays you can sip on your favorite glass of wine while you enjoy live music from local artists from 1:30pm-5:30pm. And there's food trucks on the weekends as well!
March 4th: Dr. Paul
March 5th: Steve & Steve
March 11th: Leah Belle Faser
March 12th: Surrender Hill
March 18th: Shaun Mitchell
March 19th: Drew Ashworth
March 25th: Surrender Hill
March 26th: The Hearbreak Chasers
Live Music at Angry Hops Brewing
March 4th-March 17th
Location: Angry Hops Brewing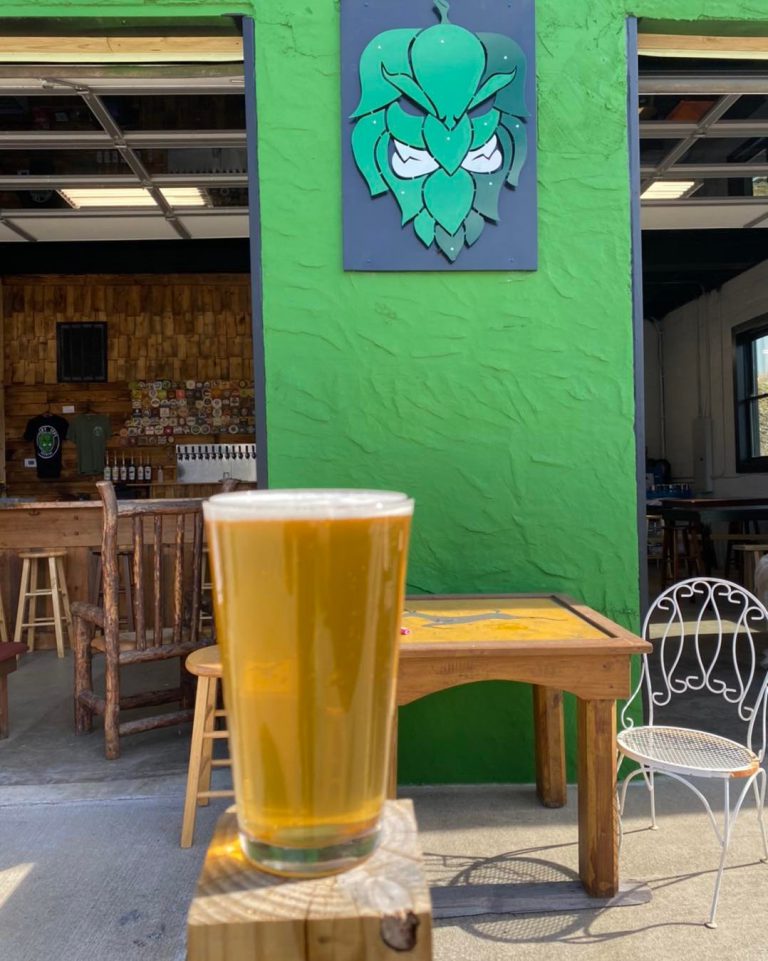 Come on select Fridays & Saturdays for good beer, live music, and a great time at Angry Hops Brewing! Angry Hops offers both traditional brews and new takes on the popular styles like IPAs, Stouts, and Sours. Be sure to check them out on weekends!
March 4th: Georgia Beer Day w/ Randeauxs Food Truck
March 17th: 2nd Annual St. Paddy's Day Celebration
Kurt Thomas Band- Live Music is Better
March 4th
Location: Blue Ridge Community Theater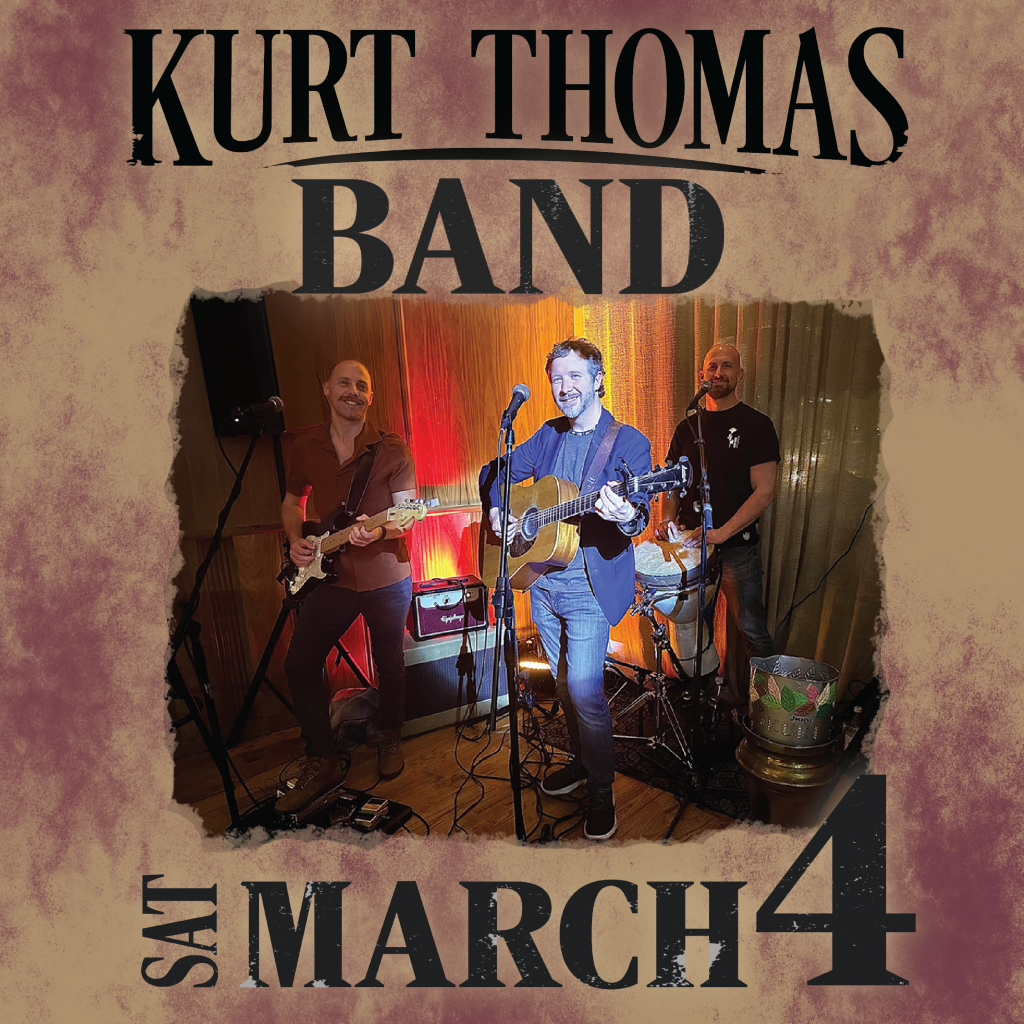 Local to the North Georgia area, Kurt Thomas is back with his band and ready to rock the house on March 4th! But before starting his own band Kurt Thomas opened for some of the biggest names in country music like Darius Rucker, Josh Turner, Zac Brown Band and more. Don't miss this night of country music at Blue Ridge Community Theater for their Live Music is Better series! He will take the stage at 7:30 pm on March 4th and tickets are $37.50 for this awesome show!
Georgia Beer Day
March 4th
Location: Angry Hops Brewing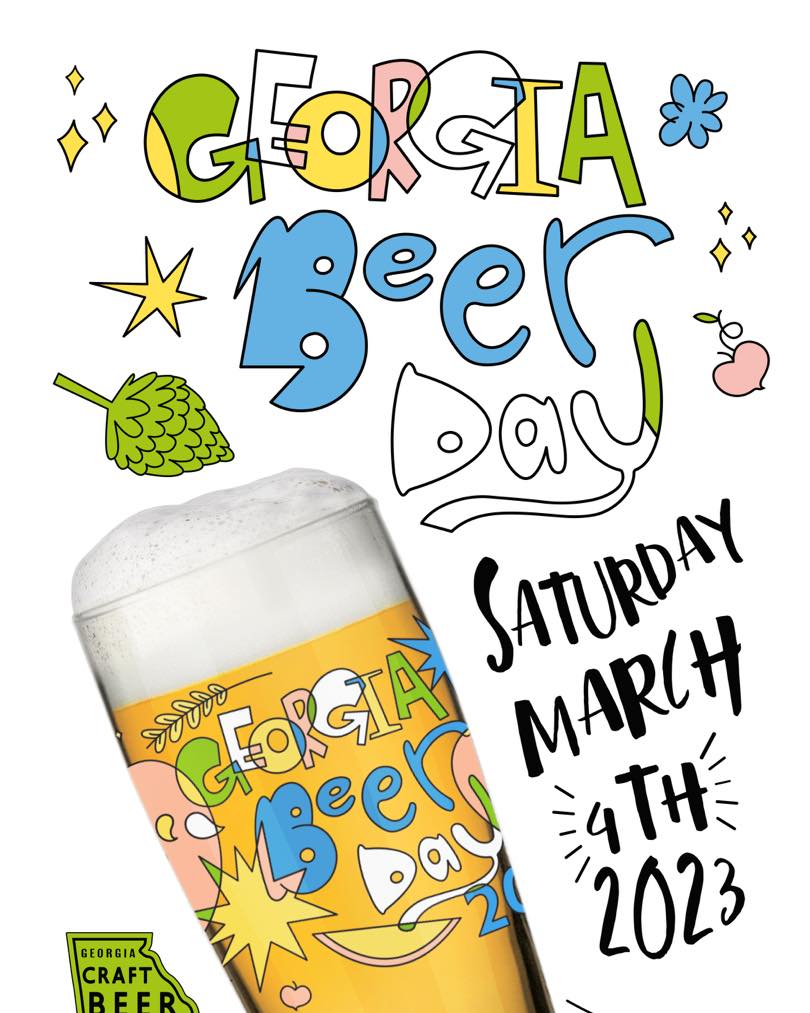 Celebrate Georgia Beer Day at Angry Hops Brewing! They're the only brewery in Blue Ridge to have the limited Georgia beer pint glass so you'll want to get there before they run out. Including amazing local beer and a collectors glass there will also be Cajun food from Randeaux's Food Truck! Drop by Angry Hops Brewing starting at noon for all the fun!
Cork & Canvas
March 4th
Location: Blue Ridge Mountain Arts Association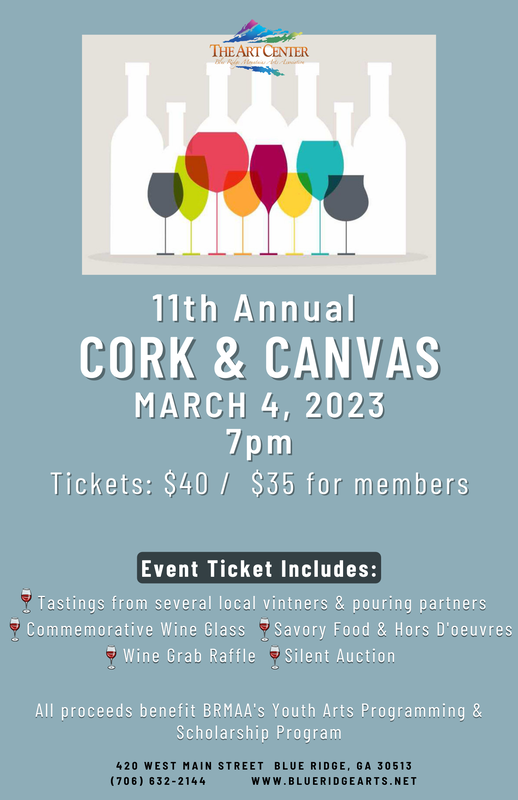 Come to the Art Center for a night of fun, drinking wine and supporting local art. The event will include a stock your cellar wine grab, a silent auction, a count the corks raffle, and delicious food! Your $40 ticket includes free wine samples, a commemorative BRMAA glass, and gourmet food selections. And all proceeds of this great event go towards the local youth art programs!
Line Dancing Class
March 6th-March 27th
Location: Tooney's Music Venue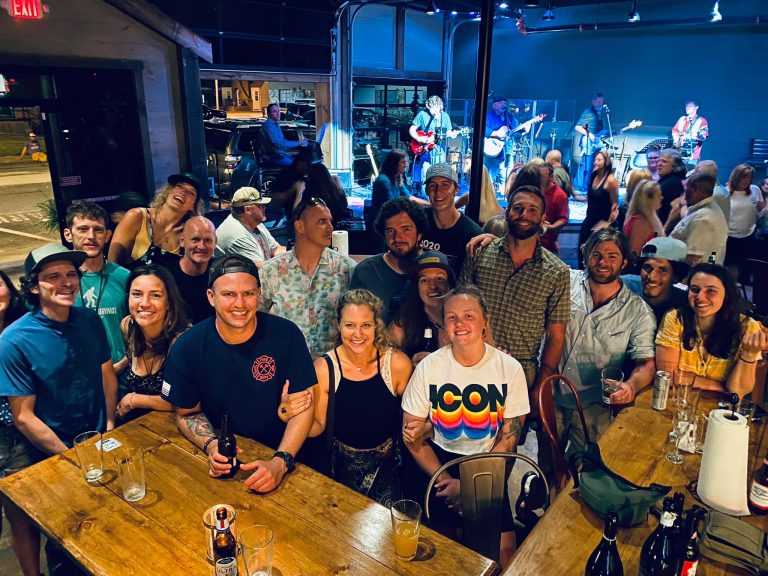 Have you ever wanted to learn how to line dance? Well now's your chance! Tooney's now offers free, weekly line dancing classes Monday nights! The class is open to people of all ages and dance experience! Doors open at 6pm and classes start at 7pm. Come on down and show us what you can do!
2nd Thursdays Stateline Stroll
March 9th
Location: Riverwalk Shops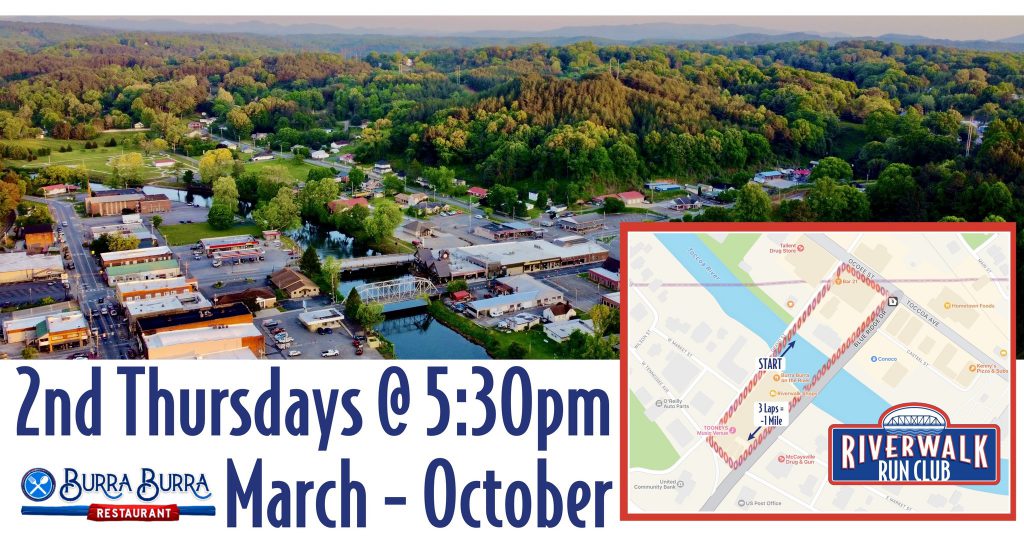 Get moving the second Thursday of every month with the Stateline Stroll! Walk, jog, or run around the block and cross the state line on this casual stroll. Start whenever and end whenever; and when you're finished enjoy a drink at Burra Burra or Twisted Tomato and listen to some live music at Tooney's!
Tanya Tucker
March 10th
Location: Georgia Mountain Fairgrounds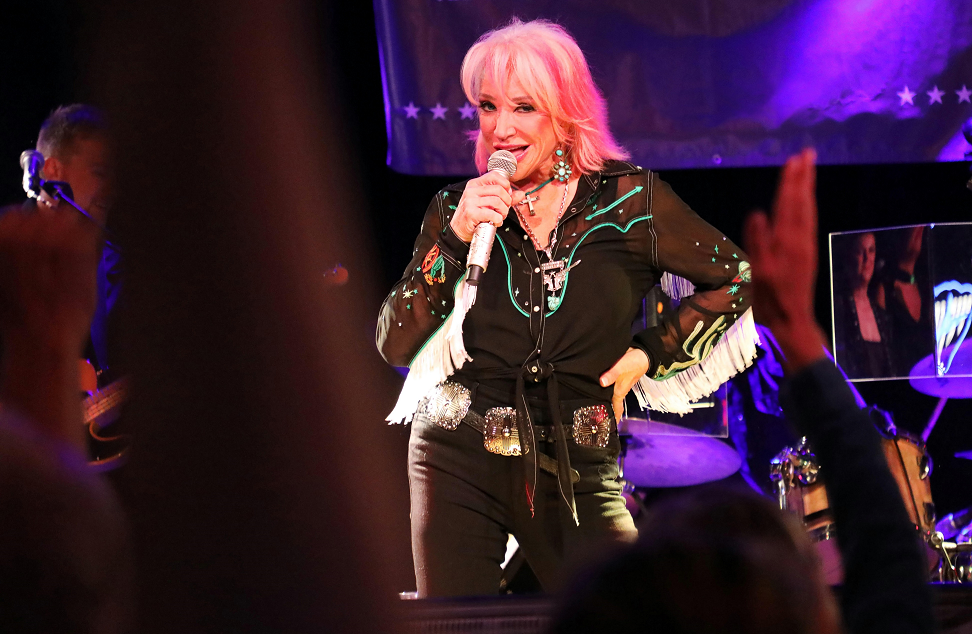 Country music queen, Tanya Tucker will be performing at the Georgia Mountain Fairgrounds with special guest Abbey Cone! With 2 Grammys under her belt and over 50 years in the country music industry Tanya Tucker knows how to put on an incredible performance! So snag your tickets for what's sure to be a stellar night of country music. Tickets are $35+ handling for Level 2 seats or $60+handling for Level 1 seats. Purchase your tickets here: https://georgiamountainfairgrounds.com/localevents/id/376
Guided Hikes with the Benton McKaye Trail Association
March 10th-March 24th
Location: Cherry Log, GA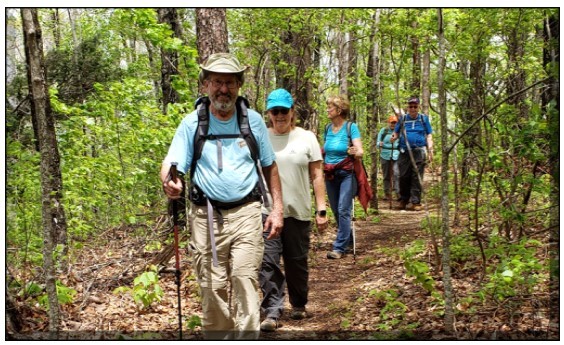 Explore the beauty of North Georgia on a guided hiking tour with the Benton McKaye Trail Association. They offer 2-4 hikes a month varying in difficulty from easy, leisurely hikes to moderately difficult hikes.
March 10th: BMT/AT (upper two loops)
March 13th: Miller Trek @ Brasstown Valley Resort
March 19th: Nottely Dam Trail
March 24th: Fightingtown Creek
Art Classes and Workshops
March 11th-March 26th
Location: Blue Ridge Mountains Arts Association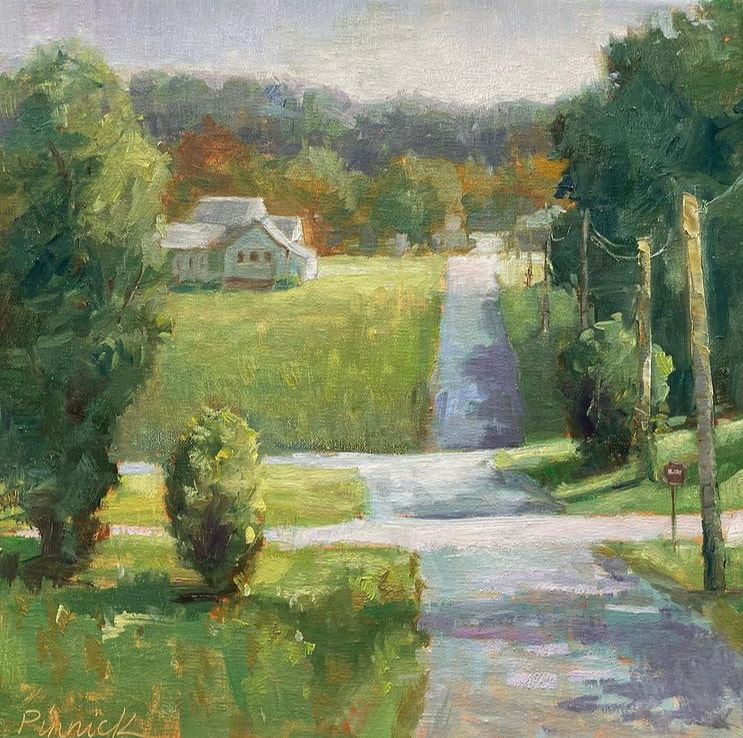 Blue Ridge Mountains Arts Association offers classes year-round for artists looking to expand their skill set. This month you can learn to express yourself through drawing, ceramics, watercolor and more! And check out more upcoming art classes at https://www.blueridgearts.net/adult-classes.html
March 11th & 12th: Wildlife & Nature Elements in Pen & Ink
March 11th: Animal and Ceramic Sculpture
March 18th: Craft a Mini Blueprint for Your Book
March 24 thru 26th: Flowers in Watercolor
2nd Annual St. Paddy's Day Celebration
March 17th
Location: Angry Hops Brewing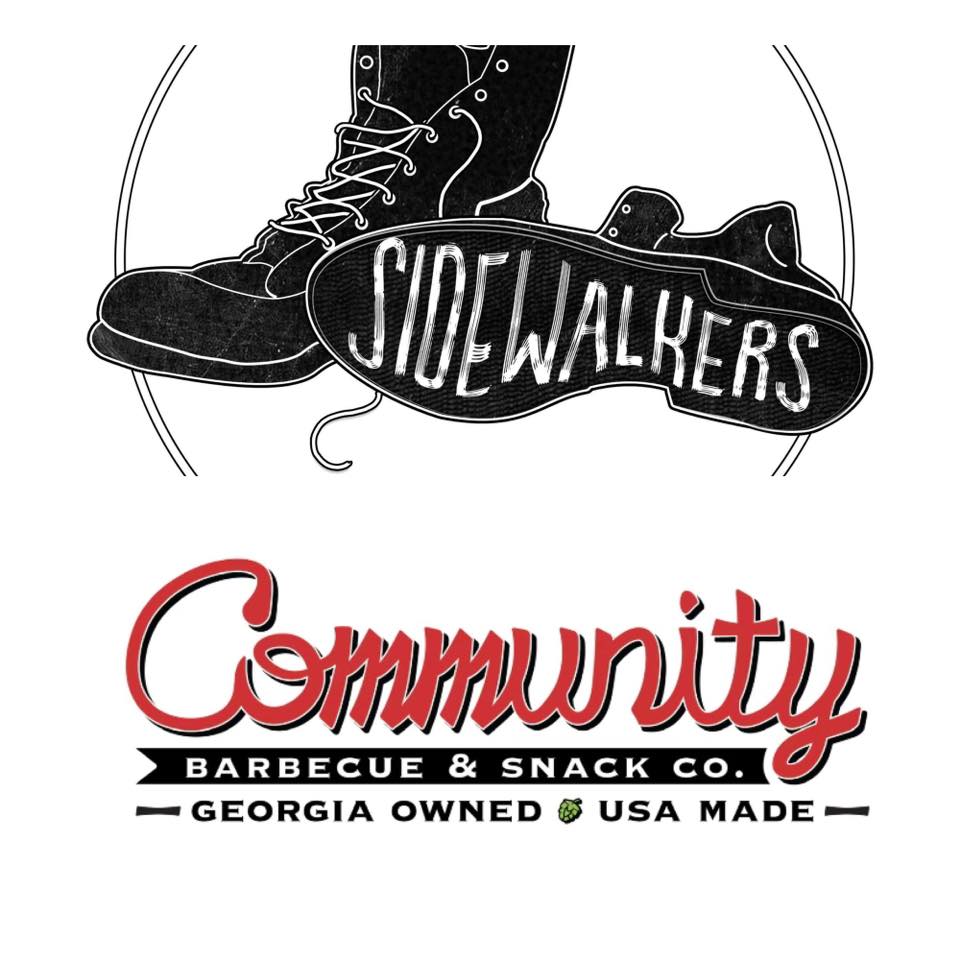 Ready to celebrate St. Paddy's Day with a brew in hand!? Then Angry Hops Brewing is the place to be! Deck out in all green, have a beer or two, eat some brisket from Community BBQ & Snack Company, and enjoy some live music from Sidewalkers. The festive fun goes on all day from 1pm-8pm!
St. Patty's Day Bash
March 17th
Location: Paradise Hills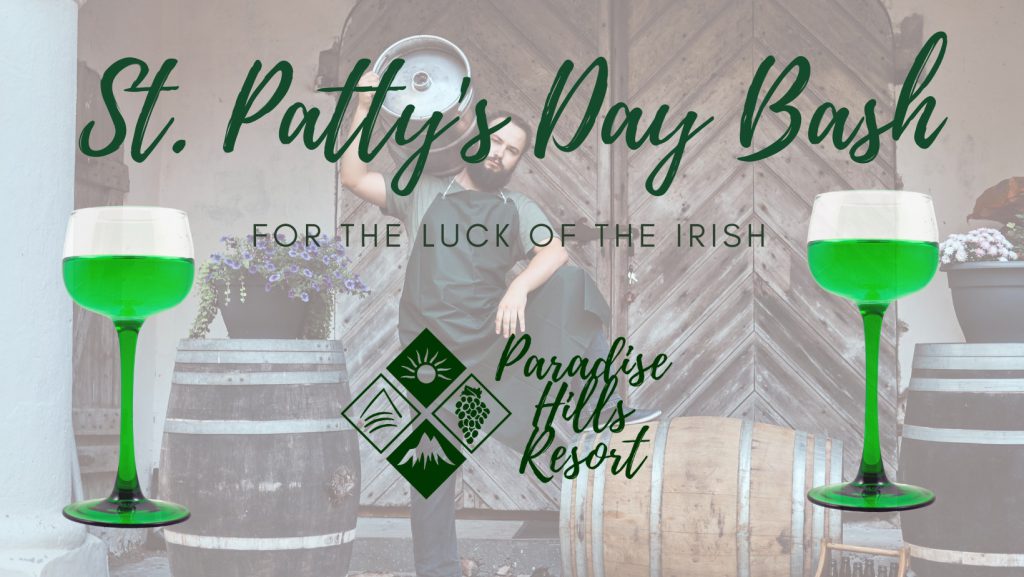 Celebrate St. Patty's Day with some festive fun at Paradise Hills! Your $15 ticket includes live music from Tom Edwards, fun games, and prizes. And really get into the spirit with a liquid luck slushie and a bowl full of Guinness stew!
St. Patrick's Day Parade
March 18th
Location: Downtown Blue Ridge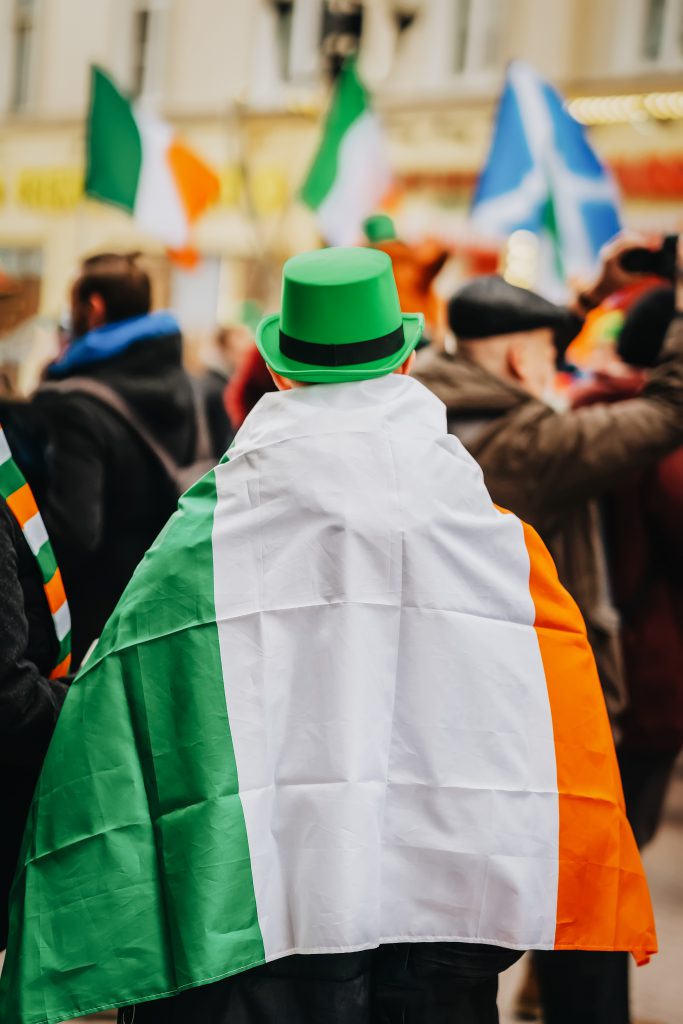 Things are looking green around Blue Ridge! Join us for our annual St. Patrick's Day parade! The parade kicks off Downtown at 11am. And afterwards stick around for brews, food, and shopping! Wear your best green outfit and come on down!
Winery Comedy Tour
March 18th
Location: Paradise Hills, Cabins-Spa-Winery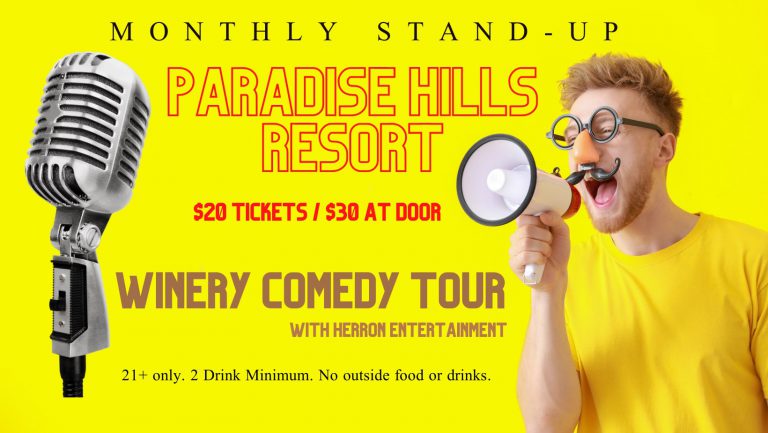 Get ready for a night of laughs at the Winery Comedy Tour! Live professional stand-up comics will make you laugh all night long! Grab a glass of wine or a beer and let the laughter flow! Doors open at 7pm and the show starts at 8pm!
The Great Ape Escape 5Kish
March 25th
Location: Project Chimps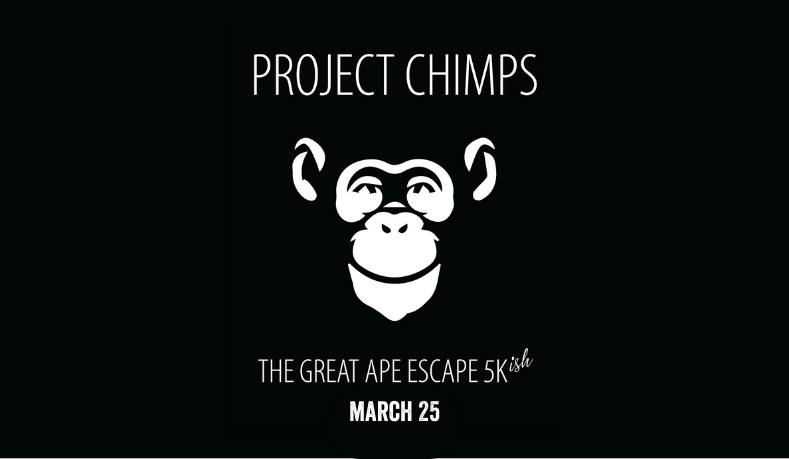 Admire the adorable chimps as you race in a 5K around the property! This is the 2nd Annual Great Ape Escape 5K and it's sure to be a blast!
Gary Allan
March 31st
Location: Georgia Mountain Fairgrounds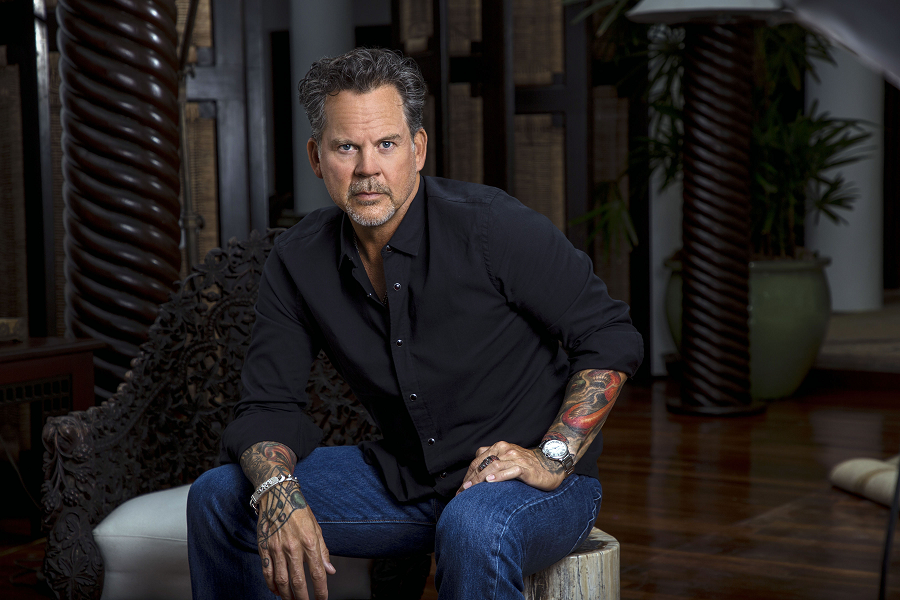 Gary Allan will be performing at the Georgia Mountain Fairgrounds on March 31st at 7pm! Country music star, Gary Allan has made a name for himself with hit songs like "Right Where I Need to Be", "It Ain't the Whiskey", and "Smoke Rings in the Dark". You won't want to miss this night of great music! Tickets are $50+ handling and can be purchased here: https://georgiamountainfairgrounds.com/localevents/id/377