Spring has sprung in the mountains! And that means bright blue skies, soaring mountains, wildflowers in bloom, and beautiful warm weather fill our days! The North Georgia region is home to many beautiful mountain flora unique to the Blue Ridge Mountains including dogwoods, rhododendrons, mountain laurel, azaleas and the Cherokee rose. Learn when & where you can spot these flowers in their prime in our blog below:
*Photo Courtesy of Mercier Orchards
Blooming Times
Rhododendron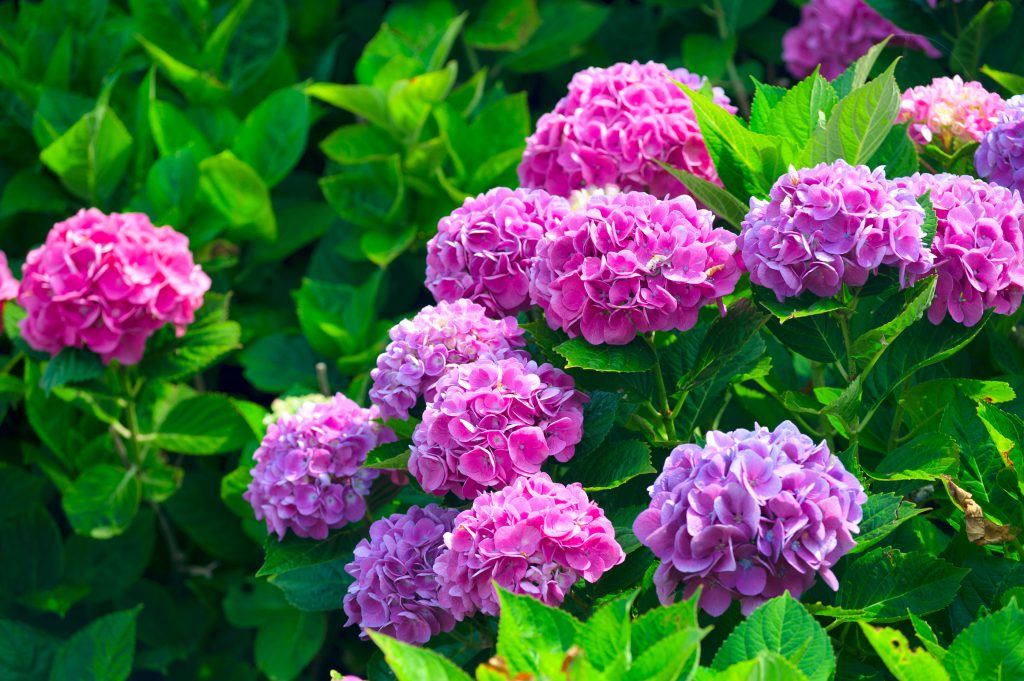 There are thousands of species of rhododendrons but you can only find 27 of them in North America. These flowers flourish in higher evaluations and with cooler temperatures, so the Blue Ridge Mountains are the perfect place for them to grow & thrive. In the right environment the rhododendron can even grow up to 25 feet or higher! They bloom in a variety of colors from pure white, soft pink, yellow, red, purple and blue. And you can experience their spectacular blossoms for yourself in early April and May. Some years they may even start blooming in late March so be on the lookout!  
Azalea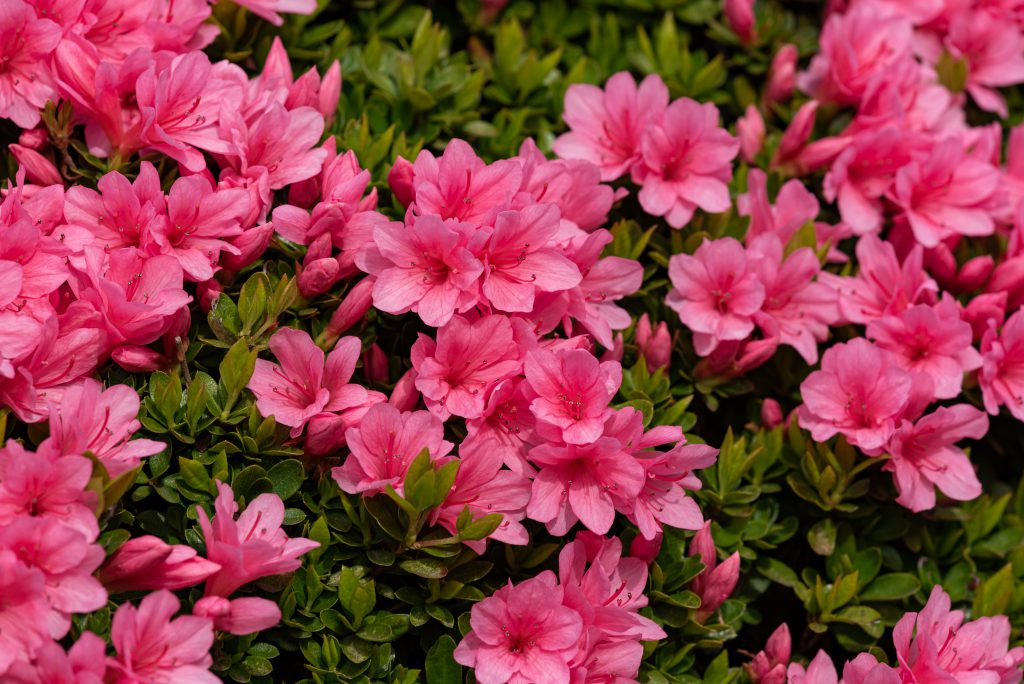 Did you know that azaleas are actually a species of the rhododendron flower? They are in fact a part of the Rhododendron genus, but as all azaleas are rhododendrons, not all rhododendrons are azaleas. Similar to rhododendrons, azaleas bloom in brilliant colors like scarlet, crimson, orange and more. But, the main difference between the two are the leaf size, quantity of stamen, and that azaleas are deciduous as opposed to its evergreen cousins. Luckily, there are many types of azaleas such as the early flowering type, mid-season type, and late flowering type so you'll have ample time to admire them in all their glory. We suggest checking them out anytime between mid-Februay thru October.
Cherokee Rose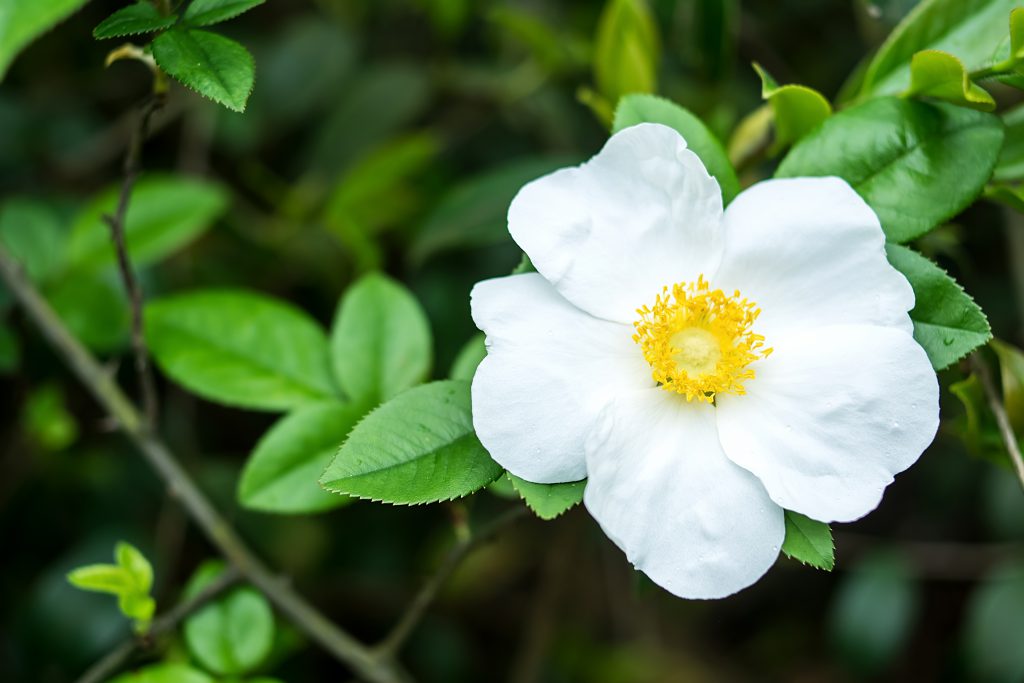 The beautiful Cherokee rose is the official state flower of Georgia. This evergreen climbing shrub can grow from 16-30 feet and is covered in leaves & beautiful white flowers. While the species is over 35 million years old and was introduced to the U.S. in 1780 from the native countries, Taiwan and Vietnam; it has an interesting Georgia backstory to it. The Cherokee rose is said to have been created from the tears of Native American mothers crying for their children journeying on the Trail of Tears. The fragrant rose is white for their tears, a gold center represents the gold taken from Cherokee lands, and 7 leaves represent the 7 Cherokee clans. You'll have a short window of time to catch sight of our beautiful state flower however; late March thru April.
Dogwoods

One of the most popular flowering trees in Georgia is the dogwood tree. These beautiful trees grow 15-25 feet tall and in the spring bloom beautiful white or pink flowers. However, these "petals" are actually modified leaves known as bracts; which means that the flowers will bloom for about three to four weeks and then produce scarlet berries that linger in the wintertime. While the dogwood tree has a four season appeal, we like so many others, especially love to admire the tree in the spring. Over the years, the dogwood flower has been known as a symbol of spring and as a symbol of the crucifixion of Jesus Christ during the Easter holiday. The four petals represent the cross which Jesus died upon and the four red notches on the side of each petal are meant to represent the nail holes. And the greenish/brown cluster in the middle of the flower is meant to represent the crown of thorns that Jesus wore upon his head. This is a fitting symbol of the Easter holiday because the trees are normally in bloom from late March to Mid May,which falls during the Easter season.
Mountain Laurel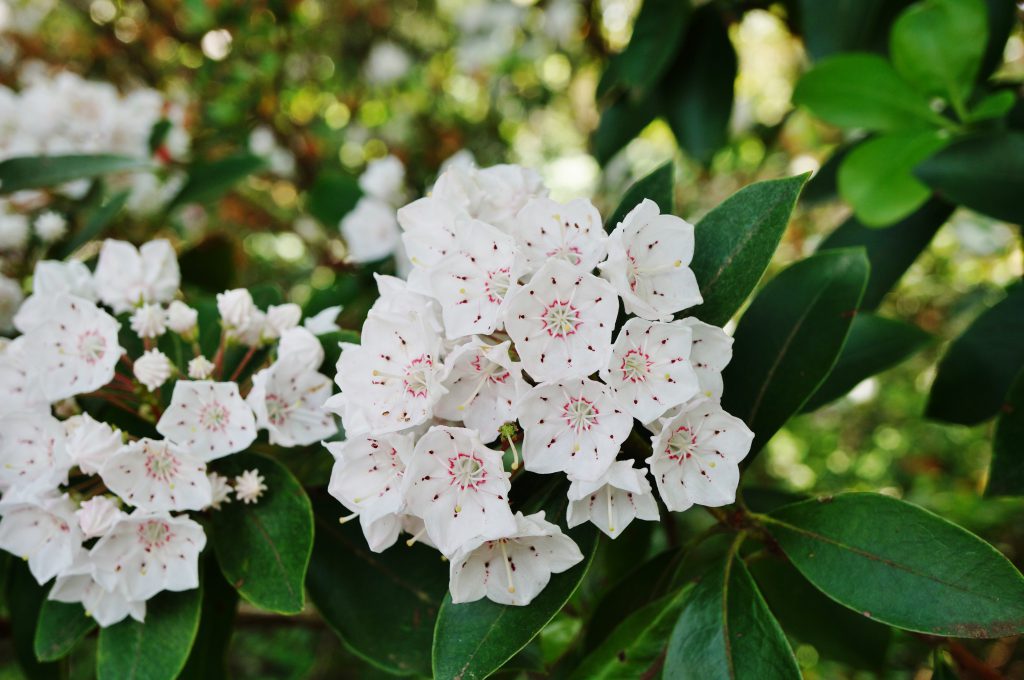 The evergreen mountain laurel is a staple plant in the hills of the Appalachian Mountains. It's a member of the blueberry family but poisonous to humans. The mountain laurel is a gorgeous and unique looking flower that ranges in color from white to pink to deep rose, and has distinctive and symmetrical purple dots or streaks. They are slow growing, but average 6-15 feet in height. There's even a mountain laurel festival in Clarkesville, GA every May that brings in craft vendors, live music, delicious food, and garden displays all in celebration of this local blooming flower. The mountain laurel typically blooms May to late June, so these flowers are known to usher in the summer season.
Blossoms at Merciers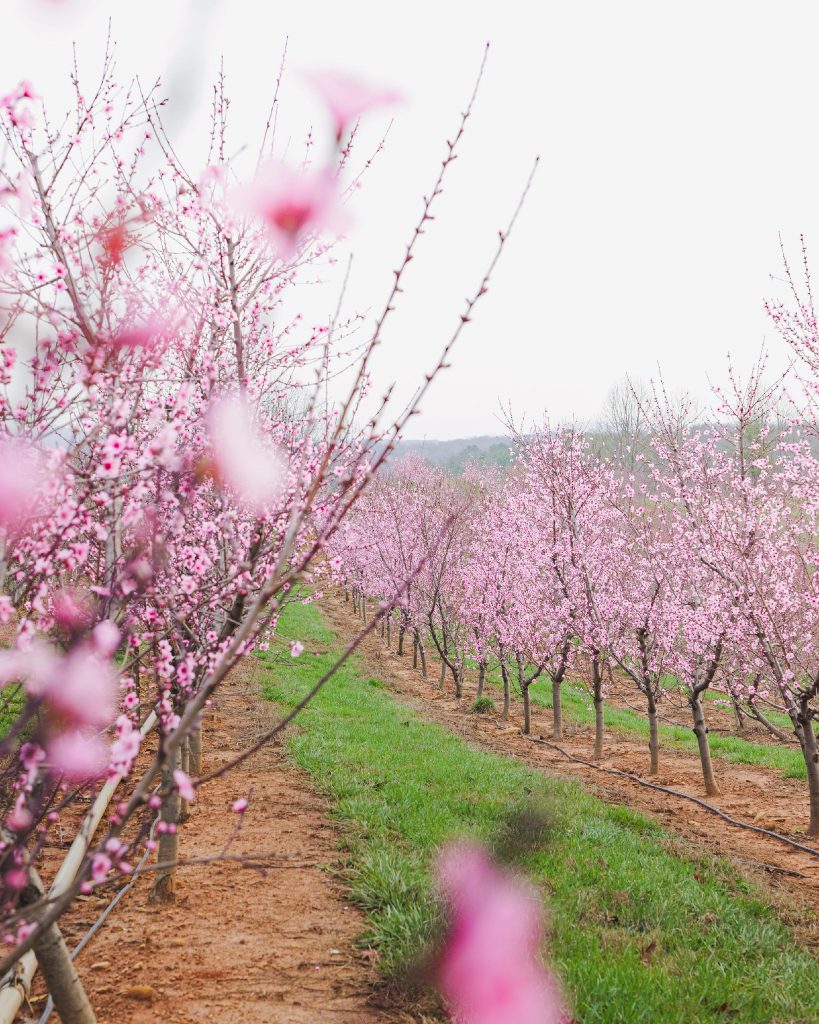 Spring is also a time when fruit trees grow beautiful flowers before they bare fruit. At Mercier Orchards you can take a tour of the orchards and admire the beautiful peach & apple blossoms that cover the trees. Come visit "Bud" and his friends on select weekends in April and learn a little bit about the life of an apple tree. Merciers will be blooming and full of fresh fruit, wildflowers, and sunflowers all spring and summer long! You can come pick your own blueberries, strawberries, and blackberries and pick out a bushel of beautiful wildflowers to give to that someone special. 
Other Notable Flowers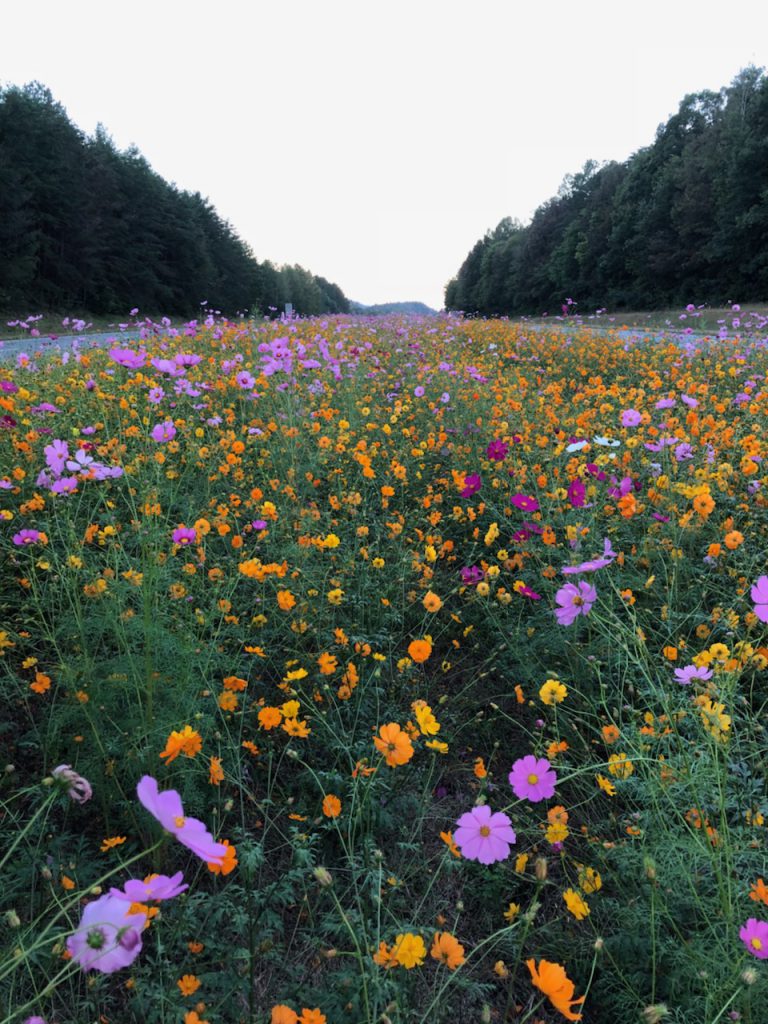 Other beautiful wildflowers to note are pink lady slippers, trout lilies, bloodroots, white trilliums, and blue violets. For a full list of North Georgia wildflowers & where to find them follow the Blue Ridge Mountains Travel Guide here: https://blueridgemountainstravelguide.com/where-to-see-north-ga-wildflowers/
Parks & Gardens to Explore
Aska Adventure Area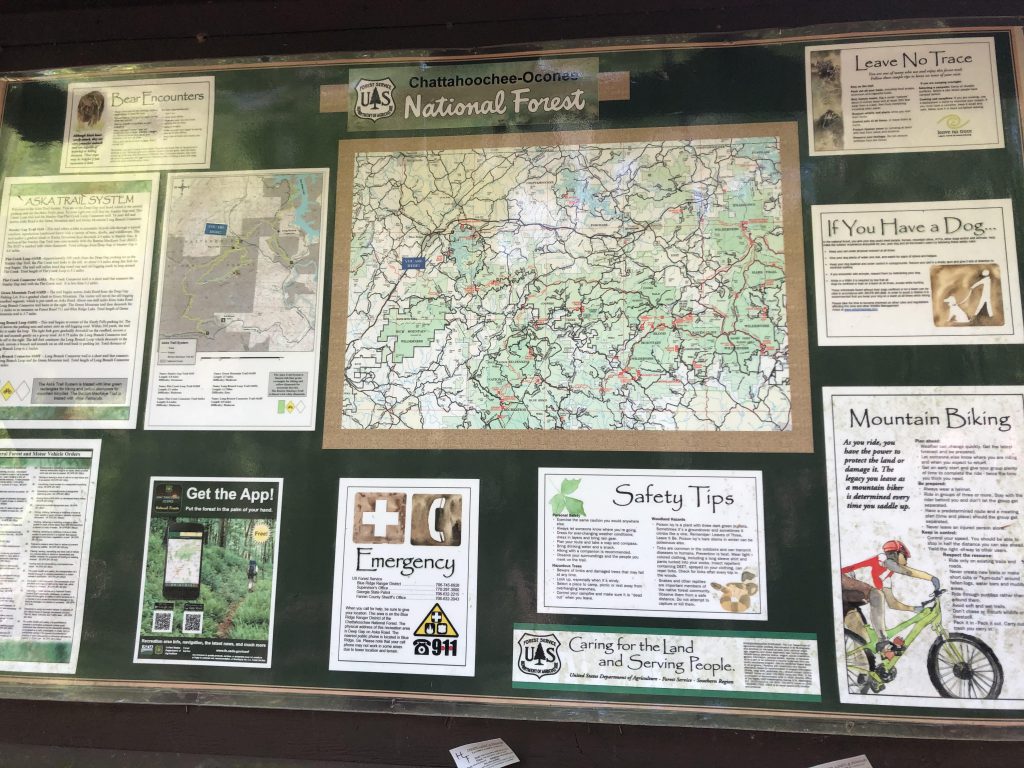 One of our favorite places to go for a hike and enjoy the great outdoors is in the Aska Adventure Area. The Aska Trails Area consists of a 17-mile trail system where hikers and mountain bikers of all skill levels can explore. Along the trail you'll pass by stunning waterfalls, tall mountain peaks, the shorelines of Lake Blue Ridge, and a series of hardwood trees among thickets of mountain laurel and rhododendrons.
Along with miles of hiking trails The Aska Adventure Area is jam packed with plenty of other activities for visitors to experience like horseback riding, gem mining, fishing, river tubing, ziplining, and even multiple mom-and-pop restaurants that lie on the outskirts of the forest. How many beautiful flowers can you spot growing in the wild while you're out exploring? Learn more about the Aska Adventure Area in our blog here: https://www.escapetoblueridge.com/blog/aska-adventure-area/
Fightingtown Creek Nature Park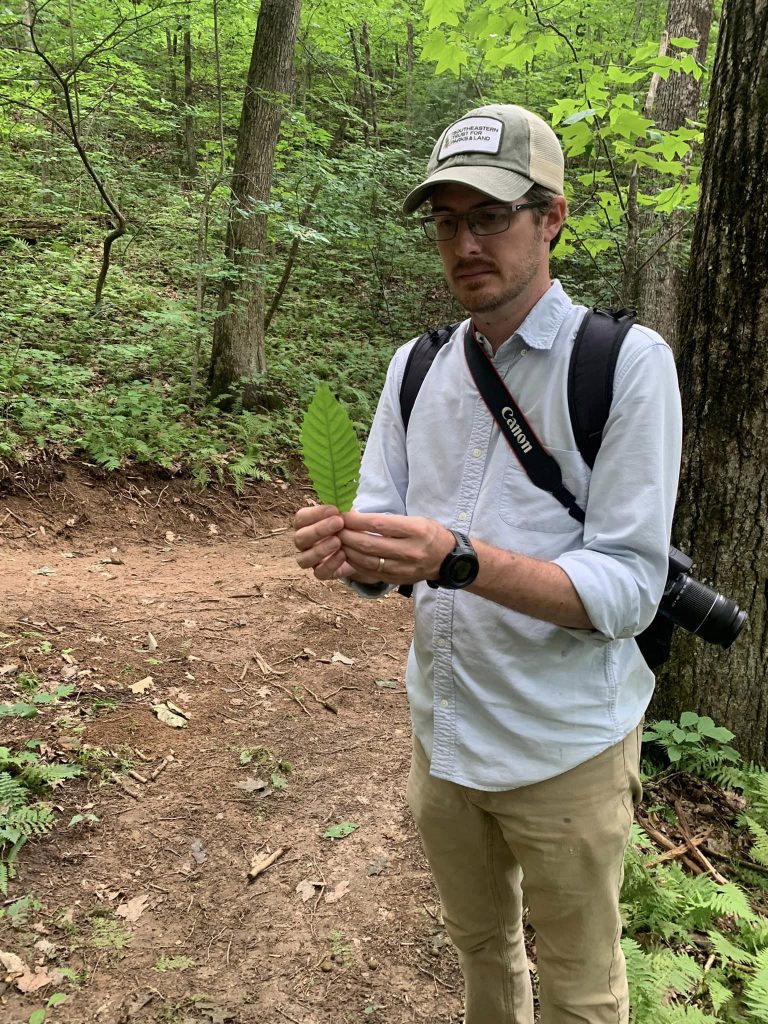 Blue Ridge's newest park is finally open and ready to explore! Fightingtown Creek Nature Park is 190-acre park with over 10 miles of biking/hiking trails, a disc golf course, an apiary, picnic areas, nature based interpretive signage, and native plants & wildlife supportive items. It's a wonderful place to spend the afternoon in the great outdoors and admire some native flora! See if you can spot a blooming azalea or Cherokee rose along the trail.
Hamilton Gardens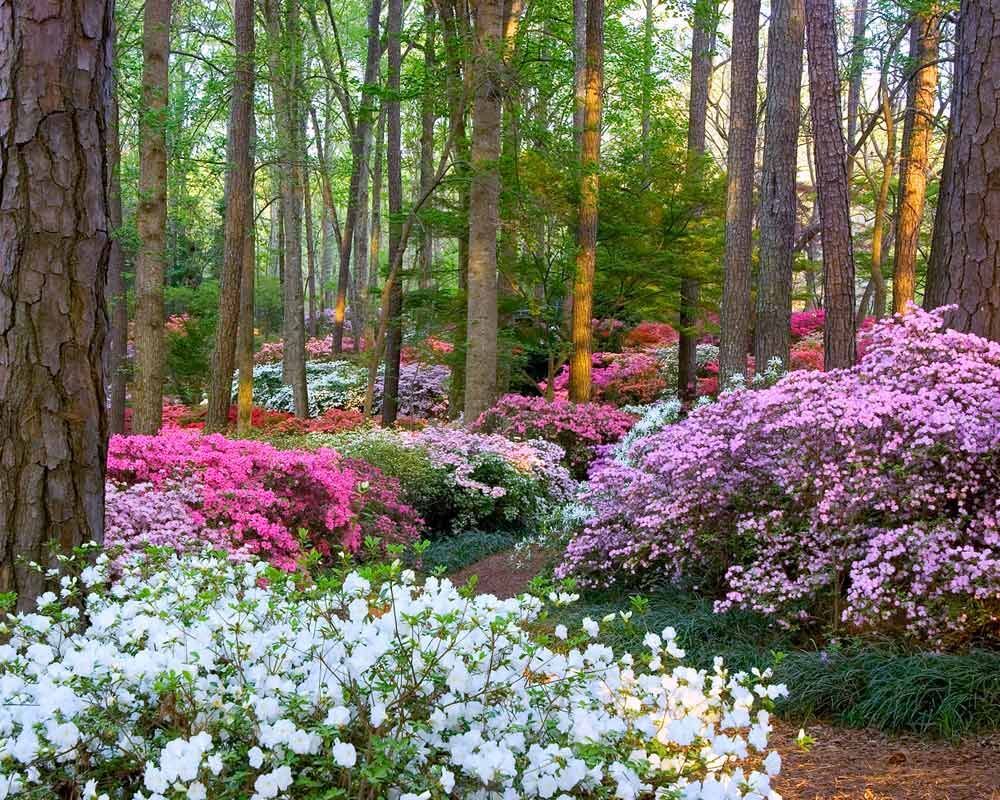 Just about 45 minutes outside of Blue Ridge in beautiful Hiawassee, GA lies the Hamilton Rhododendron Gardens. As its name suggests it's a great place to see a variety of flowers all in one place. And believe it or not they actually have the largest collection of rhododendrons and azaleas in the Southeast! Learn all about North Georgia's native species of flora as you wander the garden trails and admire Lake Chatuge from a distance. And all spring long the Hamilton Gardens will be putting on events while the flowers are in bloom- including the Rhododendron Festival! There's no better place to celebrate all things 'flower power' than at the Hamilton Gardens this spring! 
Gibbs Gardens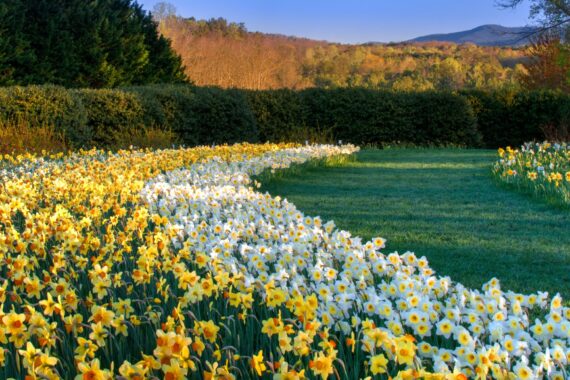 Gibbs Gardens located just outside of Jasper, GA is a world class garden right here in North Georgia! Gibbs Gardens is comprised of over 16 unique gardens of various styles spread out on over 220 acres. One of the highlights of Gibbs Gardens is its 20 million daffodils which are already in bloom! It's also home to over 40,000 tulips, thousands of blooming cherry blossoms, and hundreds of blooming forsythias. Not to mention our local Georgia flowers like the rhododendrons, dogwoods, azaleas, and other Georgia wildflowers that fill these beautiful gardens to the brim.
You'll need 3 or 4 hours at least to see Gibbs Gardens to its fullest. Some must see spots are the daffodil gardens, waterlily gardens, inspiration gardens, Japanese gardens, the Manor House gardens, and the wildflower meadow. Gibbs Gardens is truly a sight to behold and we are so lucky to have a world class garden in our very own North Georgia Mountains! 
Don't let these gorgeous spring days pass you by! Get outside and take in the beautiful flowers & mountains that surround you. You'll be glad you did!