Looking for that perfect gift for your loved ones this holiday season? Instead of spending your whole Blue Ridge vacation stressing out looking for all the gifts on your list, follow our shopping roundup list of all the best shops in town! From home decor, fashion, food, and more you can find everything you need right here!
Home Decor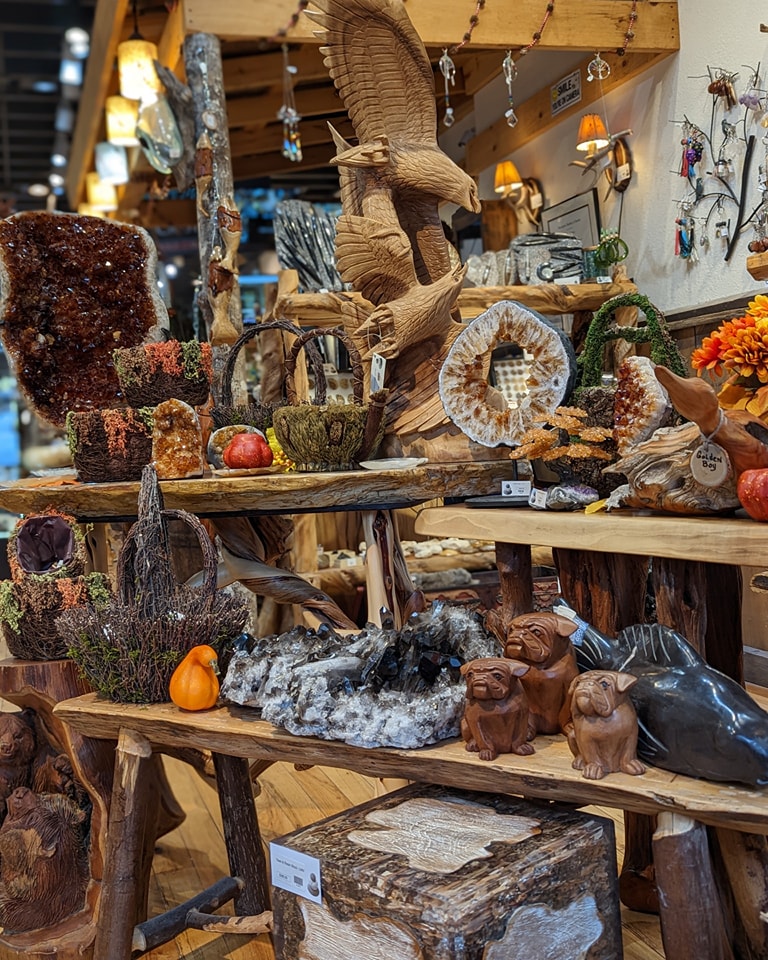 Our homes all need a bit of sprucing up every once and a while. Get your loved ones something new and stylish at one of these great home decor stores downtown:
Looking for some unique and fun home decor? Well, Mitizi's on Main has just the unique and stylish home decor and furniture pieces you're looking for! Rustic style and southern flair is exactly what you'll find here! Adorable cow pictures, quirky home decor, and fun gifts await you at Mitizi's on Main. And with an ever rotating and changing stock you'll never run out of things to admire. What unique finds will you bring back with you? 
Pezrok is a crowd favorite! They create some of the most beautiful furniture pieces and home decor out of fossils, gemstones, minerals, and carved driftwood. A piece from Pezrok is a great gift that you can rest assured won't be like anything else they receive this Christmas! From beautiful hand carved animal statues made from driftwood, custom made sinks with fossil countertops, and sparkly gemstones & jewelry; you'll find truly unique & beautiful gifts at Pezrok.  
We love to gather in wonderful downtown shop, Gather!  Gather's shelves are stocked with kitchen and home goods, sustainable housekeeping products, and even some items for your pets! They also offer delicious foods and beverages sourced locally to the Blue Ridge area. You can truly give the gift of Blue Ridge when you shop at Gather! 
Looking to find unique and beautiful furniture & home decor pieces to bring back for mom or grandma? Then look no further than New Blue Home & Gift! They carry a wide variety of furniture pieces like sofas, chairs, ottomans, kitchen islands, and more as well as beautiful decor and accent pieces. And with "gift" in the name you know you'll find something truly beautiful to bring back for your loved ones! 
Art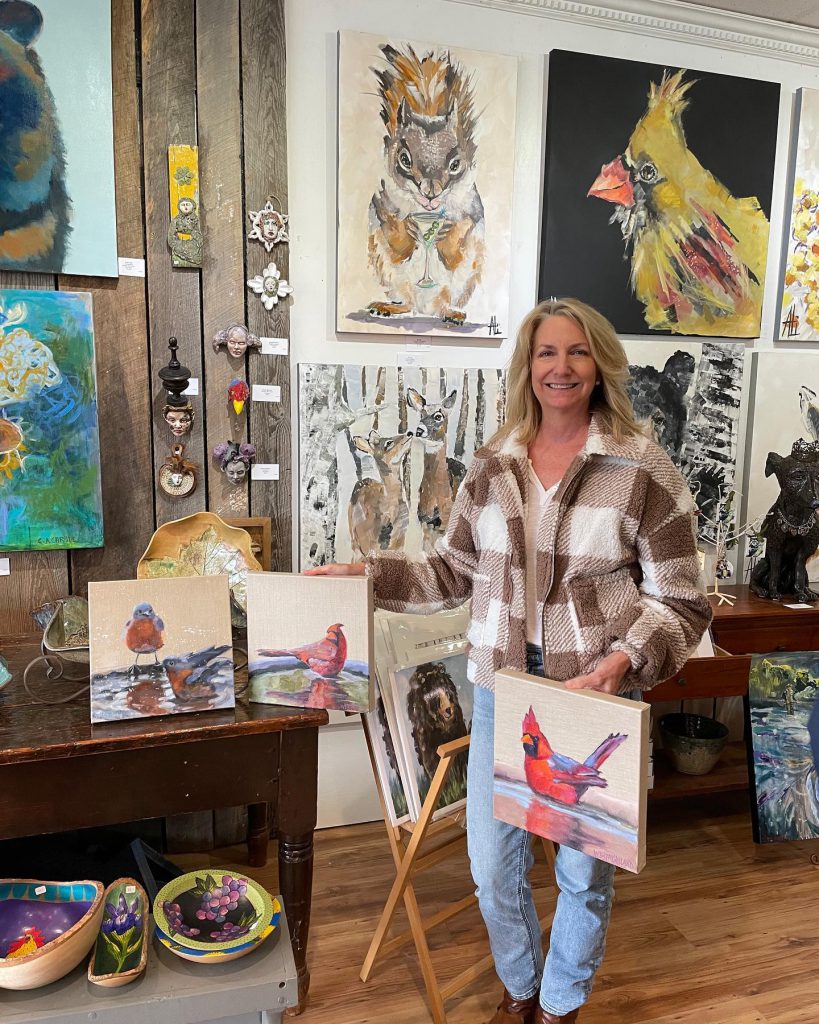 Did you know that Blue Ridge is one of America's top 100 art towns? We have so many great art galleries around town where you can admire beautiful works of art from local artists or pick up a piece to bring home with you! Give the gift of art this Christmas and start your search at one of these great local art galleries:
At High Country Art Gallery the walls and shelves are stocked with paintings, sculptures, jewelry, pottery, and other beautiful crafts. A majority of the art is crafted by local artists from Georgia, Tennessee, and North Carolina. And many of the artists are willing to create a personal piece of your choosing, so you can bring home something extra special for your loved ones. 
At Fishbone Gallery, you can purchase and admire noted ceramicist Betty Wassmers' incredible works. Each of her pieces are lovingly decorated in her unique & colorful style, so you know your gift will really pop! Some of her special lines offered at Fishbone Gallery include Flower Colors, Chickens & Roosters, Birds of a Feather, Day of the Dead, and more. Pottery lovers will absolutely love a unique and fun piece from Fishbone Gallery! 
We can't forget to mention one of Blue Ridge's newest art galleries, 4 Elements Art! Here you'll find beautiful, nature inspired pieces from George Charriez and other featured artists. Come in to admire their work and then shop for special prints online. 4 Elements Art also offers custom framing, so if you already have the perfect photo and you want to get it framed before gifting it, then this is the place to go! Their frame shop has some of the most skilled artisans to ensure the highest quality.
Food & Drink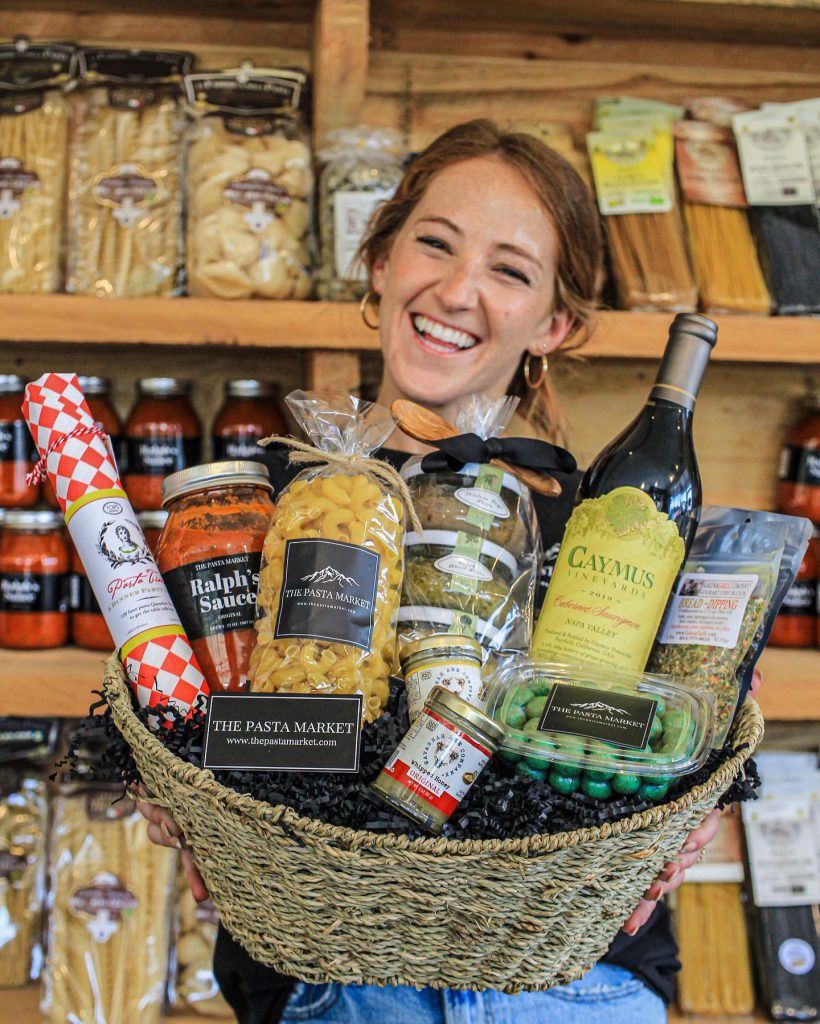 Everyone loves tasty delectable, artisan goods, and wine; especially when it's from a place like Blue Ridge! Explore some of our favorite places Downtown for delicious treats that make for the perfect gift:  
You can't go wrong with anything from The Pasta Market!  They have everything you could possibly imagine from pasta, sauces, wines, seasonings, baked goods, candles, kitchen & home items and so much more! Pick up something amazing for mom to use for family dinners, or a gift basket that offers the very best items from The Pasta Market all put together with a beautiful bow on top! 
Looking for some delicious seasonings and oils to spice up tired recipes? Blue Ridge Olive Oil Company has just what you need and is a great place to look for Christmas gifts as well!  They offer over 65 varieties of olive oil and balsamic vinegars and the opportunity to taste these remarkable innovations from around the world. If you're having a hard time deciding on just the right one there are many pairing suggestions to help you along. 
And for those tea lovers in the family you have to visit Blue Ridge Olive Oil Company sister store Tupelo Tea! They have a huge selection of teas from green teas, black teas, chia teas, herbal teas and more! They also sell honey and teaware as well. With over 100 unique varieties of teas to try Tupelo Tea is sure to have just what you need!
Did you know that one of our favorite restaurants downtown has their own shop next door? At Chesters Provisions you can stock up on unique food & drink items perfect for souvenirs or gifts! You'll find all kinds of goodies here that you won't find anywhere else! 
How about wine? Out of the Blue is your one stop wine shop that has everything you need to surprise and delight the wine lovers in your life. Owner, Sarah Auman, has handpicked the very best wines in the world so there's no way to make a mistake in your selection, it's all delicious! Not only can you pick up an incredible bottle of wine at Out of the Blue but they also offer gourmet foods, artisanal cheese, craft beer, and wine accessories. Grab everything you need from Out of the Blue to host the perfect Christmas party or find the most wonderful gifts. 
Why not check out one of Blue Ridge's newest wine merchants, 34th Degree Wine Merchant! Find the perfect bottle of wine here from their huge wine selection; reds, whites, bubblys, they've got it all! Their team of knowledgeable & friendly wine specialists can easily help you find everything you need. They also offer gift baskets, wine accessories, and delectable food pairings. Stop by 34th Degree Wine Merchant and take in their 'wine'dful stock!
Outdoor Gear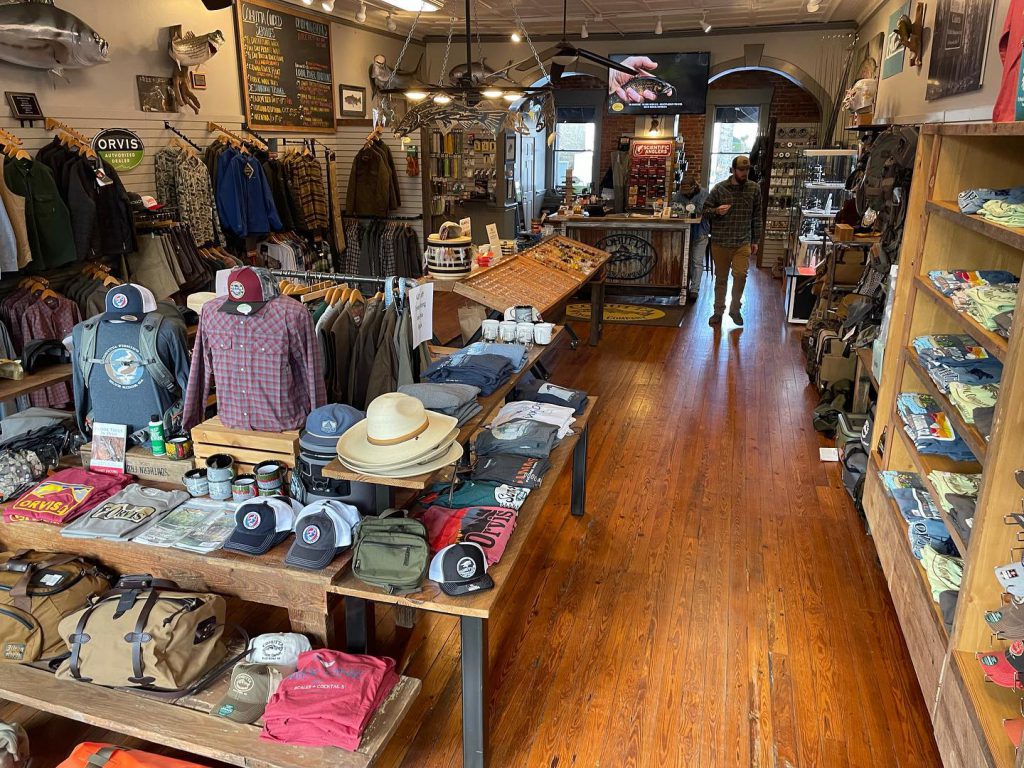 Need to stock up your friends and family with outdoor gear so they can be ready for you NEXT Escape to Blue Ridge? Say no more! Visit these outdoor apparel and gear shops for everything you need for mountain adventures:
Blue Ridge Adventure Gear has all the outdoor apparel and gear to make your next hiking adventure a breeze! They pride themselves on offering the most comfortable outdoor equipment and accessories they can, along with luggage and travel gear for you and your pet. Their store is made up of some of the best outdoor and travel brands available, like Eagle Creek, Gregory, Big Agnes, Marmot and Stanley. Your friends and family will be hiking in style with their gear from Blue Ridge Adventure Gear! 
Calling all fishermen! Cohutta Fishing Company has all the gear and apparel needed for the ultimate fishing excursion! They don't coin the phrase "Your Local Fly Fish Shop" for nothing; they have everything you'll need to get out on the water like fly rods and reels, packs and luggage, fishing vests, boots, apparel and more. Pick up the gear and then book a guided fishing trip with Cohutta Fishing Company on your next escape. 
For a truly unique and special gift for the fishermen in your life check out Oyster Bamboo Fly Rods. Owner, Bill Oyster is the only professional bamboo fly rod maker in the world who personally hand engraves his own rods. Each rod is made from a single culm of genuine Tonkin bamboo. And all rods are hand split, hand planed, and hand engraved. So much detail and craftsmanship goes into making these beautiful rods. Since the rods are custom made, orders are on a "first come, first serve basis," so if you're interested, get your orders in as soon as you can. 
A pocket knife is always a good tool to have on hand, especially for hunting, fishing, and adventuring. Blue Ridge Knife Company has everything you need for just that! They offer a wide variety of pocket and hunting knives as well as knife sharpeners, collectibles, apparel, and gifts. They are a wholesale shop so their wide selection of knives and gear are ones that you won't find anywhere else! 
Pet-Friendly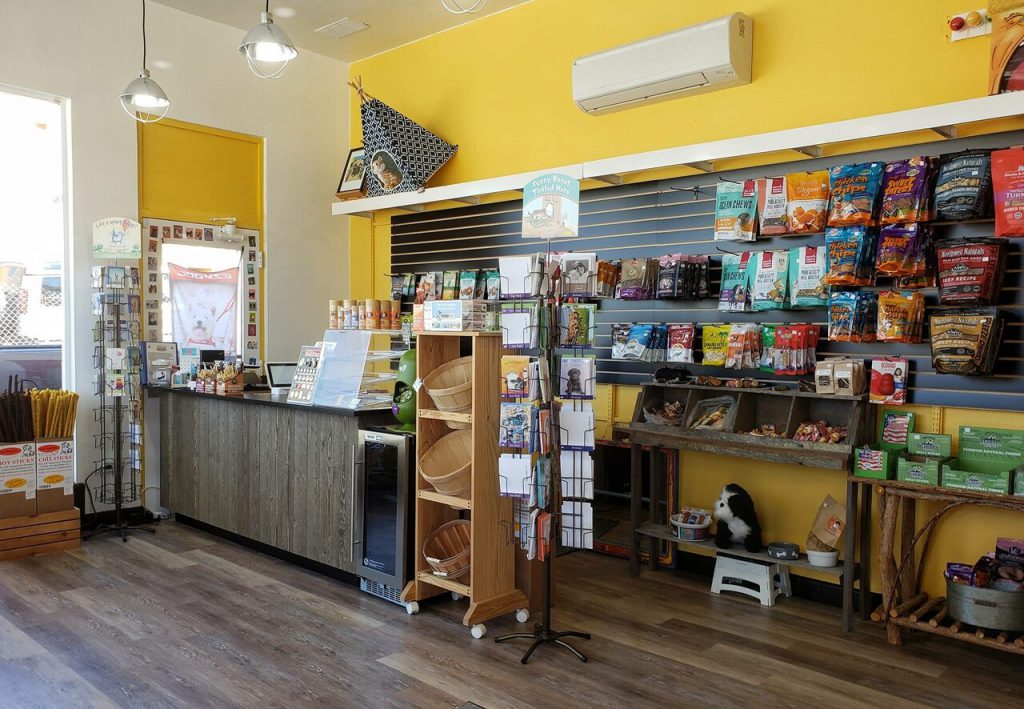 Your favorite furry friends deserve to be spoiled this holiday season too! Pick them up some treats & toys at these pet loving shops. If you need some assistance, you can even bring along your pup to help you pick out their favorite toys & treats! Check them out here:
Love Dogs and Cats Too has everything your pet could want and more! The aisles are stocked with toys, leashes, treats, and much more. And we know it can be hard to find goodies for our feline friends but as the name suggests Love Dogs and Cats Too has toys & treats for your cat as well. Your dog or cat will be so stylish with their new apparel and as happy & spoiled as can be with all their new toys & treats! 
Not only does Blue Ridge Adventure Wear (the sister store of Blue Ridge Adventure Gear) have plenty of apparel and outdoor gear for the whole family but they also have treats and toys for your favorite pup! They've got everything your dog could need from toys, treats, collars and leashes, fun dog themed shirts for you, and even dog friendly donuts!
Fashion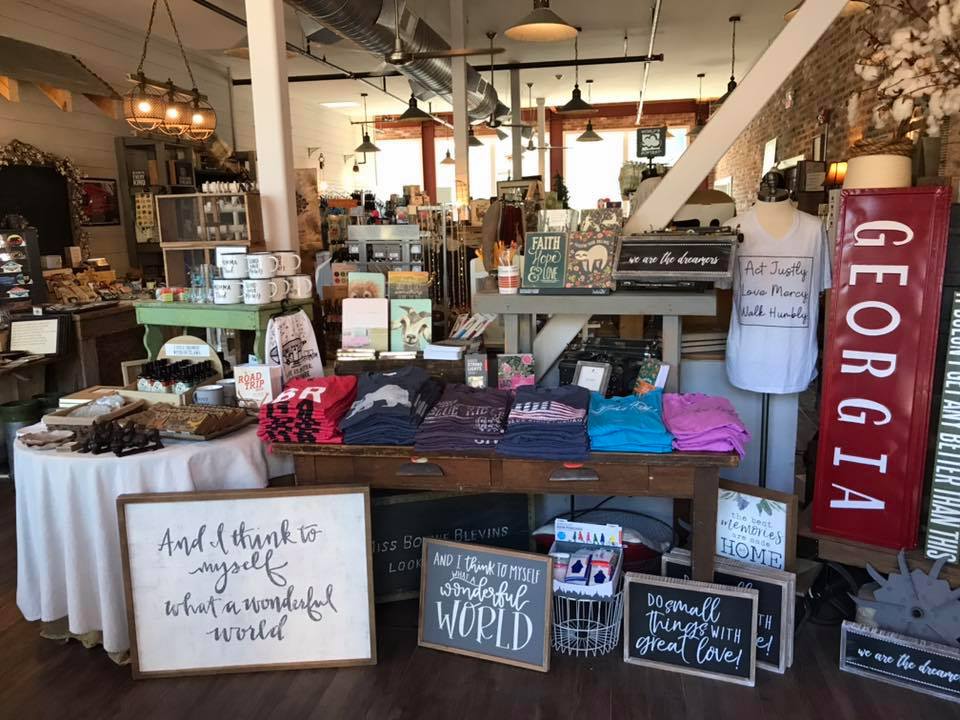 It's always fun to pick out new clothes and accessories when you're on vacation! Blue Ridge has all sorts of stylish shops for ladies and men alike. And who knows while you're searching for that perfect gift you may even find something for yourself! Learn more about some of our favorite boutiques and fashion shops here:
Blue Ridge Cotton Company is one of the most beloved stores in town! Here you'll find stylish apparel, home decor, unique gifts and so much more. And what makes your shopping experience even better is bringing along your favorite furry friend because dogs are welcome in the store! After you purchase the perfect gift and explore all the aisles filled with treasures; 1% of your purchase will go towards a local charity. Not only will you be getting everything on your shopping list at Blue Ridge Cotton Company but you'll be giving back to the community as well, it's a win win! 
At Crawford Collections you'll find an impressive collection of luxury handbags, designer clothes and custom jewelry. Find a beautiful dress for your next holiday party or pick up a pair of gorgeous earrings as a gift for your best gal pal. Visit Crawford Collections for the most stylish, sophisticated women in your life! 
Even the men need to get their shopping done right!? OAR Finer Goods, is an accessory shop for modern gentlemen and it has everything you need to dress the men in your life with style. From men's jewelry, ties, socks, books, fun trinkets, novelty gifts, and more you can find the perfect gift here. Some of their brands include Fulton & Roark, Brackish Bowties, Studebaker Metals, and OAR leather goods. 
For all things accessories check out The Owls Nest! Here you'll find jewelry, gemstones, purses, shoes, t-shirts, and more. We especially love all the owl themed accessories that pay homage to the store name. What kind of bling and stylish accessories will you bring back for the favorite girls in your life? No matter what you choose they are sure to sparkle! 
Toys & Games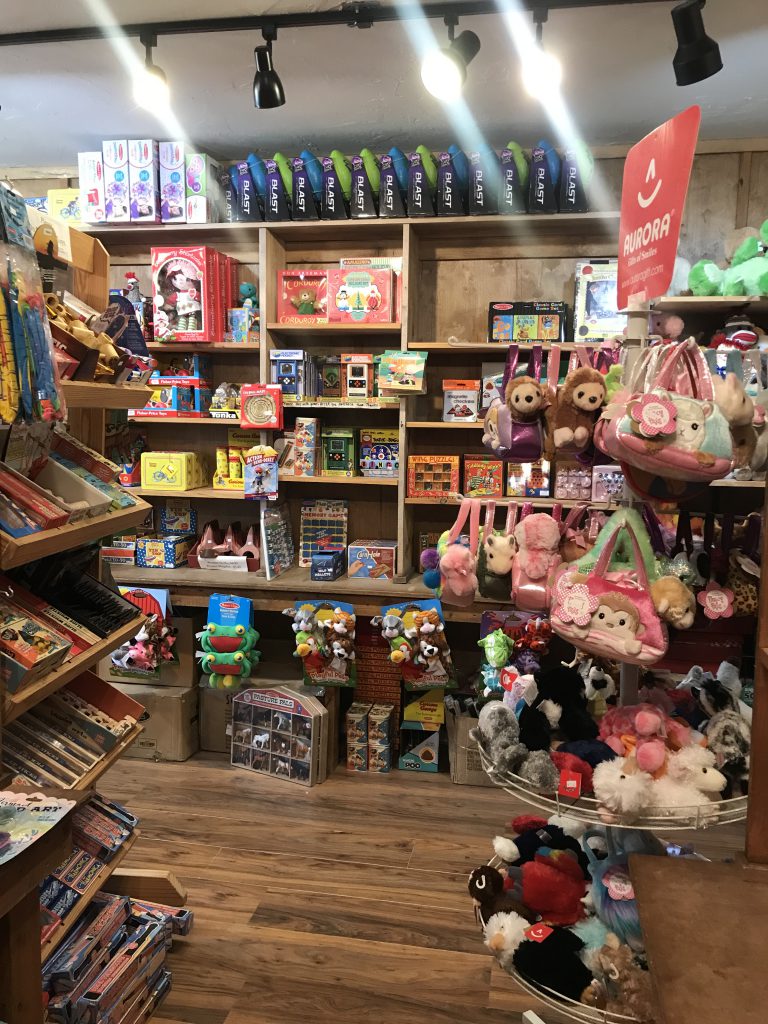 Pick up some fun toys & games for the kids in your life from kid-friendly these stores around town:
Right when they walk through the door at Huck's General Store, kids can't resist digging into the bucket of old school candy that waits at the front of the store. Get some candy for the kids to eat while you shop and pick up some more for stocking stuffers later! Not only will you find artisan goods, canned & pickled fruits and vegetables, and tshirts here but you'll also find all kinds of fun for the kids. The kiddos can wander the aisles of toys and games while you pick out the best ones for their Christmas gifts, unbeknownst to them! 
Lily + Coco is a magical & colorful shop that the kids will absolutely love! And almost everything is pink, so the little girls will especially love this place! Find stuffed unicorns, felt slingshots, pink flamingos, candies, and one-of-a-kind décor perfect for decorating the house with a fun touch for the holidays. Lily + Coco is truly a one of a kind shop filled with "fanciful finds & whimsical whatnots"!
And for the cutest children's clothing and accessories check out one of Blue Ridge's newest shops Moonbeams & Mudpies! You can find everything you need to style your little ones here! Not only will they look just darling in their clothes from Moonbeams & Mudpies but the kids will love them! They have all kinds of fun attire like fun pj sets, princess headbands, rainbow dresses and more! You can even pick up a small toy or two from the shop before you go! 
Escape to Blue Ridge Gift Cards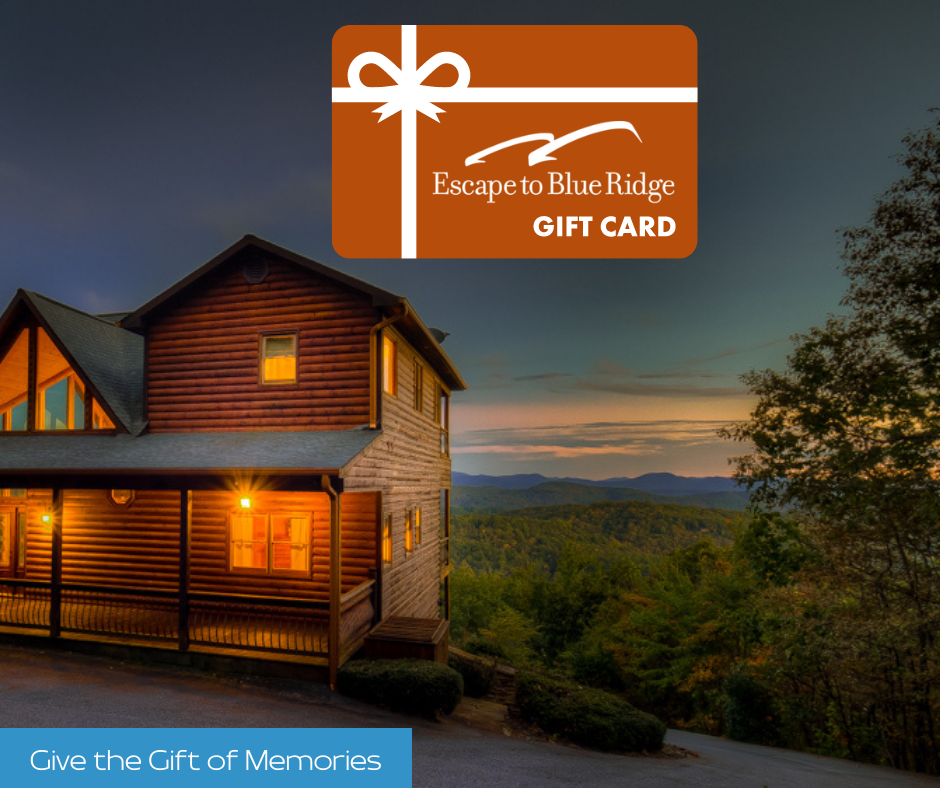 Give the gift of a great mountain experience in Blue Ridge with a gift card for an Escape to Blue Ridge cabin rentals! Put that cash towards a wonderful family vacation that you'll be talking about for years to come! Just contact the office at 866-618-2521 or email reservations@escapetoblueridge.com for gift cards.