It's summer in the mountains and we are so excited for what this season has in store! You can find us on the shores of Lake Blue Ridge, with a drink in hand all summer long!
When you're not splashing in the shallows of Lake Blue Ridge, fishing off the dock, or soaking in the rays, head to your cabin's bar to make yourself the ultimate lakeside drink! Want something fruity and sweet like a Mai Tai or how about something classic like an Old Fashioned? And we have plenty of mocktail options as well! Whatever drink you fancy we've got you covered! We've rounded up a list of some of our favorite summer cocktails and mocktails for you to enjoy at your amazing lakeside cabin this summer!
*Cover Photo Courtesy of @jross428 at Eagles Landing
Old Fashioned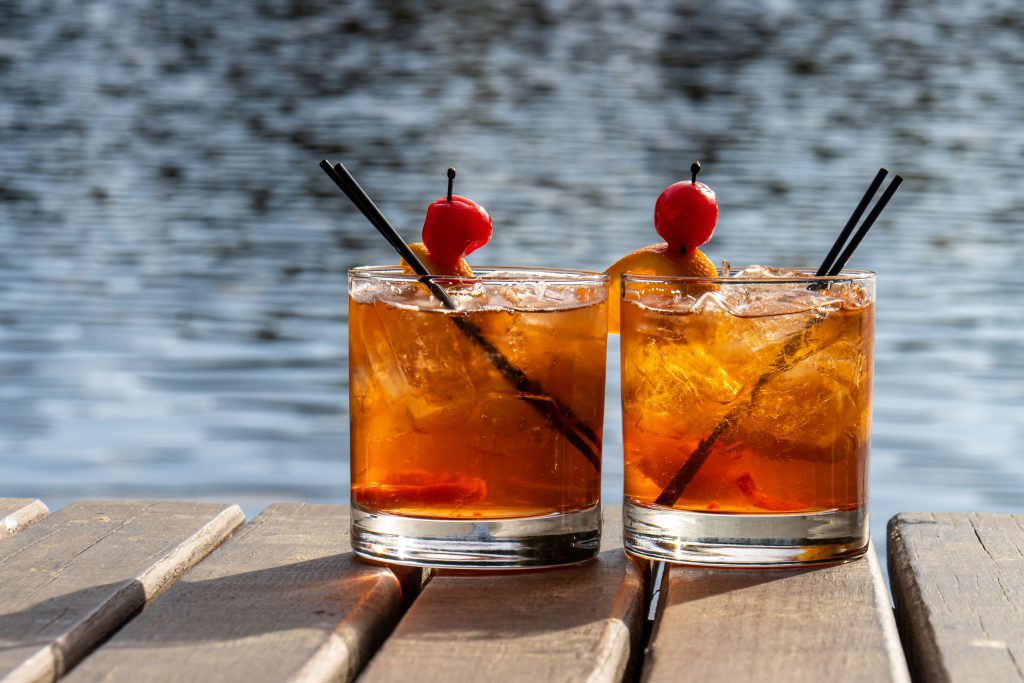 You can't go wrong with this tried and true favorite! The classic Old Fashioned is easy and simple to make, and you really only need a few ingredients. So prop your feet up by the fire, listen to the calming sounds of the water hitting the shore, and enjoy your Old Fashioned!
What you'll need:
2 teaspoons of simple syrup
1 of teaspoon water
2 dashes of bitters
1 cup of ice
1 oz of bourbon whiskey
1 orange slice
1 maraschino cherry
How to make:
1. Pour simple syrup, water, and bitters into a glass.
2. Stir to combine.
3. Add ice.
4. Pour in bourbon.
5. Garnish with an orange slice and maraschino cherry if desired.
Mojito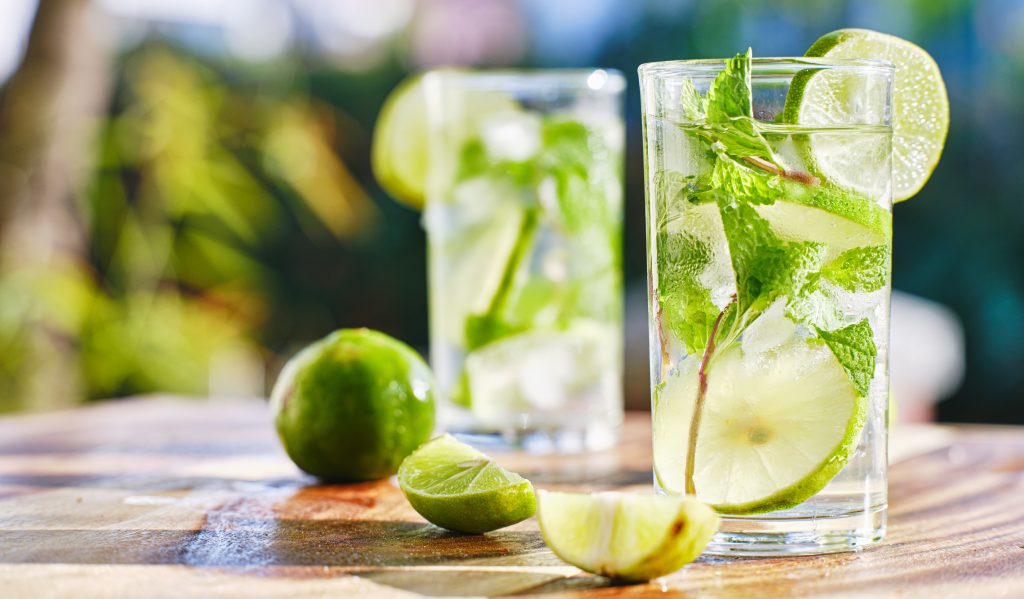 This is the perfect refreshing drink for summer, and the mint in the mojito will cool you off in no time! If you're looking to add a little flair to the classic mojito, add your favorite fruit to the mix for a fun sweet twist! Head to the bar to mix this drink cause you'll need a cocktail shaker. And if you'd like a mojito without the alcohol just skip the rum and you'll be good to go; it will still be just as sweet and refreshing without.
What you'll need:
6 mint leaves, plus additional for garnish
1 ounce of lime juice
1 ounce of simple syrup
2 ounces of white rum
2 to 4 ounces of soda water
Additional limes for drink if desired.
How to make:
1. Place the mint in a cocktail shaker, and properly muddle the mint. To do this use a wooden cocktail muddler or wooden spoon, and mash the mint 3 to 4 times to bring out the juices.
2. Add fruit if desired and muddle again.
3. Add Ice.
4. Then add the lime juice, simple syrup, and rum to the cocktail shaker and shake until cold.
5. Add additional ice to the glasses and strain liquid into each glass.
6. Top the glass with soda water, and garnish with additional mint leaves & lime slices.
Mai Tai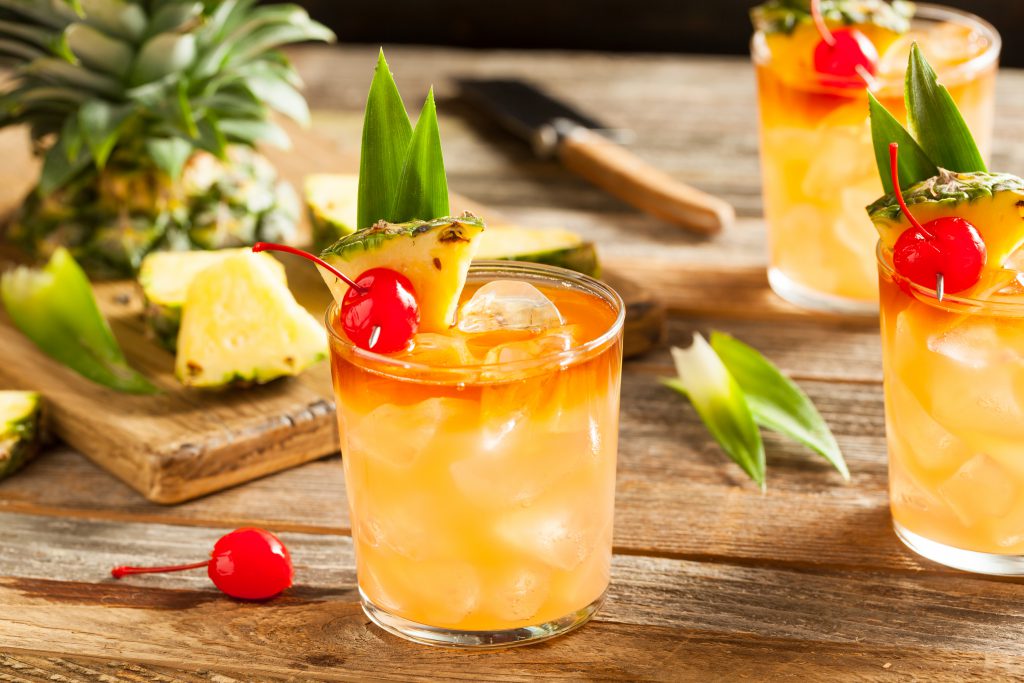 Mai Tais are a favorite summer beverage and after a few sips it won't be hard to see why! You'll need a cocktail shaker for this one as well so head to the bar for all your supplies. This citrus drink will make you feel like you're in the tropics until you look out and see the beautiful Blue Ridge Mountains and Lake Blue Ridge, a view you can't find anywhere else!
What you'll need:
1 ½ ounces of aged rum
½ ounce of orange liqueur
¾ ounce of lime juice
1 ounce of orgeat syrup
½ ounce of dark rum
For the garnish: Fresh mint, cocktail cherry, pineapple slice, lime wedge
How to make:
1. Place the aged rum, orange liqueur, lime juice, and orgeat syrup in a cocktail shaker.
2. Add ice and shake until cold.
3. Add additional ice to the glasses and strain liquid into each glass.
4. Top with the dark rum.
5. Garnish with fresh mint, a lime wedge, cocktail cherry and pineapple slice if desired.
Long Island Iced Tea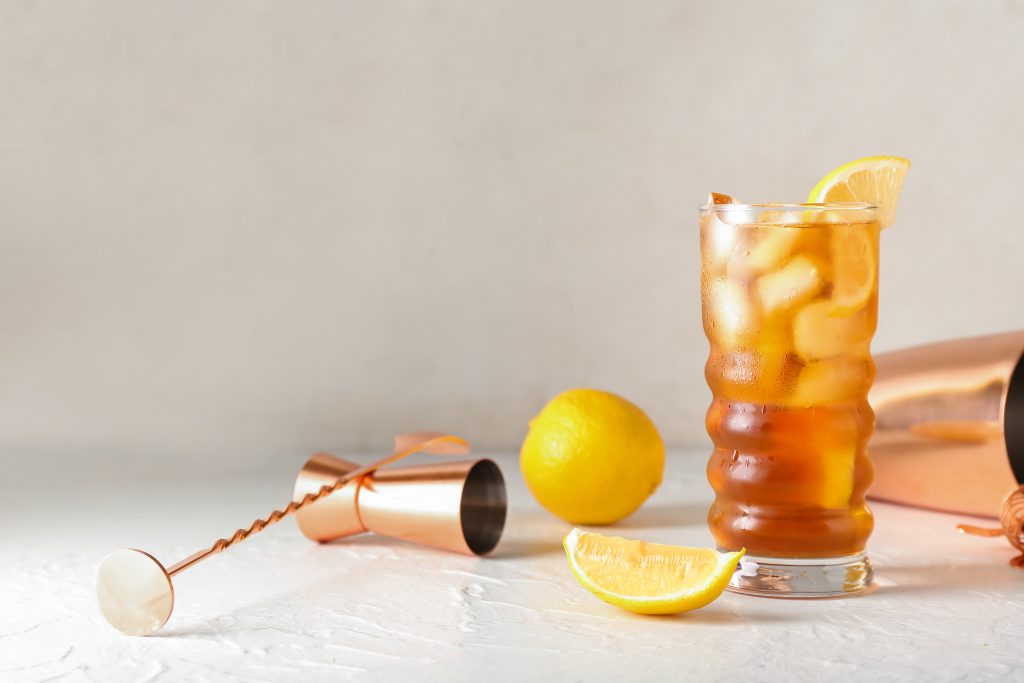 We might not be on Long Island but we sure do love this drink! However, Long Island Iced Teas are a heavy pour, so make sure to stay in at the cabin if you plan to have a few. Good thing it makes for the perfect sunbathing drink!
What you'll need:
3/4 ounce of vodka
3/4 ounce of white rum
3/4 ounce of silver tequila
3/4 ounce of gin
3/4 ounce of triple sec
3/4 ounce of simple syrup
3/4 ounce of lemon juice
Cola, to top
Lemon wedge for garnish
How to make:
1. Fill your glass with ice.
2. Add the vodka, rum, tequila, gin, triple sec, simple syrup and lemon juice to the glass
3. Top with a splash of the cola and give it a quick stir.
4. Garnish with a lemon wedge if desired.
Arnold Palmer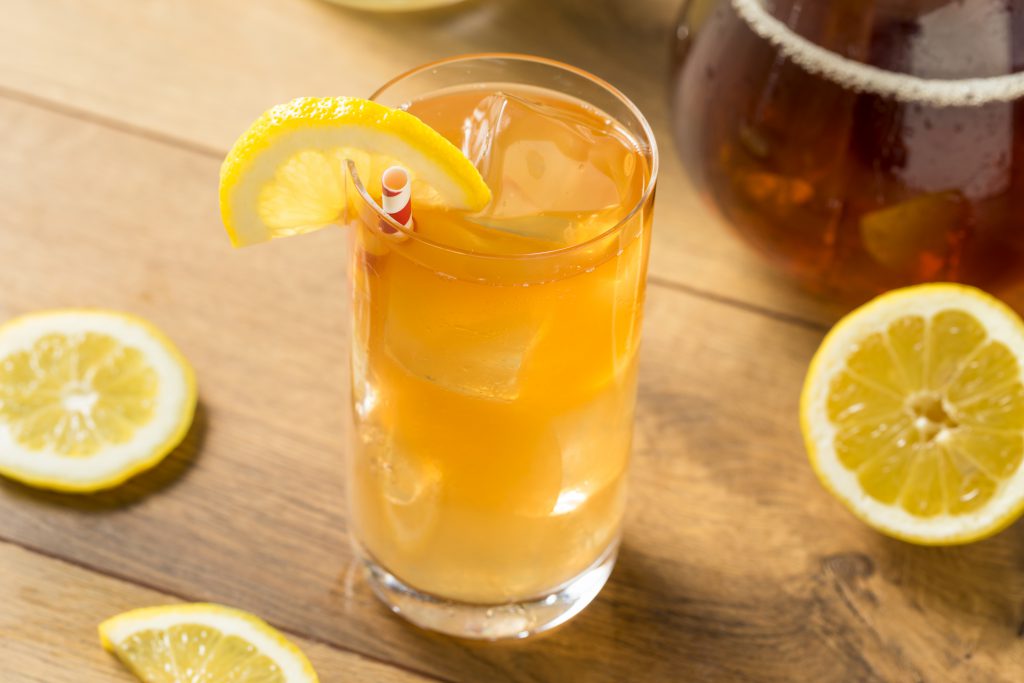 Arnold Palmers are one of our favorite classic mocktails! Have this drink after a day of golfing at Old Toccoa Farm or enjoy the sweet taste of summer that this drink offers by Lake Blue Ridge. Summer to us means enjoying a nice cold glass of lemonade or tea on the porch, but if you put them both together it just makes it all the better! And while Arnold Palmer's do not normally contain alcohol, you can easily make it alcoholic by adding just 2oz of bourbon whiskey.
What you'll need:
1/4 cup of lemonade
1/2 cup of iced tea
Lemon slice, for garnish
How to make:
1. Pour the lemonade and iced tea into a tall glass filled with ice.
2. Stir well.
3. Garnish with a slice of lemon if desired.
Pina Colada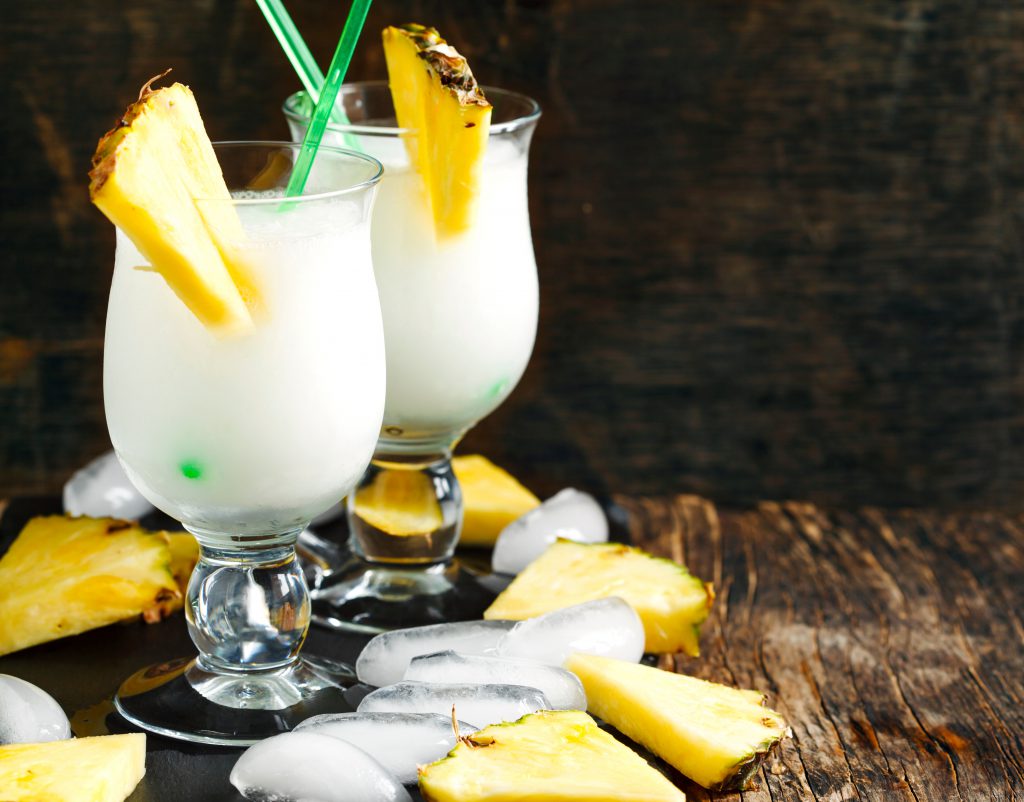 You may not be on island time, but you can be on "lake time" with this fun tropical drink! Blast the Pina Colada song while you sip on this fruity beverage by the lake, soaking in the rays. You'll need a blender for this recipe but most of our cabins supply one. Virgin Pina Coladas are just as good, so skip the rum if you'd prefer and add ¾ a cup of unsweetened coconut milk in its place, and have yourself a ball! You'll be in vacation mode in no time!
What you'll need:
1 ½ cups of frozen pineapple
1 ½ cups of ice
5 ounces of aged rum
2 ounces of cream of coconut
4 ounces of pineapple juice
1 ounce of lime juice
Cocktail cherries for garnish
How to make:
1. Pull out your blender and blend the pineapple & ice until chunky.
2. Add the remaining ingredients to the blender and blend until smooth.
3. Serve garnished with a cocktail cherry if desired.
Sangria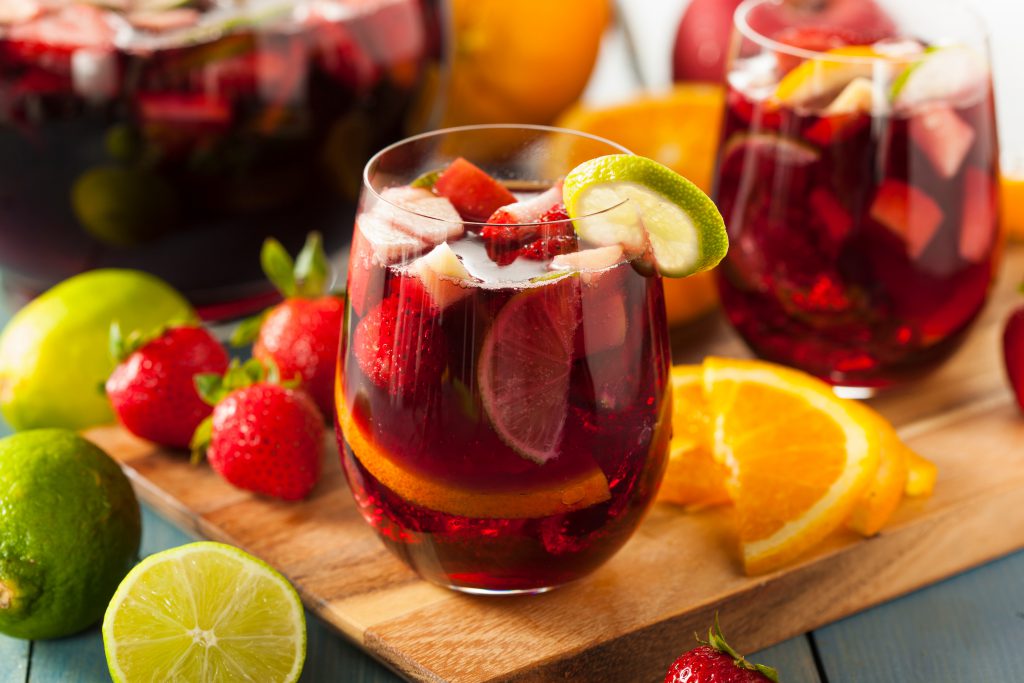 Who doesn't love a sweet sangria!? Grab yourself a few bottles of your favorite red wine or some wine from one of our amazing local wineries, pick up your favorite fruits (feel free to substitute any of the fruits in this recipe) and get ready to mix it all together into one delicious concoction; just be sure to make this one ahead of time for the best results!
What you'll need:
1 orange
1 green apple
3 tablespoons of sugar
1 bottle dry red wine, chilled
¼ cup of brandy
¼ cup of orange liqueur
1 lemon, sliced into rounds
How to make:
1. Chop the orange (leaving the peel on) and the apple into bite-sized chunks, then add them to the bottom of your pitcher.
2. Sprinkle the orange and apple slices with sugar and stir.
3. Let sit for 20 minutes at room temperature.
4. After 20 minutes, pour in the red wine, brandy, orange liqueur, and lemon rounds into the pitcher.
5. Stir and refrigerate for 1 to 4 hours. (Don't go beyond 4 hours or the fruit texture starts to degrade.)
6. Pour the sangria into ice filled glasses and top with fruit.
Kentucky Lemonade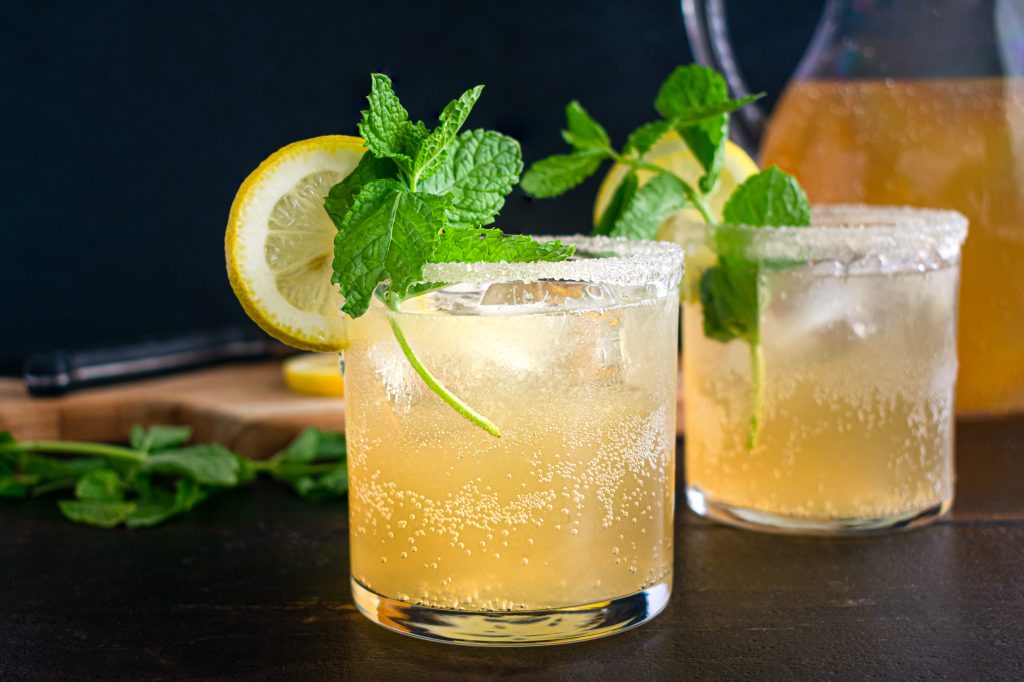 There's nothing quite like a refreshing lemonade on a hot summer's day! And while this drink is called the "Kentucky Lemonade" it's a sweet southern drink we think tastes great no matter where you are in the south! Similar to an alcoholic Arnold Palmer this drink takes lemon juice and bourbon, but swap the sweet tea for some ginger ale and add some mint instead, and you've got yourself a Kentucky Lemonade! And all you have to do is hold the bourbon if you'd like to make it non-alcoholic.
What you'll need:
3/4 cup of granulated sugar
3/4 cup of water
1 1/2 cups of lemon juice
1/2 cup of mint leaves
1/2-2/3 cup Bourbon
6 cups of ginger ale
Additional lemon slices (for garnish)
How to make:
1. Use a small saucepan to combine granulated sugar and water over medium heat.
2. Heat until the sugar dissolves into water and the mixture is clear.
3. Simmer for an additional 1-2 minutes, then remove from heat.
4. Add lemon juice, mint leaves, and Bourbon, then let cool.
5. Pour the mixture through a strainer into a large pitcher.
6. Add ginger ale to the pitcher and stir to combine.
7. Add ice and lemon slices and serve cold.
Blue Ridge Drinks:
For the Kids- Lake Blue Ridge Punch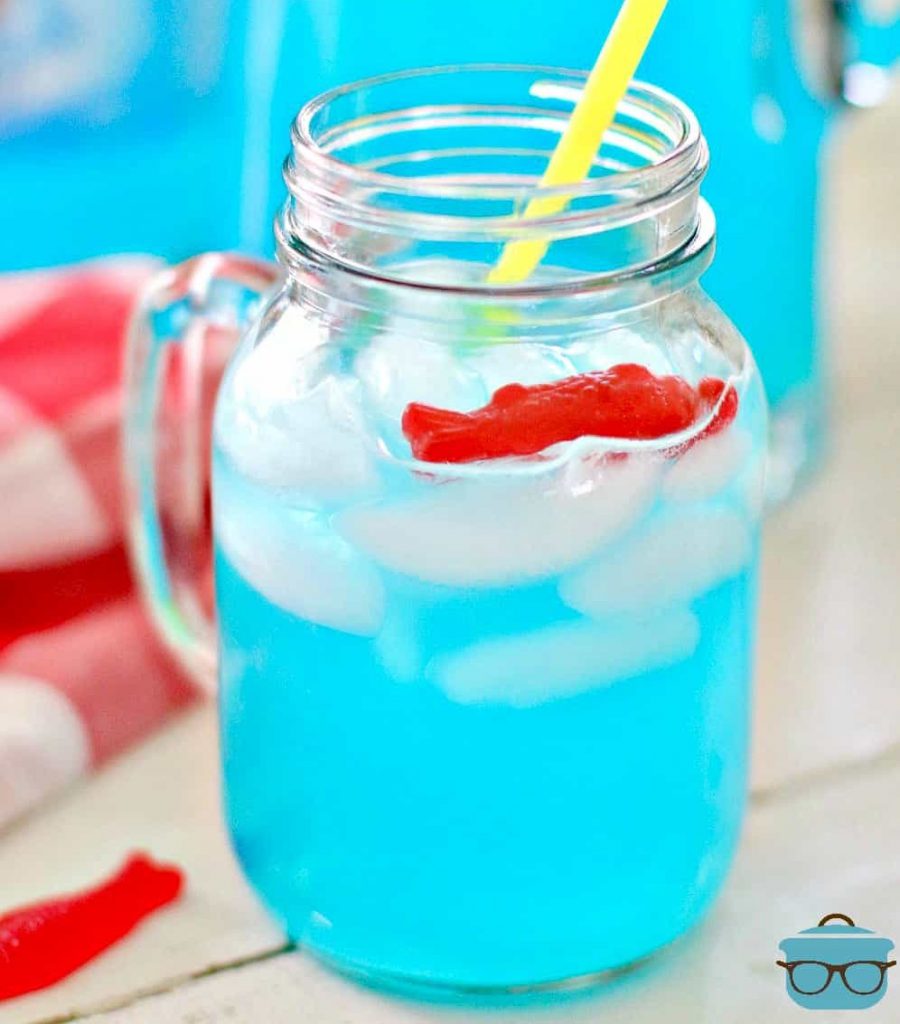 Make the kiddos their very own, special Lake Blue Ridge punch! It's a super simple mix of Polar Bear Blast Hawaiian Punch and Sprite, and the kids can even help you to add Swedish fish to the mixture if you'd like. They might not be the "trophy trout" that Blue Ridge is known for but it will be a fun treat all the same!
What you'll need:
1 gallon bottle of Polar Blast Hawaiian Punch
2 liter bottle of lemon-line soda (7-Up or Sprite)
Swedish fish (optional)
How to make:
1. Place the Hawaiian Punch and lemon-lime soda in the refrigerator overnight to cool, if time allows. If not you can place the mixed punch into the fridge after or serve with ice.
2. Fill up your container halfway with Hawaiian Punch.
3. Then fill up the rest of the container with lemon-lime soda (no need to stir).
4. Add in Swedish fish for the final special touch.
Blue Ridge Mountain Moonshine Mule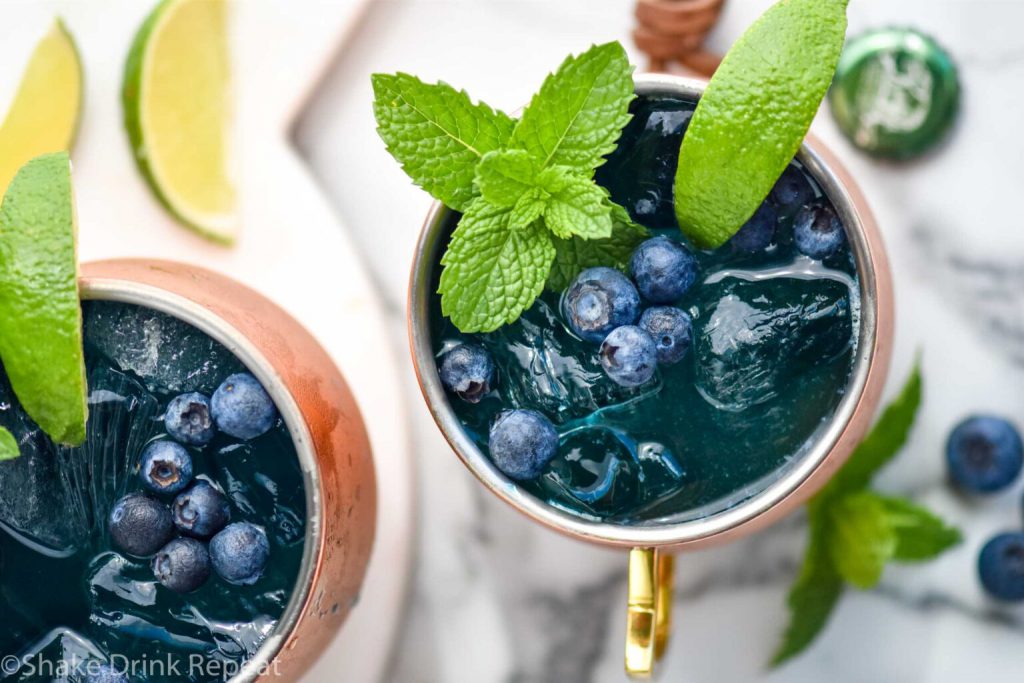 The traditional Moscow Mule is made with vodka and ginger beer but we thought we'd put a fun "Appalachian" twist on it and use moonshine instead! We love Grandaddy Mimm's Moonshine but you can use any of your favorite moonshines. We also added in a dash of blue curacao and scattered some blueberries on top to remind us of the beautiful Blue Ridge Mountains that surround us!
What you'll need:
2oz of Grandaddy Mimms unflavored moonshine or other favorite moonshine brand
1oz of lime juice
1oz of simple syrup
1oz of blue curacao
3oz of ginger beer
A handful of blueberries
How to make:
1. Fill your glass with ice.
2. Then fill in with moonshine, lime juice, simple syrup, and blue curacao.
3. Top the glass off with ginger beer.
4. Sprinkle with blueberries for the finishing touch.
Local Drinks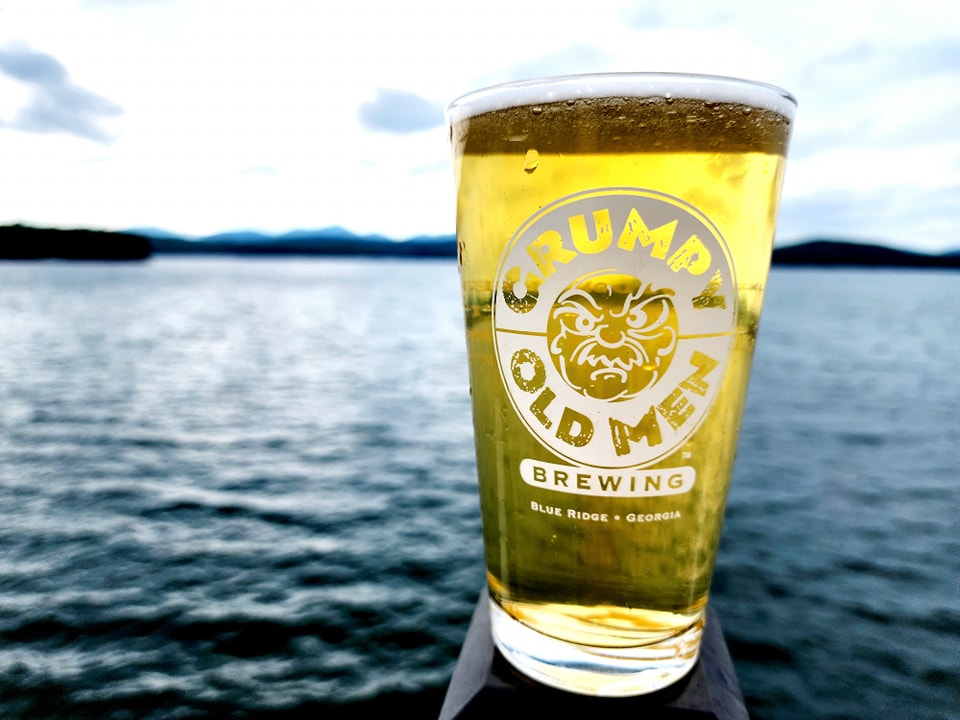 Mixed drinks not your thing? No problem! Blue Ridge is home to tons of great breweries and wineries that you'll have to try! Pick up a bottle of wine from Serenberry Vineyards or Bear Claw Vineyards, and sip on your wine from the porch as you watch the kids splash in the waters of Lake Blue Ridge. Or grab a 6 pack of beer from one of our wonderful local breweries like Grumpy Old Men Brewing, Fannin Brewing Company, Angry Hops Brewing, or Tipping Point Brewing Company. There's also some great shops downtown like 34th Degree Wine Merchant and Out of the Blue that offer a wide selection of wine & beer from all over the world! Stock up on all your favorites and then head back to the cabin with all the supplies you need for an amazing lake day!
Cookout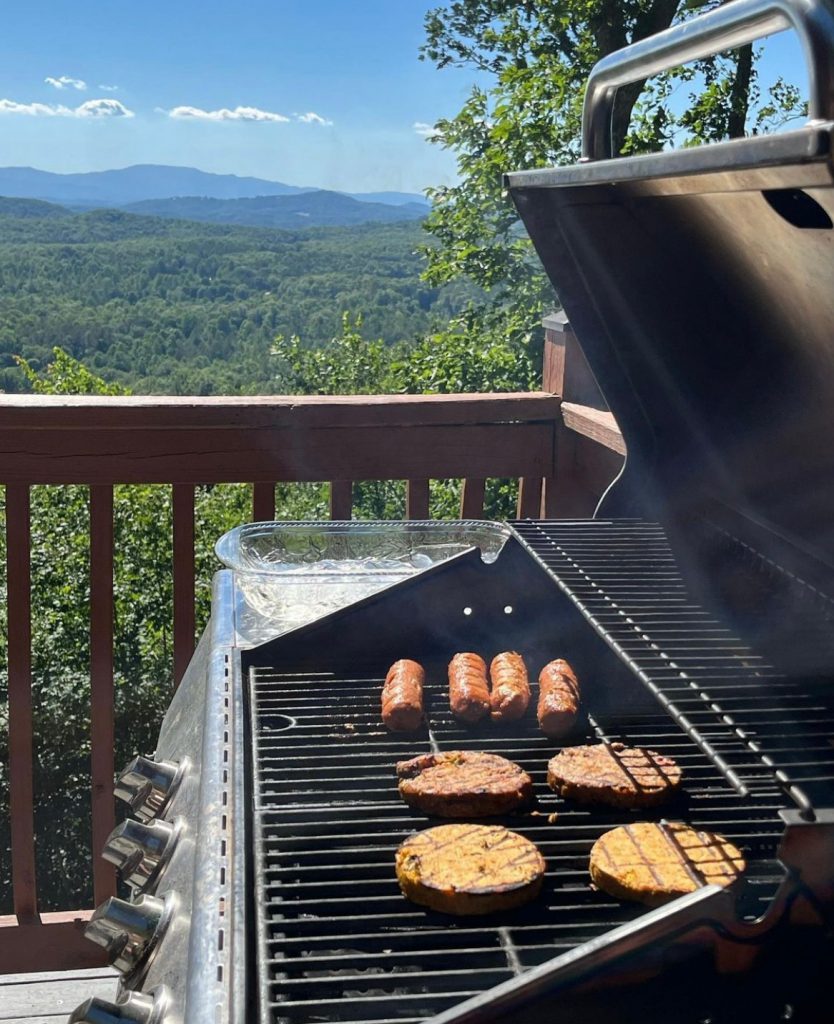 No need to go inside and ruin all the fun, have dinner al-fresco and fire up the grill! Grill up all your summer favorites like hot dogs and burgers, then gather around the table and enjoy your well deserved feast. Nothing tastes better after some fun in the summer sun than these classic American eats! And your adult beverage or mocktail will pair nicely with your al fresco meal as well!
Fireside Fixin's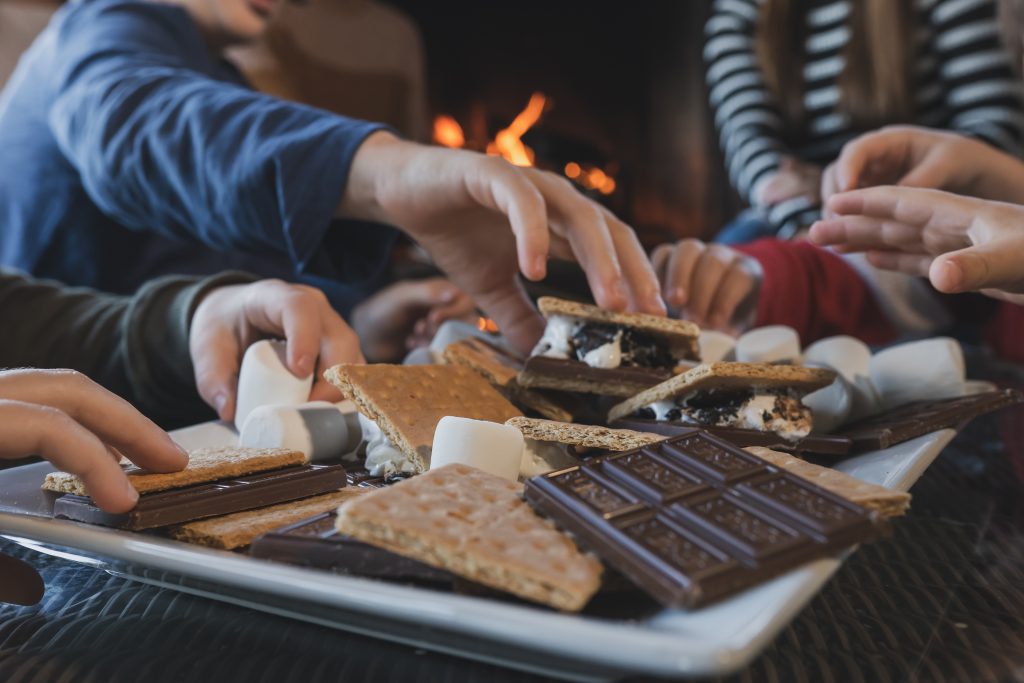 There's no better way to end your day at the lake than with s'mores and tasty treats by the fire! Swap stories and laughs from your fun day on the water, around the fire with all your favorite people, while you enjoy a delicious s'more or two! Check out our s'mores blog for some fun ideas: https://www.escapetoblueridge.com/blog/smores-elevated/
As you make your travel plans for this summer be sure to keep these fun lakeside drink recipes in mind! We can't wait to host you and your families for your fun summer vacation on the shores of Lake Blue Ridge!
And a special thank you to these wonderful sites & recipes that helped inspire us: www.acouplecooks.com
www.allrecipes.com
www.liquor.com
www.thespruceeats.com
www.thechunkychef.com
www.thecountrycook.net
www.shakedrinkrepeat.com
www.howtomoonshine.com