Rolling mountain ranges, miles and miles worth of hiking trails, a great local art scene, countless attractions and activities to experience, and a lively Downtown shopping & dining district. All of this and more make up our lovely small town Blue Ridge, GA. With so much to do and see in the area it can be hard to choose the best way to spend your time here. We are lucky that our friends at Old Toccoa Farm provide so much to do on their property, that you won't even have to leave! Golf, fish, dine, and more on the charming grounds of Old Toccoa Farm. Learn all that awaits you on this riverside property, below: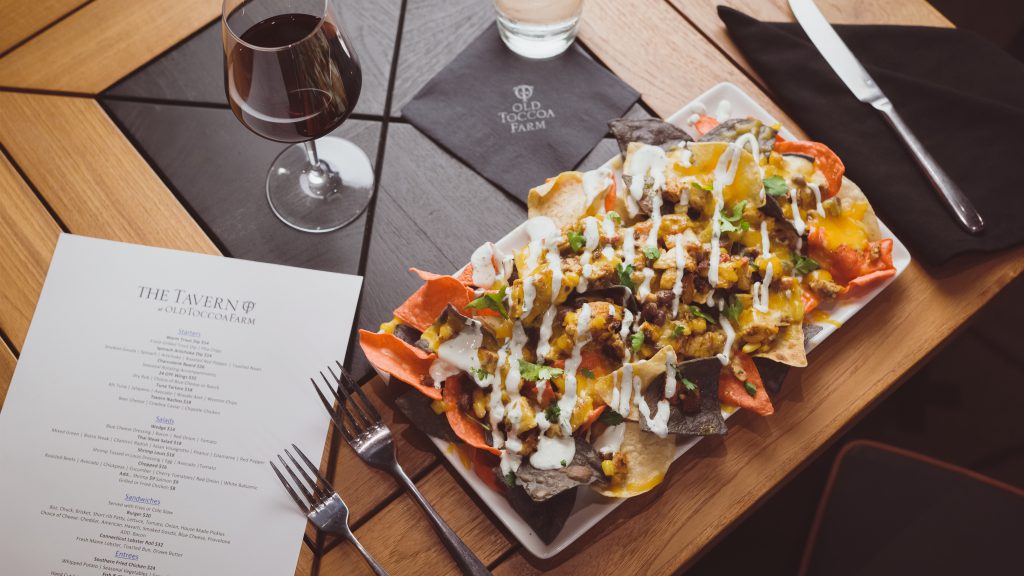 When you stay at Old Toccoa Farm, be sure to have dinner at The Tavern after a long day on the green. The Tavern offers luxurious lunch and dinner options along with yummy and refreshing cocktails from the bar. Try the Mountain Trout entree for a taste of Blue Ridge or have one of their classic Tavern Burgers. Not only will you enjoy delicious food and drink here but the views from the outdoor patio and bar area will blow you away! You'll have intimate views of the 9th hole along with the Toccoa River Valley and the gorgeous Blue Ridge Mountains in the distance. Enjoy dinner with a view at The Tavern!
Work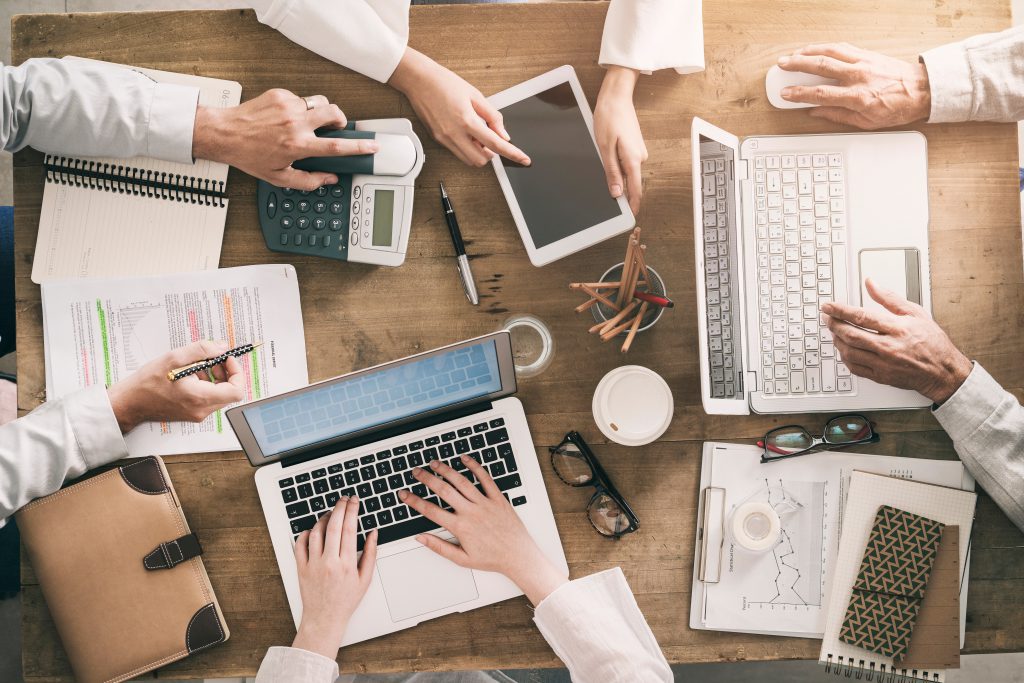 Need to catch up on some work during your stay? Not a problem! Each of Old Toccoa Farm's cabins and cottages offer unlimited Wifi, so you can get all your work done from the comfort of your own cabin. Or if you need to host an event or a meeting, the meeting room is the perfect place to do so! You can take both private or group meetings in Old Toccoa's spacious and comfortable meeting room. Finish up your work for the day and then get outside & enjoy Old Toccoa Farm's wonderful amenities!
Play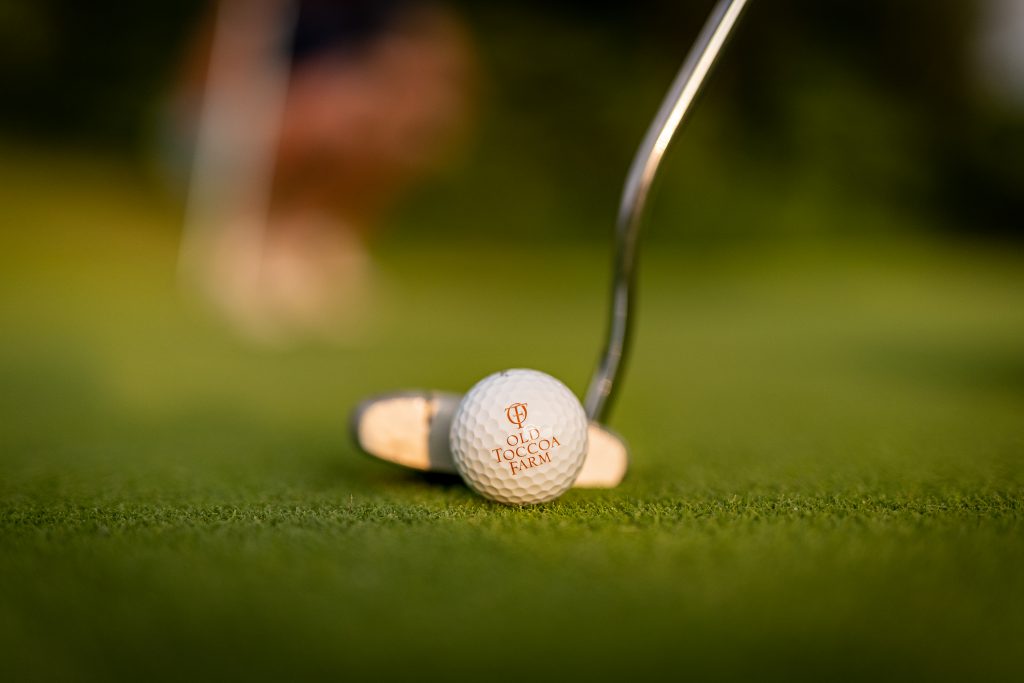 Practice your swing and play a few holes on Old Toccoa Farm's 18 Hole Golf Course! This stunning course winds through 125 acres of ridges and meadows, with spectacular views of the Chattahoochee and Cherokee National Forests and surrounding valleys. Not only will you be able to play a great game of golf but you can also enjoy the beautiful scenery. Golf Digest even named Old Toccoa Farm one of the "Best New Courses" in 2020, and one of Links Magazine's 10 Must-Visited Public Golf Destinations in 2022. Once you take to the green with a club in hand it won't be hard to see what everyone's raving about!
Fly Fish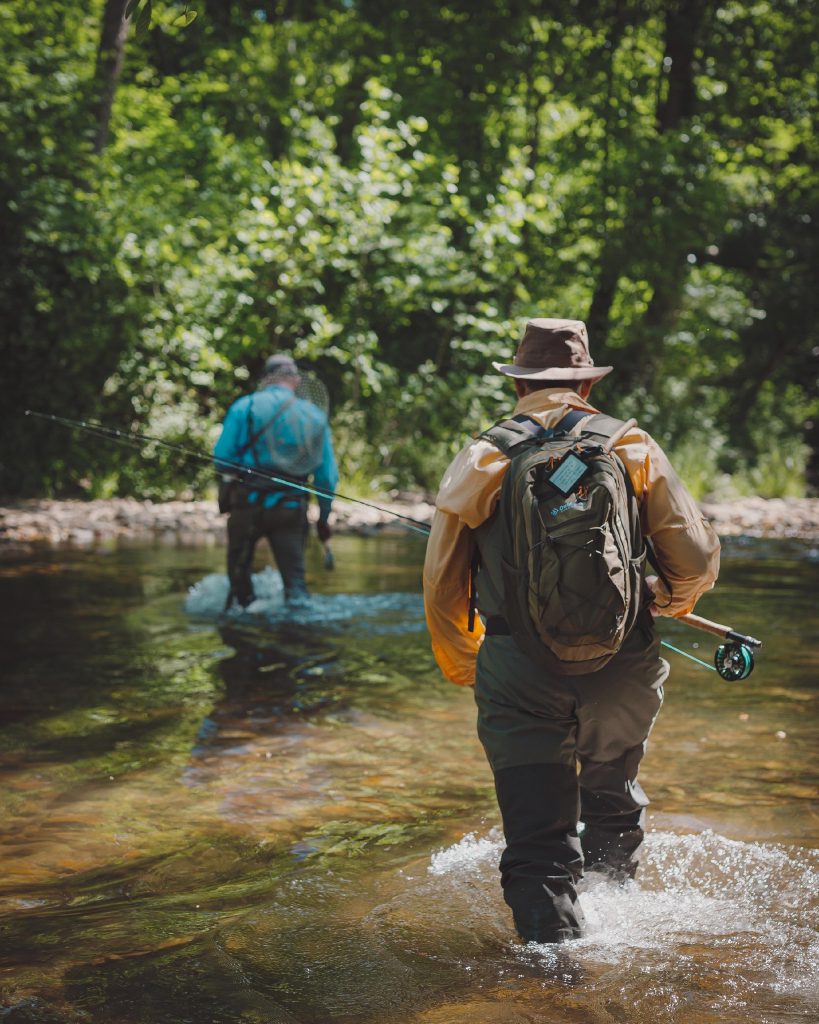 Blue Ridge is known as the Trout Capital of Georgia and lucky for you, you'll find all kinds of great fishing opportunities right on the grounds of Old Toccoa Farm! Find the ideal fishing spot on the shores of the Toccoa River, then cast your line into the water and wait for your trophy trout to appear. Old Toccoa Farm's sustainably managed trout fishery has an abundance of native brown and rainbow trout. Enjoy a relaxing day by the water and fish on your own, or take a guided fly fishing class from one of Old Toccoa's expert fishermen. And if you choose to become a member of Old Toccoa Farm, you'll even have access to private waters that are for members only!
Hike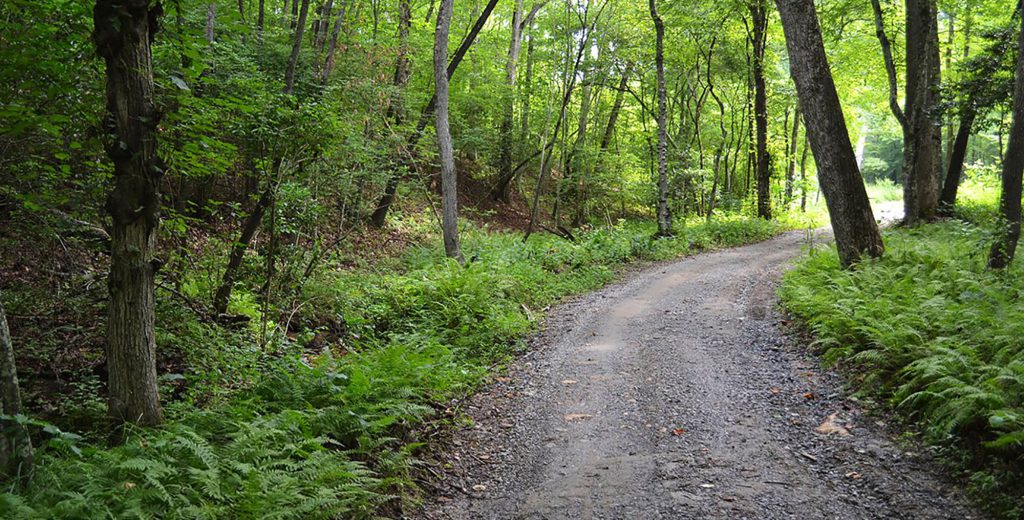 While Blue Ridge is filled to the brim with miles and miles of incredible hiking trails, you don't even have to leave the property to find the perfect spot for a stroll. Old Toccoa Farm's riverside walking trails will take you through lush green forests and over mountain streams. If you're lucky you may even catch a glimpse of some of the local wildlife as they cross your path. And if you're up for even more of a hike you won't be far from the famous Appalachian Trail or the Benton McKaye Trail.
Boat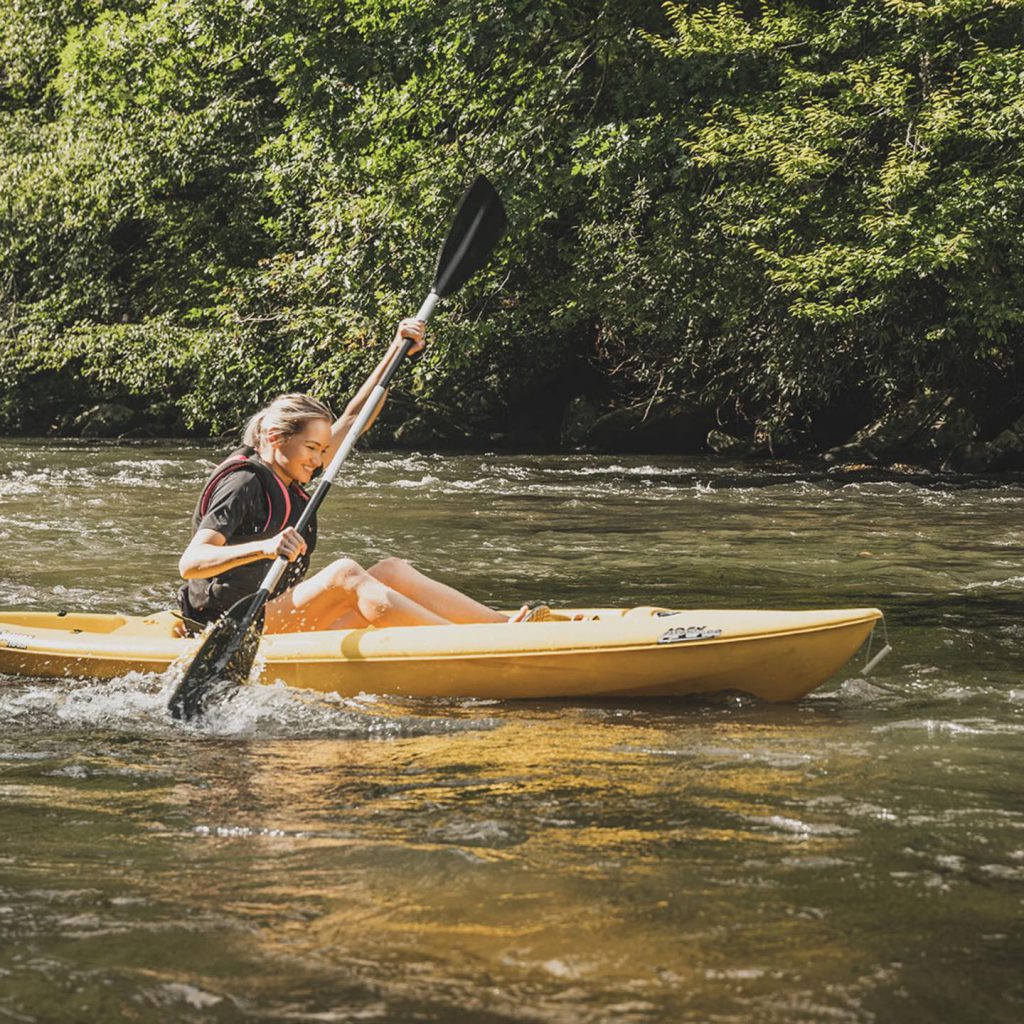 Fulfill your sense of an adventure and go on a boating excursion down the Toccoa River! On Old Toccoa Farm's property alone you'll have access to over 4,300 feet of the Toccoa River, not to mention the miles and miles of the river waiting to be explored off the property. Kayak or canoe down the rushing river, or if you're up for a real workout try your hand at paddle boarding. Start your journey below the dam and ride an afternoon release back to the property. With a variety of routes to explore, the experience is unique every time you hit the water. And as you float down the river, you can admire the incredible natural beauty of the surrounding Blue Ridge forests and mountains.
Yoga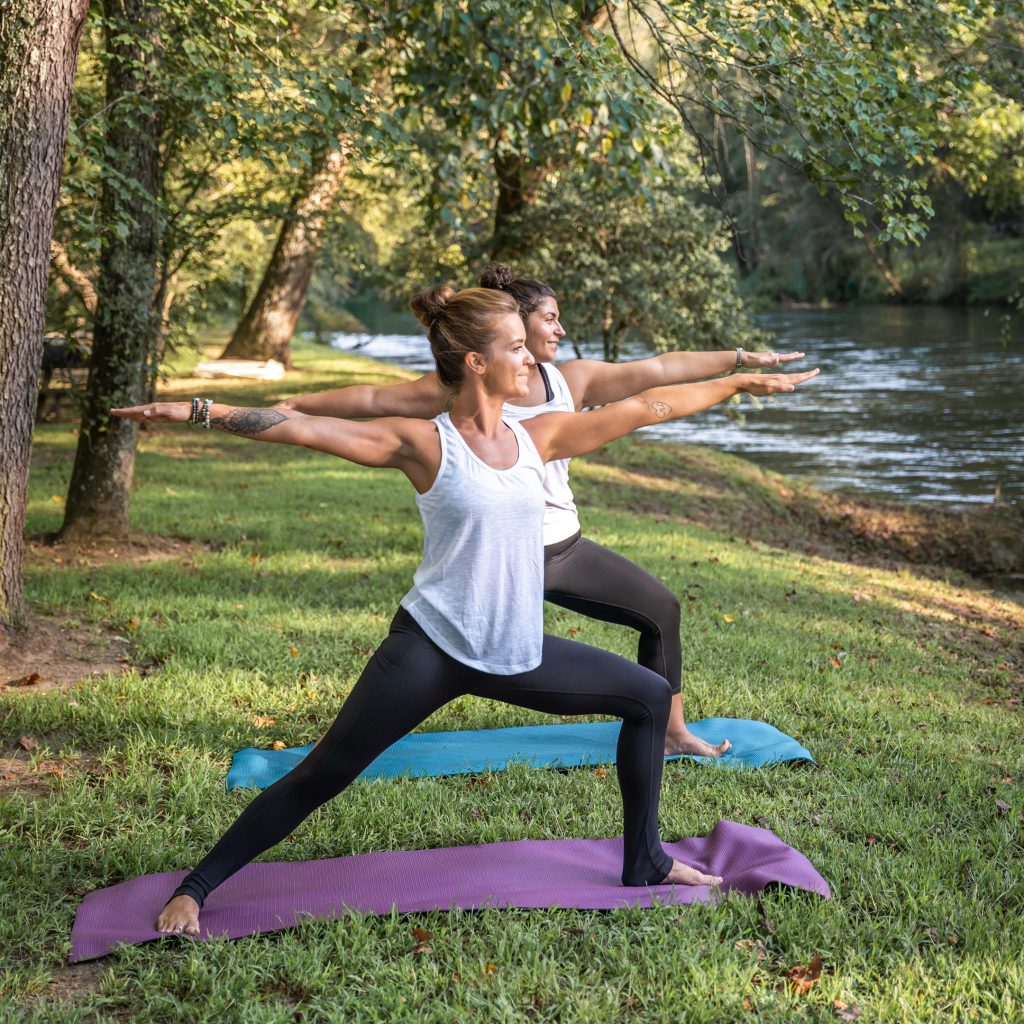 No need to skip a workout when you're on vacation! Old Toccoa Farm offers yoga classes on the river's edge. You'll feel instantly relaxed as you stretch and listen to the sounds of the rushing river beside you. Enjoy a group session or a private one on one session specifically targeted to your wants and needs.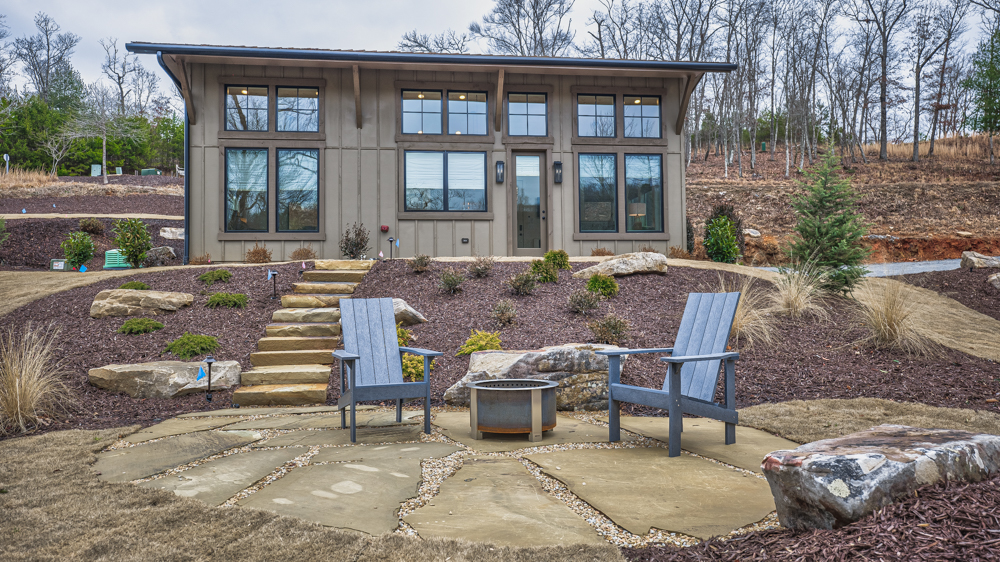 Discover mountain luxury right on the greens of Old Toccoa Farm at Hillside Cottages! These 500-square-foot Appalachian-style cottages are perfect for couples looking to get away from the hustle and bustle of daily life. Hang out in the cozy living room designed by one of our favorite local shops, New Blue Home, grab a glass of wine from the kitchen, and then relax outside by the firepit as you sit back and enjoy the fresh mountain air & sounds of nature around you. And after a busy day of exploring all that Old Toccoa Farm and the surrounding Blue Ridge area has to offer, turn in for the night in the comfortable king sized bed. Hillside Cottages are an ideal place for a romantic getaway in the mountains!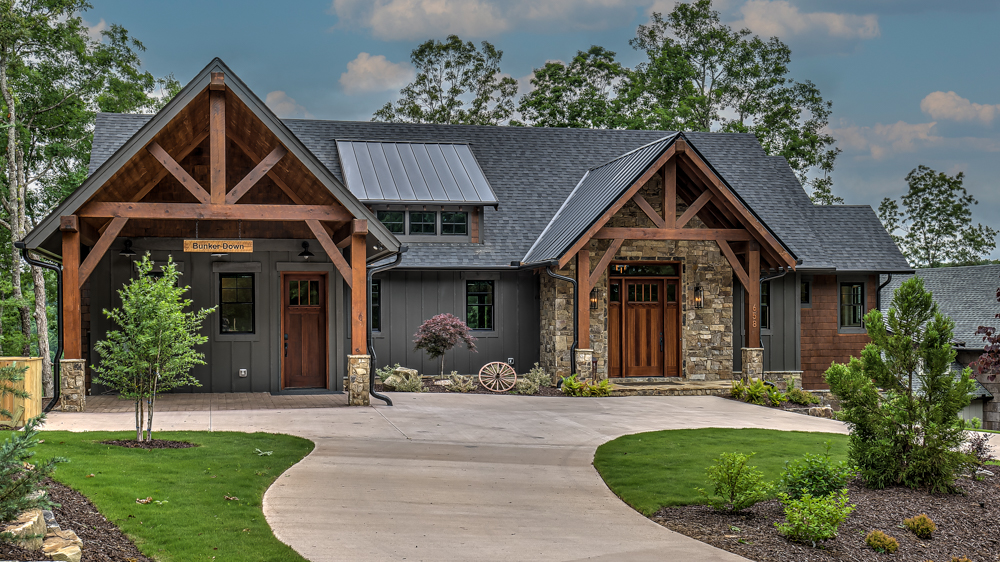 Looking for the ultimate golfing trip? Get ready to Bunker Down with us! Inside this tranquil & spacious home, you'll find nothing but luxury: a lovely fireplace in the family room, a wine fridge chilled and ready to house your favorites, and a game room to keep you entertained when you aren't practicing your back-swing! The best part? There's plenty of room for the whole family and the cabin will keep you close to all the action! Get ready for the ultimate stay, because Bunker Down is a hole-in-one!
If you're ready for a mountain vacation jam packed with fun activities, amenities, fine dining, and riverside relaxation then make plans to stay at Old Toccoa Farm on your next Escape to Blue Ridge!