One of the many reasons we love Blue Ridge so much is because it's such a dog-friendly town! Your dogs are welcome on our trails, at many of the shops & restaurants around town, and in over a hundred of our Escape to Blue Ridge cabins. We know how much our guests love their pups so we've compiled a list of the best places to eat, play, and stay with your pup in dog-friendly Blue Ridge!
*Photo Courtesy of @see_spot_go_ 2
Outdoor Adventures
Eat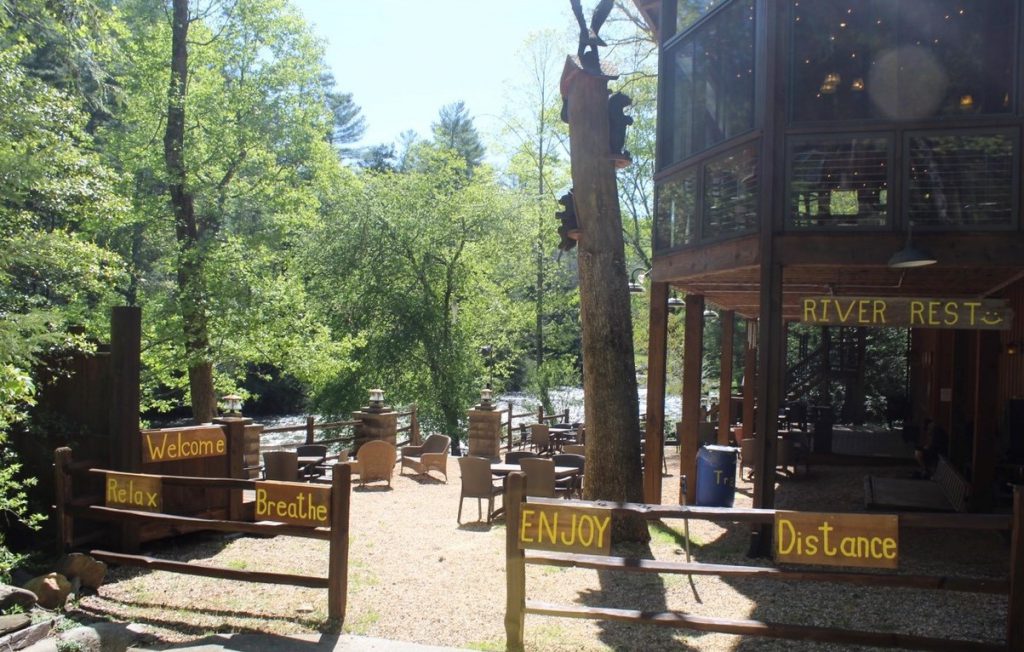 Toccoa Riverside Restaurant is one of our favorite places to stop for a bite to eat after a long day of exploring the trails; and the good news is your dog can join you! Eat riverside on the Pooch Patio or at the River Rest area, where you'll feast on award-winning steaks and seafood to power you up for the rest of your adventure; and if you're feeling generous maybe even share some of your meal with your dog! Your dining experience will truly be a Blue Ridge one, with views of the Toccoa River and a wide variety of menu items caught right here in the Blue Ridge area. And don't worry, you'll have no shortage of trout options to choose from while dining in the trout capital of Georgia!
Play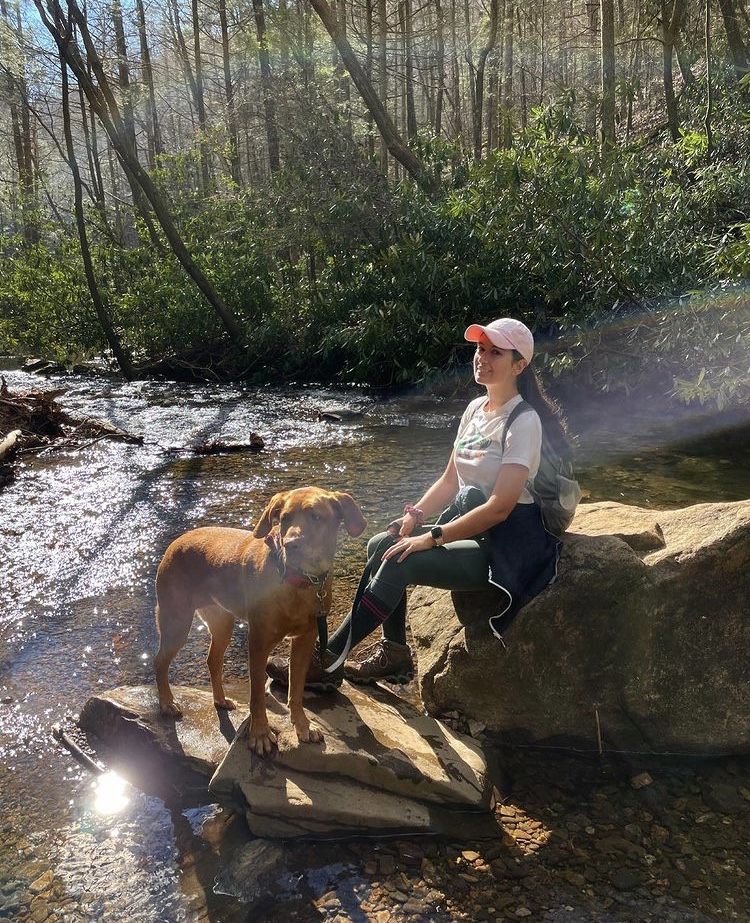 While most of the great outdoors is open wide to our four-legged friends there are a few hiking trails that dogs are not welcome on for their own safety. So, before you plan to take your pup with you on your next hiking adventure, be sure to check that the trail you plan on taking is "Dog Friendly". But never fear, we've done most of the work for you and provided you with some of our favorite dog-friendly hikes! Check out the Duncan Ridge Trail which is a part of the famous Benton McKaye Trail and the Appalachian Trail. Along the way you'll pass Long Creek Falls, The Toccoa River Swinging Bridge, and many other beautiful sights. Just follow the blue vertical blazes (marks on the trees) for the Duncan Ridge and the white diamond blazes for the BMT. We also love the hike to Fall Branch Falls because it's short, easy, and a beautiful waterfall awaits you at the end! Plan your hike around you and your dog's endurance and stamina levels; you don't want to take on a hike that is too challenging for you or your dog. For more suggestions on hiking with dogs check out our dog-friendly hiking blog here: https://www.escapetoblueridge.com/blog/dog-friendly-hikes-blue-ridge-georgia/
Stay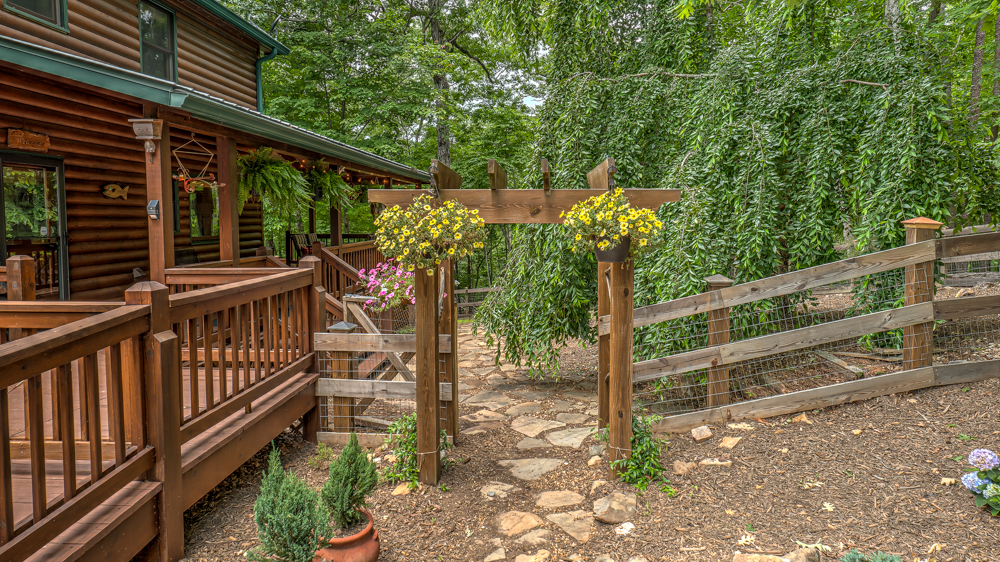 Tumnus Ridge is the perfect cabin for outdoor lovers and their pups! Located on the edge of the Chattahoochee National Forest, you'll be near all the action like the Toccoa River and some awesome hiking trails. Not only will you be close to all kinds of outdoor adventures here but the outdoor areas at the cabin are simply to die for! You'll have a screened-in outdoor living room with a wood-burning fireplace that's seated just above the custom-designed waterfall feature. The wraparound porch is safely gated to keep your pup restricted to one area while you soak in the hot tub or take in the views. And the fenced in dog-friendly garden is one of our favorite spots! Your dog can play fetch and run to their hearts content in the garden without getting loose or they can relax under one of the nice shade trees. And inside, Tumnus Ridge even provides you with a dog crate and a cozy dog bed by the fire. Tumnus Ridge truly is one of the most dog-friendly properties in the area!
High Class Pups
Eat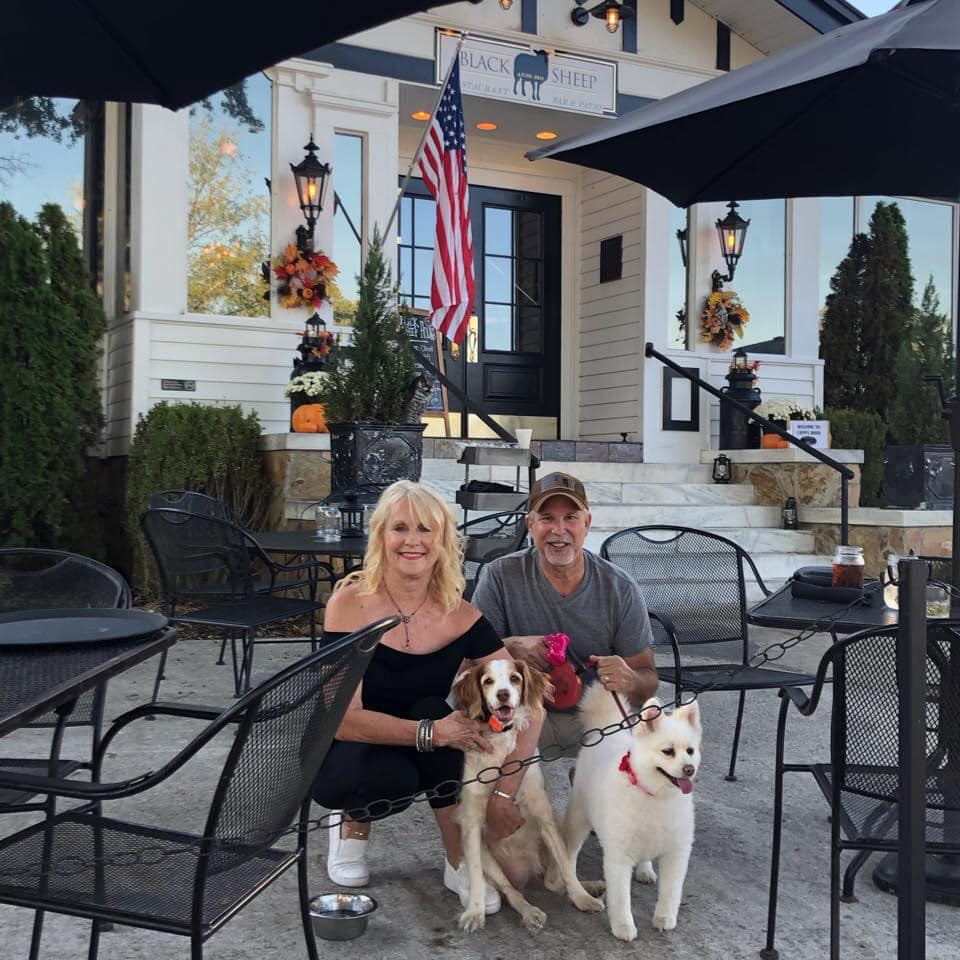 Your pups can enjoy fine dining just like you! The Black Sheep has a wonderful outdoor dining area with a great atmosphere and live music on the weekends. While you dine on delicious southern cuisine like their meatloaf or ribeye; your pup can dine in style too! At their special Yappy Hour events your pup can enjoy free treats and even a dog-friendly beer. How fun is that?
Play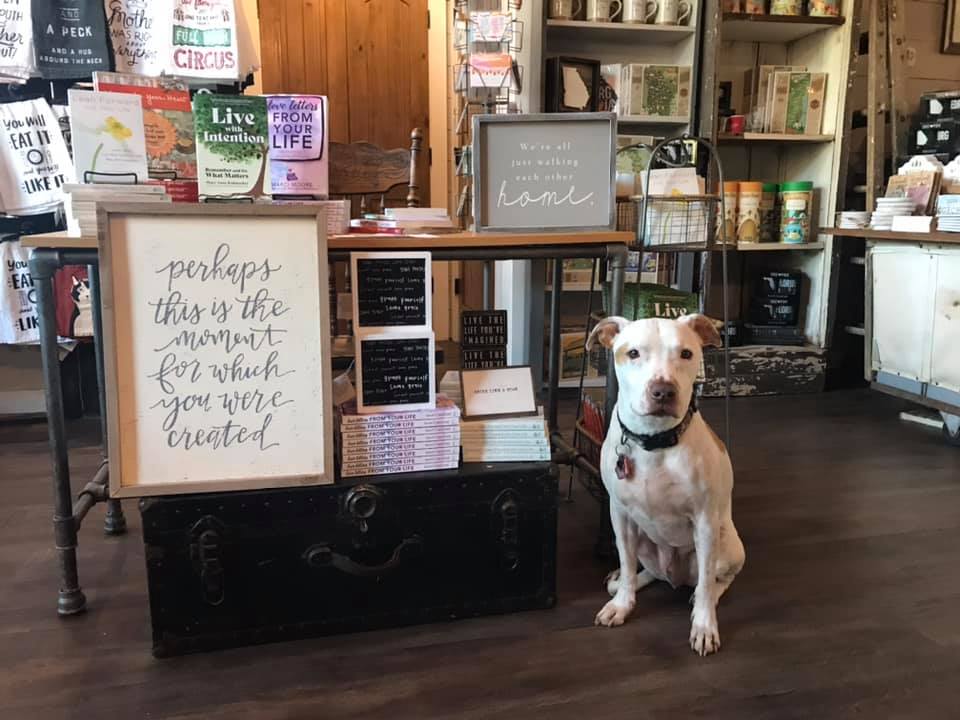 We <3 dog-friendly shopping! Your pup is welcome to accompany you into some of the trendiest boutiques in town! Blue Ridge Cotton Company and their sister store, Gather are two of our favorite dog-friendly shops Downtown. At both shops you can find great tees, home decor, gifts, and more! You may even come across the owner's own dog, Watson who loves greeting guests the moment they walk through the door. The best part? 1% of your purchase will go towards a local charity, often ones that are dog friendly! So not only will you be getting everything on your shopping list but you'll be giving back to the community as well, it's a win win!
Art lovers and dog lovers alike will love exploring High Country Art Gallery! Browse the gallery for beautiful works of art with your favorite four-legged art connoisseur beside you. Bonus points if you can find a work of art with a dog in it! And when your dog needs a pick-me-up Blue Ridge Adventure Wear and Love Dogs and Cats Too are both great pet-friendly stores that have all the toys, treats, and accessories you need to spoil your favorite pup!
Stay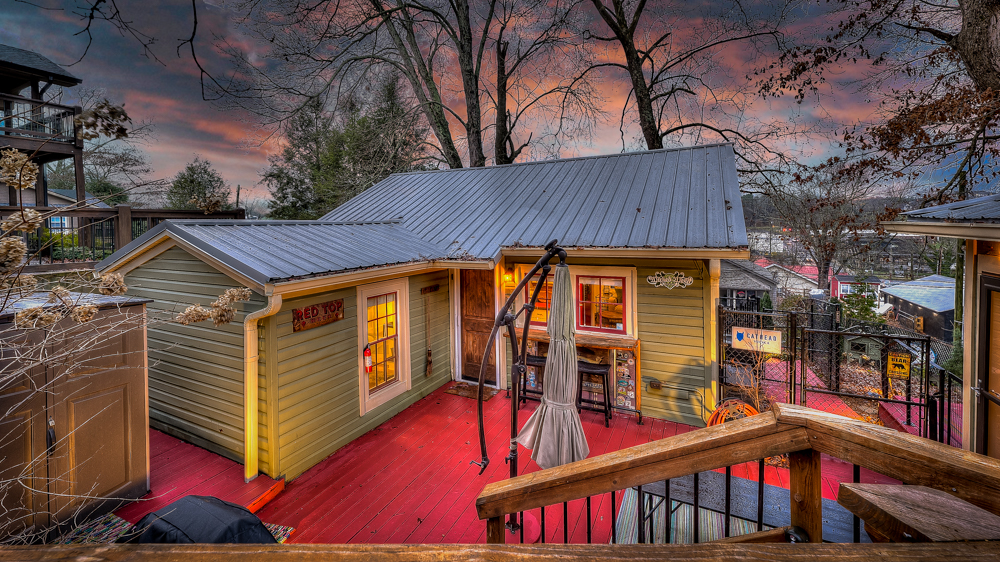 At Downtown Bungalow you can stay in the heart of Blue Ridge, in a charming one-bedroom cottage. Built in the 1940s, and completely renovated this lovely cottage has all the modern amenities you're looking for but maintains its cottage charm. As soon as you step on the property you'll notice the beautiful garden that surrounds the house and the multiple outdoor seating areas. Have dinner al-fresco from the BBQ grill, relax in the screened in living area, or take in the birds eye view of Downtown Blue Ridge! Downtown Bungalow is the perfect couples retreat but there's plenty of space for your dog to join as well! While you unwind with your favorite beverage on the deck your pup can hang out in the fenced in canine area. Even when you're relaxing inside your dog can easily get outside to do their business with a doggie door from the kitchen to the secure side yard. And when you're ready to explore the dog-friendly Downtown you'll be just steps from the best shops & restaurants in the area!
Try Something New
Eat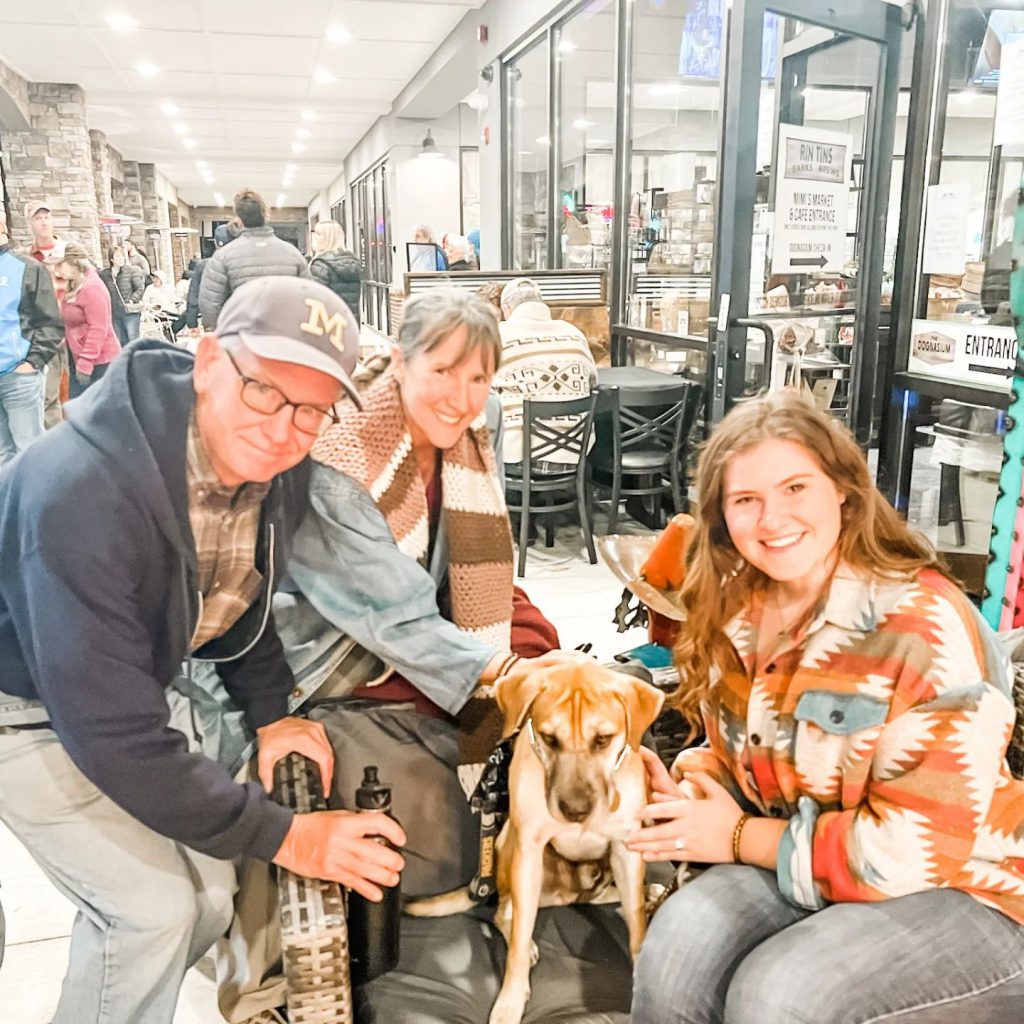 Blue Ridge's newest eatery is about as dog-friendly as it gets-Rin Tin's Bark & Brews Cantina. There's so much to discover here because Rin Tin's Bark & Brews Cantina is a restaurant, dog park, bar, lounge, and market & cafe all in one! You can dine on Mitzy's Hot Honey Chicken or the Italian Greyhound while you sip on a refreshing "dogtail"(Tequila Rum & Lodge's fun take on cocktails), all on the dog-friendly patio. Or you can pick up something quick & easy from Mimi's Market & Cafe, so you can get to the Dognasium even sooner! The Dognasium is every dogs dream- complete with an indoor play area, a special event area for dog parties, a doggy boutique, and an outdoor covered dog run (coming soon). All you have to do to enjoy this awesome indoor dog park is become a member or purchase the one day pass. Learn more about this amazing new dog-friendly spot in town here: https://www.rintinscantina.com/
Play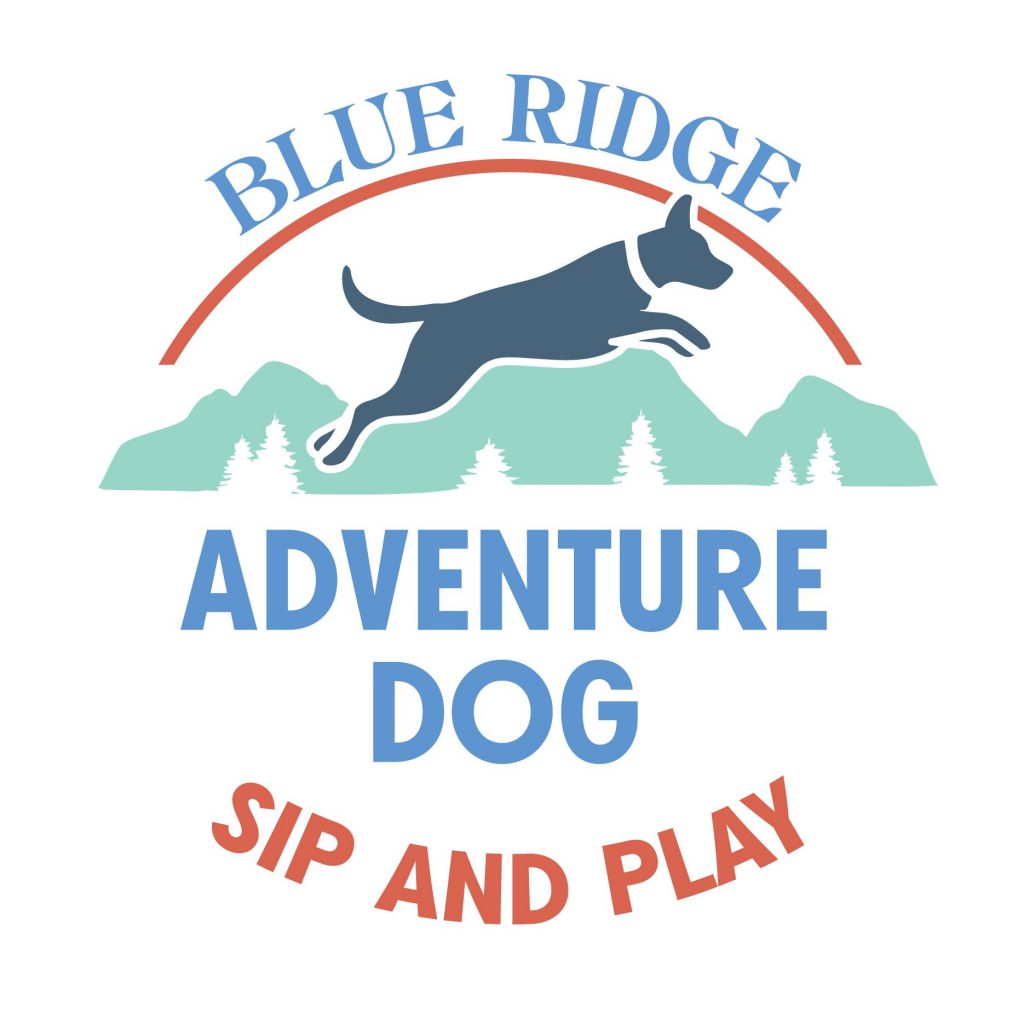 Keep a lookout because coming soon to Blue Ridge is a great new spot where dogs and their humans are welcome- Blue Ridge Adventure Dog! This huge outdoor dog park will have plenty of room for your dog to run, play, and socialize off leash with their favorite "furiends". If your dog is small or more timid, they have a separate section just for them, so they won't have to miss out on any of the fun! And for the humans: beer, wine, and snacks will be available as well as plenty of treats for all the pups to enjoy. We can't wait for this new dog-friendly spot in town to open up! Be sure to check their Facebook page for frequent updates about the parks opening date!
Stay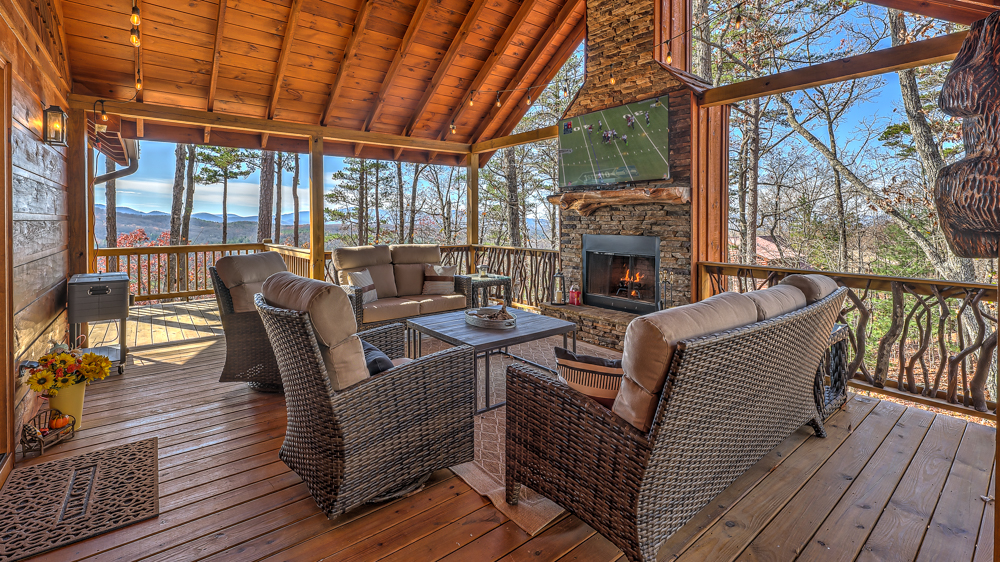 Moondance Manor is truly a sight to behold! It has a warm, cozy farmhouse feel, with all the modern comforts and amenities of a 5-star resort. And it's the perfect cabin for the whole family, with two playrooms for the kiddos and a gated door on the patio for your four-legged friends. You and your pup will love spending your time here exploring the outdoor entertainment areas, playing games in the TWO game rooms, cooking dinner in the modern kitchen, and cuddling by the fireplace in the family room. Plus you'll be just 15 minutes from Downtown Blue Ridge and have everything you need to entertain up to 12 guests at this amazing mountain retreat!
Barkin' Brews
Eat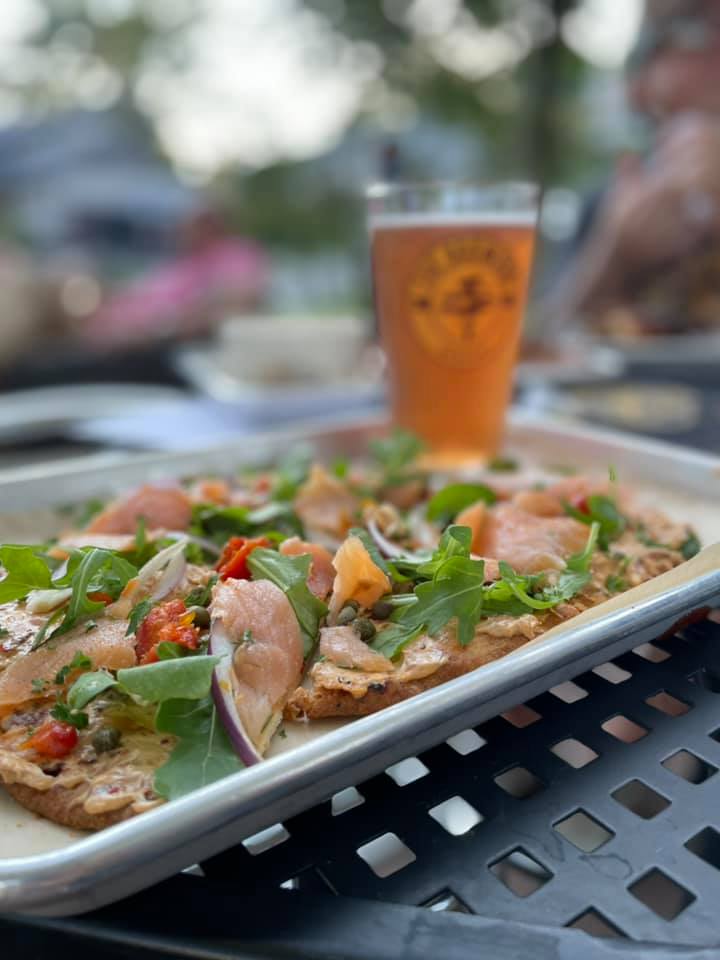 Looking for some incredible brews to pair with your dinner on the town? Then, The Dogwood is just the place for you! On Saturday nights their dog-friendly patio is alive with great music, amazing drinks, delicious food, and an awesome atmosphere! There's plenty of room for you, your pup and all your friends to spread out on this large patio with 150 outdoor seats! You'll choose from a limited menu of just 10 items, but we assure you everything here is DELICIOUS! We especially love their bbq deviled eggs and pork potstickers. And when it comes to drinks, The Dogwood is in NO short-supply! You can choose from amazing craft cocktails, a specially selected wine list or create your own six pack from their Beer Garage which has over 70 different beers to choose from. You'll spend a wonderful evening here under the stars and the 100+ year old trees with all your best friends human and pup!
Play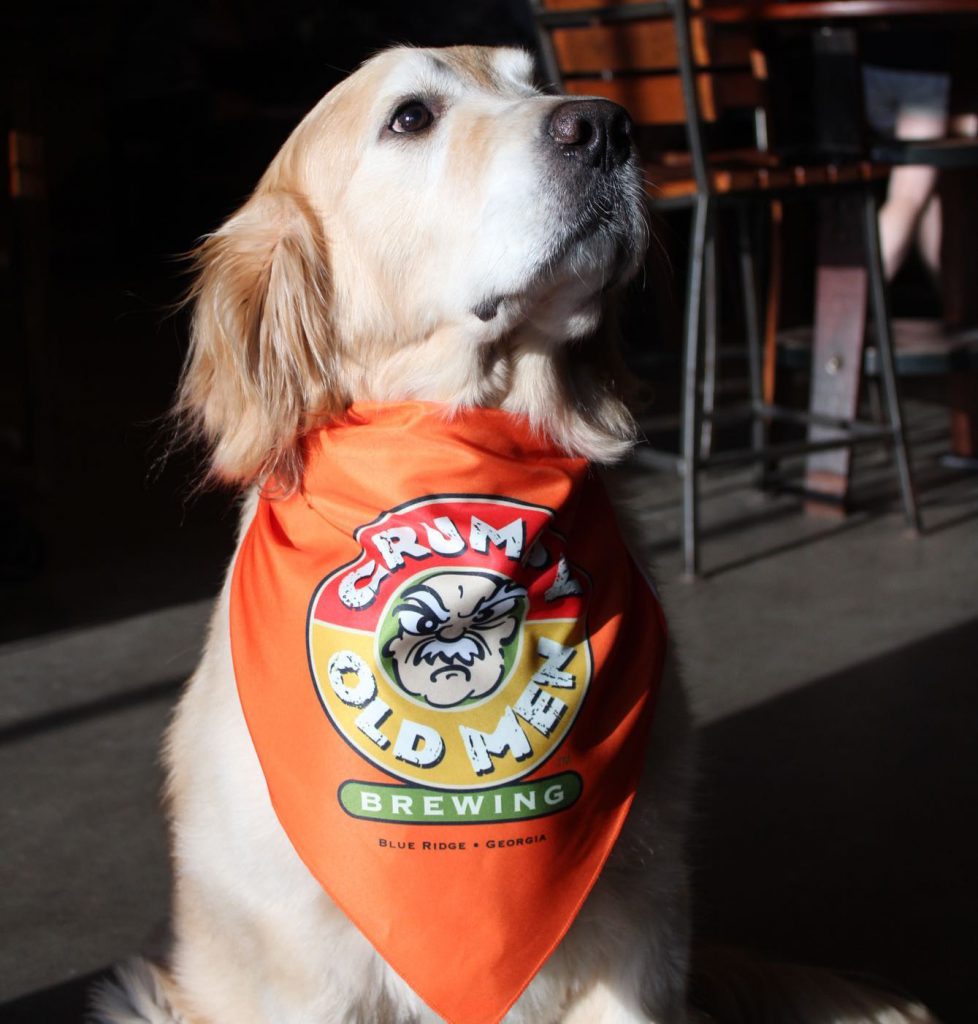 More amazing brews await for you at our local breweries and your dog won't have to miss out on any of the fun! Grumpy Old Men Brewing is one of our favorite spots to take the pups with 18 beers on tap, fun games on the large patio like Jenga, food trucks, live music, and more! The owners of Grumpy Old Men Brewing even advertise that "Dogs are welcome, and people are tolerated!" Dogs are even allowed in the tap room here, so no matter the weather, you know that you and your pup are always welcome. AND every October Grumpy Old Men Brewing and the Humane Society of Blue Ridge host Barktober Fest. This wonderful event is full of beer, food, fun, and lots of dogs; and proceeds are donated to the Humane Society of Blue Ridge to help more dogs in need!
We can't forget to mention some of the other great dog-friendly breweries in Blue Ridge and the Copper Basin like Fannin Brewing Company, Copperhill Brewery, Tipping Point Brewing Co, and Buck Bald Brewing. Dogs are welcome on the patios here while you enjoy a delicous craft brew! And if you prefer a nice glass of wine instead, bring your pup along with you to Bear Claw Winery, Serenberry Vineyards, or Cartecay Vineyards. You'll get a gorgeous view of the mountains at any of these wineries; along with live entertainment, a good glass of wine, and plenty of room for you & your pup to explore the beautiful vineyards.
Stay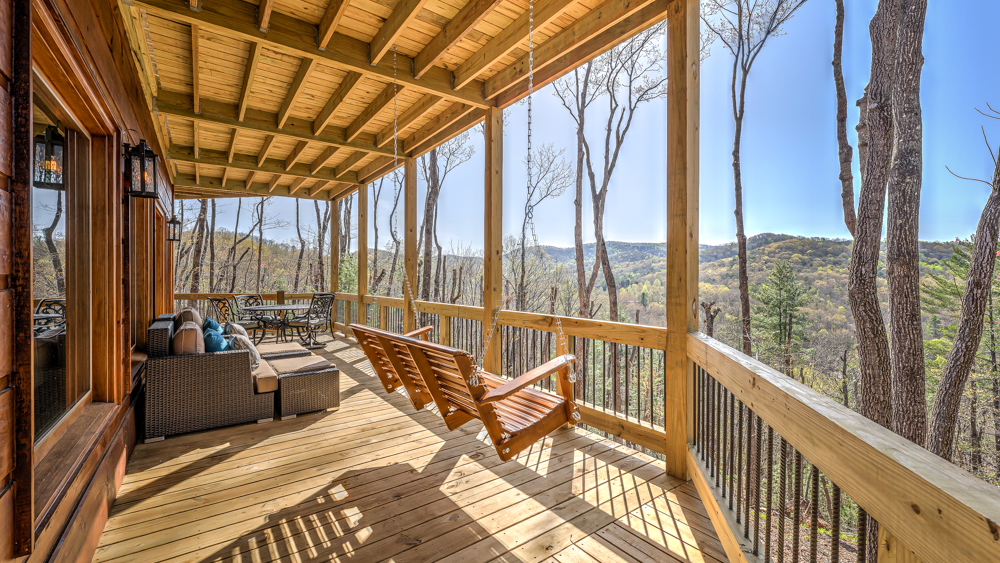 Looking for an amazing cabin where you can have a beer with a view? At St. Ridges not only will you have spectacular views but you'll have wonderful amenities and plenty of space for your dog to explore! Soak up the sun and mountain views from the relaxing porch swing or on the outdoor sofa while you sip on your favorite brew and give your dog all the scratches & love he deserves! Or enjoy your beer at the swanky bar in the game room and play a few rounds of pool & shuffleboard. Have a cookout on the BBQ grill on the lower deck with the whole family (dogs too) and then cuddle up by the outdoor fireplace for a night of stories & laughs around the fire. Finally, end your day in the hot tub or with a glass of wine and a book in the master bath's soaking tub. This vacation is sure to wash all your worries away!
Lake Dayz
Eat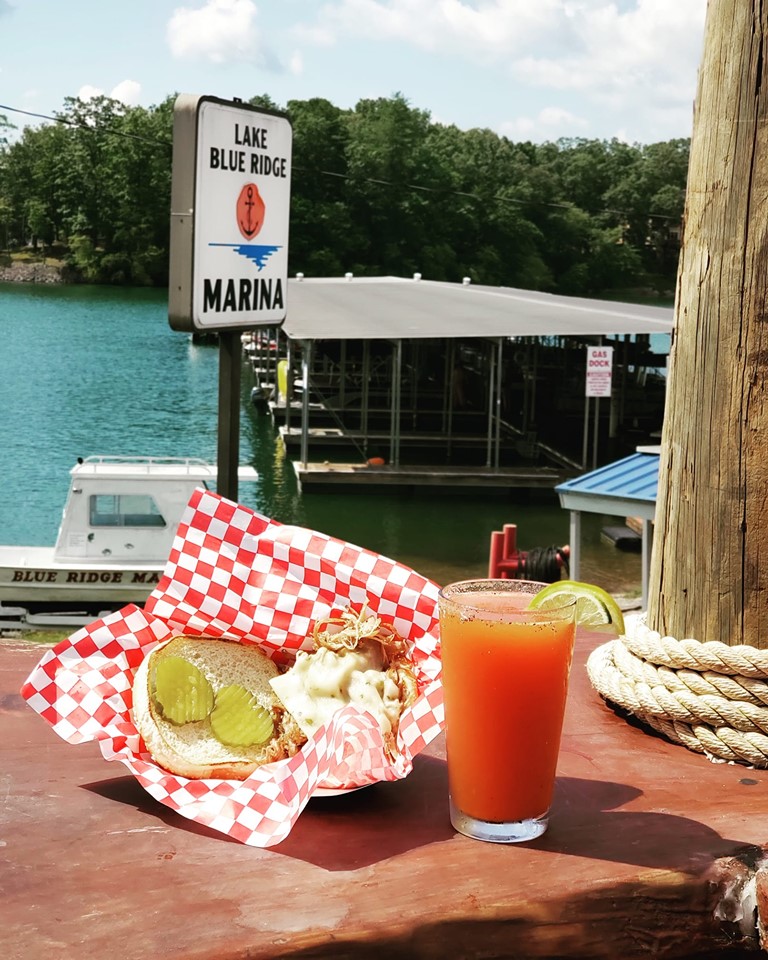 Spend your summers by the water at the Boat Dock Bar & Grill at the Lake Blue Ridge Marina! On summer evenings you can enjoy munching on delicious comfort foods, while you sip on fruity cocktails, listen to live music, and watch the sunset over the lake; all with your favorite pup beside you. Your dog will love having the lake breeze rush through his fur and watching as geese fly overhead. Boat Dock Bar & Grill is a great, dog-friendly place to spend an evening!
Play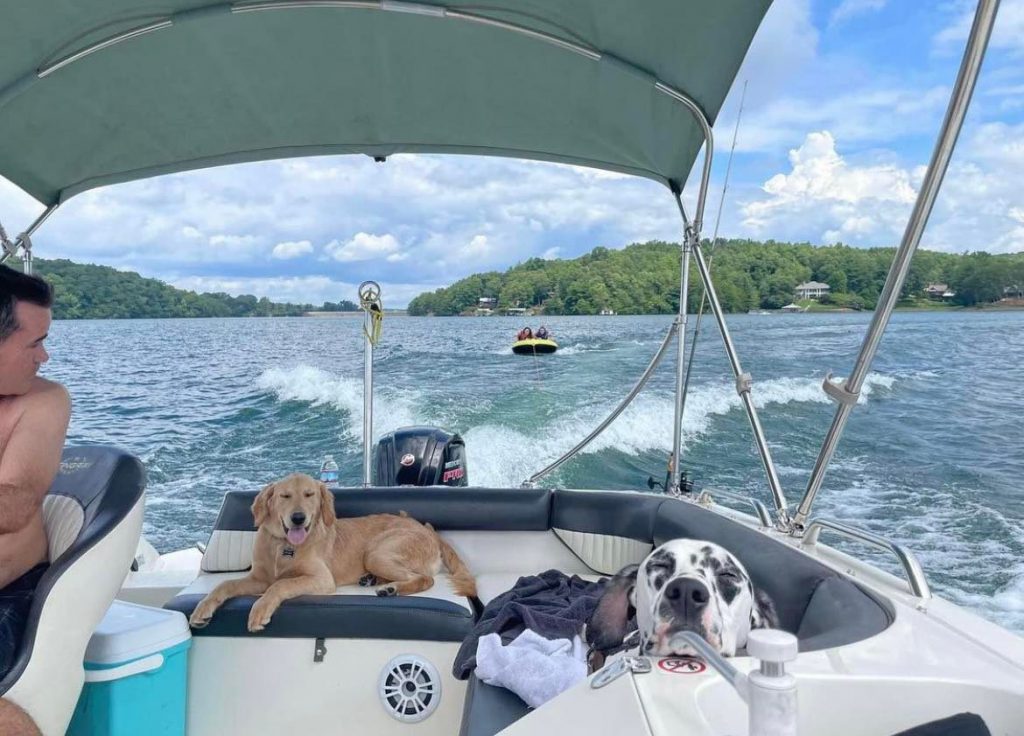 We know first hand how much dogs LOVE to splash and play in the water! There's plenty of spots around Blue Ridge to take your pup for a swim- you just have to know where to look! Leashed dogs are allowed anywhere in the national forest except recreational swimming areas. Along the trails you'll pass by many creeks, rivers, and waterfalls that look perfect for a dip. As long as your dog remains leashed at all times they may swim in these spots. And be sure to bring some extra fresh, clean water with you and a bowl so that your dog won't have to drink from the mountain streams.
Your pups can also go for a swim at Lake Blue Ridge! At Morganton Point on the lake, as long as you stay clear of the roped off swimming area you should be good to go. You can access the non recreational areas of the lake from the Lake Blue Ridge Loop Trail. And for more lake fun with your pup, rent or bring your own pontoon boat and take to the water! The Lake Blue Ridge Marina and Blue Ridge Boat Rentals both have an excellent selection of boats to choose from. Your dog will feel like he's king of the world riding across the lake with the wind in his hair!
Stay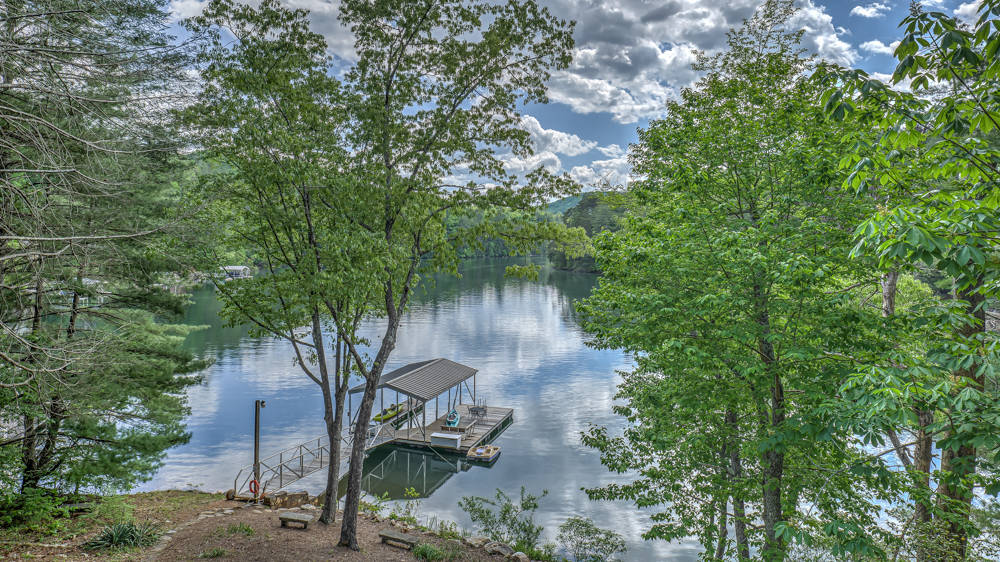 Why not bring the lake to you? Book your stay at lakeside, pet-friendly cabin Lakeshore Lodge! This cabin was made for lake fun and provides you with a kayak, paddle boat, and boat dock to enjoy the lake on! Splash in the shallows with your pup or get adventurous and take him out on a boat ride around the bend. Then head to the deck where you can take in the beautiful lake views from sunrise to sunset. Roast marshmallows at the firepit and don't forget those hot dogs for Fido! And while we know you'll be busy spending all your time on the lake, be sure to check out Lakeshore Lodge's other great amenities like the cozy family room, the beautiful fully equipped kitchen, the hot tub, and shuffleboard. You, your pup, and the whole family will love their stay at this lakeside oasis!