Blue Ridge was made for dog lovers! Not only do we have many cabins at Escape to Blue Ridge that are pet-friendly but we also have many places around town where pets are welcome as well! From hiking trails, to restaurants and shops, to breweries and wineries; you can bring your best friend along with you for all your adventures!
Puptastic Hiking Trails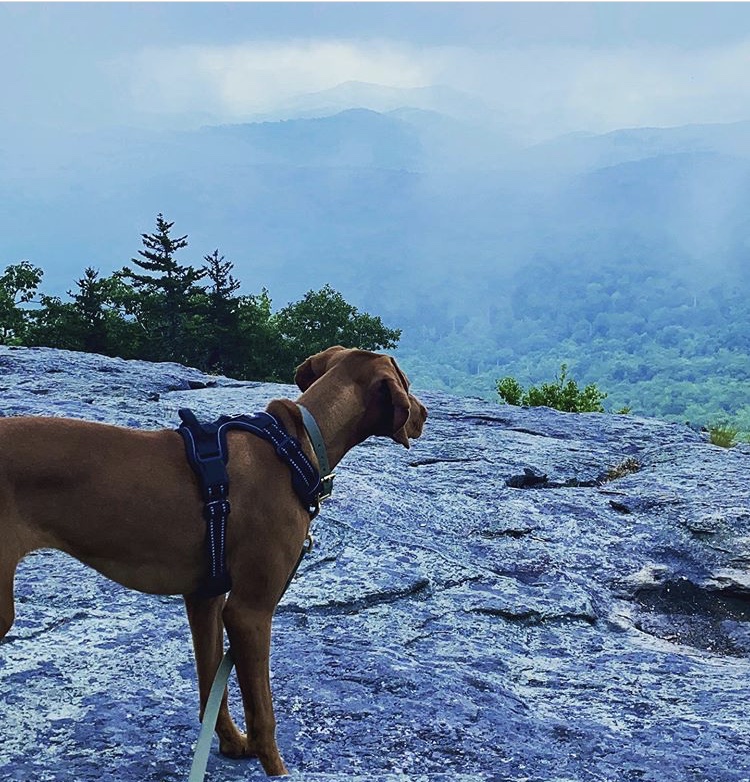 While dogs are welcome anywhere in the great outdoors we have specific hikes that are perfect for your dog. The trails on these hikes are easy for them to navigate and not too long that they would be overworked. One of our favorite easy hikes for pups is the trail to Long Branch Falls. Not only will your pup love accompanying you on your adventure but they'll also love cooling off in the falls after the hike. Some other local dog-friendly trails with waterfalls include Raven Cliff Falls Trail and Jack River Falls Trail; both are great for dogs with high energy because they are a little longer. And if you and your dog are feeling brave enough a hike along the Benton MacKaye Trail to the famous Swinging Bridge is always a treat! Need a few more suggestions? Follow our dog-friendly hiking blog for more ideas: https://www.escapetoblueridge.com/blog/dog-friendly-hikes-blue-ridge-georgia/
Pawesome Restaurant Patios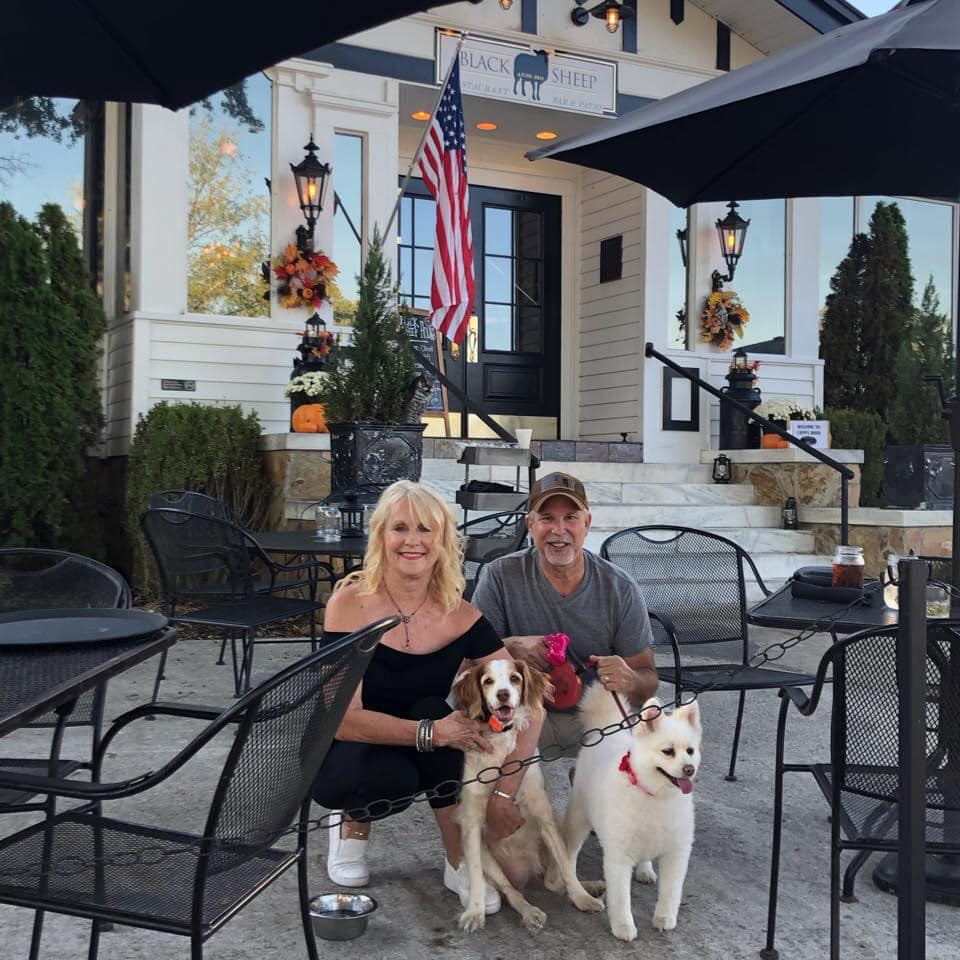 Downtown Blue Ridge is the perfect place to find amazing dining options. Lucky for us many of our restaurants have dog-friendly patios! The Dogwood and The Black Sheep have outdoor seating areas with a great atmosphere and plenty of space for your furry friend to join! We especially love The Black Sheep's Sunday brunches on the patio and their special Yappy Hour events where pups can have a "dog beer" and free treats! Fightingtown Tavern, Harvest on Main, Masseria Kitchen & Bar, Blue Jeans Pizza & Pasta, and Southern Charm are just a few other great spots Downtown where dogs are welcome. And when it's summertime head over to Lake Blue Ridge's Boat Dock Bar & Grill for some good food, lake views, and bonding time with your dog!
Re-TAIL Shopping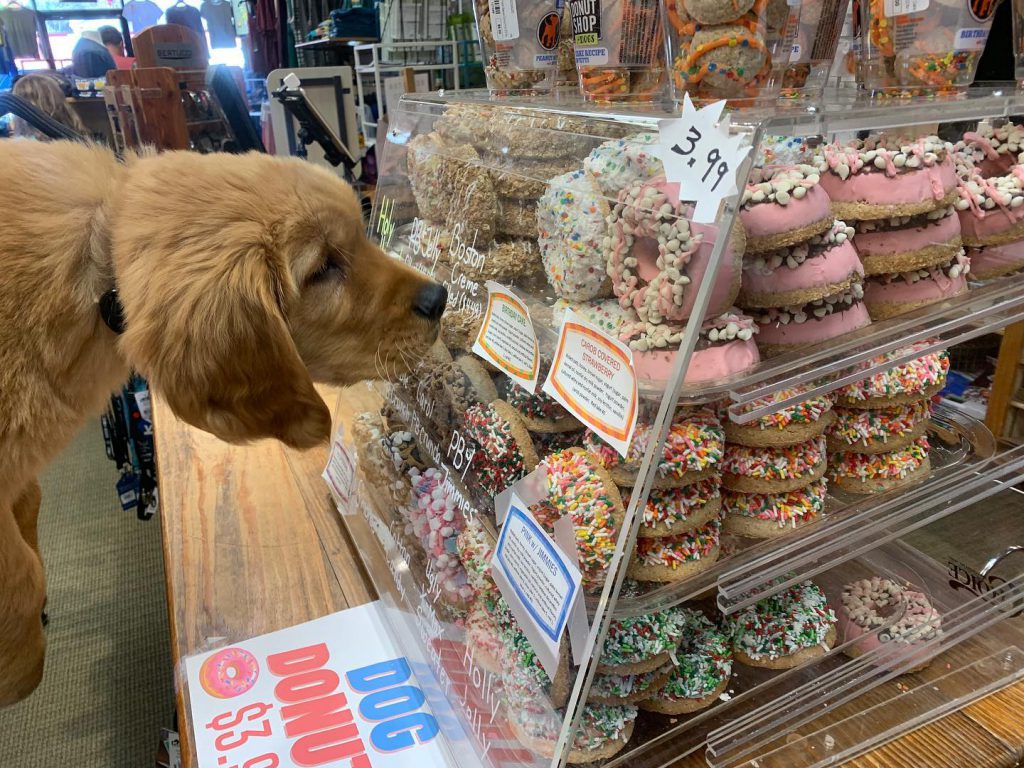 Shop till you drop, and with your pup by your side! Dogs are welcome to come pick out their own toys and treats in Blue Ridge Adventure Wear. Get some hiking gear for yourself and a tasty doggy donut for your furry friend! Love Dogs and Cats Too has everything your pet could want and more! From toys, to leashes, to treats, and more they won't want to leave the shop! Do a little shopping for yourself as you bring your dog along at shops like Blue Ridge Cotton Company and Gather, who even frequently use their proceeds to go towards dog-friendly charities. And a few other places to check out with your pup are Humble Pie Boutique, Cohutta Country Store, and High Country Gallery Art.
Ulti-mutt Breweries & Wineries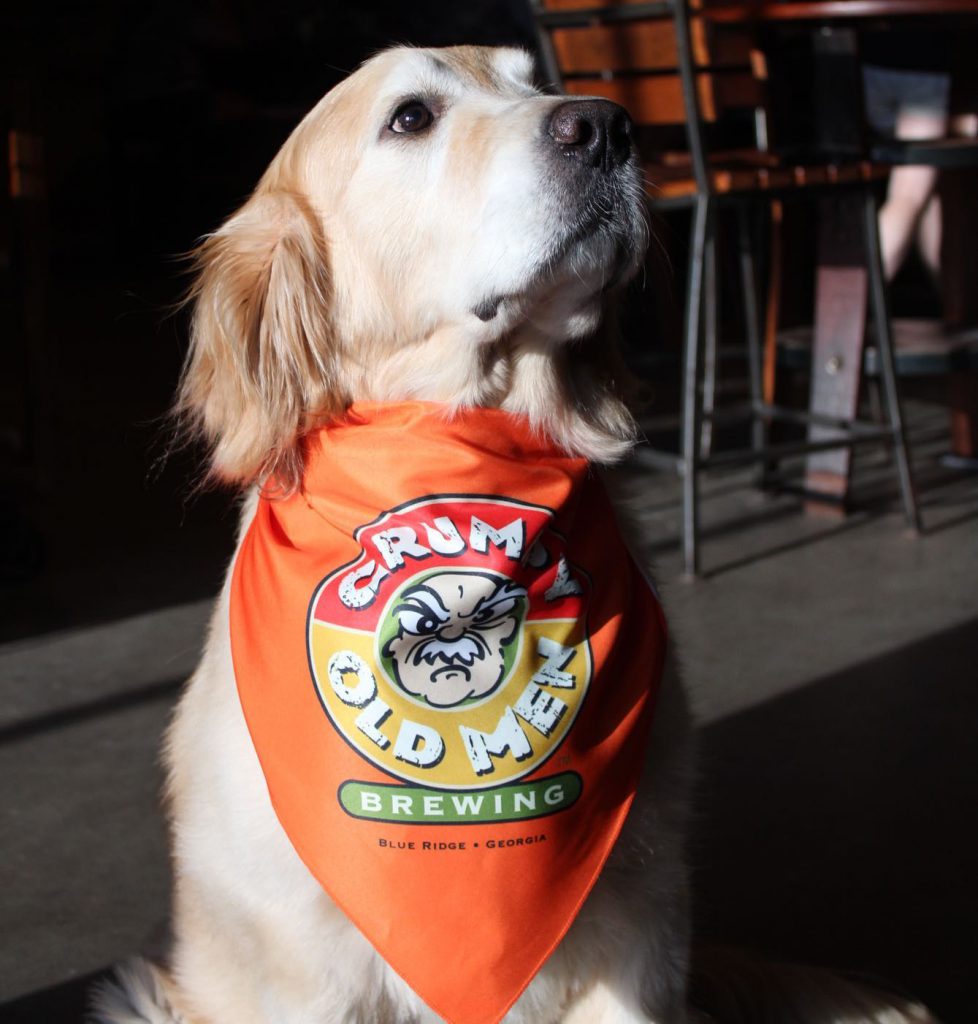 Many of our local breweries and wineries also allow pets! There's nothing quite like a weekend afternoon spent relaxing with a glass of wine in your hand or a pint of beer, with mountain views, and your favorite furry friend beside you. You will likely bring your friends along with you, so you might as well bring the best one! For brews with the dogs Grumpy Old Men Brewing, Fannin Brewing Company, Copperhill Brewery, Blue Ridge Brewery, and Buck Bald Brewing all invite you to bring your pups along with you as you sip on their delicious craft beers. Every October Grumpy Old Men Brewing even has an awesome Barktober event full of beer, food, fun, and lots of dogs! And for wine lovers, dogs are welcome at Bear Claw Winery, Serenberry Vineyards, and Cartecay Vineyards. Cartecay Vineyards is so pet-friendly they even have their own vineyard dog who might come up and say hi! Many of these local breweries and wineries also have live music on the weekends; so bring your favorite people, favorite dogs, and have some fun!
Pet-Friendly Cabins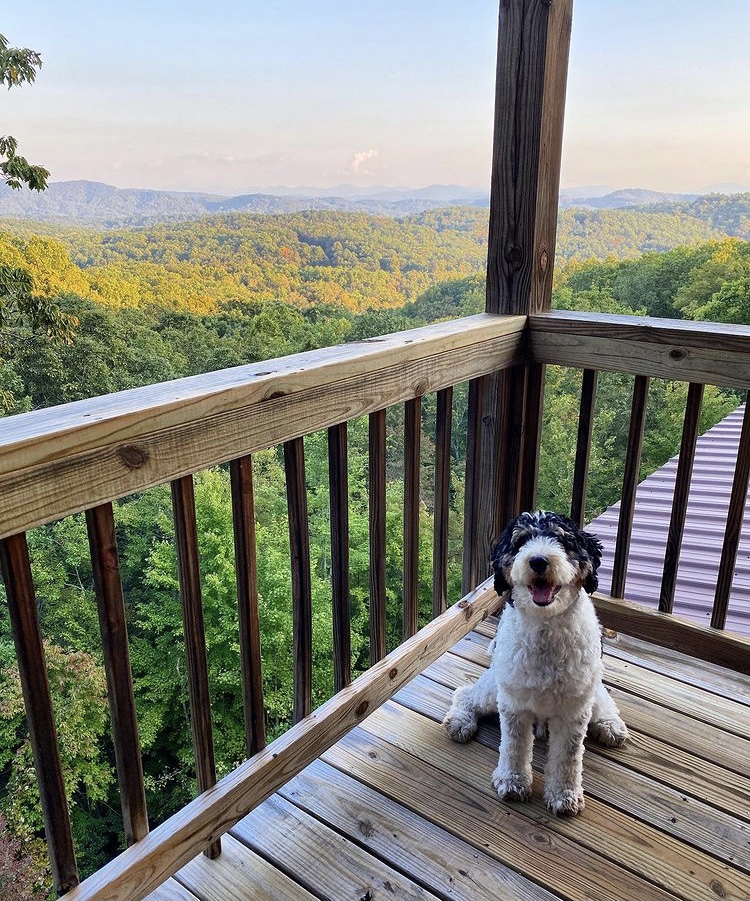 We know how much you love your pets, and we believe you should be able to bring them with you on all your adventures, they're family afterall! That's why we have many pet-friendly cabins to choose from so that you don't have to be without your best friend for a second! Some of our favorites are Lonesome Dove, Blue Moon Lodge, Can't Bear to Leave, and Tumnus Ridge who even have a fenced-in dog-friendly garden! Need more suggestions? Start with our pet-friendly cabin blog:https://www.escapetoblueridge.com/blog/6-pet-friendly-cabins/ With over 125 pet-friendly cabins to choose from you're sure to find something perfect for the whole family!