Beat the summer heat and cool off in a mountain stream or splash in the lake! With our amazing waterfront cabins, you don't have to go far to enjoy a quick dip. Just steps away from your home away from home, you can fish, swim, tube, and boat or you can lay back and take in the sounds of the rushing water from the porch. Check out these 18 incredible waterfront cabins just perfect for all your summer adventures! 
*Cover Photo Courtesy of Lakeshore Lodge
Lakeside
Lake days are the best days! And that's especially true when you stay at Lakeshore Lodge, located on the shores of Lake Blue Ridge! This cabin was made for lake fun and provides you with a kayak, peddle boat, and a boat dock to enjoy the lake on! Take in the beautiful lake views on the deck or the patio, from sunrise to sunset. And while we know you'll be busy spending all your time on the lake, be sure to check out Lakeshore Lodge's other great amenities like the cozy family room, the beautiful fully equipped kitchen, the hot tub, and shuffleboard. The cabin is even pet-friendly so your pups can join in on all the fun!
Come away to lake lovers paradise at Away to the Lake cabin! Situated on a secluded cove across from the Lake Blue Ridge Recreation Area, you'll feel relaxed & renewed in no time, at your own private lakeside paradise! Fish off the dock, launch your boat on the water, or splash in the shallows in the summer months. Then come inside to play ping-pong in the game room or fix yourself a drink at the dry bar. Soak in the hot tub to unwind or enjoy dinner al fresco at the picnic table on the deck. Then head off to bed in one of the 4 comfortable bedrooms. Ready to find your perfect lakeside retreat? Then book your stay at Away to the Lake today!
Heaven on the Lake is exactly what its name says and more! This stunning lakeside cabin has ample opportunities to spend your time in the great outdoors. Relax on any level of the 3 level deck or take to your own private dock! Spend some time in the hot tub or roast marshmallows at the firepit. The fun continues inside this 4 bedroom cabin, equipped with a game room, a stone gas fireplace, a breakfast bar, and even kid friendly amenities so that you can bring the whole family! If a relaxing lakeside cabin with fun for the whole family is what you're looking for, then look no further then this Heaven on the Lake! 
Feeling tense? You look like you could use a Lake Escape!  This cabin is located directly on Lake Blue Ridge and includes a private dock, so don't forget to bring your boat with you! There is even a fire pit near the deck, so those who would rather stay on dry land can relax and take in the views while the adventurers in the group explore the water. Plus this cabin is pet-friendly so make sure you bring Fido along! Just don't forget his life jacket! In summary: The views – immaculate. The amenities – ridiculously comfortable. This vacation? Perfect! The only thing that's missing is you.
When it's scorching hot in the desert, you seek an oasis… In Blue Ridge, we do the same with Lake Cove Oasis!  This beautiful cabin is right on the banks of Lake Blue Ridge and has views of both the glistening lake and the stunning Blue Ridge Mountains. Spend time on the screened-in porch lounging on the hanging bed, reading on lounge chairs at the lakeside pavilion, or relaxing in the hot tub! Beat the heat this summer at Lake Cove Oasis! 
You'll feel "just peachy" at your enchanted, private cottage nestled in the woods next to Granny Lake! Just Peachy is located in Cherry Log, GA and is just a few miles away from the shops & restaurants in Downtown Blue Ridge and nearby hiking trails. You'll be close to town but also tucked away enough where you can really enjoy the peace & quiet of nature. At this cabin you'll have a cozy family room with a smart TV, a screened in patio for enjoying dinner al fresco, a firepit, hot tub, and 2 comfortable bedrooms. Make your trip to the Peach State "peachy" keen and book your stay here!
Riverside
We're Hooked on a Feeling and soon you will be too! Here, you'll get the best of both worlds with beautiful mountain views and easy access to the Toccoa River. Abounding with fish, it's the perfect place to settle in, bait your hook, and get ready to create unforgettable experiences! If fishing isn't your scene, don't worry! There are plenty of activities here to keep you busy. Onsite, you'll have access to a game room, grill, outdoor fireplace perfect for s'mores, and even a hot tub! Plus, this cabin is pet friendly! It even has a nice walking trail in the backyard that is perfect for walking your furry BFF. Come get hooked on the feeling of riverside living at Hooked on a Feeling cabin! 
A River Runs Through It is a rustic, quaint, and homey 3-bedroom traditional log cabin set right on the banks of the beautiful Toccoa River. Catch the ultimate trophy trout in the river, where brown and rainbow trout are plentiful. If you catch dinner you can even cook it up on the gas grill outside! Whether you're a fly fisher or not, this waterside retreat is the perfect place to relax, unwind and escape the stresses of daily life. You can listen to the soothing sounds of the river from the  double swing at the water's edge, roast marshmallows at the firepit, soak in the hot tub with a glass of wine, or sit on the deck and unwind as you watch the kayakers and boaters pass by. Visit once and you'll be hooked on this pet friendly, riverside property! 
Come hang out Down by the River! Listen to the rushing water while you lounge by the firepit, that sits directly next to the river. Or enjoy some quality family time on the party porch where you'll find a stone wood burning fireplace, a 48" Smart TV, and ample seating; perfect for entertaining all your guests! After your fun in the great outdoors, head inside where you can challenge your family members to a few rounds of pool or checkers in the game room. Finally, take a dip in the hot tub and end the day with a movie in front of the fireplace! Bonus: this cabin is pet friendly! So if you're looking for a place to unwind and connect with nature, come on down to the river and stay a while!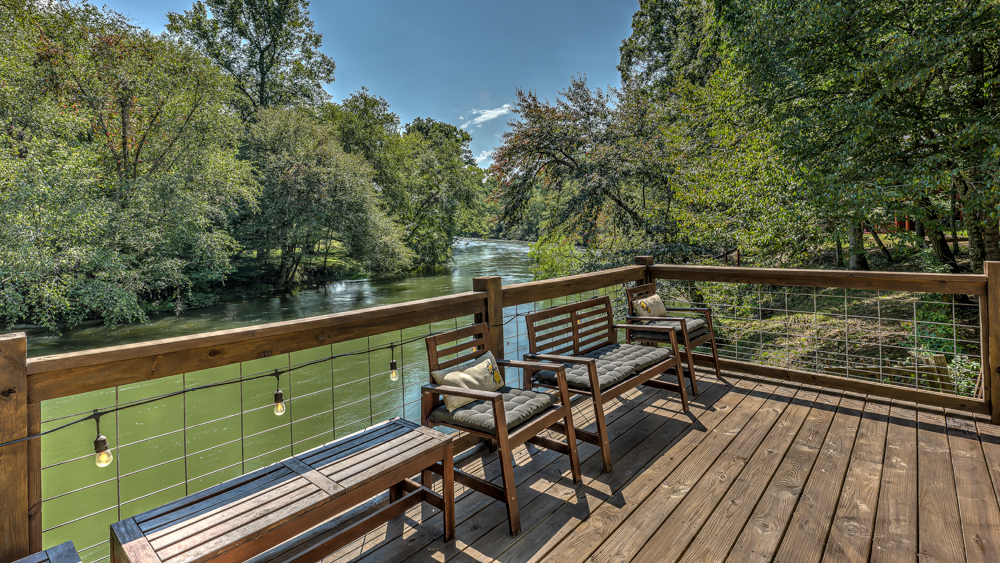 Sitting on the banks of the Toccoa, Rivers Edge, is the perfect getaway for couples! This charming two bedroom cabin is the definition of chic, creating an incredible sense of relaxation through its balance of design styles. You'll love the cozy living area with a beautiful fireplace as the centerpiece of the room and couches you can just sink into. And you can't skip dinner when you have such a gorgeous kitchen to prepare meals in with unique white kitchen cabinets, white granite countertops, black appliances, and plenty of space for both couples to get involved with meal prep. While the beautiful, chic interior will make it hard to step away, the outdoor deck area is totally worth checking out! As you relax on the riverfront deck you'll have amazing views of the Toccoa River below! Want to get closer to the action? Head to the river's edge and catch some trophy trout or dip your feet into the cool mountain water. You can even roast marshmallows at the firepit, while you swap stories and listen to the sounds of the rushing river over a tasty treat. Come to the Rivers Edge where fun awaits!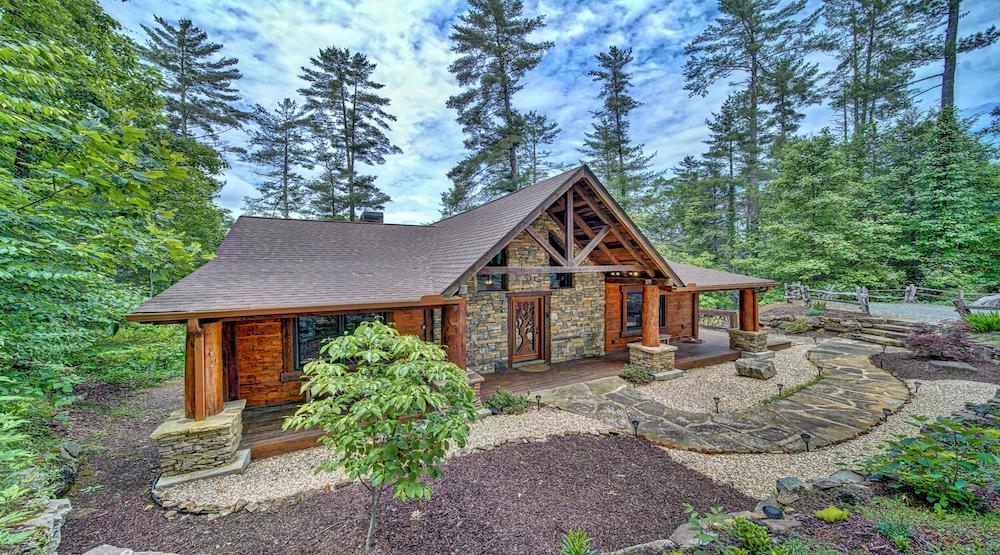 It's time to get rockin' on the river! Rock N' River sits on the banks of Fightingtown Creek where you can fish, tube, splash in the small rapids, or enjoy s'mores at the firepit next to the rushing creek. After a busy day on the water, head inside this warm & inviting cabin where you can watch your favorite movies in the cozy family room, prepare meals in the rustic kitchen, and get your game on in the fully stocked game room downstairs. You'll have a rockin' good time at Rock N' River! 
Amazing amenities? Check! Close to the Toccoa River? Check! Room for all your family AND pets? Check! Riverwalk truly has it all! This cabin sits in a secluded riverside community where you'll have easy access to the river at all times. At the community's private, riverside retreat on the Toccoa you'll find an outdoor swing for 2 overlooking the river, a firepit, 2 grill stations and a covered pavilion that seats 36 (all common use for the neighborhood). It's a great place to have  a reunion or a get together with all your loved ones! Back at the cabin, you'll have plenty of space for you and your guests to spread out. Play pool & darts in the game room, unwind in the hot tub, play games in the kids loft, or hang out on the screened in porch by the fireplace. And with 4 bedrooms, including a great kids room, this is the perfect getaway for families. So what are you waiting for? Let Riverwalk  lure you in hook, line and sinker! 
Creekside
Discover your very own private, peaceful oasis at Rusty Rooster. You'll feel like you stepped through the pages of a fairytale book into this idyllic cabin nestled in the tall trees. Listen to the sounds of the nearby babbling brook and watch the sun peek through the trees as you enjoy your morning coffee on the bench next to the creek. Outside, you'll also find a gas grill and picnic table perfect for outdoor dining, a hot tub, firepit, and plenty of seating so you can relax and enjoy the quiet sounds of nature! Keep the outdoor fun going by visiting one of the nearby hiking trails or waterfalls; and you'll only be 5 minutes away from all the shops & restaurants of Downtown Blue Ridge. After your busy day soaking in the sun, you'll be welcomed back home to the Rusty Rooster by its warm & inviting atmosphere decorated in rustic, cozy style with comfortable furniture. End your day by lighting a candle, curling up with your favorite book & beverage, and cuddling up in front of the gorgeous stone wood-burning fireplace in the living area. Sound like just the relaxing escape you've been looking for? Then get away to Rusty Rooster today! 
Imagine a luxurious farmhouse surrounded by lush pastures, a babbling creek, and endless amenities for relaxation and refreshment… You just pictured Firefly Farmhouse! This gorgeous cabin truly has it all – relax indoors or outdoors by one of two extravagant stone fireplaces, watch the local deer graze in the meadow as you sip coffee in the morning, go fly fishing in the nearby Toccoa River, or even go horseback riding at one of the nearby stables if you're feeling adventurous! If you're ready to get back to nature, unwind, and forget all of your worries for awhile, then Firefly Farmhouse is just waiting for you! 
Looking for a taste of heaven? One look at this cabin and you'll think you've passed to The Otter Side! The cabin is aptly named from its regular, adorable visitor; a river otter who likes to play in the mountain stream. If you're lucky you might get the chance to see him fishing and splashing in the water! Keep the fun going at the spacious, outdoor patio that's filled with cozy furniture, an outdoor fireplace, TV, and a top-of-the-line gas grill; all of which help make it the perfect place to hold a cookout!  Afterwards, take the party to the game room to watch a movie, have a glass of wine at the wet bar, or play a few rounds of pool and take a turn on the Pac-Man arcade game. And with room for 12, whether you're looking for a place to celebrate an engagement, anniversary, graduation, or retirement, you'll be hard pressed to find a more perfect location! It's time to head to The Otter Side today! 
You seem like you could use a trip to paradise…. Paradise Creek, that is! Who needs palm trees and sandy beaches when you've got a sparkling, trout-stocked creek, a world-class fire pit, and a hot tub right here in the gorgeous North Georgia mountains? This secluded cabin sits on 11 acres, tucked along a creek, where you and your family can fish just steps from the cabin's back door. When you're not spending your time outdoors you'll be in the game room! This awesome game room comes equipped with everything you need to host the ultimate game night: pool, ping pong, air hockey, a poker table, a Pac-Man arcade machine, and dart board, along with a full wet bar and wine cooler. And get ready for movie nights in the game room as well, because the floor-to-ceiling stone gas fireplace and luxurious leather wrap-around couch will be your place to cuddle up and watch your favorite flicks with a big bowl of popcorn. Between the peaceful creek and the incredible amenities, you'll be hard pressed to find a better place! So come visit this beautiful cabin for a taste of true paradise! 
Picture this: a babbling creek, a warm bubbling hot tub, and a whole lot of peace and quiet! You can have all of this plus a whole lot of rustic beauty at Fighting Creek Cabin! Outside is the place to be here! Sit on one of the two porches or the riverside deck, either way you will love unwinding outside listening to the relaxing sounds of the mountain stream passing by. Inside is just as lovely with 3 comfortable bedrooms, a fully equipped kitchen, and a game room with fun arcade games and a pool table! Come escape with the peace & quiet of mother nature at Fighting Creek Cabin!
Are you longing to escape the hustle and bustle of city life? Settle in at Whisper Creek Lodge for awhile! The name says it all… Nestled on the edge of a whispering creek, this lodge is all about peace, privacy, and enchantment. Watch the local wildlife every morning as you sip your coffee, cook-out on the grill, or take a dip in the hot tub. However you choose to spend your time with us, Whisper Creek Lodge is sure to offer the peaceful escape you need!