Bringing the family to Blue Ridge just got a whole lot easier! With awesome bunk rooms for the kids, the whole family will have a comfortable place to rest. The kiddos will love having their own space to play, sleep, and enjoy the best that Blue Ridge has to offer! Check out these 8 cabins with awesome bunk bed rooms: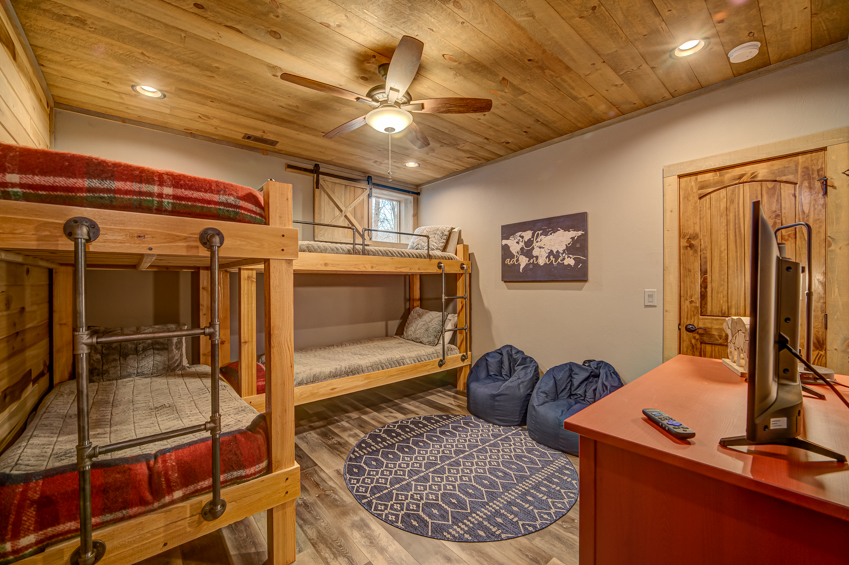 Ain't life just grand when you're on vacation in the beautiful Blue Ridge mountains? At Ain't Life Grand cabin you'll have lovely views everywhere you turn, a professionally decorated interior, not to mention the cabin's close proximity to town! Spend everyday here experiencing something new: cook meals in the state of the art kitchen with stainless steel appliances & granite countertops, take in the outdoor amenities including the 6 seat hot tub with Bluetooth speakers, color changing lights, and even a waterfall feature; and shop & eat downtown which is only 5 miles from the cabin. It's the perfect cabin for families and up to 9 guests; and the kids will love it too! They'll have their own bunk room with custom-built double bunk beds and a unique mini barn door that covers the window. There's even a rollaway cot in the closet if you need space for one more guest. We can't forget to mention the awesome game room that has a regulation pool table, board games, a wet bar with beverage fridge, a stacked stone gas log fireplace and a comfy leather sofa. And play almost any game you can think of on the Multicade which plays up to 60 classic arcade games! You'll be sure to have a grand old time at Ain't Life Grand!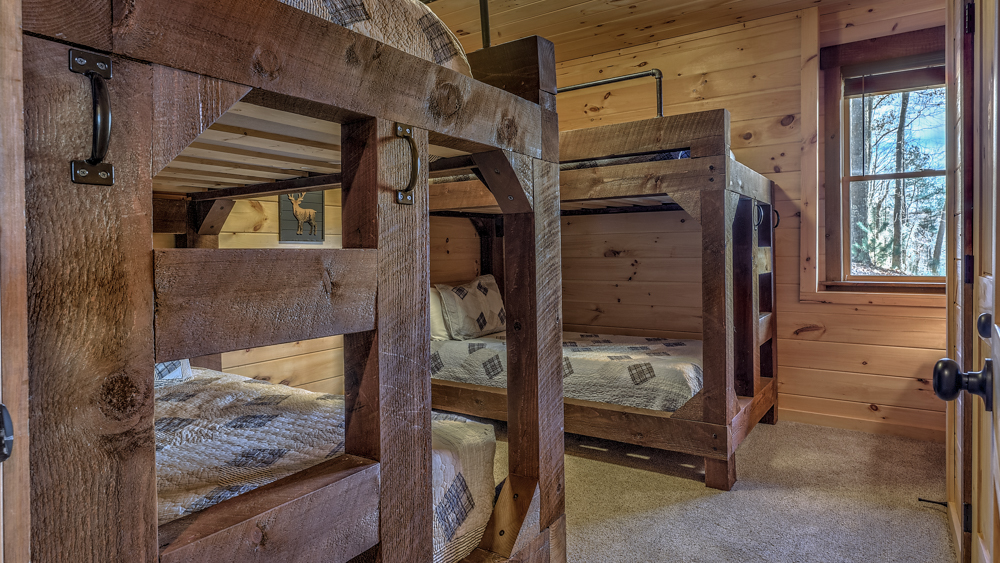 The cabin may be called Moondance Manor but there's plenty of fun to be had here all day and all night long! Specifically decorated with family comfort in mind, this cabin sleeps up to twelve guests and is pet friendly! Not only do the kids have their very own room with two twin bunk beds, but they also have not just one but two playrooms! The children's play area is located in the lower level of the main house; in the playroom the kids will have their own personal table where they can play lots of games like tic-tac-toe! Then in the game room in the detached garage, you'll find even more fun like foosball, shuffleboard, and darts! When you're not getting your game on, be sure to check out the expansive deck outside that has a wood burning fireplace, 65' Smart TV, a gas grill, a hot tub, and ample seating for all of your guests. Sound like the place for you? Dance your way over to Moondance Manor today!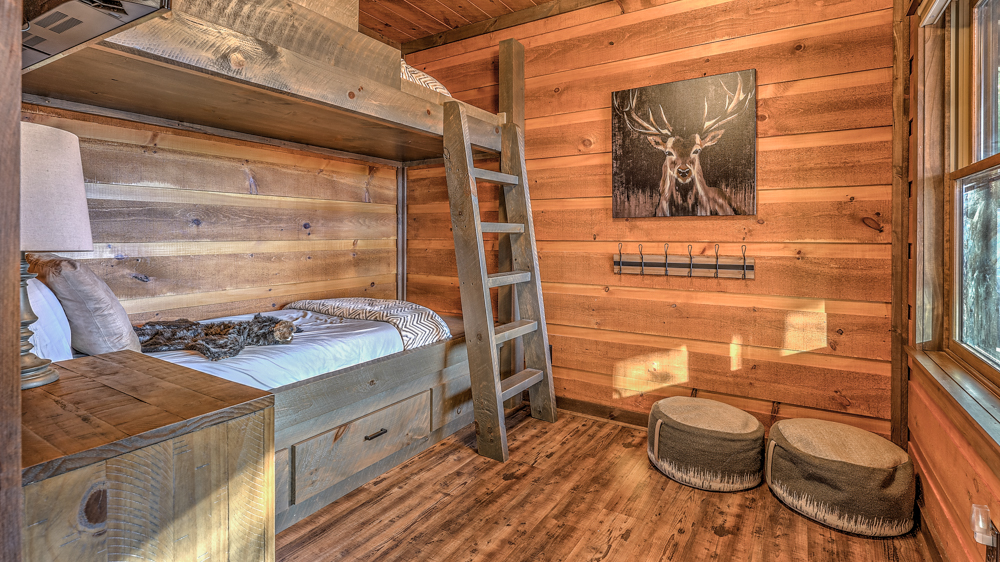 You'll surely find your happy place at Painted Sunset Lodge with stunning mountain views, amenities galore, the most comfortable accommodations, and it's not a bad place to take in a sunset or two either. This luxurious cabin truly has everything you need to host the ultimate family getaway; and with four separate sleeping quarters on three different floors you and the family will have ample space to spread out and enjoy. Our favorite of the four bedrooms has to be the cozy bunk room equipped with a twin bunk bed, 2 bean bag chairs, and a Smart TV. When you're not sleeping, take advantage of the luxurious amenities at your disposal like the fantastic game room, the easy-to-access fire pit, and the multiple covered decks with plenty of seating for dining and relaxing. Painted Sunset Lodge's location is truly ideal as it sits high on the hill and has outstanding views of the mountains, day and night!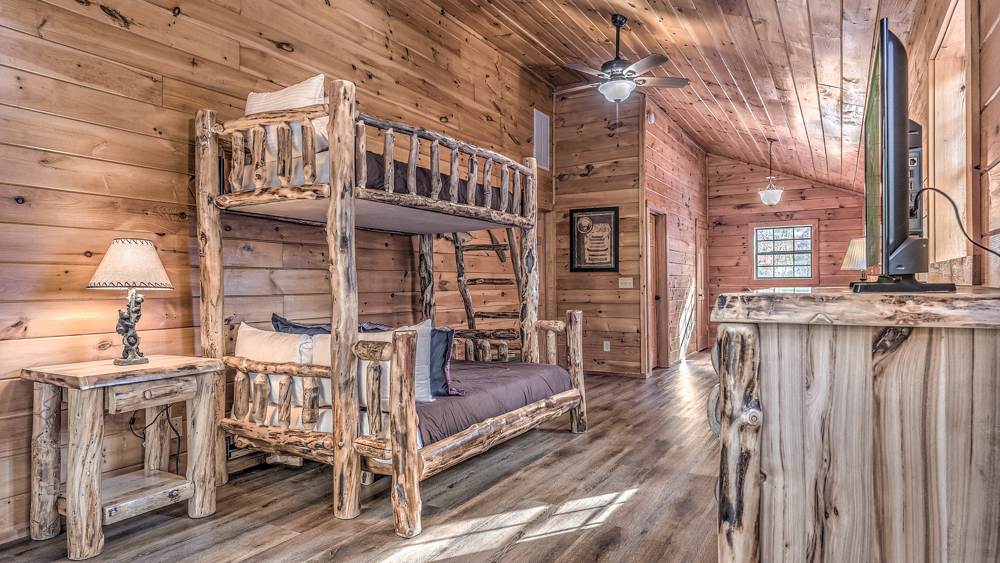 Down by the river you'll find peace, relaxation, and the perfect home base for all your Blue Ridge adventures! Enjoy your nature retreat at River Lodge where you can fish & tube down the river just steps from the cabin, soak in the hot tub and listen to the sounds of the rushing river, or explore the nearby hiking trails right outside your door. And inside you'll find an all-wood interior, bear-themed accents, and cozy furnishings that create a warm and inviting atmosphere. And the kiddos will have it made here, with bunk beds in the loft upstairs and a HUGE game room to spread out in, filled with three arcade games, a pool table, an air hockey table, and a PlayStation 3! The whole family will have a blast at this awesome riverside retreat!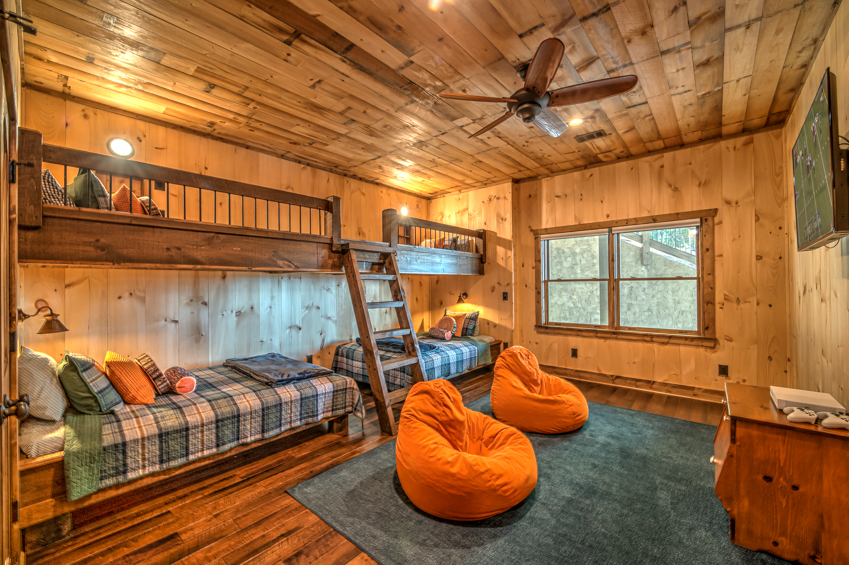 You'll be seeing nothing but mountains and sky at the beautiful cabin: Skyview! The views here will quite literally take your breath away as you admire the long-range mountain vistas from either the wrap-around deck or the enormous windows in the family room. And it's not just the views that make this 3-bedroom cabin an amazing place to stay. Skyview also has a fully-equipped kitchen with granite countertops, a fun and cozy game room, a reading nook, and is just 15 minutes away from the heart of Blue Ridge! The kiddos can spend their time at Skyview roasting marshmallows and playing corn hole outside, doing puzzles in the game room, and playing Xbox and board games in their cool bunk room complete with two twin beds, two full beds and two bean bag chairs. There's so much to do at the cabin but you won't be far from more kid-friendly activities, when you're ready to get out and explore the area!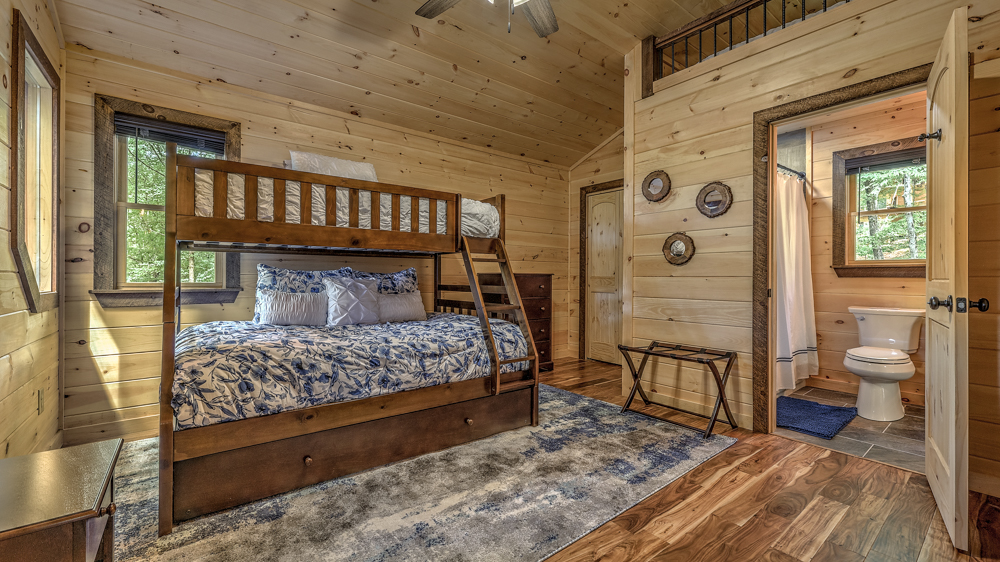 How could you ever be unhappy when you're looking at Such a View? In this phenomenal cabin, you'll never have to go without! With floor-ceiling windows in the main room, a spacious deck with ample seating, a screened-in porch with an outdoor fireplace, and even a hot tub overlooking that stunning mountain range, you'll have every opportunity to soak in the views that Blue Ridge is known for! And when you're ready to head inside & warm up you'll find designer furnishings and high end amenities, 4 luxurious bedrooms, and plenty of room to spread out. The kids will love the bunk beds and game room, complete with a pool table, an air hockey table, a ping pong table, arcade games, board games, and more. What are you waiting for? It's time for a getaway that comes with amazing views and everything you need for the perfect family vacation!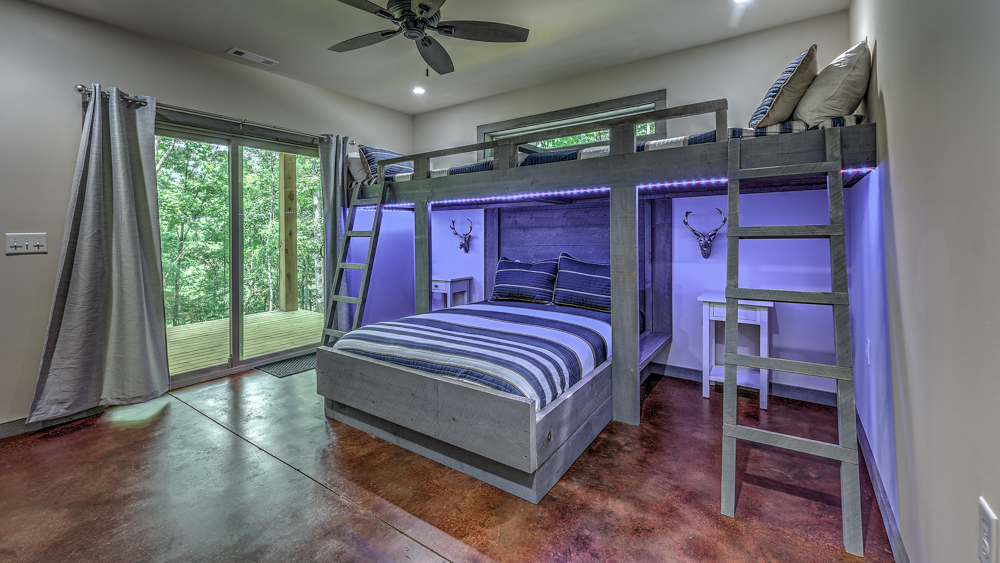 If you are looking for a beautiful place to stay during your vacation, look no further as Whitetail Bluff has it all for you. A peaceful, cozy, and tranquil place located near the Toccoa River. This is truly an ideal spot for your family's getaway to Blue Ridge! Sitting on 3.3 acres and located right on a creek near hiking trails, it's a glorious place to be! The home was designed by a local architect, Tony Boyatt, and built by a local builder, Danny Anderson. The owners decided to work with both of them to create an atmosphere that was not only rustic and cozy but modern and functional for large families. As a result, the house isn't so much of a "cabin" but more of a mountain "chalet" hidden away in the Toccoa River Forest! The property is extremely peaceful and serene, with the sounds of the forest and the creek flowing below. The house features the best of both cozy cabin amenities but also modern touches like the fun and handcrafted bunkbeds!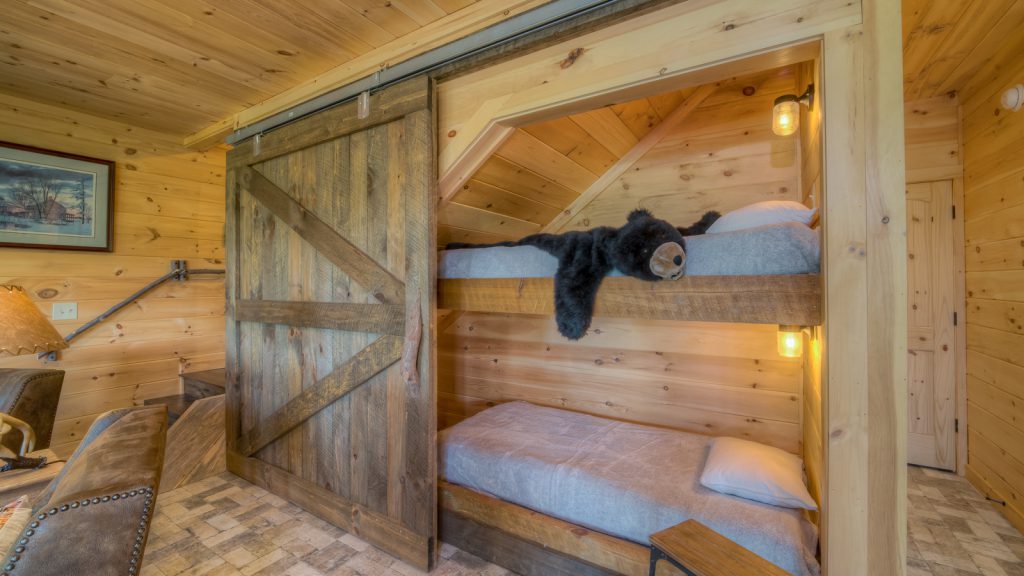 Feeling down, tired, or just need a change of scenery? Well this cabin is sure to lift your spirits! Uplifting cabin is an exquisite mountain retreat with awe-inspiring, absolutely breathtaking views and it sits only a few miles from town. Inside the cabin you'll find all the rustic charm of a log cabin but with upscale furniture and luxurious amenities. You'll love the open floor plan which makes it easy to connect with friends and family no matter where they are in the house. And Uplifting is all about family; have family dinners at the dining table, family game nights in the game room, and then spread out on the large deck or take a soak in the 8 seat hot tub. And lucky for the little ones, they won't have to be far from the fun, because their twin bunk beds are located under the lower level stairs in the game room. So they'll be ready to game to their heart's content the minute they wake up in the morning! Start making memories at Uplifting cabin!