Not far from Blue Ridge surrounded by the rolling foothills of the Blue Ridge Mountains is the beautiful Ellijay, GA. Known as the apple capital of Georgia, Ellijay, has many apple orchards perfect for visiting in the fall; as well as awesome mountain biking trails, charming wineries, and a trendy Downtown area with great shops and amazing food. See what Ellijay has to offer:
Cover photo courtesy of @pickellijay & @droneguynab
Mountain Biking Trails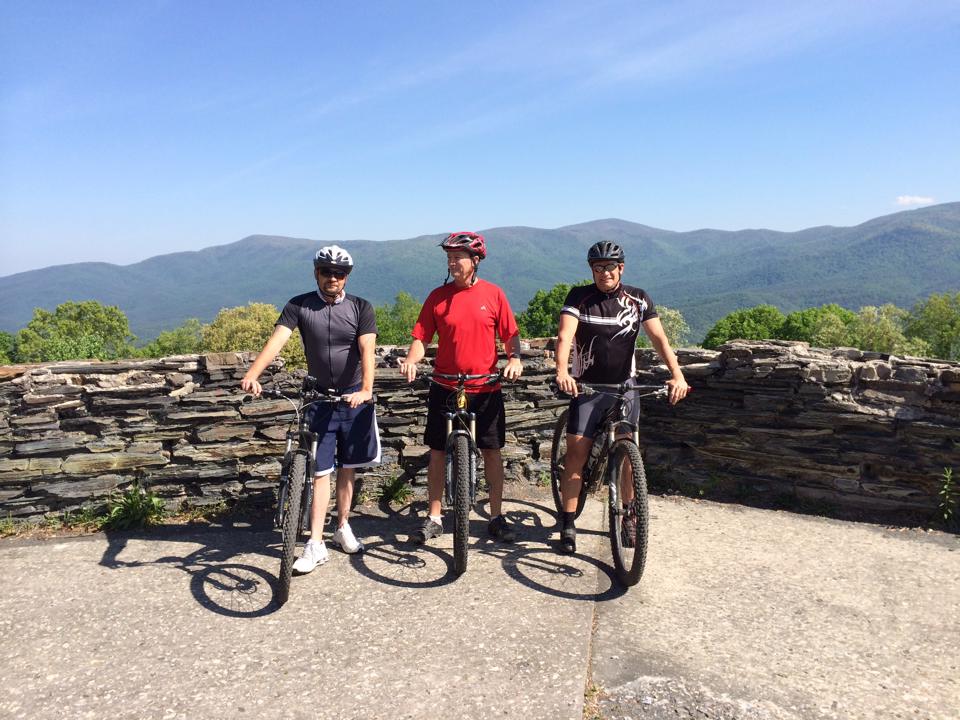 Not only is Ellijay known as the Apple Capital of Georgia but it is also known as the Mountain Biking Capital of Georgia because it has more than 100 miles of mountain biking trails to explore! Ellijay offers many challenging courses to really test your mountain biking skills and some beginner level trails as well. Some of our favorites include; Cartecay Loop, Mulberry Gap, Pinhoti Trail, and the oldest mountain biking trail in the state: River Loop. Have a blast on miles and miles of winding trails through the beautiful mountains.
Want to get into biking but need a mountain bike for your adventure? Cartecay Bike Shop is the place to go! Not only do they offer the best bike brands in the industry and service/repairs but they also offer classes for the newest of riders. You can even download mountain biking trails & maps from their website to take with you on your journey. So what are you waiting for? Hop on your bike & ride!
Winery Hopping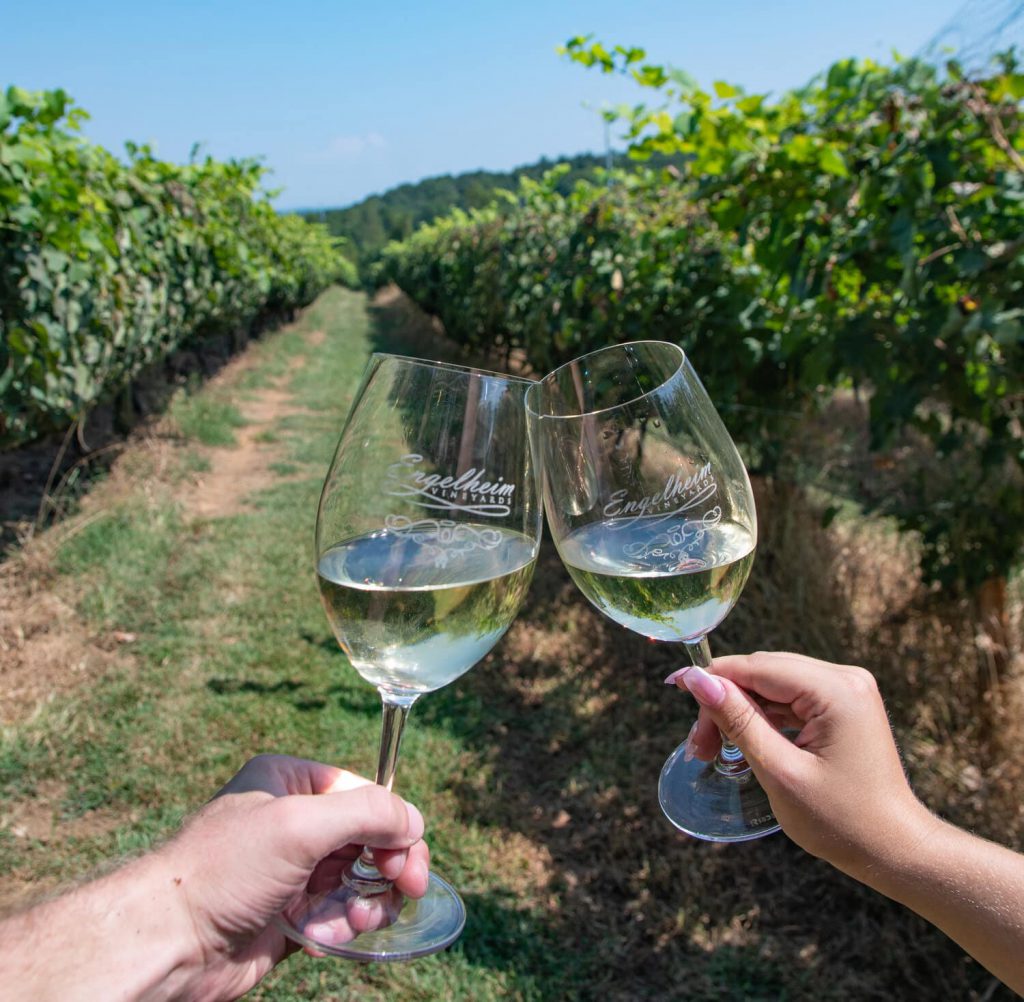 Ellijay is home to some of the finest wineries in all of North Georgia. Sip on high quality wines surrounded by the beautiful mountains at Engelheim Vineyards, voted the 2018 Georgia Winery of the Year. Not only did they win for best winery in 2018 but Engelheim Vineyards have also won over 20 awards for their amazing wines. Come on out for a great time and even better wines! Dogs are welcome & there's live music at the vineyards every weekend.
Another favorite winery of ours is Cartecay Vineyards. Cartecay is a popular spot among all of our guests; so popular they even opened a Blue Ridge location downtown. At the Vineyards you'll fall in love with the picturesque views and delicious wines. Relax in the tasting barn or in one of their outdoor venues.
Other honorable mentions to check out are Ellijay River Vineyards, Grapes and Ladders Vineyards and Winery, Ott Farms and Vineyards, and Reece's Cider Company. Make a day out of visiting all the local wineries and sip to your heart's content!
Apples Galore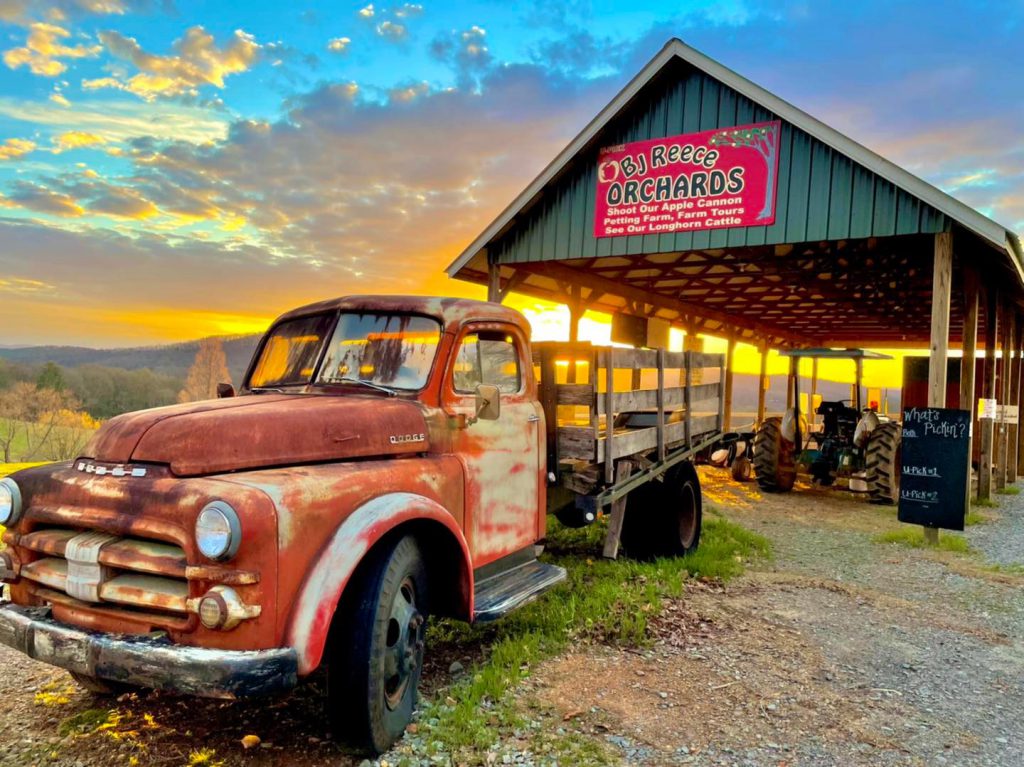 Ellijay has many great apple orchards and each fall they host the Georgia Apple Festival. The festival usually takes place in mid October and is an event filled with live music, hundreds of vendors, a parade, and lots of apples! Pick apples all autumn long at any of Ellijay's wonderful local orchards. There's Hillcrest Orchards and Farms, who've been in business for over 70 years. Not only can you pick apples here but you can also have fun on the farm with pony rides, cow milking, pig racing and more. Be sure to stop by the bakery as well for one of their famous apple fritters! And every weekend in September & October they host their Apple Pickin' Jubilee where you can enjoy live music, cloggers, and carnival style food.
We also love B.J. Reece Orchards. The mountain views here are stunning and you'll be in awe of row after row of apple trees spread out on over 120 acres. They even grow over 20 types of apples! B.J. Reece Orchards also has farm fun on the weekends with a petting farm, apple cannons, farm tours, and more!
Want to make a weekend out of apple picking? Check out these other great Ellijay orchards; R & A Orchards, Red Apple Barn, and Panorama Orchards & Farm Market.
Lake Time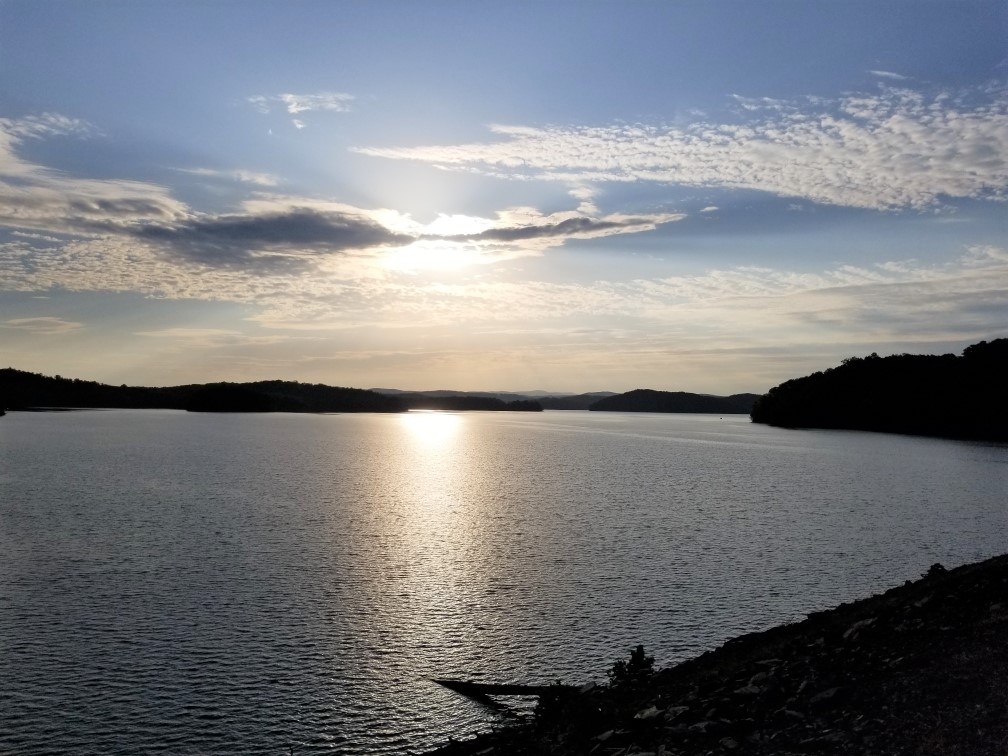 Carter's Lake offers fun times spent on the water or admiring its beauty from the shore. The lake covers 3,200 surface acres and is more than 450 feet deep. And the Carter's Dam is the tallest earthen dam east of the Mississippi. You'll have plenty to do and experience on this beautiful lake. Head to Carter's Lake Marina & Resort for boat rentals and docks to cast off from. Rent a pontoon and bring all your family and friends along for a day on the water. Prefer to stay close to the shore? Do some fishing or have a picnic by the lake. Then when you need a break you can cool off by taking a quick dip in the water. You can even hike and do some bird watching at Carter's Lake. It's the perfect place to spend the summer!
Find the Tallest Waterfall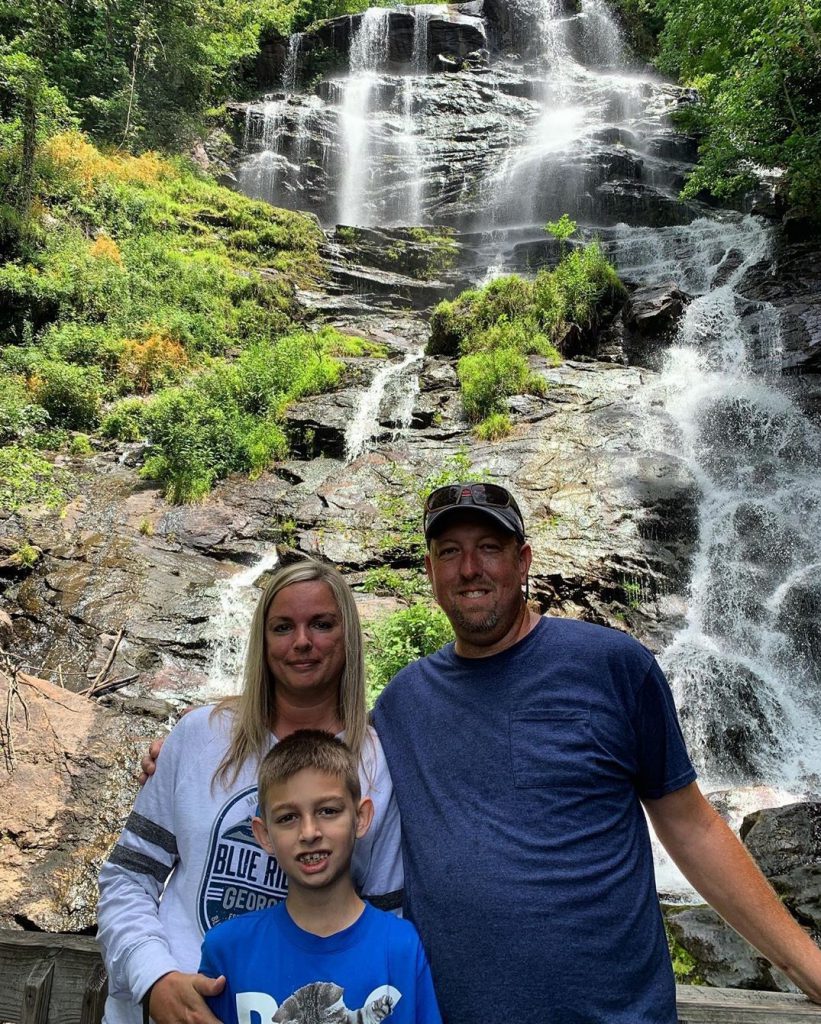 Amicalola waterfall is located between Ellijay and Dawsonville, and is just 20 minutes away. This stunning waterfall is truly a sight to behold, standing 729 feet tall, making it the tallest waterfall in Georgia! If you're up for a short but steep hike to the top of the falls and then back down, it will be well worth it. People come from all over to see these tall & mesmerizing falls in person, so it's definitely something to put on your list of things to see!
Explore a State Park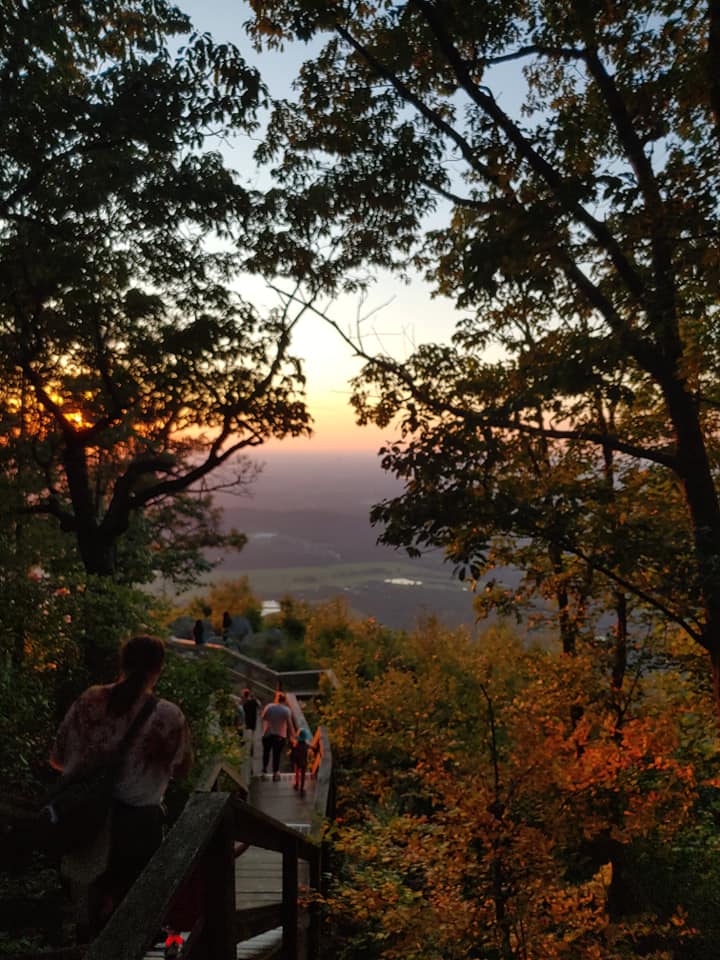 The beautiful Fort Mountain State Park is also nearby, sitting between Chatsworth and Ellijay. Here you can explore over 50 miles of trails and the old stone fire tower. Climb the stairs to the top of the tower for an amazing view of the surrounding countryside. Or make your way to the peak of Fort Mountain where the views are incredible; the sunsets here are particularly beautiful. You can also mountain bike, horseback ride, or kayak on the lake at Fort Mountain. It's truly a nature lover's dream here! You might even come across a mysterious 855 foot long wall at the park, which was said to have been built by the American Indians who called the Blue Ridge Mountains their home long ago. And if you want to leave all the work for the younger folks or just have a relaxing day admiring the views instead, you can take a scenic drive on Highway 52 where you can admire all the beauty of Fort Mountain from the comfort of your own car!
The Art Scene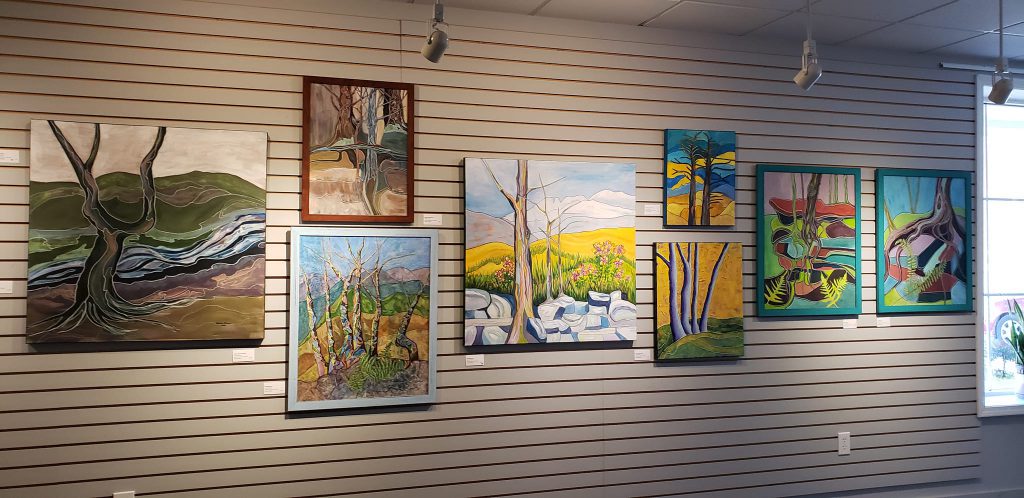 Gilmer Arts and Heritage Association creates an amazing art scene for Downtown Ellijay. They offer everything from literary to visual arts to performing arts as well. Their building holds a lovely art gallery, a small stage for plays and musical performances, classrooms, and meeting spaces. Artists and art lovers alike are welcome here!
Shop & Dine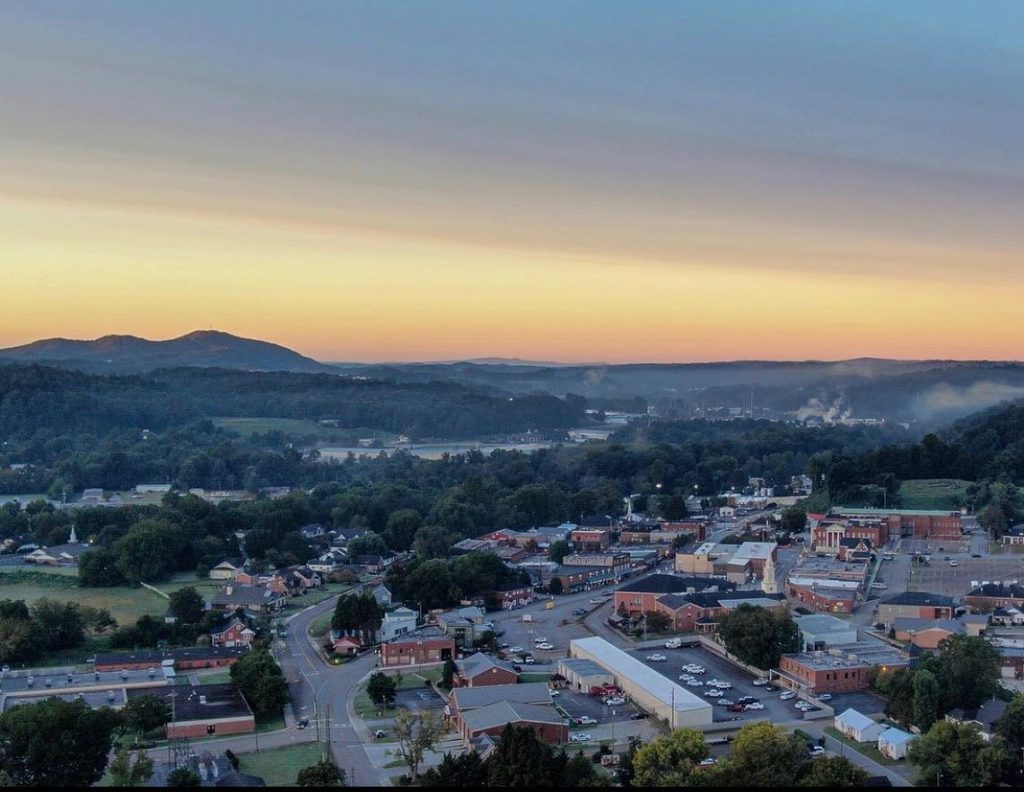 Downtown Ellijay is the place to be! With many fun & trendy places to shop and amazing places to dine you could spend all day here just enjoying what the downtown has to offer!
Ladies stock your closet with trendy clothes from Belle's Boutique or 28 Main. For something new, Live the Trail offers a little bit of everything from books, jewelry, outdoor inspired apparel & gear, and so much more. At Live the Trail general store you can bring back awesome souvenirs or pick up the perfect gift for someone special back at home. And for something old check out Main Street Antiques & Collectibles. Discover beautiful & unique items from the store's 2 floors filled with goodies! Mountain Treasures is another great spot to explore. They offer rustic furniture, ladies apparel, specialty gifts and even olive oil & wine tastings!
Once you've had your fill of shopping treat yourself to a nice meal at one of these great downtown restaurants. Open for both lunch & dinner, Cantaberry Restaurant offers homemade soups and gourmet sandwiches; they even have a sister restaurant in Blue Ridge. The Roof Ellijay is a southern rooftop kitchen and bar, with awesome views of the downtown streets below. Dinner here offers a fun & energetic environment and plenty of southern hospitality. Enjoy a delicious Appalchian inspired meal and pair it with one of their amazing craft cocktails. You'll love the food, drinks, and atmosphere here! For Asian Fusion dishes The Shack of Ellijay has got you covered! They serve delicious poke bowls and hot noodle bowls that will make your mouth water. For more culture and more great food options check out the Cajun Depot Grill. Feel like you've left North Georgia for the night and ended up in New Orleans, feasting on delicious Cajun & Creole inspired eats. Need some comfort food? You can't go wrong with Ellijay Wood Fired Pizza! They offer delicious neapolitan style, wood fired pizzas and amazing pasta dishes.
Ellijay Cabins
The scene is picture perfect: you're high on a hillside with a lush green cow pasture below, a magnificent long-range Cohutta mountain vista in the distance, and the Ellijay River flowing a few hundred yards away. At Highland Harmony, this idyllic setting can be the backdrop for the vacation of your dreams. Located in Ellijay nine miles from downtown Blue Ridge, this gorgeous custom tri-level cabin offers you the ultimate in stress-free relaxation, surrounded by nature's natural beauty!
The Ridge Carlton offers luxury like no other. Gaze at the beautiful Blue Ridge Mountains in the distance, roast marshmallows at the firepit, and relax in the 6 person hot tub. Even better? The Ridge Carlton is just 15 minutes from both the heart of Ellijay and Downtown Blue Ridge, so you'll have easy access to everything here.
And at Legend there's plenty of space for the whole family to spread out, because this amazing cabin sleeps up to 13 guests! A stay here is like staying in a 5 star resort. You are close to so many great activities and have awesome amenities right from the comfort of the cabin. Catch a fish in the stocked trout stream right outside your door, explore the hiking trails on the property or enjoy the views from the covered porch. Then head inside for dinner made in the huge gourmet kitchen and a movie night in the theater room! This truly is a "legendary" cabin!
Ellijay is a great place to stay! Not only are you surrounded by wonderful parks, biking trails, wineries, orchards and more but you are just 15 minutes away from Blue Ridge as well! You can explore all the fun of both towns and then come back to your quiet & peaceful cabin in Ellijay for a good night's sleep, for your next day of adventures.