Who needs Napa Valley, when you have North Georgia? In fact, North Georgia, and specifically Dahlonega, has been called the Napa of the East. So, what's the point of hopping on a plane, enduring crazy traffic, and dealing with stifling crowds? Right here in North Georgia you will be better served, remain relaxed, and meander the charming and scenic back roads of Blue Ridge, Ellijay, Dahlonega, Blairsville, and Helen to enjoy a wine experience that's even better than what the wild west can offer!
1st Place Winners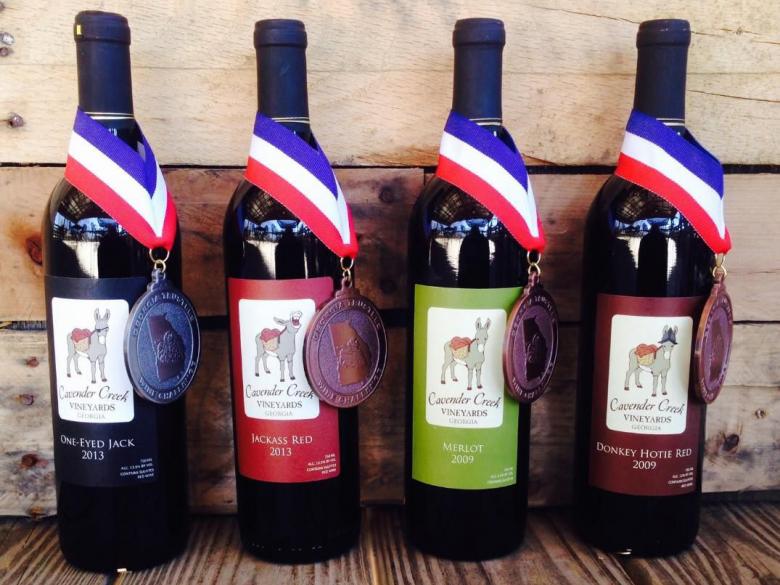 Surprisingly enough, it turns out North Georgia wines also are winning quality competitions in California's very own backyard which is causing quite the "Bottleshock" to all the more seasoned western vineyards. So quality-wise, the wine is not a concern. Which makes another good reason to stay close to home!

Country Drive
Starting in Blue Ridge, it doesn't take long to feel like you're in wine country. Within an hour's drive you might swear you just caught a glimpse of Tuscany, or around the corner there's what looks like Oregon, California, or Upstate New York. North Georgia looks like a lot of other states in the beauty department. That's why Hollywood likes Georgia, and especially North Georgia, so much. It could look like the Midwest, inland Oregon, or maybe even New England.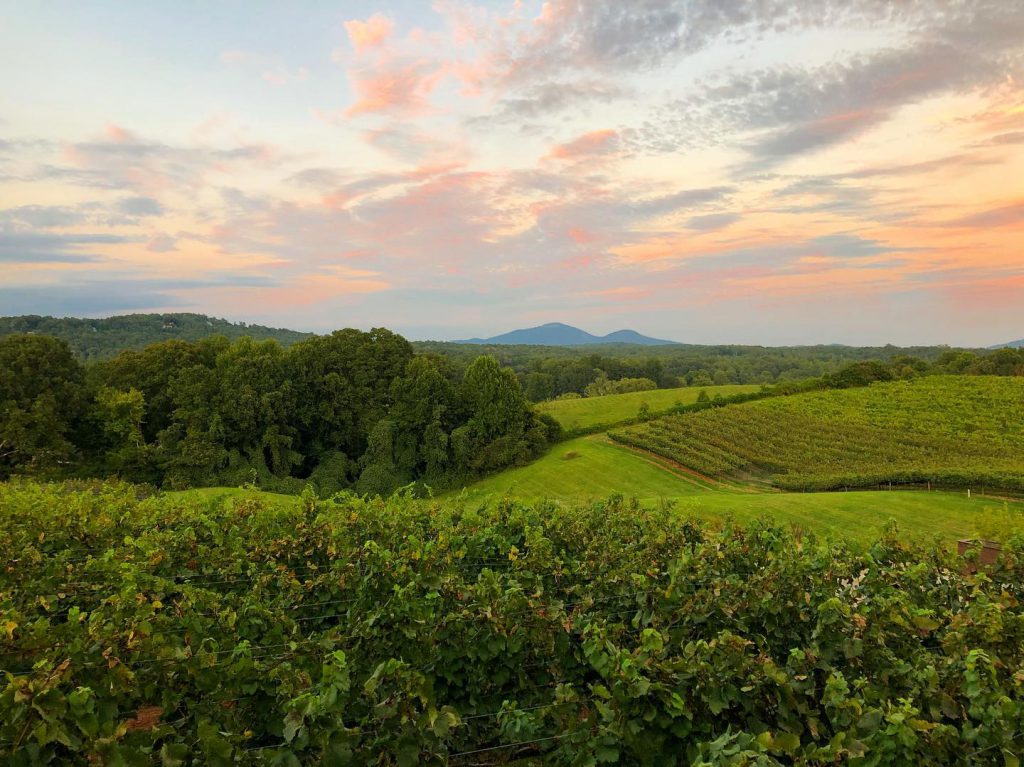 For wine production purposes in these parts, the secret lies in the foothills of the Blue Ridge mountains, which provide ideal weather, geography and geology for successful vinifera grape growing due to its long springs, hot, dry summers, and elevations between 1,300 – 1,800 feet.
It's All About The Grapes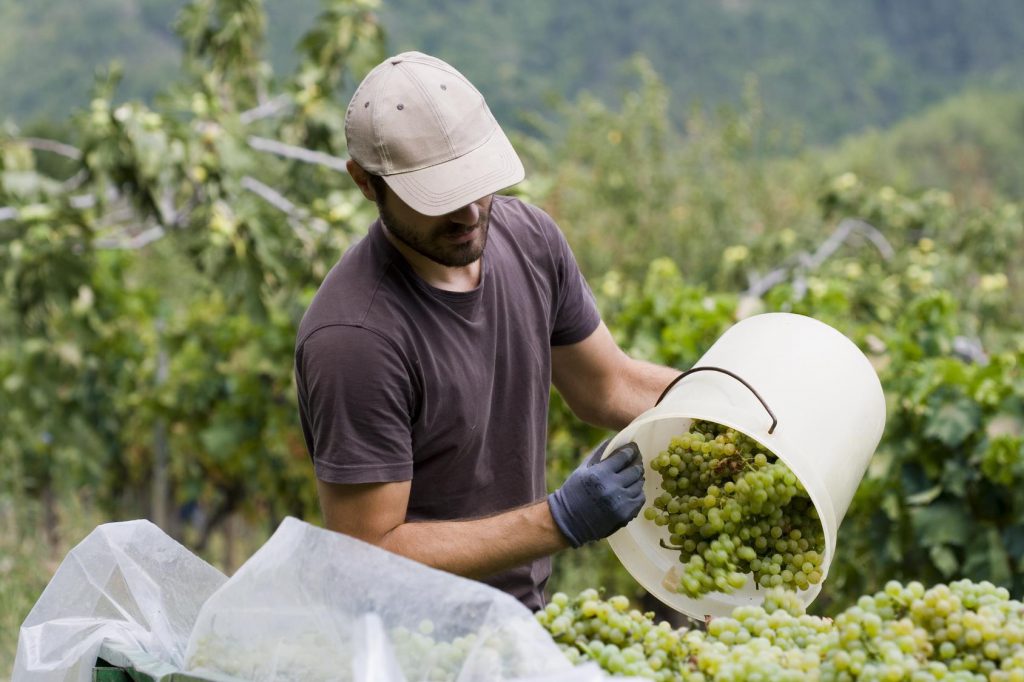 The trail of six farm wineries that lead from Dahlonega north and east into White County and Helen is a great example of how terrain changes dictate grape production and variety of purpose. Designated as the "Dahlonega Plateau", an AVA (American Viticultural Area), on July 20, 2018, the area encompasses 133 square miles with the same climate, soil, elevation and physical features creating conditions that are ideal for growing grape varietals such as Cabernet Franc, Cabernet Sauvignon, Chardonnay, and Merlot.
Passport to Wine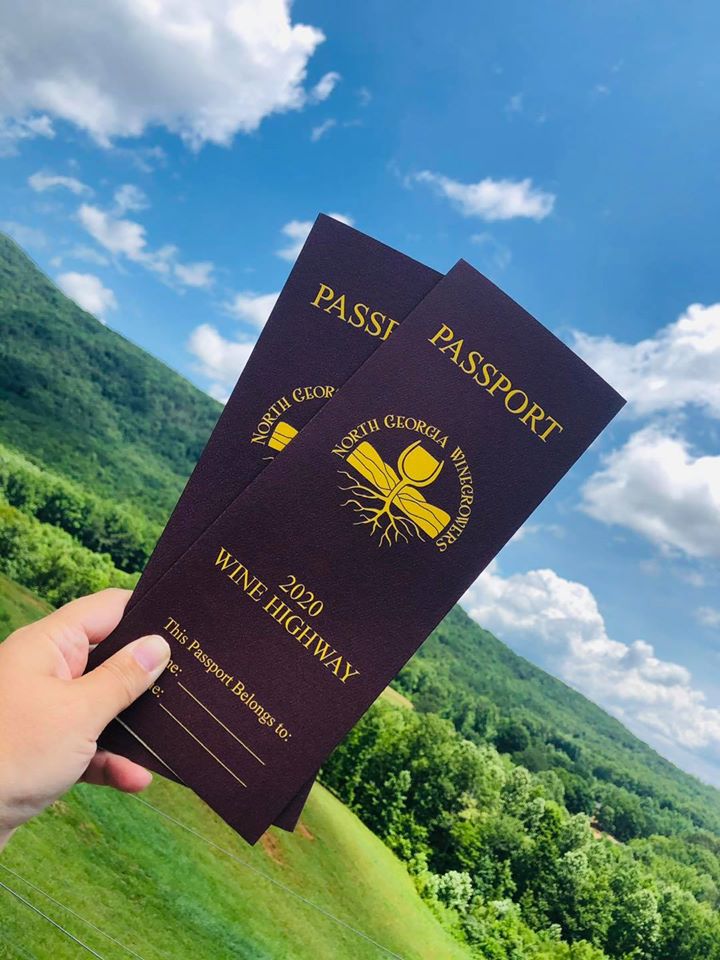 2020 Wine Highway Week is now a MONTH long! Enjoy touring 24 participating vineyards in the beautiful mountains while you discover Georgia wines! There will be a $50.00 fee for each participant which will be collected at the first winery visited. Travelers will receive a "Wine Highway Week" collectors' glass and Passport which will give them admission to ALL participating wineries at no additional charge. Be sure to keep you Passport and Collectors glass with you at all wineries visited! You can purchase your Passport on line at: www.georgiawineproducers.org/shop
The Wine Highway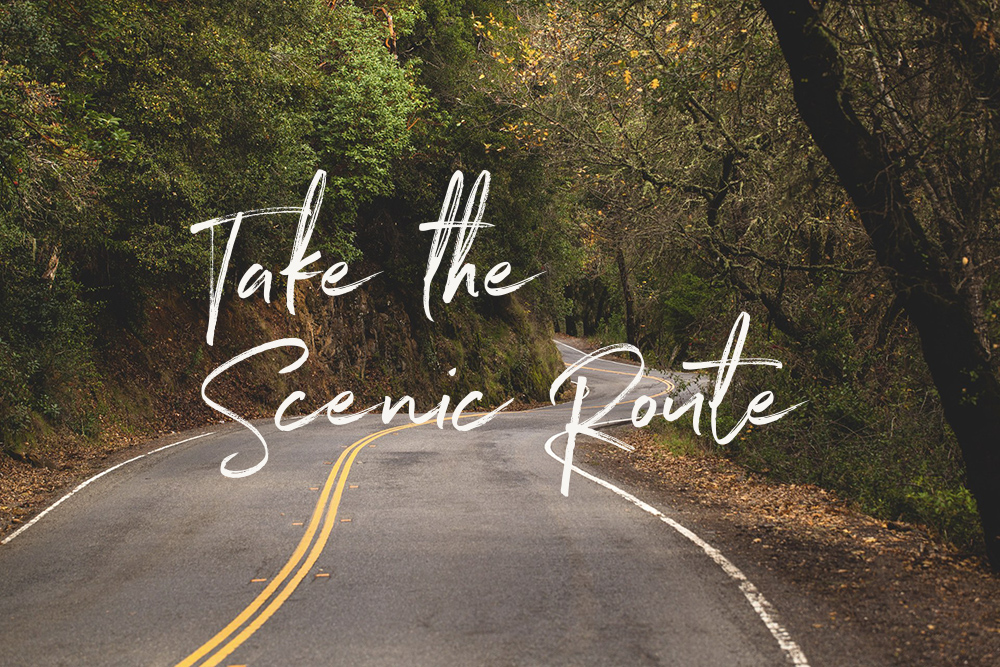 Wolf Mountain Vineyards & Winery is tucked in the hills just 45 minutes from Blue Ridge and a five-minute drive from downtown Dahlonega. Wolf Mountain is elegant, with spectacular views, the perfect wedding and event venue, but also the ideal place for Sunday brunch, or fun gatherings with friends. A lot of the North Georgia wineries multi-task that way.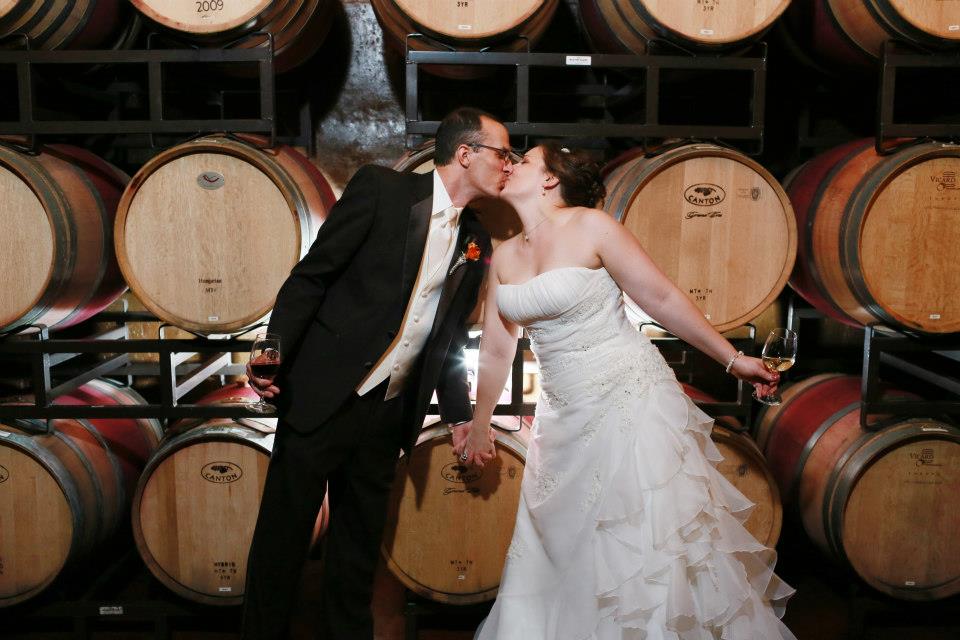 Montaluce Winery and Restaurant, with its elegant, ivy-covered walls, and its porches with views to the vineyard, conjures up images of Italy, but is also the site of bike races that have featured the likes of Lance Armstrong and Georgia Hincapie. This breathtaking destination offers a spectacular brunch on Sunday and lunch and dinner Monday through Sunday.
Kaya Vineyard & Winery, in White County, makes the best of the perfect perch, with 360 degree views of Blue Ridge scenery. Wines produced from Kaya's vines have received over fifty awards and most recently, the vineyard was recognized for producing grapes for one of the "Top 50 Wines of the Year" reviewed by the Wine Report.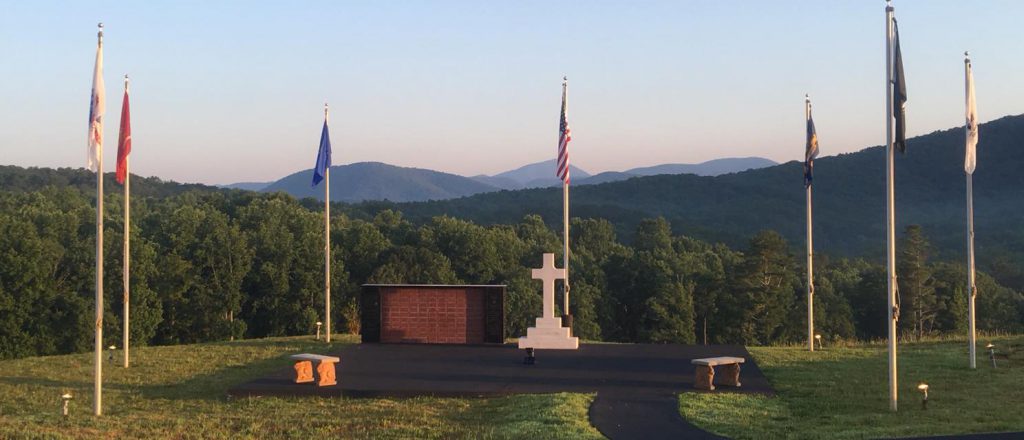 The Cottage Vineyard & Winery, one of the earliest Georgia farm wineries on the scene, founded in the late 1990s, actually has church services on Sunday mornings, with inspiring views of the vineyard. Paying homage to all military men and women is a North Georgia Honor Wall that features the 5 service flags of the US Armed Forces: Air Force, Army, Coast Guard, Marine Corp., and Navy as well as the POW and U.S. Flags.
The wineries of all three – Dahlonega, White County and Gilmer make for a pleasant mix of wine trail possibilities – from upscale to downhome; and from farm to fancy. At Cavender Creek Vineyards and Winery you can even pet donkeys and alpacas. It's a local favorite, especially on Friday nights, and live music is always a draw, as it is at most wineries on the weekends.
You'd guess by the name, that Three Sisters Vineyards was a family winery started by siblings – good guess, but wrong. It is indeed a family winery, but the name refers to the three Blue Ridge Mountain ridges that form the perfect backdrop for wedding and special events.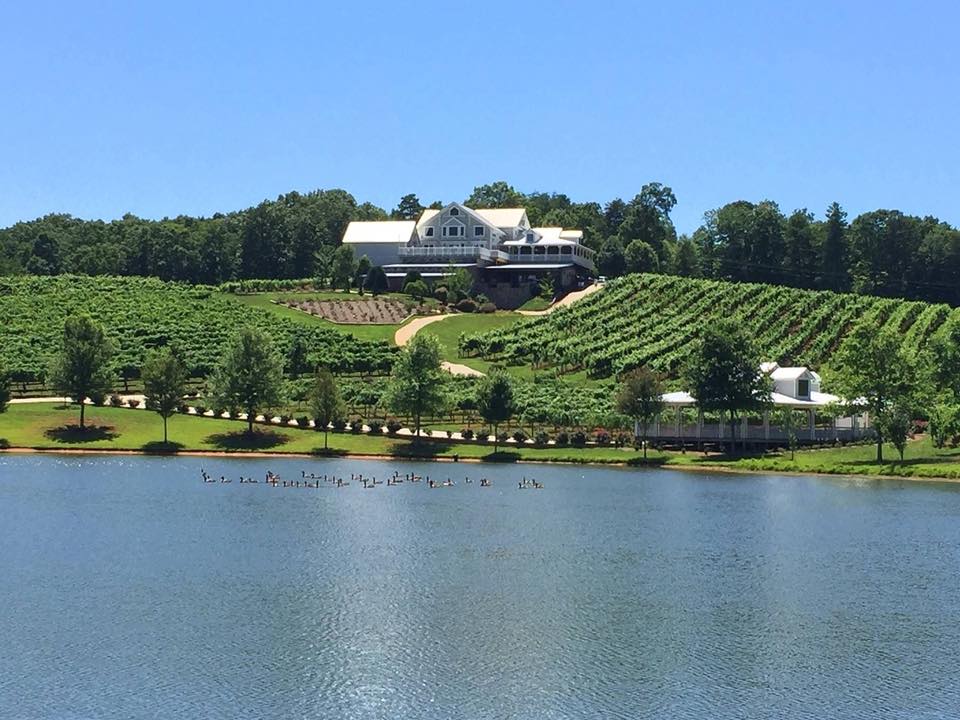 Frogtown Wine, a perennial winner of prestigious national and international wine competitions, offers dramatic 50-mile views, but the ambiance is decidedly California casual, especially the bright white main lodge with deck seating. There are 23,000 grape vines in Frogtown's North Georgia vineyards capable of producing up to 180 tons of premium wine grapes each year. This tonnage equates to over ten thousand cases of Estate grown wine per year!
The Foothills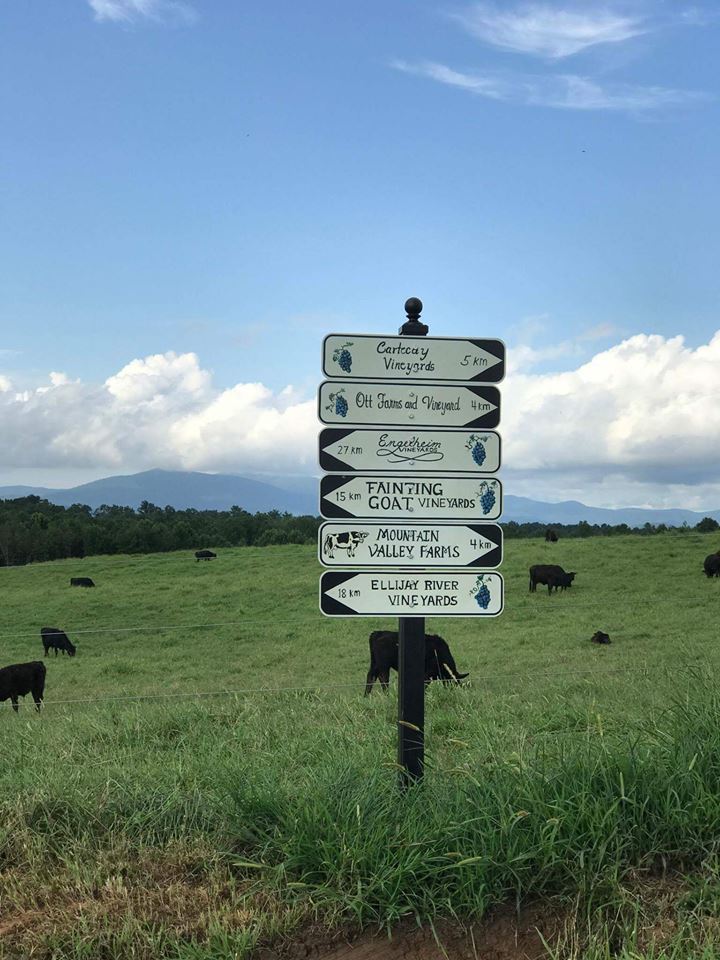 On the Ellijay side of Blue Ridge, Fainting Goat Vineyards (yes, they actually have fainting goats), and Cartecay Vineyards, with its distinctive fireplace and iconic chimney, both make for fine outdoor enjoyment most times during the year. Chateau Meichtry specializes in combining wine tasting with learning a lot about the wines, and the entire process of wine production. All three feature live music most weekends.

Local Favs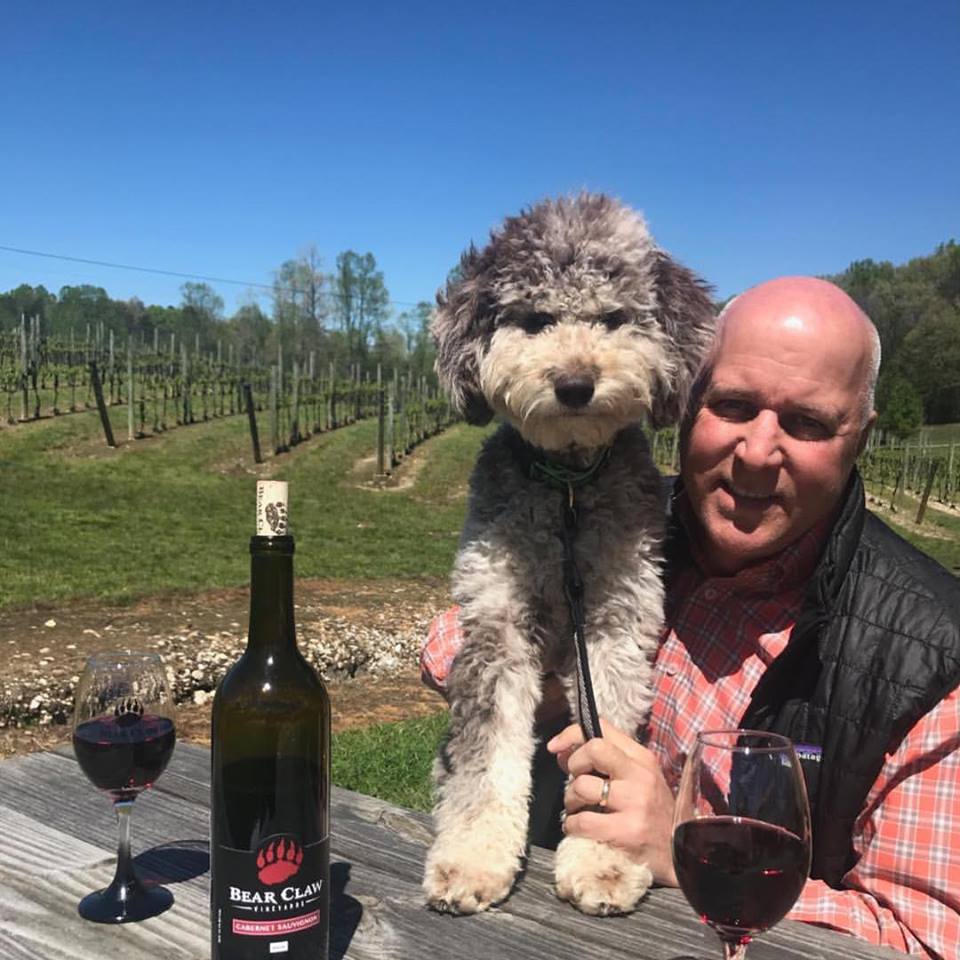 Right here in Blue Ridge we are lucky to have two great wineries: Bear Claw Vineyards and Serenberry Vineyards. Bear Claw Vineyards is welcoming for every member of the family, both two legged and four. Well behaved pets are welcome and there are plenty of games to keep the kids busy while you catch up with your friends and family while you sip their delicious wines. At Serenberry, you are invited to savor the day by relaxing in a beautiful mountain setting while tasting delicious wines!
So, who needs Napa? With the broad variety of wines, and the expanse of experiences, plus the proximity and easy scenic drives (be sure to stop along the way at Amicalola Falls, the highest cascading waterfall on the East Coast), or at charming farmers markets, orchards and food stands – that is indeed the question.