The sun is just starting to drop, and the skies above the surrounding mountains are showing off their blushing color palette. The pink hues deepen and then you see the first blaze of fire orange streak across your sky high view. Your helicopter lands on the private helipad at Spyglass, the 5 million dollar private lodge you've rented for the week. Welcome to this luxurious escape from your crazy everyday urban existence!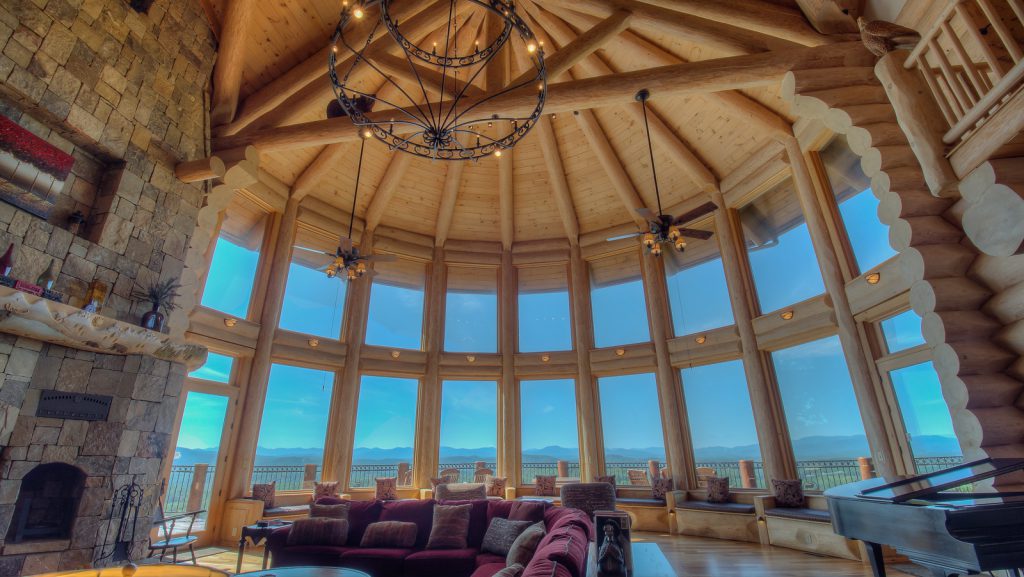 Our Escape to Blue Ridge concierge service has seen to the details as you've requested. You and your guests are greeted at the entrance by Chef Trey Griffith. So many of the finest award-winning international chefs have found their way to these mountains, tired of the hassle of metropolitan restaurant life. They choose to come here to share their talents. Chef Griffith came back "home" to Blue Ridge and now serves as a personal chef to guests just like you. Passionate about sharing the experience of fine dining with his clients, his services include initial client consultation, a customized menu plan, grocery shopping, meal preparation, and kitchen clean up. He takes into consideration all dietary and discretionary food choices. He will cook you one special meal, help you host a party or he'll manage your nourishment during your entire stay.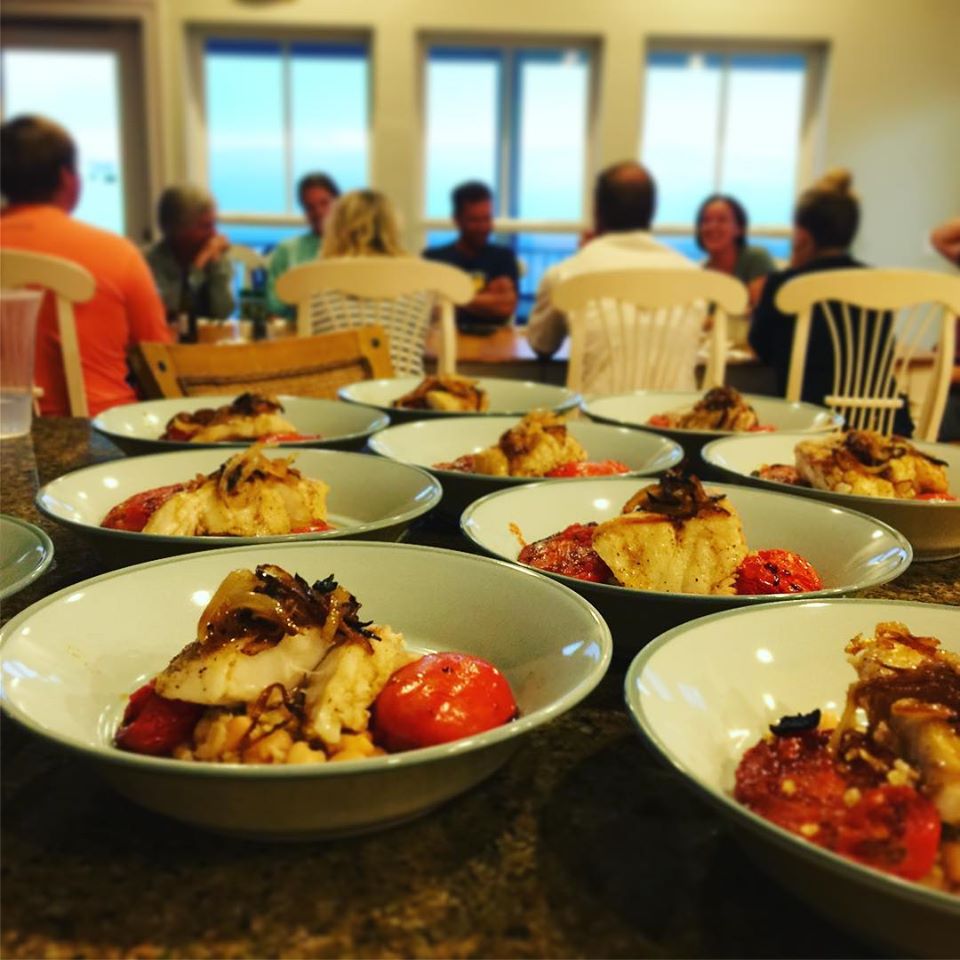 Tonight Chef Griffith serves cocktails and hors d'oeuvres in front of the massive fireplace, giving you plenty of time to shake off the day and begin to relax in the lap of luxury. The evening ends with a brandy and plate of hand dipped chocolate truffles procured from The Sweet Shoppe in downtown Blue Ridge, one of many premier food provision establishments to choose from in town and the surrounding area.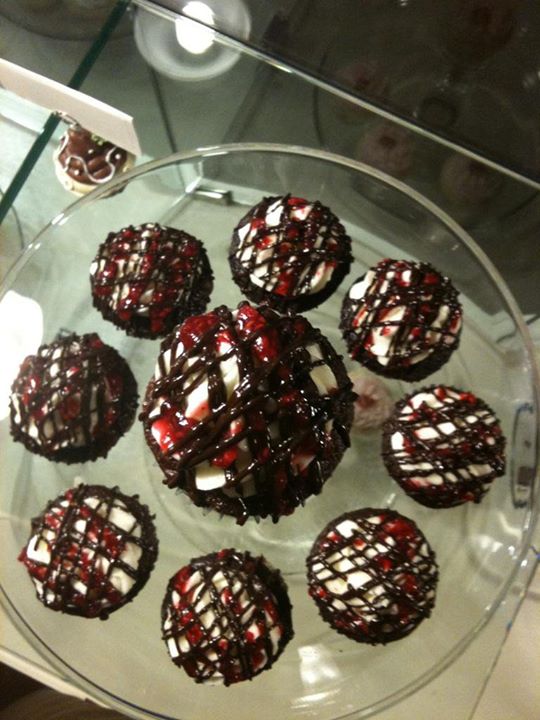 The next morning, as the mist subsides and the full view of the mountains emerges, you sip your joe on the veranda, contemplating only your breathing. As you requested, you'll be moving into this respite slowly, so today we begin with a visit from your yoga guru. Yoga Over Blue Ridge brings their instructor right to your lodge door.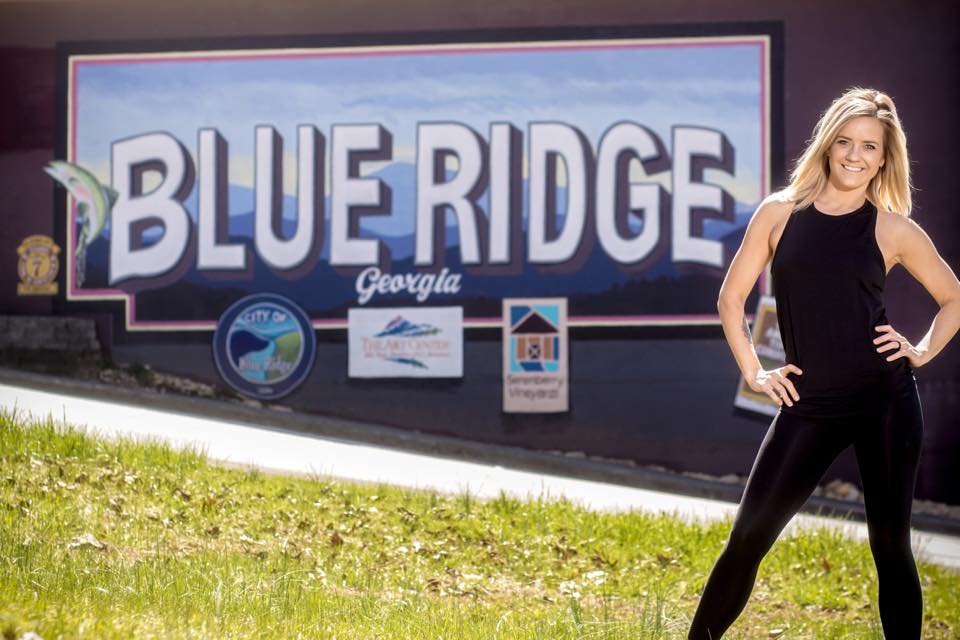 After a private poolside lunch, watching the eagles soar above you, it's time to take a stroll downtown to see what this little "berg" has to offer. Your first stop on historic East Main St. is Out of the Blue, North Georgia's opulent gourmet shop offering fine wines, international and local gourmet foods; beautiful linens, ceramics and unique glassware.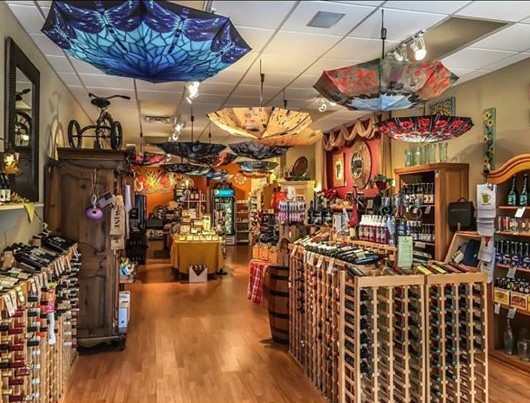 A few doors down, you peek into a store window. No, this isn't Worth Ave in the Palm Beaches, but it sure feels like that when you enter this upscale chic establishment. Welcome to Crawford Collections, where they cater to the "A" list clientele that visit and reside in these hillside enclaves. Shop their impressive collection of luxury handbags and custom jewelry. Experience exceptional personal service and their uncompromising commitment to quality.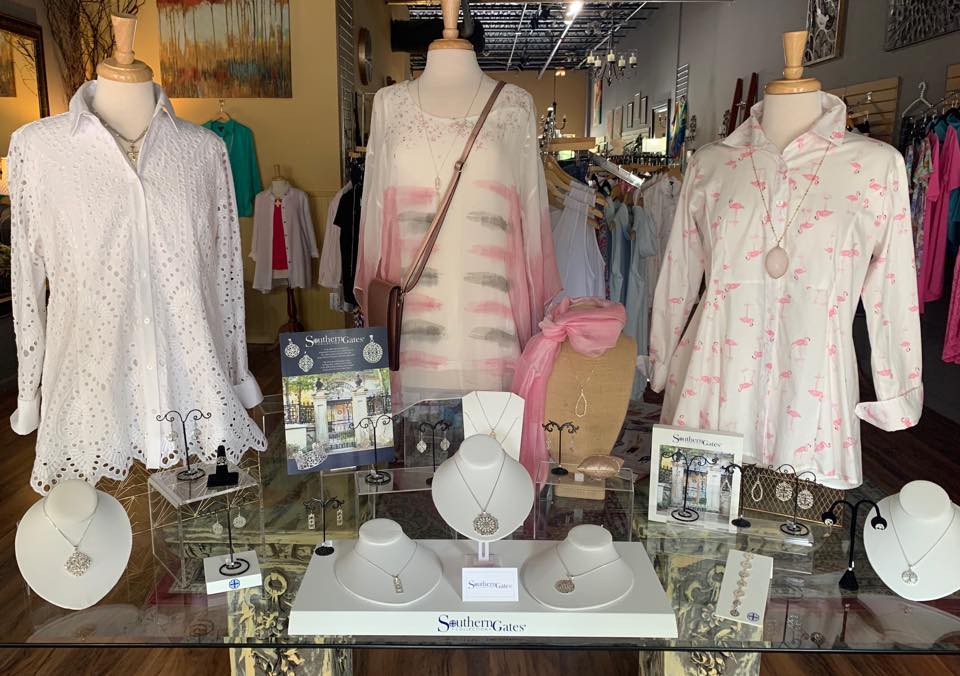 Along this Main street thoroughfare you'll continue to find treasures behind so many doors. New Blue Home and Gift features accessories and furnishings that are rich and distinctive. High Country Art and Antiques offers an outstanding selection of traditional and impressionist fine art, folk art, photography, ceramics, pottery, jewelry, sculptures, antiques and collectibles.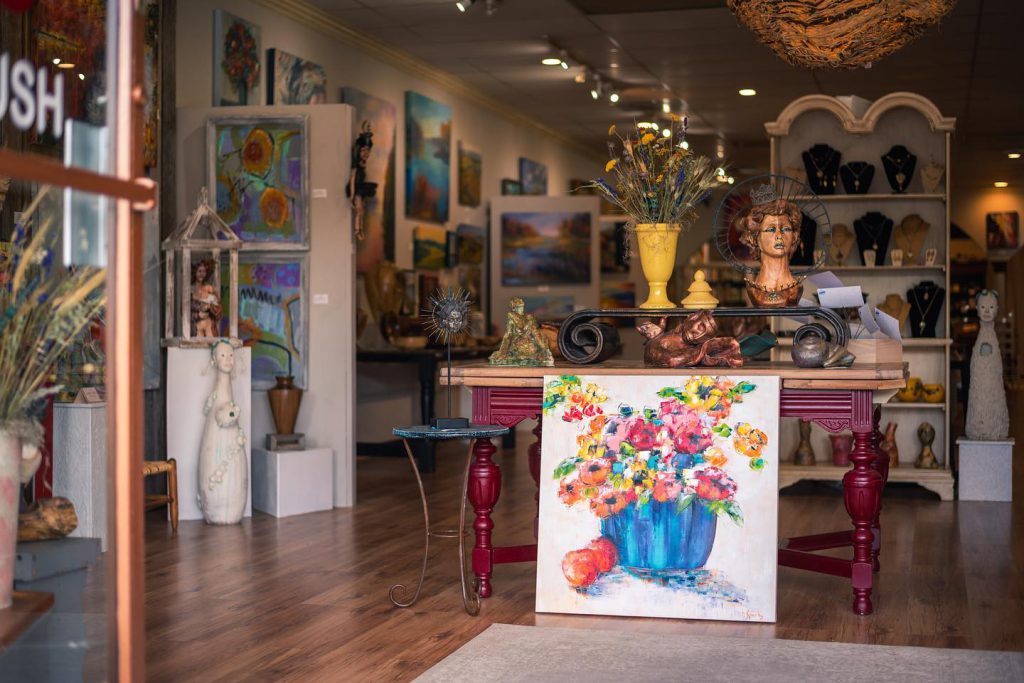 When looking for unique provisions, Blue Ridge Olive Oil Co. and Tupelo Tea are must visits. Blue Ridge Olive Oil Company's inviting cucina-style store offers you 65 varieties of olive oil and balsamic vinegars and the opportunity to taste these remarkable innovations from around the world. There are so many pairing suggestions you find time has slipped by. Their "sibling" store is just next door. Tupelo Tea was formed with a mission to bring premium tea blends from around the world and quality honey to tea lovers who are always exploring new flavors. They offer an impressive honey and tea tasting bar for those looking to explore new tea blends and local & artesian honeys. You make a note to stop to check them out before the week ends.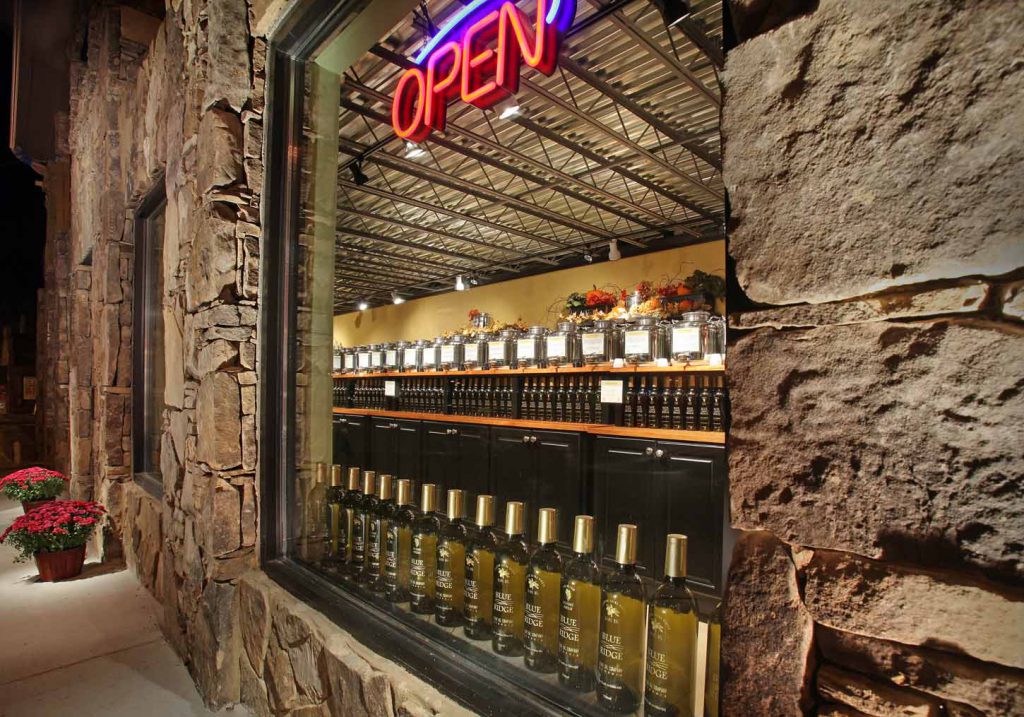 Before you head back to your private vacation estate, you stop at Chester Brunnenmeyer's Bar and Grill, for dinner and signature drinks. Chester's Provisions is located next door and has unique and hard to find food, beverage, gifts, and entertaining items.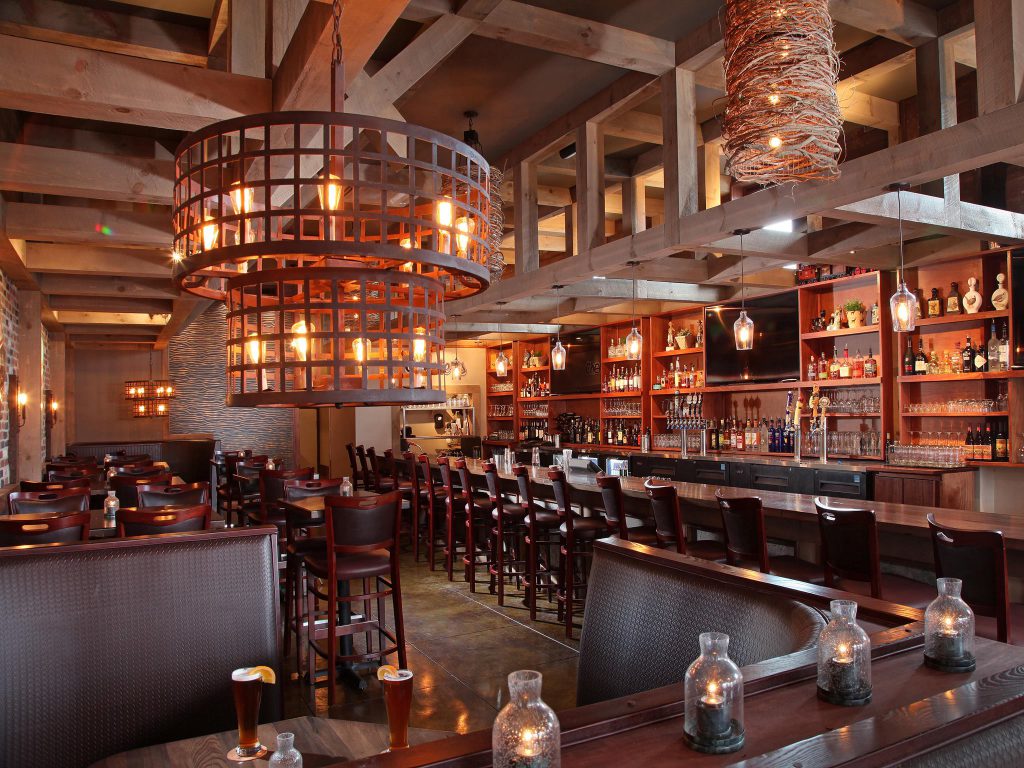 The next few days are a mix of adventure, rest and rejuvenation, with the entire itinerary raising the bar on distinction and premier services. With VIP Southern Tours, you'll visit the regions foremost wineries in your private touring car. When we mentioned that one of the best ways to see the amazing topography of this region was from the sky, upon your request we scheduled you for a seaplane ride with Wingin' It Adventures. You'll embark on a private chartered fishing adventure with Sea Captian Joe. We've even booked you for the premier class car on Blue Ridge's famous train ride through the mountains. When you asked us to make this a storybook fantasy vacation, we took you seriously, and scheduled Rhiannon of Zolu Photography to capture this week on film and create a memory book just for you.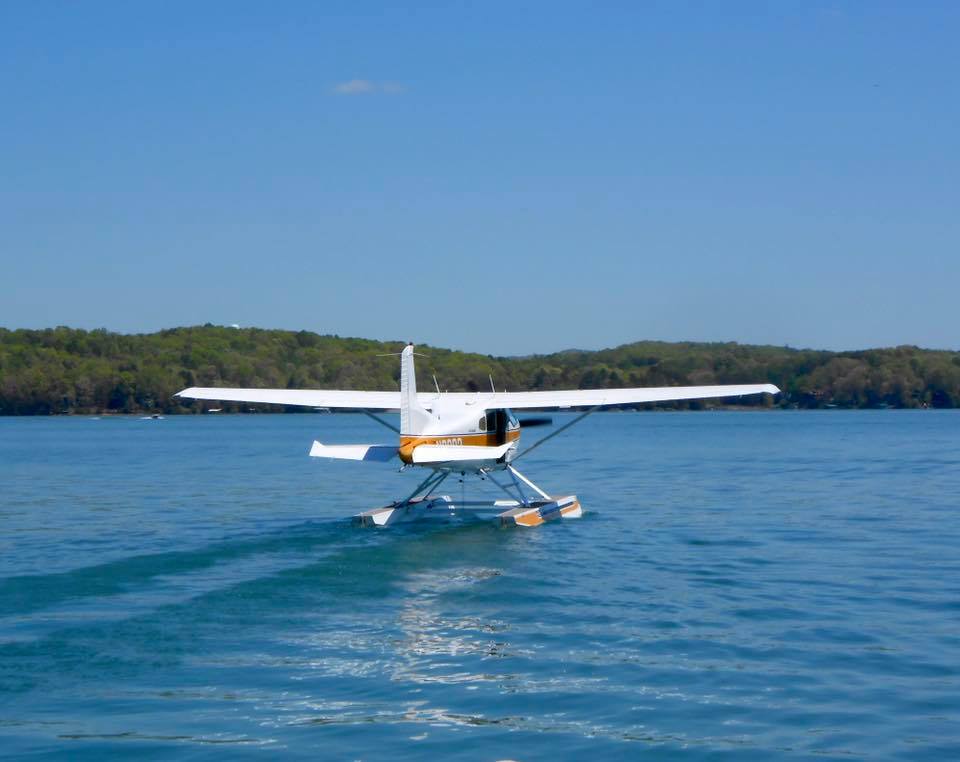 We hope that you'll look to us to assist you in bringing the lap of luxury to all of your holiday festivities you choose to celebrate in the mountains. As Valentine's Day, your anniversary or the night you propose marriage approaches we can arrange for your rental to be ready with fresh flowers, candy and wine or champagne. The scattering of rose petals from the door to the bedroom or on the bed (Only silk ones) is a service we offer.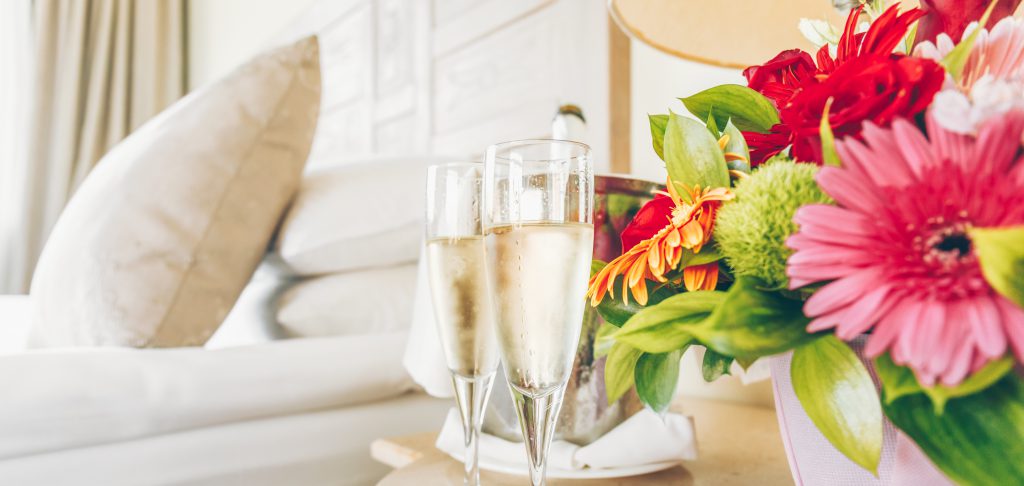 If you would just love to arrive and settle into your cabin without having to make a trip to the grocery store we can do your grocery shopping for you, delivering it to you and stocking the fridge and pantry just in time for your arrival!
Winter holidays celebrations in the mountains are exceptional when the family gathers and meets to celebrate. We will deliver you a Christmas tree, trim it and even come back after the holiday to remove the tree. Whether it's a birthday festivity or a retirement party, we are available to bring in what you need to enhance the celebration. Call us anytime to discuss our services fee schedule: 1-866-618-2521.
Ready to Escape to Blue Ridge and enjoy the lap of luxury? We offer a variety of premier properties available for your vacation needs:
Take in the breathtaking beauty of natural surroundings and the serenity of a lodge situated against the National Forrest. This custom home captures your attention and your heart before you even step through the front door. Eagles Landing promises a unique and memorable vacation experience. Discover why so many visitors have commented that this vacation spot has been their favorite, for relaxing and enjoying lake living.
From here, high on a mountaintop, where new dreams are inspired and your arrival says "I've arrived." Serenity Cove sits at the pinnacle of luxury in every way. The home's location is at one of the highest points in the Aska Adventure Area. The expansive decking provides the best seat in the house as you become the ultimate spectator at nature's most majestic scenic views
Staying at Legend is like having an entire five-star resort all to yourself. This luxury log cabin is truly in a class of its own. It's built from handcrafted Douglas-fir logs and each spacious room presents incredible attention to detail with cathedral ceilings, arched doorways, sumptuous furnishings, stylish fixtures, and every amenity you desire to relax in complete luxury.
SpyGlass is the name, the view will explain. The largest of our Blue Ridge GA cabin rentals, seize the opportunity to stay in this $5 million custom resort lodge with its own private pool and spa, where you can come and go by helicopter, and treat the entire family to 8,000 sq. ft. of pure luxury and decadence.
High atop Crockett Mountain on five pristine acres in a gated community in the Blue Ridge/Cherry Log area, a one-of-a-kind property with stunning long-range, year-round mountain views provides the backdrop for a magical vacation. It's called Unforgettable for a reason, and you'll know why from the moment you arrive, take in that view, and step inside.
When you need a break from it all, it's time to escape to Blue Ridge! Country Roads is the perfect lake house to relax, enjoy, unwind, find peace of mind, and escape from the everyday grind. Bring the entire family! Country Roads sleeps 14 with its 5 beautifully prepared bedrooms. One of the hallmarks of this beautiful place? Country Roads offers views of the lake from every room. Nestled in the deep-water part of the lake, Country Roads is a private lake oasis. You'll love these views and love getting on the lake, too! There are plenty of ways for fun and excitement or peaceful retreat and quiet. Pack up your bags, gather your family and friends and get ready to venture down to Country Roads!