Bringing your dog with you on your Blue Ridge mountain vacation can enrich a trip in so many ways. You'll meet and talk to dog-loving strangers who otherwise would have passed right by you. You'll travel to dog-friendly parks and other places that wouldn't ordinarily be on your itinerary. You'll have a built-in reason to go outside, exercise and have fun. Most meaningfully, you'll have your best friend at your side. We are glad that you and your four legged pooch have decided to stay with us, and we thought we'd take this opportunity to share some of Blue Ridge's favorite canine and people friendly spots.
Let's Get Our 20,000 Steps In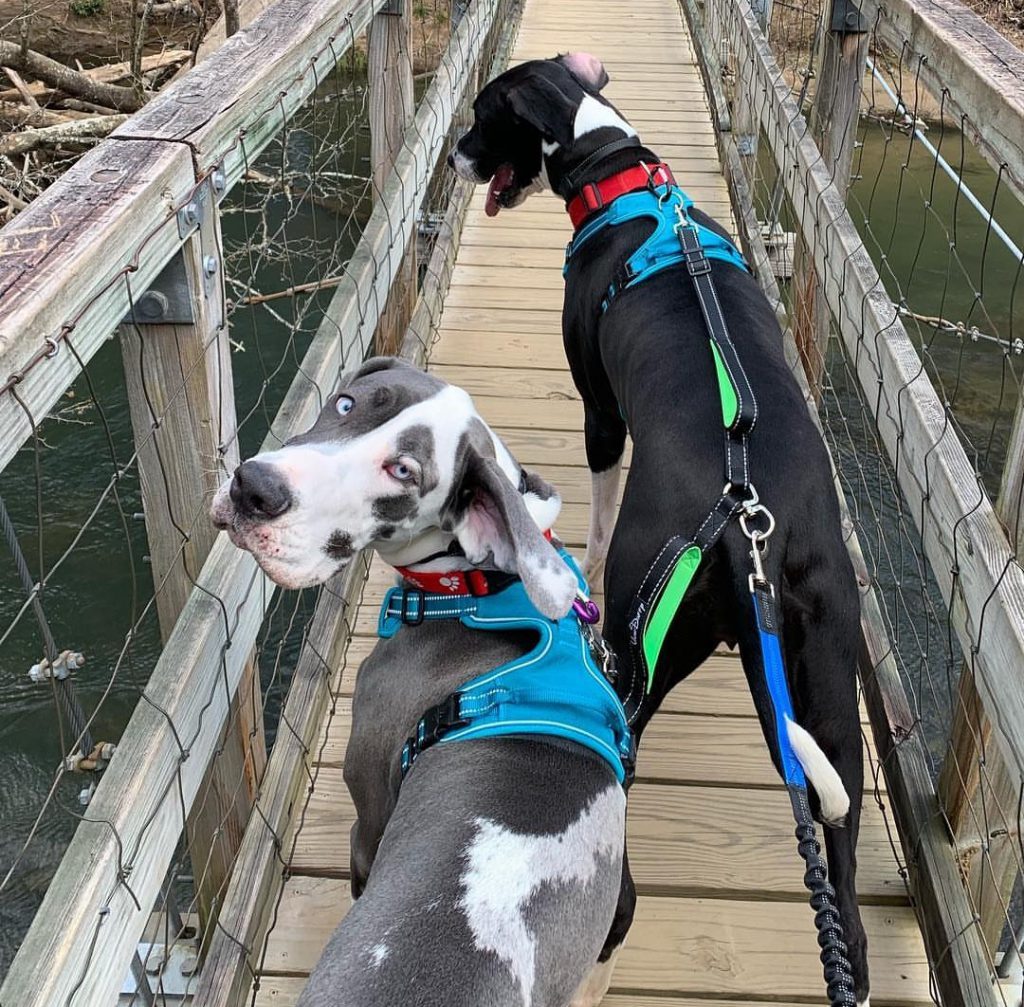 Fido isn't wearing a Fitbit, but he does have twice as many legs that welcome the fresh air and exercise that come as a vacation bonus here in the foothills of the Appalachians. The Chattahoochee National Forest is dog-friendly. When combined with the Oconee National Forest, the Chattahoochee National Forest spans nearly 867,000 acres across 26 counties and features thousands of miles of clear streams and rivers, 850 miles of recreation trails, picnic areas, and areas rich in natural scenery, history, and culture. Hikers bringing their dogs on the trails must keep them under verbal or physical restraint at all times—using a leash in crowded areas is highly encouraged.
If your dog loves to socialize with her canine counterparts, then a visit to the Humane Society of Blue Ridge Dog Park is a must. An off leash park there offers both Big dog and Small Dog areas. There are toys to play with or you are welcome to bring your furkids favorite fetch toy. Clean up bags are provided, but you need to do the heavy lifting and disposal into the litter cans. The park is open sun-up till sun-down, 7 days a week.
Shopping is GRRRRReat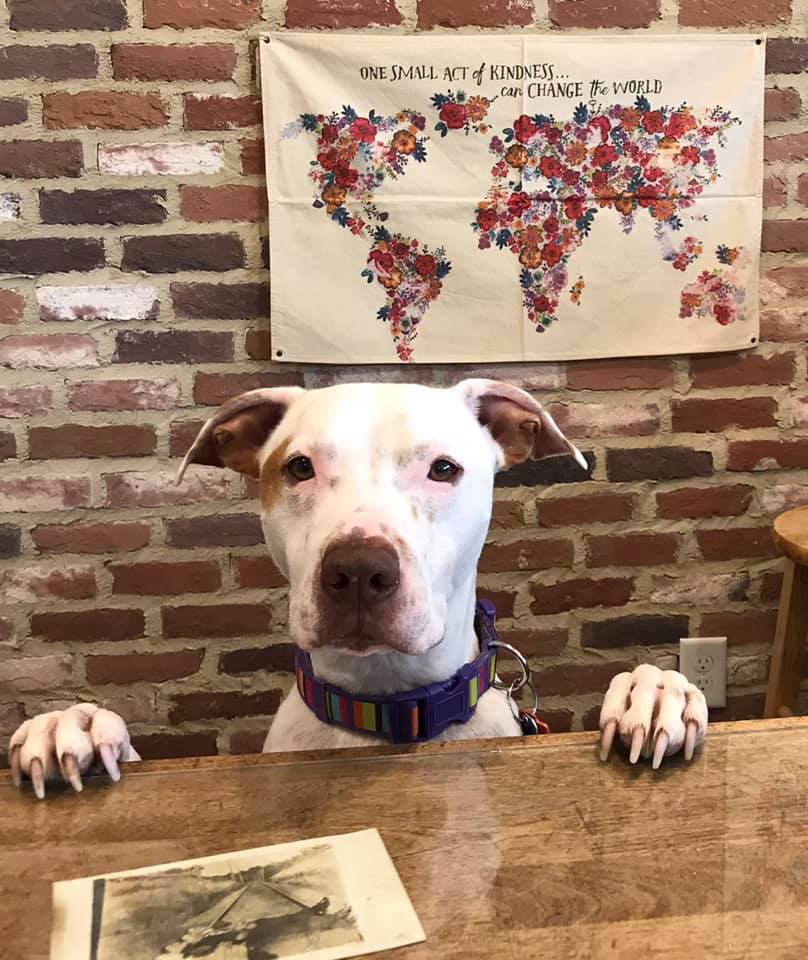 Blue Ridge Cotton Company is a dog-friendly clothing store, located in downtown Blue Ridge. Inside the store, you'll find an extensive pet section, including gifts, books, leashes in a variety of colors, treats, and more. There's even more irresistible human stuff, too. Additionally, Blue Ridge Cotton Company donates one percent of every purchase to a number of animal charities in the local area.
If it's a girls day out, then the two of you need to head over to Humble Pie Ladies Boutique. A pet-friendly ladies outfitter in Blue Ridge, the clothing they stock is Bohemian-style, unique, affordable and comfortable. Dogs are welcome to join you in the dressing room as you decide which flowing dress or headband best suits you.
Love Dogs and Cats Too is a pet-friendly store full of items for Fido and Fluffy. They stock everything from healthy treats and snazzy leashes to plush toys and comfy beds. Dogs are welcome inside to sniff out their birthday gift or drop some hints as to their favorite kind of toy to take home.
Drinking out of a bowl, frosted mug or goblet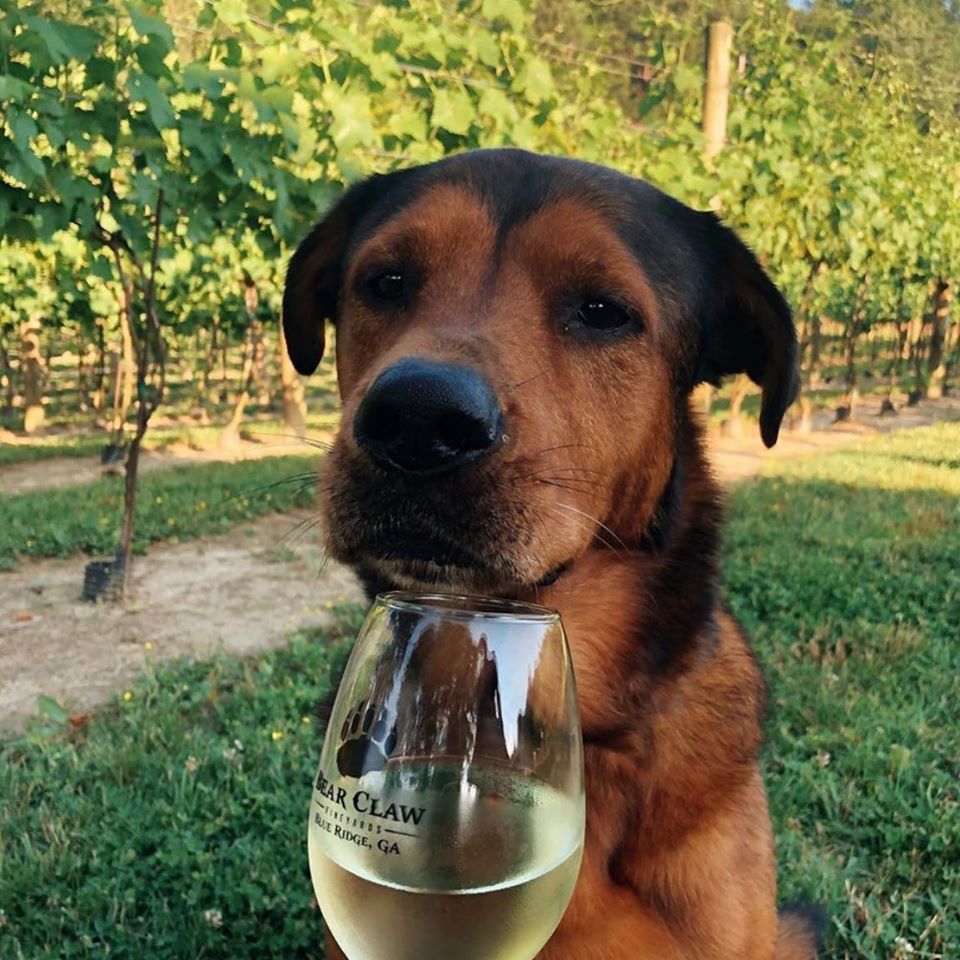 Eventually you and your pet are going to get thirsty. Though your four legged friend isn't old enough to legally indulge in liquid spirits, he/she will still love to socialize with you as you test out some of the finest in craft beers and wines produced in our region. Hanging out on the patio seating at Grumpy Old Men's Brewing will actually put you all in a good mood. Fannin Brewing Company is another favorite for Fido travelers and the Ale beer connoisseur on the other end of the leash. Just up the road from downtown Blue Ridge is Bear Claw Vineyards & Winery, a boutique farm winery with vineyards where production of handcrafted wines are offered in the tasting room which also includes a dog friendly patio. Salud!
This Movie Rates 5 Bones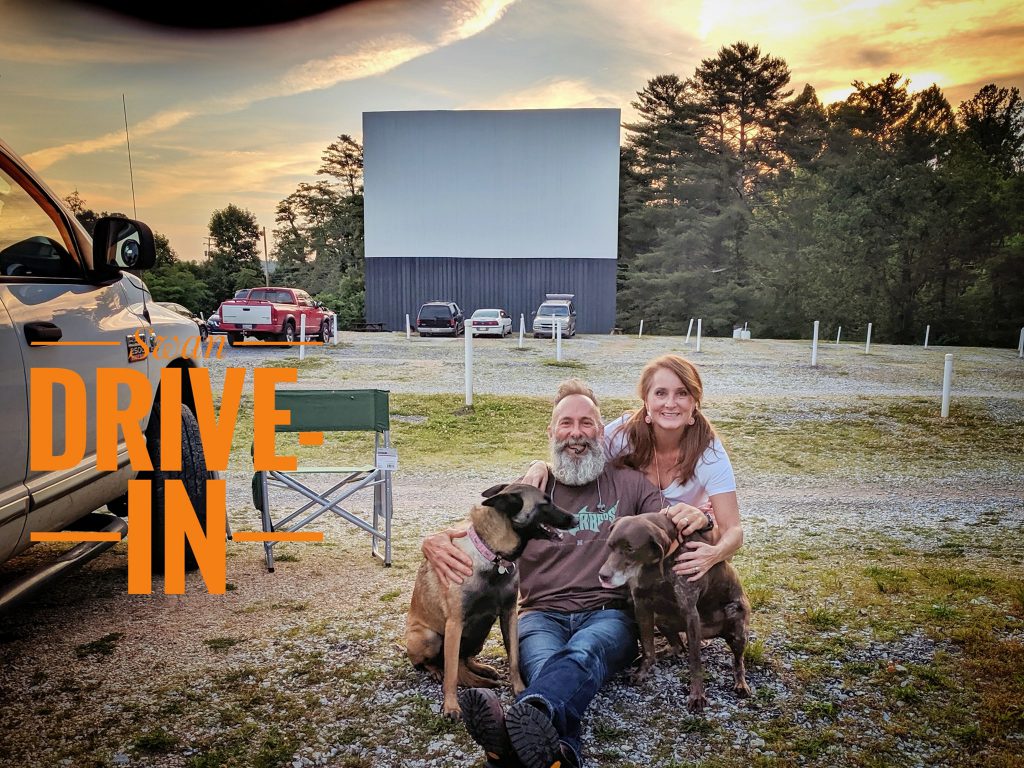 When was the last time you took your pooch to the movies? Here in Blue Ridge you can bring Chunky with you to catch Call of the Wild (or Lady and the Tramp if she's into chick flicks) on the biggest screen she's ever seen – at the Swan Drive-in Theater. Screening since 1955, this drive-in features 1st run blockbusters & an old-school snack bar with burgers. You'll love the nostalgia, your pet will dig the burger bar outdoor patio and you'll both enjoy the movie.
French Fries to Fine Dining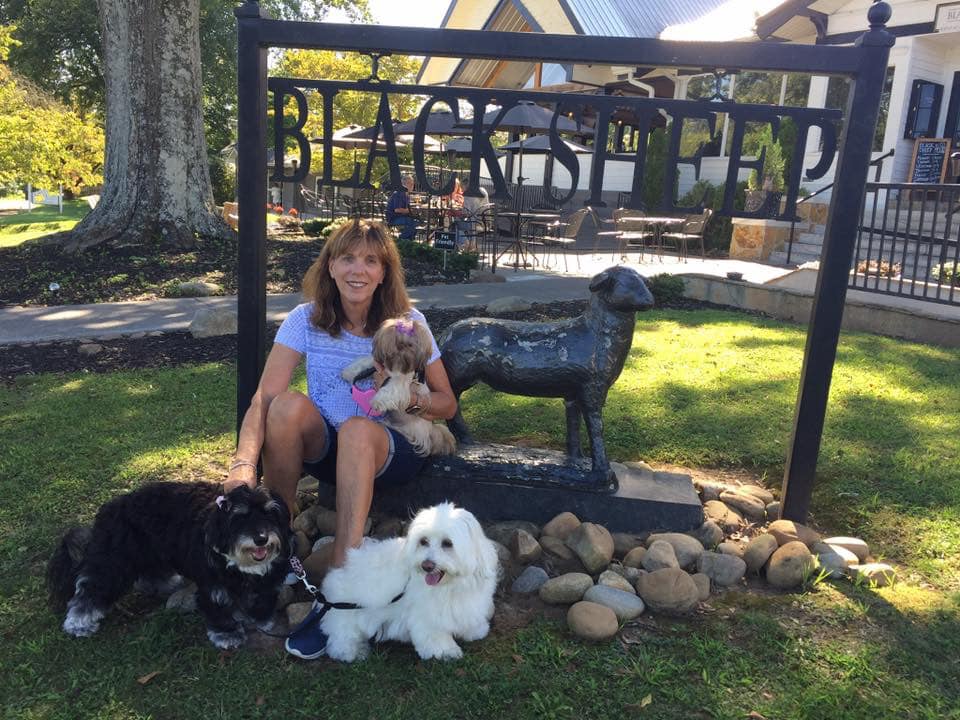 It's vacation, and McDonalds isn't going to do for either of you. It's time to try new gourmet delights, something that didn't come out of a can. Toccoa Riverside Restaurant, located in Blue Ridge, GA, is a casual eatery that serves up a variety of delicious American fare. Best known for their local trout dishes, it's best not to mention to your pet that there is also catfish on the menu. Spot is welcome to join you at one of their pet-friendly outdoor tables while you enjoy your meal. (They even offer a special menu just for pups with options like hot dogs, burgers, chicken, rice, and more!) And there is live entertainment for your pet too, as they quack up watching the ducks waddling along the river bed.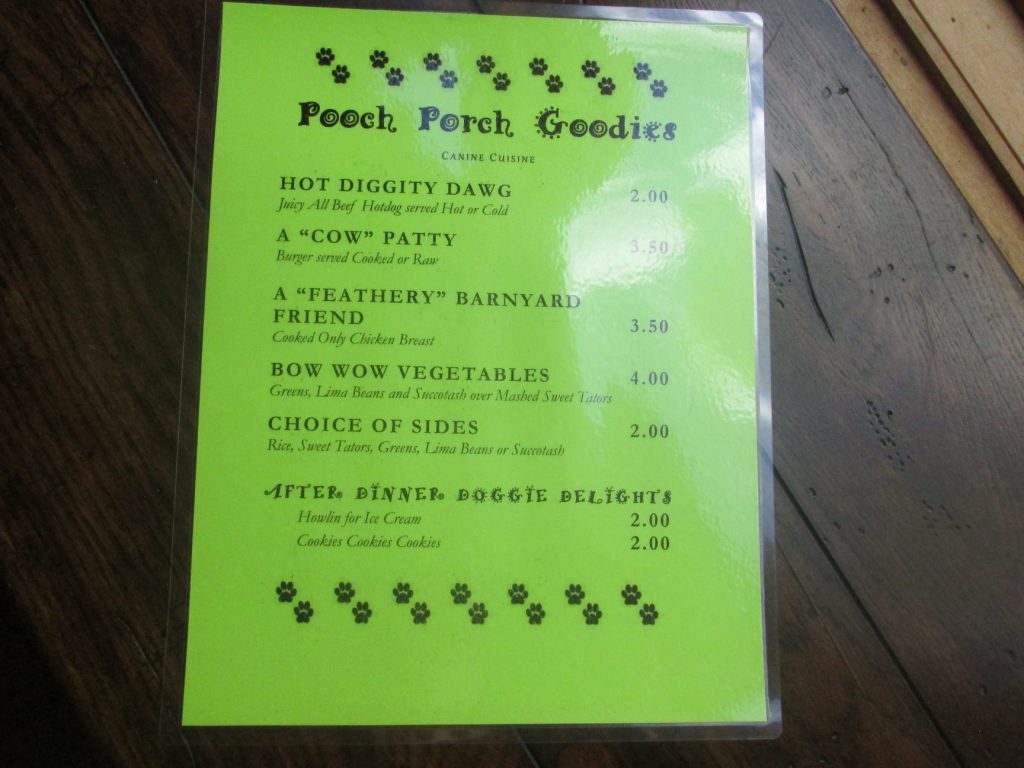 You don't have to be a Polish Greyhound to enjoy the patio dining at Margo's Gourmet Polish Kitchen. Margo makes everything fresh daily, and Cuddles will appreciate that she refers to her famous steamed weiners as sausages, not hot dogs. If you are both preferring something more like a pizza than a pierogi, upstairs from Margo's is where Blue Jeans Pizza is located. Rated #1 Blue Ridge Pizza on Trip Advisor, this Italian-American eatery also serves up menu options like appetizers, salads, burgers, pizza, strombolis, calzones, subs, pasta, wraps, and more. And your furry bambino is welcome to join you at their outdoor patio seating.
When the palate calls for something more upscale or a certain date night ambience, then be sure to sniff out these two places. Harvest on Main has comfortable seating on their patio under the porch for both you and your furkid. Don't share the menu though. Cuddles will have you ordering the Smoked Duroc Bone-In Pork Chop served with Red Skinned Garlic Mashed Potatoes & Pork Collard Greens, topped with Mushroom Ragout. Guess who wants the bone?
And talk about the right canine atmosphere to indulge in culinary perfection, check out the 200 year old tree that Cuddles can rest under while you indulge in what's been voted the best weekend brunch in Blue Ridge at The Black Sheep, just a short walk down Main Street.
Did someone say walk?