There's nothing quite like fall time in the mountains! Leaf peeping on beautiful scenic drives on country roads, great fall festivals, apple picking, scenic train rides, and so much more! Don't miss out on these 8 must do fall activities in Blue Ridge:
*Cover Photo Courtesy of Mercier Orchards
Apple Picking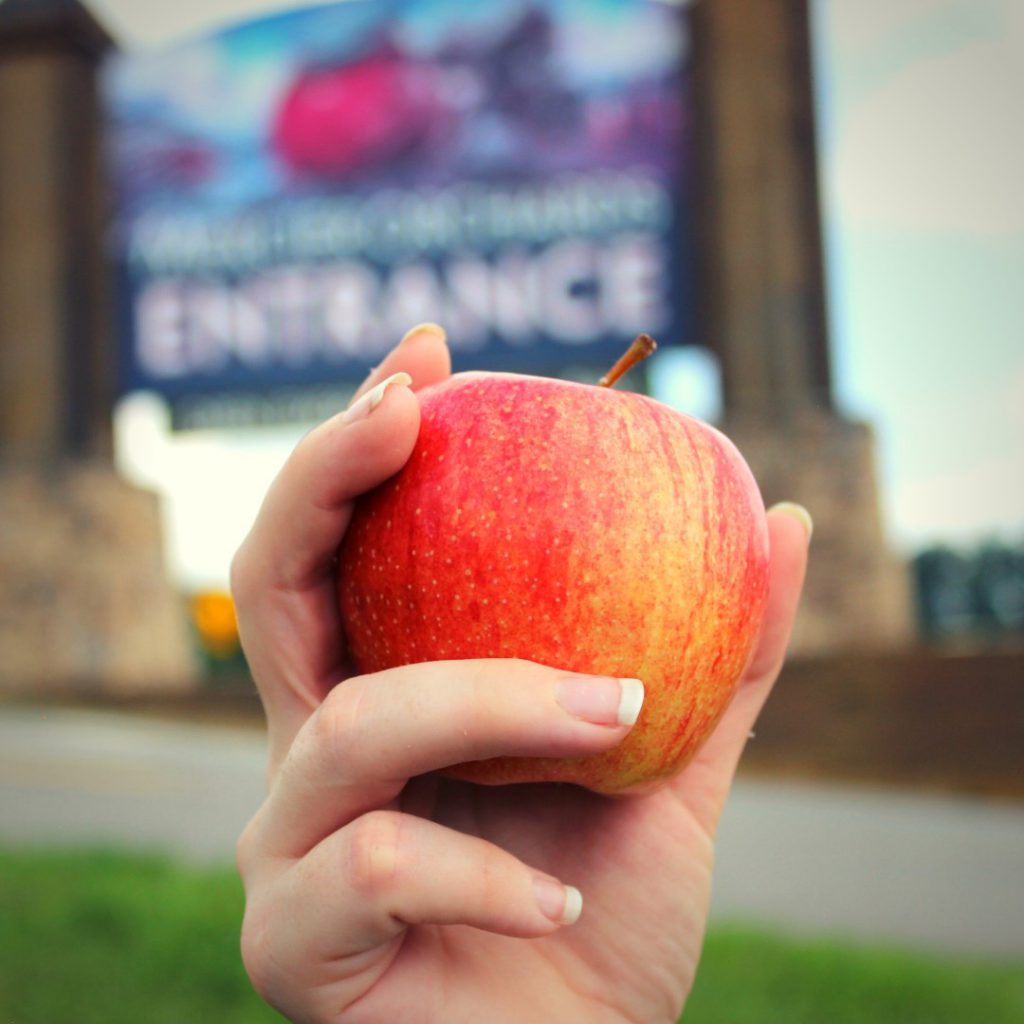 My oh my, fall in Blue Ridge certainly is the apple of our eyes! And where better to spend it than at Mercier Orchards!? In the fall, Merciers comes alive with guests who come from near and far to pick apples, explore the market, and sample Merciers famous fried apple pies! Apple picking at Merciers is U-pick, which simply means you pick your own apples. Search high and low for the perfect apples to bake into a pie, mix into a fruit salad, or simply to enjoy crunching into the apple all on its own. Then take in the market where you can stock up on more goodies like jams, baking mixes, fresh produce, home decor, and more! And after a busy day of apple picking, rest your weary legs and feed your rumbling stomach with fried pies and apple cider donuts from the bakery. Pair your sweet treat with a nice refreshments of apple cider, hard cider, or wine. It's always a day well spent at Mercier Orchards! Learn more about this special place here: https://www.escapetoblueridge.com/blog/mercier-orchards/
We also love Deep Roots Orchards where you can pick apples, enjoy wagon rides through the orchard, and check out Folk Apothic's wares. Or venture to Ellijay for the day, to explore many of the orchards that the Apple Capital of Georgia has to offer; like Hillcrest Orchards, B.J. Reece Orchards, and R & A Orchards. And don't miss the Georgia Apple Festival happening every October in Ellijay! It's 2 weekends full of live music, great vendors, and lots of apples!
A Scenic Train Ride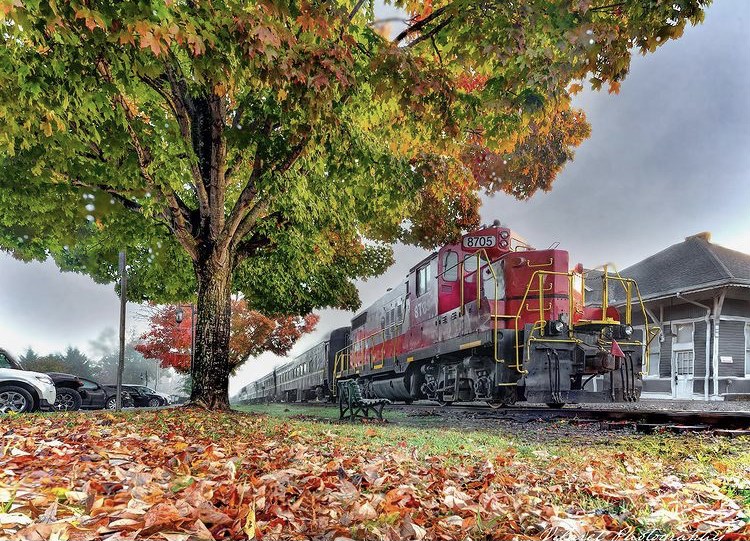 What a treat it is to admire the mountains and colorful trees by train! Let Blue Ridge Scenic Railway whisk you away on an adventure that you and your family won't soon forget! On your 26 mile round trip you'll journey through the beautiful countryside passing by mountains, streams, forests, and plenty of incredible fall foliage along the way. Choose either the 2 hour Fall Express train or the 4 hour Fall Foliage train which has a 2 hour layover in the twin cities of Copperhill, TN and McCaysville, GA. The train is one of our favorite ways to enjoy the fall trees each year! But reserve your tickets soon, because fall is one of Blue Ridge Scenic Railway's busiest times of the year and tickets sell out quickly! Don't miss your chance to experience North Georgia in a whole new way!
Scenic Drives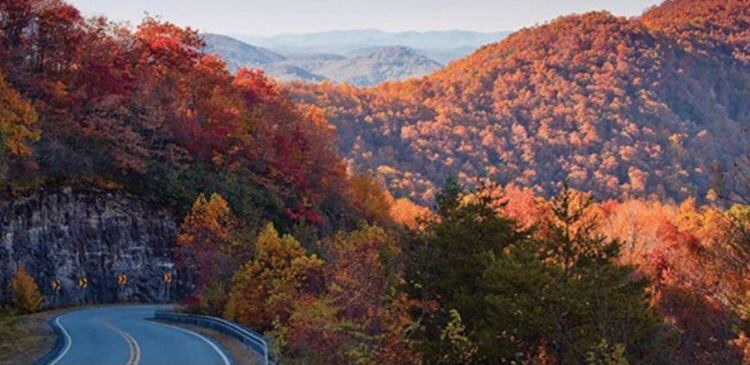 Spend the day on the open road with a scenic driving tour of North Georgia! Pass by dozens of colorful trees and stunning long range mountains. You may even pass by a landmark or two along the way that you wish to make a pitstop at! Pack a picnic lunch and find the most peaceful and idyllic spot to dine, chat with your road trip partners, and take in the views. For a beautiful scenic journey through the mountains with great picnic spots along the way we'd recommend taking Highway 5, through the Cohutta Wilderness. You'll pass by Mercier Orchards, Prater's Mill, and many other beautiful scenic spots. You might also want to explore The Russell-Brasstown Scenic Drive on Highway 180 or the Cherohala Skyway. Check out our fall scenic driving guide for more routes & pitstops: https://www.escapetoblueridge.com/blog/5-scenic-fall-drives/
Outdoor Adventures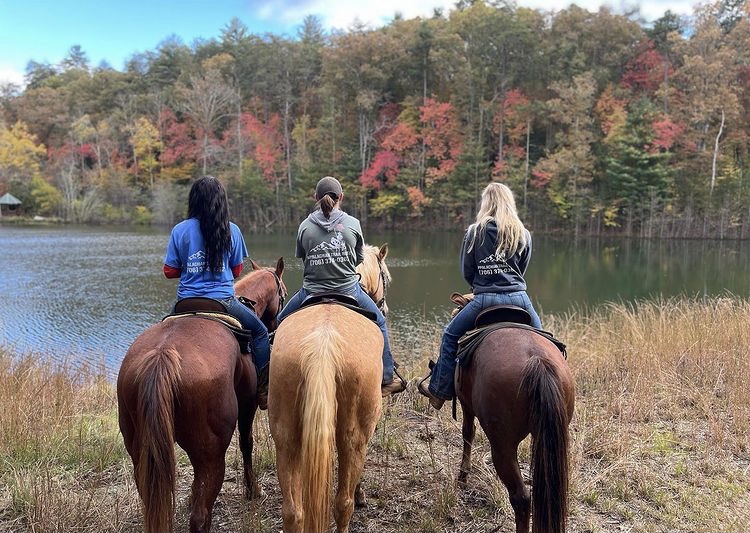 The mild fall weather paired with the colorful trees makes it the perfect time to explore the great outdoors! Strap on your hiking boots and hit the trails! Hike to local waterfalls like Amicalola Falls or Helton Creek Falls. Or challenge yourself and hike to the top of Brasstown Bald or Fort Mountain, where the views below will take your breath away. See the North Georgia countryside and mountains covered with beautiful pops of color everywhere you look. It's truly like something out of a fairytale.
Or admire the beauty of fall on horseback as you trek through the mountain trails on a trail ride with Appalachian Trail Rides, Cohutta Stables, Cowgirl Up Stables or Blue Ridge Mountain Trail Rides at Hells Hollow. Enjoy a group outing or plan a romantic autumn date for two with one of their romance packages! Wind through trails in the Chattahoochee National Forest, past mountains, and rushing mountain streams on your idyllic horseback riding adventure.
You can even take in the trees from the water, aboard your kayak or canoe! Float through the waters of the Toccoa River and look up to see yourself surrounded by a beautiful canopy of reds, yellows, and oranges. Listen to the sounds of the babbling river while a cool breeze rushes past your face. Sounds perfect? Visit our friends at Blue Ridge Mountain Kayaking or Toccoa Valley Campground to rent your boat today!
Grab a Drink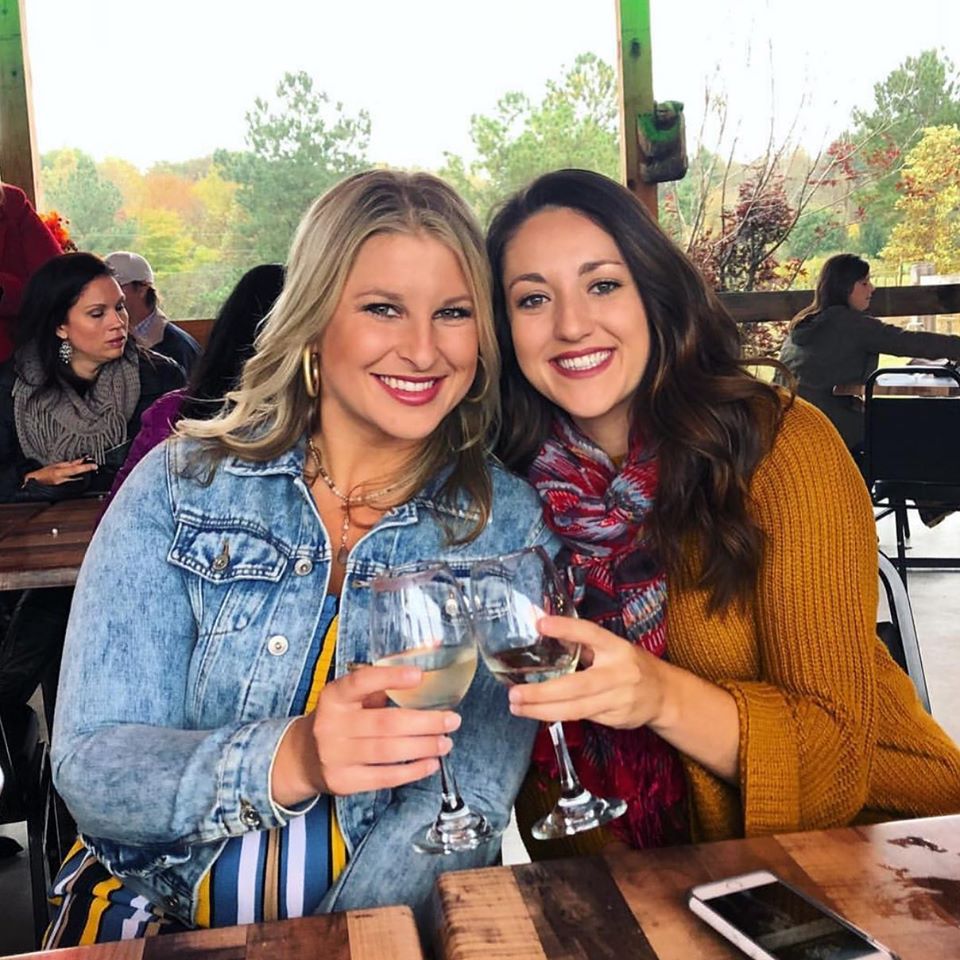 Our local breweries and wineries have some of the best outdoor patios around! And now that the weather is cool we intend to spend every minute on the patio listening to live music, with a drink in our hand, taking in the views! Grab a glass of wine at Bear Claw Vineyards or Serenberry Vineyards. Or spend a "brew"tiful afternoon at Grumpy Old Men Brewing or Fannin Brewing Company. Enjoy the afternoon catching up with friends over an adult beverage. You can even bring along your furry friend to spend the day with you! Between Blue Ridge and Copperhill you'll find many great spots to grab a beer or glass of wine. Check out these awesome local spots for brews with friends: https://www.escapetoblueridge.com/blog/beer-hunting/
Comfort Foods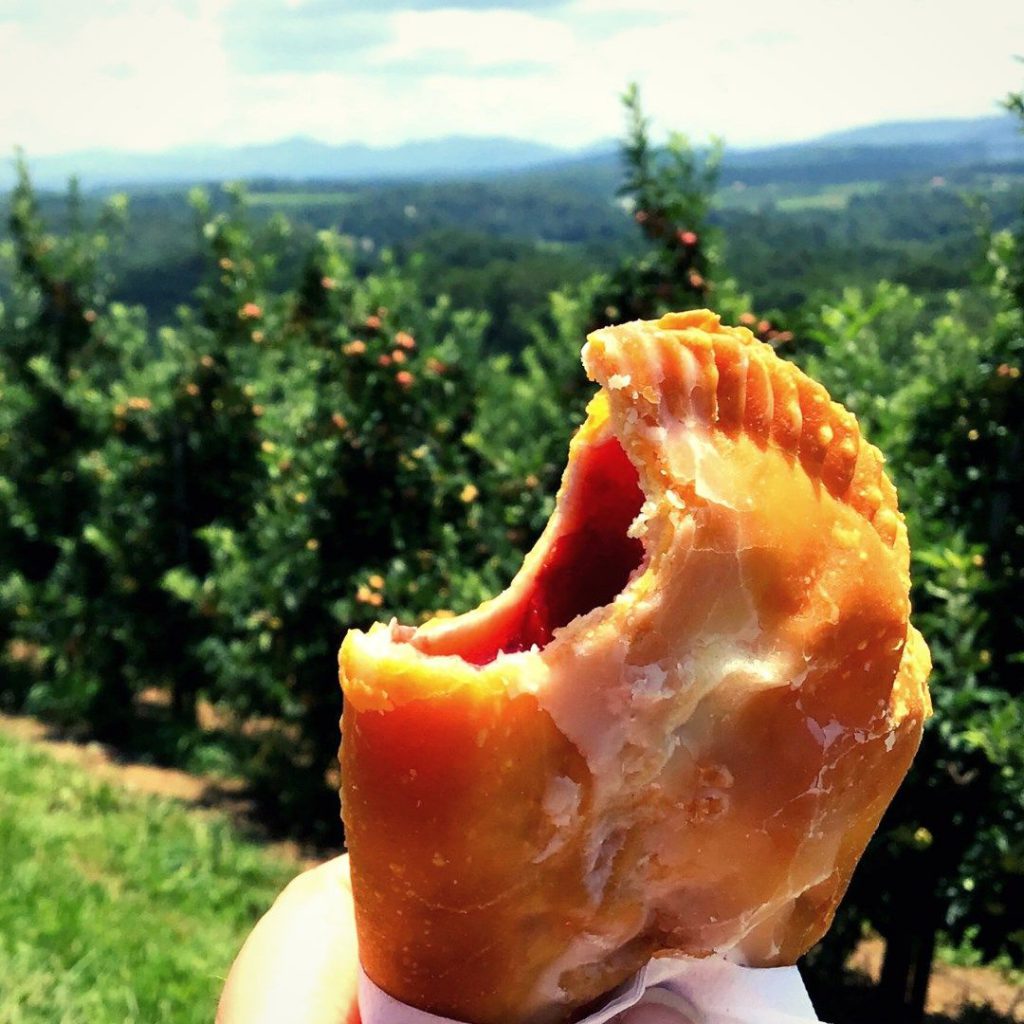 Fall makes us think about sitting cozy inside with our favorite comfort foods, watching a spooky movie. No need to prepare the meal yourself though, Blue Ridge has all your favorite comfort foods around town! So put the pots and pans away, put your feet up, and let someone else prepare your favorite meal, just how you like it!
As we mentioned earlier, Mercier Orchards is known for their famous fried pies that are just to die for! They have every flavor imaginable from apple, to cherry, blueberry, to chocolate, coconut, peach and more! Having a warm delicious fried pie from Merciers always makes our day just a little bit better! Vertigo Pinball offers their own version of the beloved grilled cheese. Their "grown-up" grilled cheeses are as cheesy and delicious as they come with a new adult twist. Plus you can pair your sandwich with a beer and a round or two of pinball! Black Bear Bier Garten specializes in German fare so they of course have a giant pretzel! Their Giant German Pretzels are served warm with delicious homemade beer cheese, yum! Chester Brunnenmeyer's Bar and Grill is known for their amazing wings! They offer an ever rotating selection of their wings with tasty flavors like garlic parmesan, old bay, honey soy, smokin' hot wings, and so many others. For that southern flair you look for when you come to the south head to Southern Charm. Be sure to get some of their famous biscuits with apple butter. There's something about a warm buttered biscuit that always hits the spot! And The Dogwood's whole menu is made up of a select few comfort food favorites with a fresh twist, like loaded potato skins and fish & tots.
Nothing can warm you up inside and out from a chilly autumn day like your favorite comfort foods can! For more delicious eats check out these other great restaurants: https://www.escapetoblueridge.com/blog/favorite-blue-ridge-restaurants/
Take in a Fall Festival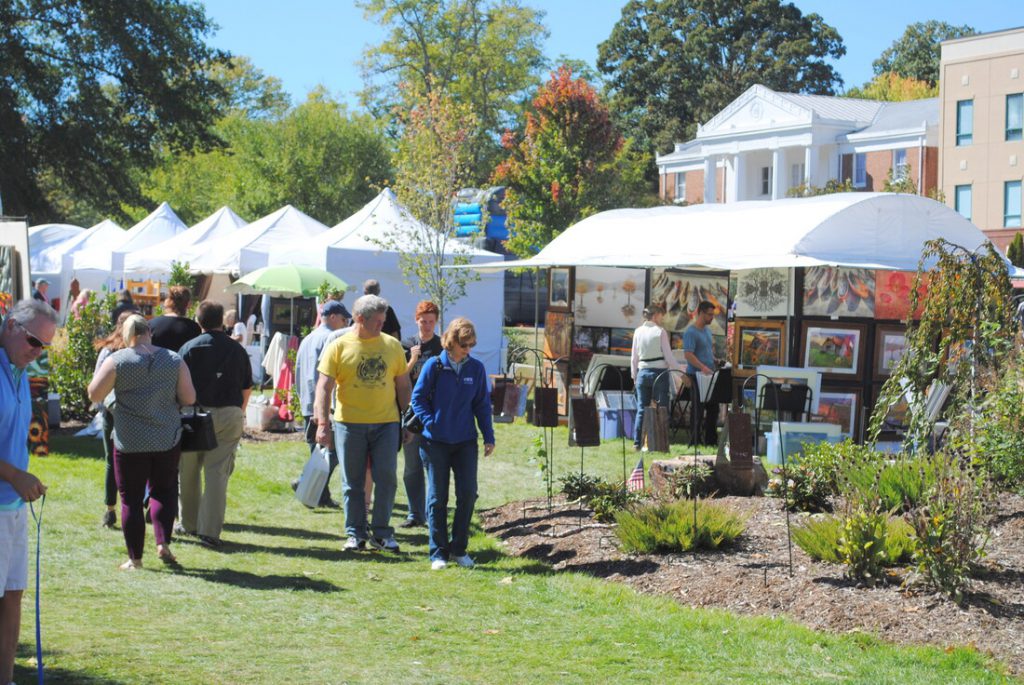 One of the best parts of visiting North Georgia in the fall, is its wide variety of great events and fall festivals! Check out some of our favorites below:
There's the Cherry Log Fall Festival which happens every year on the first two weekends in October. There's arts and crafts, homemade goodies and treats, bluegrass, country, and gospel music and of course lots of fall fun in Downtown Cherry Log!
One of Blue Ridge's most favorite events is back this fall on October 8th & 9th for Fall Arts in the Park. Take in beautiful art, great live musical performances, and delicious food. Plus you'll get a chance to admire the stunning and colorful fall trees that surround Downtown Blue Ridge and Veterans Memorial Park.
Every fall in Hiawassee the Georgia Mountain Fall Festival comes to town! This year's Fall Fest takes place at the Georgia Mountain Fairgrounds from October 7th-15th. There will be carnival rides, craft vendors, delicious food, musical performances, a tiger show, a cowboy show, educational demonstrations, and so much more! The Georgia Mountain Fairgrounds also puts on the Appalachian Brew, Stew, and Que Festival every year. This awesome event takes place October 22nd and you can expect great craft brews from local breweries, delicious food from local vendors, and lots of Americana and Bluegrass music! You won't want to miss these great events at the Fairgrounds!
Blairsville's famous Sorghum Festival is back for the 53rd year in a row! Join in the fun at Meeks Park October 8th-9th and October 15th-16th for the kickoff parade and then there will be crafters, cloggers, bluegrass music and more!
Ellijay is the Apple Capital of Georgia, so fall brings around their amazing annual Georgia Apple Festival! With over 250+ vendors, an antique car show, a parade, and so much more it's sure to be a blast! Visit the Ellijay Lions Club Fairgrounds on weekends October 8th-16th to have an 'apple'lachian good time!
Celebrate Dahlonega's 1828 discovery of gold at Gold Rush Days Festival, October 15th-16th in downtown Dahlonega. Take in 300+ food and art vendors all weekend long! This HUGE event always features amazing craftsmen, fantastic musicians, and has been voted as one of the Top 20 Events in the southeast by the Southeast Tourism Society.
If you love moonshine and cars then Dawsonville's 55th Annual Mountain Moonshine Festival & Car Show is for you! Happening at the Georgia Racing Hall of Fame October 21st-23rd there will be hundreds of vintage cars, live music, great food & drinks, a Moonshine Run, and over 300+ vendors! You can even meet legendary race car drivers at this awesome event that is one of the largest car shows in the Eastern US!
Join in the lumberjack fun at the first annual Lumberjack Festival in Blue Ridge on October 29th! The Country Boy Stone will be hosting world class, professional lumberjacks who are ready to show off their skills at this family fun event! There will be log rolling, chainsaw carving, ax throwing, live music, food trucks, pop up shops, and so much more! Don't miss out on the first year of this fun new tradition!
For Halloween fun the little ones can enjoy trick or treating in the twin cities of McCaysville, GA and Copperhill, TN at the Halloween Safety Zone on October 29th. Can't make it on the 29th? No problem, the kids have another chance to get that candy in Blue Ridge on October 31st for Blue Ridge's Trick or Treating. Dress the little ones up as their favorite characters and let them fill their buckets full of delicious Halloween candy!
And for Thanksgiving Blue Ridge is hosting their annual Turkey Trot 5K on Thanksgiving day! With over 700 runners & walkers in attendance every year this is a fun tradition to burn some calories before your big feast later that day!
And don't miss out on the other great & notable events around the area like the Indian Summer Festival, Georgia Marble Festival, Paws in the Park, Barktober Fest, and more! Follow our event calendars posted monthly for more information.
Stay Warm at the Cabin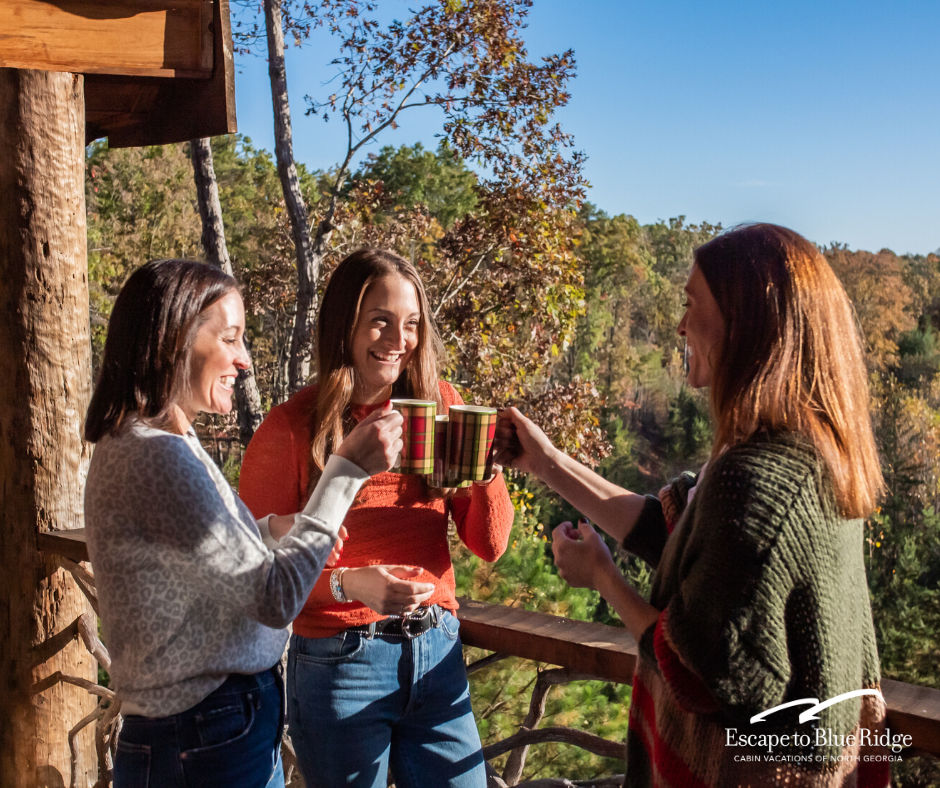 No one said you had to leave the cabin to have a good time! There's lots of fall fun to be had right at the cabin! Soak your sore muscles from a day on the trails in your cabin's hot tub. Pair your warm soak with a glass of wine & a sunset view, and you'll feel refreshed in no time! Prepare your favorite warm drink at the coffee bar and then bring it outside to enjoy on the porch. A warm cup of coffee or apple cider is just what you need to warm you up as you relax in the crisp, fall, mountain air. Watch your favorite teams duke it out with Sunday Night Football inside in the family room or outside on your screened in porch. Then take to the yard to play your own game of football with the family! Head indoors to get cozy by the fire as you enjoy a family movie night on the flatscreen TV. Or have a game night in the large game room instead where you can play billiards, air hockey, shuffleboard, ping pong, video games, board games, and more! And end your night with s'mores and a hot chocolate at the firepit outside. At Escape to Blue Ridge our cabins have everything you need for the perfect fall day at the cabin!