There are a lot of Blue Ridge mountain cabin rentals with great views, charming décor and proximity to activities and recreation destinations. Some have many bedrooms and are great for large families and groups of friends, and some are cozy and quaint that are perfect for a small family or a two-couple or BFF getaway. Regardless of the cabin size and location after the sun sets and dusk falls across the mountains what better way to relax than to sit around the fire pit with your favorite people telling stories, roasting marshmallows, and creating memories to last a lifetime. On your next Escape to Blue Ridge, consider one of these ten cabins that have fantastic fire pits!
Bearway To Heaven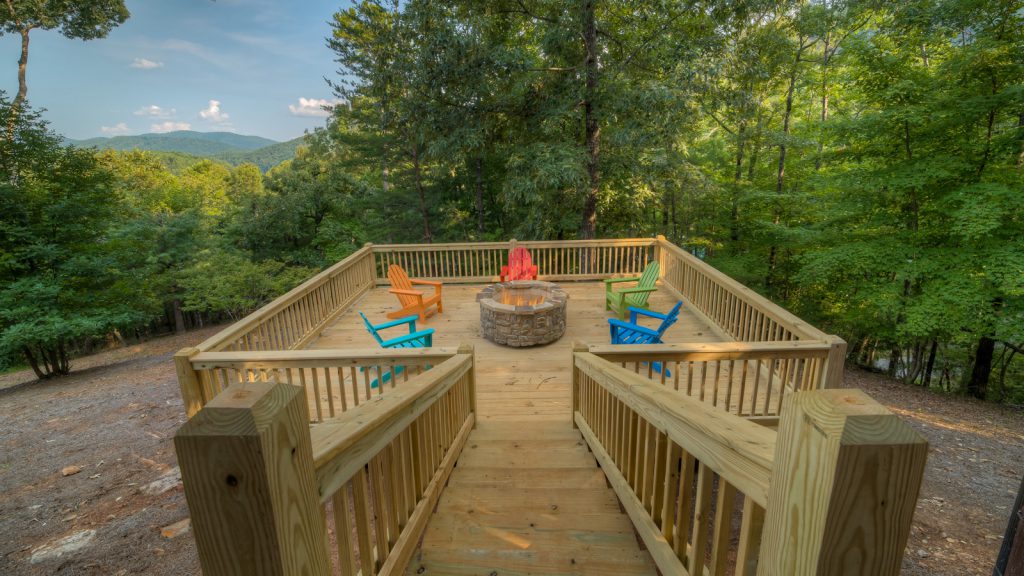 Perched on a forested hillside with an absolutely breathtaking view of the lush green mountains in the distance and Lake Blue Ridge shimmering below, this magnificent log home is surrounded by the glory of nature, and close to all the outdoor activities that the Aska Adventure Area has to offer.
Inside, its cathedral ceilings and huge windows let in light, create an open and airy feel, and maximize the view. Sunrises are especially spectacular! Or you can take in the view from a rocking chair or roast marshmallows over the fire pit, which has five colorful Adirondack chairs encircling it.
After the day's activities, you'll slumber in comfort in one of five comfortable bedrooms, each with luxurious bedding and a unique quilt. But the best thing about Bearway to Heaven is the blissful way you'll feel when you're there, and the memories of that feeling that you'll take home with you.
Big Buck Lodge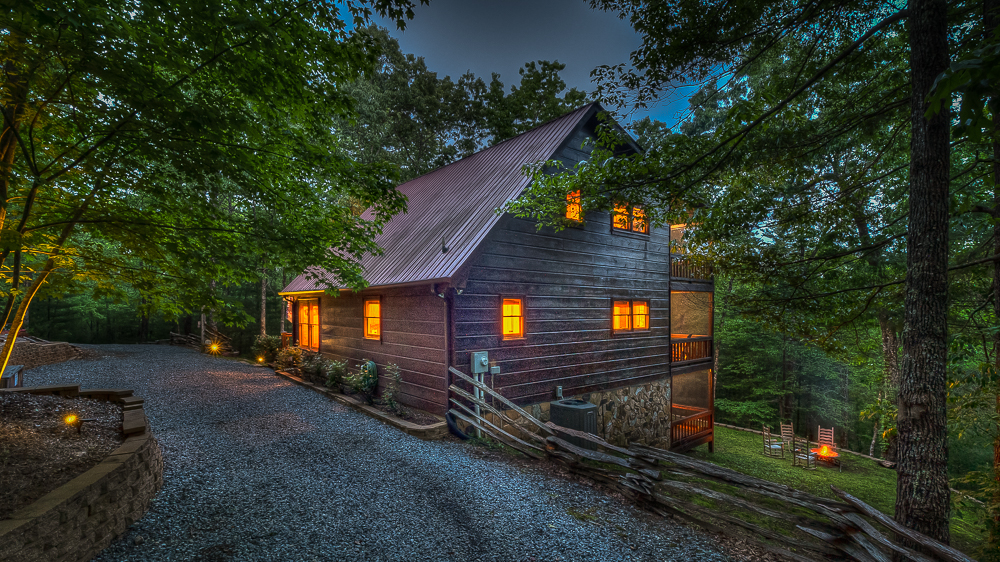 Big Buck Lodge is a charming mountain chalet in a lovely wooded setting. But what sets this tri-level vacation home apart from the others are the unique, one of a kind touches you won't find anywhere else. Built by local craftsman Jerry Sisson of Jerry's Mountain Furniture for his daughter, it's made of handcrafted wood floor-to-ceiling and throughout the house, with unique log beds and branch chairs and tables in every room.
Each of the three bedrooms are outfitted with a queen bed topped with a cozy quilt and a screened-in deck or balcony. There's plenty of seating on the lower screened-in porch, including rocking chairs and a swing. Afterward, you can have a relaxing soak in the hot tub, or toast marshmallows over the fire pit while you enjoy the evening breeze. Big Buck Lodge's ambiance is its best attribute. Its seasonal glorious views of mountain sunrises and sunsets, serene natural setting and the relaxed and happy way you'll feel while you're there make for an unforgettable getaway.
Come On Inn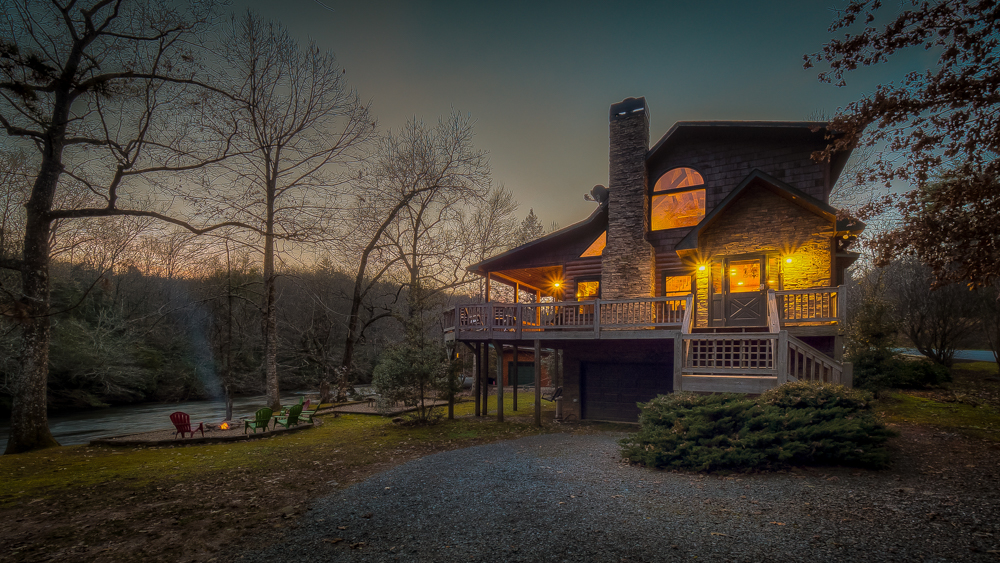 Come on Inn and make yourself at home. In fact, that's the very reason this cabin was given its welcoming name. Its cozy environment will make you feel like this is your home away from home right away. The cabin's beautiful interior mixes mountain cabin decor with charming country accents to create a unique and inviting atmosphere all its own.
This gorgeous mountain home's riverfront location is the envy of many other Blue Ridge cabin rentals. Sitting right on the shores of the Toccoa River, close to the Aska Adventure area. In the evening, there's no better spot for stargazing than the lovely fire pit area. Gather some chairs, listen to the river flow and the crickets chirp, and take in these special moments with family or friends. What a serene way to end each day.
Cruach Mor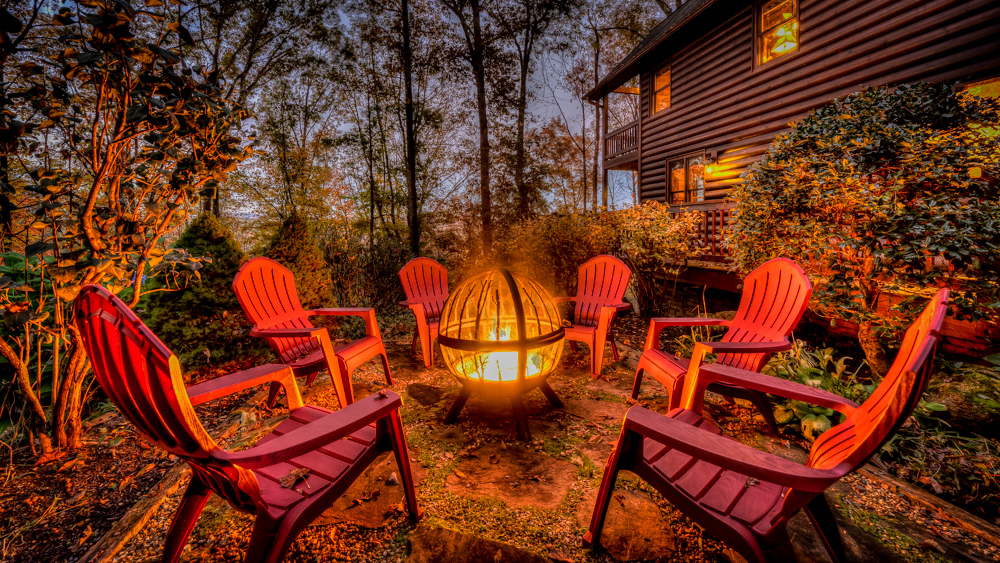 Peaceful and divinely welcoming, Cruach Mor will give you feelings of relaxation from the moment you pull up the driveway. The name is the battle cry for the Scottish Clan MacTavish, which the owner's ancestors belonged to. It loosely translates to "To the Mountains!" Comfortable and unique, the cabin is filled with traditional log cabin decor and has ceiling fans in all of the bedrooms and living areas. Cedar wood lines the walls and truly shows off the unique style of the cabin. Sink into the leather couch in front of the fireplace in the living area and relax. 
The outdoor amenities overlook a beautiful area and are vast! The mountain view here overlooking the valley below will mesmerize you. Enjoy a screened-in porch, rocking chairs, a warm and inviting fire pit, a hot tub after those long days of exploring the area, a gas grill, and seating for dining. This is a perfect spot in the cabin to spend late nights relaxing and reminiscing about the day of fun you just had.
SpyGlass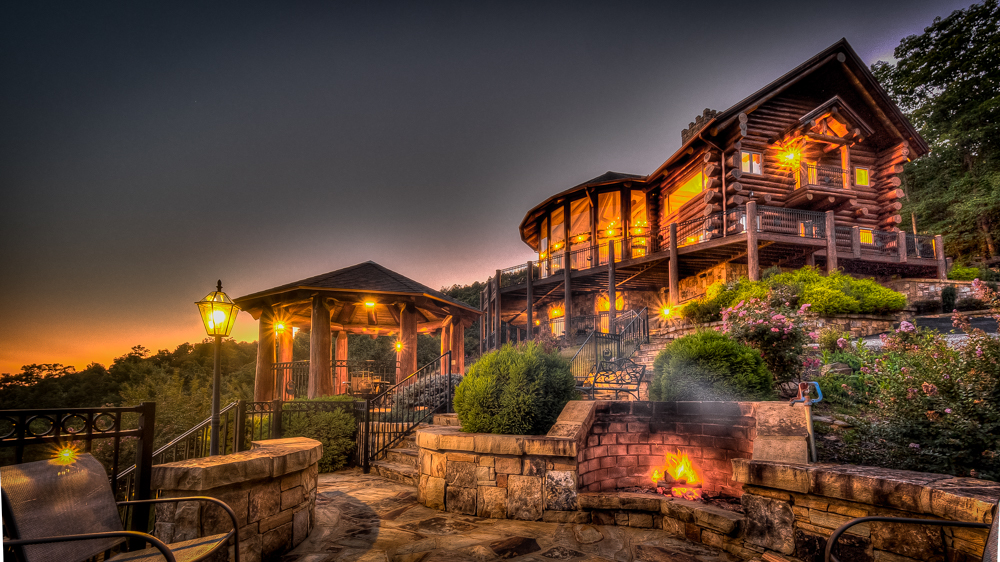 SpyGlass is the name, the view will explain. The largest of our Blue Ridge GA cabin rentals, seize the opportunity to stay in this $5 million custom resort lodge with its own private pool and spa, where you can come and go by helicopter, and treat the entire family to 8,000 sq. ft. of pure luxury and decadence. SpyGlass is the stuff of fairy tales. Every detail, from the large log cross-beamed ceilings down to the polished wood floors, is dressed in elegance.
Start your morning keeping fit and healthy with the help of gym-quality weight and exercise machine. After your workout relax as you marvel at the wide-open 40-mile views before you. Set out fresh fruit and snacks in the gazebo for your guests while they swim, sunbathe or chat at tables and chairs throughout the deck. After dark, the fire pit is an enchanted place for stargazing and making s'mores.
Stone Pine Lodge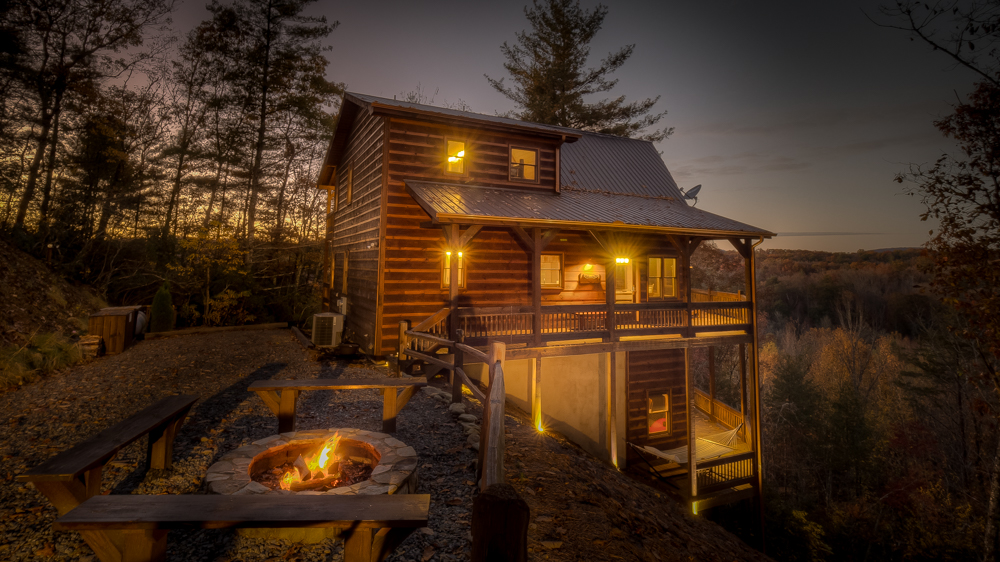 Stone Pine Lodge is not your typical Blue Ridge mountain cabin rental. As you'd expect, this brand new vacation home has the rustic cabin feel, secluded private setting and breathtaking view of the mountains from its tri-level decks. There are enormous windows in its great room that let you take in nature in all its expansive glory. The cabin is also the epitome of effortless modern luxury, putting everything–state-of-the-art at your fingertips. With sound system TVs, lighting, remote gas fireplaces and hot tub with Bluetooth-enabled speakers throughout all with simplistic operations, the better to relax and enjoy the comforts of your home away from home.
The cabin can accommodate 11 guests in its three comfortable bedrooms (all with custom king beds with pillow top mattresses), a loft with a twin over queen bunk bed made of striking Amish wormy wood logs, and a queen-size rough saw timber sofa lounger in the game room. Step outside onto the decks and you can fire up the gas grill for a barbecue, settle into a rocker with a drink or soak your cares away in the six-person hot tub in the warmth of the custom level gas fireplace (there's a wood-burning one too, on the entertainment deck above). Other options for outdoor fun include horseshoes, a corn hole game, rope swing, deck hammock and fire pit with seating for 12.
The Ridge Carlton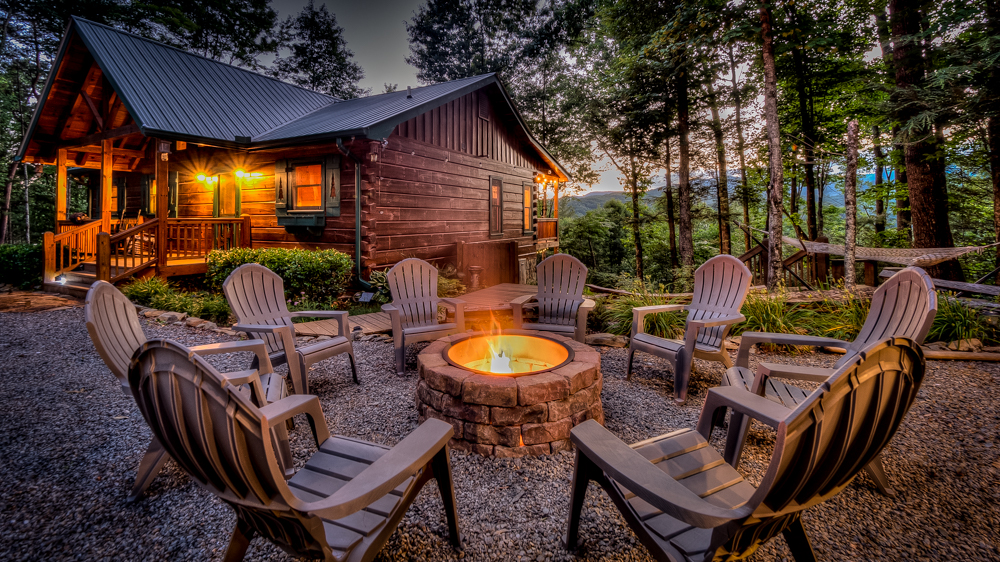 Are you looking for a tranquil, peaceful, and accessible place to stay that has an incredible view? The Ridge Carlton is precisely what you've been searching for! A perfect place where family and friends will want to gather around the fire – whether indoors or outdoors, open up a bottle of wine and make a memory together. A place that makes you feel like you're on the top of the mountain gazing upon the great long distance view and yet is only 15 minutes away from both Ellijay and Blue Ridge. From a warm and inviting living area, as you first arrive, to a fully stocked kitchen with beautiful granite countertops, you'll feel immediately at home once you arrive. The family room is cozy and comes with a gas fireplace – the perfect place to spend some time after a long day making memories. Make a delicious meal and gather around the comfortable wooden dining table. Enjoy some games and fun in the downstairs den. It's also a great spot to watch some movies, play some giant Connect Four, and enjoy a beverage (there's a wet bar and wine fridge!)
The outdoor areas at The Ridge Carlton are immaculate. Awaken early enough to spot the sun rising from the front porch and then catch the sunset in the evening off the back porch! Bring your marshmallows to roast at the fire pit and you'll have a gas grill too. Retreat to the lower deck to rest your tired legs in the hot tub that seats 6. There are endless activities around the cabin! The home is also near so many beautiful spots that are within a quick 10 to 15 minute drive. You'll have easy access to both downtown Ellijay and Blue Ridge.
Toccoa Lookout Cottage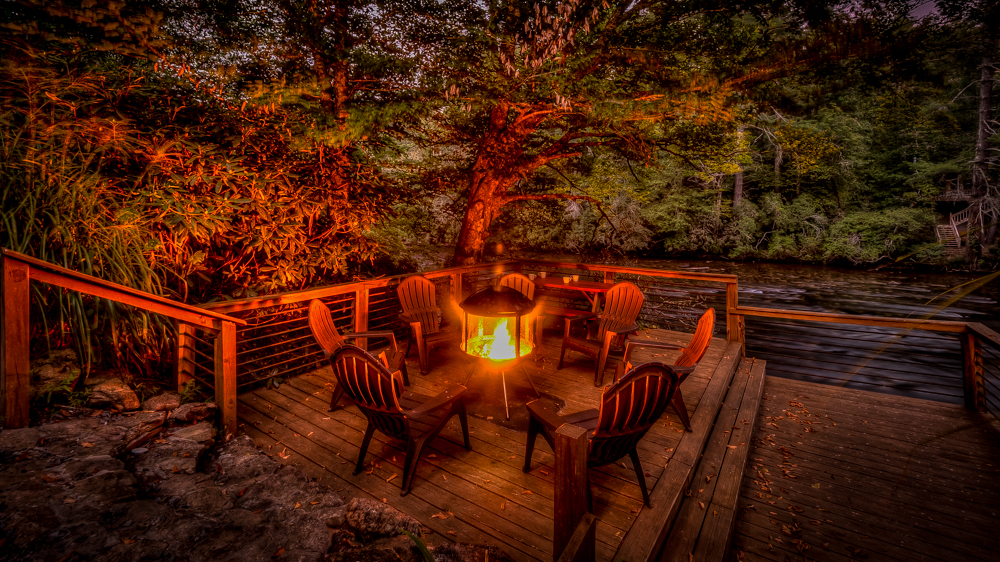 Toccoa Lookout Cottage is not your average Blue Ridge GA cabin rental. With 3,000 square feet of gorgeously decorated living space and four bedrooms to accommodate 11 people, all the comforts of home and amenities of a private resort, and the Toccoa River running through the property, this is a very special place. Beautifully crafted with two huge decks with plenty of seating overlooking the Toccoa and a third deck down the steps at the river's edge with a picnic table, chairs and a fire pit, the property is customized for outdoor living.
Inside, this magnificent, updated, and unique home is warm and inviting. It is elegantly furnished and decorated in soothing, calming neutral shades that complement the serene, tranquil ambiance of its natural setting. The cottage's greatest asset is the way it will make you feel when you're there and remember long after you leave.
Tondelia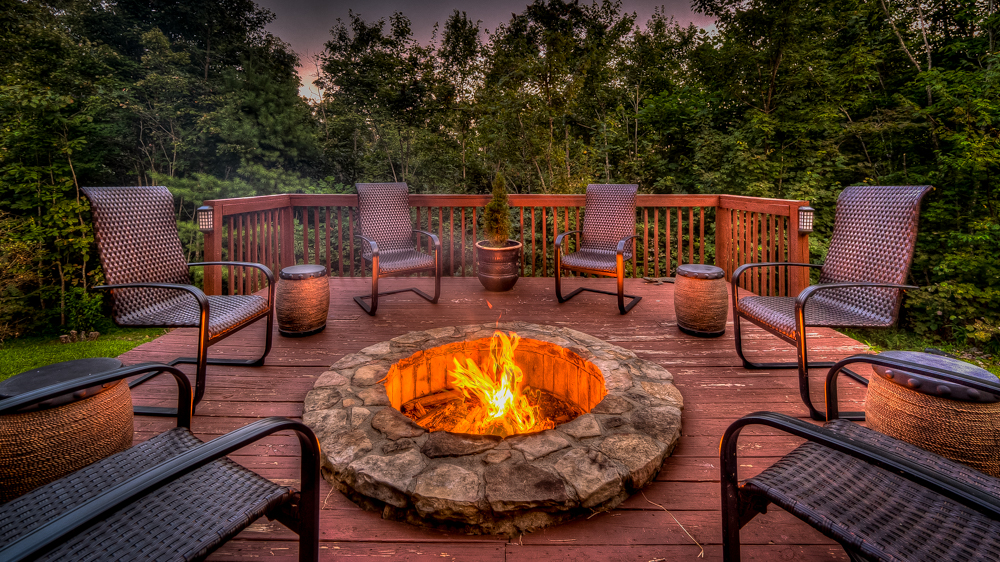 Stepping into Tondelia, you'll immediately be taken by its views and open, airy feel, with spacious rooms and windows at every turn. You'll marvel at the careful attention to detail that's been lavished throughout the cabin, where the game room is every bit as beautiful as the main floor and gorgeous bedrooms.
Looking for pure relaxation? Lounge on the leather sofas watching the big game, warmed by the cozy gas fireplace. Grill some burgers and eat lunch on the deck during halftime. Spend the afternoon in the gorgeous game room, playing billiards or soaking in the indoor Jacuzzi, gazing out at lush and vibrant fall foliage from your magnificent windows on the world. Hire a local chef to prepare a celebratory dinner for you and your guests. Enjoy some pre-dinner drinks and music out on the deck. Then retreat to the elegant dining room, where you'll be treated to a fabulous meal and amazing views as the stars start peeking through the skylights above you. After dinner, bring some hot chocolate or a Spanish coffee down to the fire pit. Reminisce with your old friends by the light of the moon.
Woodentops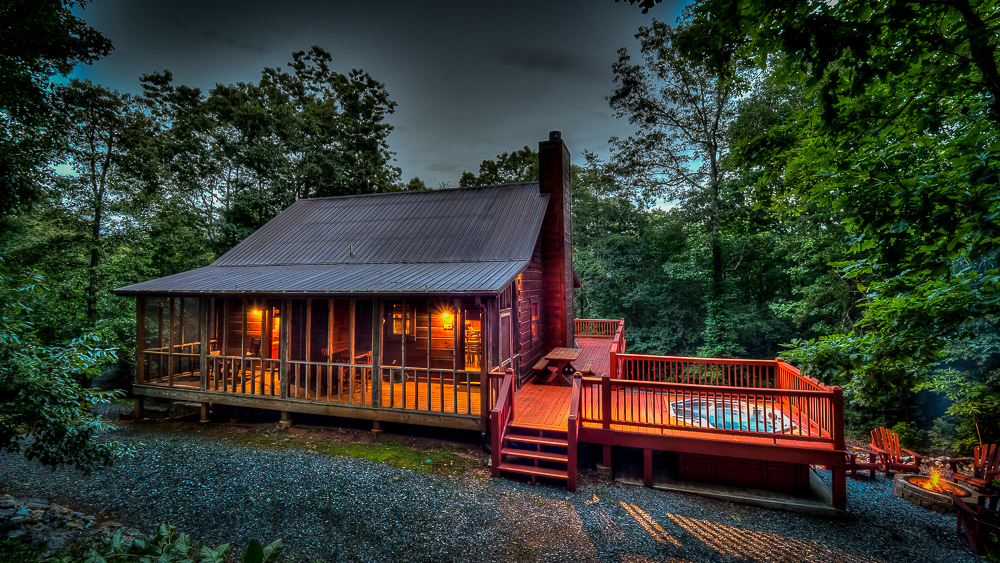 Woodentops is the perfect retreat from the hustle and bustle of your everyday hectic life. Located in Mineral Bluff, just 15 minutes from the shops and restaurants of downtown Blue Ridge, this charming real-log cabin is the ideal family vacation destination. With room for eight guests in three bedrooms, the accommodations are spacious, comfortable and inviting.
You can breathe in fresh mountain air while relaxing with a glass of wine in a rocking chair or soaking in the soothing bubbles of the walk-in hot tub. Or settle into an Adirondack chair and pop open a bag of marshmallows to toast over the fire pit. The best thing about Woodentops is the peaceful, relaxed, refreshed way you'll feel when you're there, having fun with your family and friends (even the canine ones—you're welcome to bring two small dogs). It's the kind of magical place where memories are made, and yours will last a lifetime!